Cookie Bars are loaded with miniature peanut butter cups and finished with a chocolate and peanut butter topping. Cut them into fun sticks for dunkable dessert!
It's not Fall in our house until we've made a trip to Bath & Body Works for ALLTHEFALLTHINGS. Between hand soaps, wallflowers, and of course, loads of candles – we're officially stocked up for the season and then some because I'm a Fall scent hoarder. No joke.
Although I've been yearning for Fall weather, it's just not happened yet. It's been hot, humid, and spidery. I'm fully aware that spidery is not a legit weather word, but spiders totally creep me out. And their webs, don't even get me started on those things.
With Elle hanging out on the floor so much, I feel like I am on constant spider patrol.
I've read that dousing your house in peppermint oil works – has anyone tried this?
I think I need to invest in one of those forehead miner-style lights to look under the couch and other dark places where those terrible arachnids lurk. Sure I could use a flashlight, but a miner light will totally bring a little comedy to my anxiety. You probably think I'm kidding, but I'm so serious.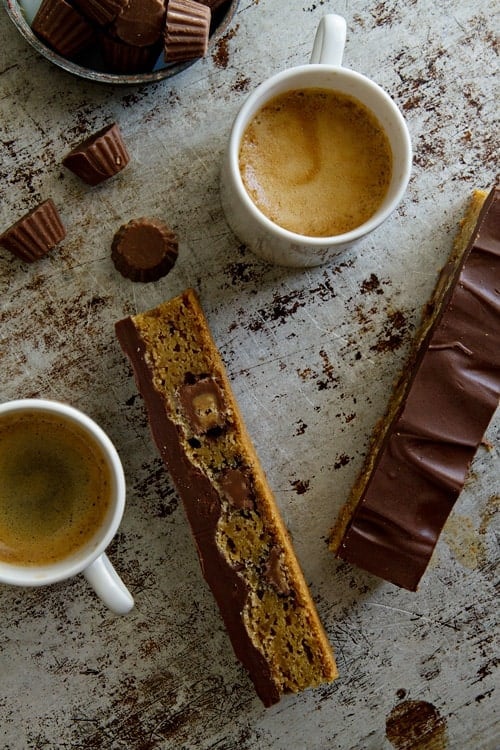 Enough creepy spider talk, let's discuss mini peanut butter cups. Have you noticed this miniature candy trend? I swear Target has half an aisle dedicated to bags upon bags of itty bitty candies. These little things are completely addictive in the best of ways. The only problem is that I'm fairly certain I consume way more calories popping these tiny bites of candy bliss than I would if I simply ate the full size bar.
A few weeks ago I purchased a few bags of them while at Target which ended up being a very bad idea for a girl that's trying to lose baby weight. The bag of Miniature Reese Cups stared me down for days until I finally had to bake them into something!
Peanut Butter Cup Cookie Bars come together in just minutes. They're definitely scrumptious on their own, but slathering them with a chocolate and peanut butter glaze pushes them to over-the-top awesomeness!
They'd be great as an after-school treat, or as a take-along to the first school party, if you're allowed to do that. If you're not, I happen to know personally that teachers are ALWAYS allowed home baked goodies, and they truly appreciate them. I'm just sayin', a plate of these bad boys might just go a long way in making your kid's teacher a little happier at the end of the work day.
Whatever you do, bake them immediately!
For more peanut butter goodness, check out the recipes below!
Reese's Cup Stuffed Chocolate Chip Cookies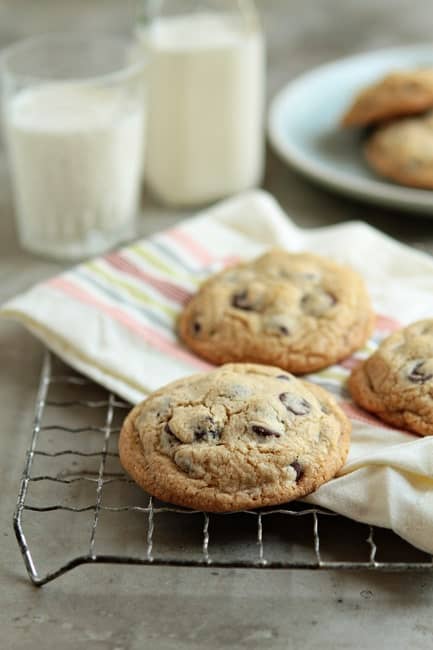 Reese's Pieces Peanut Butter Cookies