Happy Friday, MBA Readers! We're celebrating the weekend with a delicious guest post from one of my favorite bloggers on the planet, Shaina Olmanson of Food for My Family. Shaina is the author of the creative book, Desserts in Jars: 50 Sweet Treats that Shine – if you don't have a copy, you definitely need to pick up a copy! Thanks so much for being here today, Shaina!
There are foods that should be consumed only the seasonally appropriate times. For example, green bean casserole should only be served and eaten in the context of Thanksgiving. It's nearly a sin to be caught creating that creamy conglomerate of crunchy onion and cream-laced green bean at any other time.
This is also the case for several dessert-related items. Can you imagine if you showed up with almond-flavored spritz cookies pushed through the cookie gun at Labor Day or any time other than just before St. Nick comes calling?
Such is the case with peanut butter balls for me. (You might know them as buckeyes. I am not from Ohio, so I can't comment, but do as you must.) Peanut butter balls come out once a year: December. They do not exist for me any other time of year, and any failure to eat your fill is paid in penance by waiting a long year to consume them again. They're like Girl Scout cookies you hand roll instead of ordering them from badge-clad teeny boppers at the door.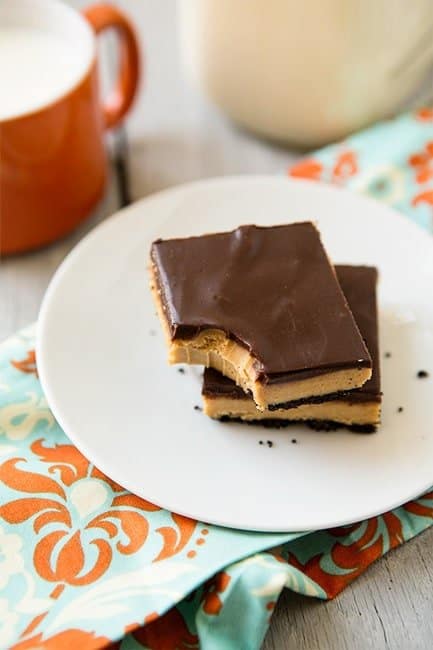 Seeing as how we're well past the New Year at this point, I'm not sure what to do about the lack of peanut butter bliss for I certainly did not have my fill of sugared goodness this season. The answer? Turn them into something else. Yes. Not only did I deconstruct my favorite peanut butter ball recipe into bar form, but I added a crust and delighted in the not rolling of the balls, the lack of dipping them into chocolate, and the 2″ squares that qualify as a "serving."
I'm not sorry.
Shaina Olmanson is the cook, freelance writer, and photographer behind Food for My Family, which was named one of the top ten Top 100 Mom Food Blogs by Babble.com in 2010, 2011, and 2012. She is the author of Desserts in Jars: 50 Sweet Treats that Shine, has served as the food editor for LifetimeMoms and daily contributor to Babble's Family Kitchen, and contributes regularly to FoodYourWay.net and SimpleBites.net. She lives in Minneapolis, MN with her husband and their four kids.
Peanut Butter Bars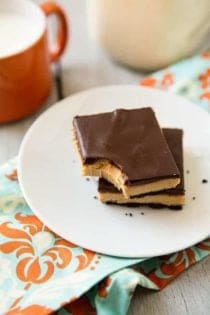 Ingredients:
For the crust:
1 1/2 cups chocolate cookie crumbs (like Nabisco Famous Chocolate Wafers)
2 tablespoons granulated sugar
1/3 cup unsalted butter
For the peanut butter layer:
1/2 cup unsalted butter
1 1/2 cups powdered sugar
1 cup smooth peanut butter
1/2 cup graham cracker crumbs
For the chocolate layer on top:
1/4 cup unsalted butter
3/4 cup 60% bittersweet chocolate, chopped
Directions:
1. Preheat the oven to 350º F. Line an 8x8" baking pan with parchment. In a small bowl, mix together the cookie crumbs, 2 tablespoons granulated sugar, 1/3 cup unsalted butter until the crumbs are evenly moistened. Press the crumbs into the parchment-lined pan, packing down with the bottom of a glass. Bake for 15 minutes until set. Remove from oven and allow to cool.
2. Melt the 1/2 cup butter for the peanut butter layer. Mix in the powdered sugar until smooth. Add in the peanut butter and whip until smooth. Stir in the graham cracker crumbs. Spread the layer over the cooled crust. To avoid breaking the crust, Drop several spoonfuls throughout the bottom of the crust before smoothing the top.
3. In a double boiler melt the remaining 1/4 butter. Once melted, add in the chocolate and stir until melted. Pour the chocolate over the peanut butter layer. Refrigerate until firm. Cut into bars and serve.
Follow Jamie on Instagram. We love to see what you're baking from MBA! Be sure to tag @jamiemba and use the hashtag #mbarecipes!