My cousin Alyssa graduated from high school in June and my aunt threw her a graduation party on Sunday. Guess who got nominated to bake? Yeah – this girl!
Since my aunt was already ordering a huge Cassata cake from a local bakery, I decided to go the chocolate route and make my crowd pleasing Reese's Peanut Butter Cup Cupcakes and some chocolate chip cookies.
These aren't just any chocolate chip cookies though – they're loaded with big chunks of dark chocolate and have a miniature Reese's Cup stuffed into each center. It's a little pop of peanut butter that kept people coming back for more – in fact they were the first item to disappear from the dessert table. Yay me!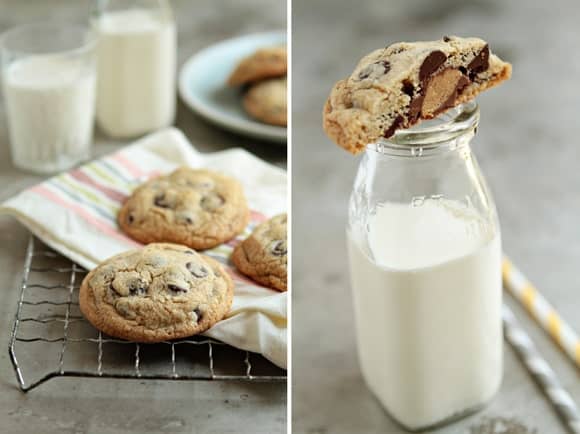 I took a little inspiration from my Rolo Cookies and simply replaced the Rolos with Reese's Cups. The beauty of this recipe is that you can really stuff just about any type of miniature candy bar into the center. Think Snickers, Milky Ways, or even Dove Promises – the possibilities are endless!
So whether you're baking for a party or to simply satisfy a craving, I think these Reese Cup Chocolate Chip Cookies are a total win – you can thank me later!
[pinit]

Reese's Cup Stuffed Chocolate Chip Cookies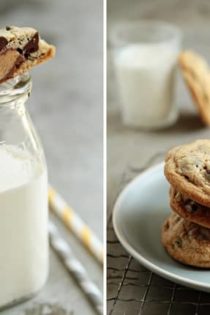 Ingredients:
1 1/2 cups (3 sticks) unsalted butter; softened
1 cup granulated sugar
1 cup packed brown sugar
2 teaspoons pure vanilla extract
2 large eggs
3 3/4 cup Gold Medal all-purpose flour
2 teaspoons baking soda
1 teaspoon fine grain sea salt
3 1/2 cups bittersweet chocolate chips
30 miniature Reese's Cups; frozen at least 2 hours
Directions:
1. Heat oven to 350°F. In large bowl, beat butter, sugars, vanilla and eggs with electric mixer on medium speed or with spoon until light and fluffy. Mix in flour, baking soda and salt. Stir in chocolate chips.
2. Measure dough using a little more than a medium cookie scoop (about 2 tablespoons). Roll into a ball and then flatten in the palm of your hands.
3. Place a frozen miniature Reese's Cup in the centers of the flattened dough balls and form dough back into a ball around the miniature Reese's Cup.
4. Place miniature Reese's Cup stuffed dough balls into the freezer for 15-20 minutes before baking.
5. On cookie sheet lined with parchment paper, place dough balls 3 inches apart.
6. Bake 17 to 20 minutes or until the edges are golden brown (centers will be soft). Cool on pan for at least 3 minutes; remove from cookie sheet to cooling rack.
Notes:
- Store cooled cookies in an airtight container for up to 2 days.
- I used Ghirardelli 60% Cacao Bittersweet Chocolate Baking Chips
All images and text ©
Follow Jamie on Instagram. We love to see what you're baking from MBA! Be sure to tag @jamiemba and use the hashtag #mbarecipes!