As I was meandering around in the local grocery store this past weekend searching for ingredients for my latest experiment in the kitchen, I came across one of my all-time favorite candies, turtles.
What can be better than chocolate, caramel, and pecans all molded together into one tiny piece of heaven? And then it came to me . . . what if I create a version of the perfect candy, in a baked good? As a result of all of this "sweet" thinking (pun intended), I developed the Rolo Stuffed Chocolate Chip Cookie.
These Rolo Stuffed Chocolate Chip Cookies are a basic chocolate chip cookie recipe; although, I incorporated a special surprise, so when you take a bite, you are blown away with ooey gooey goodness. Brian is never a reluctant taste-tester, but is a man of few words; but he took one bite of a Rolo Stuffed Chocolate Chip Cookie and raved all evening that these were the best cookies I have ever made. This says a lot, because as you know, I've made A LOT of cookies. It is important to note that the Rolos need to be frozen before use and again, inside of the cookie dough ball before baking, but the extra couple of minutes is so worth its weight in Rolos! Have a fantastic weekend and thanks so much for stopping by MBA!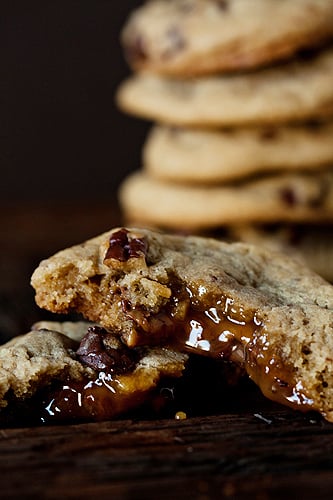 Rolo Stuffed Chocolate Chip Cookies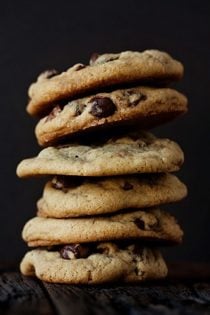 Ingredients:
1 ½ cups unsalted butter; softened
1 cup granulated sugar
1 cup packed brown sugar
1 tablespoon vanilla
2 eggs
3 3/4 cup all-purpose flour
2 teaspoons baking soda
1 teaspoon kosher salt
2 cups semisweet chocolate chips
3/4 cup chopped pecans
30 Rolos; frozen at least 2 hours
Directions:
1. Heat oven to 350°F. In large bowl, beat butter, sugars, vanilla and eggs with electric mixer on medium speed or with spoon until light and fluffy. Mix in flour, baking soda and salt. Mix in chocolate chips and pecans.
2. Measure dough using a medium cookie scoop (about 1.5 tablespoons). Roll into a ball and then flatten in the palm of your hands.
3. Place a frozen Rolo in the centers of the flattened dough balls and form dough back into a ball around the Rolo.
4. Place Rolo stuffed dough balls into the freezer for 15-20 minutes before baking.
5. On cookie sheet lined with parchment paper or a silicone baking mat, place dough balls 2 inches apart.
6. Bake 11 to 13 minutes or until light brown (centers will be soft). Cool 2 minutes; remove from cookie sheet to cooling rack.
All images and text ©
Follow Jamie on Instagram. We love to see what you're baking from MBA! Be sure to tag @jamiemba and use the hashtag #mbarecipes!