Peanut Butter Cup S'mores Brownies will easily be your new favorite dessert. Who could possibly resist this ooey, gooey combination?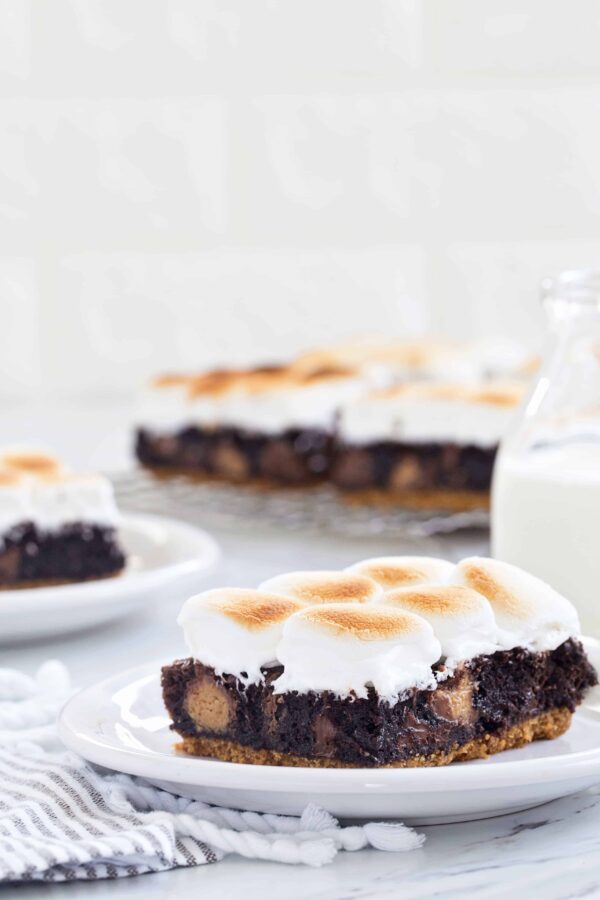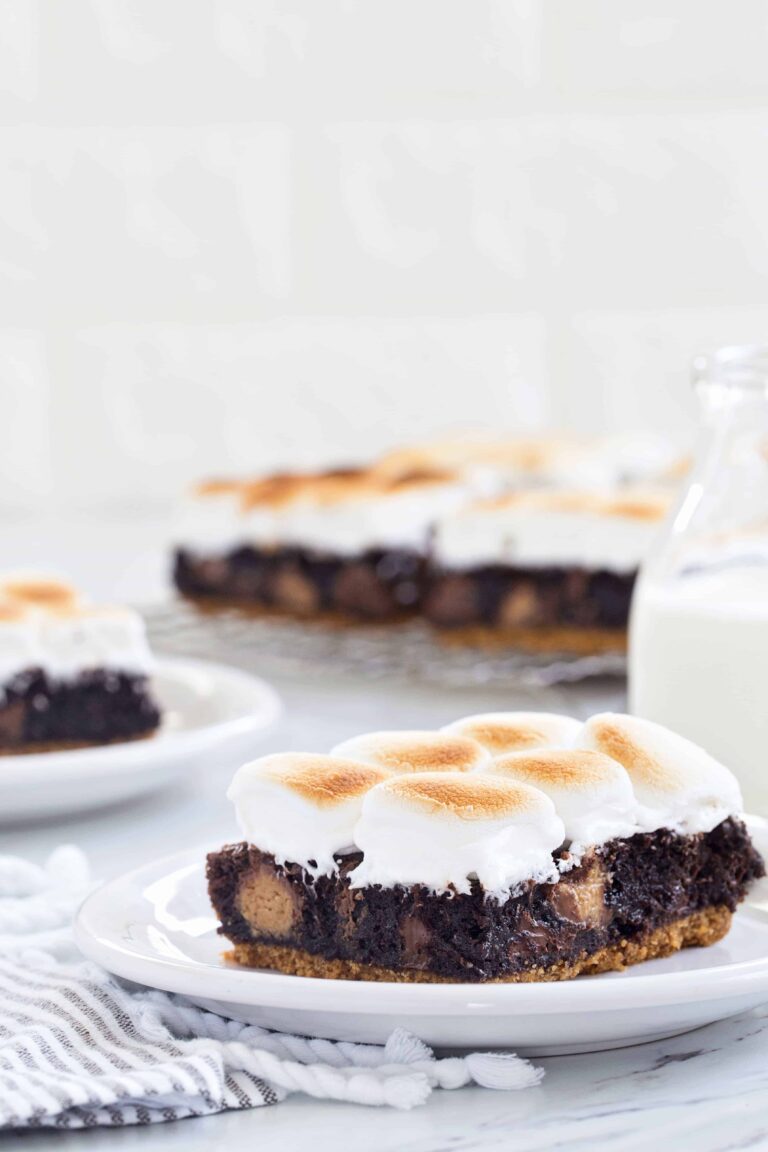 This post is sponsored by Campfire® Marshmallows. Thank you for continuing to support the brands that make My Baking Addiction possible.
If you're at all like me, you pretty much can't believe it's already June. I mean, you guys, there's only 203 days until Christmas.
I know it seems ridiculous that I even Googled that, but I feel like it was just yesterday that I was trying to find a place to hide Elle's huge doll house. Which, by the way, I thought was the best Christmas gift ever.
Let's just say, she's over it. And it's now in the basement collecting dust and housing more blind bag figurines than I care to admit we've purchased.
If you're the parent of a toddler and they've discovered blind bags, you feel me – right?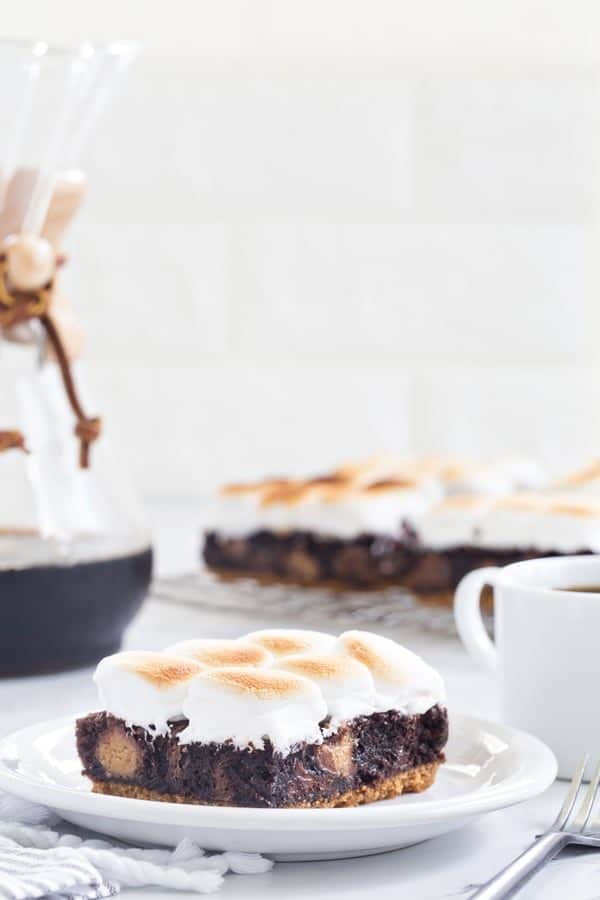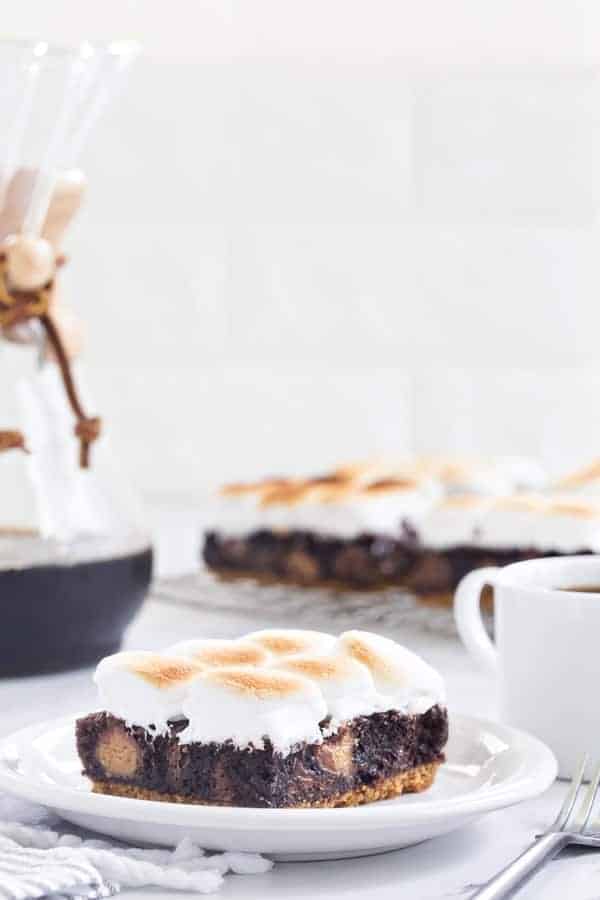 Since I clearly have no concept of time, I honestly didn't have a clue that Memorial Day was coming until it was one day away. And although we didn't have an epic cookout, we did have a relaxing weekend at home complete with burgers and brats.
Since Ohio weather is pretty much the worst right now, there was an 80% chance of rain that weekend, so we ended up cooking indoors on our grill pan. That was totally fine by me because I didn't have to wash the smell of charcoal and burnt brats from my hair before bed.
Even though I love a good microwave s'more, it felt like I should do more, it being a holiday weekend and all. I decided to kick it up a notch and make Peanut Butter Cup S'mores Brownies.
And by a notch, I mean adding a graham cracker crust and mini peanut butter cups to my favorite brownie mix. Because let's face it, I said it was a relaxing weekend and I'm a huge fan of boxed brownie mixes.
If you're not a fan of brownie mixes, no worries, we can still be friends, just substitute your favorite from-scratch brownie recipe for the mix. You can even sub out the peanut butter cups for another type of chocolate candy (think Snickers, Take5, etc.) but I will definitely question you if you say you don't like peanut butter.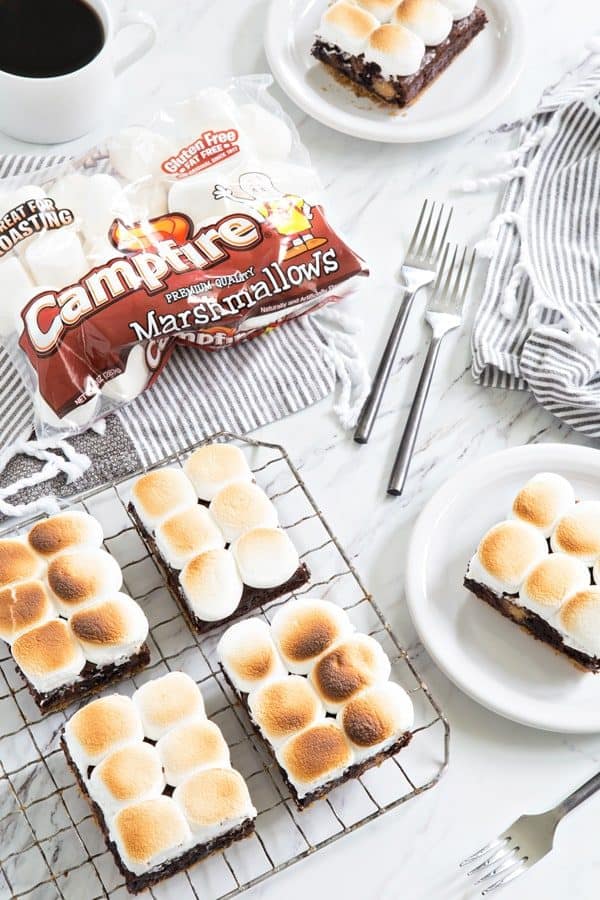 You can substitute any of those components for these brownies, but you have to pinky swear that you won't skimp on the layer of Campfire® Marshmallows. Because that, my friends, is a layer of ooey-gooey perfection.
Campfire® Marshmallows are my absolute favorite because they're perfectly sweet and ultra-soft which makes them perfect for roasting, melting, or eating straight from the bag. And stuffing in brownies.
These Peanut Butter Cup S'mores Brownies are perfect for last minute summer get-togethers, or eating your feelings because it's been raining for what feels like forever. Regardless of why you choose to make them, I hope you love them as much as we do!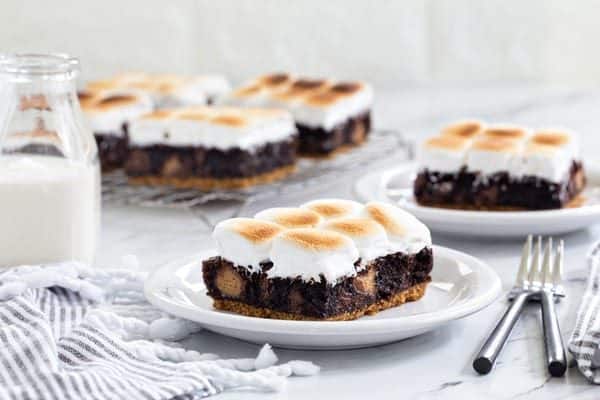 If you're looking for more delicious recipes using Campfire® Marshmallows, be sure to check out this Pineapple Fluff and this No-Bake S'mores Cheesecake – both are simple to make and absolutely perfect for summer! You can also check out the Campfire blog and Facebook page.