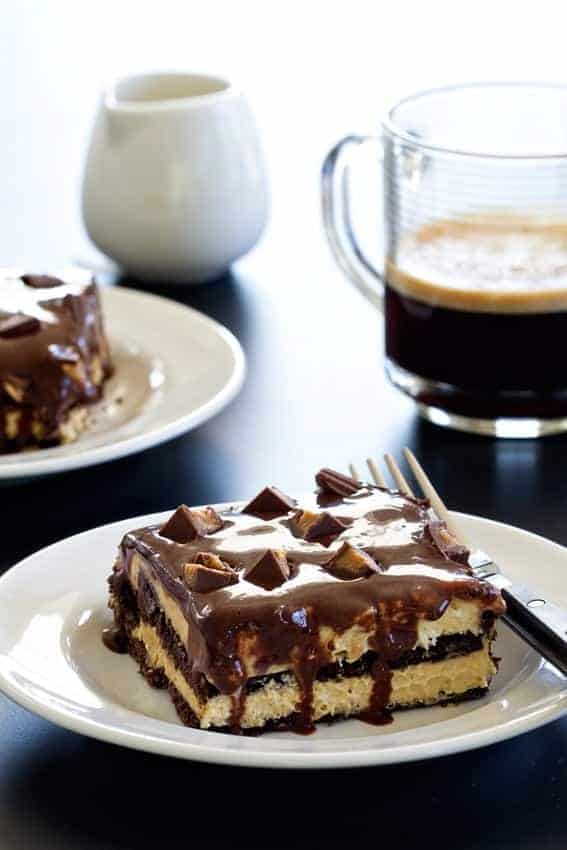 Peanut Butter Cup Eclair Cake is so easy, and NO-BAKE! Layers and layers of chocolate, peanut butter and cream will make this dessert a summer favorite for years to come.
I do love an eclair cake. I've been making them for years, and definitely made this Cookies and Cream Eclair Cake about five times last summer.
It may have started out as a way to purposely get leftover peanut butter cups out of my house before I devoured them single-handedly, but this cake has turned out to be an amazing addition to our summer dessert repertoire.
A bit ago, I made Karly's Peanut Butter Cup Pancakes. And whoa baby, are they good. They have one flaw, if we're going to call it a flaw. We like to buy things in excess around here, so we had an entire bag of those new Reese's Minis Unwrapped Peanut Butter Cups leftover.
They were calling to me when I walked by. Haunting me when I tried to eat a salad. This would simply not do, friends. I have a hard enough time trying to resist all the Ghirardelli baking chips hanging out in there, having a party of their own. Add peanut butter to the mix? I'm in trouble. Serious trouble.
I decided the only thing to do was put them in a dessert that I wouldn't dare finish all by myself. It's self-preservation, really.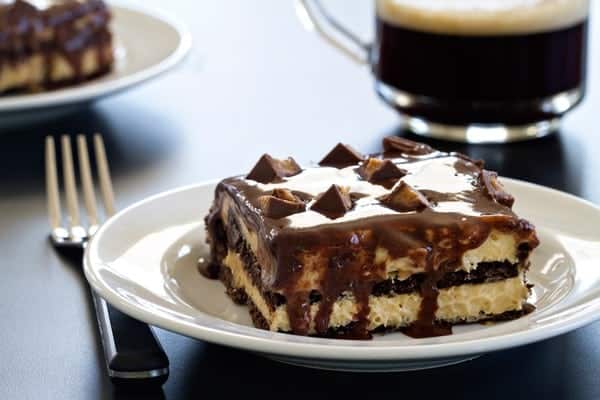 Now that we live so close to family, folks are always stopping by to visit. We love it. Since we're both home with Elle, we get to see her relationships with our extended family grow and grow. But you better believe that when you have a baking and dessert website as your J-O-B, people expect to be treated to delicious things when they walk through my door. And I wouldn't have it any other way.
So I made this delectable no-bake icebox cake, a Peanut Butter Cup Eclair Cake, that solved two problems. First, it got rid of those hauntingly scrumptious mini peanut butter cups. Second, this fabulous cake stores in the freezer for weeks.
Every time someone stopped by, all Eric or I had to do was pull the foil-wrapped cake out of the freezer, slice some pieces off, and wait for them to thaw on the counter a bit while coffee was made, water was offered, and Elle got snuggles.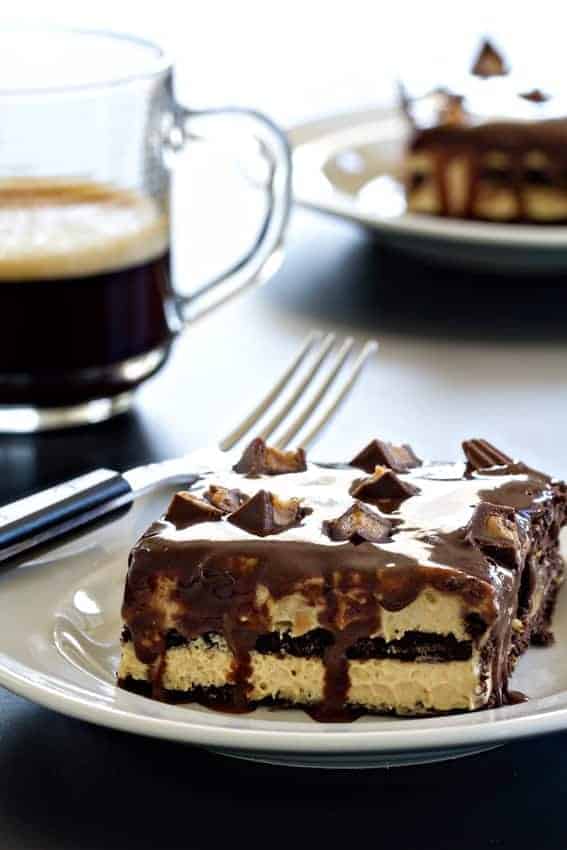 This is the perfect entertaining cake. Sure, you can make it ahead of time and take it along to a barbecue, where it'll feed a big ol' crowd. But you can also keep it handy for when guests drop by – or a super mega peanut butter craving hits. Not that that ever happens to me. I heard about it from a friend.
I mean it, guys. This cake is for you if you love having something on standby for drop-in guests. With simple ingredients like chocolate grahams and Cool Whip or TruWhip, you'll have it put together in minutes. Then just let it set up in the fridge overnight before serving or popping it directly into the freezer.
Next time the doorbell rings, you'll be ready.