Peanut Butter Cup Eclair Cake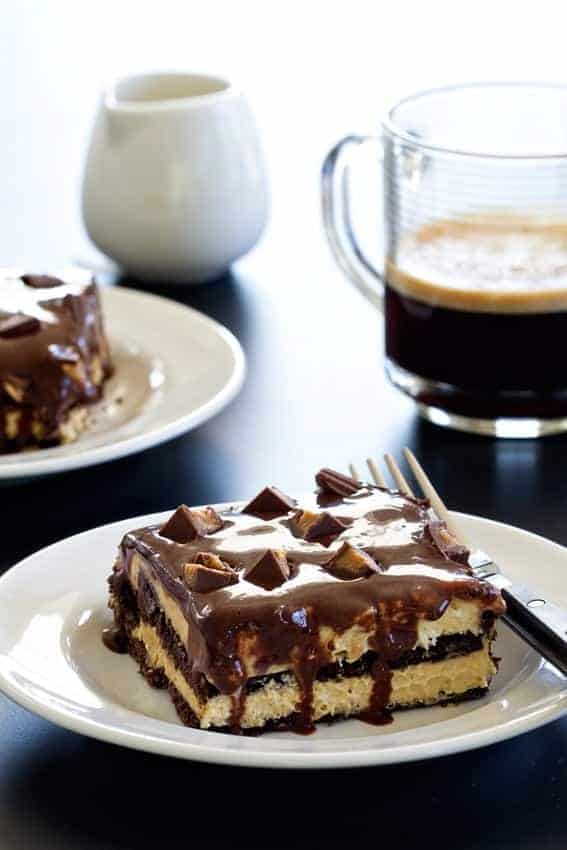 Peanut Butter Cup Eclair Cake is so easy, and NO-BAKE! Layers and layers of chocolate, peanut butter and cream will make this dessert a summer favorite for years to come.
I do love an eclair cake. I've been making them for years, and definitely made this Cookies and Cream Eclair Cake about five times last summer.
It may have started out as a way to purposely get leftover peanut butter cups out of my house before I devoured them single-handedly, but this cake has turned out to be an amazing addition to our summer dessert repertoire.
A bit ago, I made Karly's Peanut Butter Cup Pancakes. And whoa baby, are they good. They have one flaw, if we're going to call it a flaw. We like to buy things in excess around here, so we had an entire bag of those new Reese's Minis Unwrapped Peanut Butter Cups leftover.
They were calling to me when I walked by. Haunting me when I tried to eat a salad. This would simply not do, friends. I have a hard enough time trying to resist all the Ghirardelli baking chips hanging out in there, having a party of their own. Add peanut butter to the mix? I'm in trouble. Serious trouble.
I decided the only thing to do was put them in a dessert that I wouldn't dare finish all by myself. It's self-preservation, really.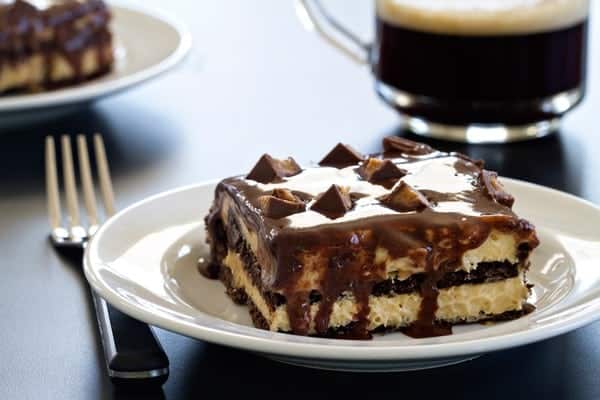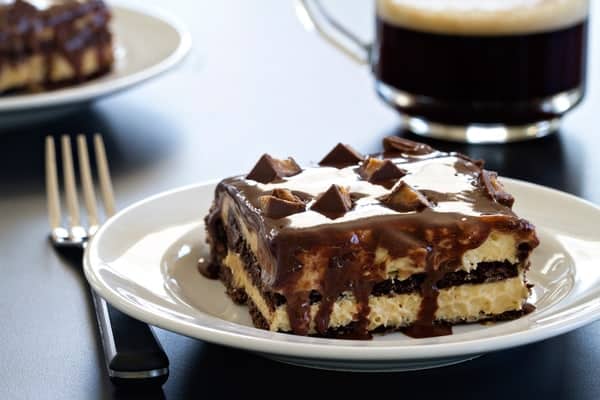 Now that we live so close to family, folks are always stopping by to visit. We love it. Since we're both home with Elle, we get to see her relationships with our extended family grow and grow. But you better believe that when you have a baking and dessert website as your J-O-B, people expect to be treated to delicious things when they walk through my door. And I wouldn't have it any other way.
So I made this delectable no-bake icebox cake, a Peanut Butter Cup Eclair Cake, that solved two problems. First, it got rid of those hauntingly scrumptious mini peanut butter cups. Second, this fabulous cake stores in the freezer for weeks.
Every time someone stopped by, all Eric or I had to do was pull the foil-wrapped cake out of the freezer, slice some pieces off, and wait for them to thaw on the counter a bit while coffee was made, water was offered, and Elle got snuggles.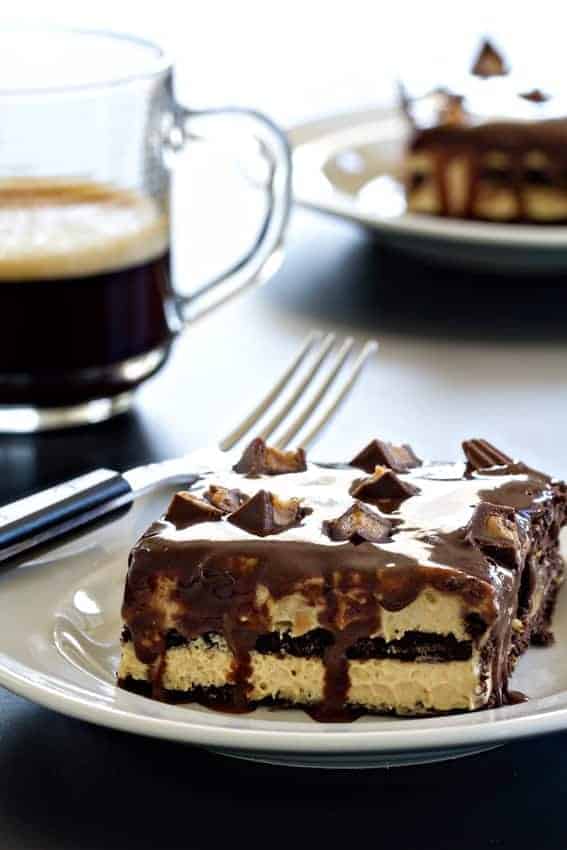 This is the perfect entertaining cake. Sure, you can make it ahead of time and take it along to a barbecue, where it'll feed a big ol' crowd. But you can also keep it handy for when guests drop by – or a super mega peanut butter craving hits. Not that that ever happens to me. I heard about it from a friend.
I mean it, guys. This cake is for you if you love having something on standby for drop-in guests. With simple ingredients like chocolate grahams and Cool Whip or TruWhip, you'll have it put together in minutes. Then just let it set up in the fridge overnight before serving or popping it directly into the freezer.
Next time the doorbell rings, you'll be ready.
Peanut Butter Cup Eclair Cake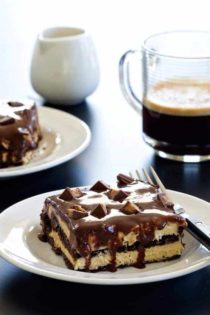 Ingredients:
2 3.4-ounce packages instant Jell-o Vanilla Pudding Mix, dry
3 1/2 cups whole milk
1 cup creamy peanut butter
1 12-ounce container frozen whipped topping, thawed (Cool Whip or Truwhip)
1 14-ounce package chocolate graham crackers
1 1/2 cups mini peanut butter cups, halved (divided use)
1 16-ounce can prepared chocolate frosting
Directions:
In a large bowl with an electric mixer, beat together the pudding mixes and milk until thickened, about 3 minutes.
Beat in peanut butter until fully incorporated.
Using a rubber spatula, fold in the whipped topping until incorporated and no streaks remain.
Arrange a single layer of graham crackers in the bottom of a 9 x 13 inch baking pan. Evenly spread half of the pudding mixture over the crackers.
Sprinkle 3/4 cup halved mini peanut butter cups over the pudding mixture and gently press them down into the pudding mixture.
Top with another layer of graham crackers and the remaining pudding mixture.
Top with a final layer of graham crackers.
Melt frosting in microwave for 25 seconds and stir until it is an even consistency. Use an offset spatula to spread the frosting over the whole cake, covering the graham cracker layer.
Immediately sprinkle the remaining mini peanut butter cups onto the frosting.
Cover, and refrigerate for at least 8 hours before serving.
All images and text ©
Follow Jamie on Instagram. We love to see what you're baking from MBA! Be sure to tag @jamiemba and use the hashtag #mbarecipes!
This post may contain affiliate links. We are a participant in the Amazon Services LLC Associates Program, an affiliate advertising program designed to provide a means for us to earn fees by linking to Amazon.com and affiliated sites.