Peppermint Oreos are combined with cream cheese and crushed candy canes and dipped in candy melts to create Peppermint Oreo Balls. They're simple, festive, and so delicious.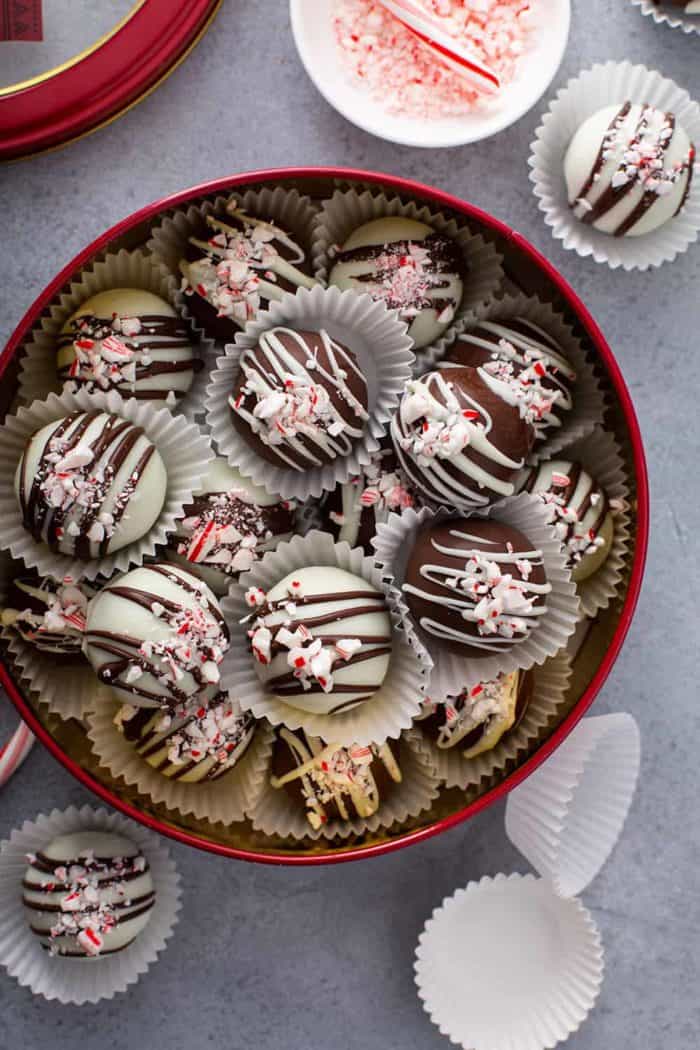 I know it's only December 4th, but I am already getting the urge to start holiday baking. Only problem is, I don't really have the freezer space at the moment to store much of anything. That thing is packed with butter, chicken and more mini ice cream sandwiches than I care to admit.
I am pretty obsessed with Peppermint Oreo Balls every holiday season. They're super simple to make and can easily be adapted to fit your personal taste.
Don't like peppermint? No problem. Simply use regular Oreos and omit the crushed peppermint, or use any other of your favorite flavors of Oreos. I have used regular Oreos, Mint, Peanut Butter and Peppermint Bark all with great results.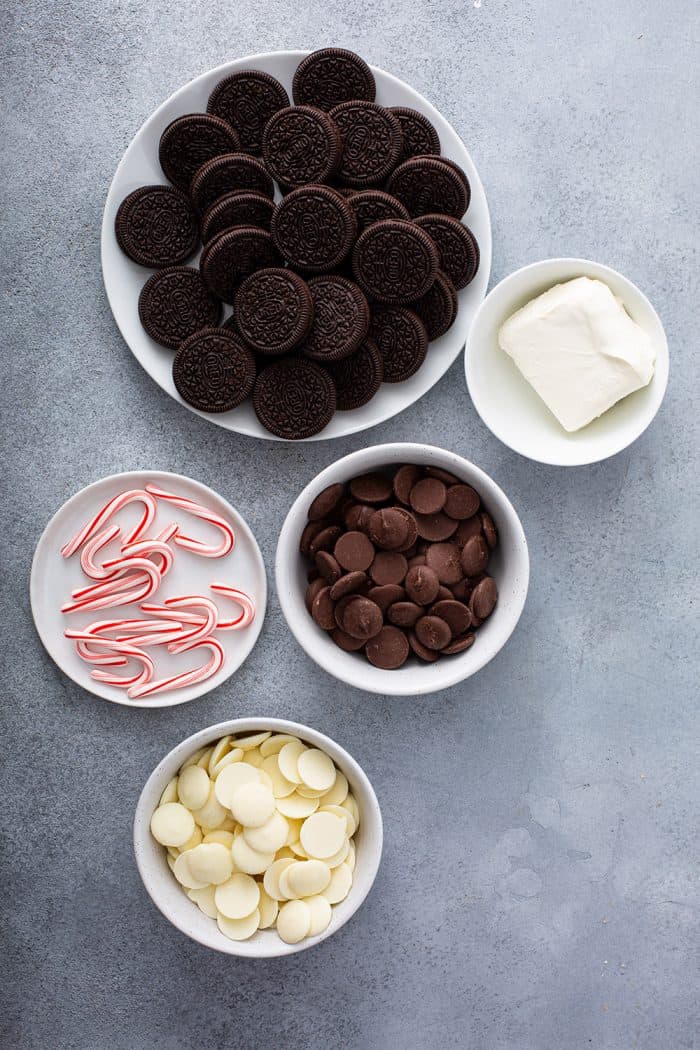 MY FAVORITE HOLIDAY FLAVOR COMBO
As I have mentioned before, I really have a thing for peppermint and chocolate during the holiday season.
Every year I stock my pantry with eleventy-million bags of Ghirardelli Peppermint Bark Bars. I like to consider a piece or two my treat after a long day's work, but if I'm being honest, I kinda snack on those babies numerous times throughout the work day.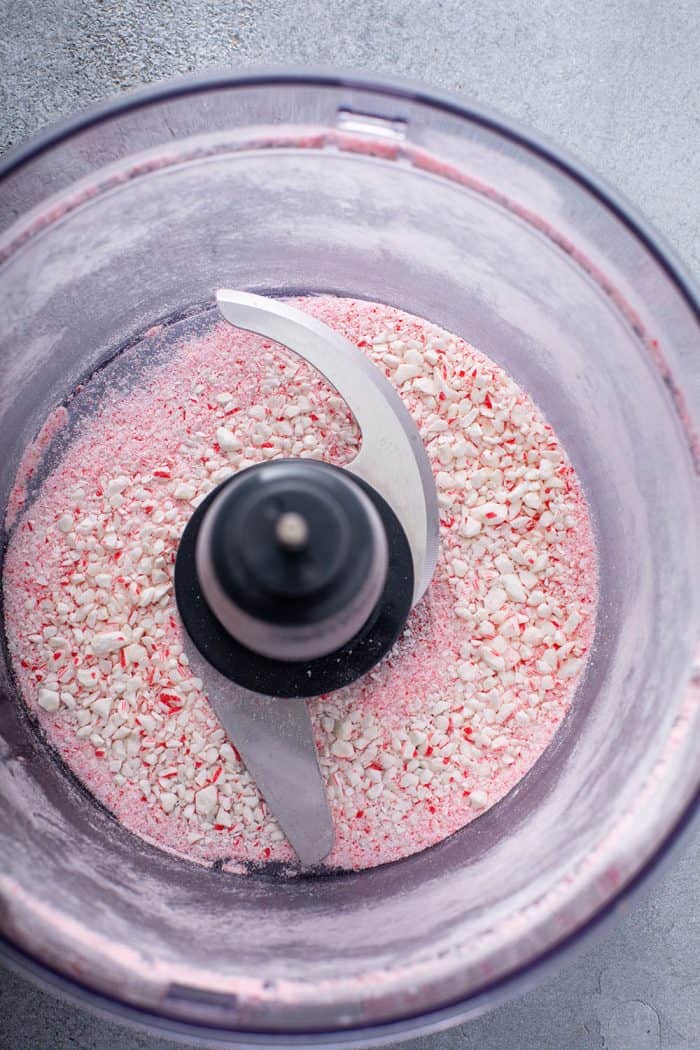 So of course I love baking holiday treats with that beloved peppermint and chocolate combination.
In years past I have made Chocolate Peppermint Scotcheroos, Peppermint Cocoa Brownie Cups, Peppermint Mocha Cookies, and more. This year, I'm sticking with ultra easy.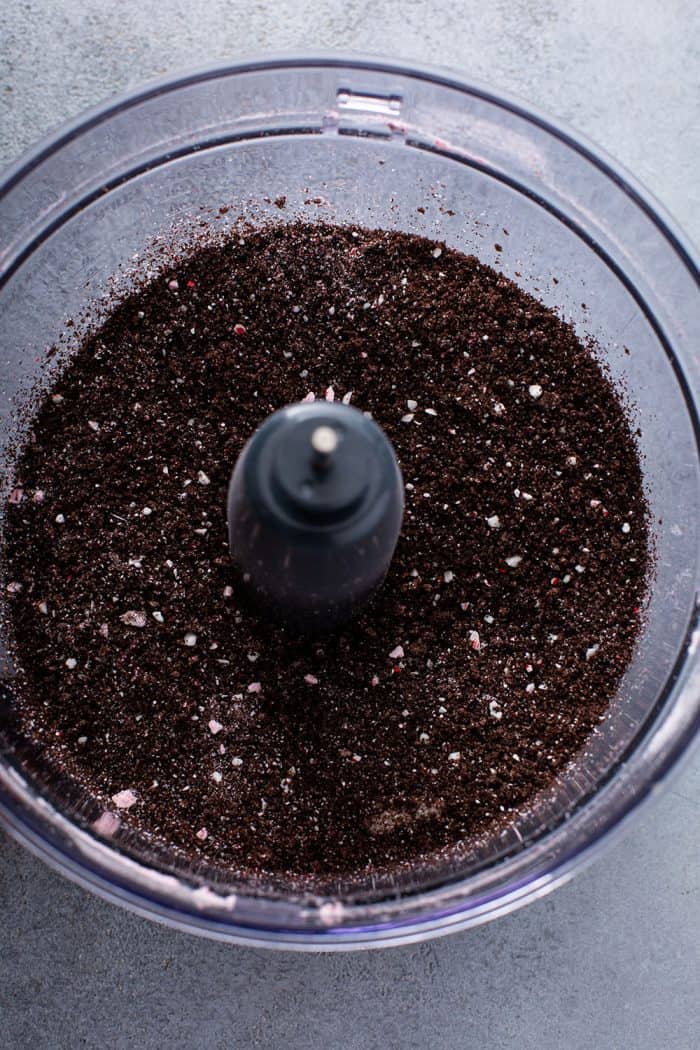 And these Peppermint Oreo Balls are super easy to make!
They're also always one of the first things to disappear from any cookie platter or holiday dessert table. And with only a handful of ingredients and minimal prep work, they're perfect for anyone who is looking for a simple holiday dessert that everyone loves.
PEPPERMINT OREO BALL INGREDIENTS
These Peppermint Oreo Balls are another one of those recipes, like Eclair Cake and Cherry Pineapple Dump Cake, that uses just a handful of simple ingredients to make something super delicious.
To make these Oreo cookie balls, you'll need:
Mini candy canes
Cream cheese
Peppermint Oreos
Dark or white candy melts
I like to decorate my Peppermint Oreo Balls with both dark AND white candy melts, but I think we all know by now that I'm a little extra.
If you're crunched on time or only have one type of the candy wafers on hand, you can stick to just dark or white! They'll still be delicious.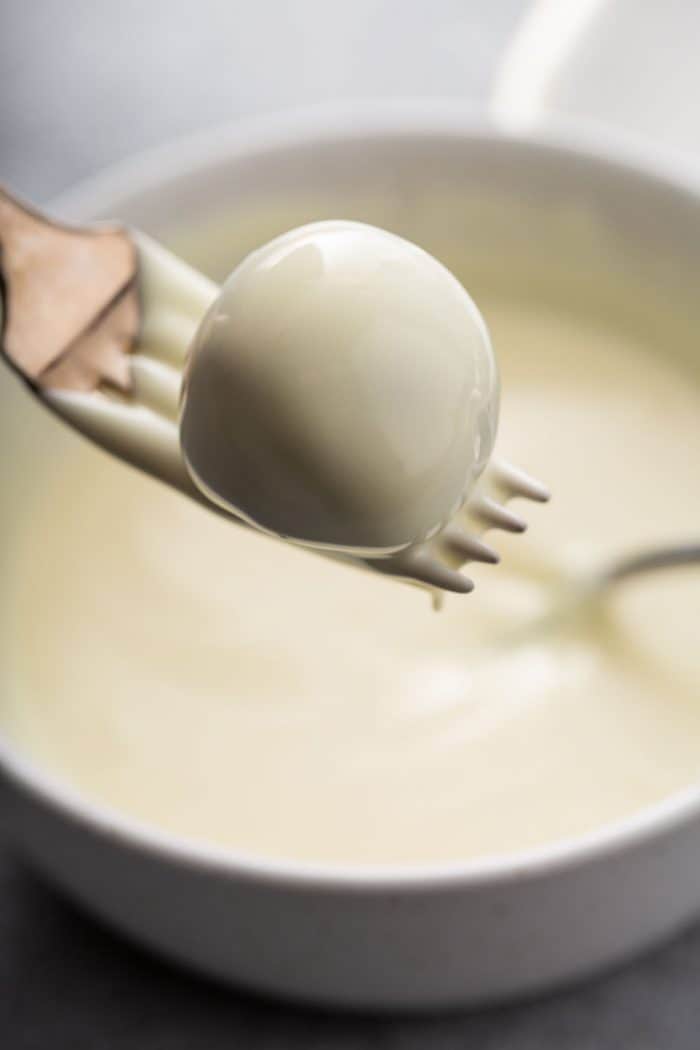 HOW TO MAKE THESE OREO COOKIE BALLS
If you've made Turtle Cookie Balls or Oreo Peanut Butter Truffles, then you'll be familiar with this process.
Start by placing most of the mini candy canes into a food processor and pulsing until they're crushed into fine pieces. Since this is what we're going to mix into the Oreo balls, I like the pieces to be really fine.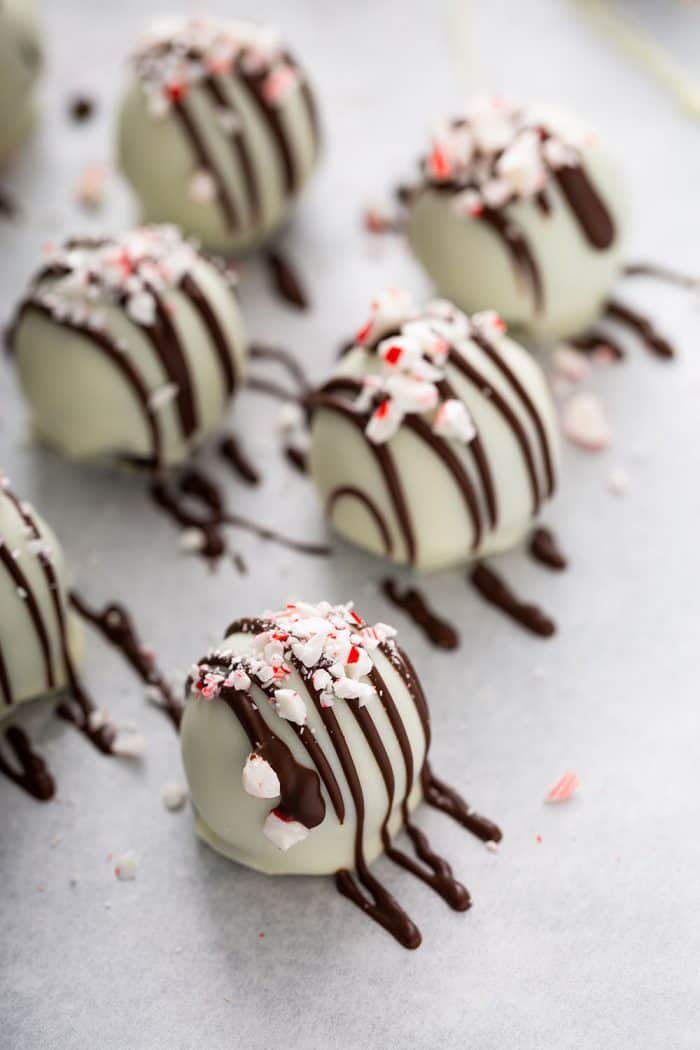 Add in the Peppermint Oreos and pulse until crushed into fine crumbs. Then add the softened cream cheese and pulse until everything is thoroughly combined.
Grab a small cookie scoop to portion the "dough" you've just made into about 2 teaspoon portions and roll them into cookie balls.
Place the Oreo balls on a parchment-lined cookie sheet and let them hang out in the refrigerator for 30 minutes or in the freezer for 10 minutes.
After that, you can dip the Peppermint Oreo Balls into the melted candy wafers of your choice and decorate them with more crushed candy canes!
Refrigerate the cookie balls for at least an hour before serving.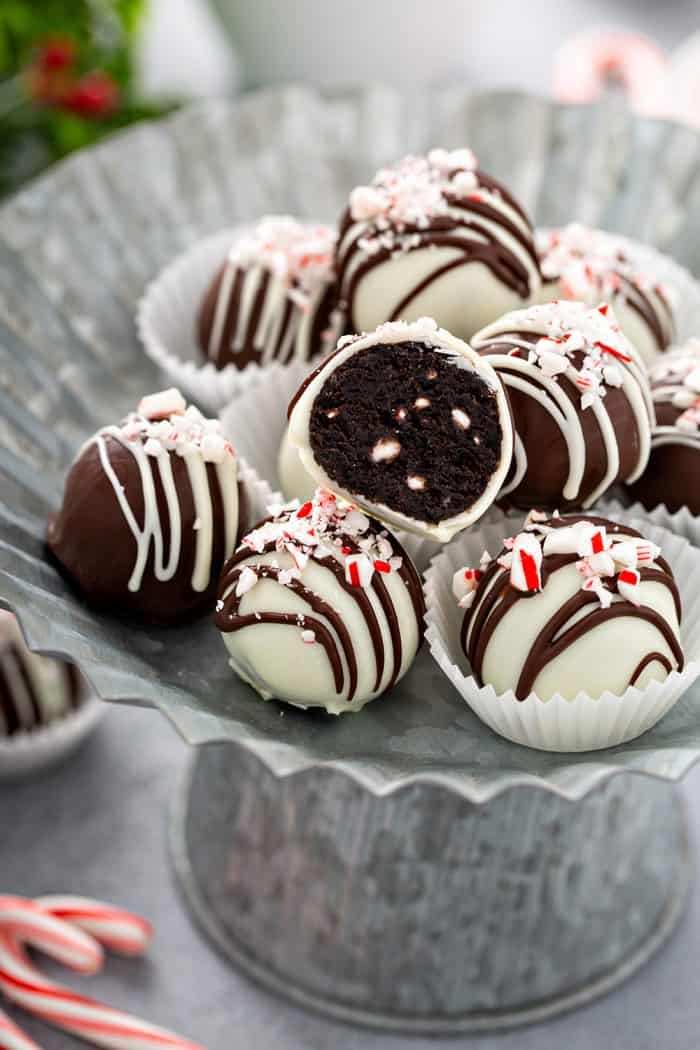 TIP FOR DECORATING PEPPERMINT OREO BALLS
Wondering how to coat the Oreo cookie balls in the melted candy wafers without making a mess ev.er.y.where?
I like to place a cookie ball on a fork over the bowl of melted wafers and spoon the melted candy wafers over the cookie ball. Allow excess candy to drip off into the bowl. Slide the cookie ball off of the fork and onto the parchment paper using a toothpick.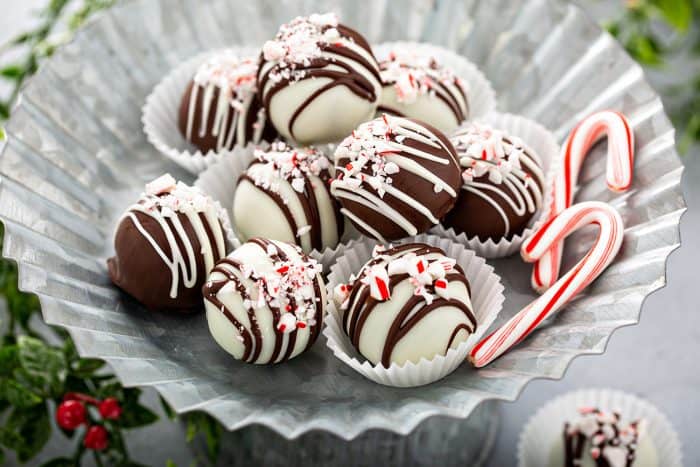 That's it! If you want, you can sprinkle on some more crushed candy canes or let the coating harden, then drizzle on contrasting white or dark candy melts before adding the crushed candy canes.
Just try to decorate all of them before digging in. I bet ya can't eat just one!