Peppermint Cocoa Brownie Cups are a simple and delicious way to celebrate the season. Mini marshmallows and crushed candy canes make them a dessert the entire family will love.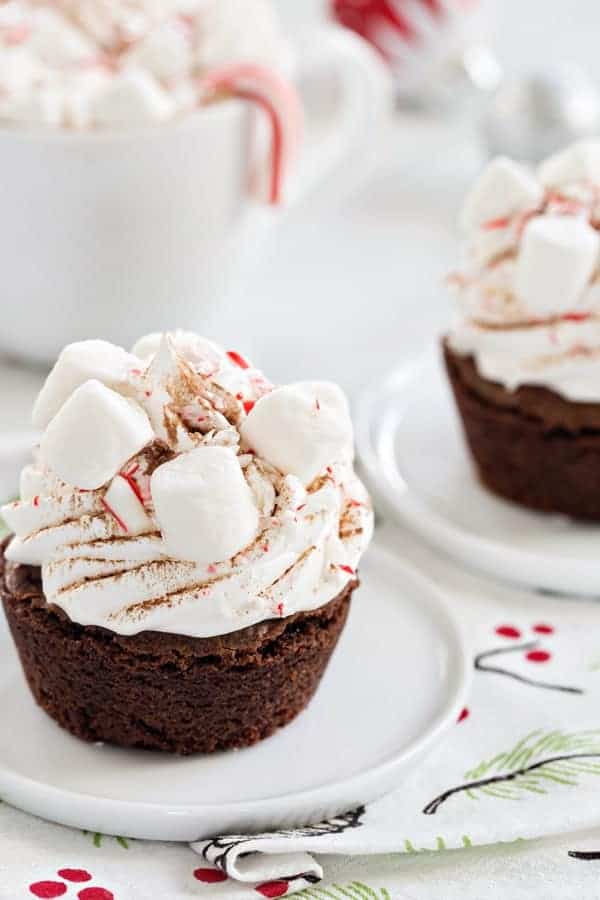 This is a sponsored post on behalf of Campfire® Marshmallows. All opinions are my own. Thank you for supporting the brands that continue to make My Baking Addiction possible.
Can we talk about Hatchimals for a second? If you have no idea what a Hatchimal is, consider yourself lucky, but I'll enlighten you just in case you're curious.
They're basically a Furby (remember those?) stuffed inside an egg that your little ones are expected to nurture and pet until the fuzzy animal hatches (get it? Hatchimal) from its shell. It's the hottest gift of the season and people are losing their ever-loving minds over them.
I go to the gym really early 2 days per week, so once I'm done working out, I usually head to Starbucks, grab a latte and sip it in Target's parking lot for about 10 minutes until they open.
It's usually just me, the parking lot sweepers, and a couple of random cars. However, last week, there was a line at the door at 7:50 AM. I had no idea what was going on and since I'm not keen on standing in lines when it's 22 degrees out, I kept my butt in my toasty car until it was around 8:05.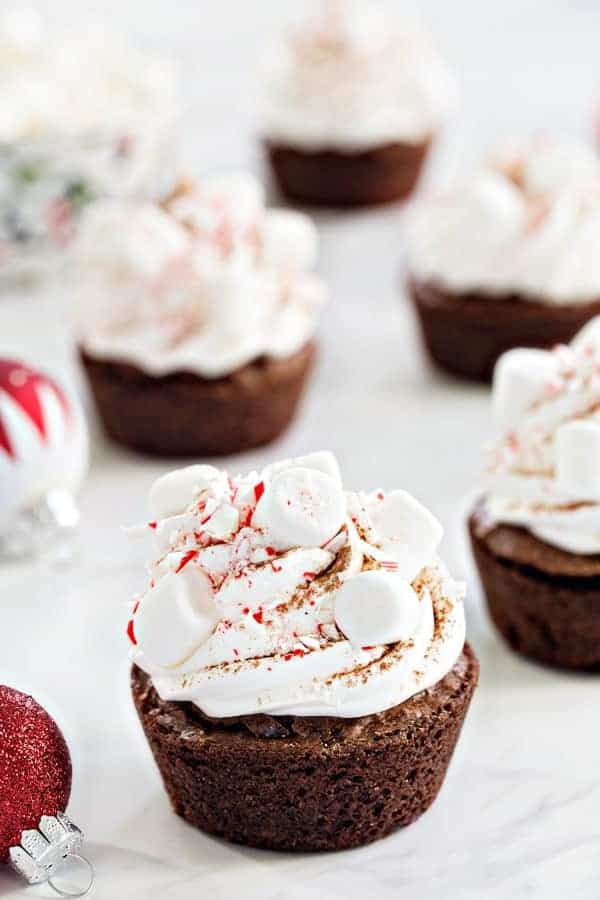 I walked in, grabbed my cart and did my shopping. I eventually headed into the toy department to pick up a couple of stocking stuffers for Elle when I noticed a bunch of people hovering in one aisle.
Like, literally just standing around staring at the employees while they were unpacking the boxes to stock the shelves. I immediately felt all awkward and I wasn't even doing the hovering.
As I meandered through the aisles, I was curious why people were hanging out in one aisle at Target at 8:15 AM, so I asked an employee what the deal was. She rolled her eyes, sighed and answered with one word – Hatchimals. She then proceeded to tell me that there was a sign on the door that read No Hatchimal Shipment Today, which I totally missed, but said that people come in and wait for them to open the boxes just in case.
Basically I'm thinking people are standing in line to get a toy that they'll probably end up petting themselves to get the dang thing to hatch, then it'll wind up in the depths of the toy box. However, she told me most of the people that wait outside the store in the morning are looking to buy to sell on eBay.
I'm all for people making an extra buck, but this kind of shocked me and saddened me a bit for all those parents that can't afford the ridiculously high prices on eBay. Seriously, check it out if you're bored – some are listed as high as $1k – for a $60 toy.
It's craziness.
Now that I'm done ranting about Hatchimals, let's talk Peppermint Cocoa Brownie Cups. They come together in just a few minutes thanks to brownie mix, and are perfect for holidays.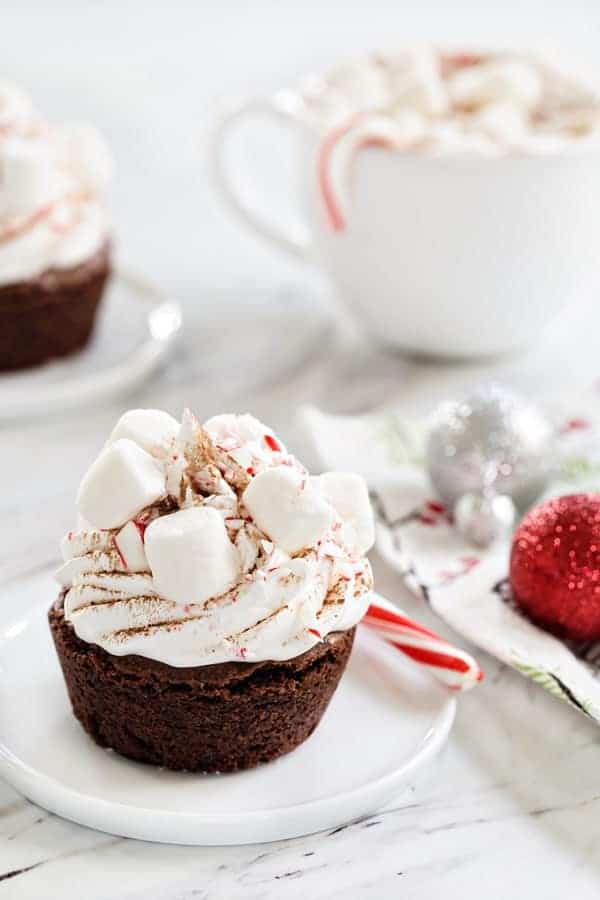 Although I pretty much bake for a living, my husband is partial to one type of brownie, and that happens to come straight from a Ghirardelli brownie mix box, so that's what I used.
You totally can sub in your favorite from-scratch brownie recipe with ease. Just fold in the peppermint crunch chips before dividing the batter into a cupcake pan and you're good to go.
The peppermint brownies bake up perfectly in about 25 minutes. I let them cool in the pan for about 15 minutes and then I use a small offset spatula to help release them from the pan.
Once they're completely cooled and you're ready to serve them, top them with a swirl of freshly whipped cream, or whipped topping, a dusting of cocoa powder, crushed candy canes, and of course mini Campfire® Marshmallows.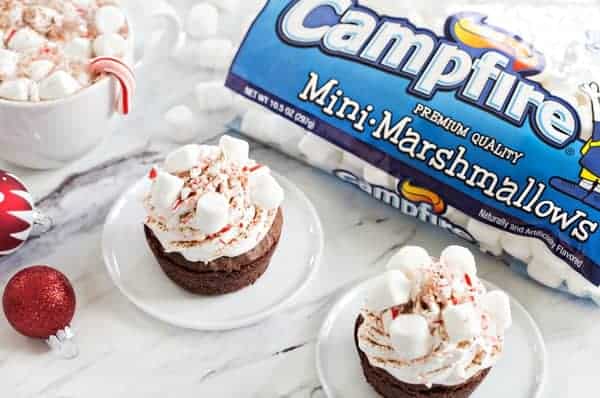 These Peppermint Cocoa Brownie Cups are a match made in holiday dessert heaven. The texture of the chewy brownies mixes perfectly with the creamy whipped cream, crunchy candy canes and sweet, fluffy marshmallows. And they're easy enough to whip together on a random Thursday night with the kiddos while watching Elf for the 5th time this week.
As you may remember, I'm partnering with Emily from Jelly Toast and Campfire® Marshmallows. You'll see more recipes from us, and even more exciting stuff in 2017.
We even created a Marshmallow Madness Pinterest board where we'll pinning loads of delicious marshmallow recipes for the holidays. Just like this delicious Cranberry Fluff
If you love marshmallow-y things as much as I do, be sure to check out my S'mores Cookie Cups and this Ambrosia Salad both are perfect for just about any occasion.