Whole-berry cranberry sauce, crushed pineapple and mini marshmallows combine with whipped topping to create a perfectly sweet and tangy Thanksgiving side dish in this Cranberry Fluff.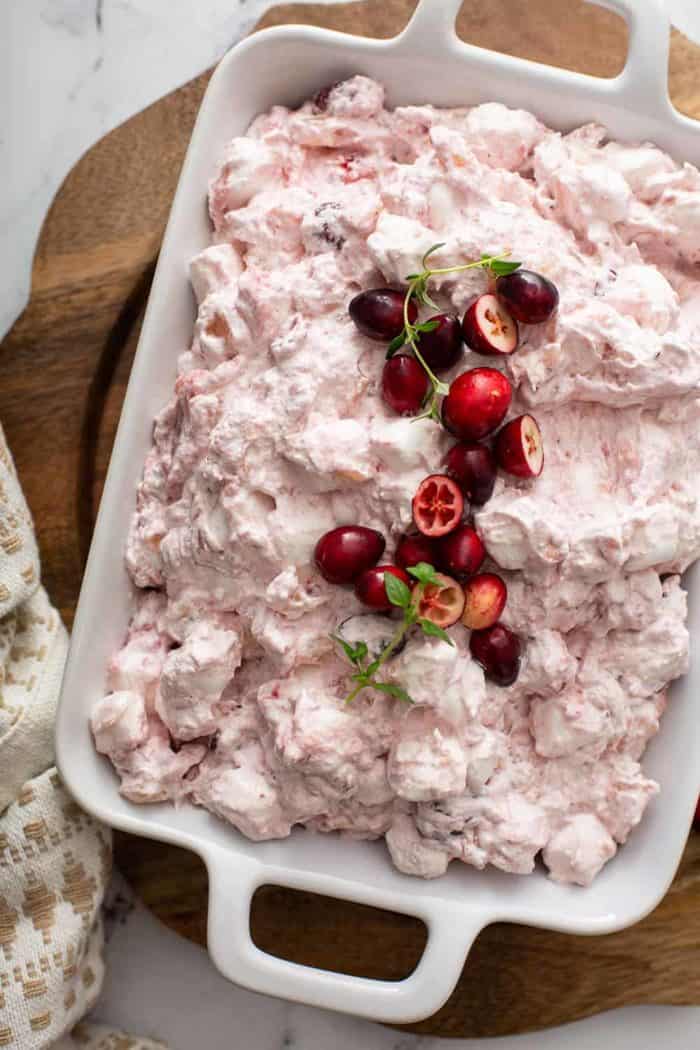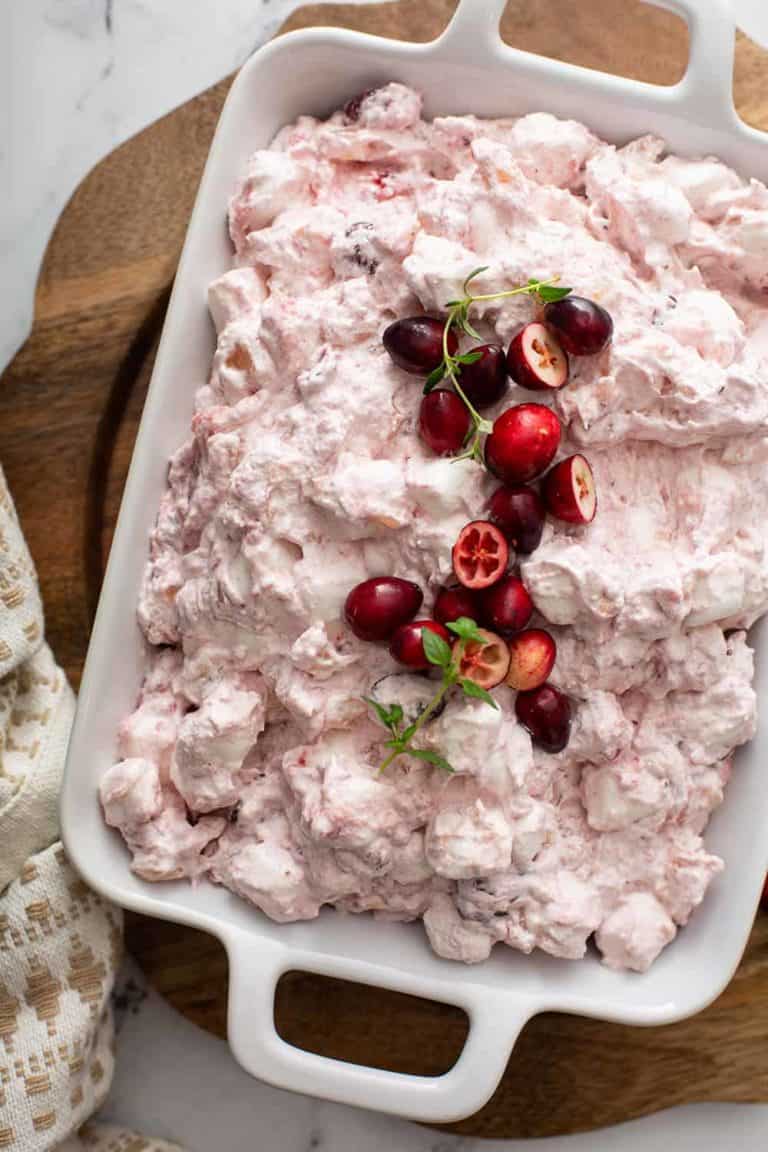 In case you haven't noticed, I'm very much into easy, festive cranberry recipes right now. From cranberry cream cheese dip and cranberry brie bites to this cranberry fluff, I'm crushing hard on all things cranberry at the moment.
If you're also a cranberry lover, you'll definitely want to keep checking back because I have more cranberry recipes coming your way!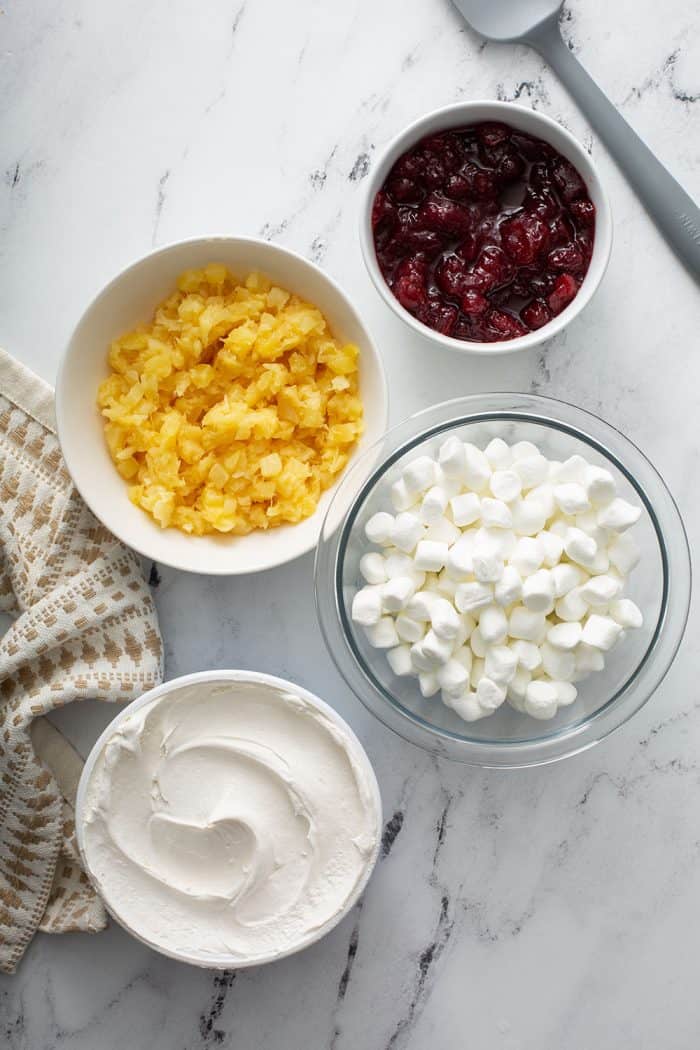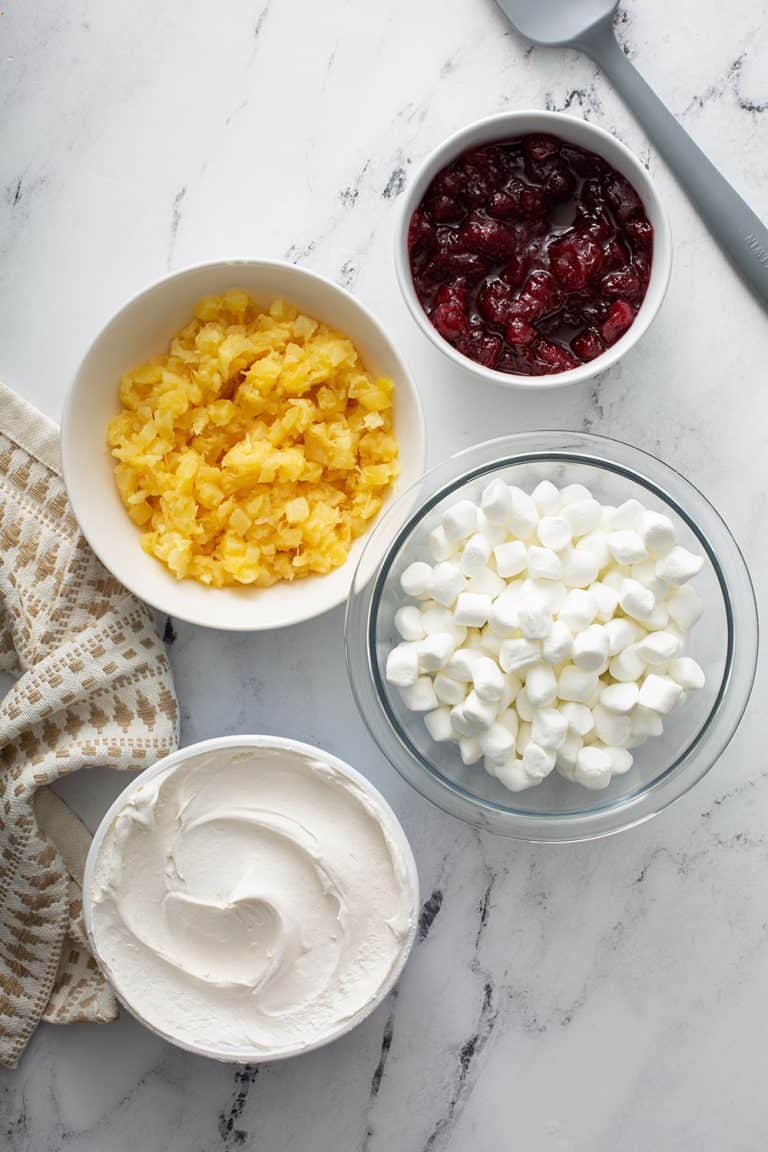 MY FAVORITE THANKSGIVING SIDE DISH
My absolute favorite Thanksgiving side dish is Cranberry Fluff – it's sweet tangy, and the perfect companion to savory Thanksgiving fare.
I can't be the only one that loads up my Thanksgiving plate with every side dish available – in double and triple servings – with just a nod (and a few bites) of roast turkey.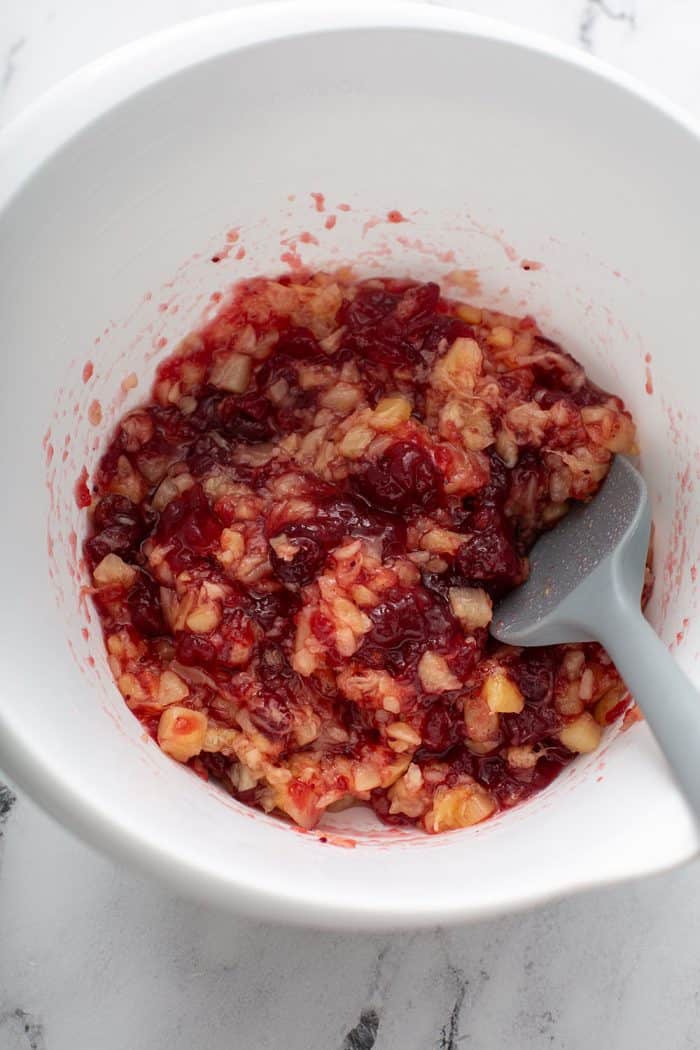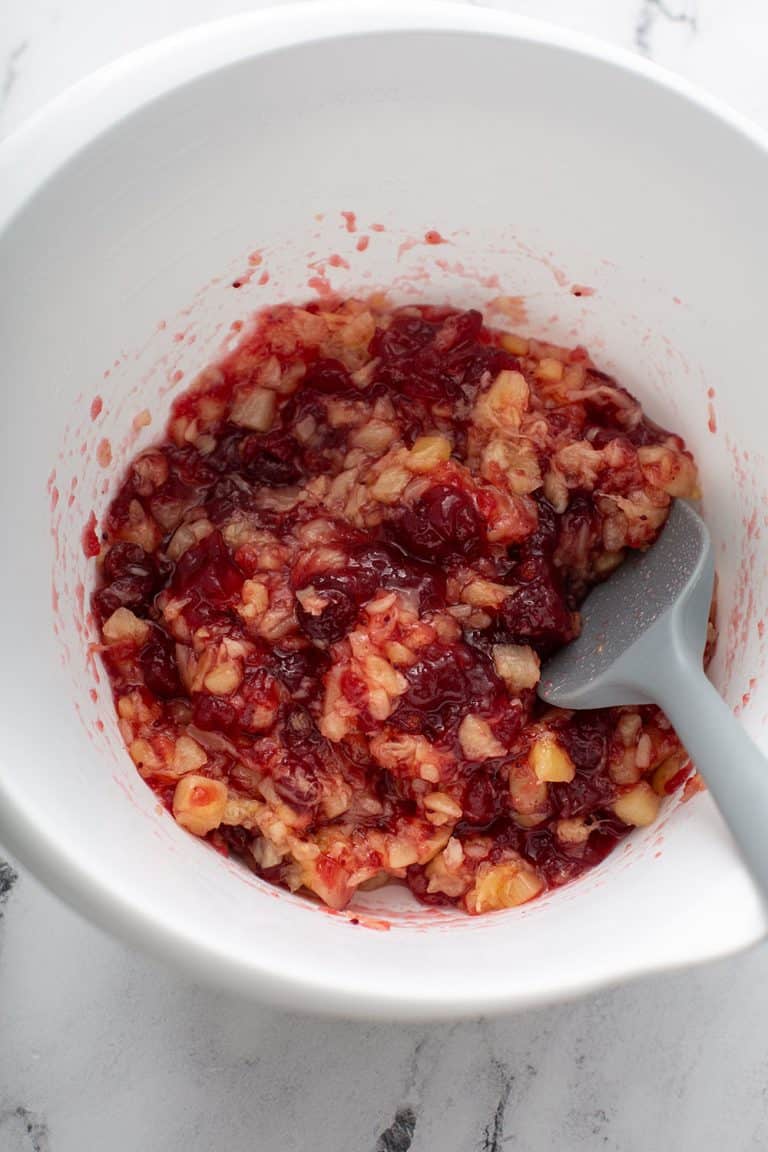 I'm not gonna lie – all the savory stuff still gets covered in gravy, but the sweet sides, like sweet potato casserole and this Cranberry Fluff – oh man. A few bites of savory, then a few bites of sweet, tangy, cool almost-dessert-but-not-quite Fluff.
I don't think there's anything better in life, at least when it comes to a Thanksgiving meal.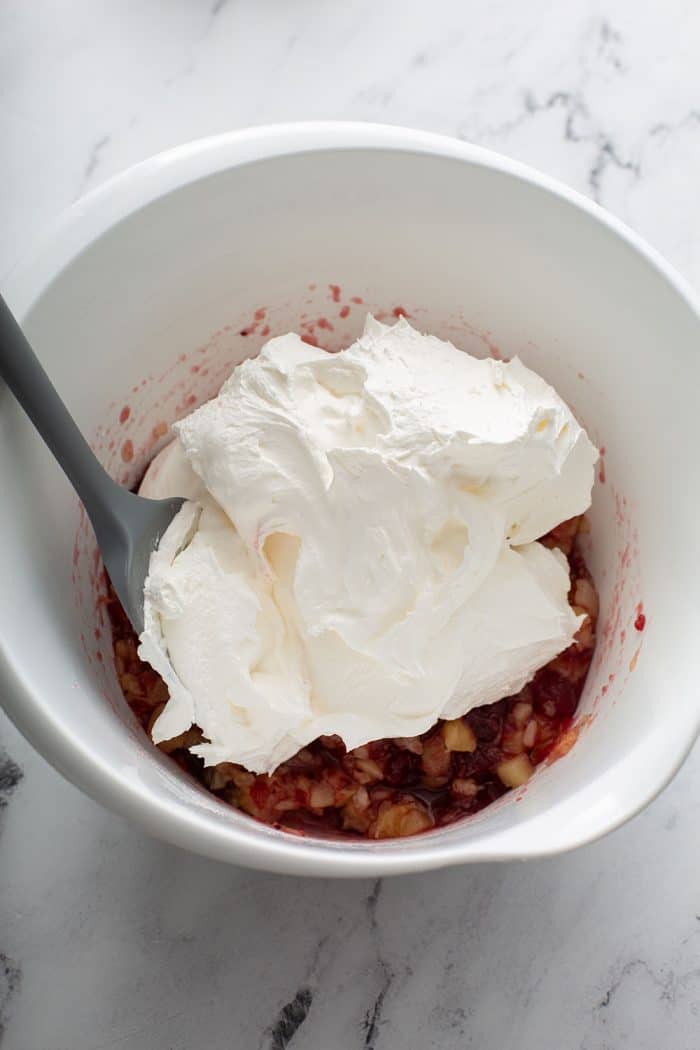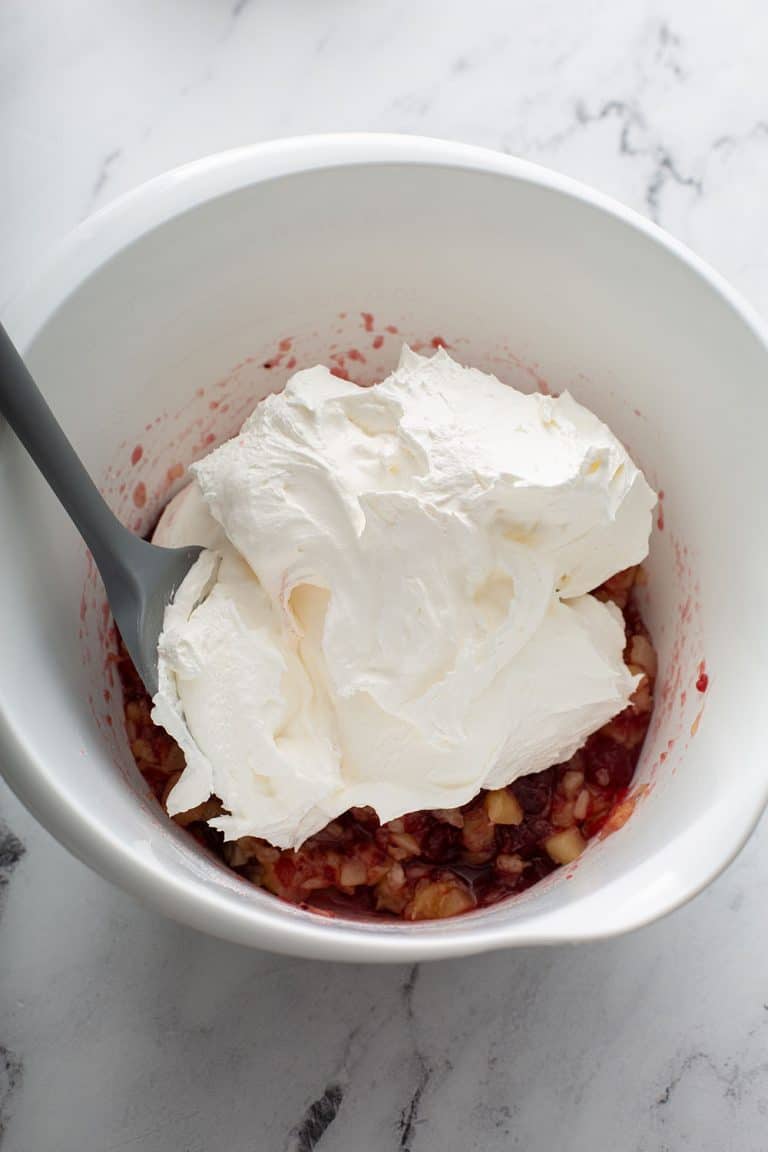 WHAT IS CRANBERRY FLUFF?
I was first introduced to this cranberry dessert years ago by my stepmom and it was most definitely love at first bite.
Cranberry Fluff is made with just a few simple ingredients:
Whole-berry cranberry sauce
Crushed pineapple
Whipped topping
Mini marshmallows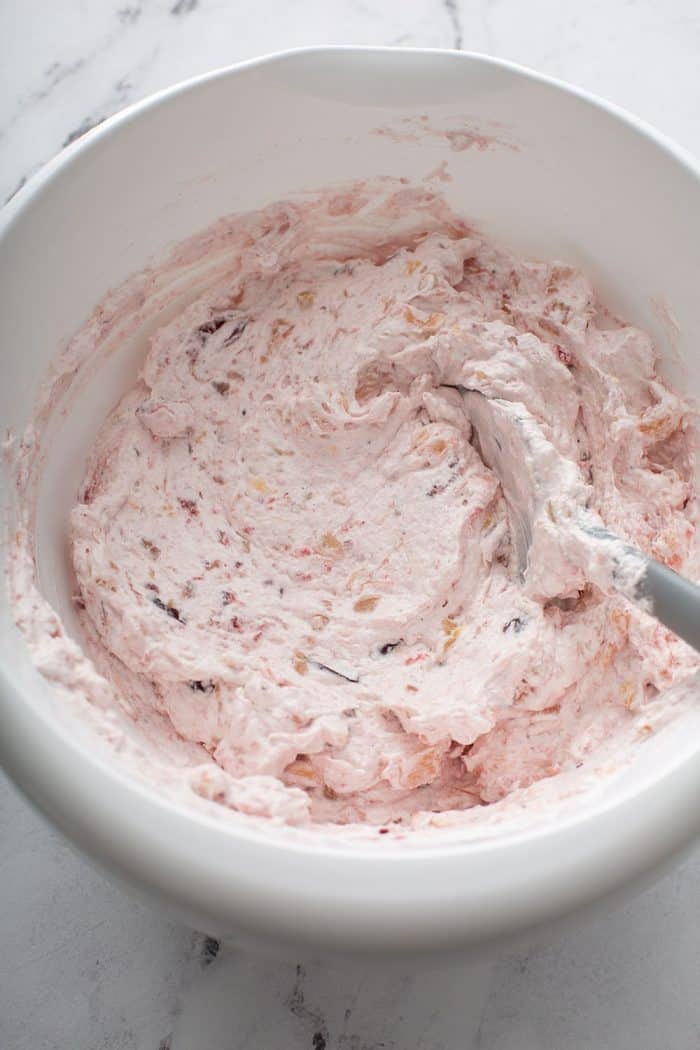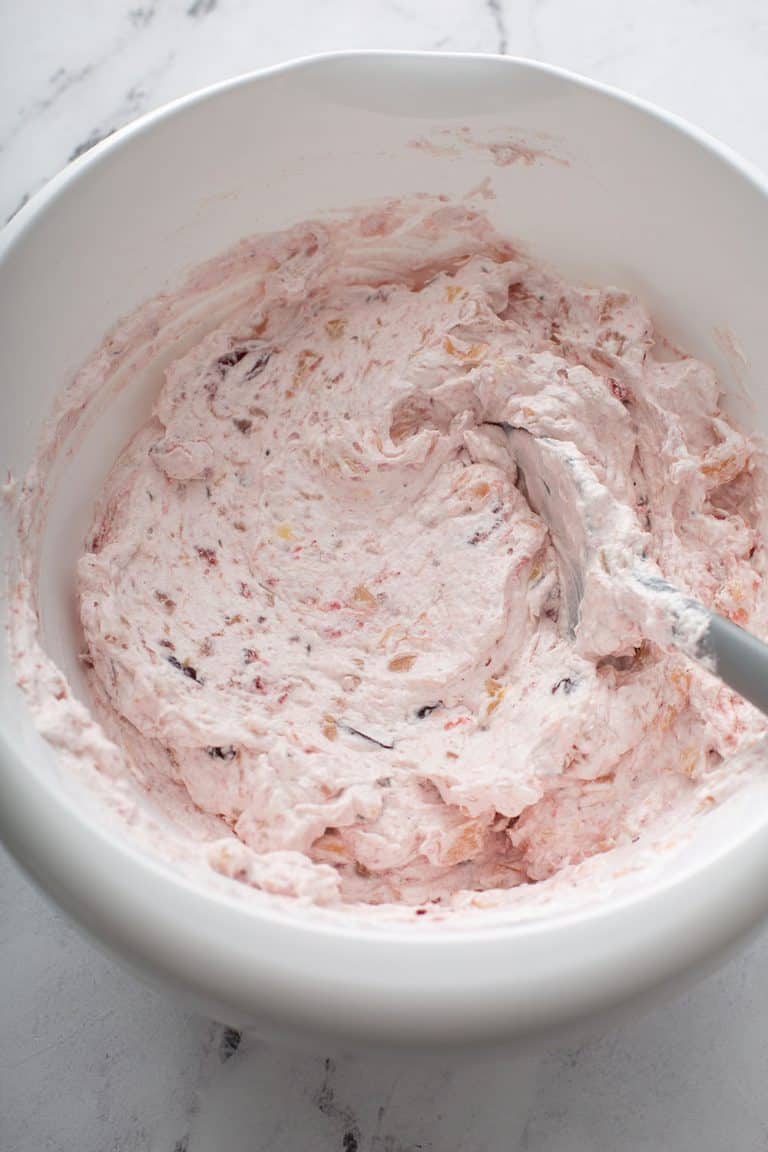 I mean, how can you go wrong with cranberry sauce, crushed pineapple and miniature marshmallows? It's like a match made in Thanksgiving heaven.
Some might argue that, similar to Ambrosia Salad, this recipe is a dessert and not a side dish. I'll say that it can be either! It just depends on if you like mixing sweet and savory on your plate or if you like to keep them separate.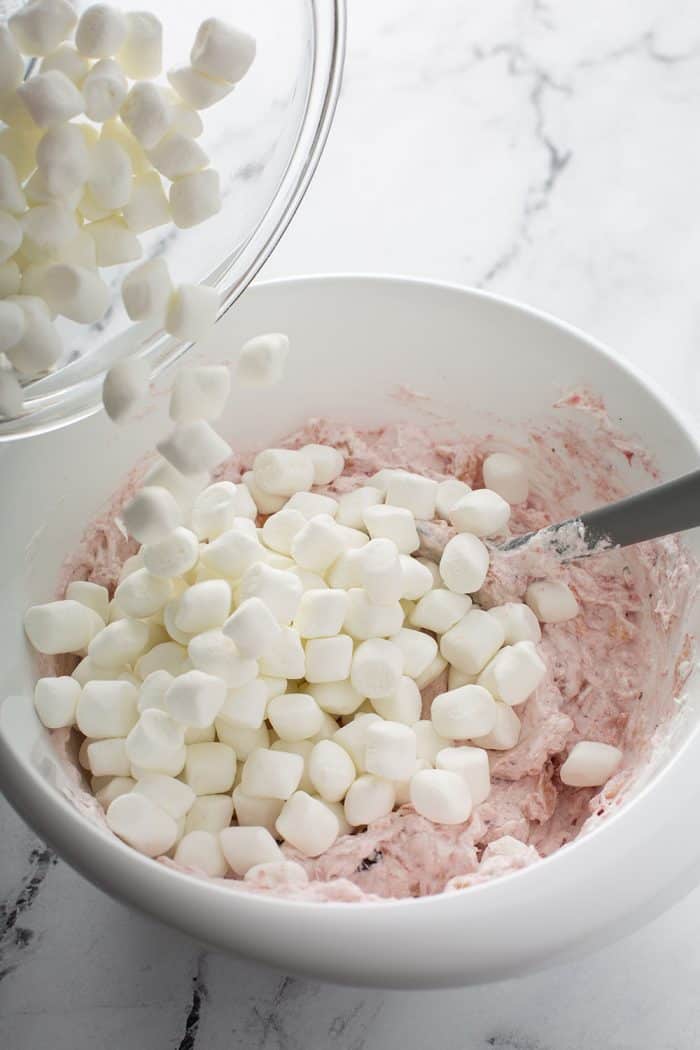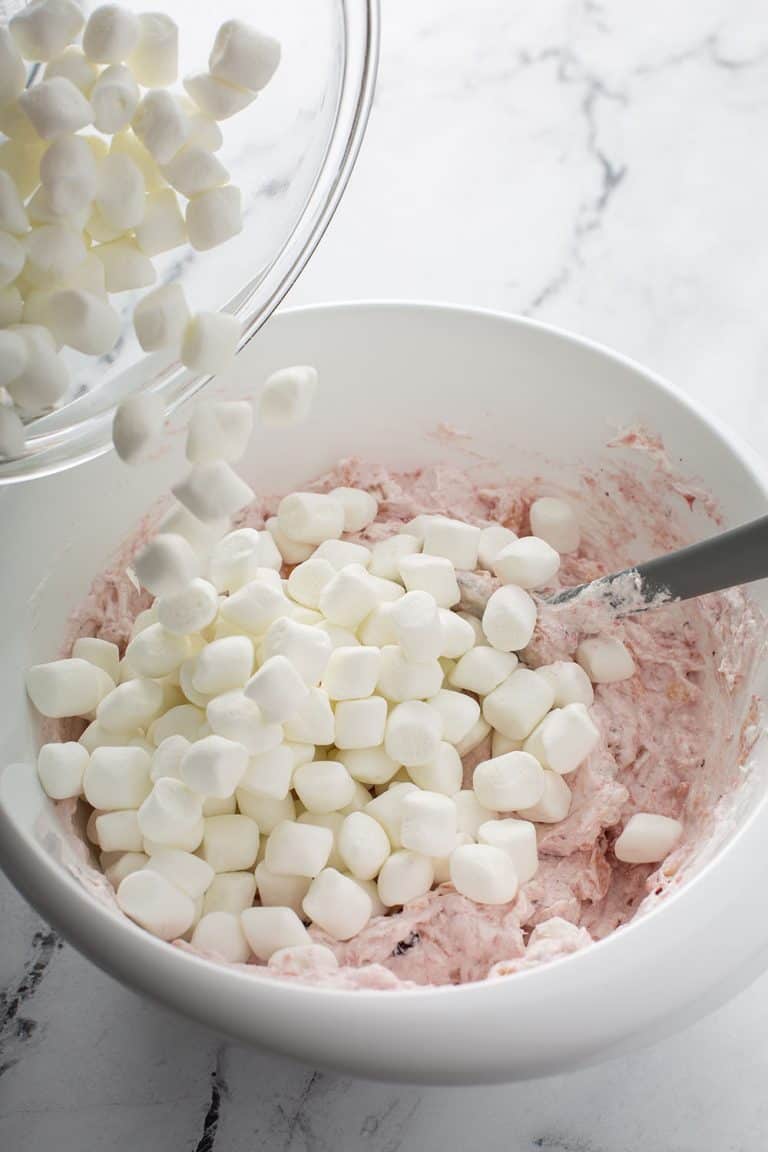 The recipe calls for a can of whole-berry cranberry sauce, but you could also use my homemade cranberry sauce if you had some extra on hand. It is a great way to use up leftover cranberry sauce after Thanksgiving, too!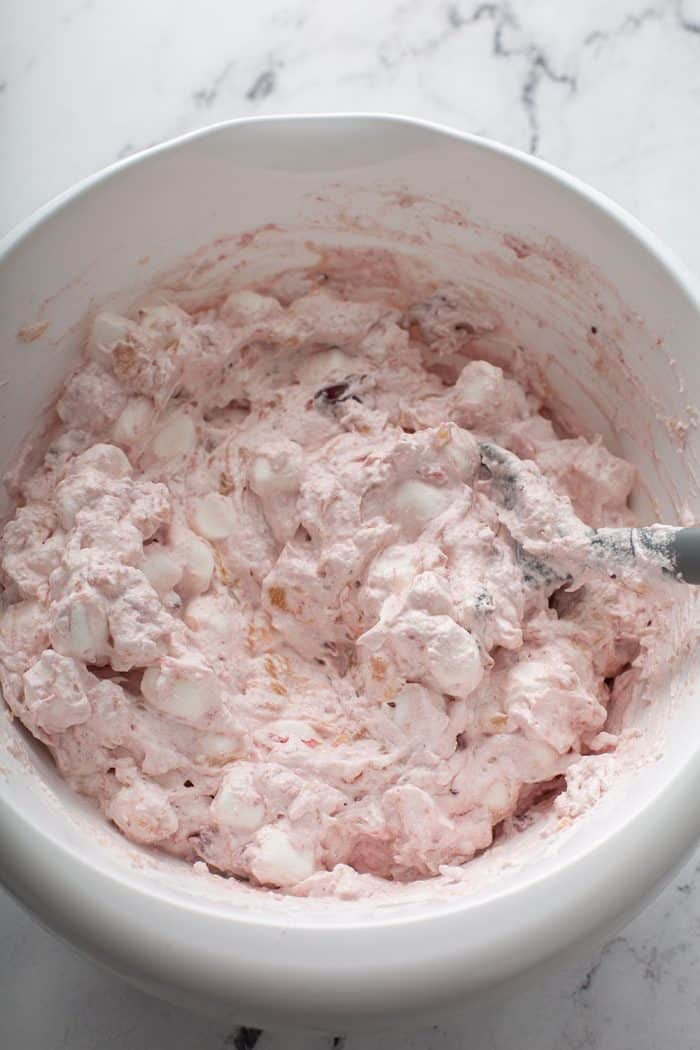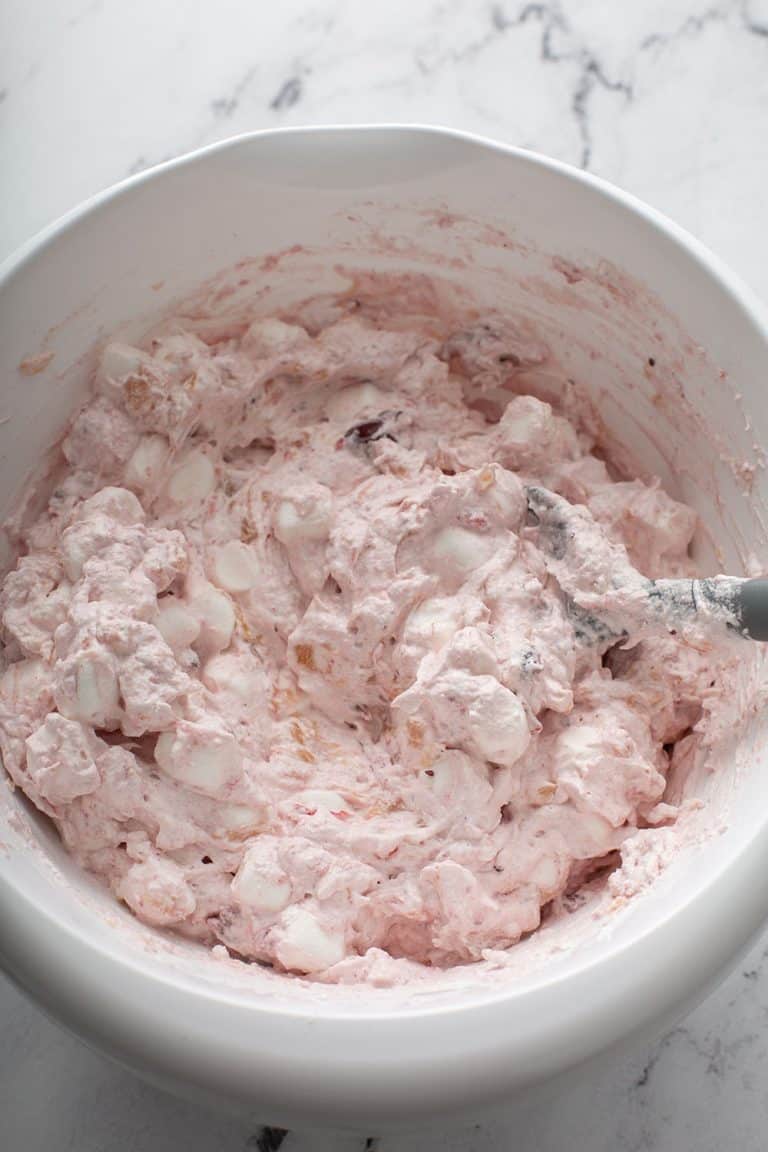 HOW TO MAKE CRANBERRY FLUFF
I'm telling you, this stuff is so stinkin' easy to make.
In a large bowl, stir together the cranberry sauce and drained, crushed pineapple.
Fold in the thawed whipped topping until well combined, and then fold in the mini marshmallows.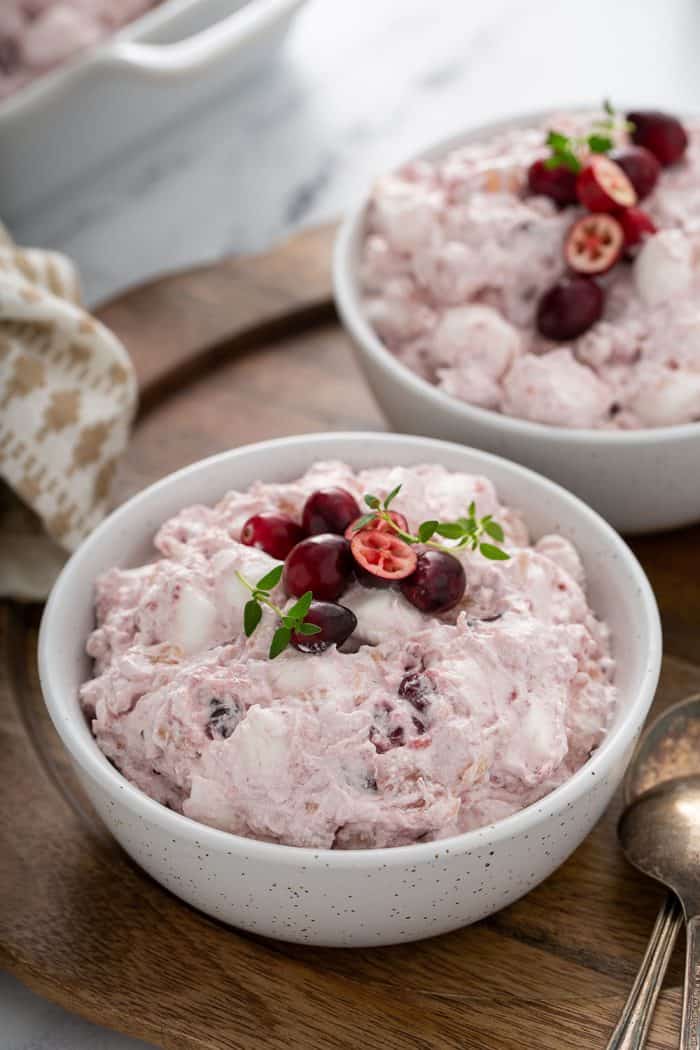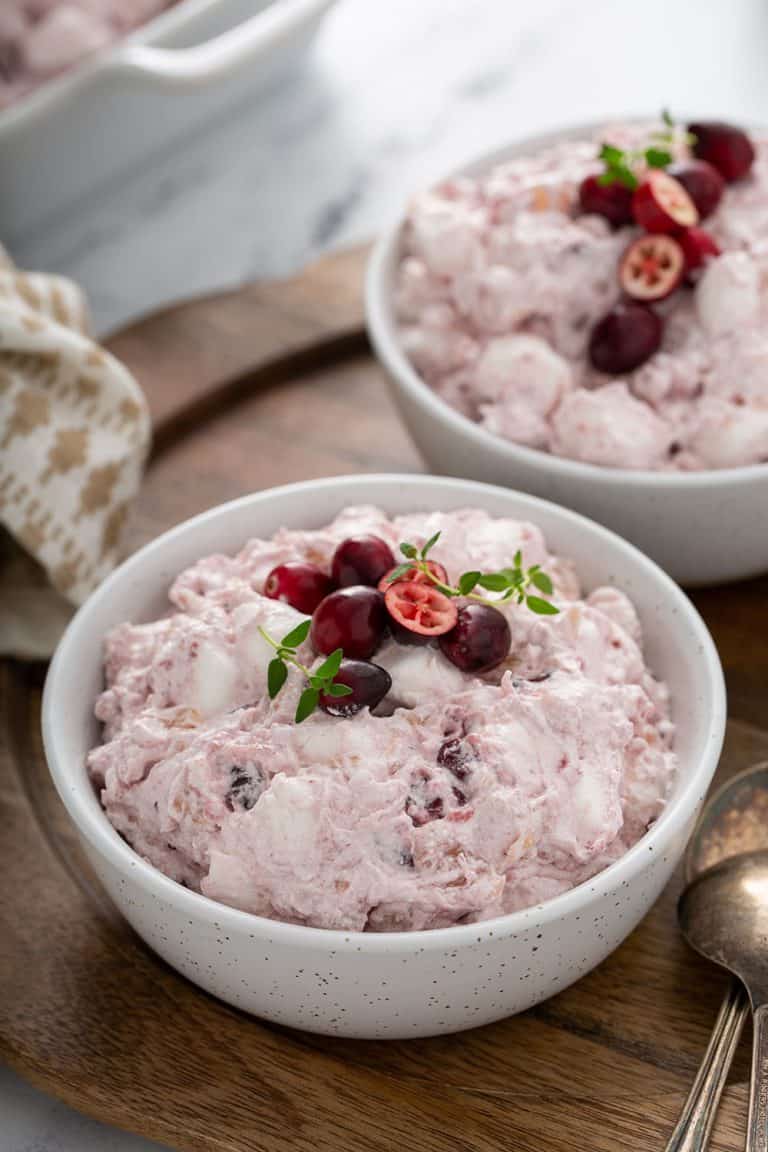 You're done! Now it just needs to chill in the refrigerator for at least 2 hours before serving.
How long did that take you to prep? 5 minutes? That's basically no time at all, especially compared to how much everyone will rave about it at the Thanksgiving table!
Whip this up the night before or the morning of Thanksgiving and sit back and enjoy all of the compliments you'll get from your family. The fact that it only took 5 minutes to make will be our secret.