Cranberry Fluff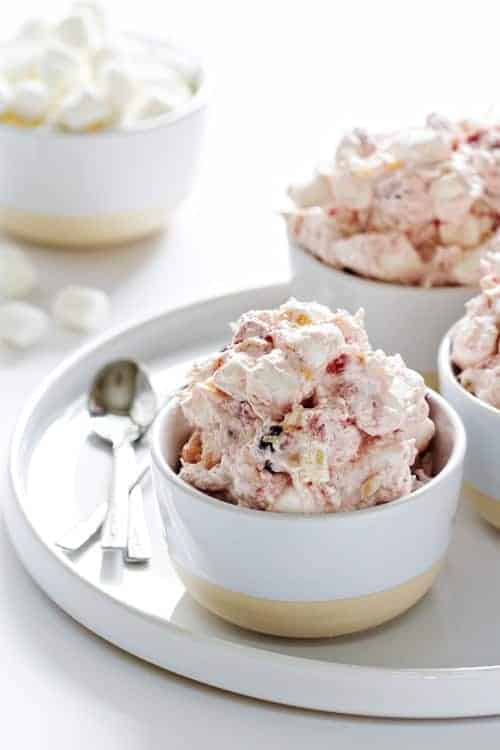 Whole berry cranberry sauce, crushed pineapple and mini Campfire® marshmallows combine with whipped topping to create a perfectly sweet and tangy Thanksgiving side dish.
This post is sponsored by Campfire® Marshmallows. All opinions are my own. Thank you for continuing to support the brands that make My Baking Addiction possible.
Do I dare start talking about Thanksgiving already? I'm sure it feels as though you just had trick-or-treaters at your door, but the reality is there are only a few weeks until turkey day. And since I'm pretty much a self-professed turkey disliker, I'm going to be making and sharing some of my favorite Thanksgiving side dishes with you. Turkey schmurkey – bring on the mashed potatoes, stuffing, sweet potato casserole and cranberry fluff!
My absolute favorite Thanksgiving side dish is Cranberry Fluff – it's sweet tangy, and the perfect companion to savory Thanksgiving fare. I was first introduced to this cranberry dessert years ago by my stepmom and it was most definitely love at first bite. How can you go wrong with cranberry sauce, crushed pineapple and miniature marshmallows? It's like a match made in Thanksgiving heaven.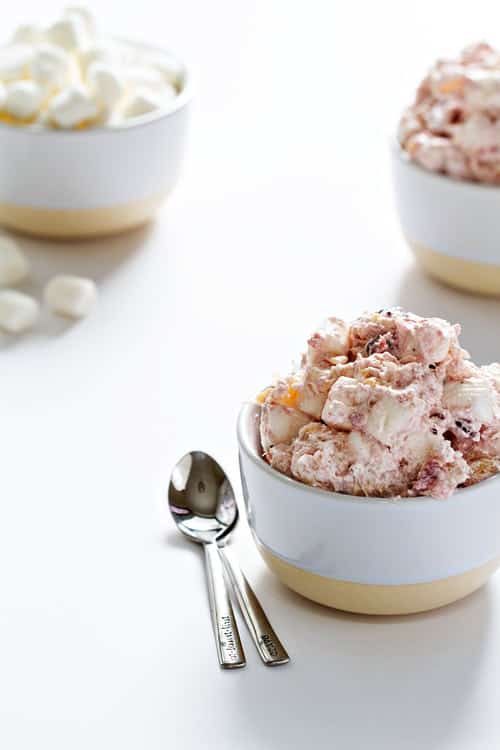 I can't be the only one that loads up my Thanksgiving plate with every side dish available – in double and triple servings – with just a nod (and a few bites) of turkey. I'm not gonna lie – all the savory stuff still gets covered in gravy, but the sweet sides, like this Cranberry Fluff – oh man. A few bites of savory, then a few bites of sweet, tangy, cool almost-dessert-but-not-quite Fluff. I don't think there's anything better in life, at least when it comes to a Thanksgiving meal.
As you may remember from my Ambrosia Salad post, I've teamed up with Emily from Jelly Toast and Campfire® Marshmallows. You'll see more recipes from us, and hopefully even more exciting stuff during the holiday season.
We even created a Marshmallow Madness Pin Board where we'll pinning loads of delicious marshmallow recipes from our favorite food sites.
For more information about Campfire® Marshmallows, find them on them on Facebook and Twitter.
Disclosure: My Baking Addiction has teamed up with Campfire® marshmallows to share recipes using their products. This is a sponsored post written as part of that program. All opinions about Campfire® marshmallows are 100% my own.
This post may contain affiliate links. We are a participant in the Amazon Services LLC Associates Program, an affiliate advertising program designed to provide a means for us to earn fees by linking to Amazon.com and affiliated sites.