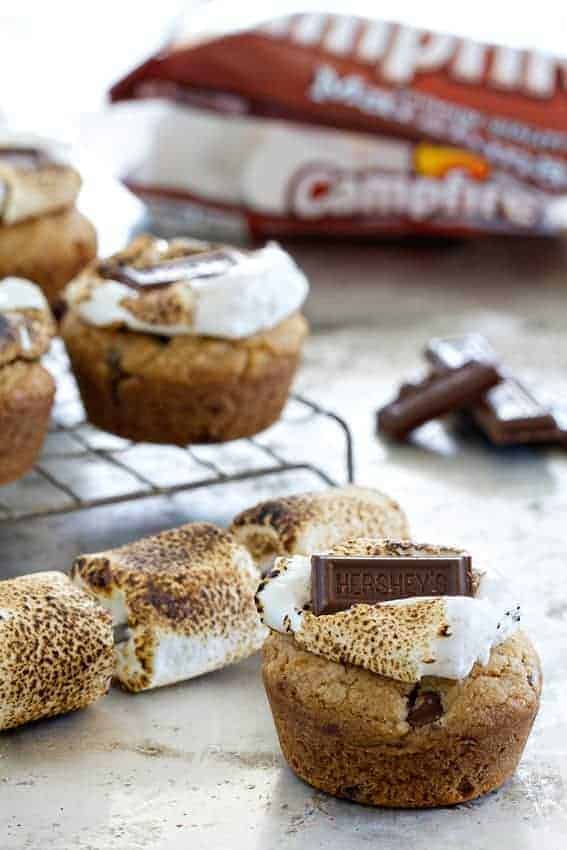 S'mores Cookie Cups raise summer's favorite dessert to a whole 'nother level. Sweet, delicious, and perfect with a glass of ice cold milk!
This is a sponsored post on behalf of Campfire® Marshmallows. All opinions are my own. Thank you for supporting the brands that continue to make My Baking Addiction possible.
It should really come as no surprise that I have a full on obsession with all things s'mores. I mean come on, in recent months, I've brought you No-Churn S'mores Ice Cream, S'mores Cupcakes, S'mores Dip and No-Bake S'mores Cheesecake, and this is just naming a few of my faves. S'mores are a life-long addiction for me, and they're most definitely at the top of my must-have comfort foods.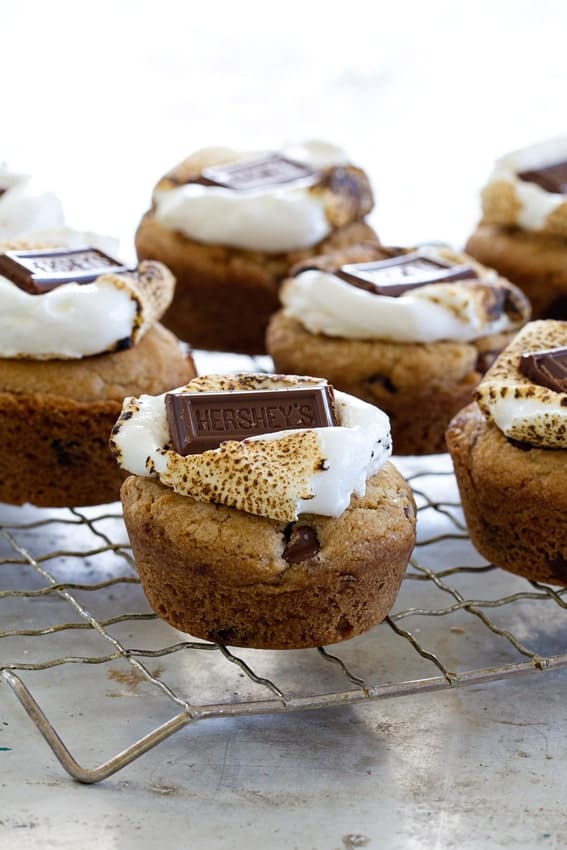 When I was pregnant with Elle, they were pretty much my number one craving, and whenever I'm having a crappy day, Eric knows exactly how to cheer me up – reality television and one of his famous microwave s'mores. If you find a man that will make you s'mores without you even asking? MARRY HIM.
Elle is a big fan of the ooey-gooey goodness as well, but somehow, Mama always ends up the messier face than the toddler. I have no explanation.
Last week, Eric was craving chocolate chip cookies, so naturally, I headed into the kitchen and whipped up a batch of my favorite dough – the New York Times Chocolate Chip Cookies. Only, we weren't feeling the whole 24 hour resting time the recipe requires, nor a plain ol' chocolate chip cookie that doesn't require it, so we decided to kick things up a notch and create S'mores Cookie Cups.
What could possibly be better than a thick, chewy chocolate chip cookie topped with a sweet and melty Campfire® marshmallow and milk chocolate square? Not much. Plus it's really fun to roast individual marshmallows for each of you. Love a super black, roasty toasty, melted-inside marshmallow? Go for it. Prefer it just a little golden? You can do that too. These cookie cups are completely customizable to your marshmallow preferences.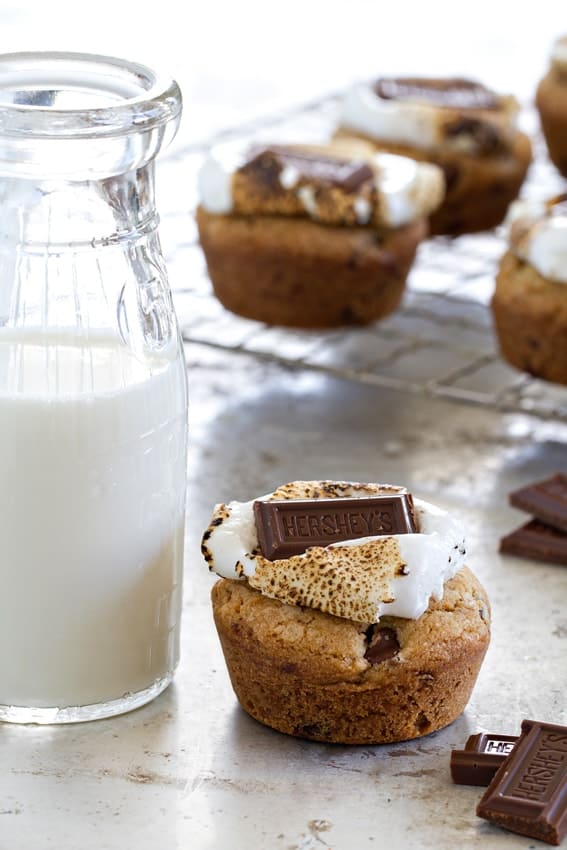 These S'mores Cookie Cups are sure to bring a big smile to any s'mores lover in your life. Especially if it's you! Just be sure to serve this delicious cookie with a tall glass of ice cold milk!
As you may remember, I'm partnering with Emily from Jelly Toast and Campfire® Marshmallows. You'll see more recipes from us, and even more exciting stuff as the year goes on.
We even created a Marshmallow Madness Pin Board where we'll pinning loads of delicious marshmallow recipes from our favorite food sites.
For more information about Campfire® Marshmallows, find them on them on Facebook and Twitter.
If you love marshmallow-y things as much as I do, be sure to check out my Strawberry Marshmallow Fudge and these decadent S'mores Trifles.