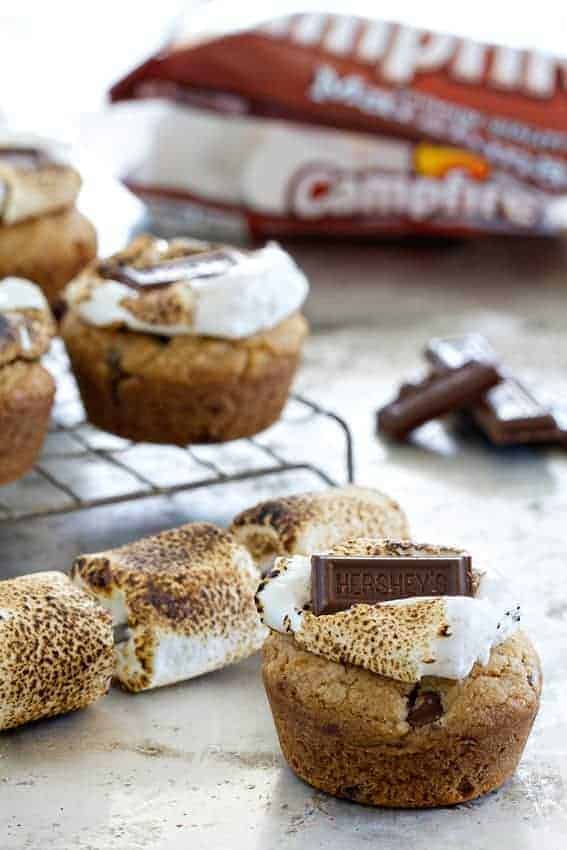 S'mores Cookie Cups raise summer's favorite dessert to a whole 'nother level. Sweet, delicious, and perfect with a glass of ice cold milk!
This is a sponsored post on behalf of Campfire® Marshmallows. All opinions are my own. Thank you for supporting the brands that continue to make My Baking Addiction possible.
It should really come as no surprise that I have a full on obsession with all things s'mores. I mean come on, in recent months, I've brought you No-Churn S'mores Ice Cream, S'mores Cupcakes and No-Bake S'mores Cheesecake, and this is just naming a few of my faves. S'mores are a life-long addiction for me, and they're most definitely at the top of my must-have comfort foods.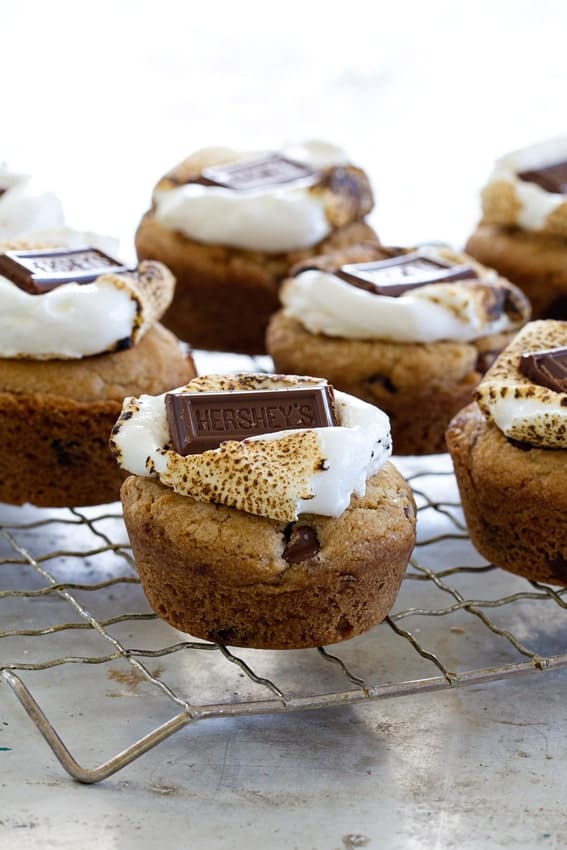 When I was pregnant with Elle, they were pretty much my number one craving, and whenever I'm having a crappy day, Eric knows exactly how to cheer me up – reality television and one of his famous microwave s'mores. If you find a man that will make you s'mores without you even asking? MARRY HIM.
Elle is a big fan of the ooey-gooey goodness as well, but somehow, Mama always ends up the messier face than the toddler. I have no explanation.
Last week, Eric was craving chocolate chip cookies, so naturally, I headed into the kitchen and whipped up a batch of my favorite dough – the New York Times Chocolate Chip Cookies. Only, we weren't feeling the whole 24 hour resting time the recipe requires, nor a plain ol' chocolate chip cookie that doesn't require it, so we decided to kick things up a notch and create S'mores Cookie Cups.
What could possibly be better than a thick, chewy chocolate chip cookie topped with a sweet and melty Campfire® marshmallow and milk chocolate square? Not much. Plus it's really fun to roast individual marshmallows for each of you. Love a super black, roasty toasty, melted-inside marshmallow? Go for it. Prefer it just a little golden? You can do that too. These cookie cups are completely customizable to your marshmallow preferences.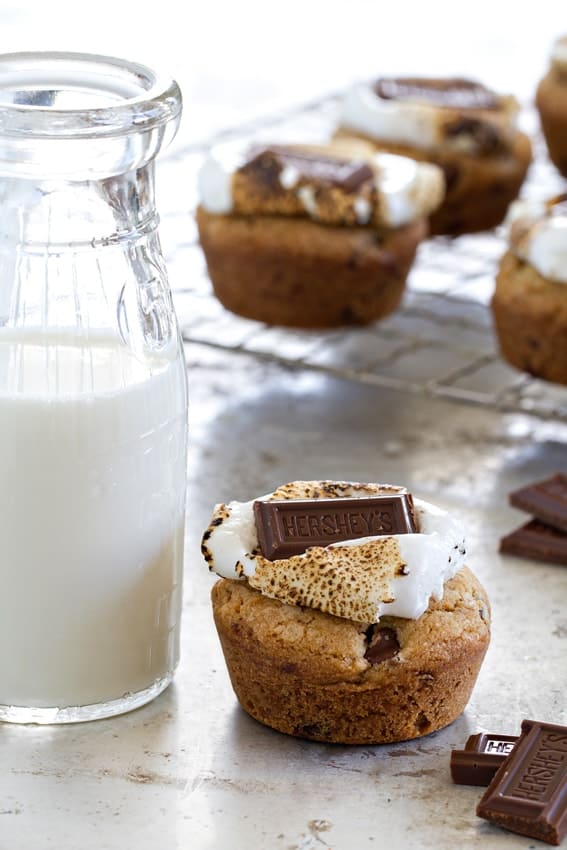 These S'mores Cookie Cups are sure to bring a big smile to any s'mores lover in your life. Especially if it's you! Just be sure to serve this delicious cookie with a tall glass of ice cold milk!
As you may remember, I'm partnering with Emily from Jelly Toast and Campfire® Marshmallows. You'll see more recipes from us, and even more exciting stuff as the year goes on.
We even created a Marshmallow Madness Pin Board where we'll pinning loads of delicious marshmallow recipes from our favorite food sites.
For more information about Campfire® Marshmallows, find them on them on Facebook and Twitter.
If you love marshmallow-y things as much as I do, be sure to check out my Strawberry Marshmallow Fudge and these decadent S'mores Trifles.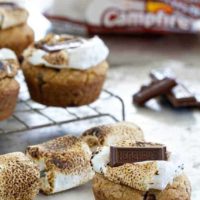 S'mores Cookie Cups
S'mores Cookie Cups raise summer's favorite dessert to a whole 'nother level. Sweet, delicious, and perfect with a glass of ice cold milk!
Ingredients
2 cups minus 2 tablespoons (8 1/2 ounces) cake flour
1 2/3 cups (8 1/2 ounces) bread flour
1 1/4 teaspoons baking soda
1 1/2 teaspoons baking powder
1 1/2 teaspoons coarse salt
2 1/2 sticks (1 1/4 cups) unsalted butter
1 1/4 cups (10 ounces) light brown sugar
1 cup plus 2 tablespoons (8 ounces) granulated sugar
2 large eggs
2 teaspoons pure vanilla extract
1 pound semisweet chocolate chips
30 regular Campfire® Marshmallows
30 milk chocolate squares
Instructions
Preheat oven to 350°F . Spray muffin tins with nonstick cooking spray.
Sift flours, baking soda, baking powder and salt into a bowl. Set aside.
Using a mixer fitted with paddle attachment, cream butter and sugars together until very light, about 5 minutes.
Add eggs, one at a time, mixing well after each addition. Stir in the vanilla.
Reduce speed to low, add dry ingredients and mix until just combined, 5 to 10 seconds. Stir in chocolate chips.
Use a large cookie scoop to distribute about 3 tablespoons of dough into the prepared muffins wells.
Bake in preheated oven for 18 to 20 minutes. Allow cookies to cool completely in the muffin pans.
When ready to serve, top with one roasted Campfire® Marshmallow and a milk chocolate square.
Notes
These are also delicious when topped with mini peanut butter cups.
If you don't have access to a fire pit to roast your marshmallows, a kitchen torch does the trick.
Cookies will store at room temperature in an airtight container for up to 3 days.
Nutrition Information
Yield

30
Serving Size

1 cookie cup
Amount Per Serving
Calories

193
Total Fat

7g
Saturated Fat

4g
Trans Fat

0g
Unsaturated Fat

3g
Cholesterol

14mg
Sodium

203mg
Carbohydrates

32g
Fiber

1g
Sugar

25g
Protein

2g