Strawberry Marshmallow Fudge that's so easy to make, you can do it the morning of Valentine's Day, and still have a treat ready in time for dessert, with only 5 minutes of effort.
This is a sponsored post on behalf of Campfire® Marshmallows. Thank you for continuing to support the brands that make My Baking Addiction possible.
I am SO so so all about easy treats right now. With a life in and out of boxes, trying to whip up a pan au chocolat or chocolate pots de creme seems impossible, even for showing Eric how much I love him. I know he doesn't want that much mess either.
(Also, I don't know why I went French there, but I guess it's because Love = French = Valentine's Day. Stick with me.)
So when I saw the Rocky Road Fudge over on Food Fanatic, I just knew that I could make it my own, and make it OURS for Valentine's Day. Especially with Campfire® mini fruit-flavored marshmallows, dried strawberries, and cocoa rice cereal studded throughout, silky Nutella finishing the whole thing off.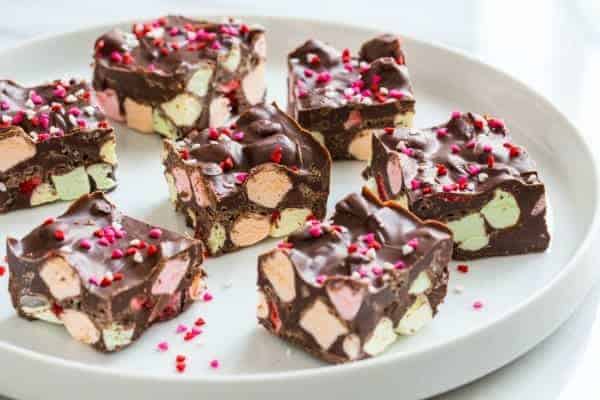 Oh, how I love these Campfire® mini fruit-flavored marshmallows. I can eat them by the handful as a snack when I'm craving something sweet. They're fantastic here, in indulgent little bites of fudgy bliss.
This Strawberry Marshmallow Fudge is genius, you guys. You don't need a candy thermometer. You don't need to stand over your stove, stirring (and potentially burning your fingers) forever. All you need is a bowl, a microwave, and an 8×8 baking dish. That's it.
You even get a glossy finish on the fudge thanks to the addition of Nutella. Really you can use any nut (or cookie!) butter you like. And you can swap in Campfire® white mini marshmallows if you want. Dried cherries or raisins and nuts sound pretty amazing to me too.
Whatever you do though, you have to make this fudge immediately. It's the perfect homemade way to show your favorite guy or gal how much you love 'em. They don't have to know it only took you five minutes and dirtying one bowl.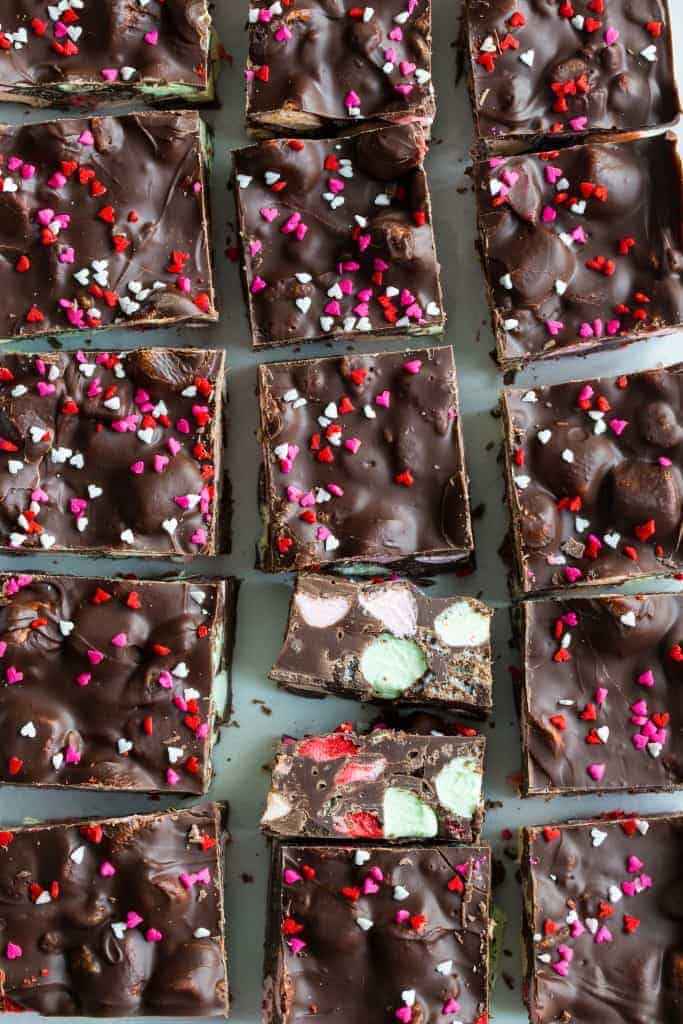 As you may remember from my Salted Caramel S'mores, I'm partnering with Emily from Jelly Toast and Campfire® Marshmallows over the next year. You'll see more recipes from us, and hopefully even more exciting stuff as the year goes on.
We even created a Marshmallow Madness Pin Board where we'll pinning all of our favorite marshmallow recipes from our favorite food sites.
For more information about Campfire® marshmallows, find them on them on Facebook and Twitter.
Photo Credit: Emily Caruso of Jelly Toast
Looking for more marshmallow goodness? Check out these delicious recipes: