Key Lime Pie Marshmallow Treats are loaded with graham cracker crumbs, lime zest, coconut and Campfire® Marshmallows then drenched in a rich chocolate coating.
We just got home from Florida, approximately 4 hours and 32 minutes ago. And we drove, because what better way to test your relationship than to travel to Florida in a car for 17 hours and 56 minutes with a teething 6 month old? There is no better way. Trust me.
Elle was such a trooper, and although I cued the dramatics as soon as I started this post, things were pretty uneventful. Well, except for the ginormous accident aftermath we saw 5 minutes into our voyage back to Ohio. It basically had me breathing in and out of a Chick-fil-A bag and demanding that we just stay in Florida – forever.
We stayed on Gasparilla Island, which is pretty much my favorite place. After seeing my Instagram photos and reading this post, I've received a few emails from readers asking about this gorgeous vacation spot, so I'll definitely fill you in on all the details in the coming weeks.
Speaking of Florida, Key West was my inspiration for these Chocolate-Dipped Key Lime Pie Marshmallow Treats. Although I've never stepped foot on the island, I've heard amazing things about the place from friends and family. I've also been told that the island serves up Chocolate-Dipped Key Lime Pie on a stick. I've convinced myself that this has to be the best dessert in the history of desserts. A) It's Key Lime Pie B) It's on a stick. And everything is better on a stick. C) Because it's dipped in chocolate.
I had a desperate craving for marshmallow treats, and then I got to thinking about that Key Lime Pie dipped in chocolate. I thought what better way to kick them a notch than to load them with lime zest and drench them in chocolate? I'm fairly certain they'll immediately transport you to a tropical climate – even if you're sitting on your brother's couch in Ohio after a gazillion hour roadtrip <--- that'd be me!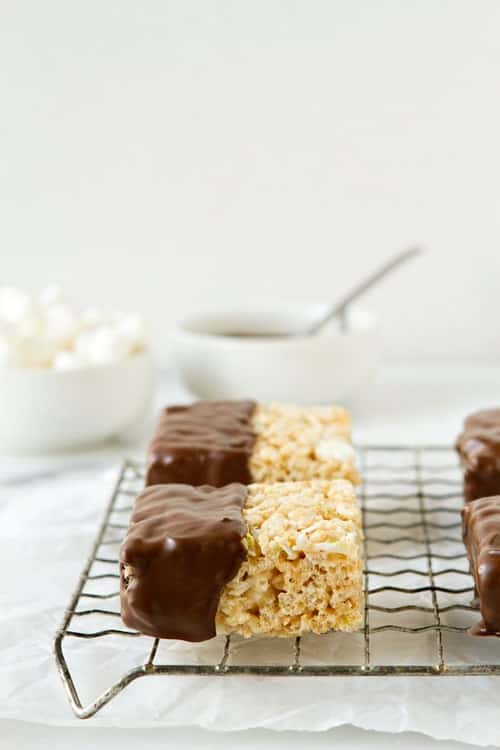 Mini marshmallows have always been my favorite. For cocoa, for marshmallow treats, for tossing into my gob at break-neck speed. There's just something so adorable, so snackable, about baby marshmallows. In my opinion, Campfire® Mini Marshmallows are the best tasting marshmallows on the market – they're super soft, fluffy and oh, so delicious.
As you may remember from my Salted Caramel S'mores, I'm partnering with Emily from Jelly Toast and Campfire® Marshmallows over the next year. You'll see more recipes from us, and hopefully even more exciting stuff as the year goes on.
Be sure to check out Emily's post for Marshmallow Strawberry Shortcake – I can't handle the gorgeousness! Please don't miss it.
We even created a Marshmallow Madness Pin Board where we'll pinning all of our favorite marshmallow recipes from our favorite food sites.
For more information about Campfire® Marshmallows, find them on them on Facebook and Twitter.
Key Lime Pie Marshmallow Treats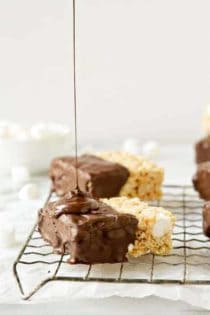 Ingredients:
4 tablespoons unsalted butter
10.5 ounce package Campfire® Mini Marshmallows
zest of 2 medium limes
2 tablespoons fresh lime juice
1/2 teaspoon pure vanilla extract
1 cup graham cracker crumbs
5 cups crisped rice cereal
1/2 cup unsweetened shredded coconut
Optional
dark chocolate melting wafers
Directions:
1. Line a 9 x 13 x 2 inch baking pan with foil and spray with nonstick cooking spray.
2. In large saucepan melt butter over low heat. Add in Campfire® Mini Marshmallows and stir until completely melted. Add lime zest and juice and stir until the mixture is smooth. Remove from heat and stir in vanilla extract.
3. Add graham cracker crumbs, crisped rice cereal and coconut, stirring until well coated.
4. Using a buttered spatula, press the mixture into the prepared pan. Cool. Cut into squares.
5. If desired, melt dark chocolate melting wafers according to package directions and drizzle over or dip 1/2 of each square. Allow chocolate to harden before serving.
Notes:
Key Lime Pie Marshmallow Treats are best served the day the are made.
All images and text ©
Follow Jamie on Instagram. We love to see what you're baking from MBA! Be sure to tag @jamiemba and use the hashtag #mbarecipes!
Disclosure: My Baking Addiction has teamed up with Campfire® marshmallows to share recipes using their products. This is a sponsored post written as part of that program. All opinions about Campfire® marshmallows are 100% my own.