S'mores Dip is always a party favorite! Dig into this combo of melty chocolate and gooey, toasted marshmallows with graham crackers, fruit, or your favorite cookies.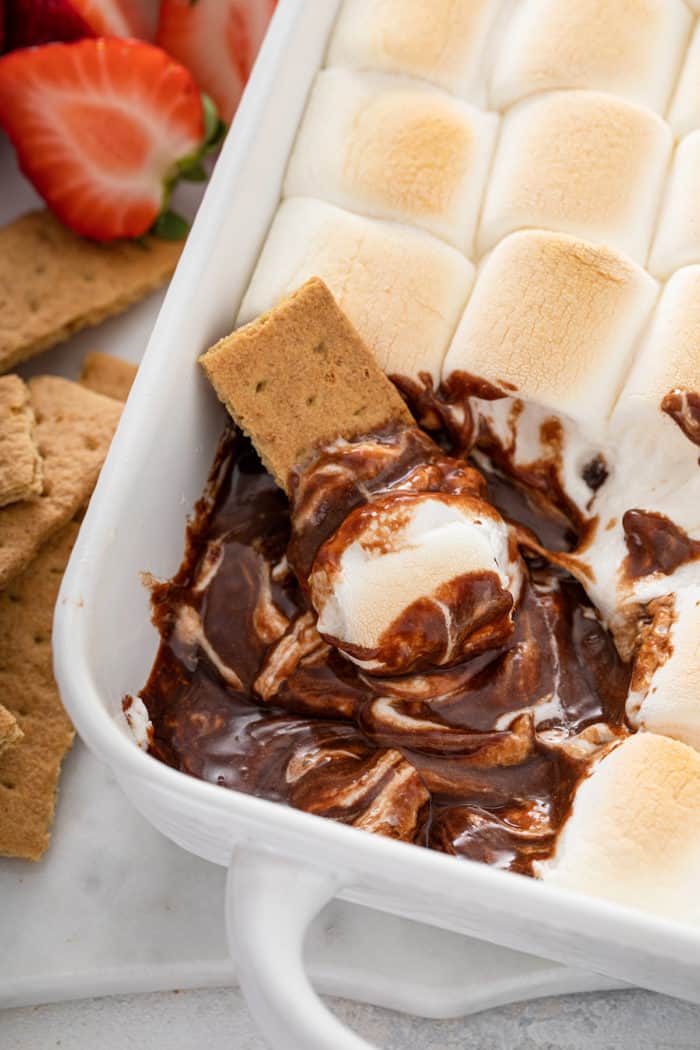 I know that everyone tends to think about savory dips when they think of parties, but I think sweet dips are just as great for feeding dessert to a crowd.
After all, when you put out something like Toffee Apple Dip, your guests aren't committed to a full slice of cake or a whole cookie if they just one a bite or two of something sweet.
Plus, who doesn't find dips to be super fun to eat? You can count me in every time.
This S'mores Dip is the newest addition to my party menus, just in time for warmer weather and all of the backyard fun.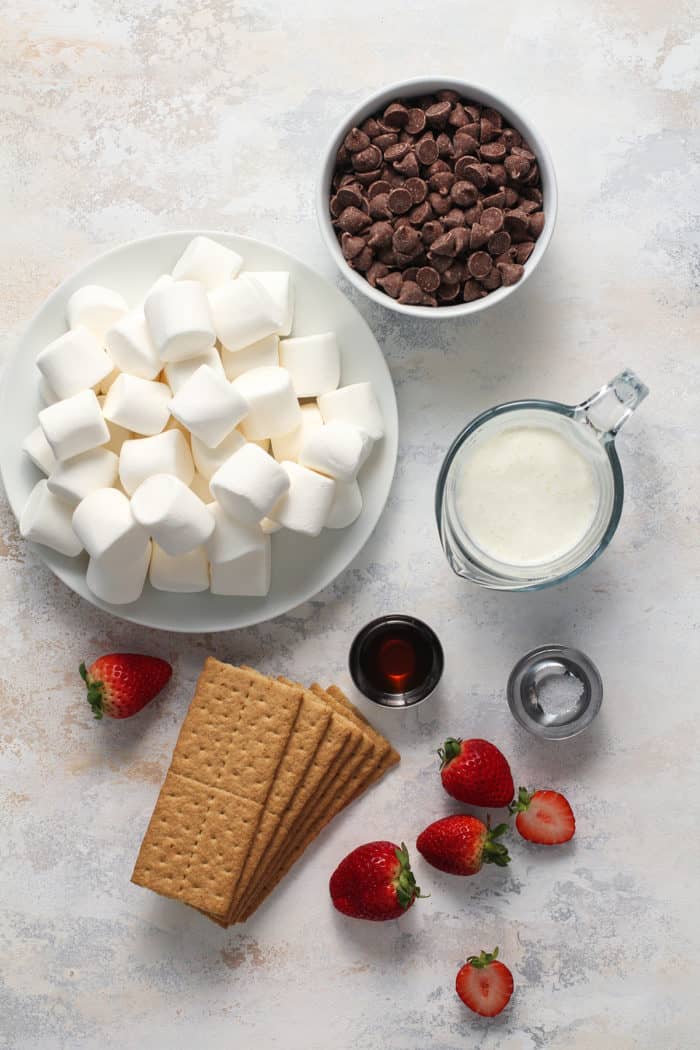 WHAT IS S'MORES DIP?
I love s'mores. But I don't really love making s'mores one by one when you've got a crowd of people to feed.
So instead, I make s'mores recipes that can feed a larger group of people with less effort, such as S'mores Cookies, S'mores Pie, or Golden Grahams S'mores.
This S'mores Dip is my latest s'mores-for-a-crowd adventure and it just might be the ultimate party dip.
S'mores Dip is exactly what it sounds like: A dippable version of s'mores! This one has a simple chocolate ganache on the bottom and big, toasty marshmallows on top. It's perfect for digging in with a graham cracker!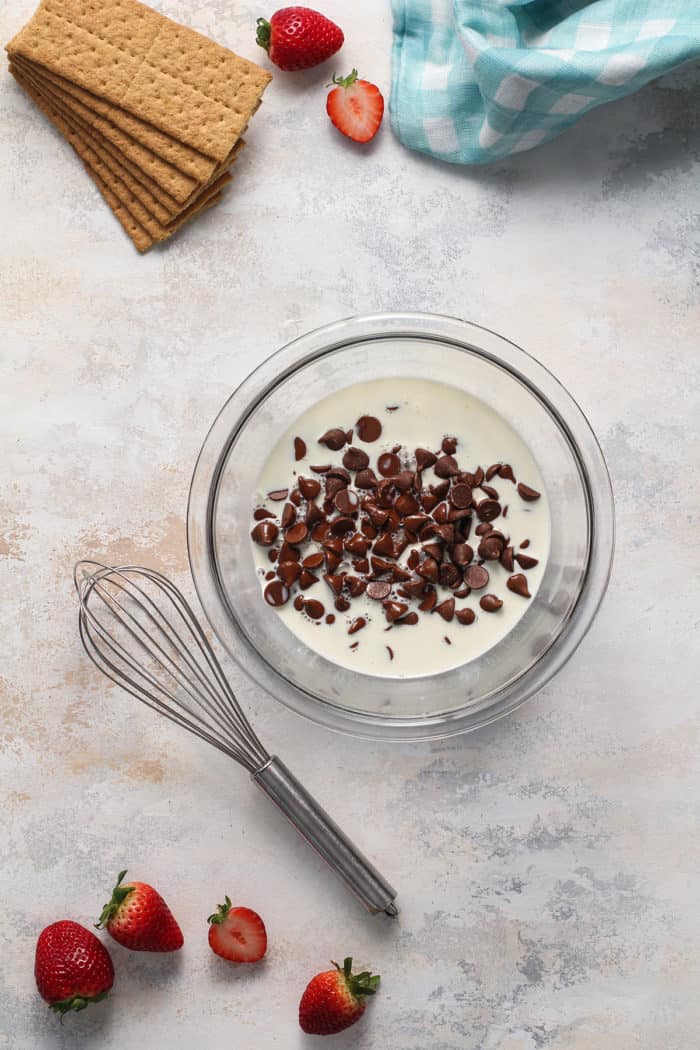 S'MORES DIP INGREDIENTS
My version of this popular dip has a few more ingredients than some other versions I've tried, but there's a reason for that.
To make my S'mores Dip recipe, you'll need:
2 cups Ghirardelli milk chocolate chips
½ cup heavy cream
½ teaspoon vanilla extract
pinch of sea salt
About 40 regular size marshmallows
You may have seen some recipes that just use chocolate chips and marshmallows. Those will make a fine dip right out of the oven, but the longer it sits, the less enticing the chocolate will become.
By adding some cream to the chocolate and making a simple ganache first, the dip actually stays perfectly dippable for a long time. That means you can serve it at a party or during a movie night and it'll be enjoyable all evening long!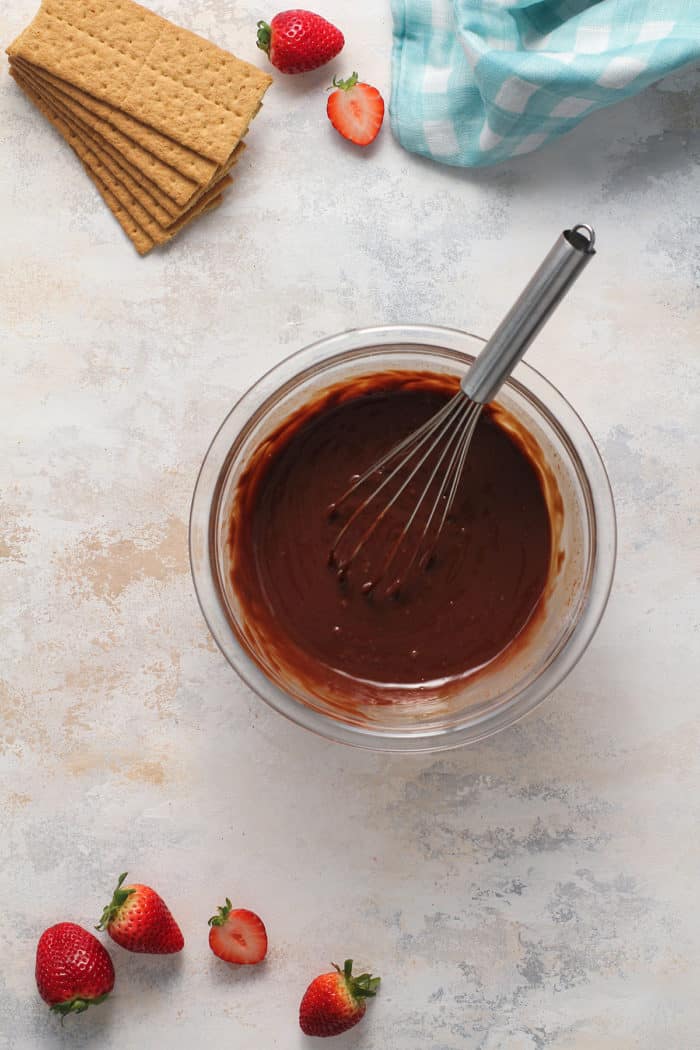 Do I really need Ghirardelli Chocolate Chips?
Trust me on this: You really should use Ghirardelli chocolate chips for this recipe.
I promise, I'm not being sponsored to say this. I actually tried making this recipe with multiple brands of chocolate chips, and none of the others melted as nicely as the Ghirardelli chips!
Go ahead and treat yourself to these nicer chocolate chips, because it really will make a difference in the final recipe.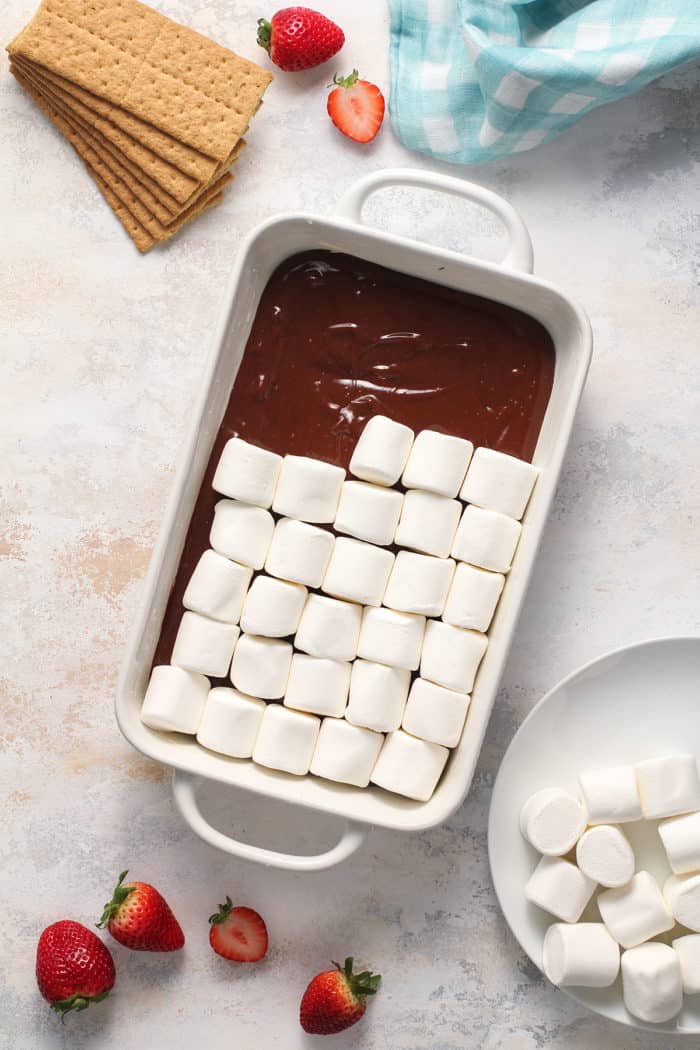 Can I use mini marshmallows?
Trust me again: You don't want to use mini marshmallows on top of your S'mores Dip.
I know that mini marshmallows are cute and might be what you have in your pantry, but they just don't work as well for this recipe. They don't stay gooey long enough to actually enjoy the dip!
Use the regular-size marshmallows and thank me later.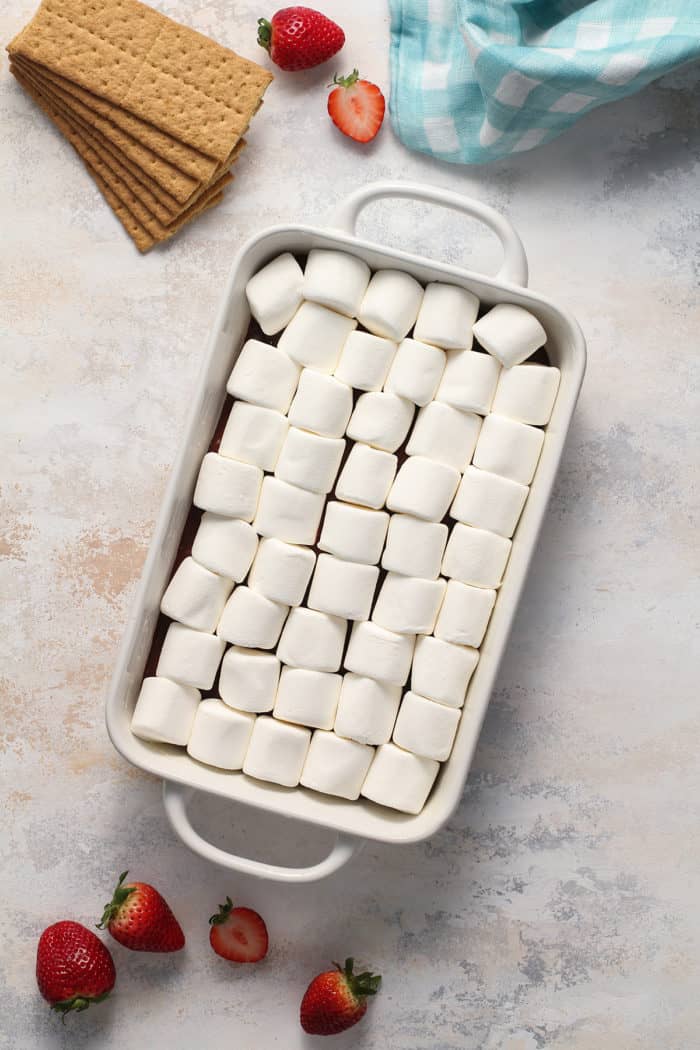 HOW TO MAKE THIS PARTY FAVORITE
Even though my S'mores Dip has a couple more ingredients than others you may have tried, I promise it is still super easy to make.
Equipment you'll need
In addition to the ingredients I mentioned, you'll need:
11 x 7 ½ inch ceramic or glass baking dish
Medium mixing bowl
Small saucepan
Whisk
Rubber spatula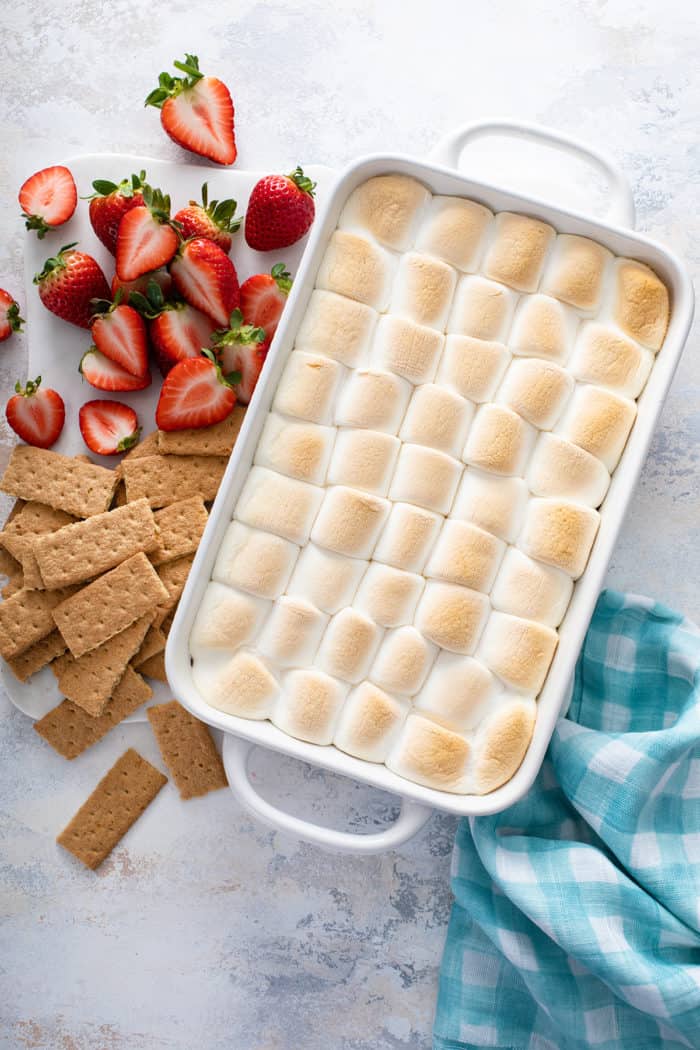 Making this recipe
Start by making the chocolate ganache base.
Put the chocolate chips in your bowl, then pour the cream into the saucepan. Warm the cream over medium-low heat until it barely starts to simmer. Don't let it boil!
Once the cream is hot, pour it over the chocolate chips and let it sit for 3 minutes. Then grab your whisk and start whisking. It's going to seem like the chocolate and cream will never come together, but I promise it will.
Once the chocolate is smooth, add the vanilla and salt.
Spread the chocolate into the bottom of a buttered baking dish and cover the top evenly with your marshmallows.
Bake the dip for about 10 minutes, until the marshmallows have puffed up slightly and are golden brown. The marshmallows will go from beautifully toasted to burnt really fast, so don't walk too far away!
Let the dip cool for about 20 minutes before digging in.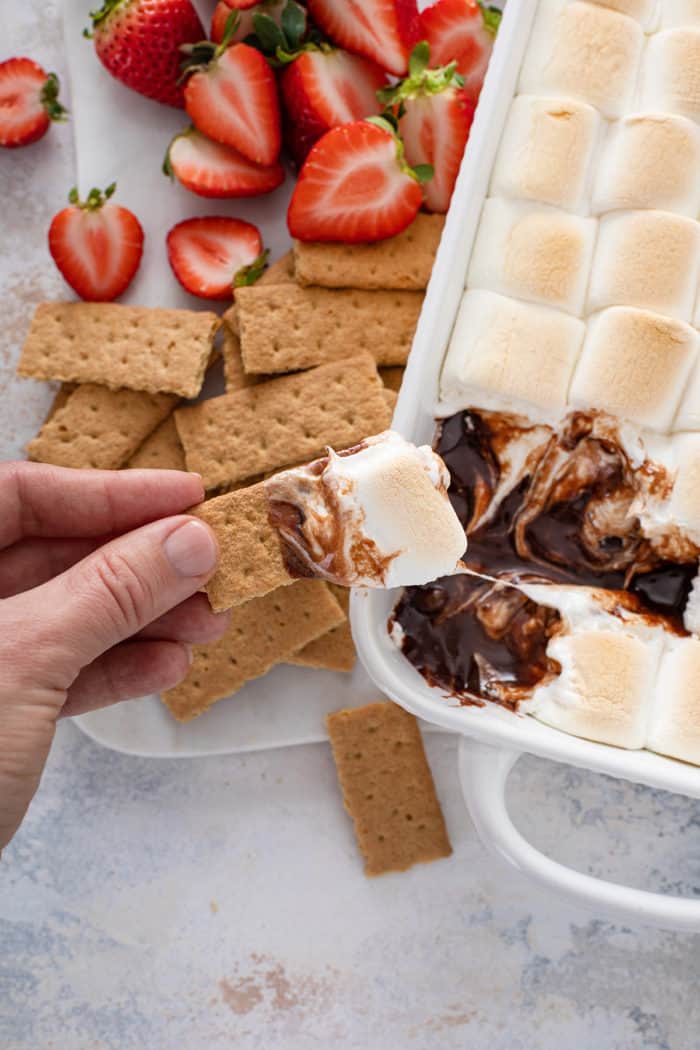 WHAT TO SERVE WITH THIS DIP?
And what should you dig in with?
Graham crackers are the obvious choice (homemade graham crackers would be even better!) , but don't stop there!
Try serving this dip alongside cookies, such as vanilla wafers, or even some fresh fruit. Strawberries or pineapple would be delicious.
Want a more sweet-savory twist? Serve your S'mores Dip with some Ritz crackers!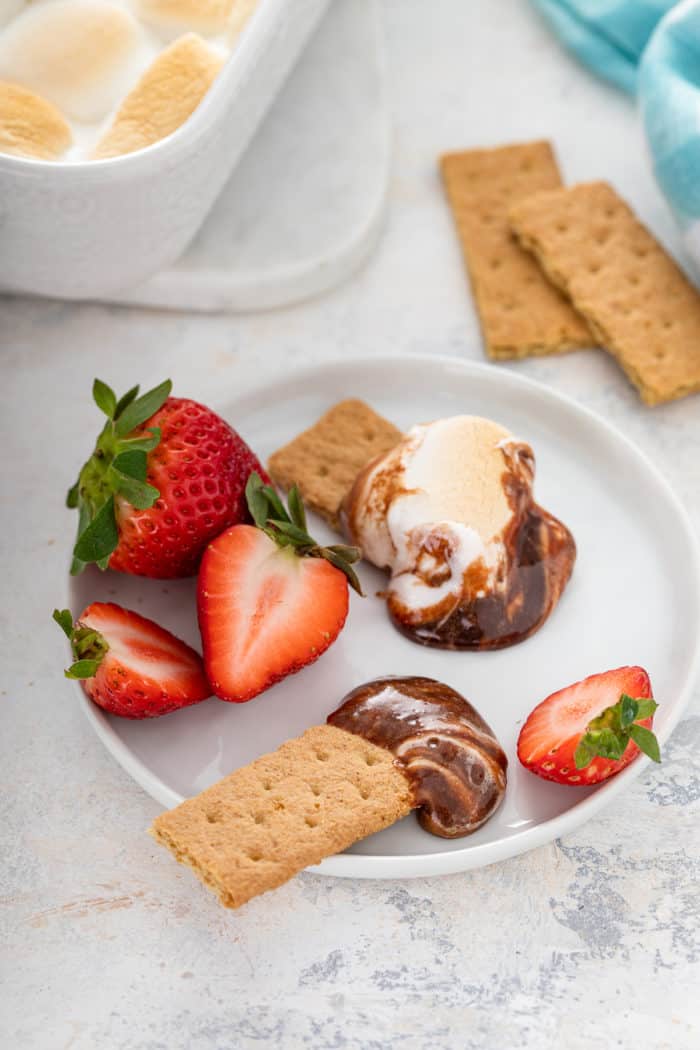 STORAGE AND REHEATING
If you have any S'mores Dip leftover, let it cool completely before covering it well and placing it in the refrigerator for up to 3 days.
How to reheat S'mores Dip
The best way to reheat leftover S'mores Dip is in the oven.
Cover the pan with foil and place it in a 400°F oven until warmed through. Make sure to keep the top covered with foil so the marshmallows don't burn.
You can reheat the dip in the microwave, too, but be careful. Marshmallow loves to expand and do crazy things in the microwave, so make sure to only microwave it in 10-second intervals until it is warm.