Get ready for your favorite campfire treat packed into a portable cookie! S'mores Cookies are sweet and chewy, stuffed with graham cracker pieces and chocolate chips and topped with gooey marshmallows.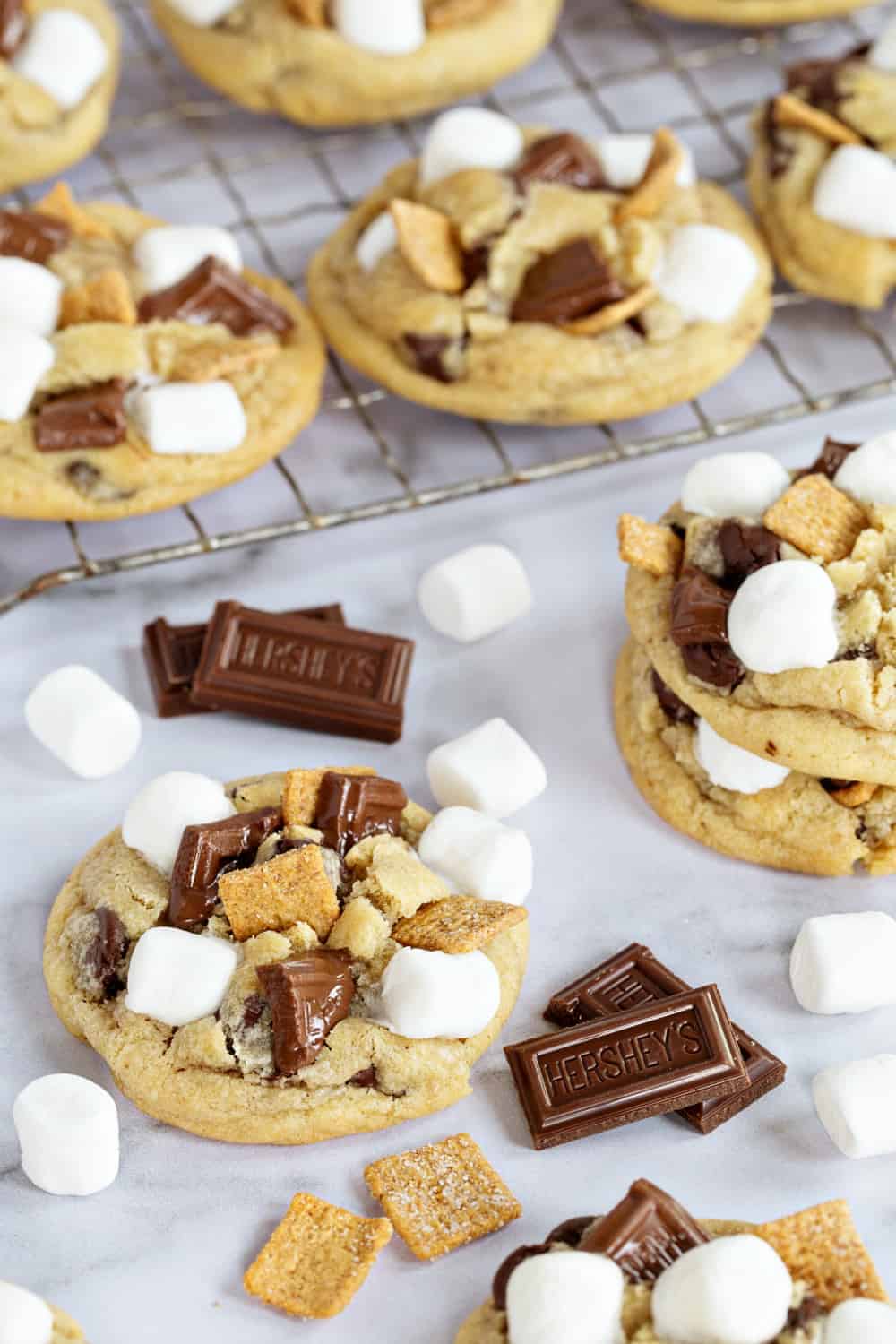 I can't believe we're almost half way through January and this is the first recipe I've posted.
I wish my excuse was that I've been on a tropical vacation, but nope, just hanging out in Ohio feeling as though I'm in this weird bubble of crazy varying temperatures and sickness that just keeps circulating.
Seriously though, did any of you experience a 38 degree temp drop they other day like we did? It went from 68 to 30 degrees over the course of about 8 hours.
And since no amount of hot tea with honey, cough drops, or cold meds seem to be helping, I decided to make cookies. Ooey, gooey S'mores Cookies!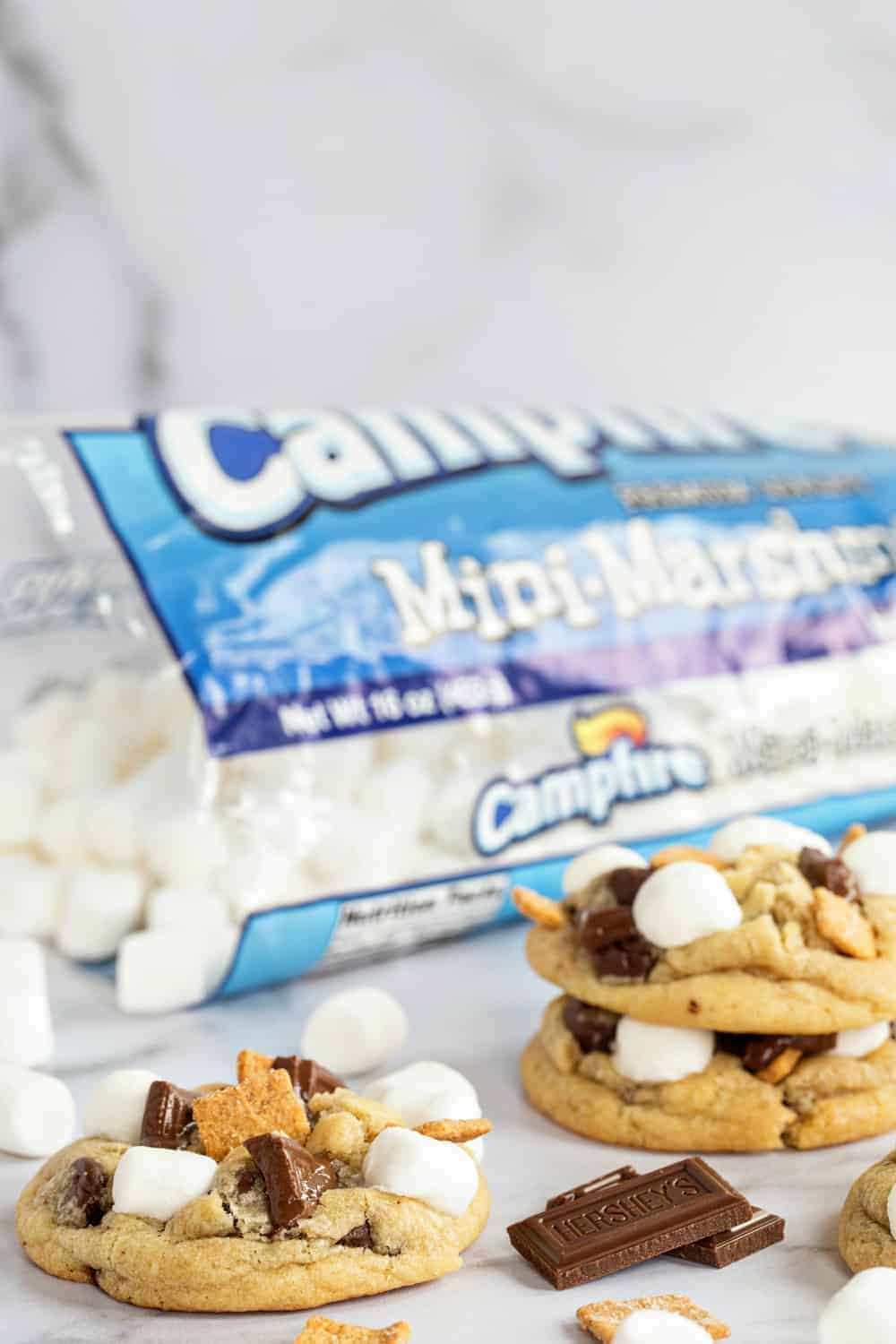 S'MORES COOKIES: PORTABLE S'MORES
I have made dozens of s'mores-inspired recipes over the years.
From Mini S'mores Cheesecakes to Strawberry S'mores Ice Cream, I have found a nearly infinite number of ways to pack my favorite chocolate + graham cracker + marshmallow combination into other desserts.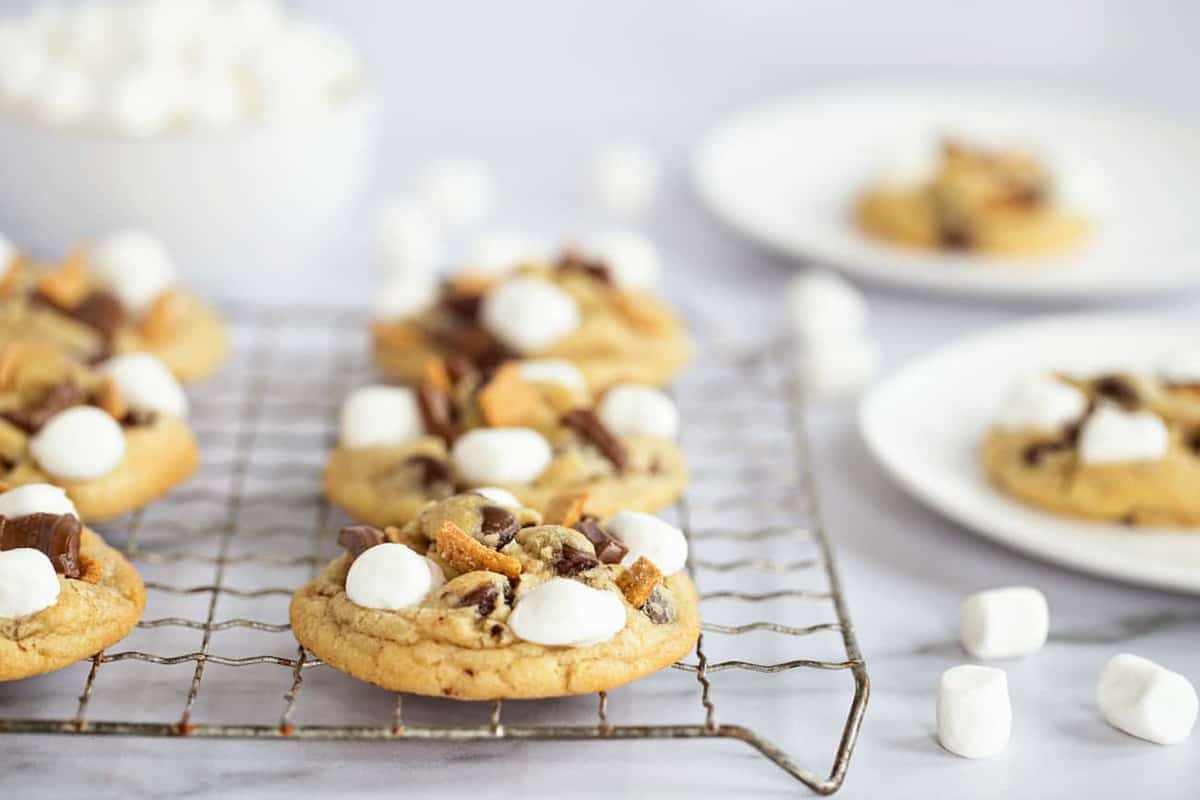 This time around, I wanted to come up with something portable that still had melted, gooey chocolate and marshmallows. Maybe a treat I could pack as a surprise into Elle's lunchbox, or gift our s'mores loving friends.
Or that I could snack on while running from one activity to the other. You know box of tissues in one hand, cookies in the other?
So I decided to take my Rolo Stuffed Chocolate Chip Cookies and turn them into S'mores Cookies.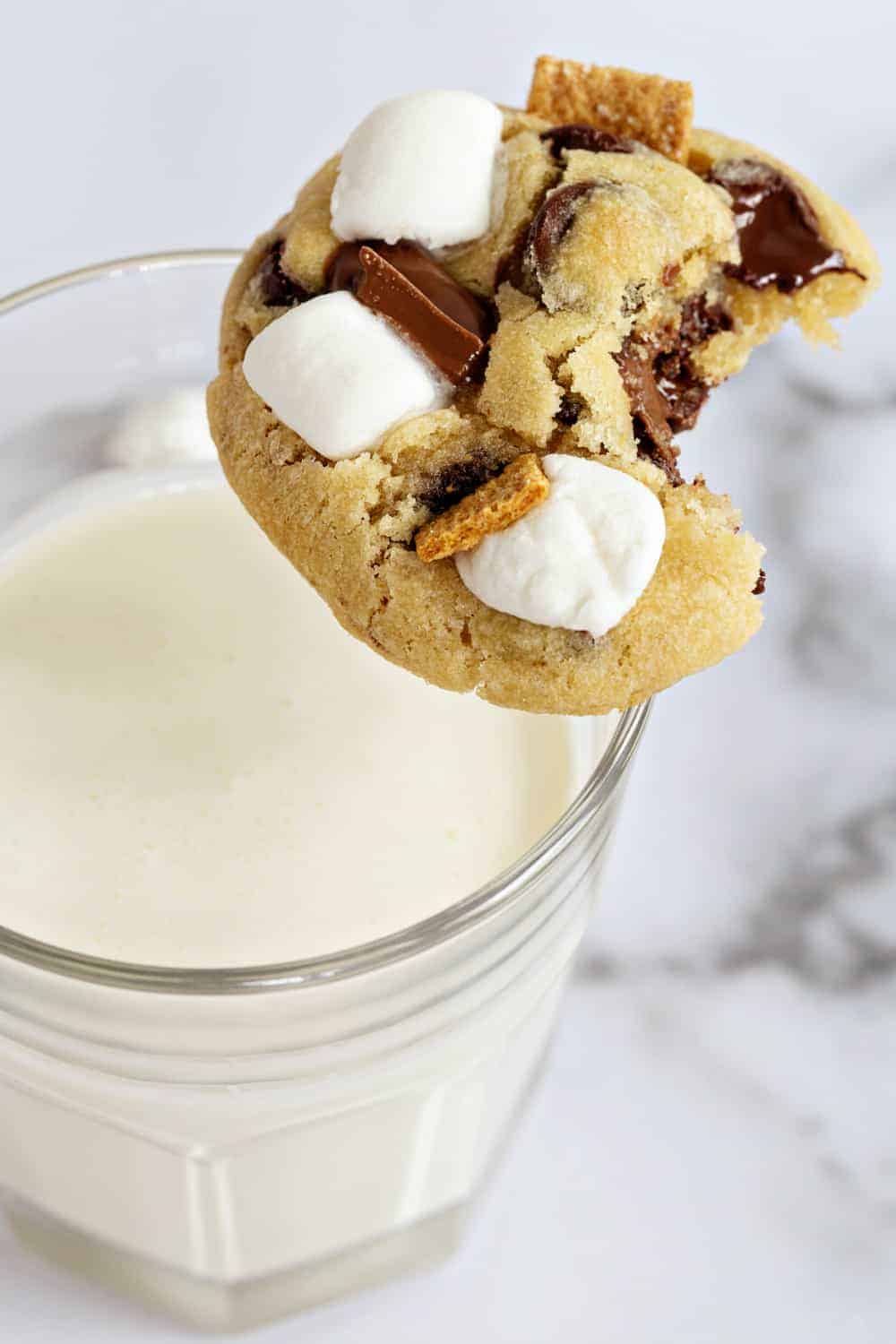 I packed the cookie dough full of chocolate chips and graham cracker cereal.
Just before the cookies were done baking, right at the very end, I topped them with Campfire® Mini Marshmallows, more graham cereal and pieces of chocolate bar.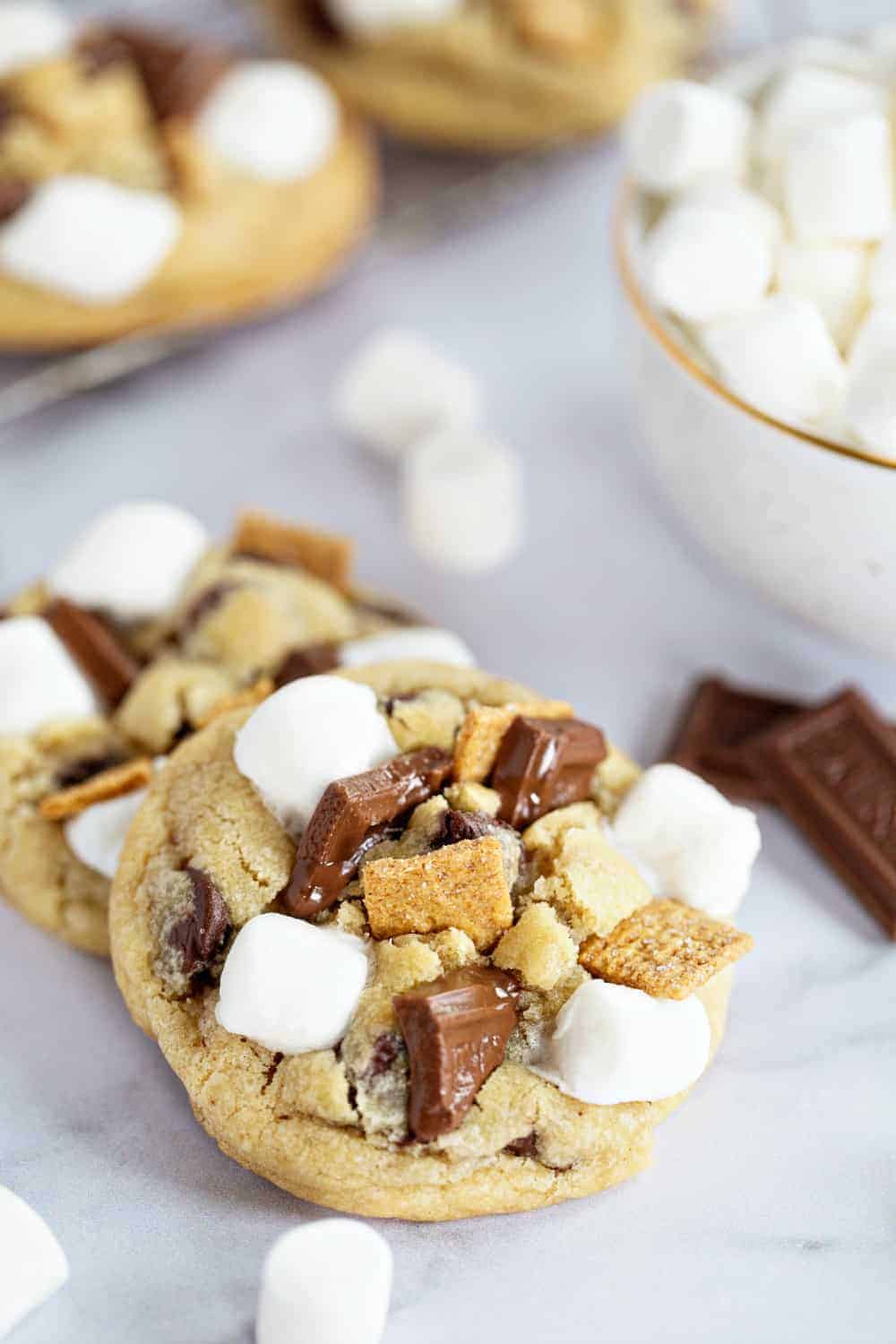 Waiting until the end to add the marshmallows allows them to stick to the top of the cookies without melting everywhere as the cookies bake, or completely disappearing inside the cookies.
After all, marshmallows are the real star of a good s'more, so we want to make sure the marshmallows are front and center on top of these S'mores Cookies.
The result is a cookie that is chewy and full of the crunchy texture of graham cereal and gooeyness from the marshmallows.
S'mores Cookies are all of the best things about a s'more packed into a portable cookie!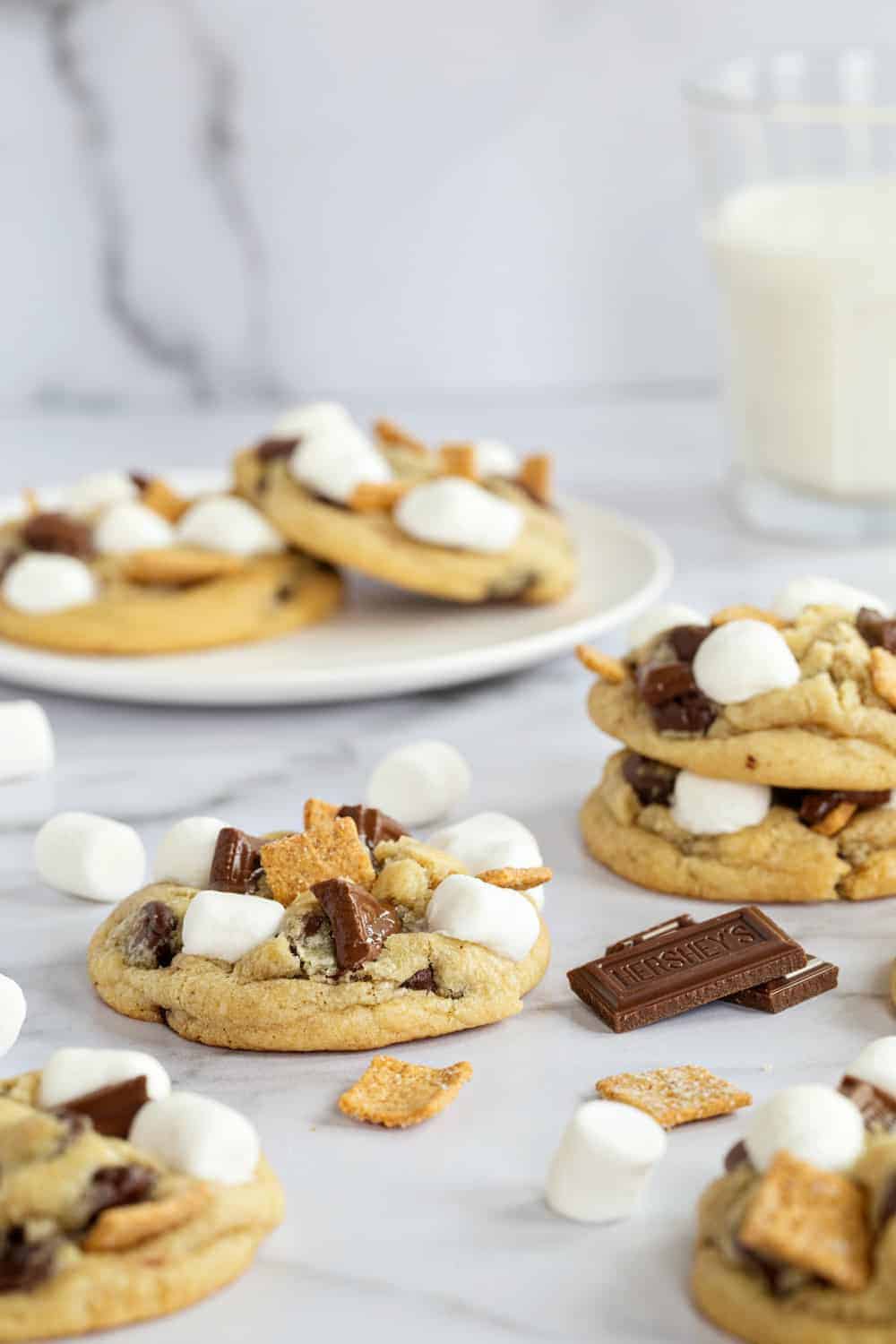 WHAT MARSHMALLOWS ARE USED IN S'MORES COOKIES?
I used my favorite Campfire® Mini Marshmallows for this recipe. I love the size of their mini marshmallows – perfect for dotting the top of these cookies with marshmallow goodness!
If you only have Campfire® Regular Marshmallows on hand and a major craving for these cookies, don't worry – you could always use kitchen scissors to cut the larger marshmallows into smaller pieces before adding them to your cookies.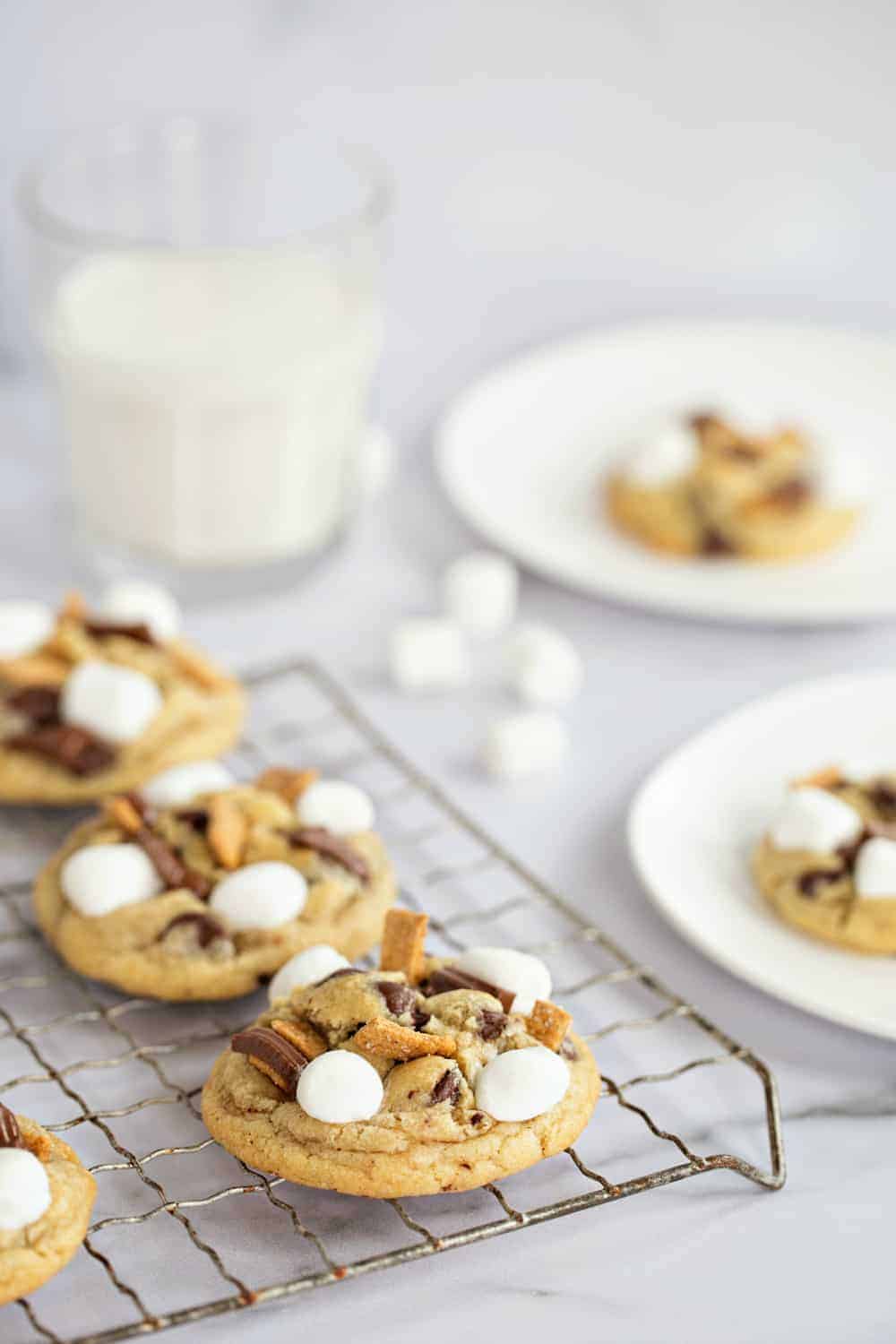 MORE PORTABLE S'MORES TREATS
If you're looking for more delicious s'mores recipes to take with you on the go, you've come to the right place. My love for all things s'mores does come in handy every once in a while!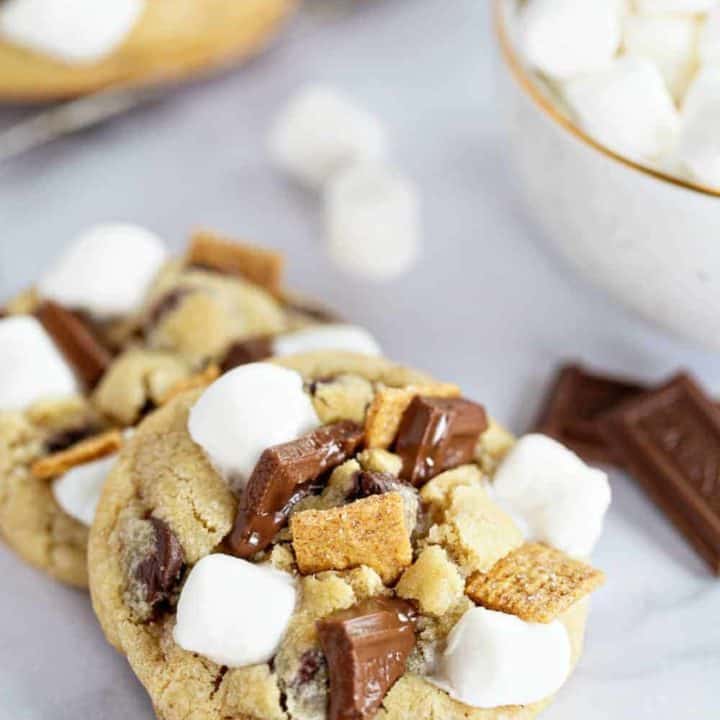 S'mores Cookies
Yield: About 30 cookies
Prep Time: 15 minutes
Bake Time: 11 minutes
Chill Time: 2 hours
Total Time: 2 hours 26 minutes
Get ready for your favorite campfire treat packed into a portable cookie! S'mores Cookies are sweet and chewy, stuffed with graham cracker pieces and chocolate chips and topped with gooey marshmallows.
Ingredients
1 ½ cups salted butter; softened
1 cup granulated sugar
1 cup packed brown sugar
1 tablespoon vanilla extract
2 large eggs
3 3/4 cup all-purpose flour
2 teaspoons baking soda
1/2 teaspoon kosher salt
2 cups semisweet or dark chocolate chips
¾ cup coarsely chopped graham cereal
For the Topping
¾ cup graham cereal
4 full size milk chocolate candy bars, broken into pieces
Instructions
In the bowl of a stand mixer, or in a large bowl with an electric mixer, beat butter and sugars on medium speed for about 3 minutes.
Add in vanilla and eggs and beat an additional 1-2 minutes. In a medium bowl, whisk together the flour, baking soda and salt.
Gradually add in the flour mixture and mix until just combined.
Stir in the chocolate chips and ¾ cup chopped graham cereal until evenly distributed into the dough.
Cover and refrigerate dough for at least 2 hours or up to 24 hours.
When ready to bake, preheat oven to 350°F. Line baking sheets with parchment paper.
Measure dough using a medium cookie scoop (about 1.5 tablespoons).
Place dough balls on prepared cookie sheets 2 inches apart.
Bake for 11 minutes. Remove pan from oven and immediately top each cookie with mini marshmallows, graham cereal pieces and pieces of the chocolate bars. Place cookies back in the oven and bake an additional 3 minutes. Allow cookies to cool on the pan for 5 minutes before removing them to a wire cooling rack to cool completely.
Notes
If using unsalted butter, add 1/2 teaspoon of kosher salt to the flour mixture in step 2.
Recommended Products
As an Amazon Associate and member of other affiliate programs, I earn from qualifying purchases.
Nutrition Information
Yield 30
Serving Size 1 cookie
Amount Per Serving
Calories 304
Total Fat 15g
Saturated Fat 9g
Trans Fat 0g
Unsaturated Fat 5g
Cholesterol 41mg
Sodium 248mg
Carbohydrates 39g
Fiber 2g
Sugar 20g
Protein 4g