Looking for a sweet treat to go with the apples you gathered on your latest visit to the orchard? Whip up this super easy Toffee Apple Dip; made with tangy cream cheese and sweet toffee bits, this dip is the perfect pairing for crisp fall apples.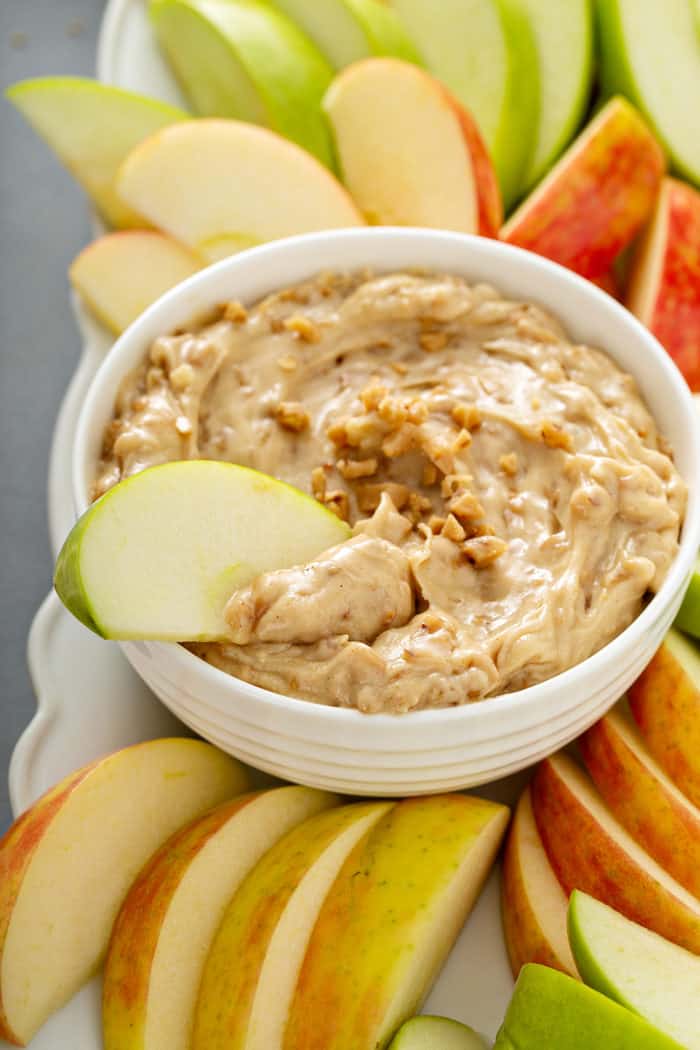 Although we haven't made our annual trip to the orchard just yet, we have been all about apples over here due to our daughter learning about Johnny Appleseed at school.
We had a few at-home projects to complete for the apple unit which included taste testing a variety of apples, so we've kind of been on a serious apple recipe kick over here in order to use them all up.
After going a on a hunt for the little caramel apple dip cups I got to thinking about an apple dip I tried years ago at a work potluck. Although I didn't have the exact recipe, I vaguely remembered what was in it and got to work testing a Toffee Apple Dip that was similar to the one that I remembered from that work potluck so many years ago.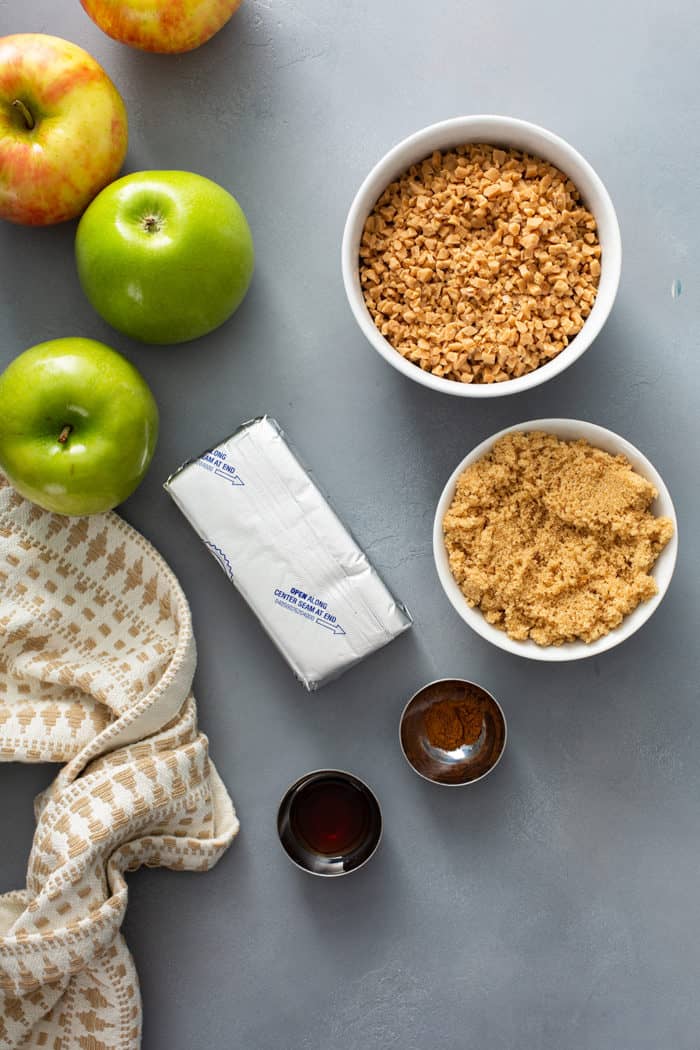 WHAT IS TOFFEE APPLE DIP?
If you too are finding yourself with an abundance of fresh apples right now after visiting the apple orchard or pumpkin patch, I have a ton of baking recipes for you to use them up.
From Slow Cooker Apple Butter and Crockpot Applesauce to Easy Apple Dumplings and Apple Turnovers to Apple Pie Bread, I go all out when it comes to apple recipes.
But sometimes you want to enjoy those crisp fall apples outside of a baked good, ya know? That's where this Toffee Apple Dip comes in.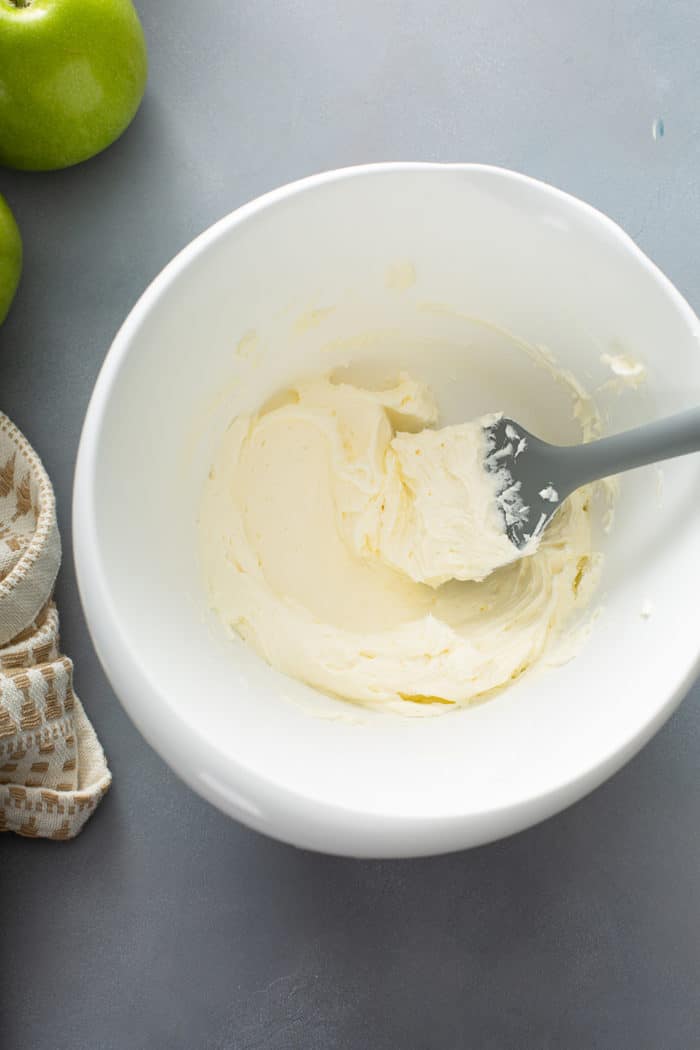 This apple dip is a little bit like a cross between Cream Cheese Fruit Dip and a cream cheese frosting. It's creamy and stays soft and dippable, even after being in the refrigerator, so it's perfect for digging into with fresh apple slices.
But the best part of this dip? The little toffee bits that are scattered throughout!
I use the Heath English Toffee Bits (also called Bits O' Brickle) in this recipe. They are easy to find at most grocery stores with the other baking chips. Just make sure you grab the toffee bits without the milk chocolate for this recipe.
Between the cream cheese, brown sugar, and toffee bits, this apple dip is sweet, tangy, and full of caramel notes – exactly what you'd want to pair with a tart, crisp apple.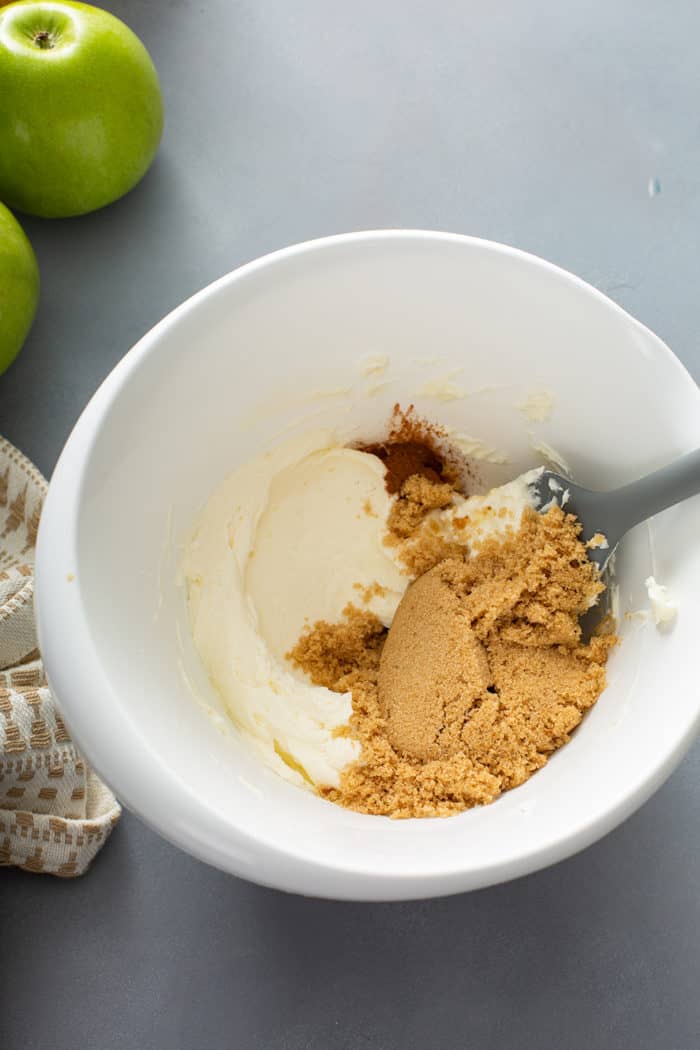 HOW TO MAKE APPLE DIP WITH CREAM CHEESE AND TOFFEE BITS
This is one of those recipes that is so easy, it almost feels silly to call it a recipe! You'll need just 5 ingredients to make this Toffee Apple Dip:
1 8-ounce package of cream cheese, room temperature
⅔ cup packed light brown sugar
¼ teaspoon ground cinnamon
1 teaspoon vanilla extract
1 8-ounce package toffee bits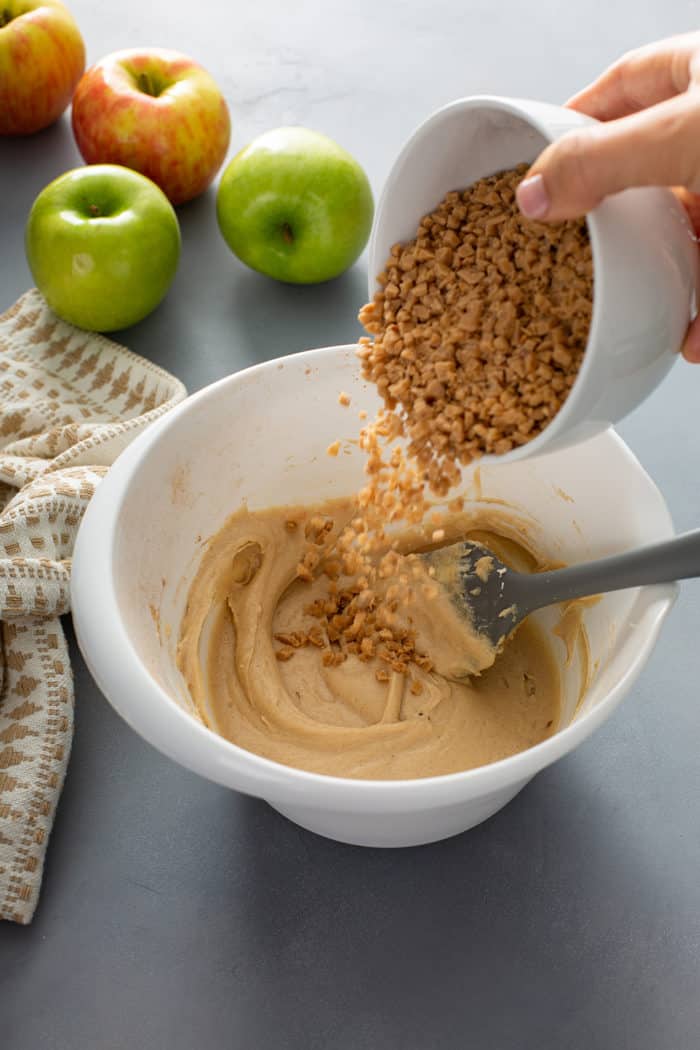 The cream cheese definitely needs to be totally softened for this recipe. Don't worry if you forgot to set it out ahead of time, though. I have a whole post on how to soften cream cheese quickly!
Grab a hand mixer and beat the cream cheese for a couple of minutes, until it is super smooth and creamy. Add in the brown sugar, cinnamon and vanilla, then keep on mixing for another 3 minutes.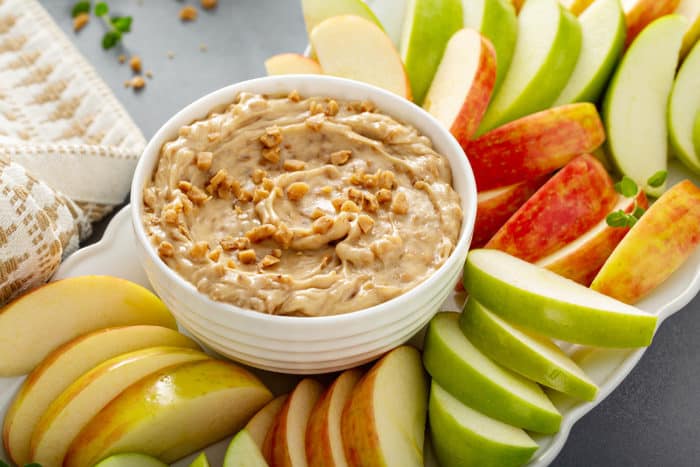 At this point, switch the mixer out for a rubber spatula and fold in the toffee bits until everything is well combined.
Pop the dip into a lidded container and chill in the fridge for at least 3 hours before serving.
Even though this Toffee Apple Dip obviously goes great with sliced apples, you could even dip pretzels into it! The sweetness of the dip would be amazing with a salty pretzel. You could even pair this dip with a caramel dip for a whole apple dipping platter!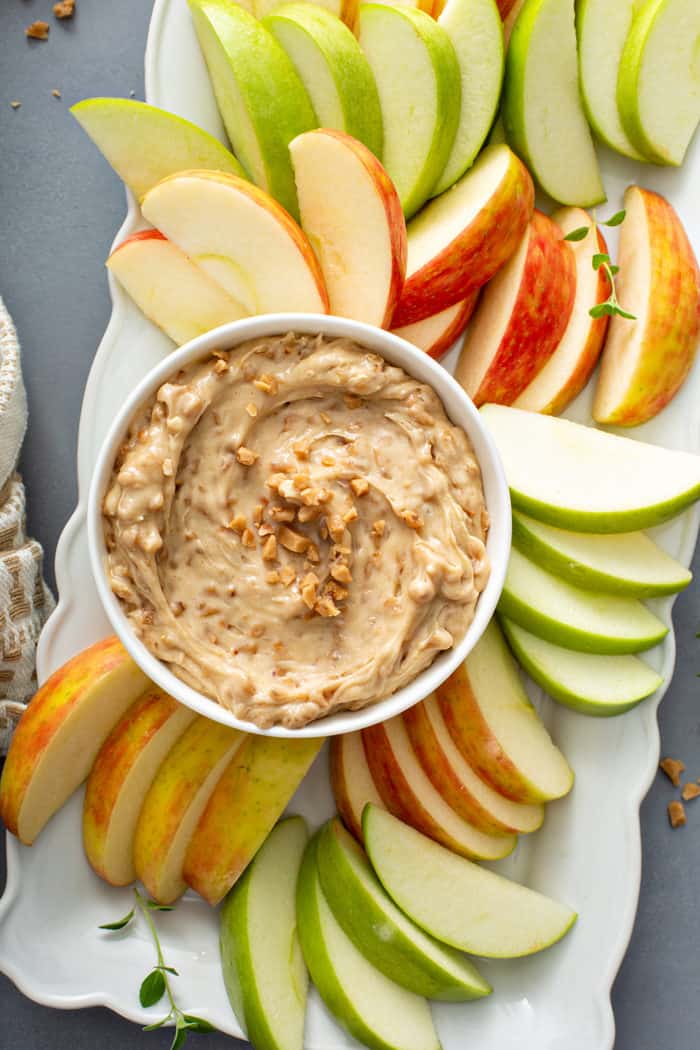 STORING AND FREEZING THIS DIP
If this recipe makes a little more apple dip than you can eat right away, don't worry!
This apple dip will keep, in an airtight container in the refrigerator, for up to 3 days.
To freeze any leftovers for longer-term storage, place the dip in a super airtight freezer bag or in a lidded container with a layer of plastic wrap pressed on top of the dip. Freeze the dip for up to 3 months.
Let the dip thaw in the refrigerator overnight. Before serving, I recommend whipping it with a hand mixer for a few minutes.