Delectable chocolate cookies are given a festive kick with the addition of espresso powder and peppermint candy canes – they're the perfect treat for any holiday cookie tray.
Well, it's December 20th and as I sit here typing this blog post, I should be in full-on freak out mode because I have to do all the things. However, I'm strangely calm. I know they'll get done even if it means being hopped up on coffee, or these Peppermint Mocha Cookies and wrapping presents at 3am. Every single year, I plan on being a little more organized, ya know, just a little bit more prepared, and it never happens. Still, everything does get done – eventually.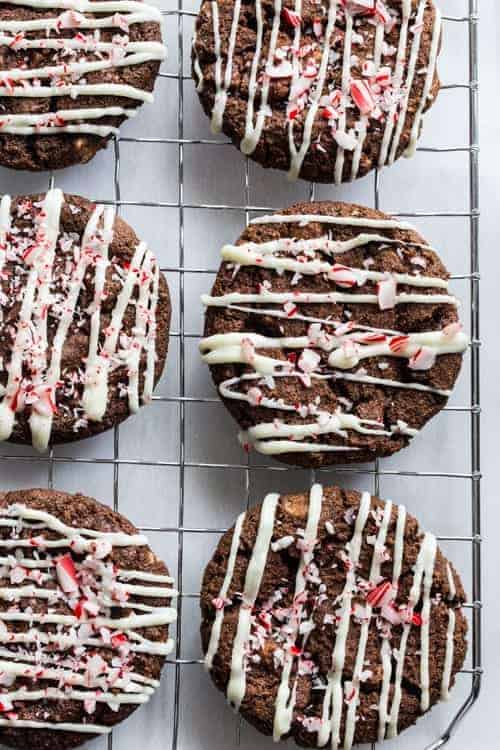 Now that we have a toddler, things are pretty much more disorganized than ever. Have ya ever tried wrapping gifts near an 11 month old? Fun times I tell ya, especially when said 11 month old's favorite thing on the planet is paper.
I had a ton of cookie recipes on my Christmas must-make list, and truth be told, some were pretty fancy-schmancy. But I decided that the list simply wasn't going to happen. Instead of stressing out, I'm making a few Christmas cookies that are simple, but absolute crowd-pleasers. Cookies like these Peppermint Mocha Cookies, plus Peanut Butter Blossoms and Candy Cane Snowballs – they're simple, they're delicious, and everyone loves them, making them total wins in my book.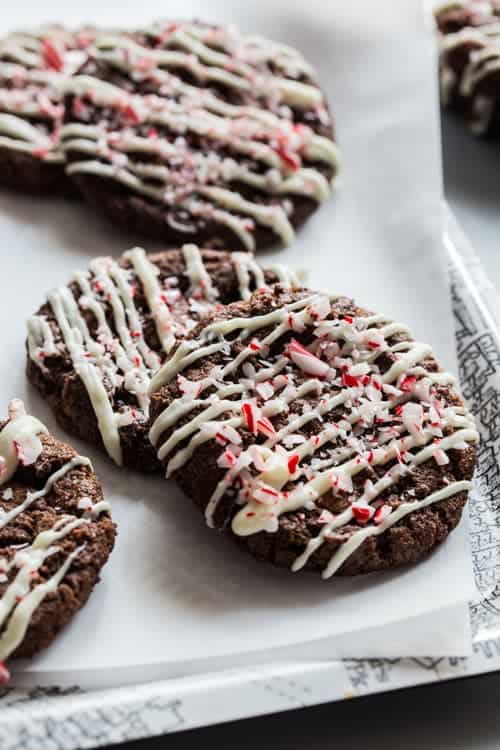 If I'm being honest, I even ordered a cookie tray from my aunt's neighbor. I'd normally be giving myself flack for ordering cookies. (Hello, I call this place MY Baking Addiction!) But this year, I'm totally cool with keeping things simple and easy. Between packing for our big move, traveling, and a super mobile baby, I'm most definitely cutting myself a break this year, and if you're in a similar situation, you should too.
My cookies may not be super fancy and my gifts may lack homemade bows, but guess what – I won't be nearly as stressed. And let's be honest no one really cares about the pretty homemade bows except me.
What's really important is the memories we'll make this year on our baby girl's first Christmas. Seeing her first bites of Christmas cookie is something to be cherished and savored, right? You only get one first Christmas.
Let's all have a merry one, guys!
Photo Credit: Emily Caruso of Jelly Toast