If you're looking for a rich, decadent chocolate cake, look no further than black magic cake! Buttermilk makes this classic chocolate cake moist and tender, while coffee brings out all of its chocolatey goodness.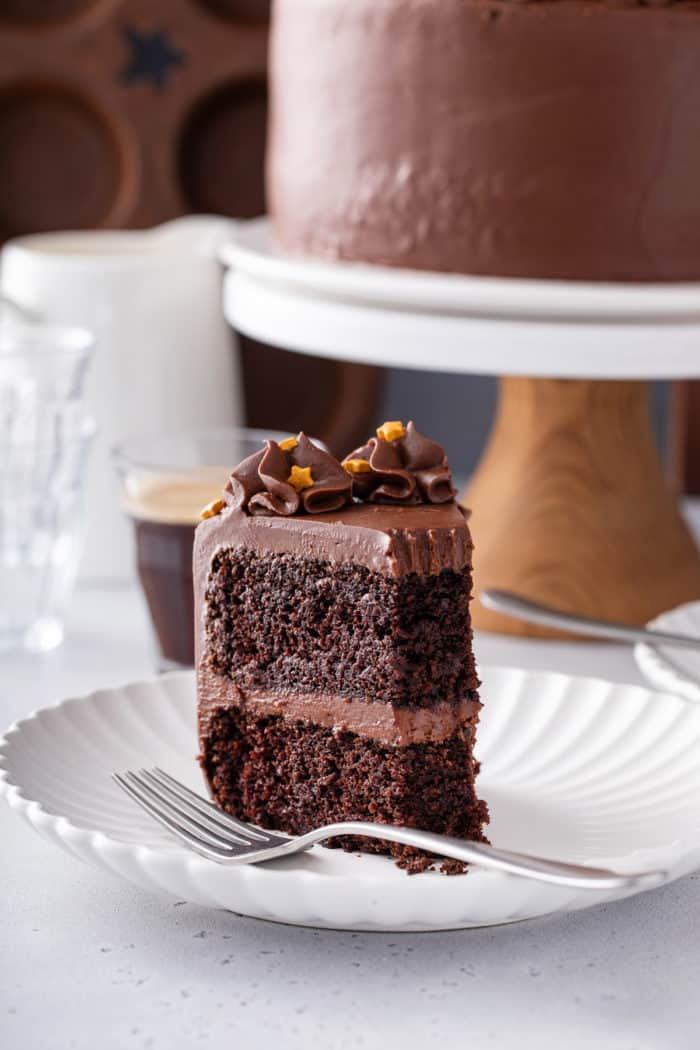 When it comes to cake, most people in my family are team chocolate all the way! If you've ever made Hershey's Black Magic Cake, you know that this cake is a chocolate lover's dream come true, so it's one of the must-make cake recipes around here.
Black Magic Cake is rich, moist and comes together with ease. I also love that it bakes up perfectly regardless of if you use a bundt pan, two 9-inch round baking pans or a 9×13-inch baking pan. You can frost it, drizzle on a simple ganache, or even dust it with powdered sugar and serve it alongside fresh berries.
If you love chocolate, this cake recipe is sure to become a family favorite.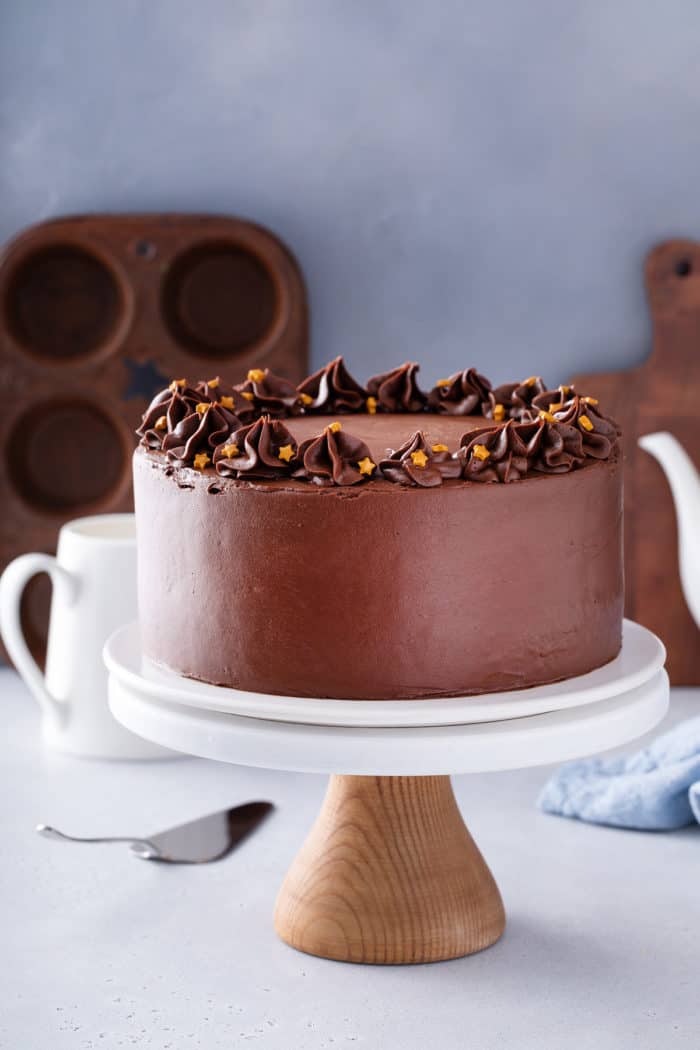 WHAT IS BLACK MAGIC CAKE?
Black magic cake is a Hershey's classic. I can only assume that it's called a "black magic cake" because it is so rich and chocolatey, and so good it almost tastes like magic.
What makes it so magical?
The cake is super moist, thanks to a combination of oil and buttermilk in the batter. The buttermilk also gives the cake a super tender crumb, so every bite practically melts in your mouth.
The other thing that makes this cake so amazing is strong black coffee in the batter.
Don't panic if you don't like coffee. I promise that this cake doesn't actually taste like coffee at all!
Coffee does this magical thing when it is paired with chocolate; it enhances the flavor of the chocolate and makes it somehow taste even more…well, chocolatey!
Combine these things together and you're left with a chocolate cake that is even more incredible than the classic Hershey's chocolate cake.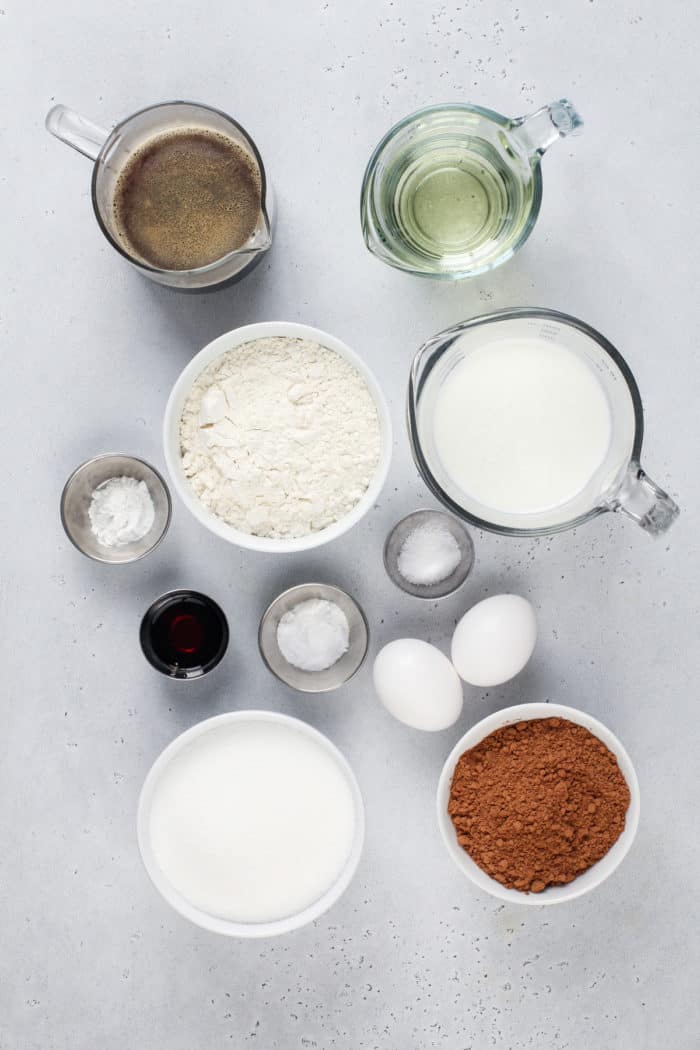 HOW TO MAKE BLACK MAGIC CAKE
Much like the best chocolate cake, this is one cake that will have everyone begging you to give them the recipe.
But the real secret is that it's so simple to make. You don't even have to use a mixer if you don't have one!
Ingredients you'll need
Black magic cake is made with unsweetened cocoa powder. Don't worry about buying a specific type or brand; I find any unsweetened cocoa powder works well here!
In addition to the buttermilk, vegetable oil, and coffee that we talked about earlier, you'll also need:
2 cups granulated sugar
1 3/4 cups all-purpose flour
2 teaspoons baking soda
1 teaspoon baking powder
1 teaspoon salt
2 eggs
1 teaspoon pure vanilla extract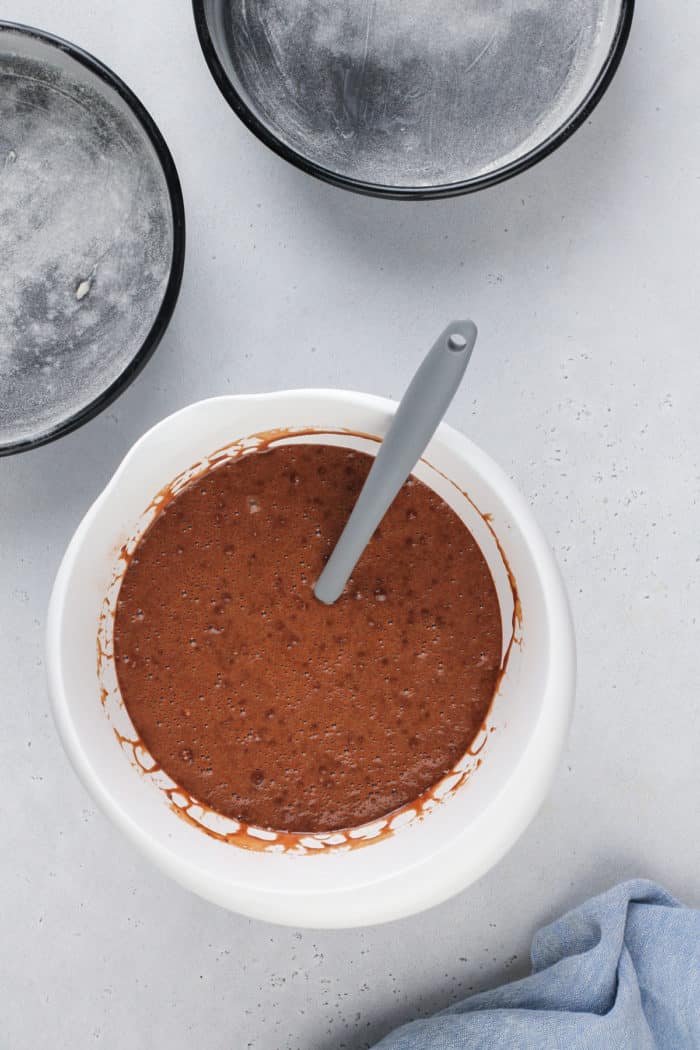 Can you make this cake without coffee?
I know I sound like a broken record, but I really can't emphasize enough: This can't doesn't taste like coffee.
But if you can't use coffee in the cake or are really opposed to the idea, you can use 1 cup of water instead.
Helpful resources for making black magic cake
If you're a beginner baker (or even if you're a baking veteran), I've got some helpful posts that you may want to check out as you make this cake.
The first step to baking success is making sure you've properly measured your ingredients. Learn how to measure flour to get off on the right foot with this recipe.
If you forgot to buy buttermilk at the store, don't worry! You can use my simple buttermilk substitute in this recipe instead. (Make sure you save that post because it's useful for so many recipes!)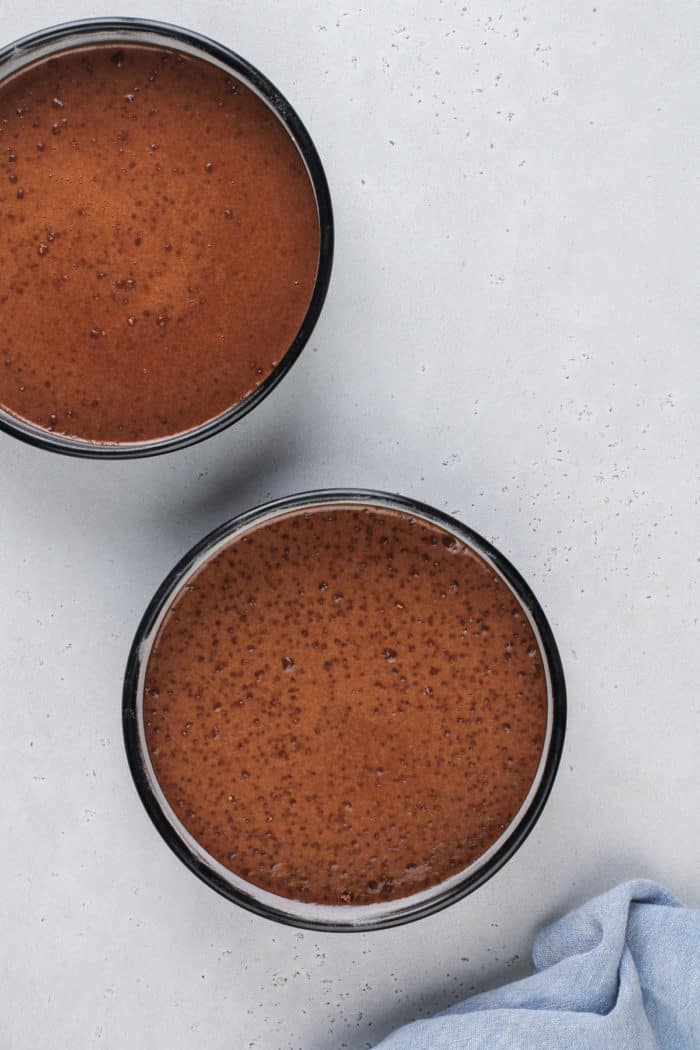 Making this cake
I love making black magic cake as a layer cake. Prep two 9-inch round cake pans by greasing and flouring them. This will help the cake layers release cleanly after baking.
In a large bowl, whisk together the dry ingredients: sugar, flour, cocoa powder, baking soda, baking powder, and salt.
In a separate bowl, whisk together the rest of the cake ingredients: eggs, buttermilk, coffee, vegetable oil, and vanilla.
Add the wet ingredients to the dry ingredients. If you have an electric mixer, use your mixer to beat on medium speed for 2 minutes. If you don't have a mixer, whisk vigorously for 2 minutes.
The batter will be quite thin – don't worry, it's supposed to be!
Divide the batter evenly between the two pans and bake for about 30-35 minutes. A toothpick inserted in the center of the cakes should come out with a few moist crumbs clinging to it, but no wet batter on it.
Let the cakes cool in the pan for 10 minutes before turning them out onto a cooling rack to cool completely before frosting.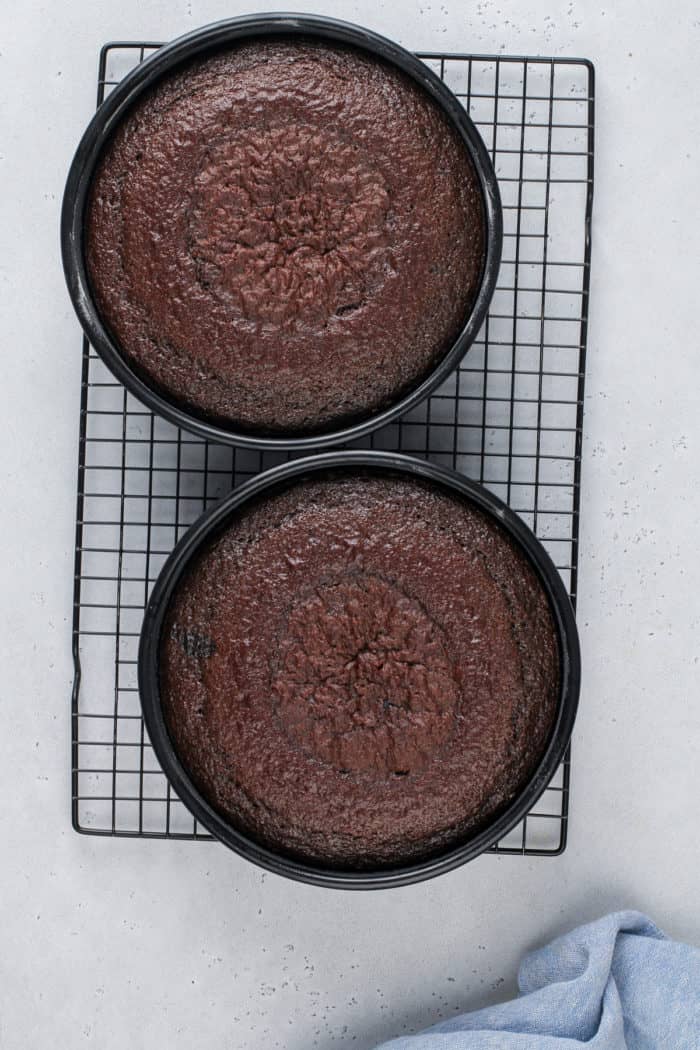 FROSTING OPTIONS AND TIPS
Personally, I think the ultimate way to eat black magic cake is with homemade chocolate frosting. The double chocolate combo is so decadent – it's any chocolate lover's dream!
But that doesn't mean that's the only way to finish this cake!
Try my favorite buttercream frosting or cream cheese frosting. Or you could get a bit creative and pair this black magic cake with peanut butter frosting or marshmallow frosting!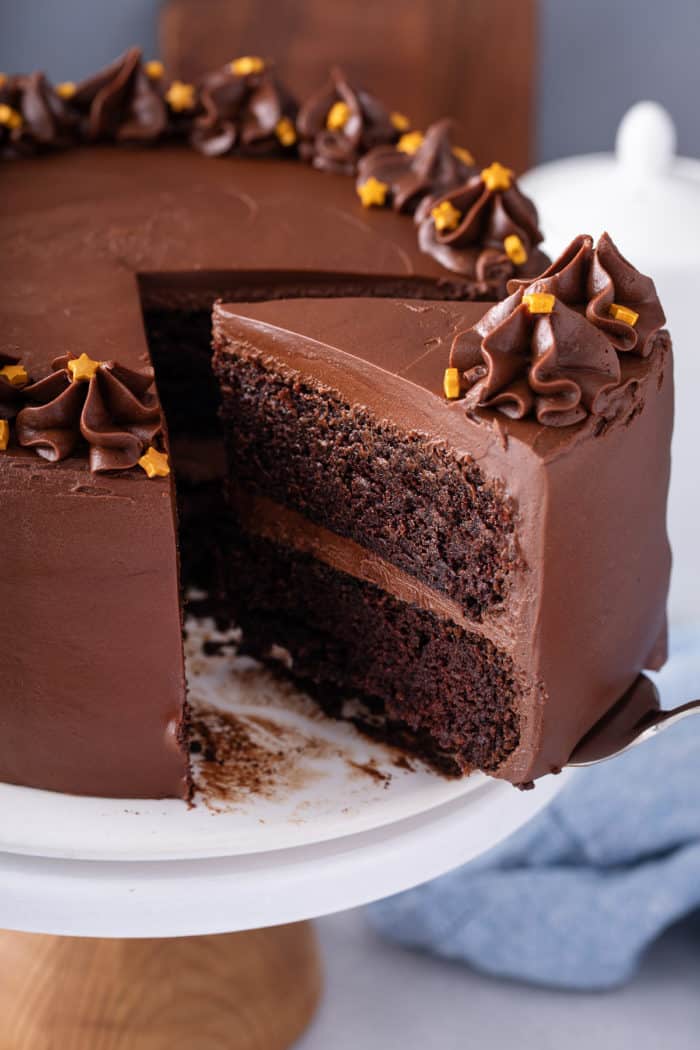 Frosting tips and tricks
Because this cake is so moist, it does make it a little more difficult to frost than some other cakes.
It won't affect the flavor at all; it just means that you might end up with some crumbs in your frosting if you don't think ahead a bit.
For a really clean look, do a crumb coat on this cake. Freezing the cooled cake layers for 1-2 hours will also make them easier to frost cleanly.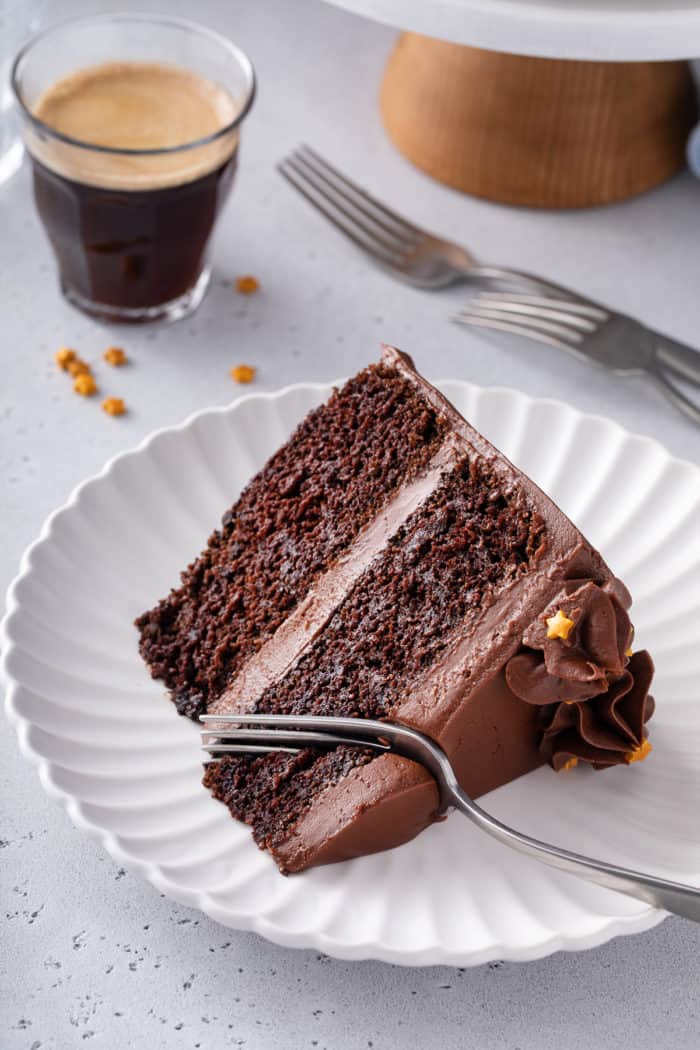 CAKE STORAGE
Store this cake covered at room temperature for up to 3 days. It will stay nice and moist – no dried-out chocolate cake leftovers here!
If you choose to use a cream cheese-based frosting, make sure to store the cake in the refrigerator instead of at room temperature.
Dig into a slice of this black magic cake with a big, cold glass of milk and enjoy pure chocolate cake bliss.