Honey Glazed Carrots are a simple side dish to add to your holiday table! These carrots are quick to make and use just a handful of ingredients.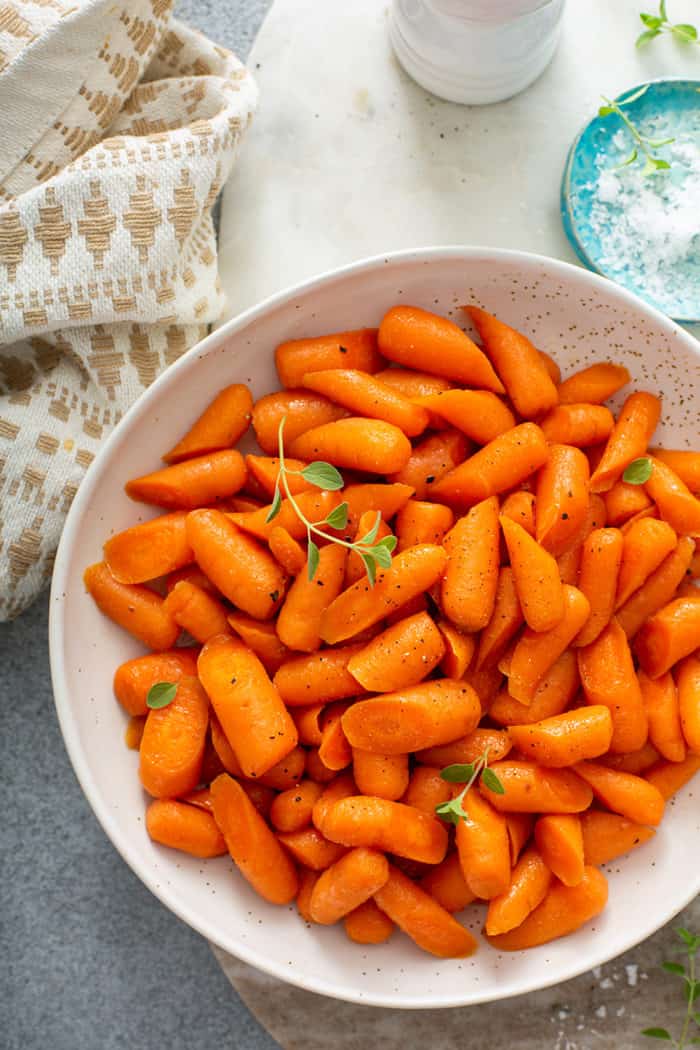 One of my absolute favorite dishes on our Thanksgiving buffet line are Honey Glazed Carrots. My cousin's girlfriend, Lorrie, brings them every single year and they are always one of the most popular side dishes.
Her recipe includes cinnamon, maple syrup, honey and fresh thyme. And despite her telling me how to make them, they never turn out as delicious as hers.
So until I can get her in my kitchen to make them with me, I'm going to whip up this simpler version that is perfect for Thanksgiving or a weeknight dinner.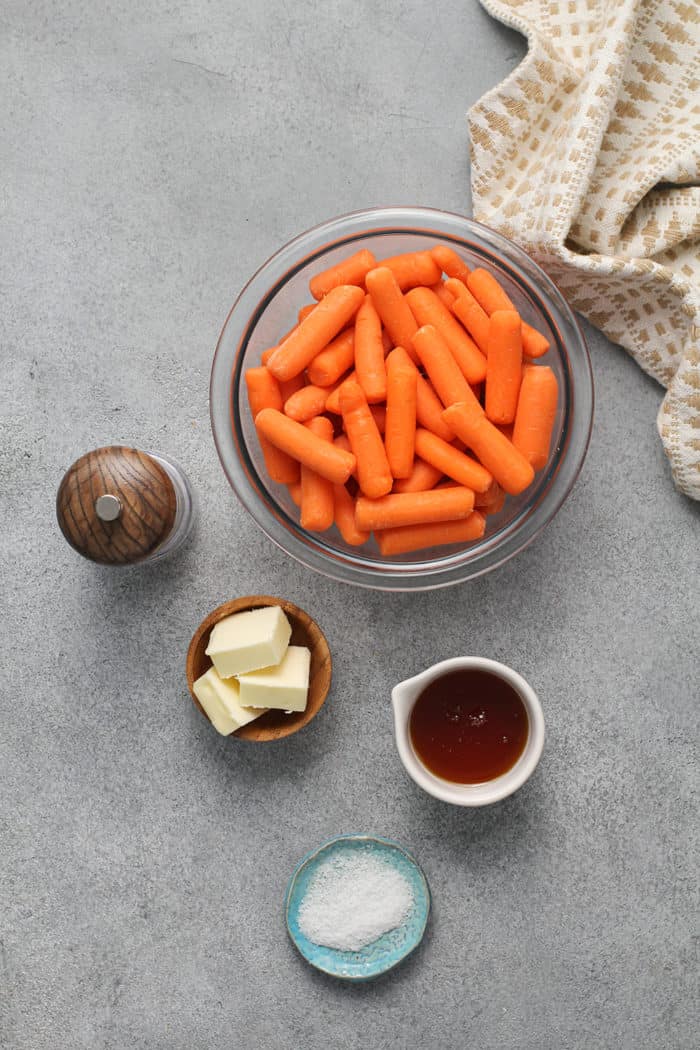 SIMPLE STOVE-TOP GLAZED CARROTS
I know that for a lot of people, the holidays are a time to try fancy new side dishes with hard-to-find ingredients.
At my house? Not so much.
Sure, sometimes I like to try out new recipes, but this is not one of those years. Right now, I'm all for keeping things simple but still totally delicious.
These Honey Glazed Carrots totally fit that bill. They're easy enough to throw together on a weeknight but delicious enough to hold their own next to your holiday roast turkey or ham.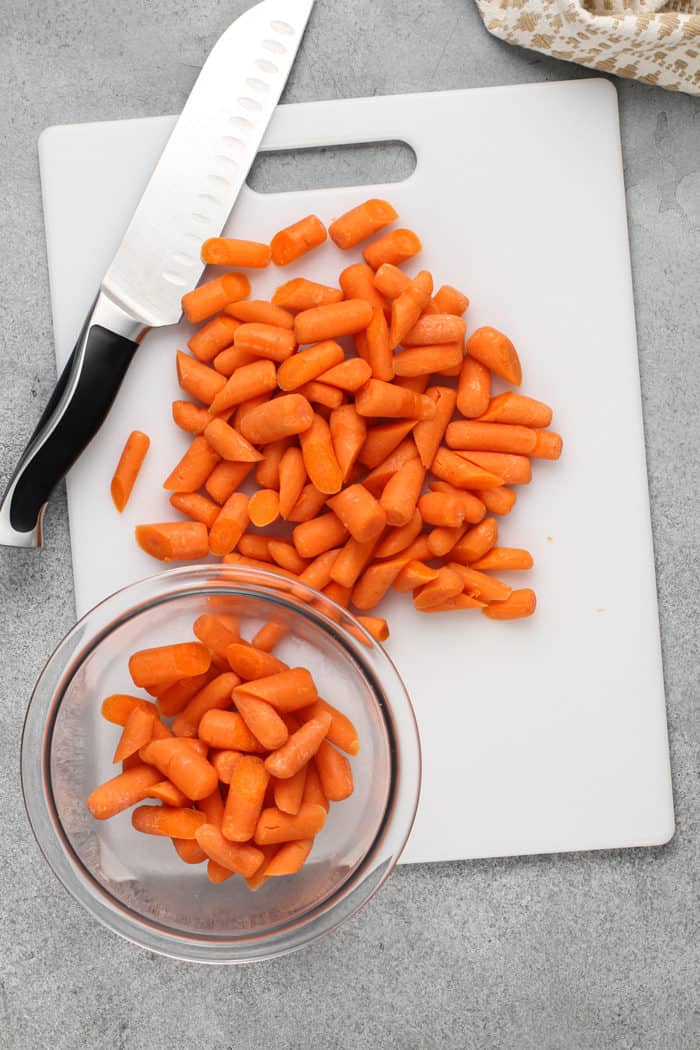 HOW TO MAKE HONEY GLAZED CARROTS
You'll only need 5 ingredients to make your Honey Glazed Carrots, and that includes salt and pepper! You'll need:
1 pound baby carrots
3 tablespoons butter
3 tablespoons honey
1 teaspoon fine sea salt
Black pepper to taste
Since this recipe only uses a few ingredients, it's important that you use good quality butter and honey. I promise that the carrots will taste so much better if you spend a little more on good butter and a local honey.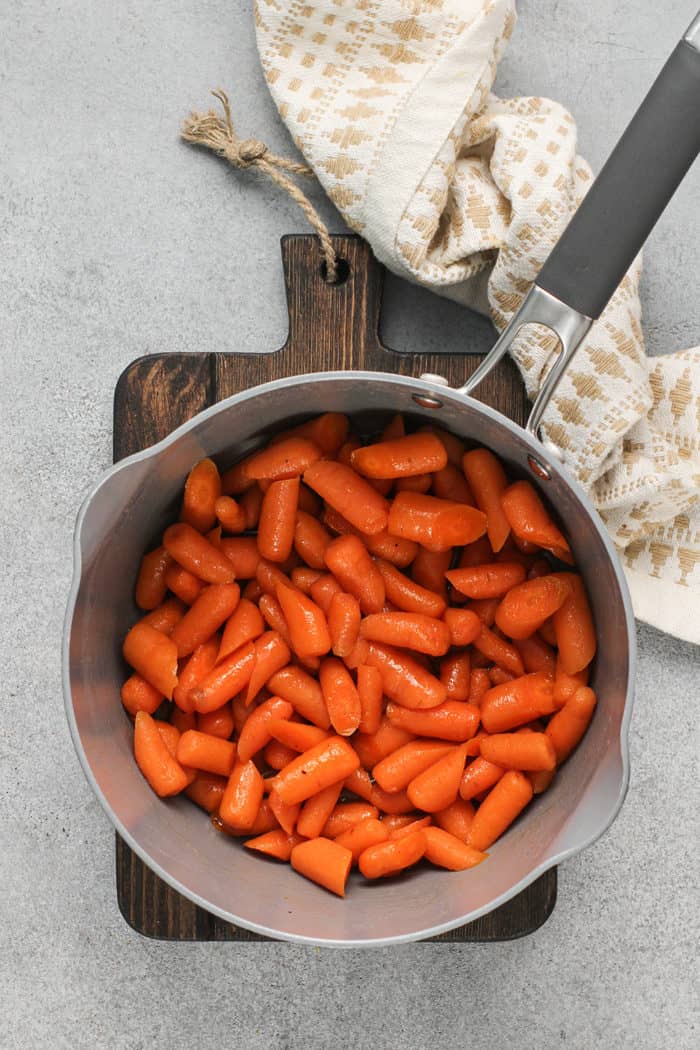 Start by cutting the carrots in half on an angle. The angle isn't really required, but it makes the carrots look so much prettier in the serving dish!
Grab a small dutch oven. Make sure the pot is big enough that the carrots only come about halfway up the sides.
Melt the butter in the pot over medium heat. Add the carrots, honey, salt and several grinds of black pepper. Stir, cover, and cook on high heat for 5 minutes.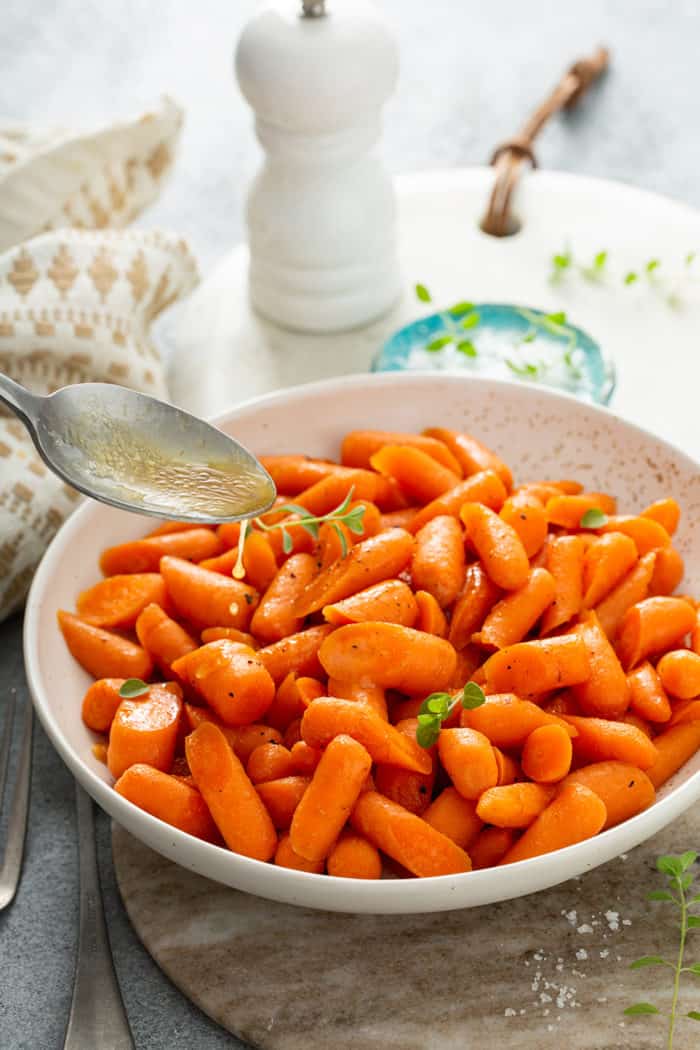 After the 5 minutes are up, remove the lid and give the carrots a stir. Reduce the heat to medium and cook for 3 more minutes, uncovered, stirring occasionally.
Cook until the carrots are fork tender and the butter and honey have reduced into a lovely glaze. Season with more salt and pepper if necessary.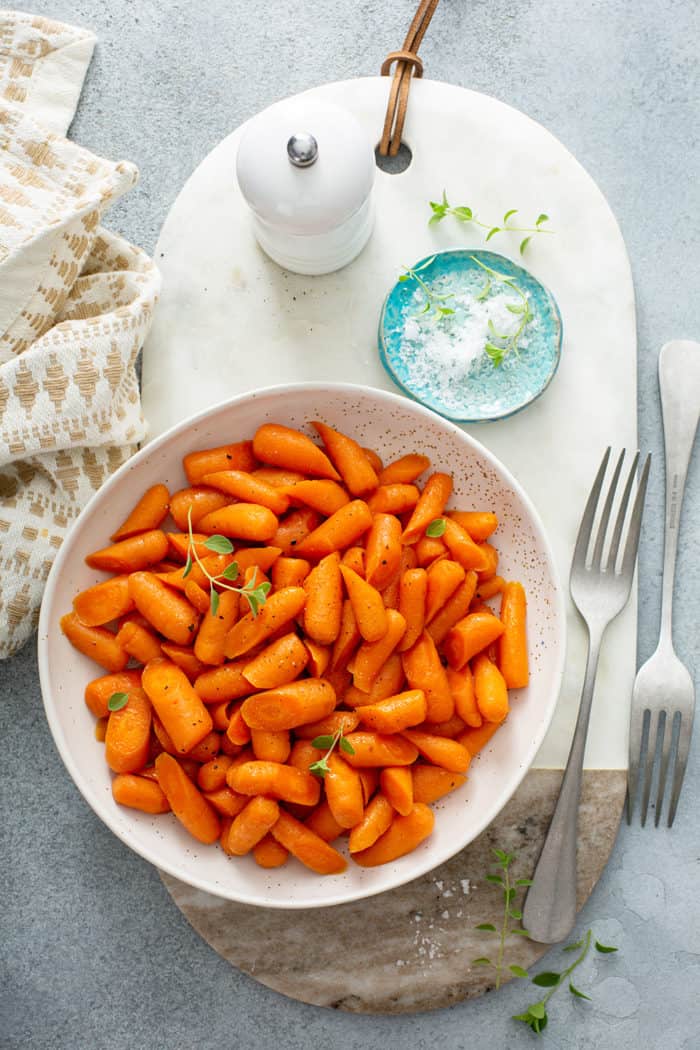 HOLIDAY PREP TIPS
If you're making these carrots as a holiday side dish, I have a couple of tips for you.
Prep the carrots by cutting them in half in the morning or even the night before the big meal. Pop them into a zip-top bag or an airtight container and keep them in the fridge until you're ready to cook them.
Since the carrots cook so quickly, you'll be able to toss them on the stove just before you sit down to eat, but won't have to worry about cutting the carrots while you finish the rest of the meal.
This recipe also scales really well if you're feeding a crowd. Just make sure you choose a pot large enough so the carrots aren't overcrowded.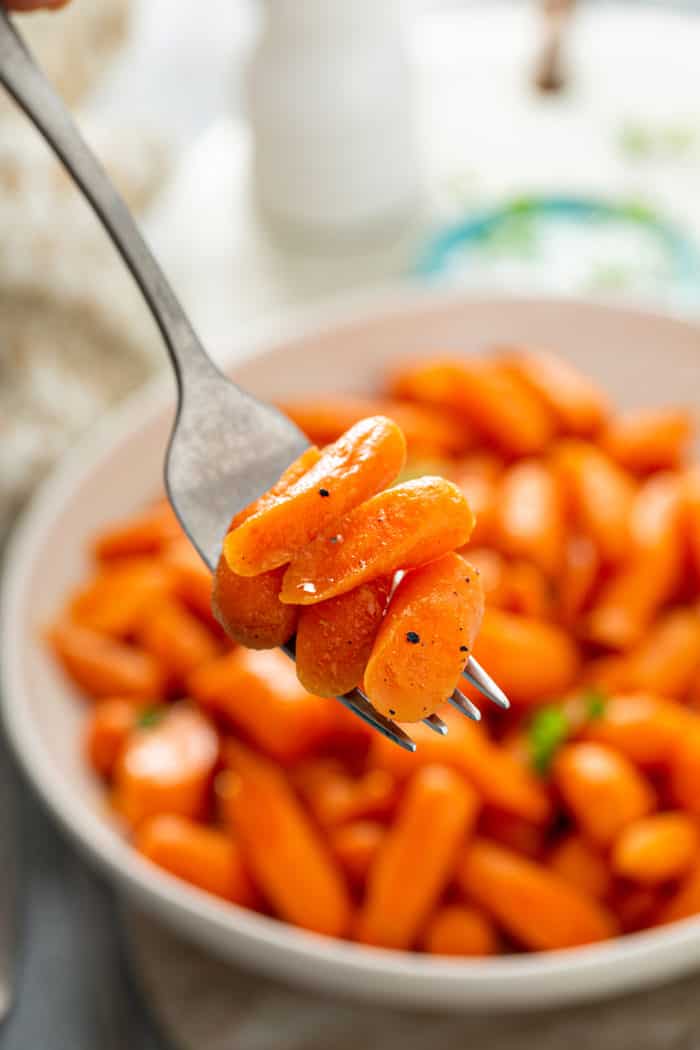 WHAT TO SERVE WITH GLAZED CARROTS
If you've been keeping track, these carrots cook in less than 10 minutes! That makes them perfect for serving alongside Ritz Cracker Chicken, Crockpot Mississippi Pot Roast, or One-Pot Beef Stroganoff on a weeknight.
But don't sleep on these carrots as an easy holiday side dish either! They would be a great addition to your holiday table with Air Fryer Brussels Sprouts, Air Fryer Roasted Potatoes, Twice-Baked Potatoes, Baked Macaroni and Cheese, or Sweet Potato Casserole.
With so much versatility, I bet these simple glazed carrots will be a regular in your dinner rotation!