This One-Pot Beef Stroganoff will be your new favorite answer to, "What's for dinner?" This creamy, flavorful stroganoff is cooked with the noodles all in one pot to make weeknight dinner cleanup even easier.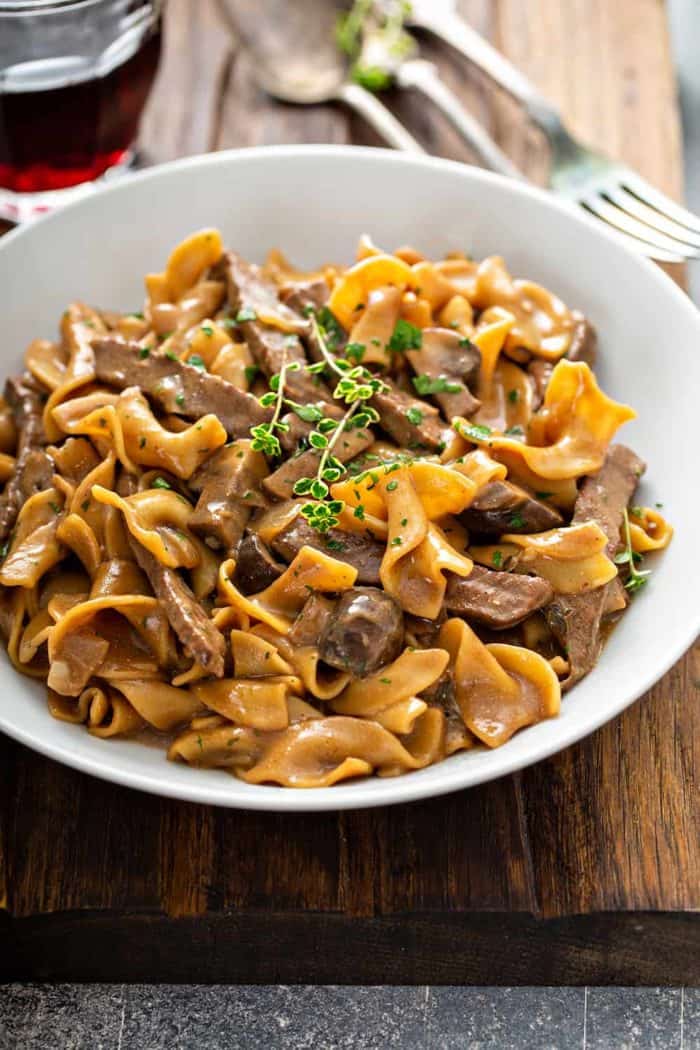 My husband would eat egg noodles with brown gravy multiple times a week. And that gravy doesn't even have to be homemade.
Meaning I can boil some egg noodles and put a packet of brown gravy mix on the stove and he'd be completely content.
But Elle and I are not so content with noodles & gravy on the regular – or ever.
Sure it's great having a husband that will eat a super simple meal with no complaints, but then I end having to make Elle and I something completely different which means more work. No thank you.
So as a way to kind of appease all of us and enabling Eric to get his noodles & gravy fix, I turn to this One-Pot Beef Stroganoff several times a month. Sometimes I use steak, sometimes I use ground beef, but regardless of which protein you use, I promise – it's totally delicious.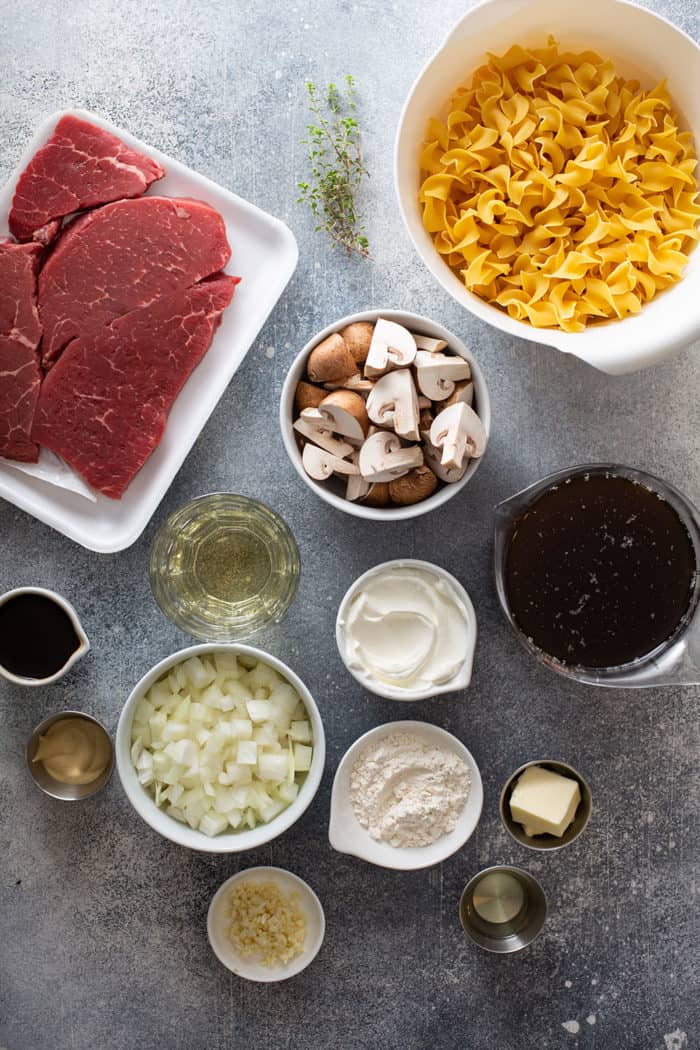 AN EASY WEEKNIGHT DINNER SOLUTION
I feel like even though the number of things on my schedule in this past year has decreased, the energy I have when it comes to making dinner definitely hasn't increased.
I guess that's a side effect of living through "unprecedented times," huh?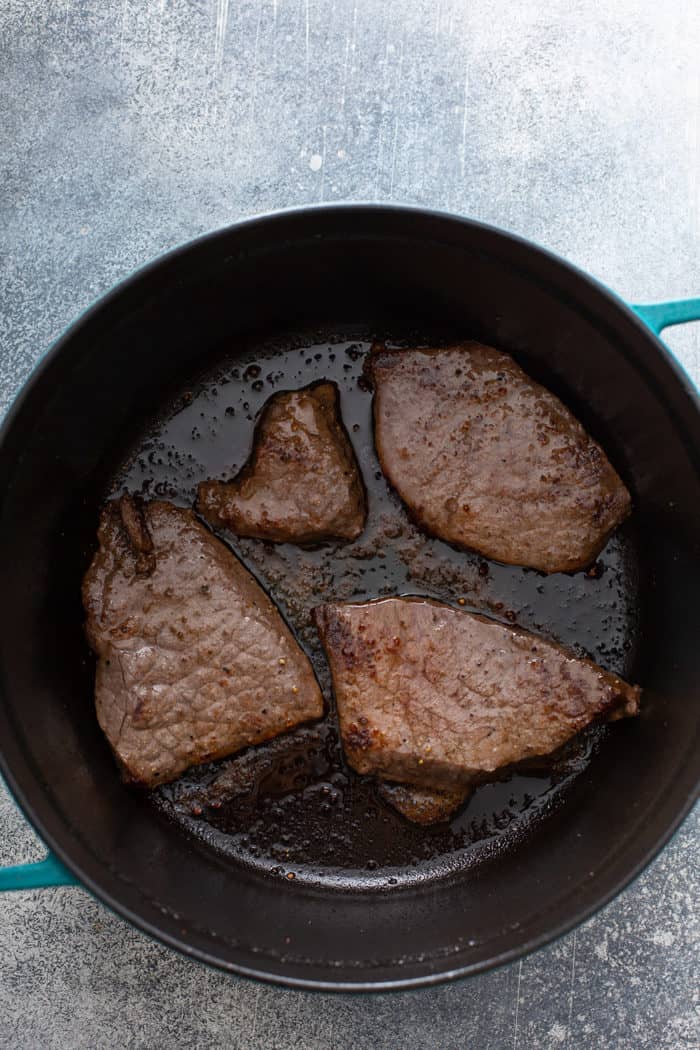 The truth is that sometimes I am hardcore craving a comfort food dinner, but I don't want to go through the trouble of cooking a comfort food dinner. Maybe that's why I've been so into soup recipes lately. Just the idea of cleaning multiple bowls or pots makes me tired.
So when I share easy weeknight dinner recipes like Cheeseburger Sliders and Italian Beef Sandwiches with you, it's because that's what I feel like making these days.
I made this One-Pot Beef Stroganoff because I wanted to dig into a bowl of rich and creamy beef stroganoff, but didn't feel like cooking the noodles separately and having to clean another pot.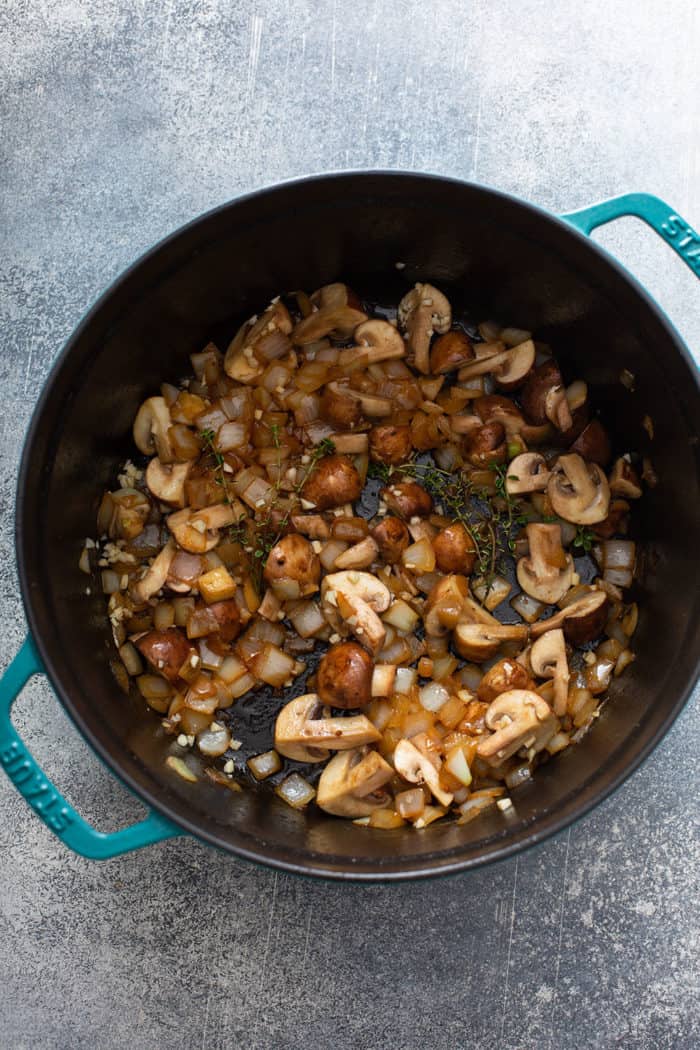 Hard pass on more cleaning.
My One-Pot Beef Stroganoff recipe takes about the same amount of time as the stroganoff recipes I used to make. But I can still have dinner on the table in well under an hour, and with fewer dishes to clean.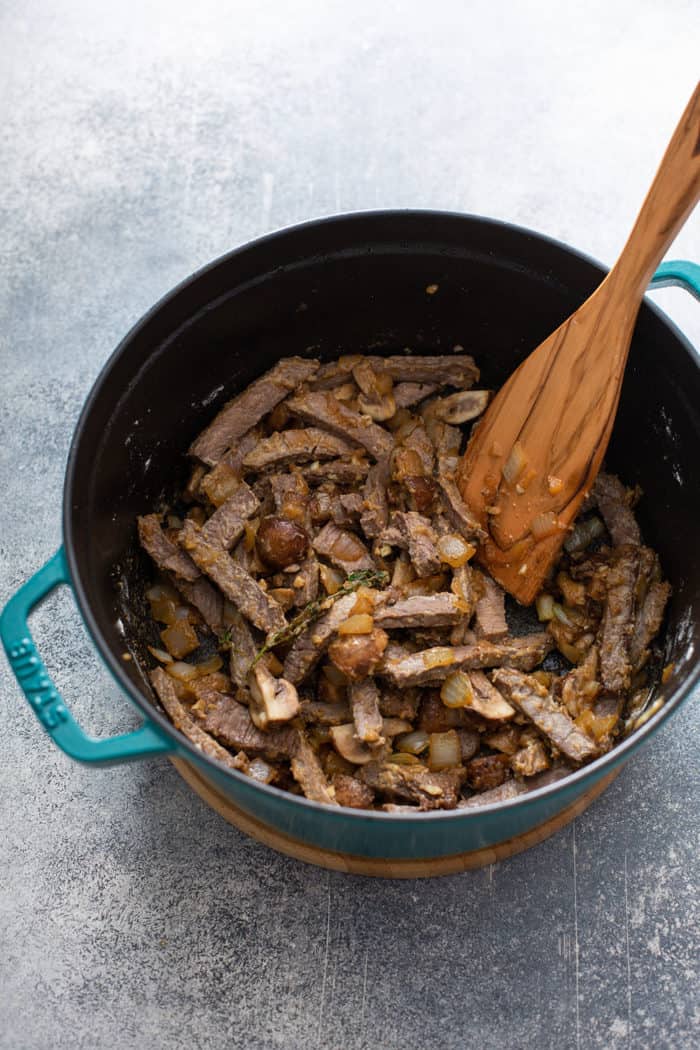 HOW TO MAKE ONE-POT BEEF STROGANOFF
Don't look at the ingredient list for this recipe and be intimidated. I have a lot of recipes with just a few ingredients (such as Crockpot Mississippi Pot Roast), but I promise that all of the ingredients in this stroganoff are adding tons of flavor!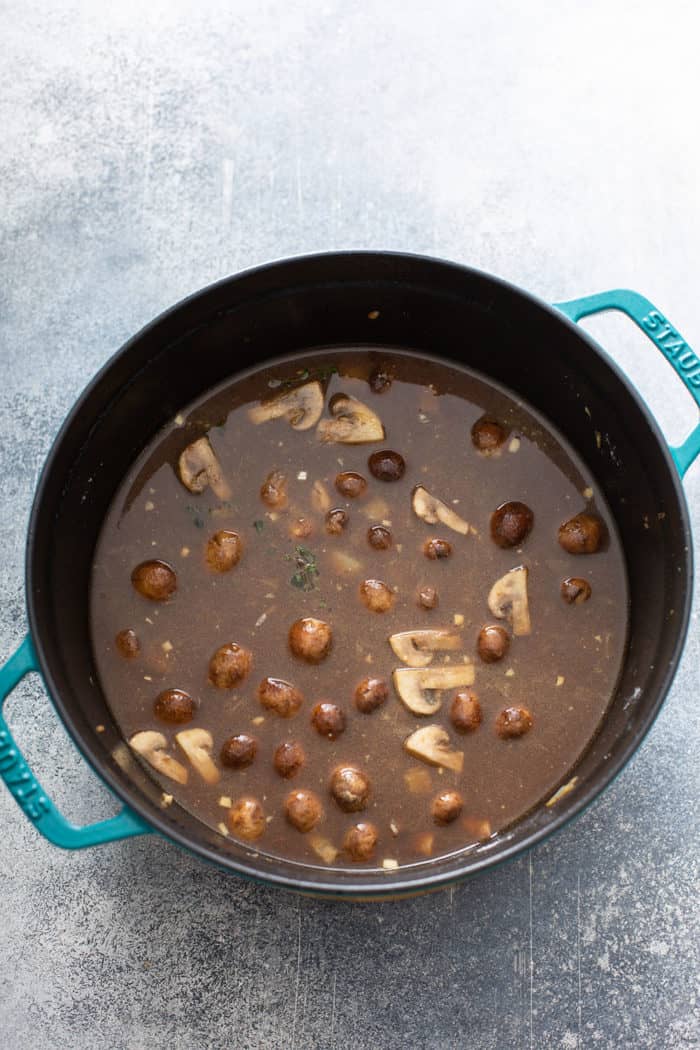 And most of them are pantry staples around our house, so I bet you already have most of this:
Sirloin steak or sirloin strip steak
Olive oil
Dry white wine
2 tablespoons unsalted butter
Diced yellow onion
Sliced or quartered cremini mushrooms
Minced garlic
Dried or fresh thyme
All-purpose flour
Beef stock
Whole-grain dijon mustard
Worcestershire sauce
Extra wide egg noodles
Sour cream
Salt and pepper
Fresh parsley or chives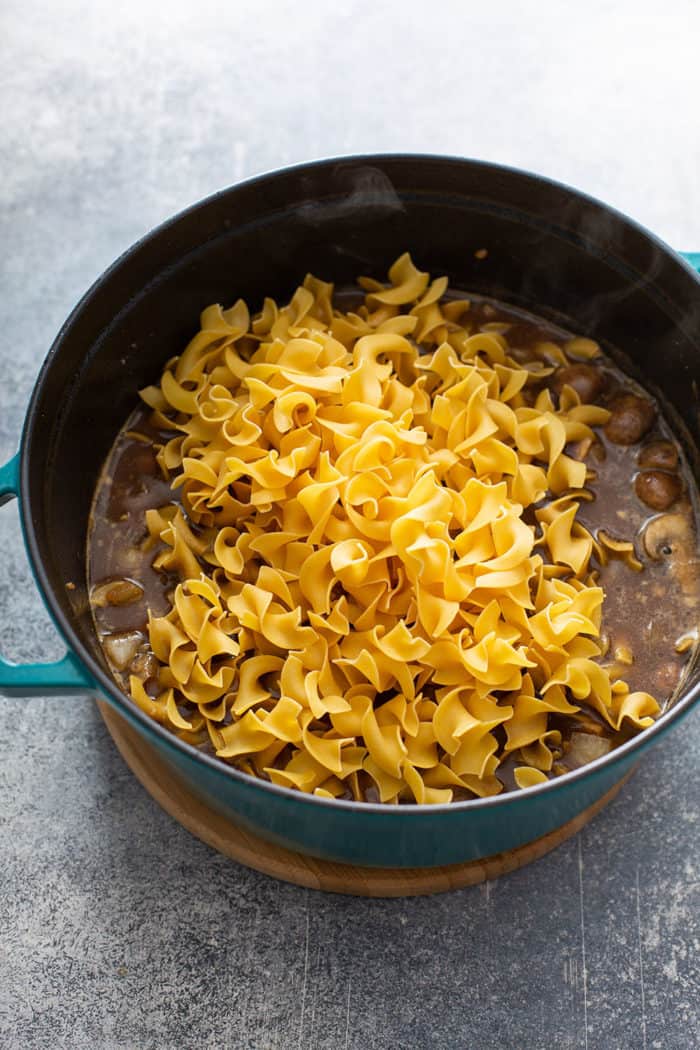 Start by liberally seasoning the steak on all sides and letting it rest for 10-15 minutes. Use this time to prep the rest of your ingredients!
In a super hot dutch oven, brown the beef on all sides, then set it aside.
Use some of the wine to deglaze the bottom of the pot before adding the butter and onions, followed by the mushrooms and garlic.
Slice the steak – chances are good it won't be fully cooked, but that's ok since it's going back in the pot to cook some more.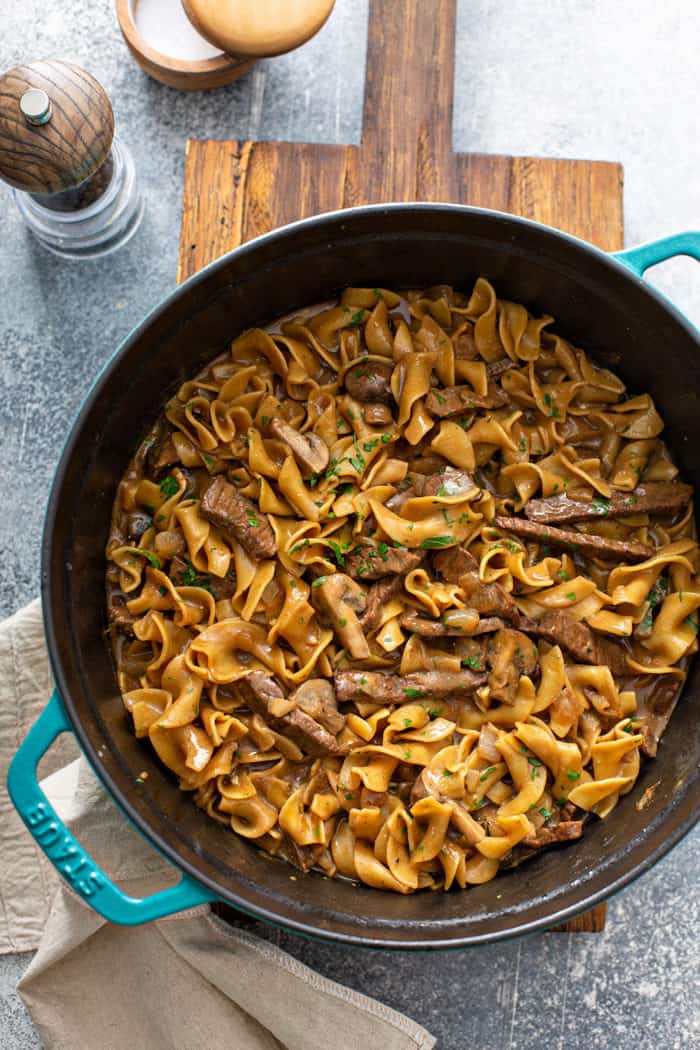 Add the steak back into the pot and sprinkle in the flour. This is making a roux that will help thicken the stroganoff gravy. Add in the stock, mustard, and Worcestershire sauce, and bring the mixture to a boil.
Add the egg noodles and simmer, covered, for about 8 minutes. Check the noodles after 8 minutes for doneness and continue cooking 1-2 more minutes if needed.
Before serving, stir in the sour cream and top with fresh parsley or chives to add a little brightness. Don't be tempted to skip the fresh herbs – they really do give the meal that perfect finishing touch!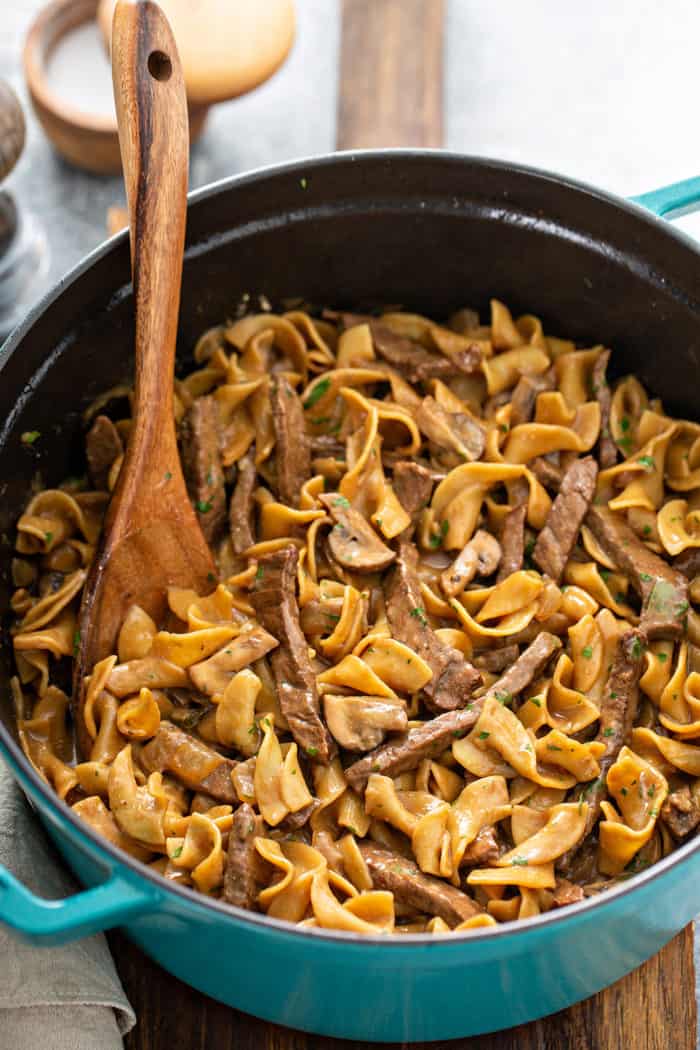 MAKING THIS STROGANOFF WITH GROUND BEEF
I typically make my One-Pot Beef Stroganoff with sirloin steak, but you could also make it with ground beef if you're looking for a more budget friendly option.
If you're using ground beef, brown the meat and remove it from the pot, draining the fat as needed. Deglaze the pan as in step 3 and continue with the recipe as written.
Whether you make the recipe as written with sirloin steak or swap in ground beef, I know this is one comfort food meal you'll want to make over and over!