Twice-Baked Potatoes are fancy enough for a special occasion but simple enough for any family dinner. Top these potatoes with cheese and your favorite toppings for a delicious twist on baked potatoes.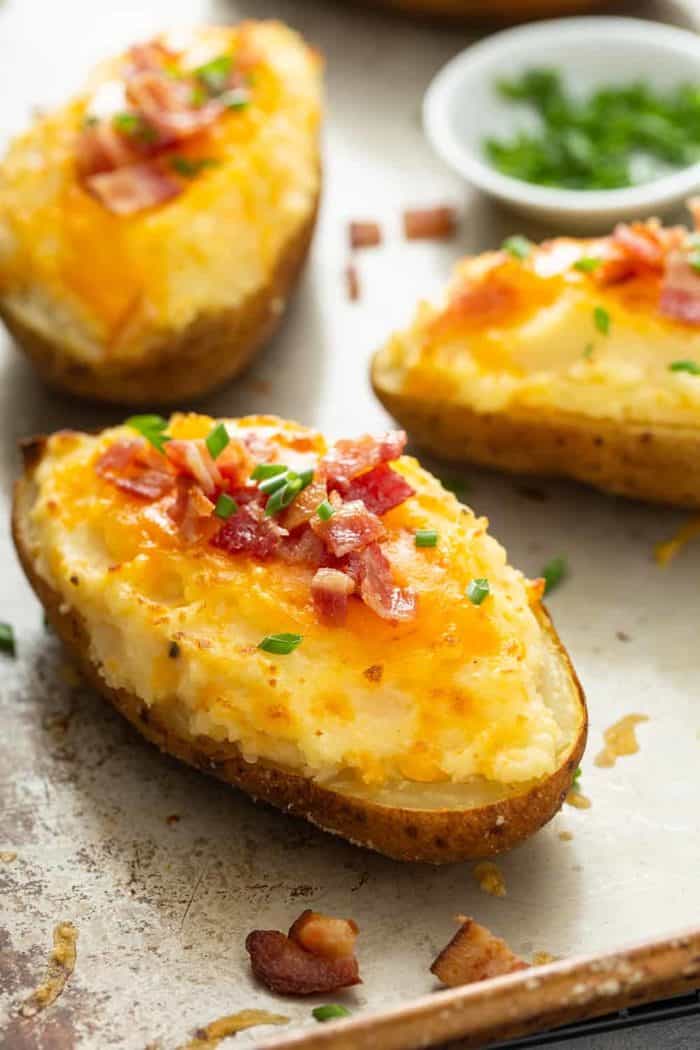 Back in the early 2000's I had a bit of an obsession with twice baked potatoes.
I'm talking making them once a week and eating leftovers all week long kind of obsessed.
I have no idea what recipe I used, but given the timeframe, I'm going to guess it was from RecipeZaar or Allrecipes. And let me tell you, they were delicious.
Then one day I made them and didn't make them again for 15 years or so.
And here we are.
A recipe for twice baked potatoes that happened because my Instacart shopper delivered a 15-pound bag on potatoes on my front porch instead of the 5-pound bag I ordered.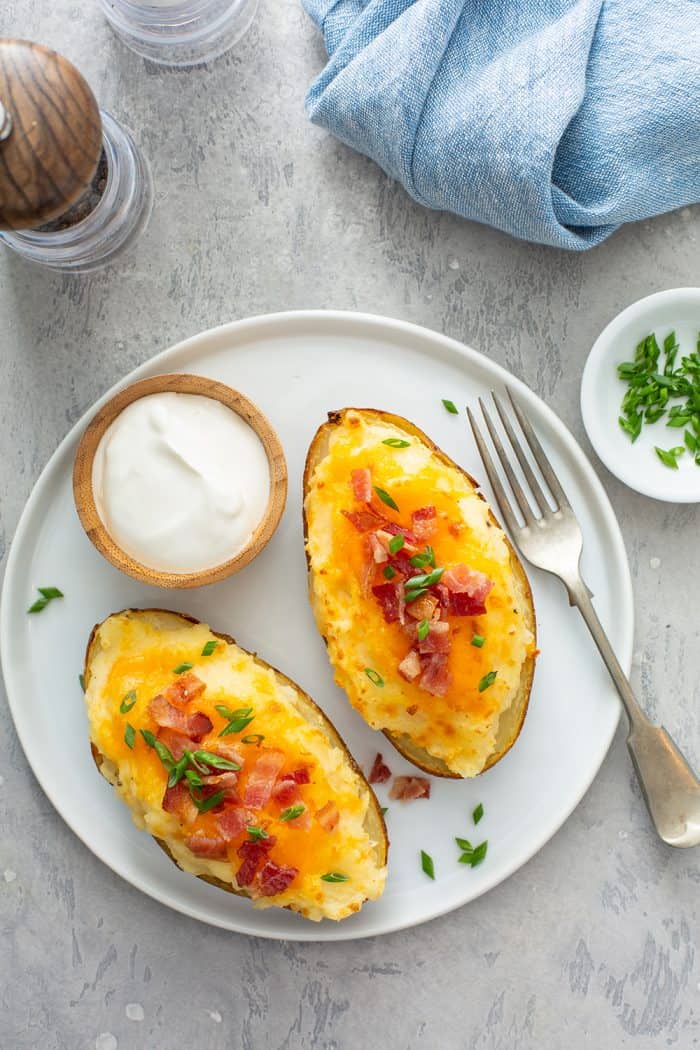 LOADED TWICE-BAKED POTATOES
I don't know about you, but I used to think making Twice-Baked Potatoes was A Thing.
You know, an ordeal. A whole project.
I mean, they look fancy, so they must be hard to make, right? WRONG!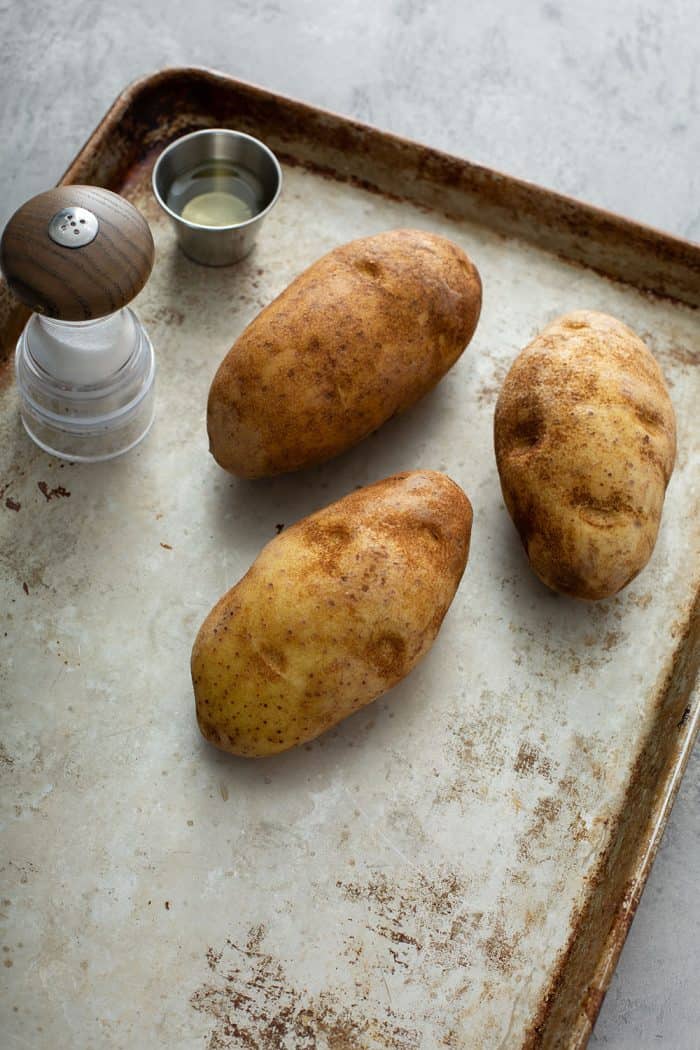 The first time I made these potatoes all those years ago, I realized that even though they have a few steps, none of the steps are actually hard:
Cook the potatoes
Make the filling (similar to making mashed potatoes)
Assemble the potatoes
Bake!
Like, when you see it listed out like that, it seems totally doable, right?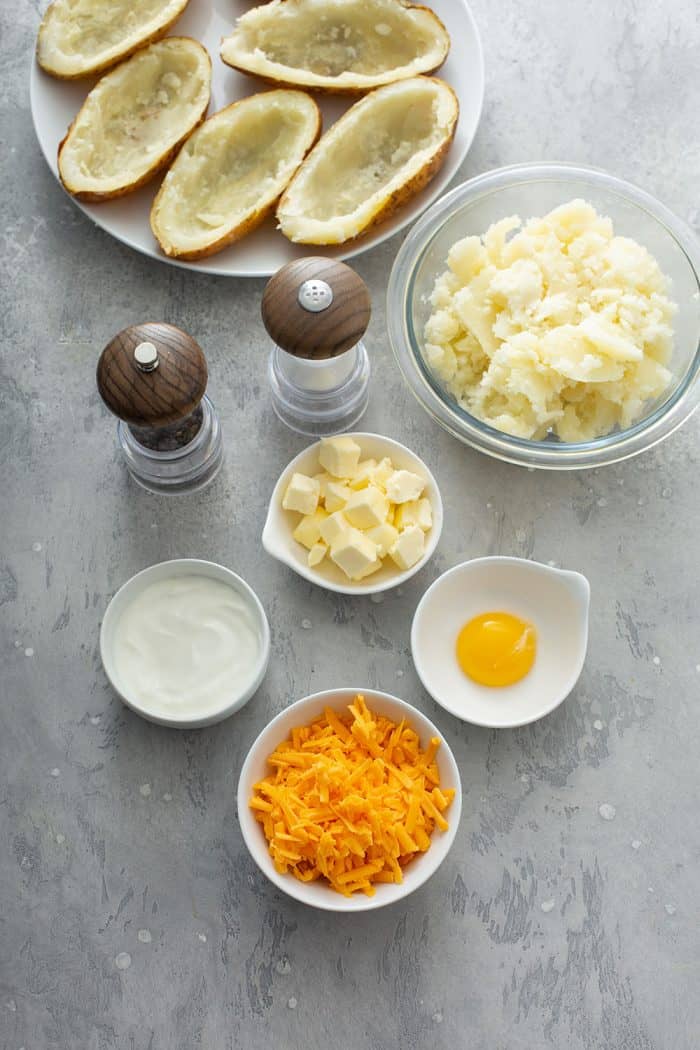 My version of Twice-Baked Potatoes is loaded with cheese and sour cream in the filling, topped with more cheese before baking, and loaded with your favorite baked potato toppings to serve. I love mine with a dollop of sour cream, some bacon, and a sprinkling of chives.
If your family loves loaded baked potatoes, these Twice-Baked Potatoes are a nice twist for everything from a special occasion to a random Tuesday. Just like Baked Macaroni & Cheese or Parker House Rolls, they're special enough for a celebration dinner, but you could totally make these for any family meal.
After all, any meal with your family can be a special meal!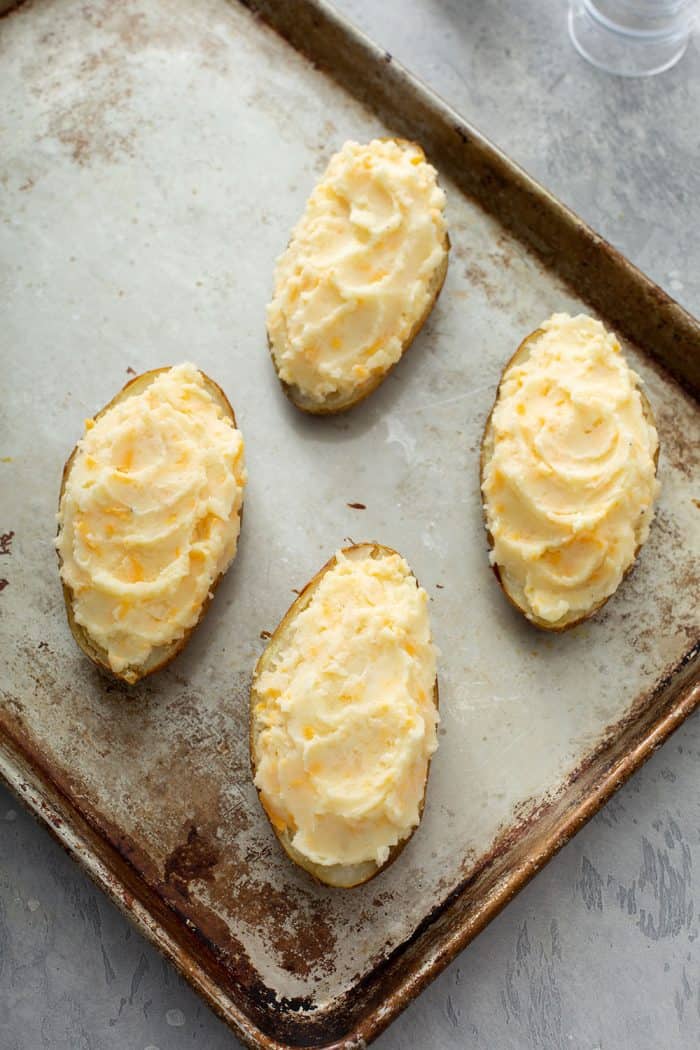 CAN THIS RECIPE BE MADE AHEAD?
If you want to make these potatoes ahead of time, you totally can make them up to a day ahead.
Just bake the potatoes, scoop out the flesh, and mix together the filling. Then pop the hollowed-out potato halves and the filling into separate airtight containers and store them in the refrigerator for up to a day.
When you're ready to eat, just spoon or pipe the filling into the hollowed-out potato halves, top with cheese, and bake according to the recipe instructions.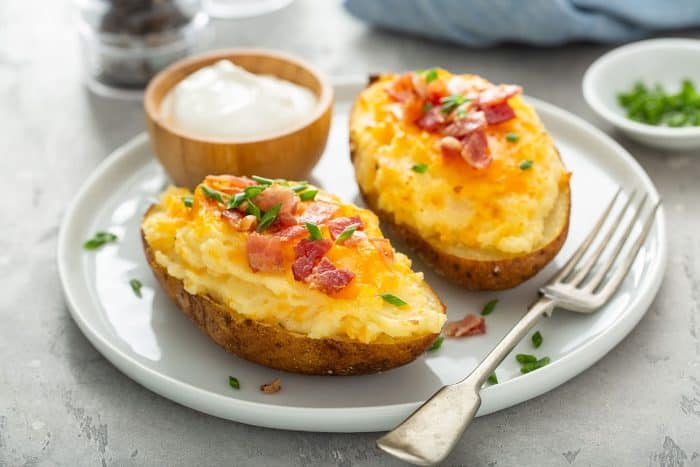 HOW TO REHEAT TWICE-BAKED POTATOES
This recipe makes 4 servings, but if you only have a family of 2 or 3, you might be wondering the best way to reheat any leftover Twice-Baked Potatoes the next day.
If you want to use a conventional oven to reheat them, place any leftover potatoes on a baking sheet and over with foil. Bake at 425 degrees Farenheit for about 15 minutes.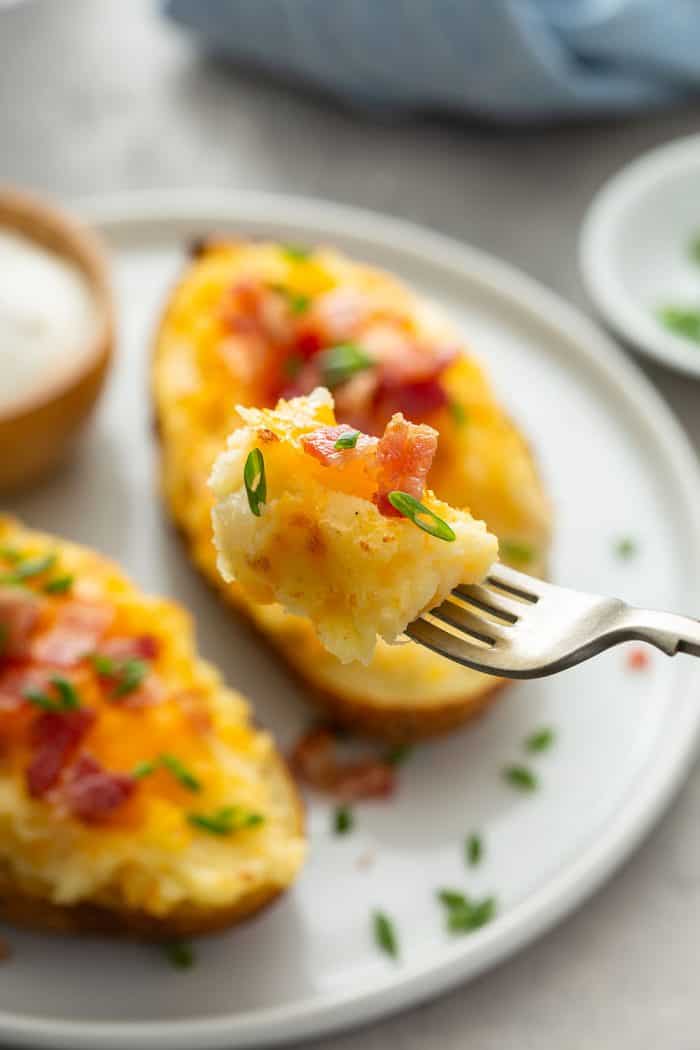 My favorite way to reheat them, though, is in the air fryer. I like to pop the potatoes in the air fryer basket and cook them at 400 degrees for 5 to 10 minutes.
Not only does reheating them in the air fryer take a bit less time, but I like that it helps the skins to crisp back up after being in the refrigerator overnight.
Whether you're making these potatoes alongside Ritz Cracker Chicken on a weeknight or with glazed ham for the holidays, your family will love this alternative to the standard baked potato.