This Mexican Street Corn Salad – also known as esquites – is a delicious way to enjoy the last of the summer sweet corn! Serve this creamy corn alongside tacos, fresh guacamole or salsa, and tortilla chips for an incredible summer meal.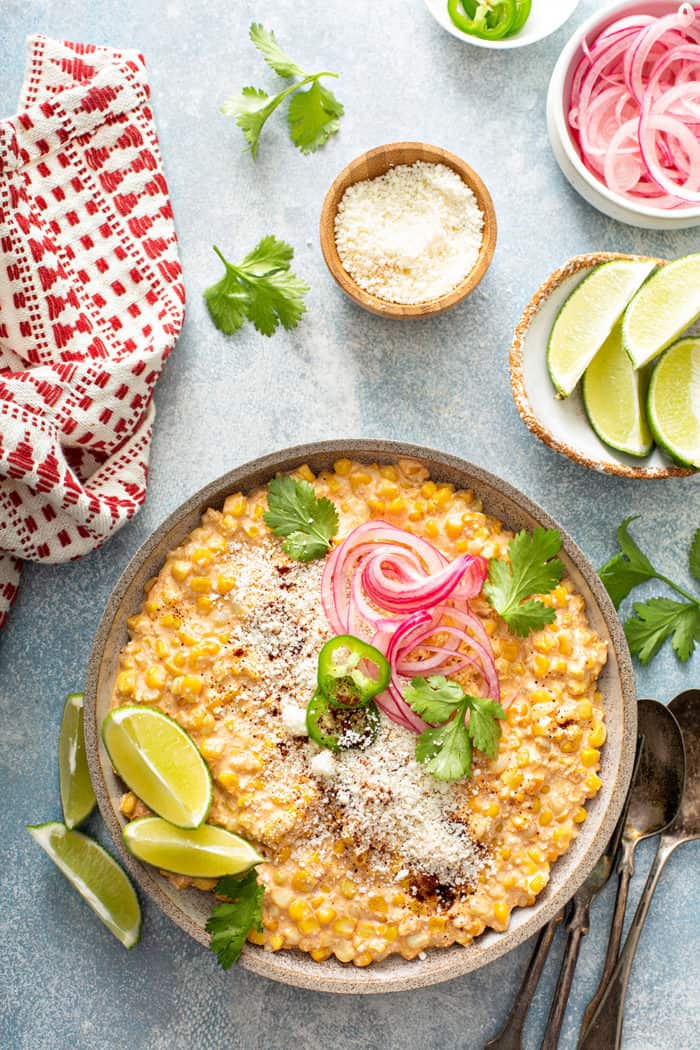 There is a local restaurant a couple of towns over that had the absolute best Mexican Street Corn Salad.
My dad and I were absolutely obsessed with it last summer and ordered it for takeout with tacos more times than I care to admit.
I'm telling you the stuff was amazing – until it wasn't. It seemed like one day the restaurant changed the recipe and it went from a 5 star dish to almost inedible.
The texture of the corn was off the toppings changed and it was just overall a real bummer. We kept ordering it though thinking maybe it was a fluke, but after tossing most of it in the trash on more than one occasion, I decided it was time to make my own Mexican Street Corn Salad.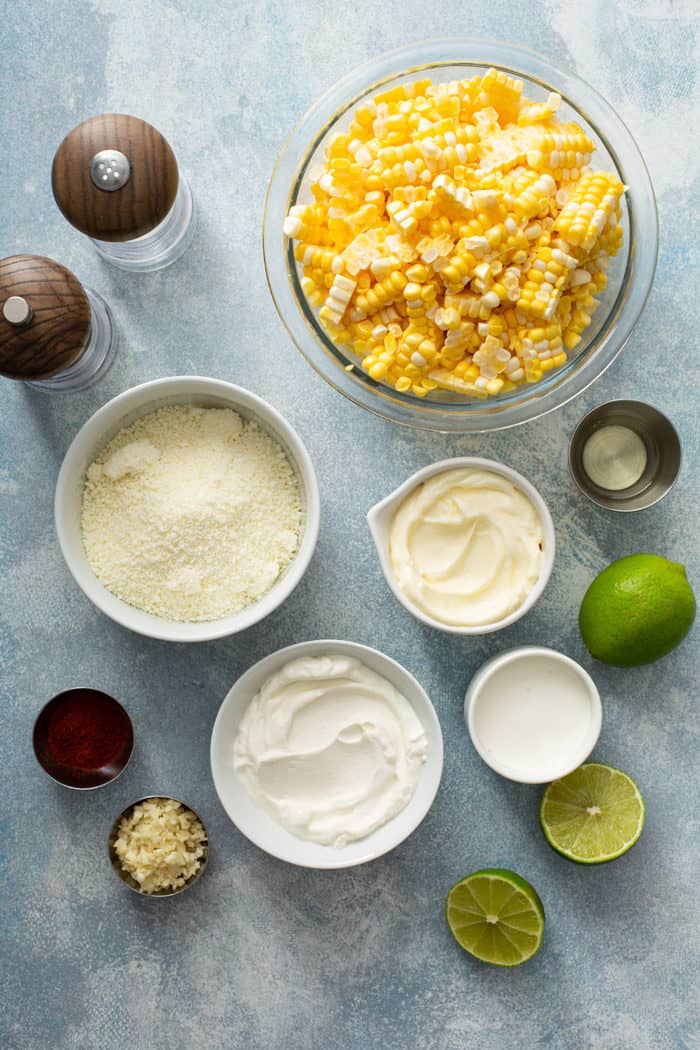 WHAT IS MEXICAN STREET CORN SALAD?
If you have never experienced the magic that is Mexican Street Corn Salad, you have to change that immediately.
I love authentic Mexican street corn, or elote. Corn on the cob is grilled, then slathered in mayonnaise or Mexican crema and topped with cotija cheese, chili powder, and lime.
Elote is a super popular street food throughout Mexico, and so is the spoonable version, esquites or elote en vaso – aka, Mexican Street Corn Salad.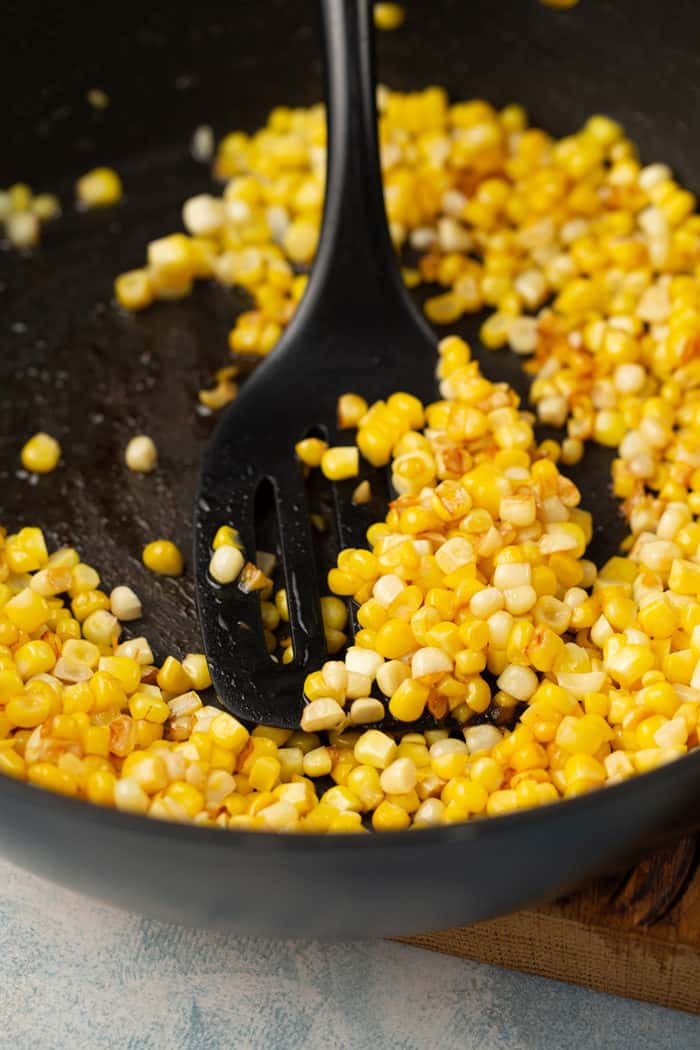 Esquites is basically the same corn simply cut off the cob and tossed with chili, cotija, and a mayonnaise, lime, and crema dressing and topped with more cotija cheese and chili powder.
I'm not always able to drive into town where the best esquites are, so I decided to make my own, trying to stay as true to what the dish is meant to be as possible.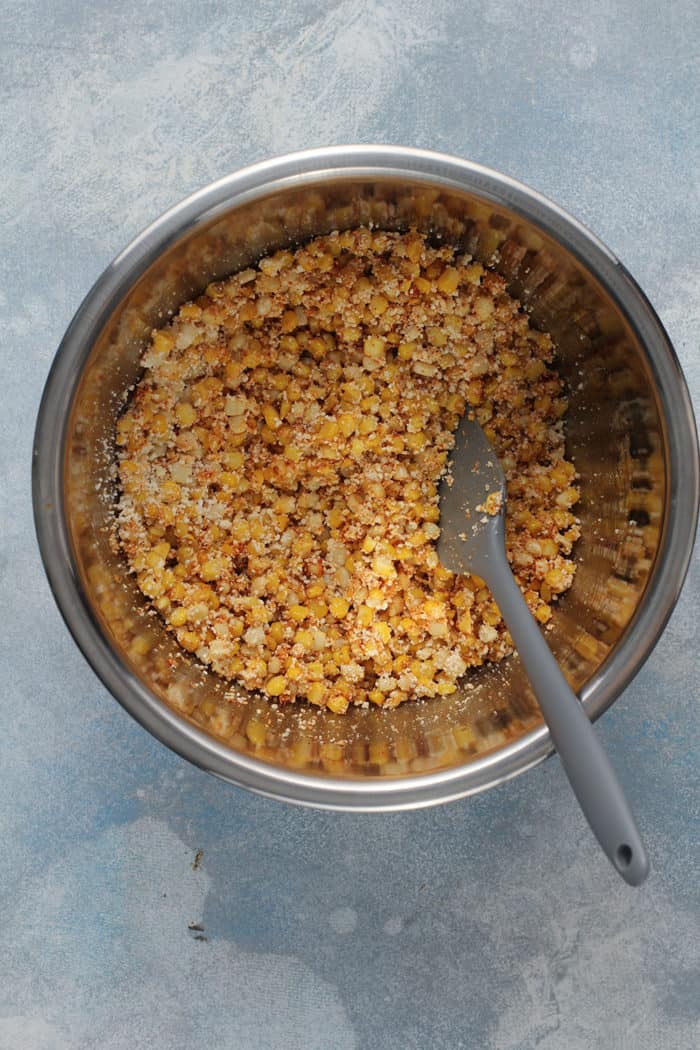 IS MEXICAN STREET CORN SALAD SERVED COLD OR WARM?
Traditionally, esquites are served hot, and I think this recipe is best when served warm! Preferably alongside some Flank Steak Tacos, Spicy Guacamole or Salsa Ranchera, and tortilla chips.
You can definitely serve it cold though if you prefer.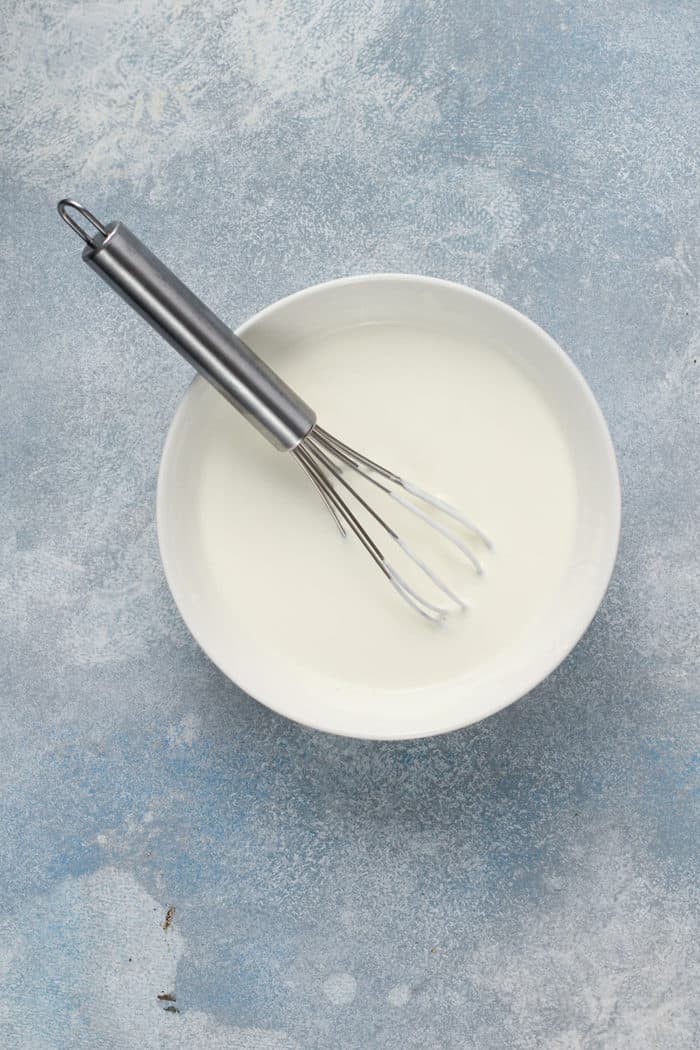 HOW TO MAKE ESQUITES
Most of the ingredients you'll need for this Mexican Street Corn Salad recipe can be found at any major grocery store.
A few things you might need to look more closely for are:
Cotija cheese
Mexican crema
Tajín (chili-lime seasoning)
I can usually find all three of these ingredients at my grocery store, but I will often swing by my local Mexican grocery to pick them up along with the best tortillas in town.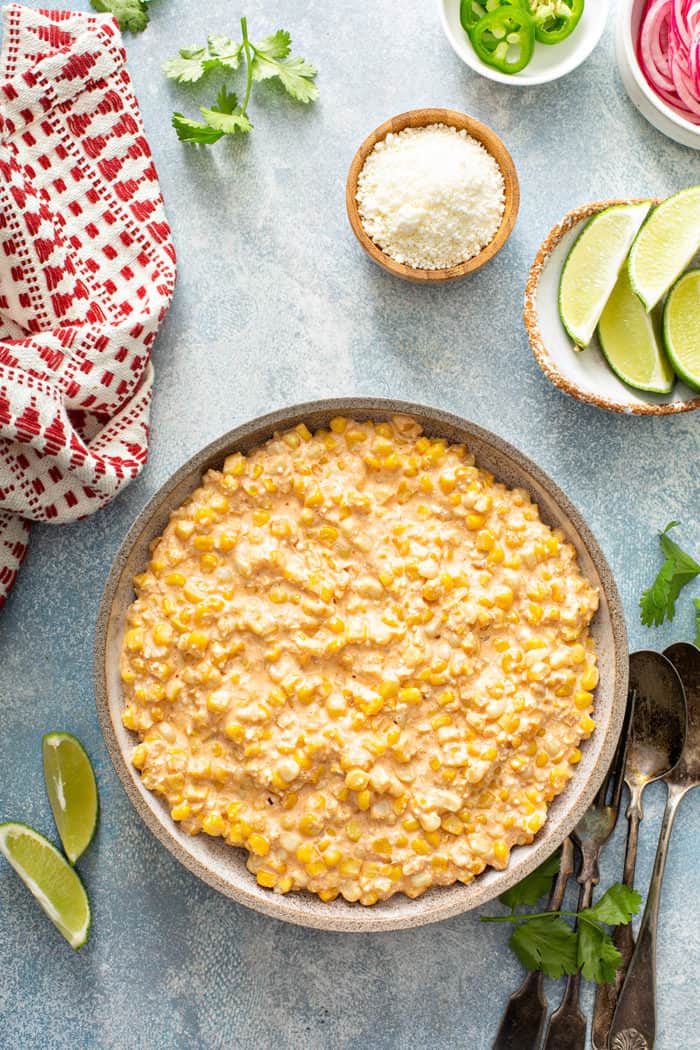 If you've never checked out your local Mexican grocery, you definitely should! They'll have everything you need to make this recipe and it's great to support local small businesses. Some of them also serve tacos and other street snacks – like elote and esquites!
To make this recipe, you'll start by charring the corn. Heat vegetable oil in a skillet until it is shimmering and hot. Working in batches, add the corn in a single layer, then cover and let it cook for 3 minutes.
Don't be tempted to peek or stir the corn! Just let it cook for the full 3 minutes. You want the corn to char on the bottom.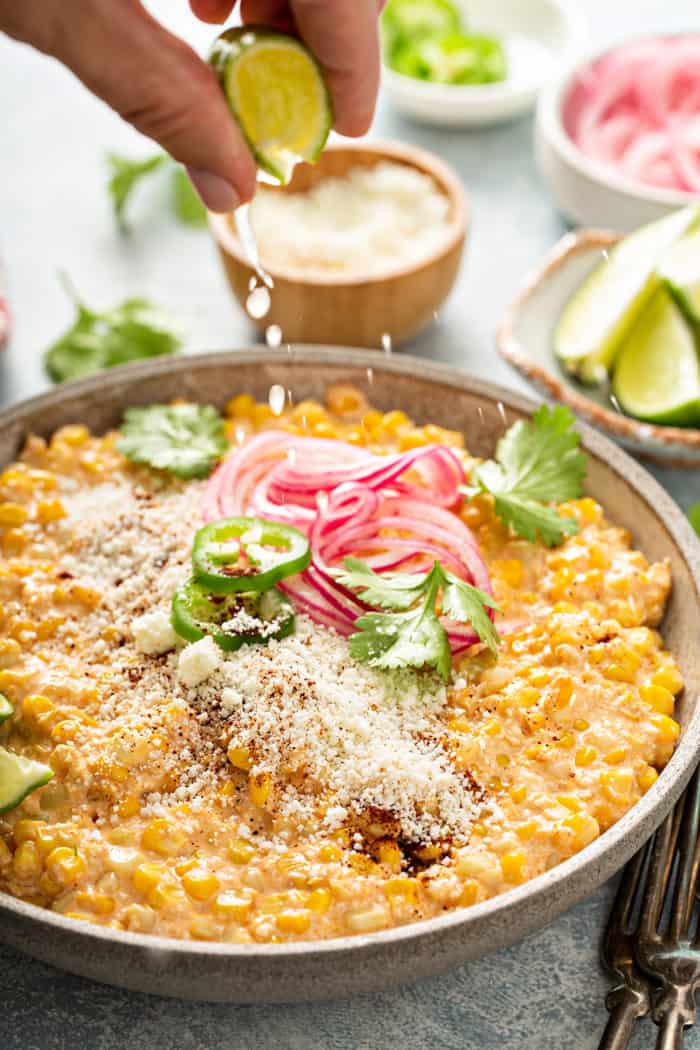 Once all of the corn is charred, add Cotija cheese, garlic, chili powder, and some salt and pepper.
In a small bowl, whisk together the dressing ingredients:
½ cup mayonnaise
½ cup sour cream
¼ cup Mexican crema
Juice of 1-2 medium limes
When you're ready to serve, add the dressing to the corn. Stir to combine and serve warm with additional crumbled cotija cheese, Tajín, lime wedges, cilantro, pickled onions, and/or thinly sliced serrano or jalapeño peppers.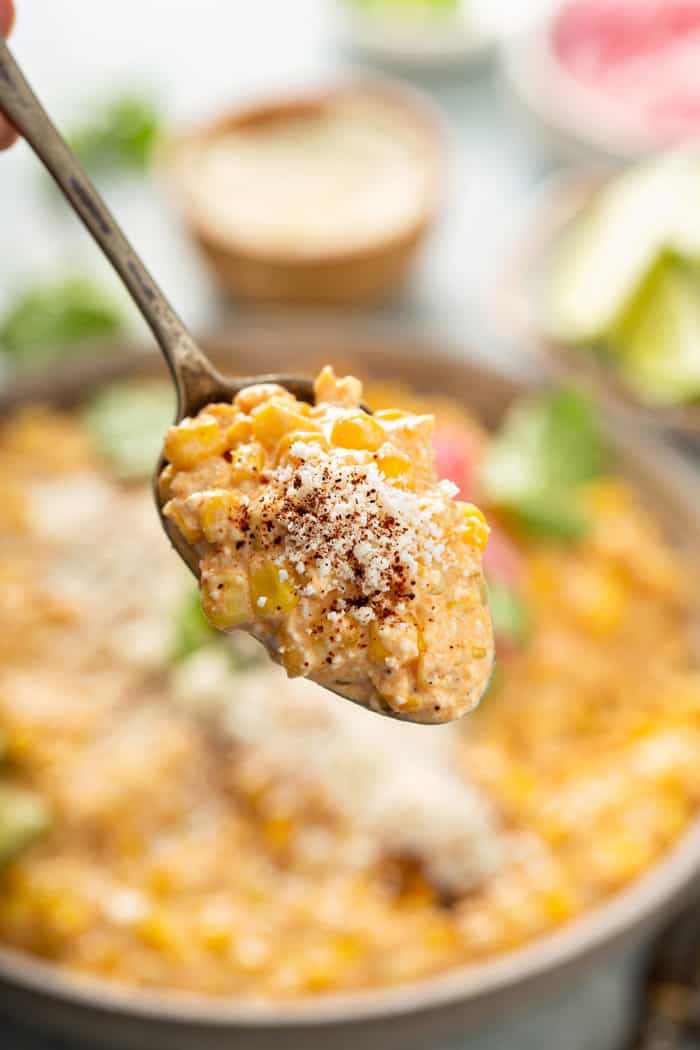 CAN THIS RECIPE BE MADE AHEAD?
If you prefer your Mexican Street Corn Salad served cold, simply make it according to the recipe, cover, and refrigerate until you're ready to serve it.
If you want to prep the salad ahead of time but serve it warm, prepare the corn as written but leave out the cotija cheese. Store the corn, cotija cheese, and dressing separately in the fridge until it's time to serve.
When you're ready to serve, reheat the corn (either quickly on the stove or in the microwave) and combine it with the cheese and dressing.
Don't forget to garnish your esquites as desired! I never skip extra lime, cotija, and a sprinkle of Tajín, but the fun part is dressing it up the way you like it.