Pumpkin Bread is loaded with warm spices and full of delicious pumpkin flavor. This recipe will become one of your absolute favorites!.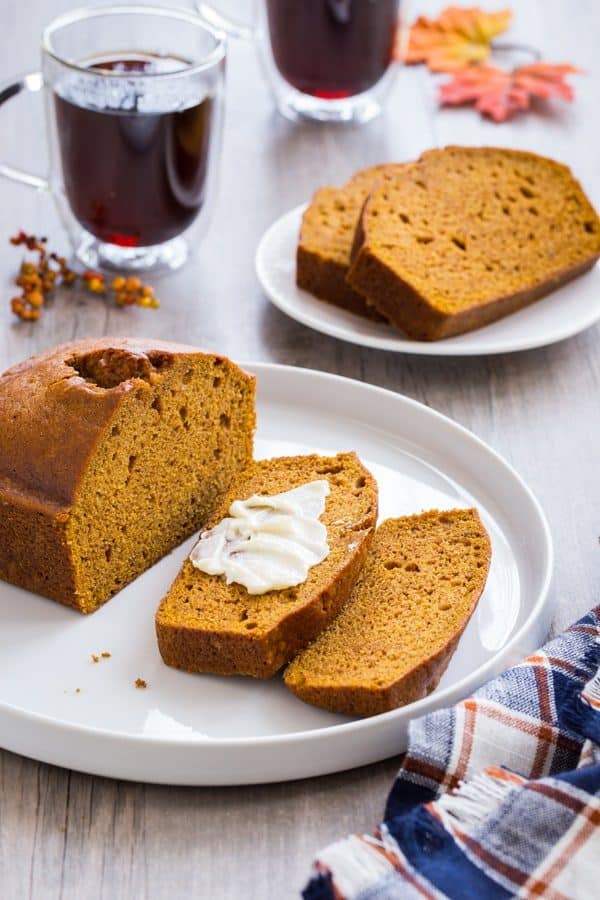 Hello, there! It's been a little while since I posted last here on My Baking Addiction and I totally miss you guys.
I wish my time away was due to some exotic vacation, but it was mainly because I was nursing a knee injury after falling off of my porch (I was totally sober btw) while trying to water a fern. And then I got hit with an epic sinus situation that lasted well over a week. Fun times over here.
And now here we are at the end of August.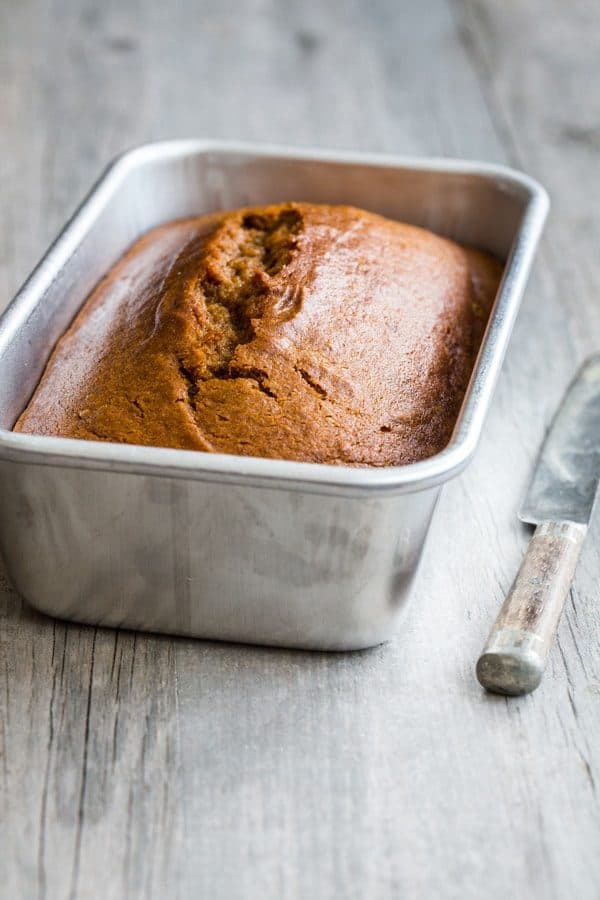 My little babe is headed off to preschool soon and I'm ready to make allthepumpkinthings for you. Starting with this pumpkin bread.
If you've been following my blog for years, you know that fall is my fave, so I've been over here counting down the days until September.
Because September means it's time to bust out the fall decor, light up the Leaves candle from Bath and Body Works, and start publishing fall recipes for you.
Which basically means every pumpkin dessert you can imagine.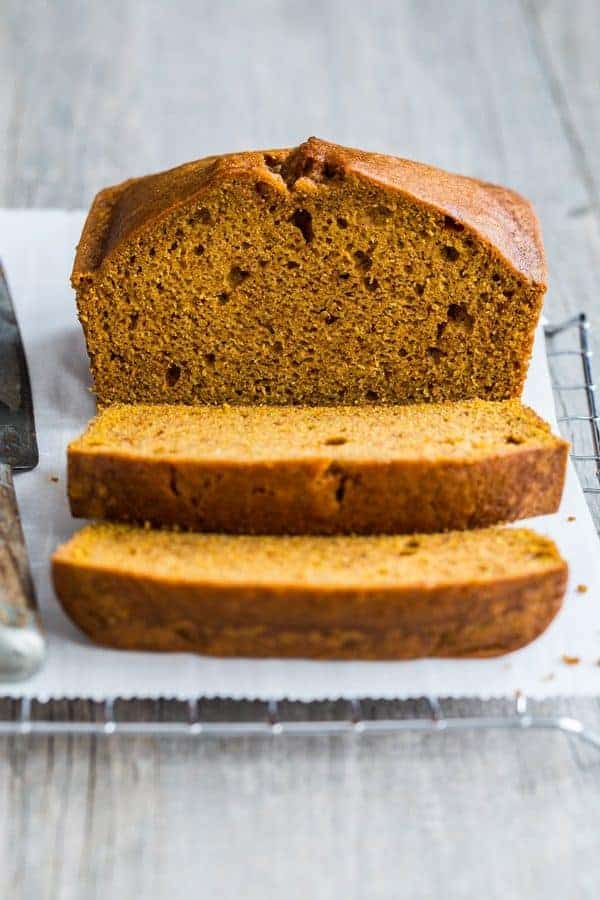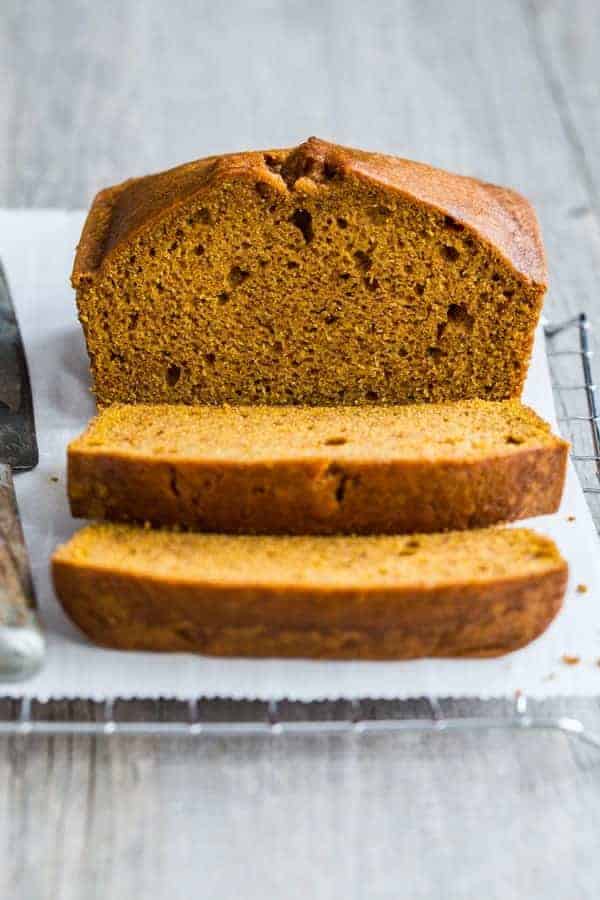 Please don't tell me it's too soon. It's only 63 degrees here today, I have leaves all over my backyard, and I'm wearing a long sleeved shirt. It's TIME.
This pumpkin bread has been on my blog for what seems like forever, but the pictures and text were a little outdated, so I thought I'd freshen them up for you!
Every year it's one of the most popular recipes on My Baking Addiction along with my homemade pumpkin pie spice, pumpkin roll and pumpkin crunch cake. Notice a theme here?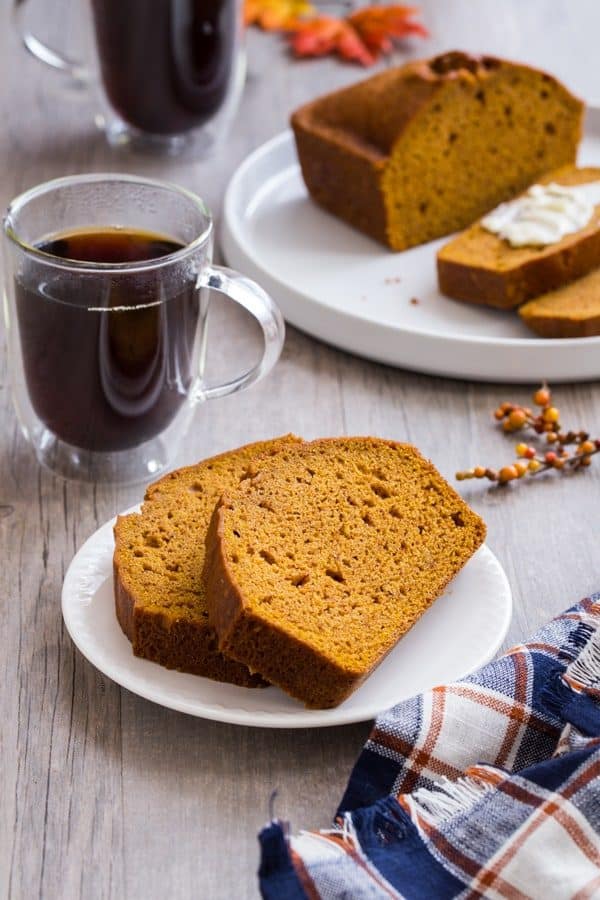 If you love fall baking as much as I do, get in the kitchen and whip up a triple batch of the pumpkin pie spice recipe, store it in an airtight jar, and you'll have your own spice blend for every pumpkin recipe you whip up from now until December.
PUMPKIN BREAD RECIPE
Okay, let's chat about this pumpkin bread. There is nothing that signifies fall for me more than this recipe. I've been making it for years – long before my blog and it shows up countless times in my kitchen throughout the season.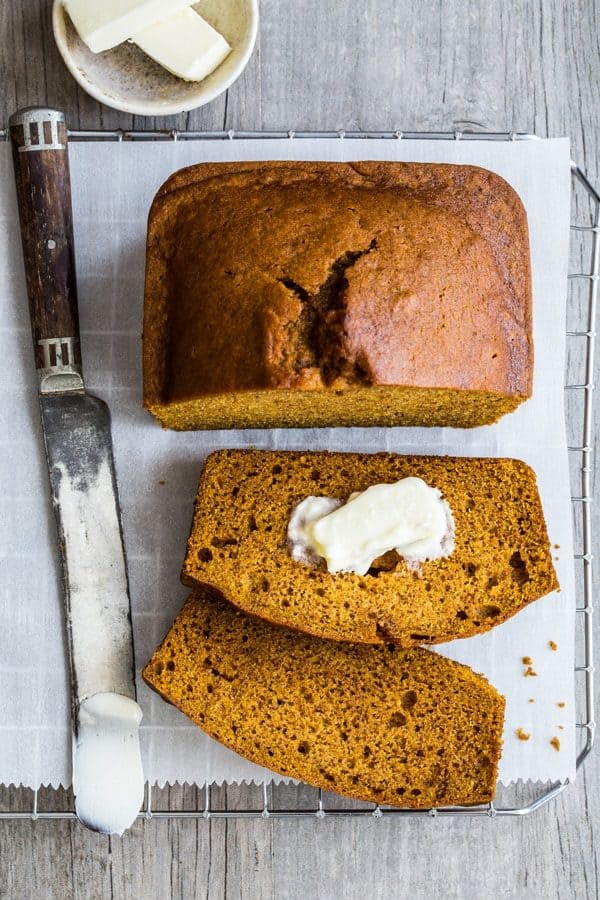 It's sweet, spicy and incredibly moist. I know, I know, moist is not my favorite word either, but there is really no way to adequately describe this Pumpkin Bread recipe without mentioning that word.
Pumpkin Bread gets better with time, so whip it up a day or so in advance before you plan on eating it or giving it.
Because let me tell you, it makes a great gift for neighbors, a hostess gift, or a gift for your boss if you're looking to butter them up a bit.
HOW TO MAKE PUMPKIN BREAD
This is a seriously easy pumpkin bread recipe. It takes a bit of time to bake, but I bet you can pull together the batter in about the same amount of time it'll take for the oven to preheat.
Like all quick-bread recipes, we mix together the wet ingredients in one bowl, which in this case includes a whole can of pumpkin puree. Make sure to use pumpkin puree, not pumpkin pie filling!
In another, we'll whisk together our dry ingredients. From there, we'll mix the two together before dividing into prepared loaf pans.
If you want to add any extras, like chopped pecans, dried cranberries or even chocolate chips, simply fold them in before you add the batter to the load pans.
This Pumpkin Bread recipe make 2 loaves, so you could always keep one loaf for yourself and gift the other to a friend or neighbor, or take it as a hostess gift at Thanksgiving.
Or you could keep them both for yourself. It freezes beautifully, after all. Serve it up plain, toasted, with a spread of butter, or get a little adventurous, fry it up in a pan, and serve it up French toast style!
Pumpkin Muffins
If you love pumpkin bread, but are looking for pumpkin muffins? This recipe works beautifully for both.
Simply divide the batter into muffin into muffin tins that are either sprayed with non-stick cooking spray or lined with paper liners.
Bake them up at 350°F for about 18-20 minutes and you'll have some seriously delicious pumpkin muffins!
PUMPKIN CHOCOLATE CHIP BREAD
If you love pumpkin paired with chocolate, feel free to add in about 1 1/2 cups of chocolate chips to the batter to make Pumpkin Chocolate Chip bread!
You can thank me later.