Pumpkin Bread is loaded with warm spices and full of delicious pumpkin flavor. This recipe will become one of your absolute favorites!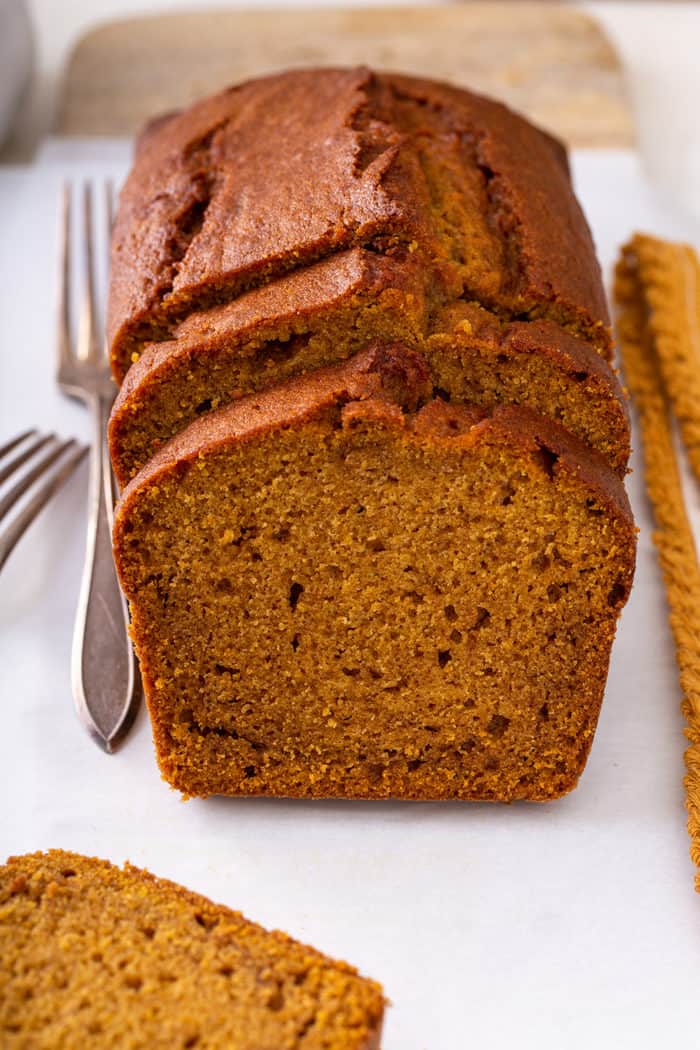 There is just something about quick breads that make me happy. They're one of my absolute favorite things to bake no matter the season.
They come together super easily, they're often delicious for both breakfast and dessert and they're the perfect treat to gift to just about anyone.
From Banana Bread, Zucchini Banana Bread, Apple Pie Bread, and Butternut Squash Bread, I pretty much have any type of quick bread you could possibly want. But my absolute favorite quick bread of all the quick breads here on My Baking Addiction, this Pumpkin Bread will always be my most loved and most baked!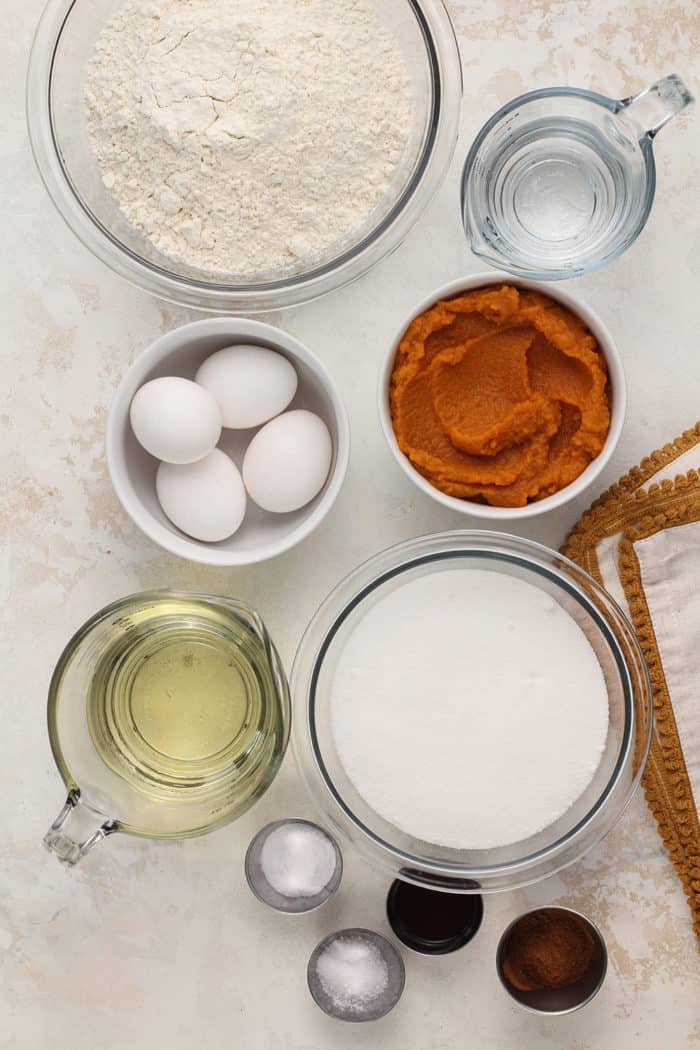 THE BEST PUMPKIN BREAD RECIPE
Okay, let's chat about this pumpkin bread. There is nothing that signifies fall for me more than this recipe. I've been making it for years – long before my blog, and it shows up countless times in my kitchen throughout the season.
It's sweet, spicy and incredibly moist. I know, I know, moist is not my favorite word either, but there is really no way to adequately describe this Pumpkin Bread recipe without mentioning that word.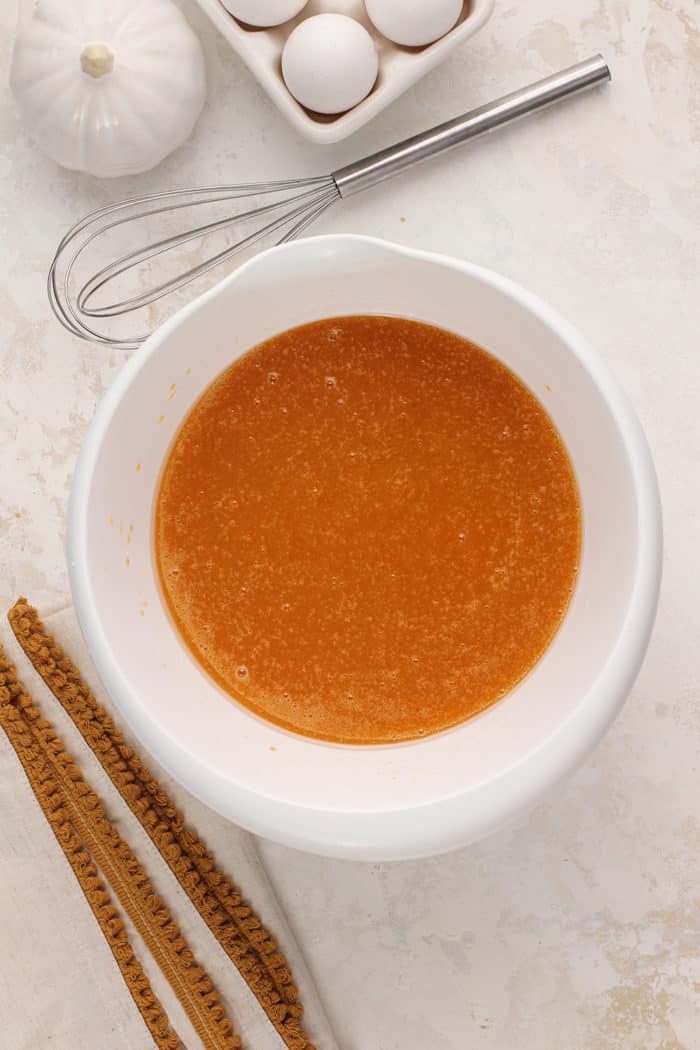 I have fed this bread to so many people and every one of them has declared that this recipe is the best Pumpkin Bread they have ever tasted.
This particular recipe gets better with time, so whip it up a day or so in advance before you plan on eating it or giving it away.
Because let me tell you, it makes a great gift for neighbors, a hostess gift, or a gift for your boss if you're looking to butter them up a bit.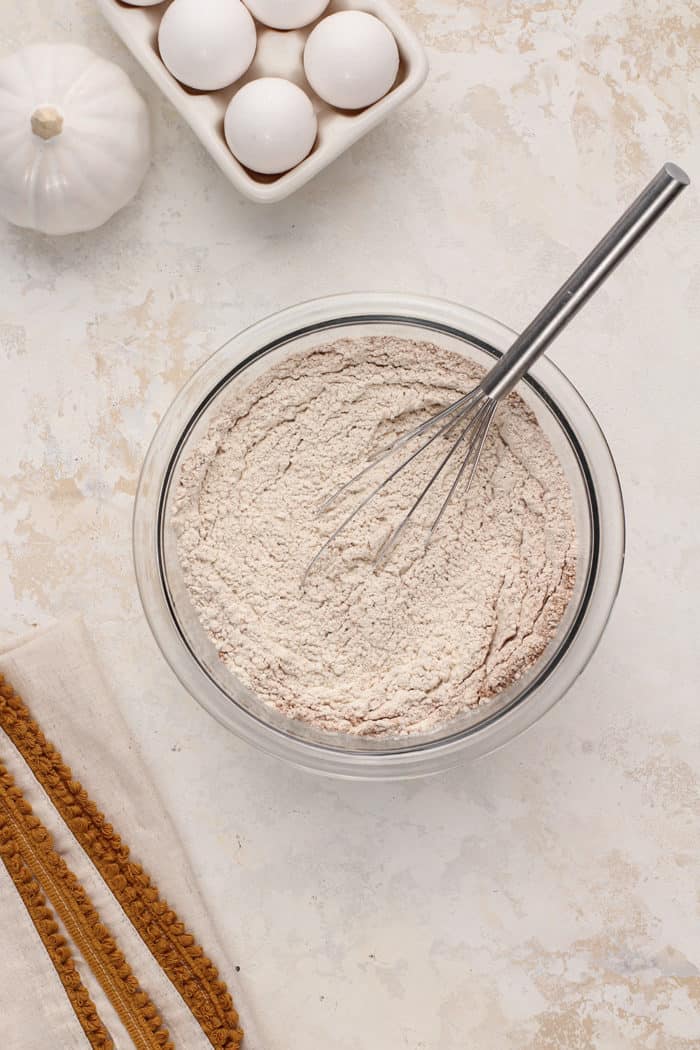 HOW TO MAKE PUMPKIN BREAD
This quick bread recipe takes a bit of time to bake, but I bet you can pull together the batter in about the same amount of time it'll take for the oven to preheat.
Preheat the oven to 350°F and measure out your ingredients:
1 (15 ounce) can pure pumpkin puree
4 large eggs
1 cup vegetable oil
2/3 cup water
2 teaspoons pure vanilla extract
2 1/2 cups sugar
3 1/2 cups all-purpose flour
2 teaspoons baking soda
1 1/2 teaspoons kosher salt
2 tablespoons pumpkin pie spice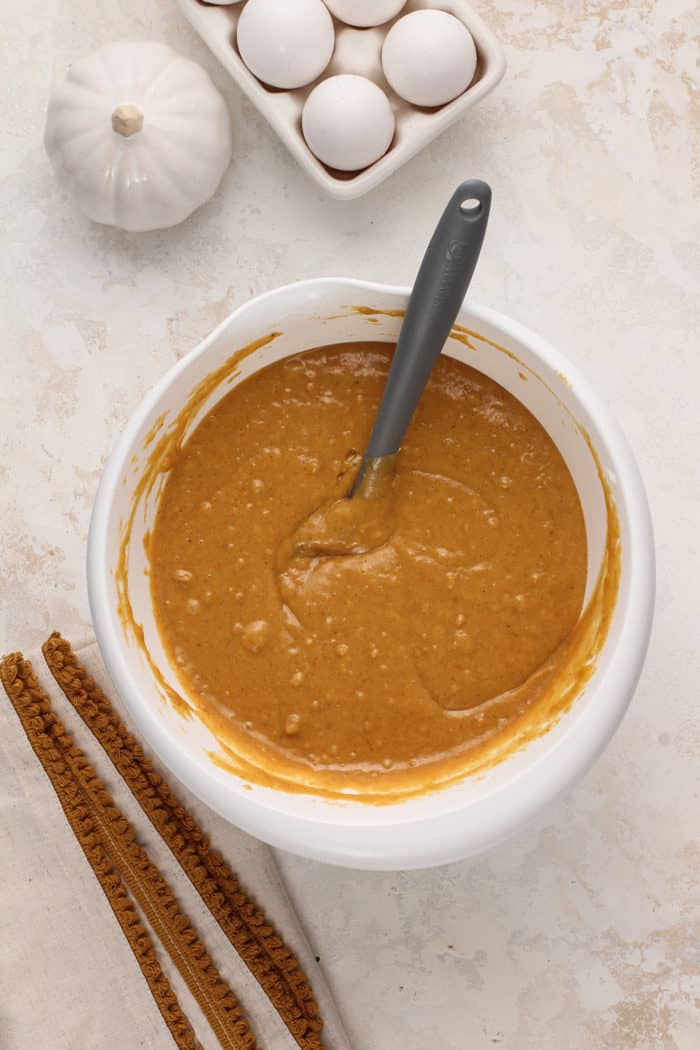 Like all quick-bread recipes, we mix together the wet ingredients in one bowl, which in this case includes a whole can of pumpkin puree. We're not skimping on the pumpkin in this bread!
In another bowl, we'll whisk together all of the dry ingredients. From there, add the dry ingredients to the wet and mix the batter together before dividing into two loaf pans.
That's right, this bread makes two loaves! That's why it's extra perfect for gifting.
Or you could keep them both for yourself. It freezes beautifully, after all. Serve it up plain, toasted, with a spread of butter, or get a little adventurous and fry it up in a pan and make Pumpkin Bread French Toast!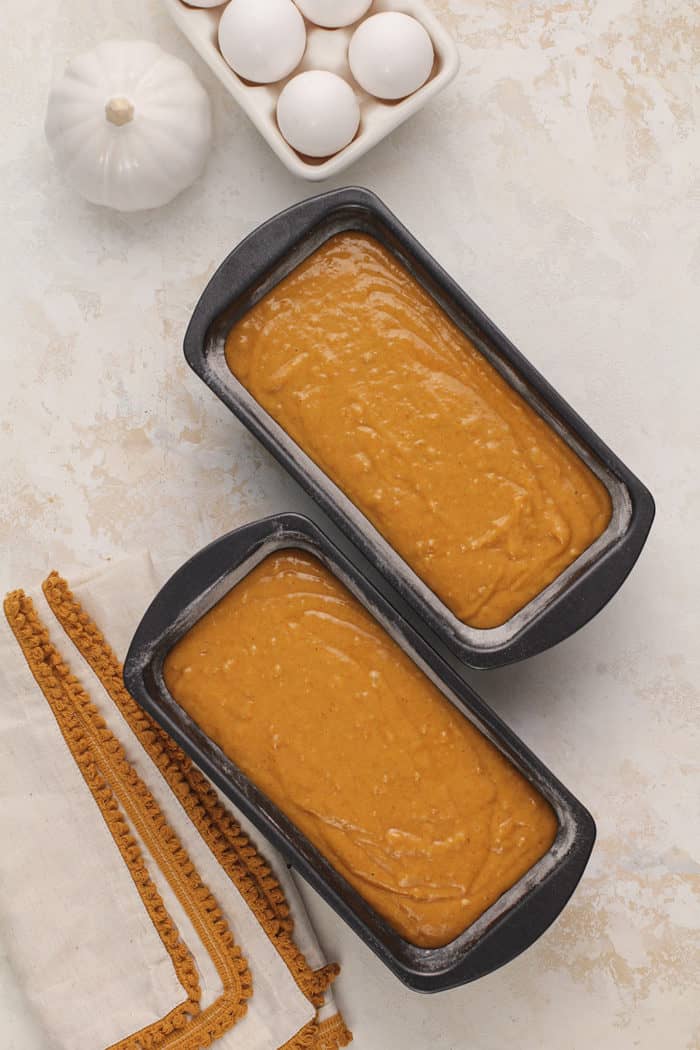 CAN YOU USE PUMPKIN PIE FILLING IN THIS RECIPE?
When you're making this bread, make sure you grab a can of pure pumpkin puree.
Canned pumpkin pie filling is not the same thing; it has a bunch of added ingredients that we don't need in our Pumpkin Bread.
While you're at the store, grab a few extra cans because I can guarantee you'll want to use them in Pumpkin Cheesecake, Pumpkin Bundt Cake, Pumpkin Crunch Cake, and more.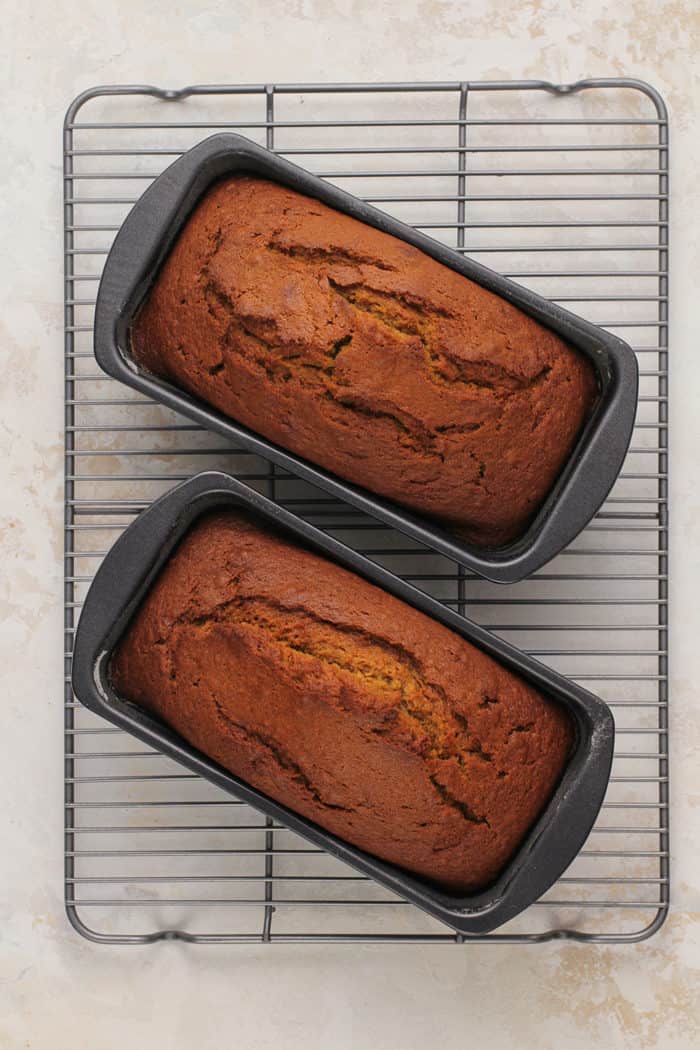 RECIPE VARIATIONS
This bread is perfect as it is, but you can totally add some extra if you want.
Add in some chocolate chips for Pumpkin Chocolate Chip Bread, or even add things like chopped pecans and dried cranberries. Simply fold them in before you add the batter to the pans.
If you love pumpkin bread, but are looking for pumpkin muffins? This recipe works beautifully for both.
Simply divide the batter into muffin tins that are either sprayed with non-stick cooking spray or lined with paper liners.
Bake them up at 350°F for about 18-20 minutes and you'll have some seriously delicious pumpkin muffins!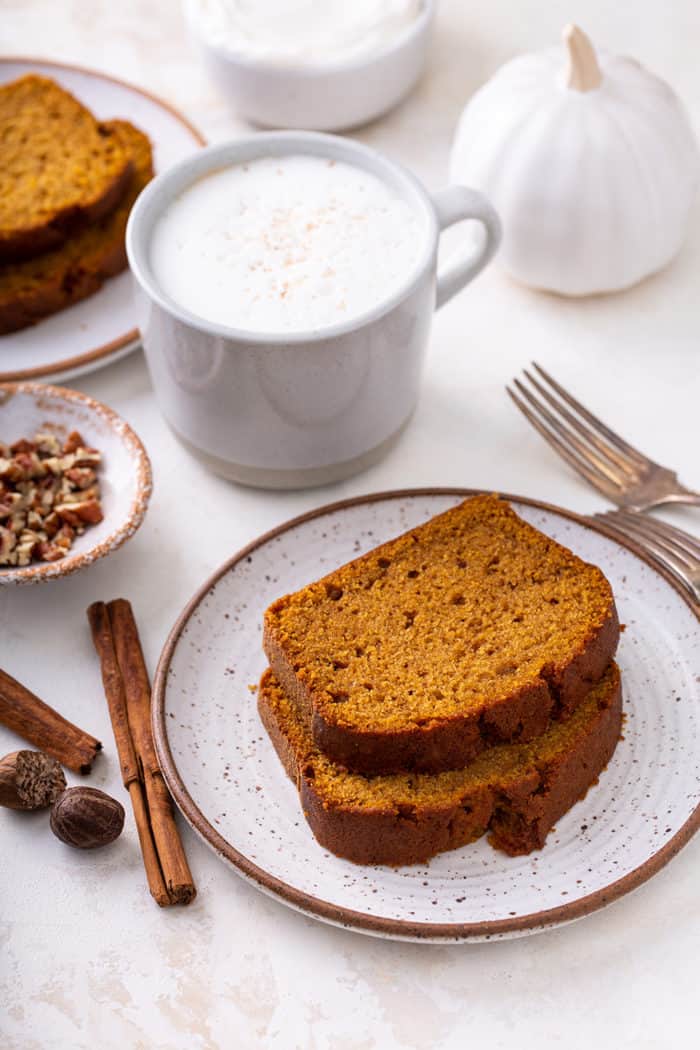 STORING AND FREEZING
Store this bread well wrapped at room temperature for up to 3 days. If you want it to keep for longer, pop it into the refrigerator.
This recipe is also great for freezing. You can either freeze the loaves whole or freeze individual slices.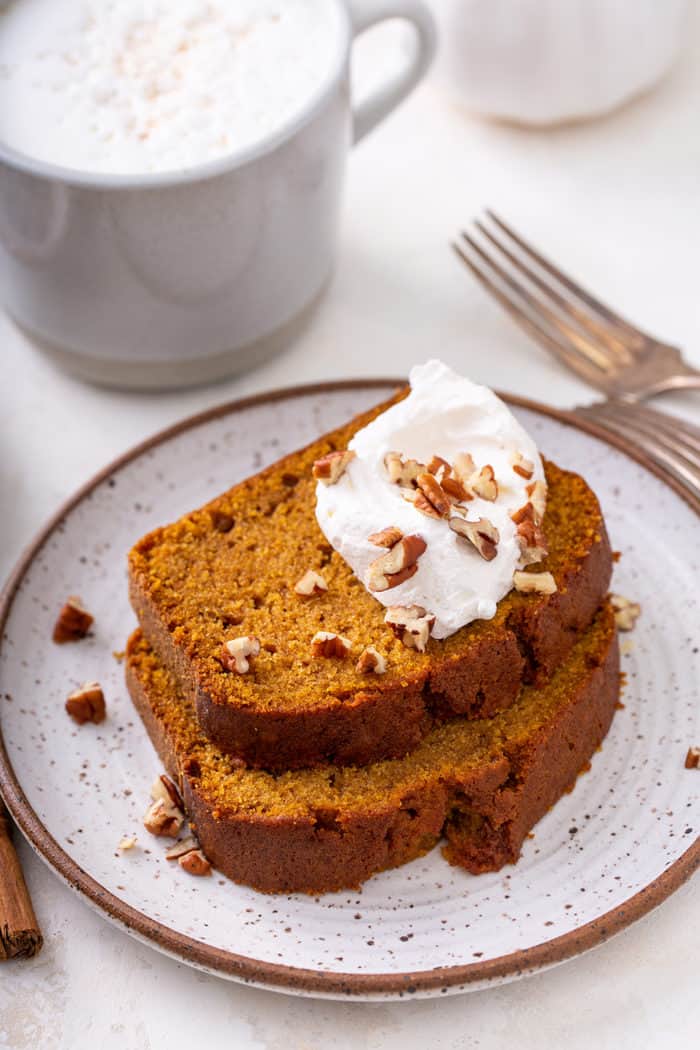 To freeze the whole loaves, wrap the bread well in plastic wrap and then wrap them tightly in foil.
To freeze slices, cut nice, thick slices and wrap them each in plastic wrap. Pop them in a zip-top freezer bag.
Freeze the bread for up to 3 months. When you're ready to enjoy, take the whole loaves out of the freezer and let them thaw on the counter overnight, or grab as many slices as you like and microwave them for 30-60 seconds for a nice warm slice of Pumpkin Bread.