This Pumpkin Bundt Cake is a fall classic. Topped with cream cheese frosting with just a bit of pumpkin pie spice, this cake is a slice of comfort on a plate.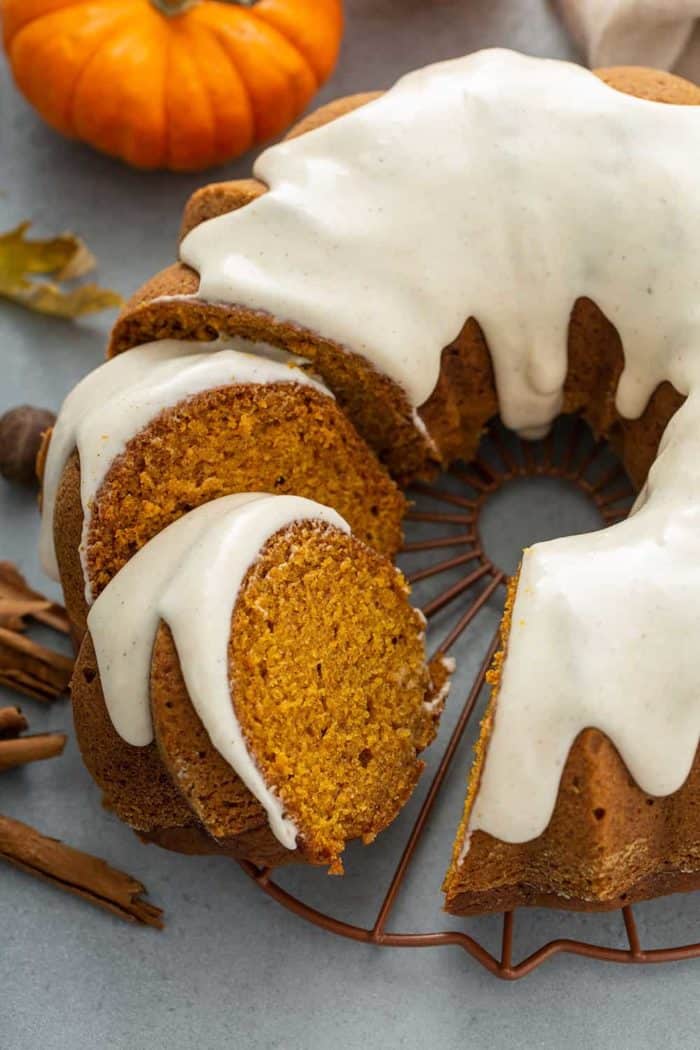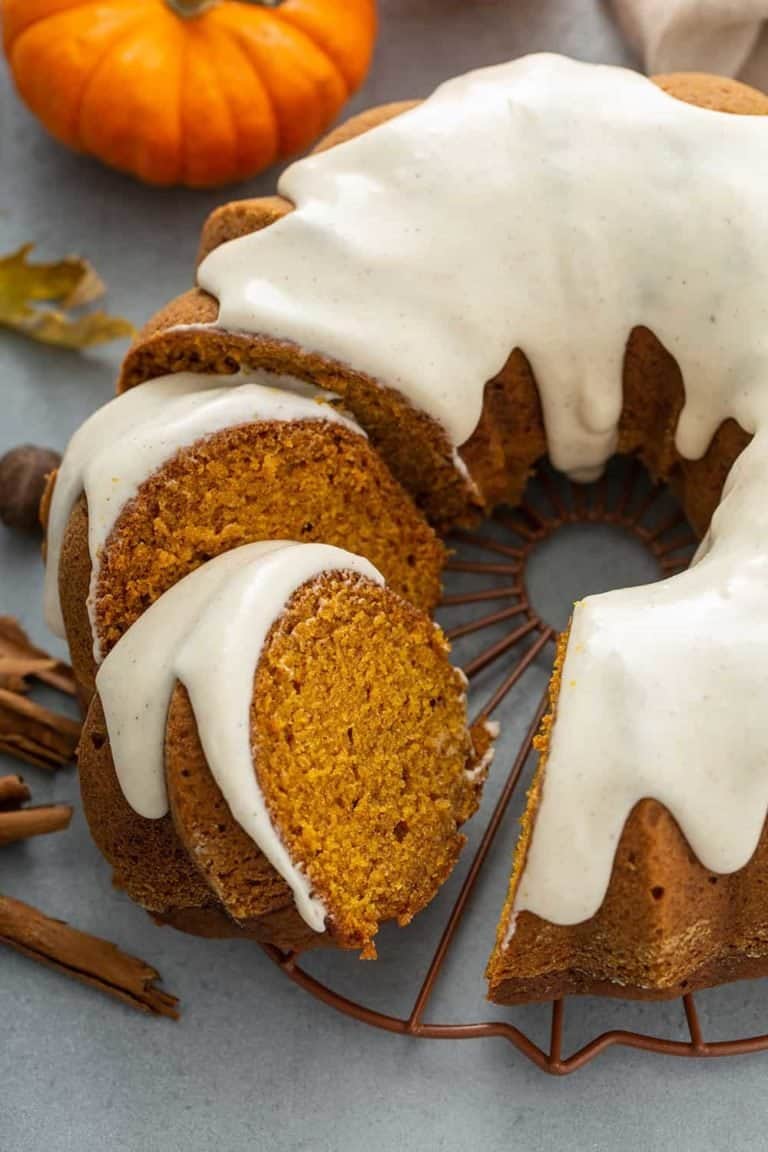 So have you guys fallen down the rabbit hole that is cleaning TikTok? I'm one of those people that actually enjoys cleaning, but I've learned that some people have taken their love for cleaning to a whole new level. And I am here for it.
I've also learned that I am easily influenced when it comes to cleaning tools and products. From a new spin mop and microfiber clothes to Dawn Power Wash and powdered Tide, some of my new favorite products were actually found through cleaning influencers. I mean, I didn't even know this was a thing until just a few months ago. By the way that Dawn Power Wash is pretty dang fantastic – the apple scent is my fave!
Basically October 2020 has been a month full of lots of cleaning and baking pumpkin desserts like this Pumpkin Bundt Cake.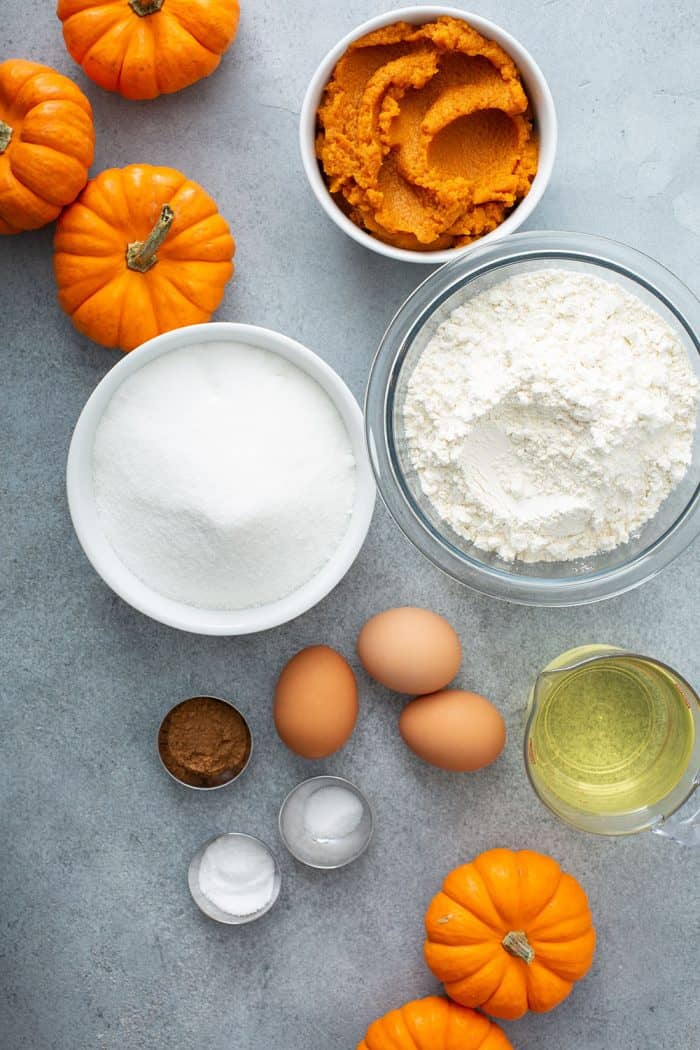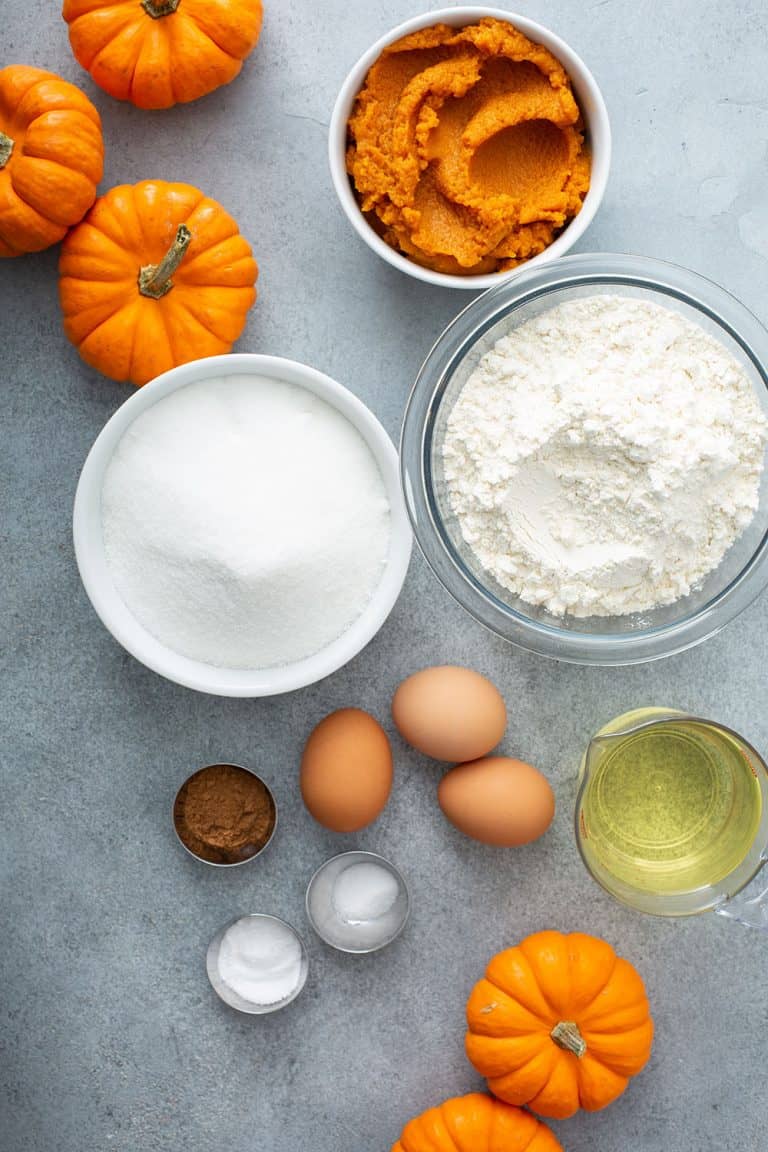 MY FAVORITE PUMPKIN BUNDT CAKE RECIPE
I know that bundt cakes are a little old school. But you know why things become classics?
Because they're great.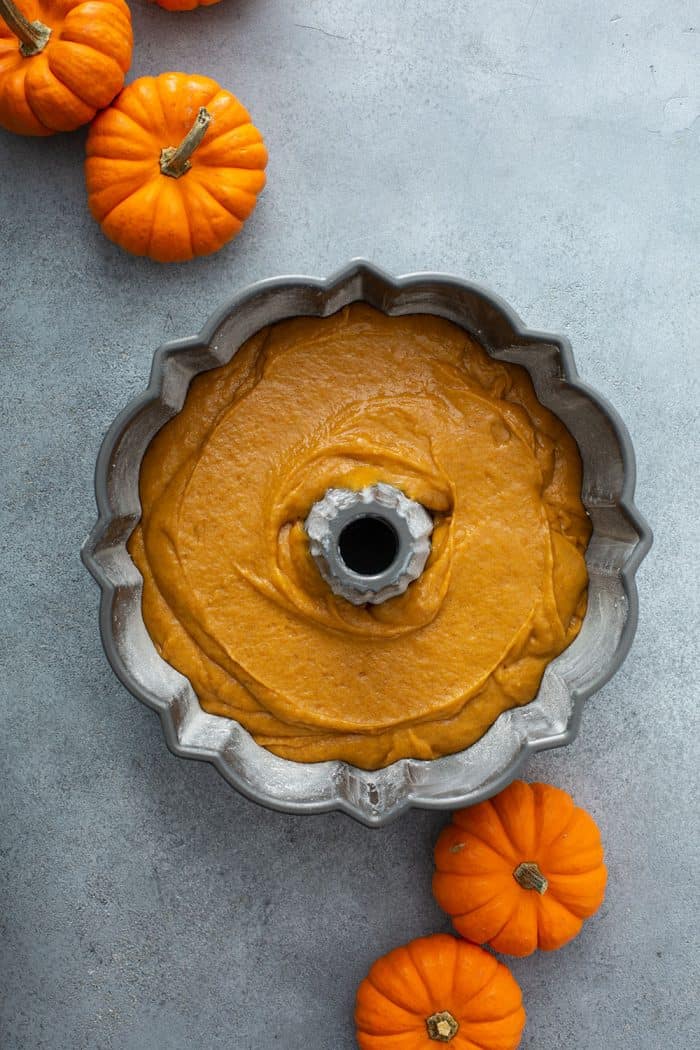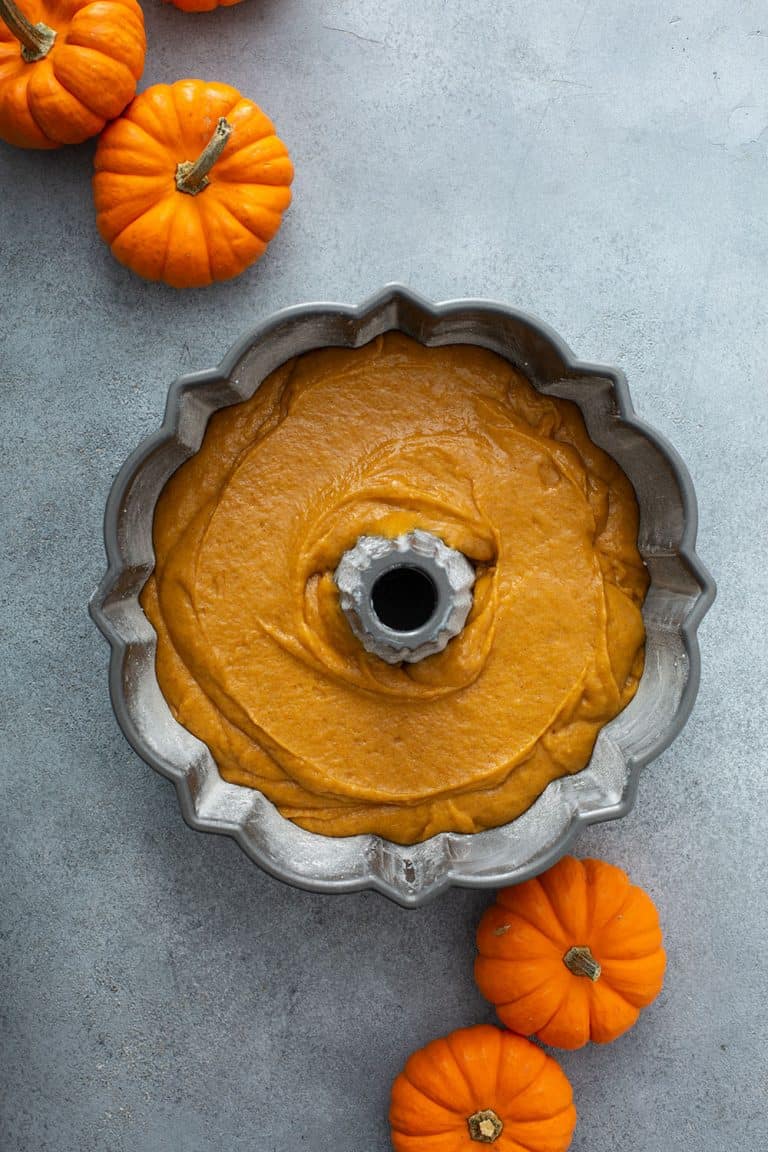 I don't know what it exactly is about bundt cakes, but I kind of love them. Whether it's in the form of 7UP Pound Cake, Lemon Zucchini Cake, a Fudge-Filled Bundt Cake, or Dark Chocolate Cranberry Bundt Cake, there's just something about a slice of bundt cake that feels so comforting to me.
Add pumpkin into the mix and you know that I am totally sold.
This Pumpkin Bundt Cake is like a combo of pumpkin bread and pumpkin bars baked in a bundt pan. It is moist, richly spiced, and packed full of pumpkin flavor.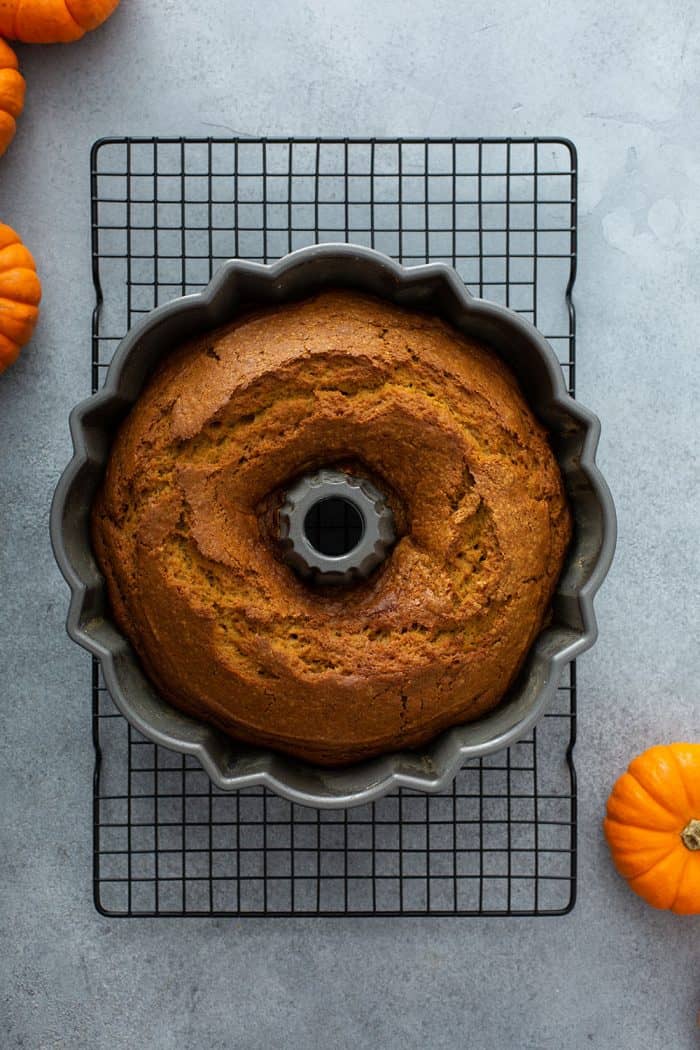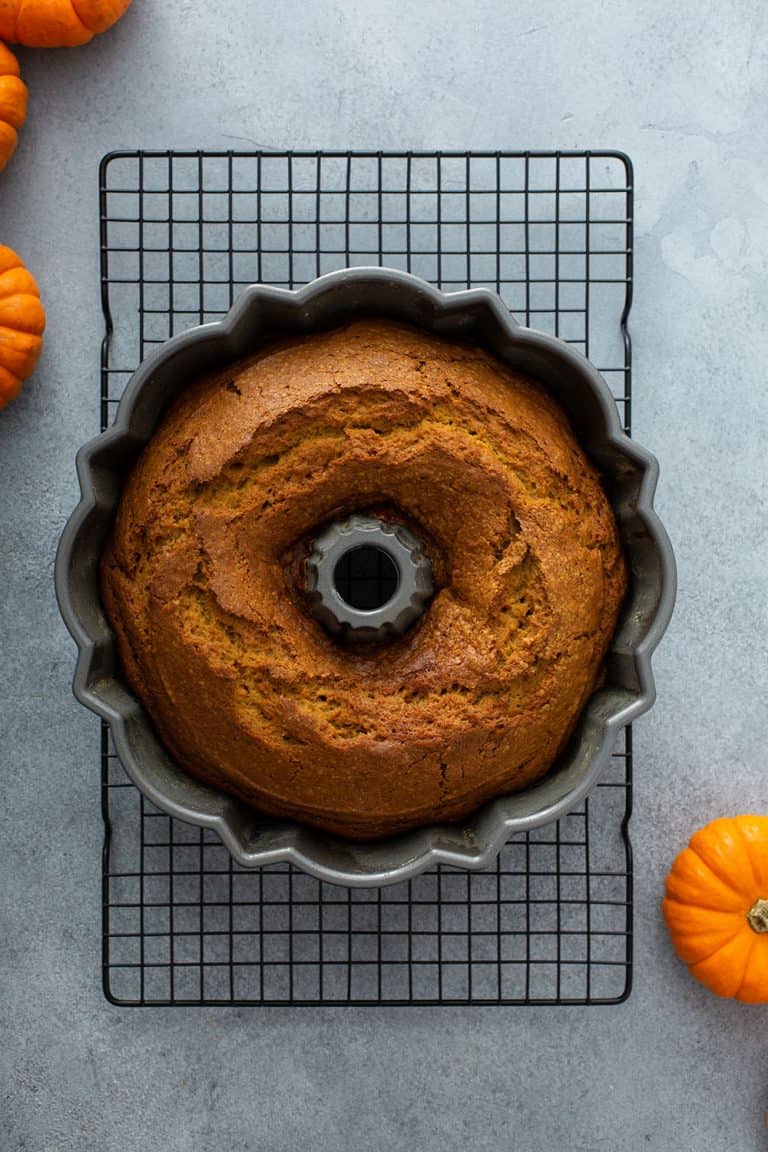 PUMPKIN SPICE CREAM CHEESE FROSTING
If you've been paying attention to the abundance of cheesecake recipes on this site, I sort of have a thing for cream cheese.
And cream cheese and pumpkin go together like peanut butter and jelly, so of course I had to top my Pumpkin Bundt Cake with a cream cheese frosting.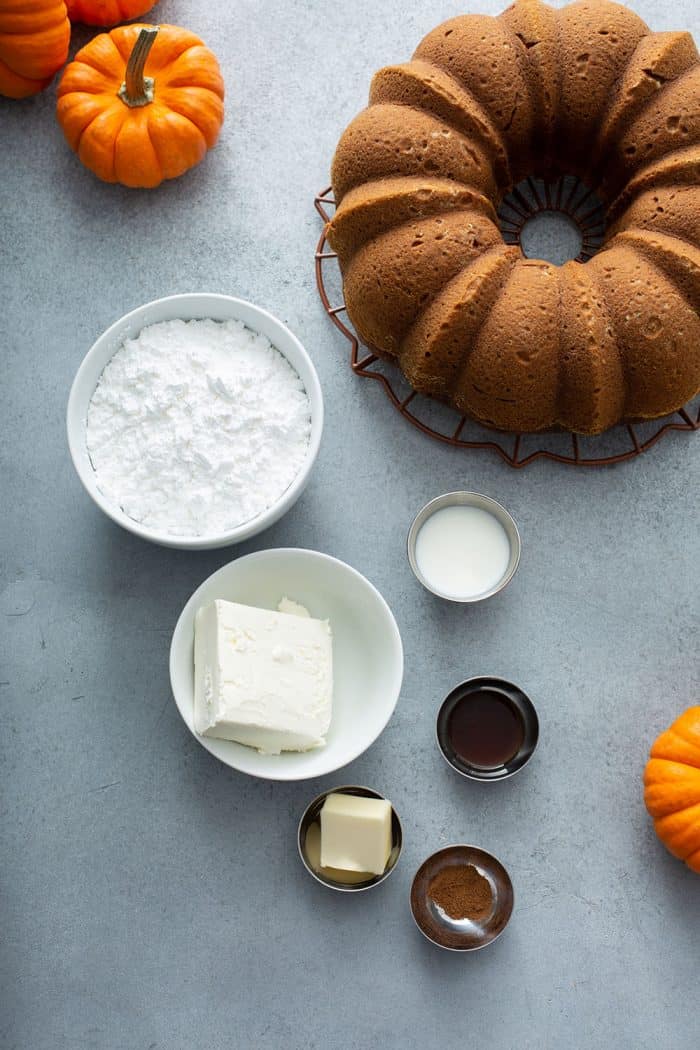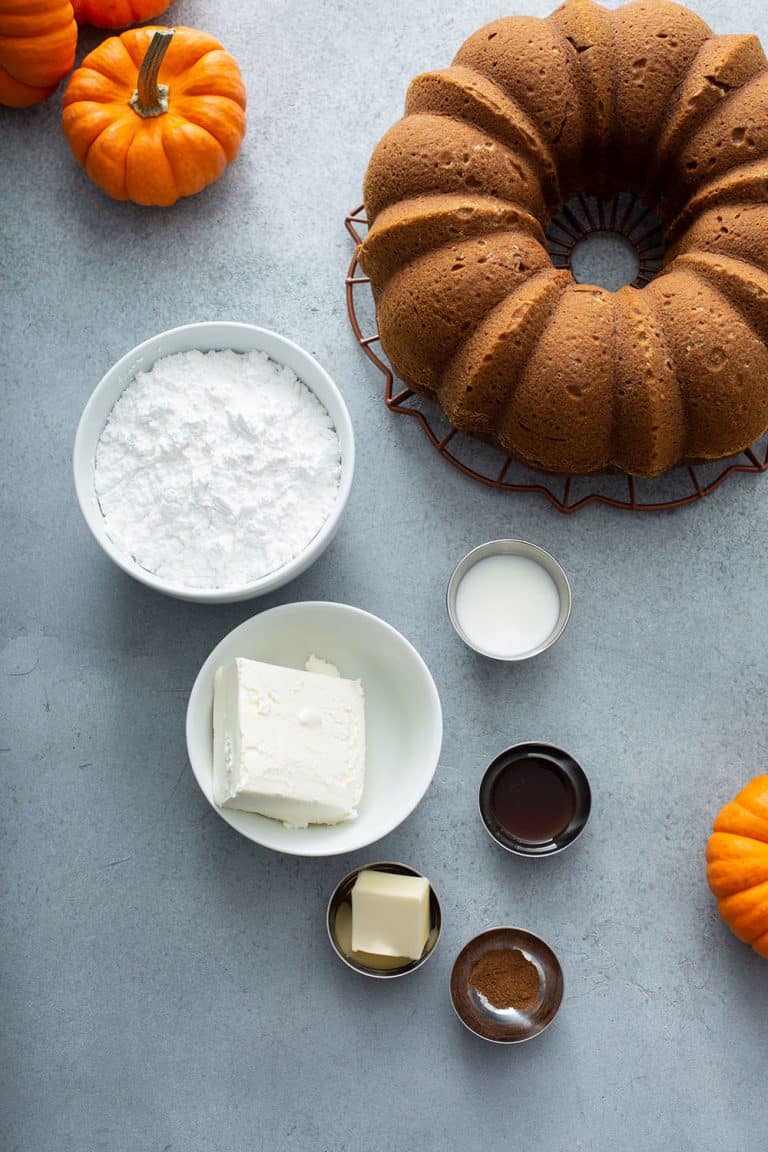 But I didn't want to make this just another cream cheese frosting. I wanted to make it a little special.
So I reached for my pumpkin pie spice.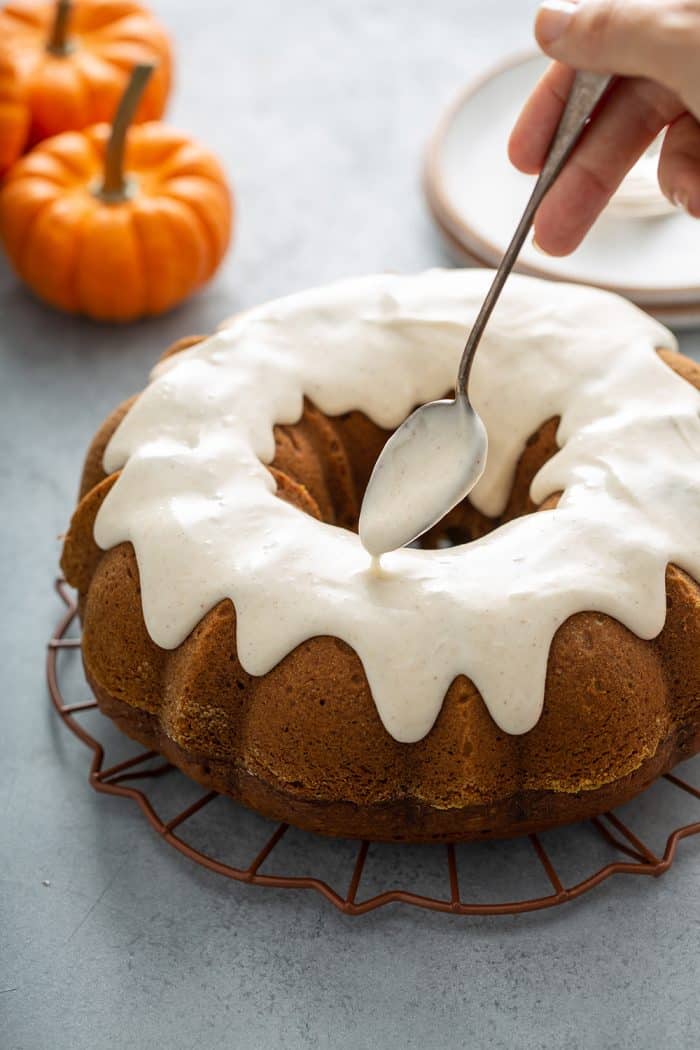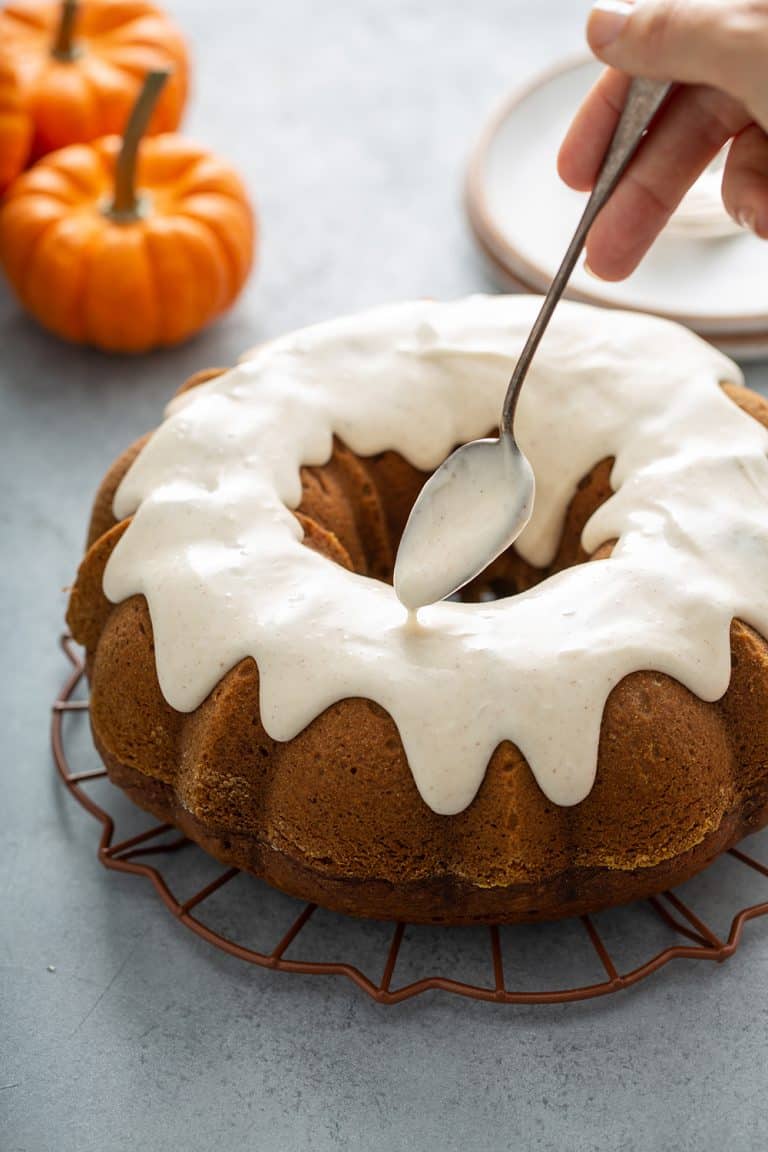 Yeah, that's right. There's pumpkin pie spice in the cake itself and in the cream cheese frosting.
Adding the pumpkin pie spice into the frosting brings those warm spices – cinnamon, ginger, cloves – into every single bite of the cake. The spices aren't overpowering in the frosting – it has just ¼ teaspoon of the spice mix – but add just a little special "something" to it.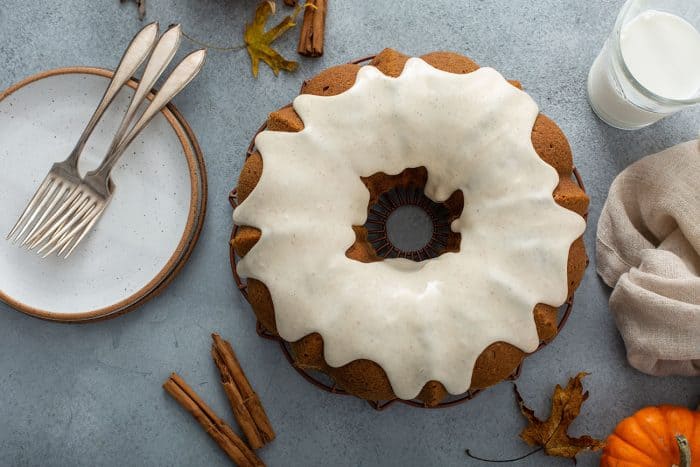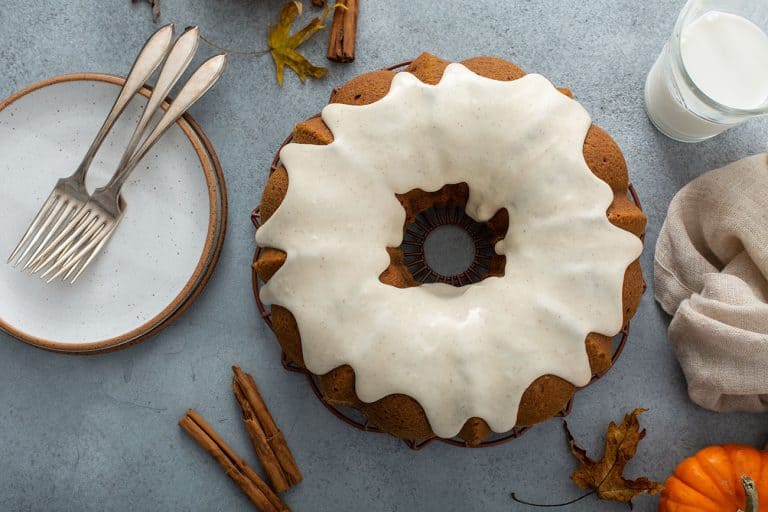 HOW TO MAKE THIS PUMPKIN BUNDT CAKE
One thing I like about this recipe is that it is made with oil, so you can make it on a whim, without having to remember to soften butter ahead of time.
And even though I like to use a mixer to make this cake super quickly, I have also made the cake itself by hand, without a mixer, several times. So you don't need any fancy tools to make it!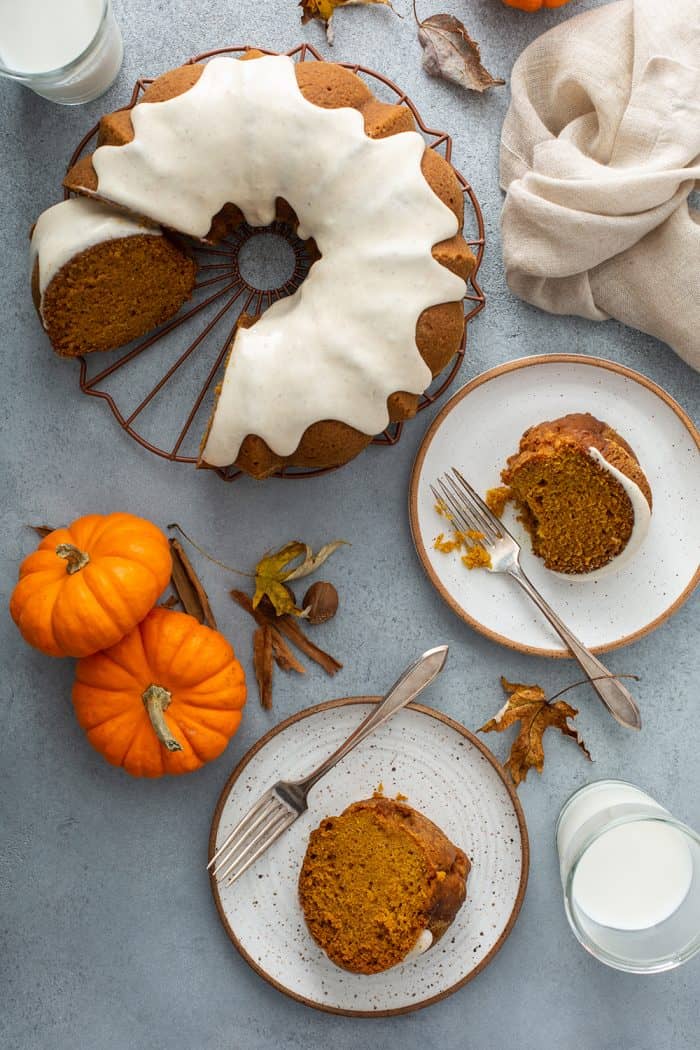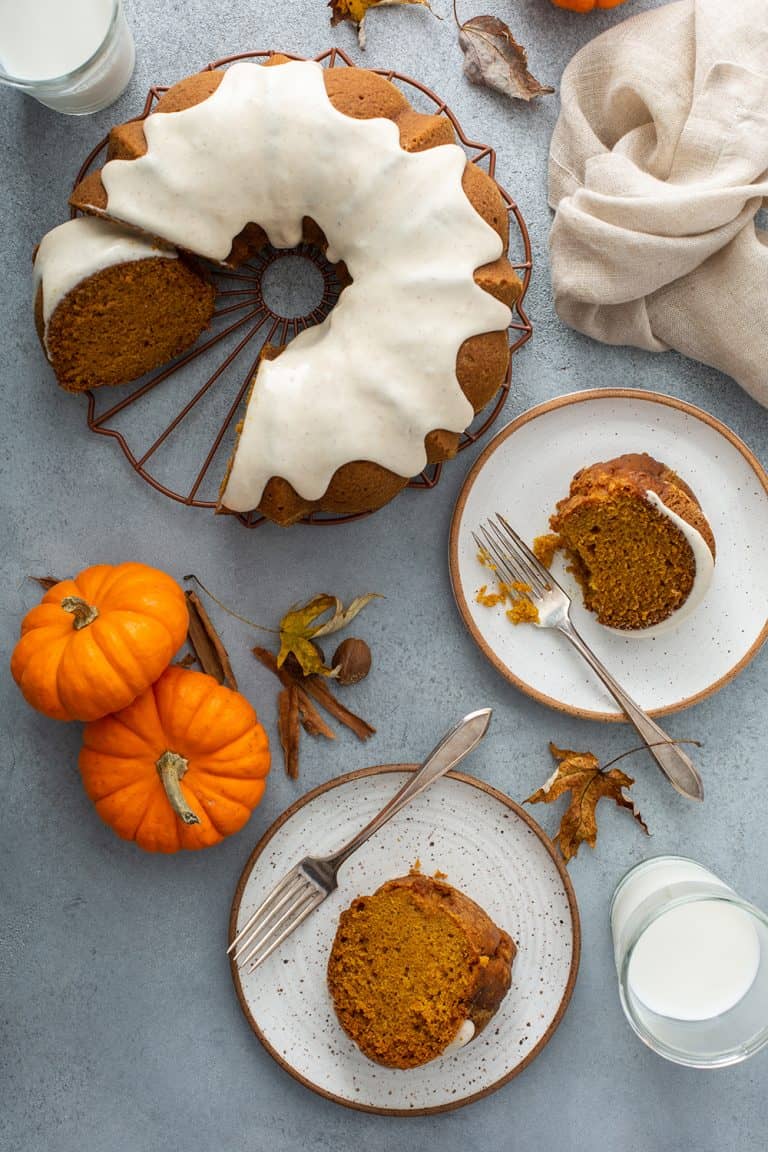 To make this Pumpkin Bundt Cake:
Mix together the oil and sugar, then add the eggs.
Whisk together the dry ingredients.
Add the dry ingredients to the egg mixture, alternating with the pumpkin puree.
Bake in a bundt pan for about an hour.
Let the cake cool completely before topping with the cream cheese frosting.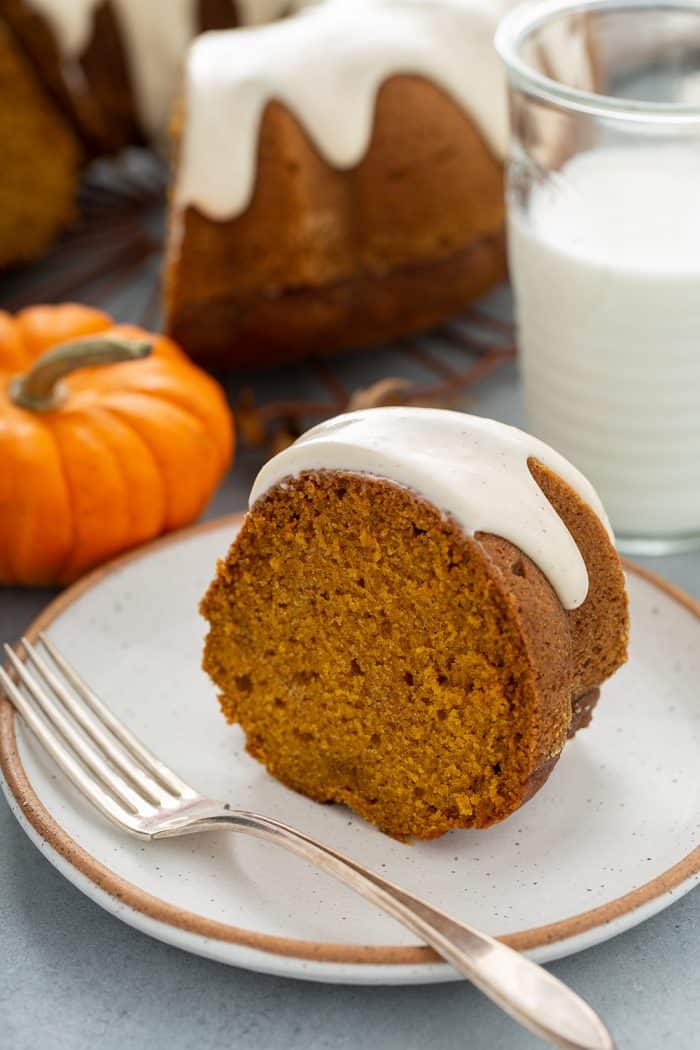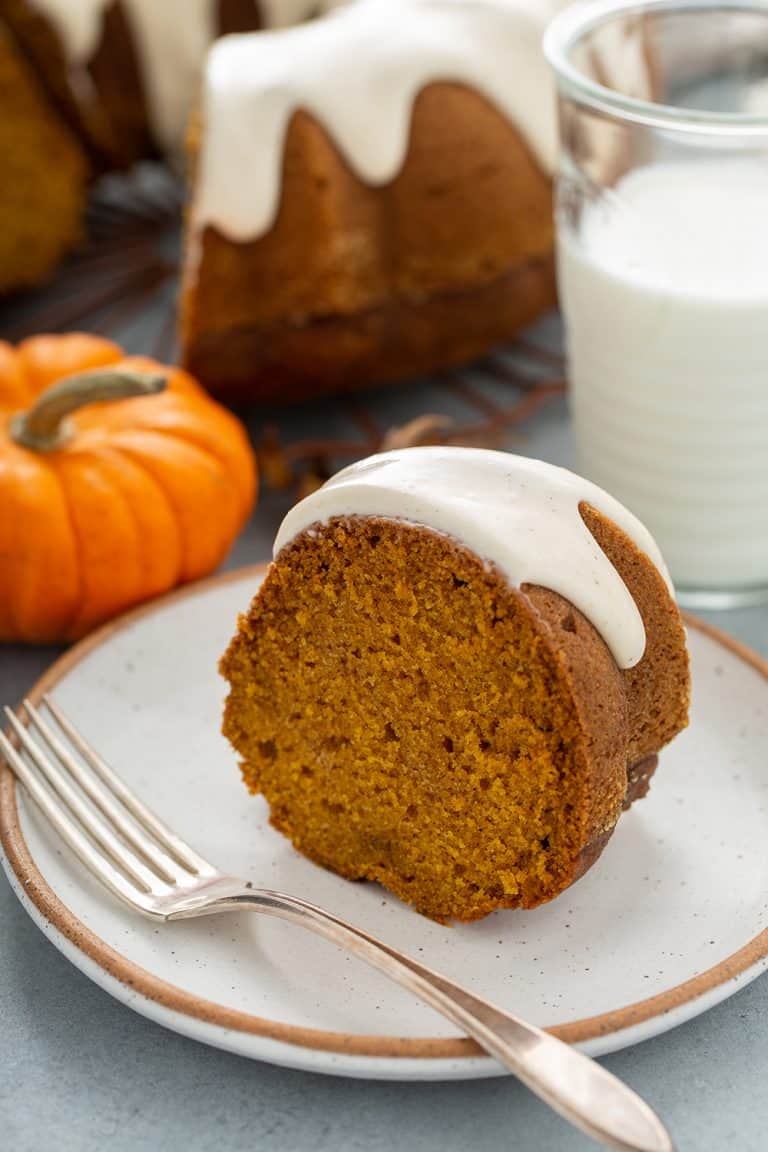 See? No creaming together butter and sugar, no waiting for butter to come to room temperature. You'll need to use softened cream cheese for the frosting, but I have a few tips for how to soften cream cheese quickly in case you forget to set it out ahead of time.
Because of the cream cheese frosting, you'll want to store this cake in the refrigerator if you aren't planning to serve it right away. It'll keep for about 3 days; I recommend letting it come to room temperature for about an hour before serving.