Pumpkin Bundt Cake with Cream Cheese Frosting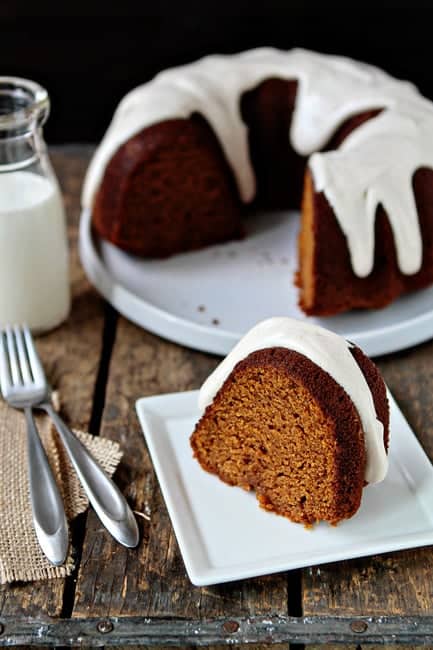 It's October already? In years past, September and October always seemed to drag on and then – BAM – it's Christmas. However, being pregnant seems to have pushed time into overdrive. My to-do and to-buy lists get longer, while time just seems to get shorter. Seriously, I need a pause button for my life.
Speaking of lists – I'm fairly certain that I've added canned pumpkin to my grocery list for the last 10 trips, always with the best of intentions. I think of all these great recipes I'm going to fill with pumpkin. … And then exhaustion hits and I simply end up sleeping instead of baking.
All this means I'm totally starting to feel like a pumpkin hoarder. There's only so much pantry reorganization that can go on – pretty soon I'm going to end up with a canned pumpkin tower in the corner of my kitchen. And this is not my idea of festive Fall decor.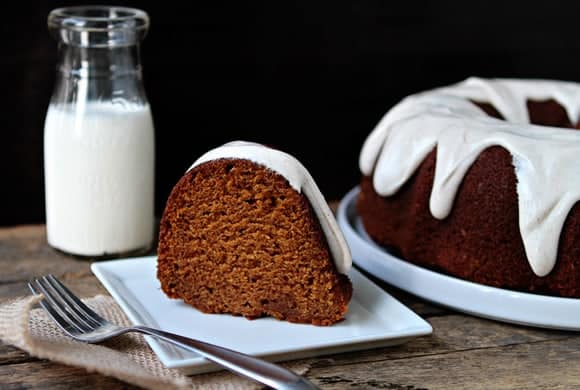 In an effort to slim down my pumpkin stash and fulfill a serious hankering for pumpkin cake, I whipped together this sweet and spicy pumpkin bundt cake. And since I can never leave well enough alone, I spooned a rich and creamy spiced cream cheese frosting all over it. You (and your own pumpkin cravings) can thank me later. Because yeah. It's that good.
Pumpkin Bundt Cake
Ingredients:
For the Cake
2 1/4 cups sugar
1 cup vegetable oil
3 large eggs
3 cups all-purpose flour
2 teaspoons baking soda
2 1/2 teaspoons pumpkin pie spice
1/2 teaspoon salt
1 can (15 ounces) pure pumpkin puree
For the Cream Cheese Frosting
4 ounce cream cheese, softened
1 tablespoon unsalted butter, softened
1 1/2 cup confectioners' sugar, sifted
1/2 teaspoon pure vanilla extract
1 tablespoon milk
1/4 teaspoon pumpkin pie spice (optional)
Directions:
Preheat oven to 350°F. Spray a 10-inch bundt pan with nonstick cooking spray.
In the bowl of a stand mixer fitted with the paddle attachment, or in a large bowl with an electric mixer, combine sugar and oil until thoroughly blended.
Add eggs, one at a time, beating well after each addition.
In a medium bowl, sift together flour, baking soda, pumpkin pie spice and salt.
Add flour mixture to egg mixture alternately with pumpkin, beating well after each addition.
Transfer batter to prepared bundt pan.
Bake in preheated oven for 60-65 minutes or until toothpick inserted near the center comes out clean.
Cool 10 minutes before inverting onto a wire rack. Remove pan and cool completely before preparing the cream cheese frosting.
For the cream cheese frosting: In the bowl of a stand mixer fitted with the paddle attachment, or in a medium bowl with an electric mixer, combine cream cheese and butter; mixing until well-combined and fluffy – about 2 minutes. Gradually add in confectioners' sugar. Once the confectioners' sugar is completely incorporated, mix on medium speed for 2 minutes. Mix in vanilla and milk. If frosting appears to be too thick, slowly add in a little more milk until you reach the desired consistency. If desired, add pumpkin pie spice and mix until well-combined. Spoon over cooled cake.
Notes:
Recipe will keep in the refrigerator for up to 3 days. Bring to room temp for one hour before serving.
My Baking Addiction – cake slightly adapted from Taste of Home.
All images and text ©
Follow Jamie on Instagram. We love to see what you're baking from MBA! Be sure to tag @jamiemba and use the hashtag #mbarecipes!
This post may contain affiliate links. We are a participant in the Amazon Services LLC Associates Program, an affiliate advertising program designed to provide a means for us to earn fees by linking to Amazon.com and affiliated sites.