Dark Chocolate Cranberry Bundt Cake
This Dark Chocolate Cranberry Bundt Cake is the perfect combination of rich chocolate and tart juicy cranberries in a tender, buttery cake. Perfect for the season of entertaining!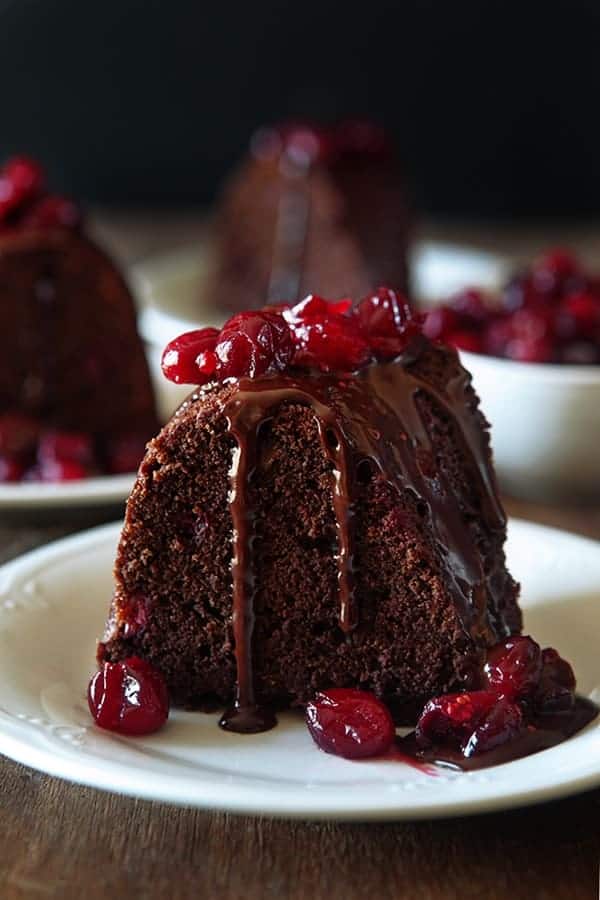 There are a lot of things I love about this time of year. I look forward to the cooler weather, fires in the wood stove, and pulling out all of our hats and scarves. But the thing I look forward to most this time of year is everything Cranberry. No joke. I have a serious crush on all things cranberry!
As soon as the fresh cranberries start showing up at the store in the fall, I stock up like a crazy lady. I fill the freezer with bags of them to last me for months! It may seem excessive, but one way or another, every last cranberry gets eaten. We take cranberry season very seriously at our house!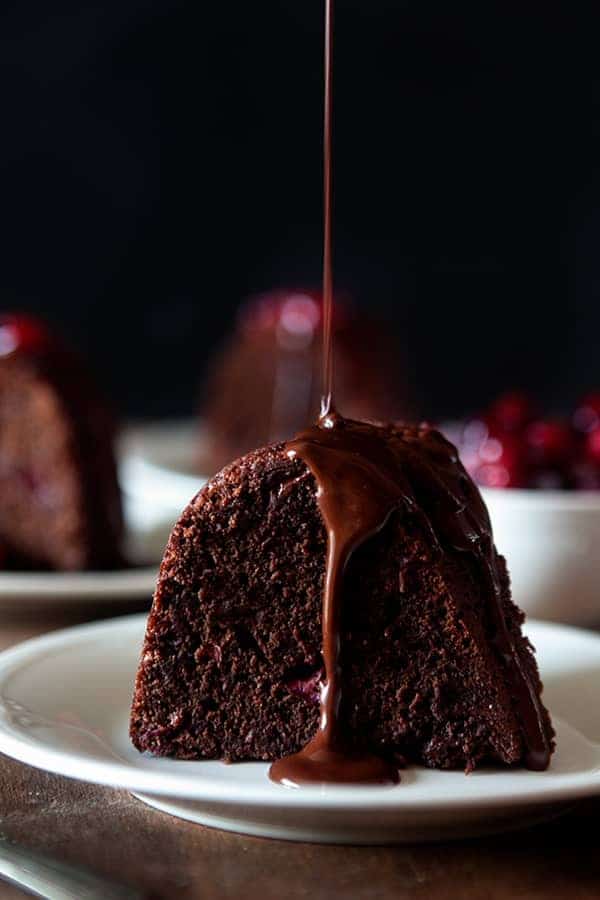 Cranberries can be tart, tricky little berries. But once you know how to tame this bright tangy fruit, they add so much color and flavor to your recipes. I'm totally hooked on them! Last year, this Cranberry Orange Spice Cake stole the show at our house.
I made it for every holiday gathering we attended and it was a hit every time. And this Cranberry Pear Tart has been a regular part of our Thanksgiving and Christmas menus for years now. Fall, winter, and all the holidays in between taste like Cranberries at my house.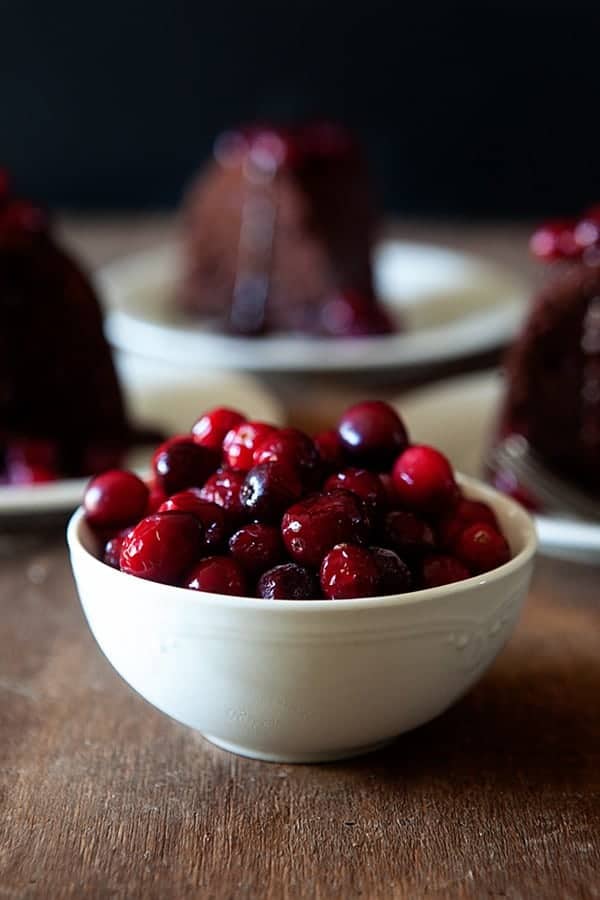 This year, I set out to find another hit cranberry recipe. When I sliced into this Dark Chocolate Cranberry Bundt Cake, studded with fresh cranberries and dripping with dark chocolate ganache, I knew I had a winner.
In fact, this Cranberry Bundt Cake has exceeded all my expectations. I'd venture to say it might even be my favorite cranberry recipe yet.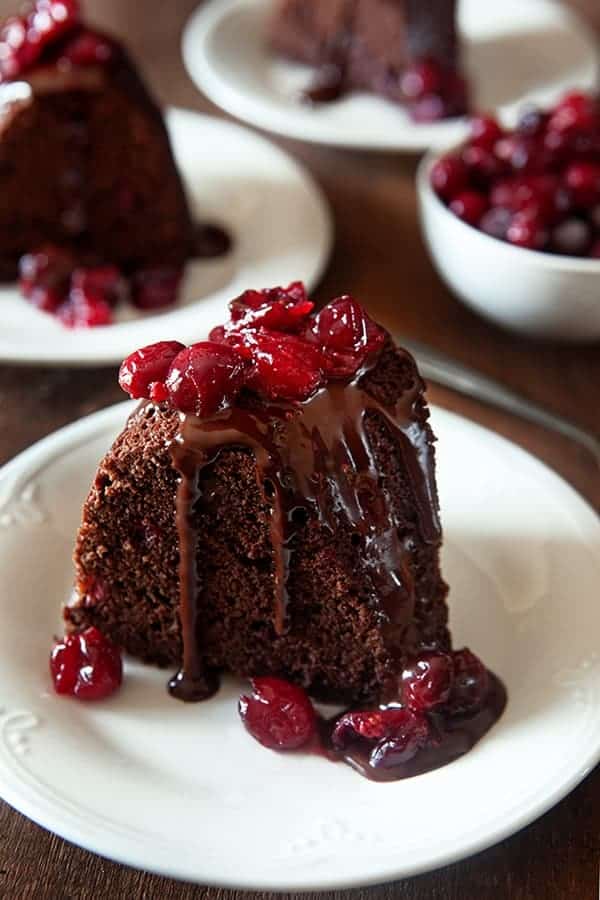 As it turns out, fresh cranberries and chocolate are the perfect combination of flavors. The fudgy, tender, dark chocolate cake almost melts in your mouth.
The cranberries are a sour, fruity pop that is the most delicious surprise in the middle of all that rich, dark chocolate. It's unexpected, but so good.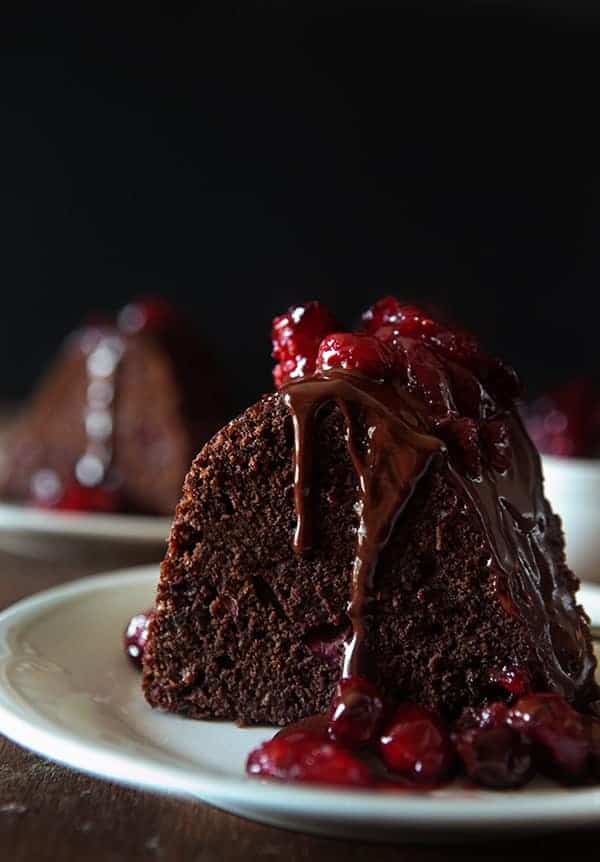 You can eat this Cranberry Bundt Cake without all the toppings and it doesn't disappoint. However, the dark chocolate ganache and cranberry orange sauce really make it something special.
The combinations of sweet and sour, rich and tangy, are just so satisfying. Really, this is one flavor combination you've got try!
For more delicious cranberry recipes, try this Homemade Cranberry Sauce and Cranberry Fluff here on My Baking Addiction.
Dark Chocolate Cranberry Bundt Cake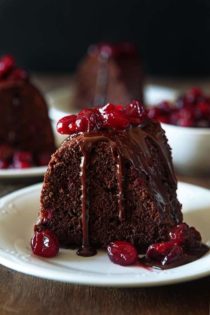 Ingredients:
For the Cake
2 1/4 cup all-purpose flour
3/4 cup cocoa powder
1 teaspoon baking powder
1 teaspoon salt
2 sticks (1 cup) butter, room temperature
1 3/4 cup sugar
4 large eggs, room temperature
2 teaspoons vanilla
1 cup milk
1 heaping cup fresh or frozen cranberries, coarsely chopped
2 ounces dark chocolate, chopped (or use chocolate chips)
For the Ganache
1/2 cup heavy cream
3 ounces dark chocolate, coarsely chopped
2 tablespoons unsalted butter
For the Cranberry Sauce
1 (8 oz) bag of fresh cranberries
juice of half an orange, plus zest
2 tablespoons water
1/4 cup sugar
1 cinnamon stick
Directions:
For the Cake:
Preheat the oven to 350 degrees Fahrenheit. Thoroughly grease a 12 cup bundt pan.
Whisk together the flour, cocoa, baking powder, and salt.
In a separate bowl, cream together the sugar and butter with an electric mixer until a thick paste forms. Beat in each egg, one at a time. When the mixture looks smooth, beat in the vanilla.
With the mixer speed on low, add 1/3 of the flour mixture, mixing until combined. Add half of the milk and mix until combined. Repeat until all of the flour and milk has been added.
Gently fold in the cranberries and dark chocolate pieces. Transfer mixture to prepared bundt pan. Bake for 65 to 70 minutes, or until a thin knife inserted into the center comes out clean.
Cool in pan for 10 minutes. Carefully turn out of pan onto wire rack and cool completely. Serve with Chocolate Ganache and Cranberry Sauce.
For theGanache:
Set a heatproof bowl over a small saucepan of simmering water.
Melt the 2 tablespoons of butter, 1/2 cup heavy cream, and 3 ounces dark chocolate in the bowl, stirring often until mixture is smooth. Remove from heat.
For the Cranberry Sauce:
Add all the ingredients to a medium sauce pan. Cook over medium heat until cranberries pop and mixture is thick.
All images and text ©
Follow Jamie on Instagram. We love to see what you're baking from MBA! Be sure to tag @jamiemba and use the hashtag #mbarecipes!

This post may contain affiliate links. We are a participant in the Amazon Services LLC Associates Program, an affiliate advertising program designed to provide a means for us to earn fees by linking to Amazon.com and affiliated sites.