Caramel Apple Poke Cake
Caramel Apple Poke Cake is super simple to make. The caramel drizzle and toffee bits make it irresistible. So perfect for fall!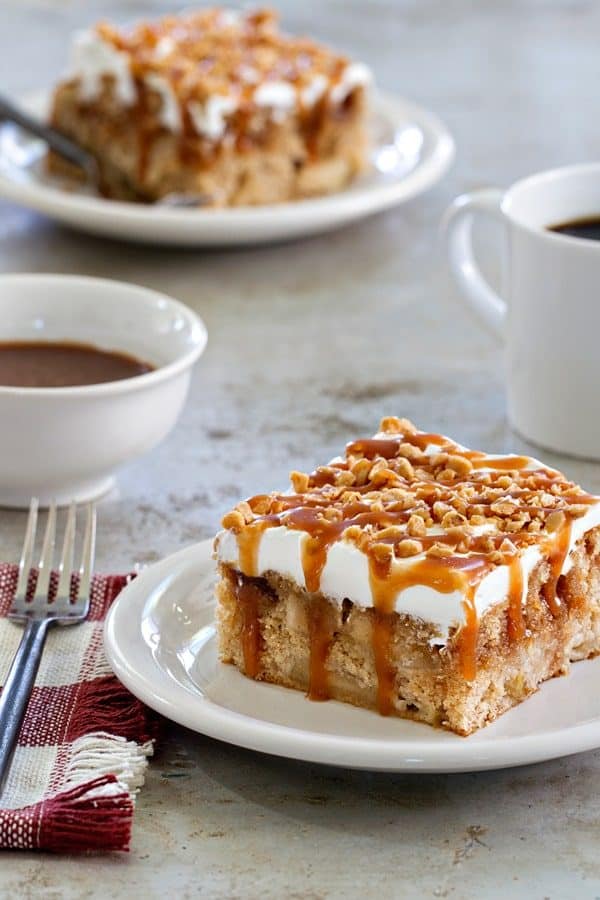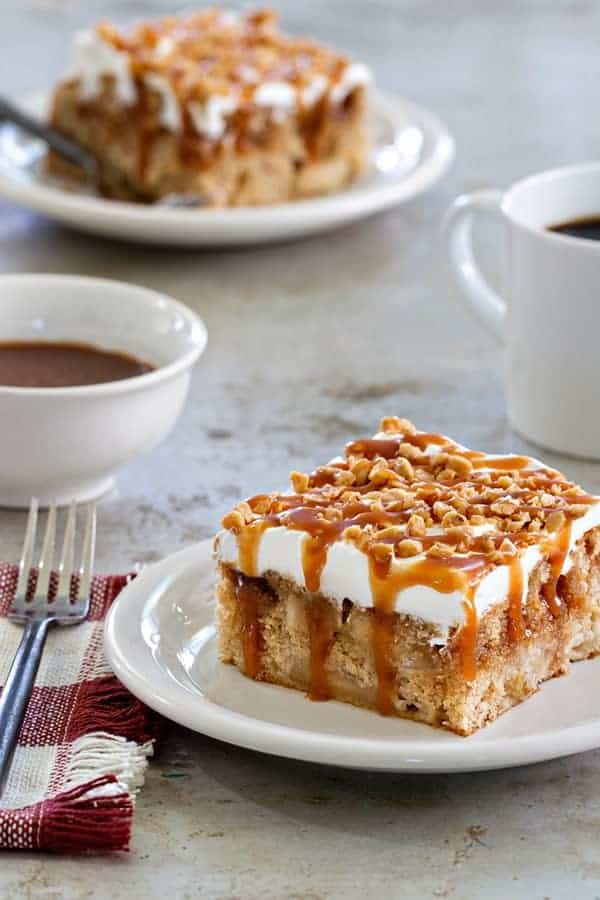 I don't know what the weather is like in your area, but it certainly doesn't feel like mid-October in Ohio. Even though our front porch screams fall with a festive wreath and more pumpkins than I can count, the weather is screaming tank tops and shorts.
I'm totally not going to let 85 degree weather get in the way of fall baking, just fall boot wearing. Because I'm pretty sure I'd look all kinds of crazy rocking my favorite Frye boots when everyone else is wearing flip-flops.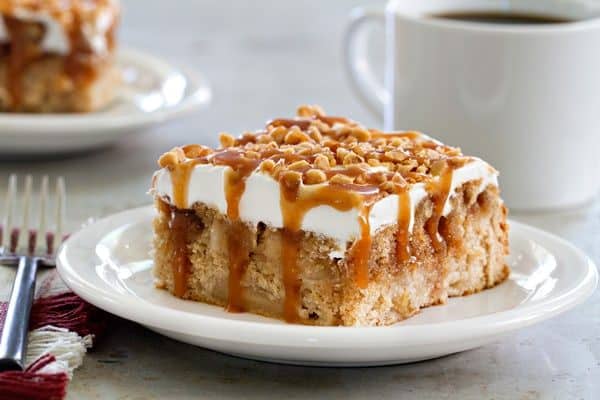 I love this Caramel Apple Poke Cake because it is super easy to make. Just a head's up, it uses cake mix, apple pie filling and whipped topping, so if you're not a fan of those things, this cake is definitely not for you, but rest assured, I have a homemade apple cake coming your way next week.
If you're a regular follower of My Baking Addiction, you know that I love baking from scratch, but I also think there's a place for quick recipes that take a few shortcuts from the store. It's well known that I love doctored up cake mix, so this Caramel Apple Poke Cake was a definite winner in my book.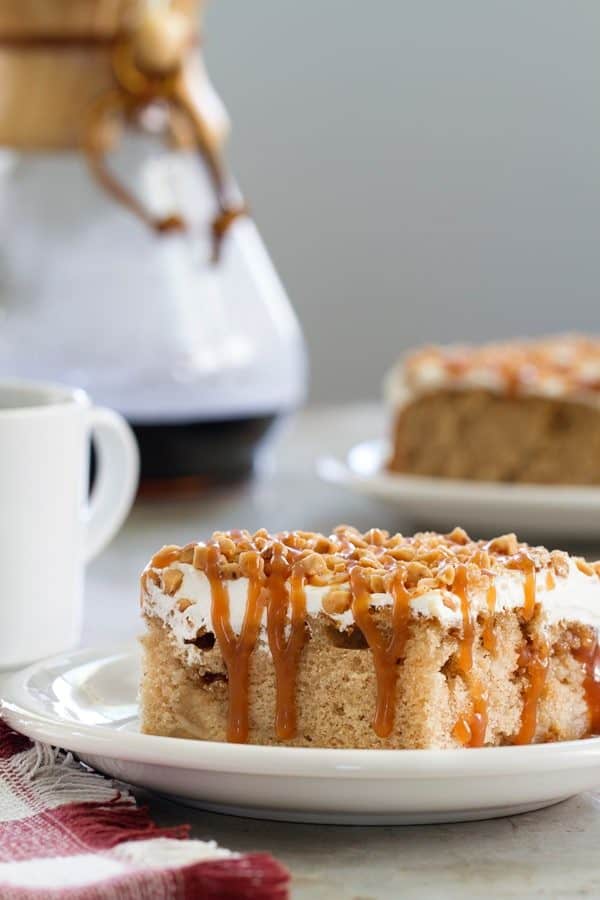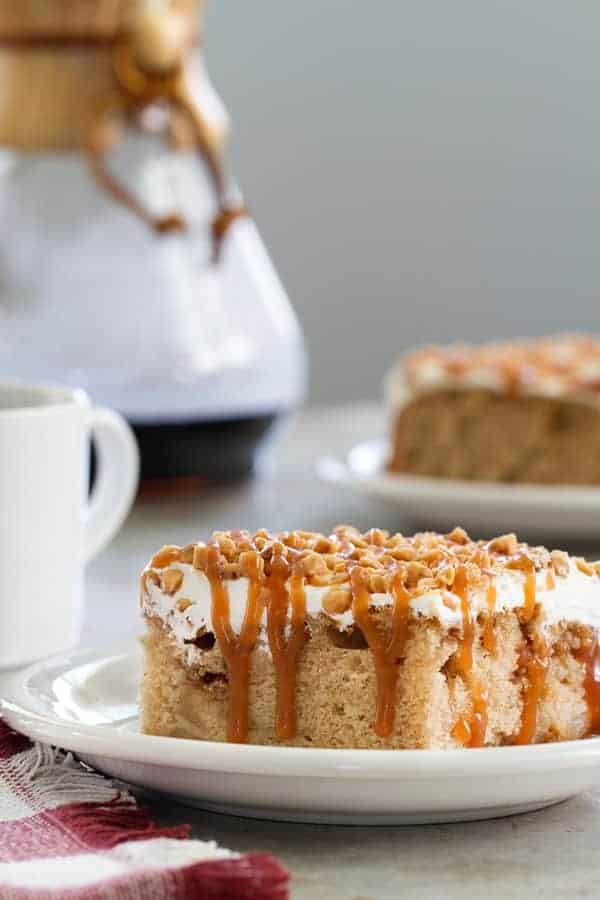 It starts with a vanilla cake mix (spiced cake mix would also be amazing), then you doctor it up with apple pie spice and apple pie filling. You bake it up to golden perfection, poke holes all over the warm cake and drizzle it with caramel sauce. Once the cake is cooled, you top it with whipped topping, toffee bits, and more caramel sauce. Seriously, how amazing does that sound?
I've made this Caramel Apple Pole Cake three times already and each time it was devoured. Whip it up for a work potluck, a Halloween party, or just a random Tuesday night because it's that easy!
Caramel Apple Poke Cake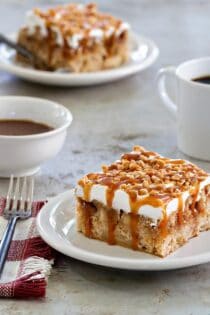 Ingredients:
1 box vanilla cake mix
1 tablespoon apple pie spice
1/2 cup water
1/3 cup vegetable oil
3 large eggs
2 teaspoons vanilla extract
1 20-ounce can apple pie filling, coarsely chopped
1 cup caramel sauce, room temperature or slightly warmed
1 8-ounce container frozen whipped topping, thawed
2/3 cup toffee bits
Directions:
Preheat oven to 350°F. Spray a 9 x 13-inch pan with nonstick cooking spray.
In a large bowl with an electric mixer, beat the cake mix, apple pie spice, water, oil, eggs and vanilla on medium speed for 2 minutes.
Use a rubber spatula to fold in the apple pie filing.
Pour batter into prepared pan.
Bake in preheated oven for 28-33 minutes.
Remove cake to a wire rack and cool for 10 minutes.
Poke warm cake every inch or so with a straw, halfway into cake. Drizzle 3/4 cup caramel sauce over the cake, allowing it to fill in holes. Cool cake completely.
Top cake with whipped topping, toffee bits and remaining 1/4 cup caramel sauce.
Cover and refrigerate leftover Caramel Apple Poke cake for up to 3 days.
Follow Jamie on Instagram. We love to see what you're baking from MBA! Be sure to tag @jamiemba and use the hashtag #mbarecipes!
post contains affiliate links
This post may contain affiliate links. We are a participant in the Amazon Services LLC Associates Program, an affiliate advertising program designed to provide a means for us to earn fees by linking to Amazon.com and affiliated sites.