Caramel apple cake is perfectly spiced, moist, and topped with a decadent salted caramel frosting. Make with all-purpose flour or follow the alternate method for a gluten-free version.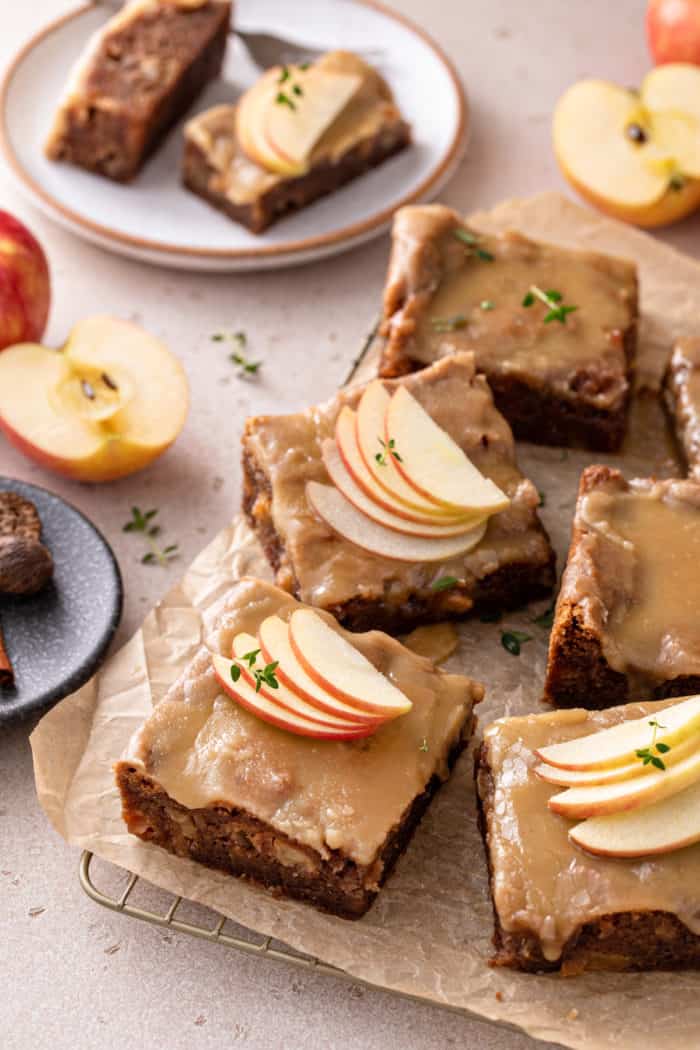 This post contains affiliate links.
We're deep into apple season over here.
A visit to the apple orchard is a fall must around here. Even if we don't have time to pick the apples ourselves, we at least have to run by and pick up bags of fresh apples for everything from apple crumb pie to apple fritter bread.
This caramel apple cake is another great recipe from my friend Erin at Texanerin Baking. This cake is so simple to make but is so flavorful and moist, it will be a must for all of your fall gatherings.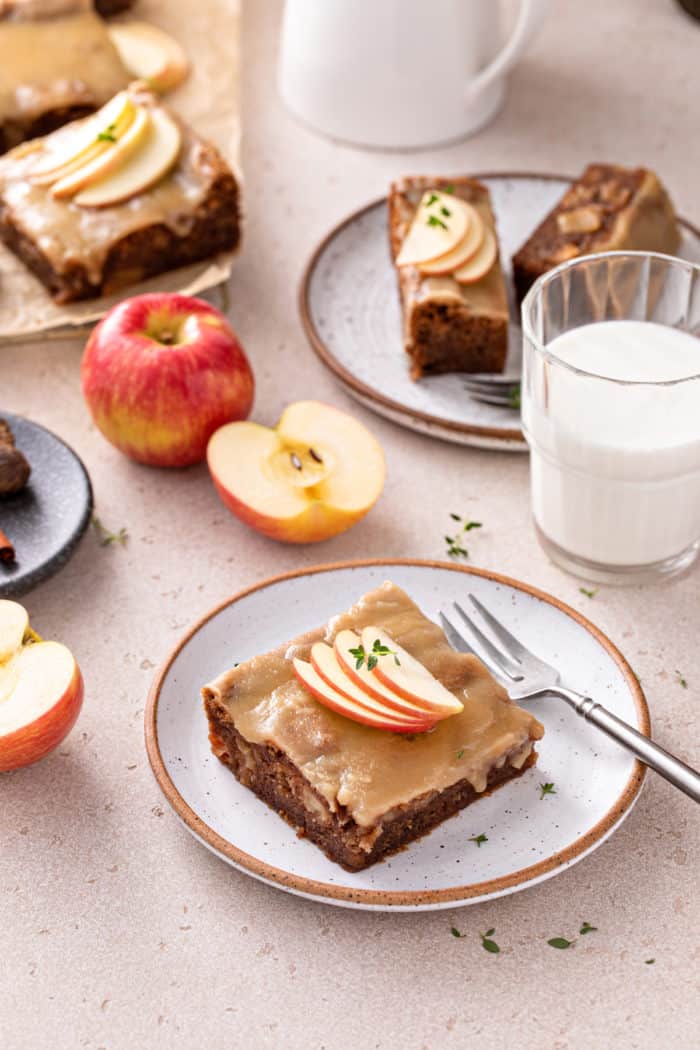 CARAMEL APPLE CAKE WITH SALTED CARAMEL FROSTING
This caramel apple cake is about as easy as it gets. With the fall being so busy, I like to keep things simple, especially when it comes to fall holidays and gatherings.
Layer cakes are beautiful, sure, but a layer cake is probably the last thing I want to make for a big gathering.
I don't know about you, but I can easily waste half an hour fussing with the frosting trying to make it look just perfect. And it never does!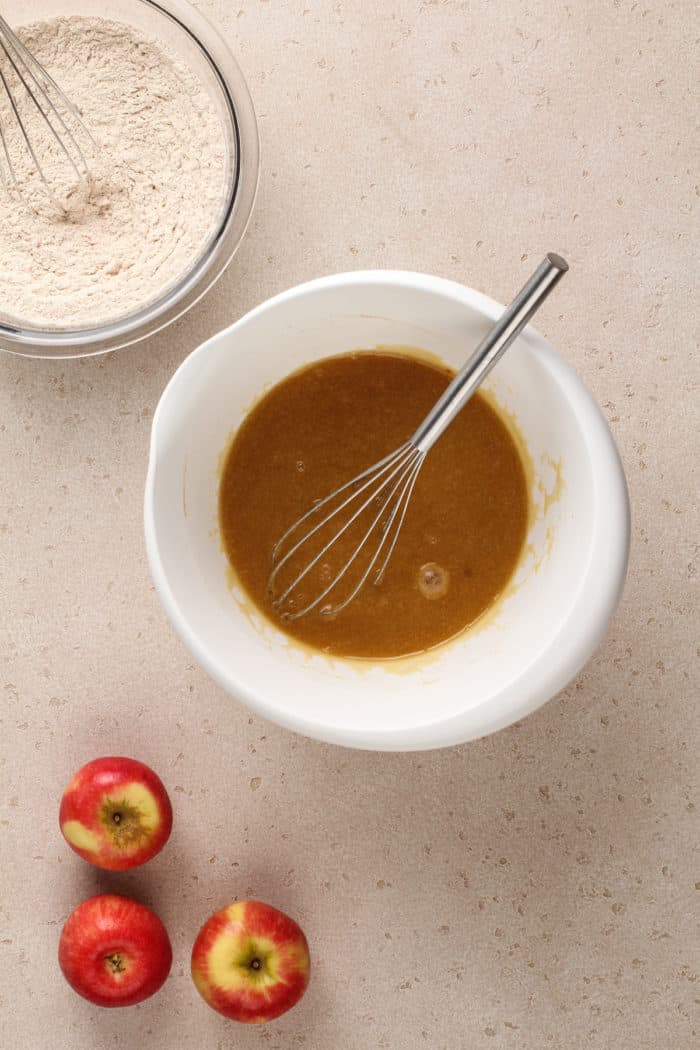 9×13-inch cakes like banana cake, chocolate zucchini cake, and this caramel apple cake are way more my style most of the time.
This cake is incredibly moist and delicious thanks to a generous amount of oil and sugar. Not to mention over 3 cups of diced apples!
You can either use all-purpose flour or a blend of gluten-free flours listed in the recipe for a gluten-free alternative. I've made both versions and none of my taste testers could tell a difference between the two!
And don't forget the decadent salted caramel frosting! My mouth is watering just thinking about it.
HOW TO MAKE THIS CARAMEL APPLE CAKE
This cake comes together quite simply, without the need for a mixer or any special equipment.
You gotta love a cake that is easy enough to throw in the oven in just a few minutes but is delicious enough to serve at any gathering.
Gluten-free option
The standard version of this recipe uses 1 ¾ cups of all-purpose flour. If you need the recipe to be gluten free, you can mix together:
Like I said, my taste testers couldn't tell a difference between the standard and the gluten-free versions of this caramel apple cake – I'd call that a big success!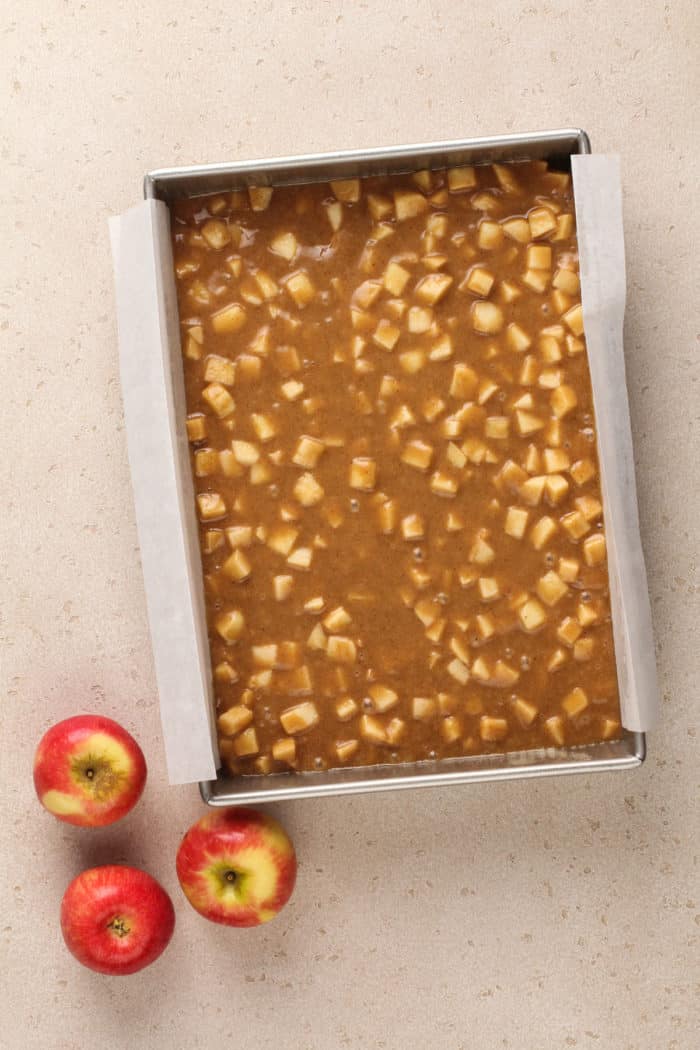 Making this cake
Caramel apple cake is so easy to make, you don't even need to bother pulling out a mixer for it. Just grab a couple of bowls and a spatula and you're set!
Mix together your dry ingredients: the flour (all-purpose or the gluten-free blend), cinnamon, nutmeg, baking soda, and salt.
In another bowl, mix together the brown sugar, granulated sugar, oil, eggs, and vanilla.
Add the dry ingredients to the wet ingredients, mixing until just combined.
Mix the apples with 1 tablespoon of sugar and 1 teaspoon of cinnamon, then fold the cinnamon-coated apples into the cake batter.
Spread the batter evenly into a 13×9-inch pan and bake for 33-40 minutes. Make sure to let the cake cool completely before frosting.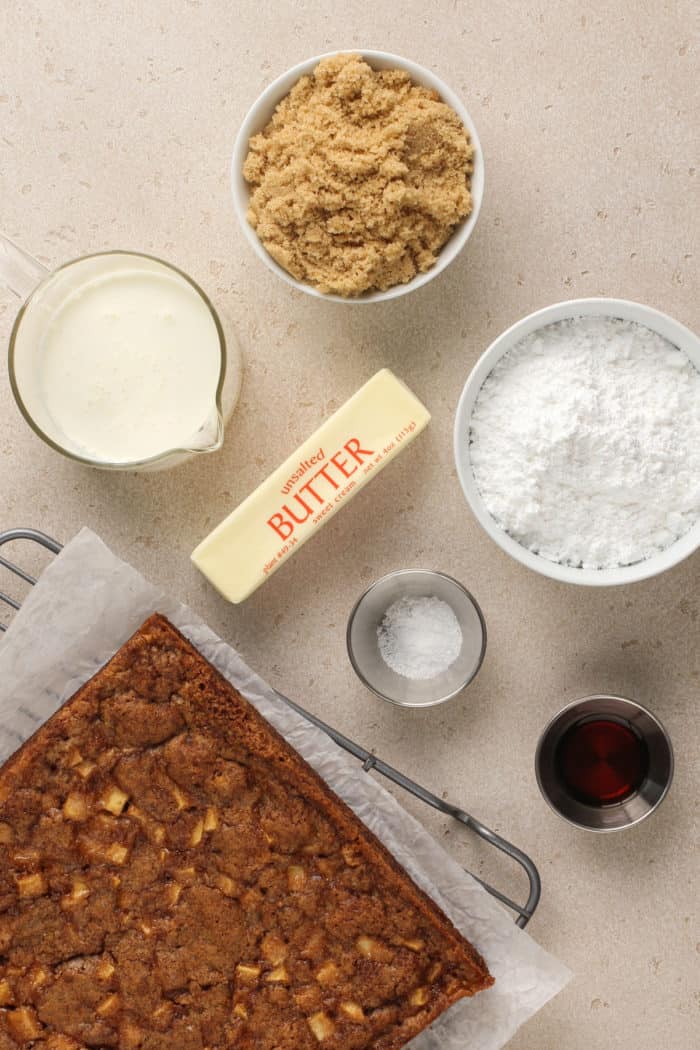 Making the frosting
I am alllllll about this simple caramel frosting. I first shared it as a topping for my caramel apple cheesecake bars, but it's too good not to use again and again.
If you use the full 1/2 teaspoon salt, the frosting has this amazing salted caramel thing going on.
If you don't like your sweets salty, stick to 1/4 teaspoon salt. And if you'd rather top your cake off with caramel sauce, salted caramel sauce would be perfect, especially alongside some vanilla ice cream.
To make this frosting, start by melting the butter in a saucepan over medium heat. Add in the brown sugar and whipping cream; once the mixture starts to bubble, stop stirring it.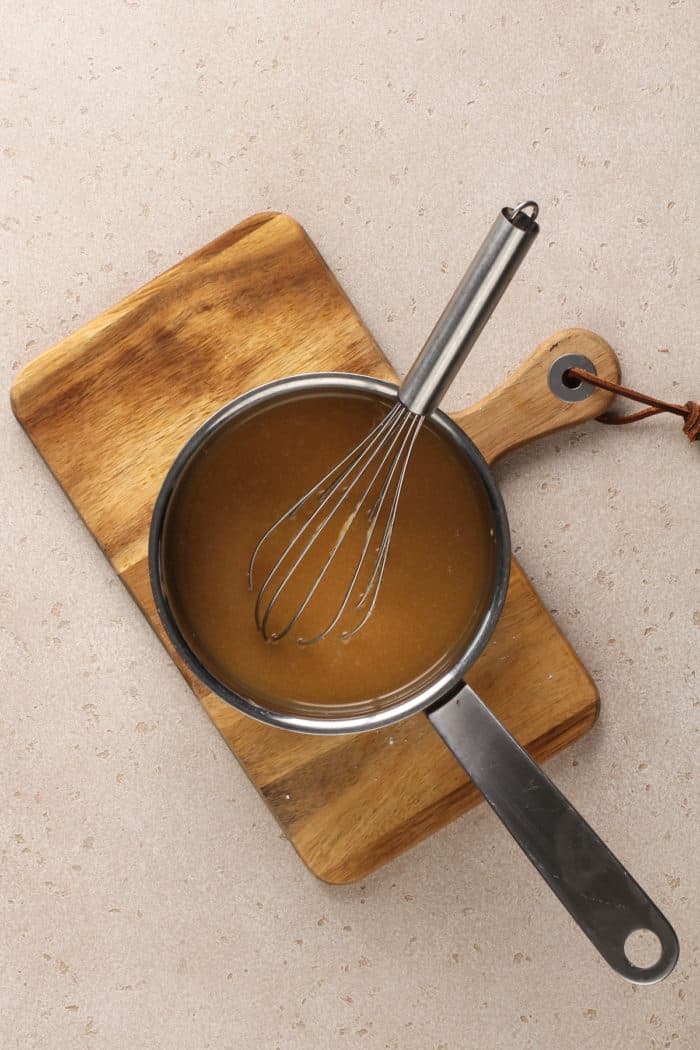 Let the sauce come to a full boil. Boil it for 1 full minute without stirring it. After the minute, remove the pan from the heat.
Whisk in the vanilla and ¼ teaspoon of the salt, then gradually whisk in the powdered sugar. The frosting will seem more like a sauce than a frosting at first, but it will get thicker as it cools.
If you'd like, now is a good time to add the rest of the salt.
Go ahead and pour the warm frosting over the cooled cake. Let the frosting cool and set before serving the cake.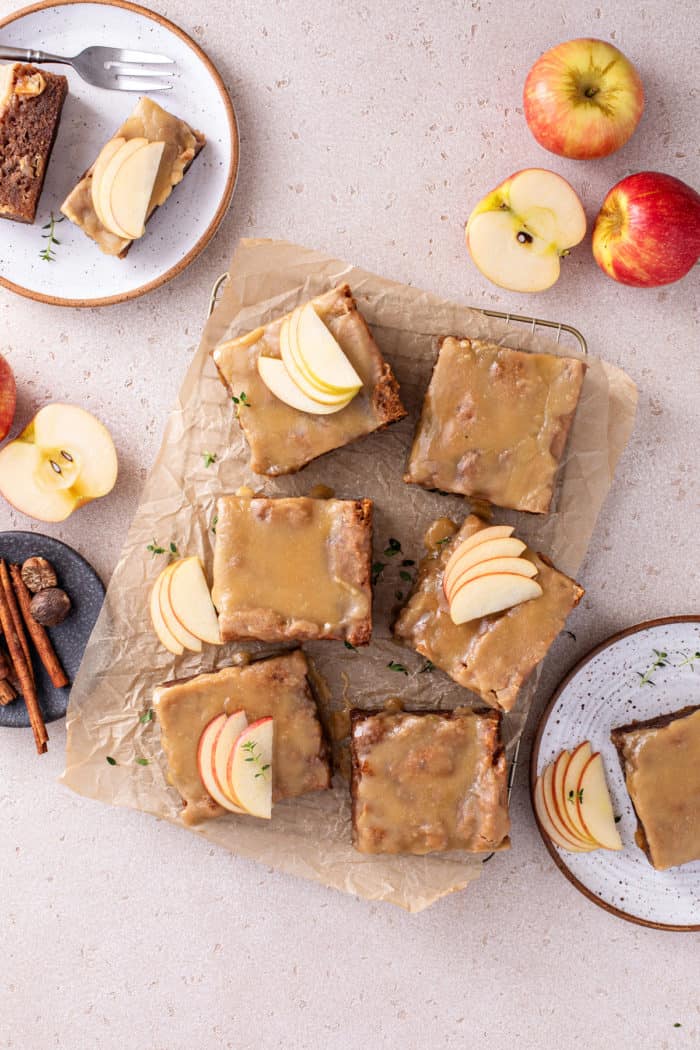 STORAGE OPTIONS
If you do not plan to serve your caramel apple cake right away, store it covered in the refrigerator. It will keep for up to 4 days.
I recommend letting the cake come back to room temperature before serving it. The frosting hardens a bit in the fridge, but will soften up again once it comes to room temperature.
Alternatively, you could microwave a slice of the cold cake for 30-45 seconds to warm the cake and soften the frosting, turning it into more of a caramel sauce. It's good stuff.
If you'd like to freeze this cake, I recommend doing so before you add the frosting. Wrap the cake tightly in plastic, followed by a layer of foil, and freeze for up to a month. Let the cake thaw at room temperature before frosting as directed.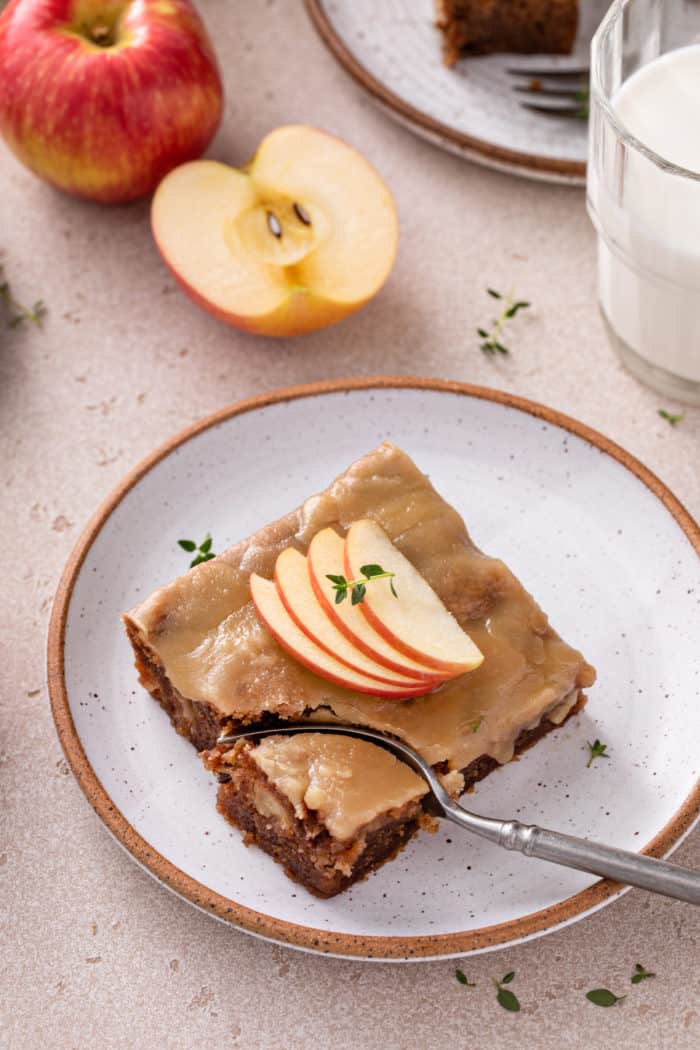 MORE CARAMEL APPLE BAKED GOODS
Does this caramel apple cake have you craving all of the caramel apple goodness? Check out these recipes for even more of that classic combo: