Caramel Apple Cake with Salted Caramel Frosting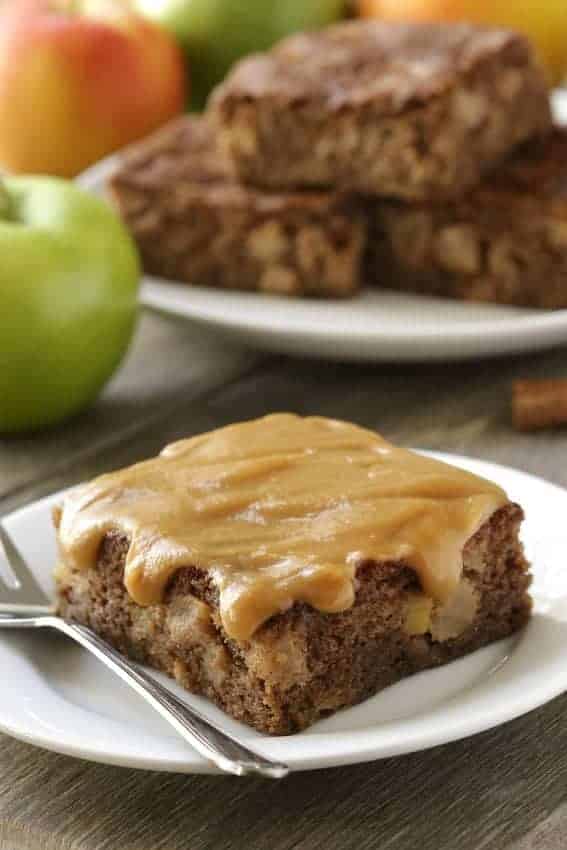 Caramel apple cake is perfectly spiced, moist and topped with a salted caramel frosting. With gluten-free option.
This caramel apple cake is about as easy as it gets. In my last post, I shared a recipe for mini pumpkin cheesecakes and talked about how I like to keep things simple, especially for Thanksgiving.
Layer cakes are beautiful, sure, but a layer cake is probably the last thing I want to make for Thanksgiving. I don't know about you, but I can easily waste half an hour fussing with the frosting trying to make it look just perfect. And it never does! So today we're bypassing all that with a good old 9×13 apple cake with caramel frosting.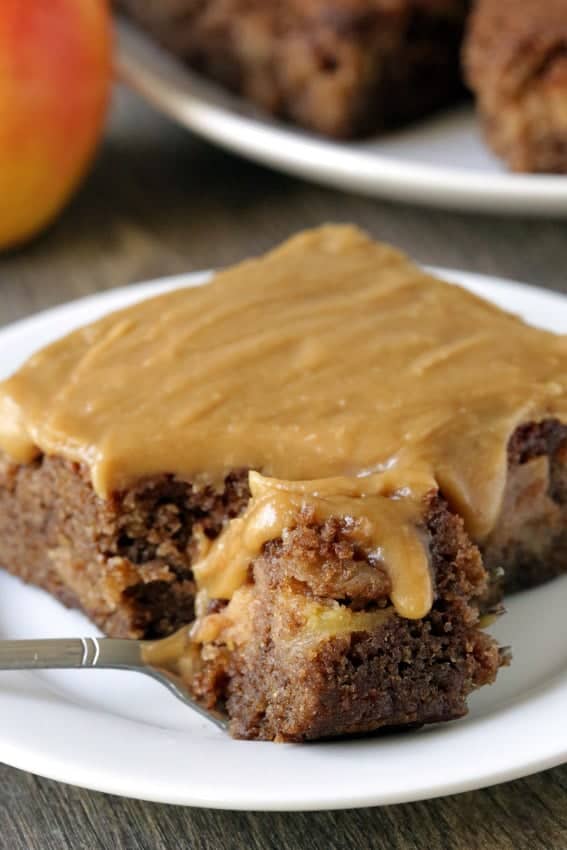 This recipe calls for more oil and sugar than I'd usually use but it yields such an incredibly moist and delicious cake that I really don't care about its nutritional value. ;)
You can either use all-purpose flour or a blend of gluten-free flours listed in the recipe for a gluten-free alternative. I've made both versions and none of my taste testers could tell a difference between the two!
For the frosting, I used the simple caramel frosting I first posted in my caramel apple cheesecake bars. I poured on the slightly warm caramel frosting just before serving, which resulted in the droopy appearance of the frosting. If you frost the entire cake and then cut into pieces, yours won't look like that. The frosting hardens a bit in the refrigerator but once it comes to room temperature, it softens up again.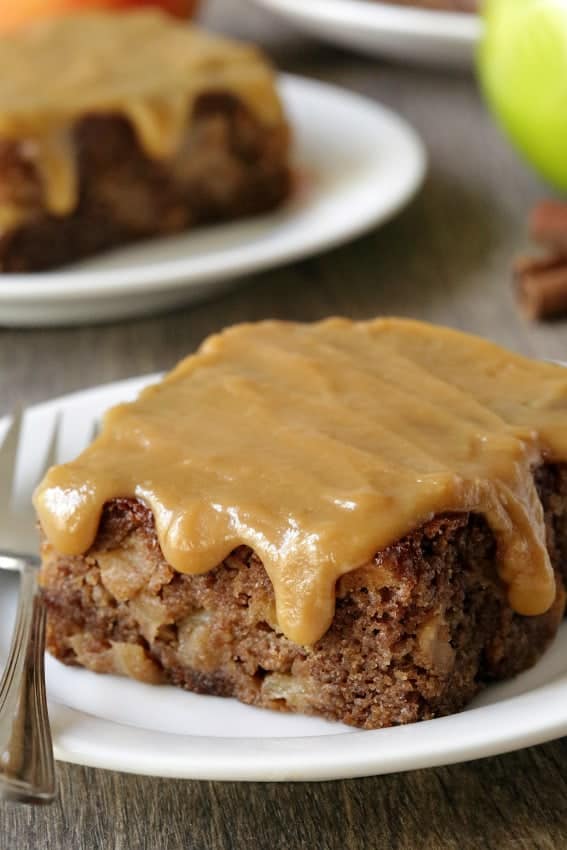 If you use the full 1/2 teaspoon salt, the frosting has this amazing salted caramel thing going on. If you don't like your sweets salty, stick to 1/4 teaspoon salt. And if you'd rather top your cake off with caramel sauce, Jamie's salted caramel sauce would be perfect, especially alongside some vanilla ice cream.
I hope you all have a happy and delicious Thanksgiving!
For more delicious gluten-free Thanksgiving desserts, check out my Gluten-Free Pumpkin Pie Streusel Bars and Gluten-Free Mini Caramel Pecan Tarts.
Caramel Apple Cake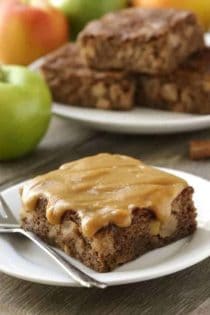 Ingredients:
For the cake:
1 3/4 cups all-purpose flour or gluten-free flour blend*
1 tablespoon + 1 teaspoon ground cinnamon, divided
1/2 teaspoon ground nutmeg
1 teaspoon baking soda
1/2 teaspoon salt
1 cup brown sugar
3/4 cup + 1 tablespoon granulated sugar, divided
1 cup canola oil (or another mild tasting vegetable oil)
3 large eggs, room temperature
2 teaspoons vanilla extract
3 1/3 cups peeled and diced apples (from about 3 1/2 medium apples)
* For the gluten-free flour blend:
1 cup (140 grams) rice flour
1/3 cup (51 grams) potato flour
2 tablespoons + 2 teaspoons (20 grams) tapioca flour
 1/2 teaspoon xanthan gum
Note: If you need this cake to be gluten-free, make sure all your ingredients are certified gluten-free. Also note that while 1 3/4 cups all-purpose flour is called for, the gluten-free flour blend only yields 1 1/2 cups of flour. This isn't a mistake.
For the caramel frosting:
1/2 cup unsalted butter
1 cup brown sugar
2/3 cup whipping cream
2 teaspoons vanilla extract
1/4-1/2 teaspoon salt
1 1/2 cups powdered sugar
Directions:
Preheat the oven to 350 °F.
Line a 9″ x 13″ baking pan with a piece of parchment paper or alternatively spray the pan with baking spray.
In a medium mixing bowl, stir together the flour, 1 tablespoon cinnamon, nutmeg, baking soda, and salt. Set aside.
In a large mixing bowl, stir together the brown sugar, granulated sugar, oil, eggs and vanilla until thoroughly combined.
Add in the flour mixture and mix just until well combined.
Place the apples in a small bowl and sprinkle the remaining 1 tablespoon granulated sugar and 1 teaspoon ground cinnamon over the apples. Stir to coat the apples in the cinnamon sugar. Fold the apples into the batter.
Pour the batter into the prepared pan and bake for 33-40 minutes or until a toothpick inserted in the center comes out clean.
Let cool completely before frosting.
Prepare the frosting.
Melt the butter in a medium saucepan over medium heat.
Stir in the brown sugar and whipping cream. Once the mixture starts bubbling, stop stirring.
Let the mixture come to a full boil and boil for 1 minute without stirring. Remove the pan from the heat.
Stir in the vanilla, 1/4 teaspoon salt, and gradually add the powdered sugar.
Whisk until the powdered sugar is fully incorporated and no lumps of sugar remain.
Add the remaining 1/4 teaspoon salt, if desired.
Once the cake has cooled, spread the frosting over the top and refrigerate any leftovers for up to 4 days. Let come to room temperature before serving.
All images and text ©
Follow Jamie on Instagram. We love to see what you're baking from MBA! Be sure to tag @jamiemba and use the hashtag #mbarecipes!
This post may contain affiliate links. We are a participant in the Amazon Services LLC Associates Program, an affiliate advertising program designed to provide a means for us to earn fees by linking to Amazon.com and affiliated sites.