Do you love apple fritters? Then you'll love Apple Fritter Bread! This decadent quick bread is reminiscent of your favorite apple fritters but in a sliceable, shareable form.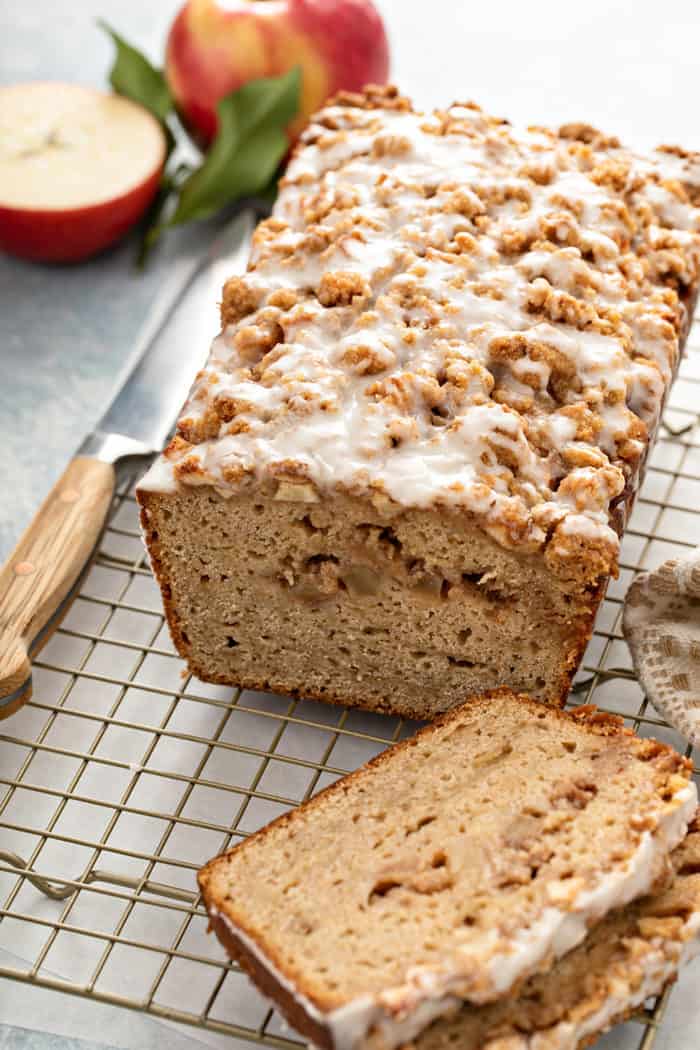 We are very much into quick breads around here. As I've mentioned before, quick breads are one of my absolute favorite recipes to bake.
They're simple to make and are perfect to give as a little thank you to friends, family and neighbors. I mean who wouldn't love a loaf of freshly baked, sweet Butternut Squash Bread on a crisp fall afternoon?
From the ultimate Banana Bread and the Best Pumpkin Bread to this Apple Fritter Bread, I've got you covered with quick bread recipes.
If you have an upcoming trip the apple orchard and aren't in the mood for apple crumb pie or Easy Apple Dumplings, this Apple Fritter Bread might be exactly what you're looking for.
What my family loves most about this Apple Fritter Bread is the sweet streusel topping that I'm pretty sure my husband would eat with a spoon!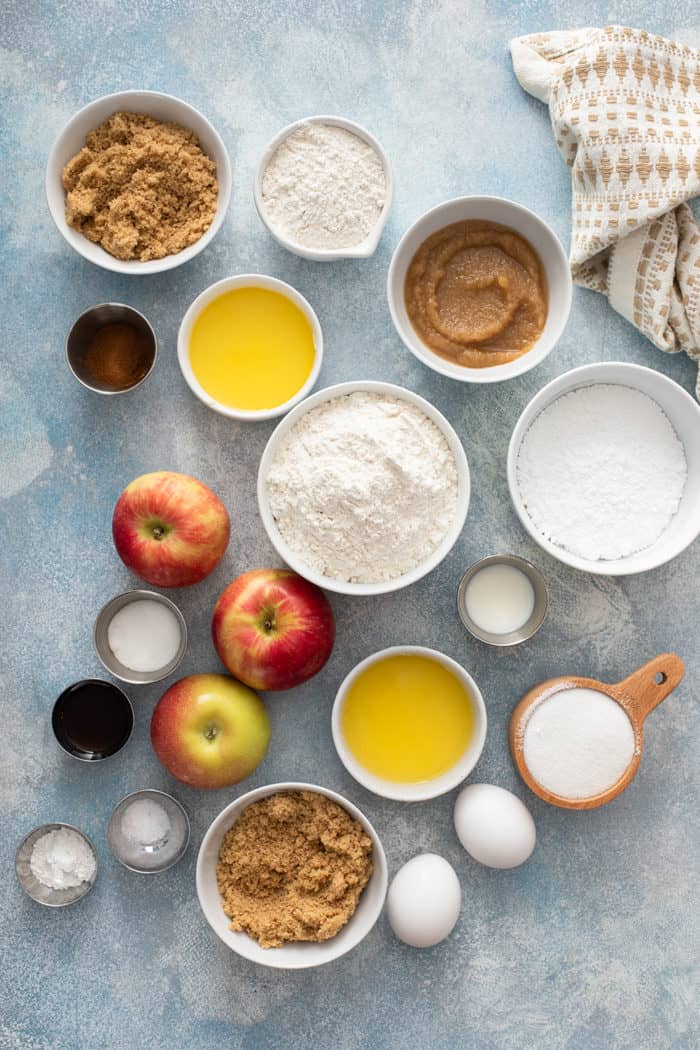 WHAT IS APPLE FRITTER BREAD?
One of my favorite things to indulge in when making our annual visit to the apple orchard, aside from apple cider donuts, is a big ol' apple fritter.
There is just something about the big chunks of apple and cinnamon nestled into the warm dough and topped with that sweet glaze.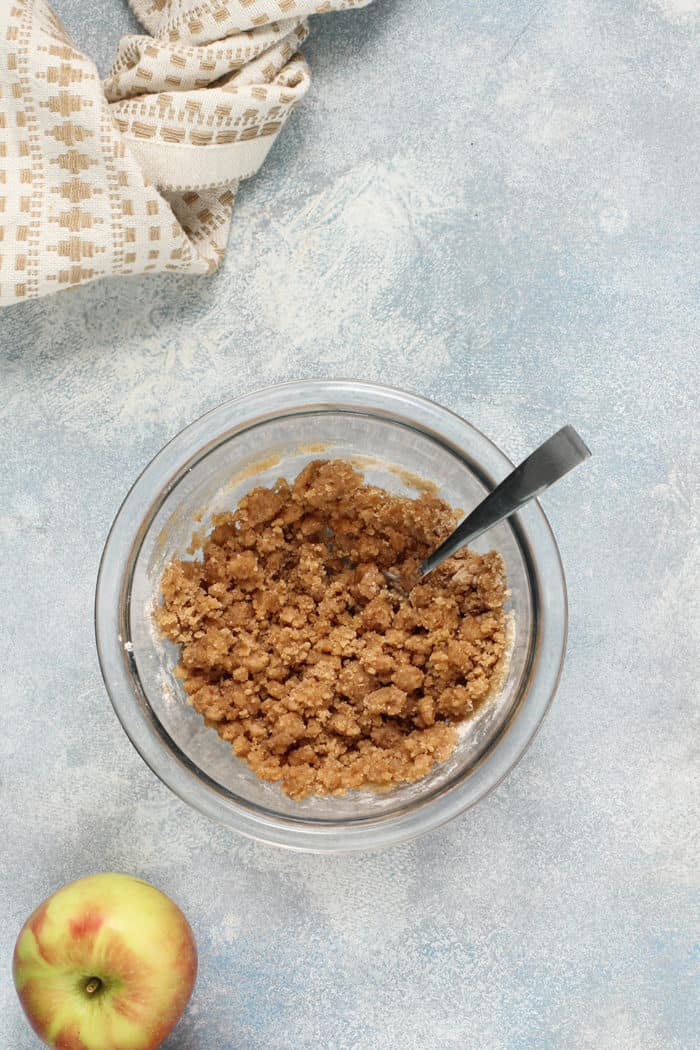 But as much as I love getting apple fritters at the orchard or local bakery, I don't really find them tempting to make at home. This bread, on the other hand…
This Apple Fritter Bread takes the best parts of an apple fritter and turns them into a moist, delicious quick bread.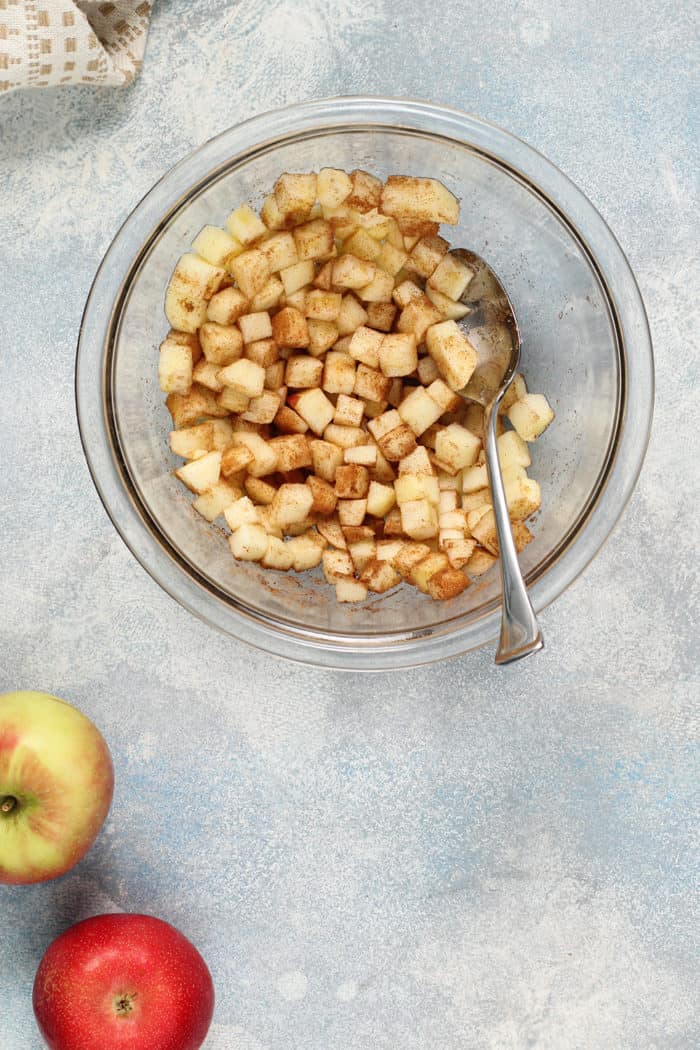 There's a quick bread batter packed with apple pie spice, applesauce, and shredded apples; a filling of diced apples, sugar, and more apple pie spice; and a sweet streusel topping.
Oh, and don't forget a simple vanilla glaze!
There's a lot going on in this quick bread recipe, but I promise it all comes together in one perfect bite.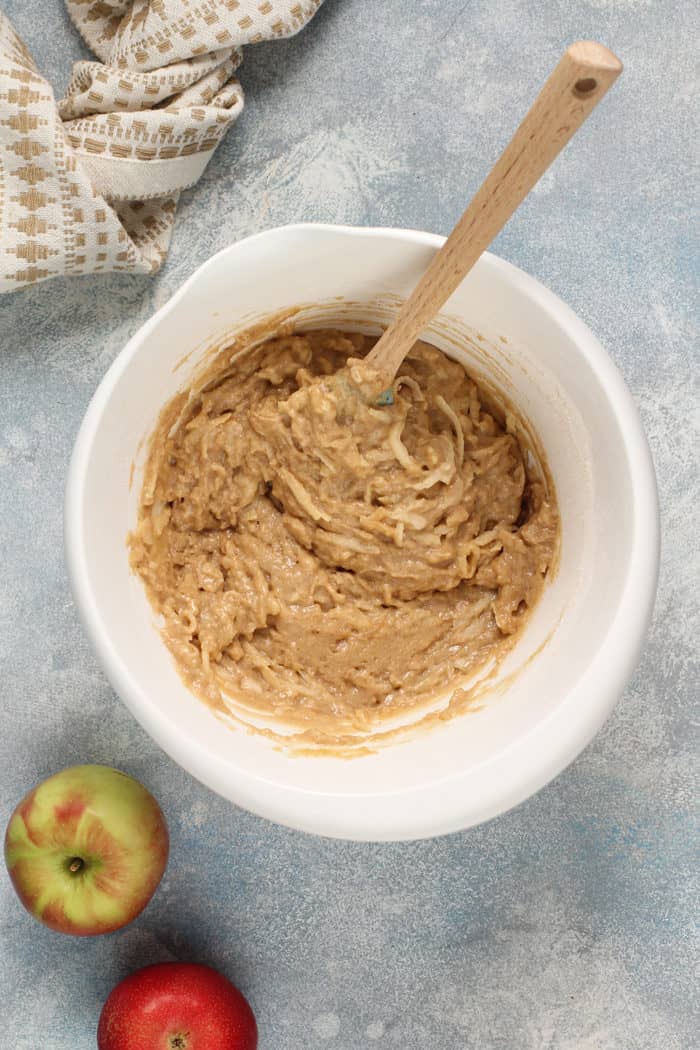 MAKING APPLE FRITTER BREAD
You'll have to prep a few different components to make this Apple Fritter Bread:
Bread batter
Apple filling
Streusel topping
Vanilla glaze
But just like when making Old-Fashioned Apple Dumplings, this recipe is worth the few extra steps. In fact, you might want to double the recipe so you can make two loaves!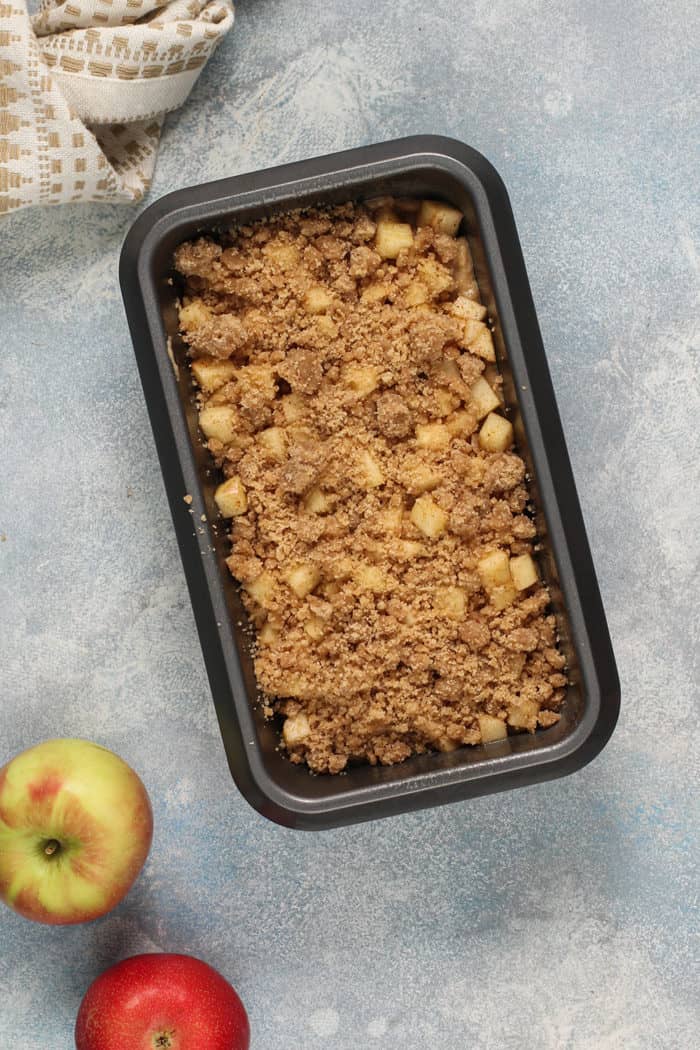 I like to start by preparing the streusel and the apple filling first. Set those aside while you work on the bread batter.
The batter is easy to mix together by hand – no need to pull out an electric mixer for this one! I took a page from my Apple Pie Bread and added shredded apples to this batter along with some unsweetened applesauce. It makes the bread super apple-y and keeps it moist.
To assemble the bread, spread half of the batter into a greased 9×5-inch loaf pan. Top evenly with half of the diced apple filling, followed by half of the streusel mixture.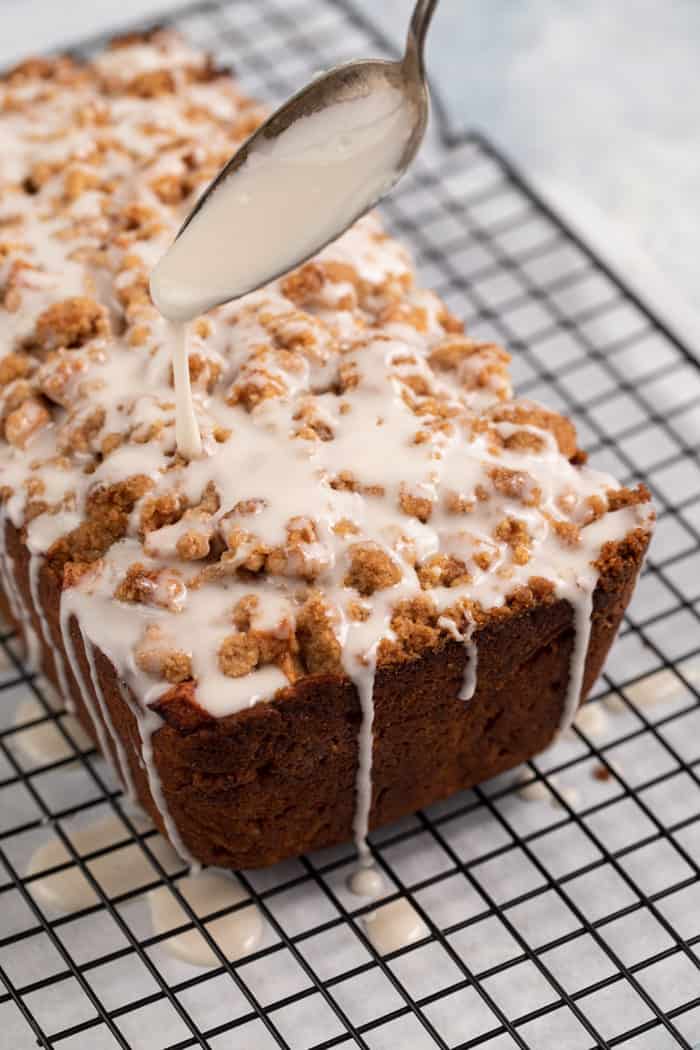 Carefully spoon in the rest of the batter and top it with the remaining apple filling and streusel topping.
As the bread bakes, the apples and streusel in the center of the bread will make a delicious layer right in the middle, and the apples on top will start to sink into the top of the bread.
The streusel gives the bread the perfect amount of sweetness and texture, just like when you get those pockets of crunchy goodness in an apple fritter.
I finish out the whole bread with a simple vanilla glaze. You can make the glaze with powdered sugar and vanilla coffee creamer for a simple two-ingredient glaze! You can also make it with powdered sugar, milk, and vanilla extract if you don't have coffee creamer on hand.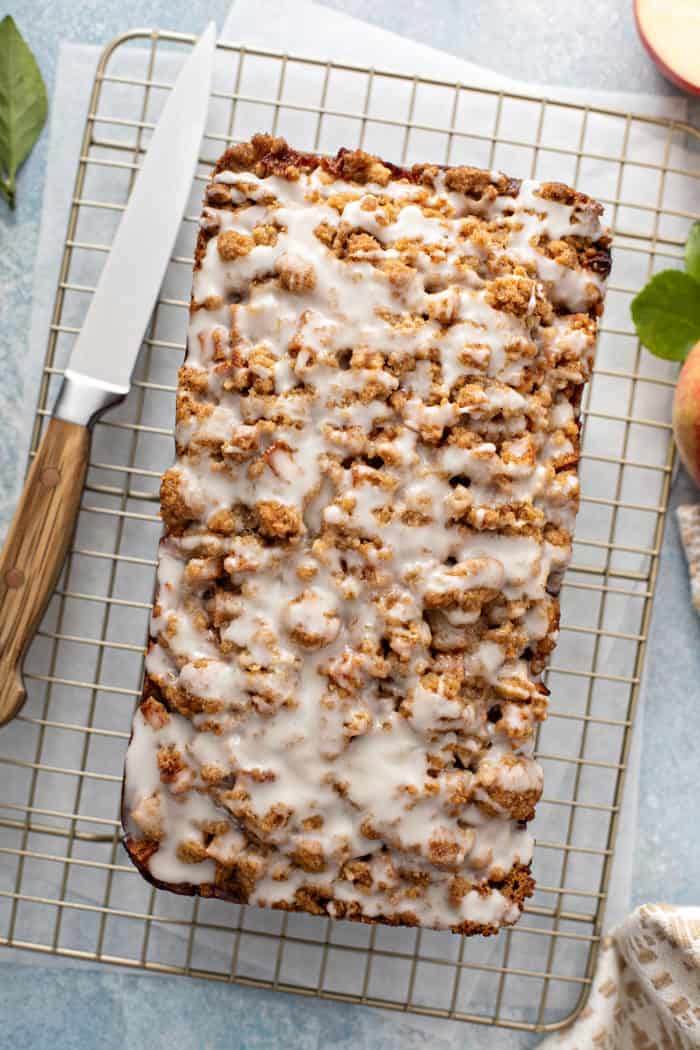 STORAGE TIPS
This bread is super moist! I know everyone hates that word, but there really is no other word to describe the perfect texture of this bread.
Because of that, I recommend only storing Apple Fritter Bread at room temperature – wrapped in foil – if you plan to eat it within 1 or 2 days.
If you want it to last 3-5 days, wrap the bread in foil and store it in the refrigerator. Take the chill off it by popping a slice into the microwave for about 30 seconds before digging in.
Like most quick breads, you can also freeze Apple Fritter Bread. Double wrap it, either in a layer of plastic followed by foil or in foil followed by a zip-top freezer bag, and freeze it for up to 3 months.