These Old-Fashioned Apple Dumplings will bring back memories of Grandma's house! Whole apples are wrapped in pastry and baked with plenty of spices and a delicious syrup for a recipe full of nostalgia.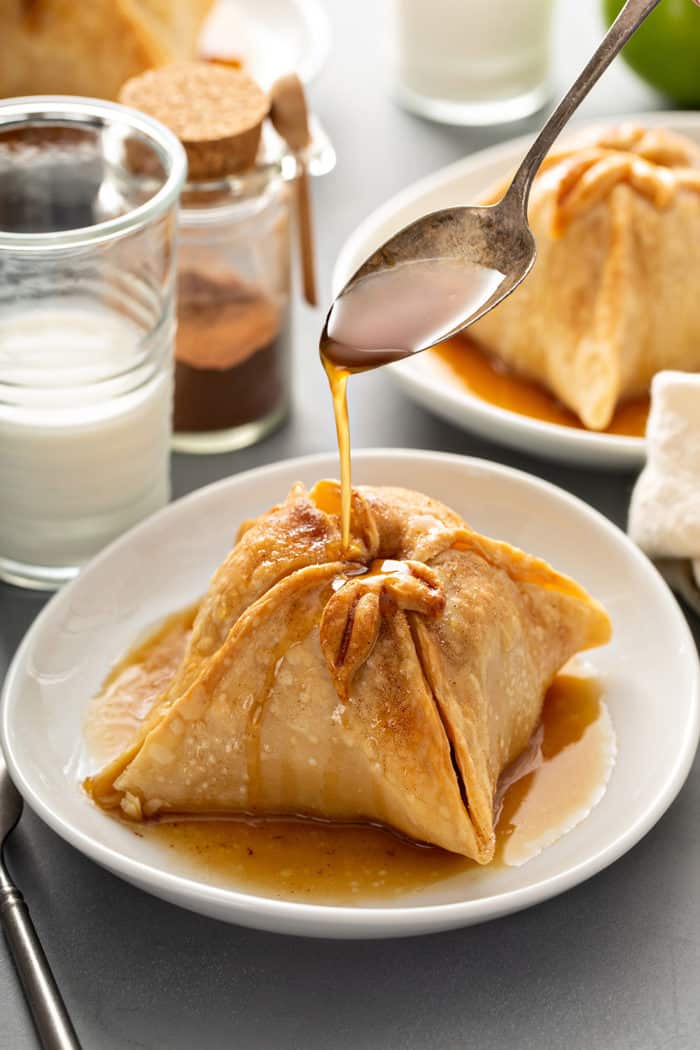 A couple of weeks ago, I was chatting with my friend, Stephie about apple recipes and she asked me if I had a recipe for apple dumplings on My Baking Addiction.
At this point, it's kind of hard to keep track of all of the recipes that I've posted throughout the years, but a quick search made me realize I've never shared a recipe for Old-Fashioned Apple Dumplings, so naturally we had to change that.
Stephie loves baking pies from scratch, which might just be one of my least favorite things to bake, so I turned to her for a little help with this recipe since it involves pie dough.
She assured me that store-bought pie dough would be just fine for this recipe if I didn't feel like making my own – spoiler alert – I did not feel like making my own. But I can tell you store-bought pie crust made one heck of an apple dumpling and it was a huge time saver. If homemade pie crust is your thing, I bet it might be even better!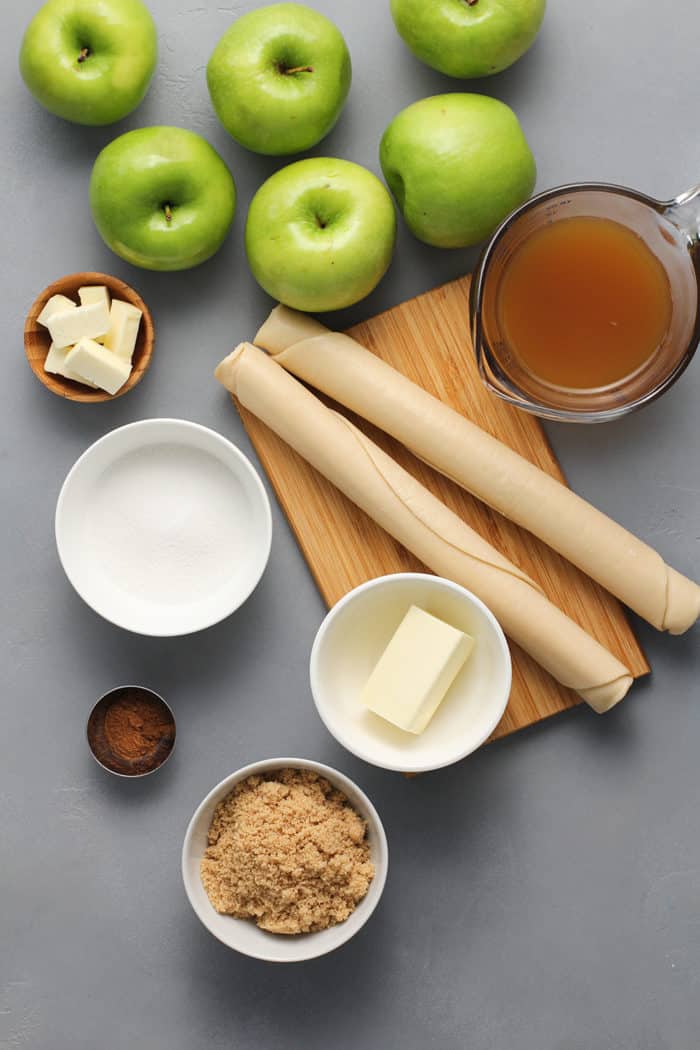 WHAT ARE OLD-FASHIONED APPLE DUMPLINGS?
There are some recipes that just make me think of my Nana. Although I don't remember her making Old-Fashioned Apple Dumplings, I do remember her homemade apple pie complete with little pie dough leaf cut-outs on top.
Of course I always think of her when I make her recipes, like Pumpkin Crunch Cake and Pumpkin Roll. But there are also some classic recipes that just feel like you would eat them at your grandma's house – things like Coconut Macaroons, Whipping Cream Cake, and these Old-Fashioned Apple Dumplings.
Unlike Easy Apple Dumplings, these Old-Fashioned Apple Dumplings take a little more work but are just as delicious.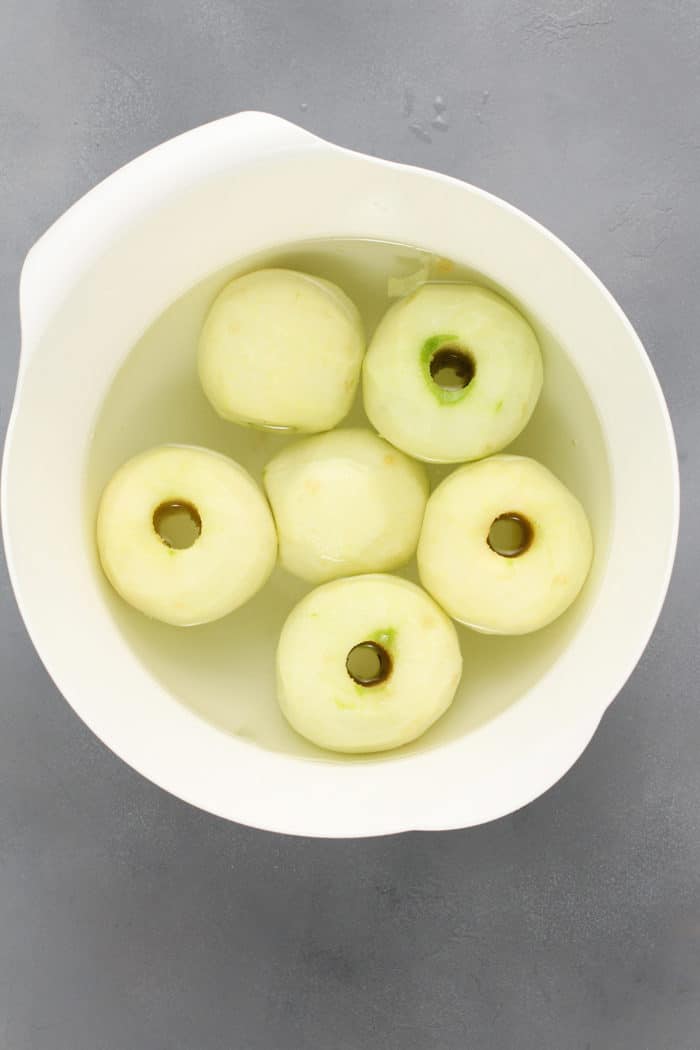 These nostalgic dumplings are made by peeling and coring whole apples, filling them with butter, sugar, and spices, and wrapping them in pie dough before baking them in a yummy syrup.
When you cut into the baked dumplings, you get the perfect combo of cooked apple, buttery pie crust, and luscious syrup. One bite will make you feel like you're in your grandma's kitchen again!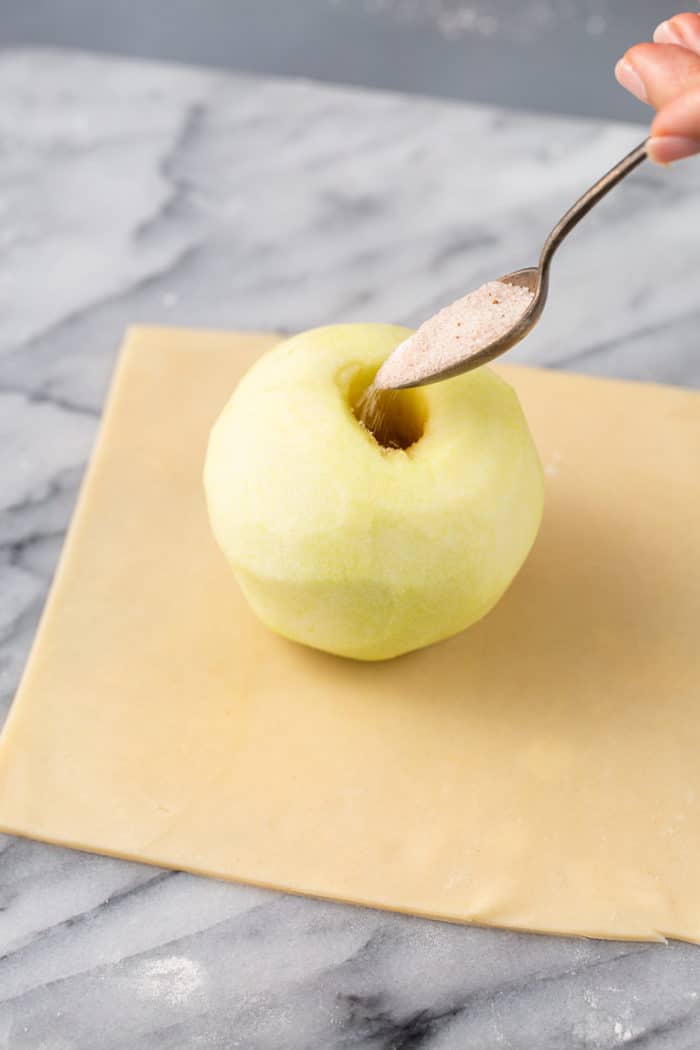 WHAT APPLES ARE BEST FOR DUMPLINGS?
You will need 6 medium-size baking apples for this recipe. I like using granny smith apples or honeycrisp apples; just make sure they're not too big or you'll have a hard time wrapping them in the pie dough!
Other apples that would work well for these dumplings are pink lady, jonagold or jonathans, and golden delicious.
You want a crisp apple that won't get too mushy after being baked and that has some tartness to offset the sweetness of the sugar and syrup in the recipe. Any apple you might use to make Simple Baked Apples would work great here!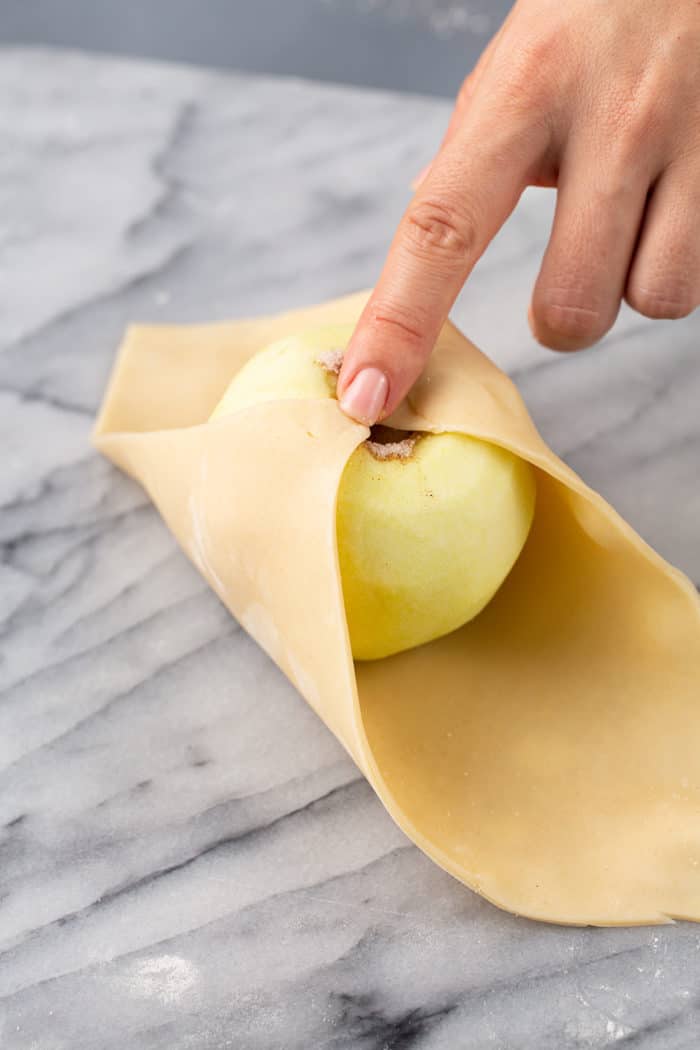 ASSEMBLING THESE APPLE DUMPLINGS
Don't be too intimidated by assembling these apple dumplings. Even though they look fancy, I promise that anyone can make them with just a little bit of patience!
Stephie has made this recipe using her homemade pie crust and store-bought and both versions were delicious. Like I said, if you're not comfortable making your own pie crust, it's totally ok to use your favorite refrigerated crust like I did.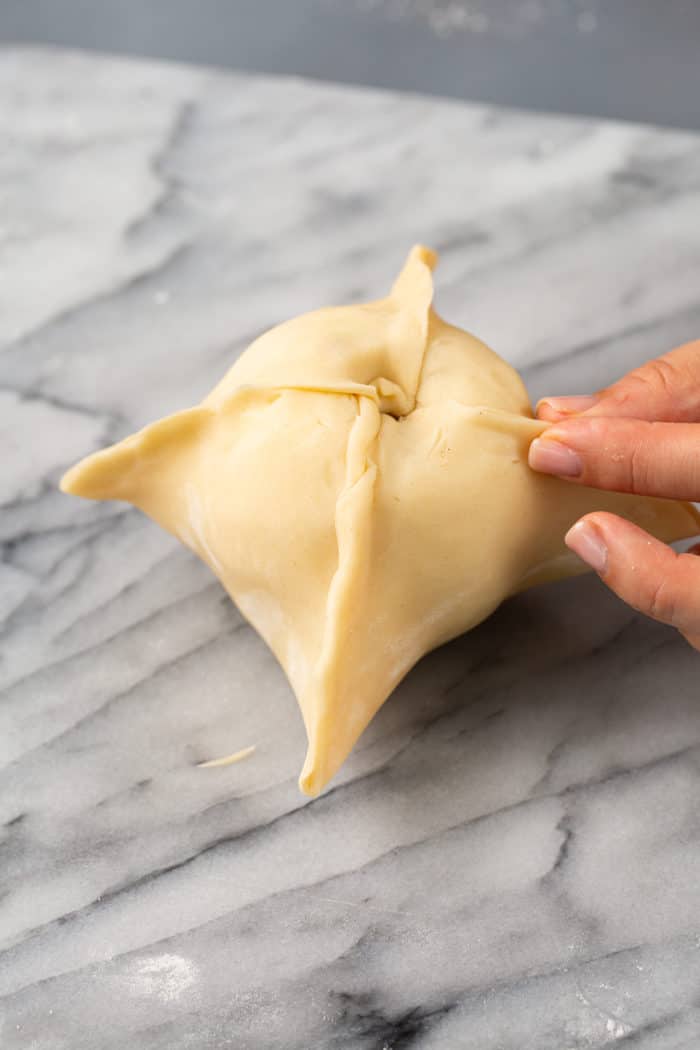 Assembling the dumplings goes something like this:
Roll the pie dough into a 14×21-inch rectangle and cut it into 6 equal pieces, about 7×7-inch squares.
Place a peeled, cored apple in the center of each square and add a bit of butter and spiced sugar (made using apple pie spice and granulated sugar) to the center of each apple.
Bring the corners of the pie dough up over the apple and press the seams to seal the dough around the apple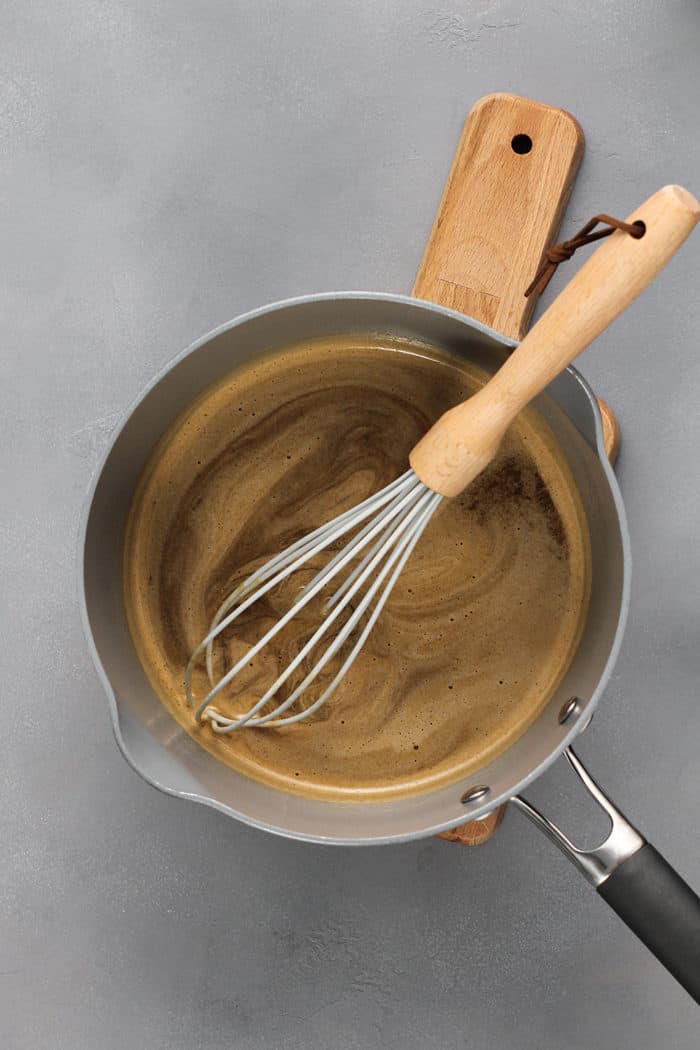 At this point, you can place them in the baking dish as-is or use extra scraps of pie dough to cut out leaves for decorating the top of the dumplings.
Before the dumplings go in the oven, you'll whip up a quick sugar syrup using unfiltered apple juice or apple cider, brown sugar, and butter. This gets poured over the top of the dumplings before baking.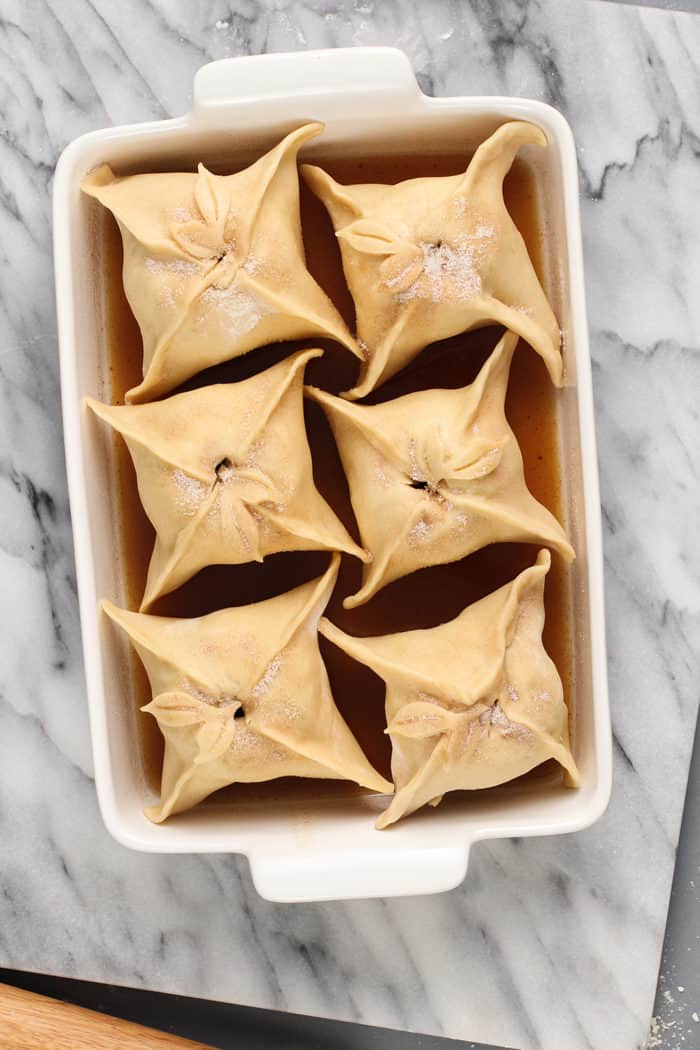 STORAGE AND REHEATING INSTRUCTIONS
Extra Old-Fashioned Apple Dumplings can be stored, covered, in the refrigerator for up to 2 days.
To reheat, you can pop the dumplings in the microwave for 30-60 seconds, but this sometimes makes the texture of the pie crust a little weird.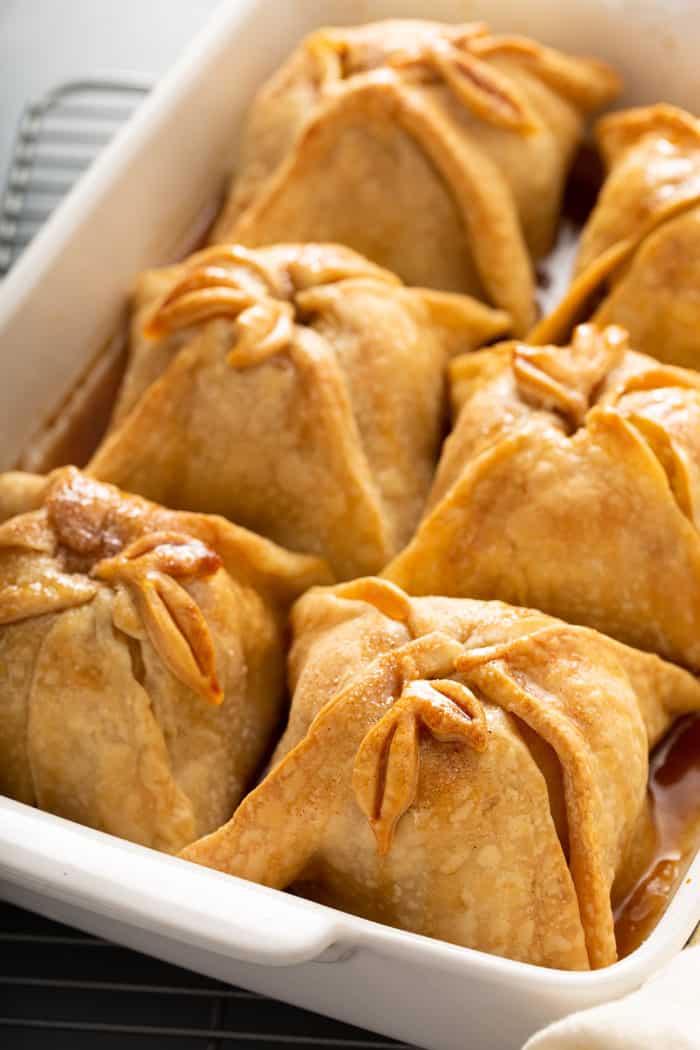 I actually recommend reheating the dumplings in a warm oven. Place the dumplings in a baking dish (or leave them in the original baking dish) and cover loosely with foil, then warm them in a 350°F oven for 10-15 minutes.