Moist Banana Cake
Moist Banana Cake that's good for breakfast or an afternoon pick-me-up. Grab a cup of coffee and dig in!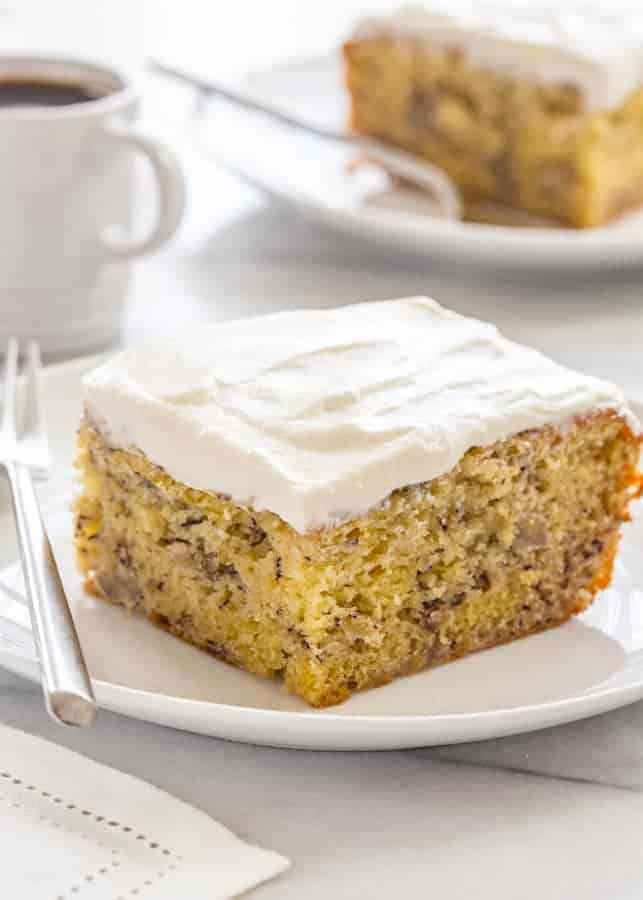 Let me start by saying I hate the word moist. Always have, always will. It's one of those words that makes my nose wrinkle.
However, I must use the word moist throughout this post because, well, there is really no other way for me to describe this banana cake.
I have mentioned in other blog entries that we have a problem with buying bananas and never eating them in their yellow state. Instead, I wait until they are a nice shade of rotten before contemplating their fate. Once they hit the stage just before "really probably ought to be thrown away", I start searching.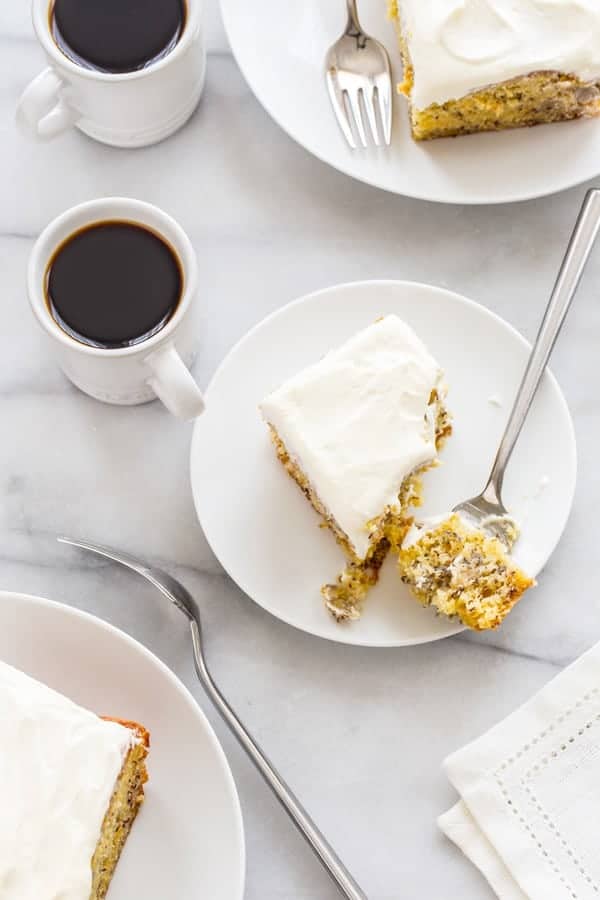 Most of time, I'll whip up the best banana bread or my favorite banana crumb muffins, but this time, I decided to search deep into the archives and make the best banana cake I've ever had.
The first time I shared this recipe with you was in November of 2008 – I had only been blogging a few months, so both my photos and writing style were pretty awful, but this banana cake has remained one of my favorite recipes for over 8 years, so I thought it was time to update the post and photos.
This recipe is adapted from RecipeZaar (which is now Food.com), and has an interesting preparation method. After you bake the cake at a low 275°F, you immediately chuck the cake into the freezer for 45 minutes.
Apparently this is what makes this cake so… well, moist! I've actually tested this cake recipe without using the freezer method to cool the cake, and there is definitely a noticeable difference in the texture of the cake, so if you can spare the room in your freezer for 45 minutes, it's totally the way to go.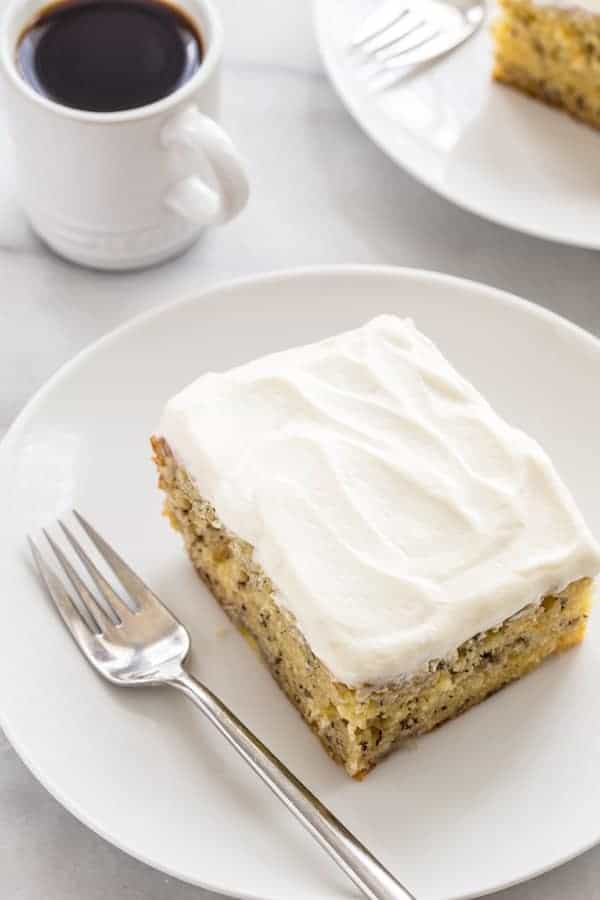 The first time I tried this cake, I baked it up in a Bundt pan because I was on a Bundt pan kick at the time. Don't worry, it passed.
Because I used a Bundt pan, which is a lot deeper, the cake took a lot longer to bake. I had to keep checking it, which was really infringing on my Sunday night TV time, but it turned out to be amazing.
I decided that was a silly, unnecessary complication to a pretty amazing recipe, so since then, I've always backed it up in a 9×13 cake pan. And I'll tell you, that fits a lot easier in my freezer too.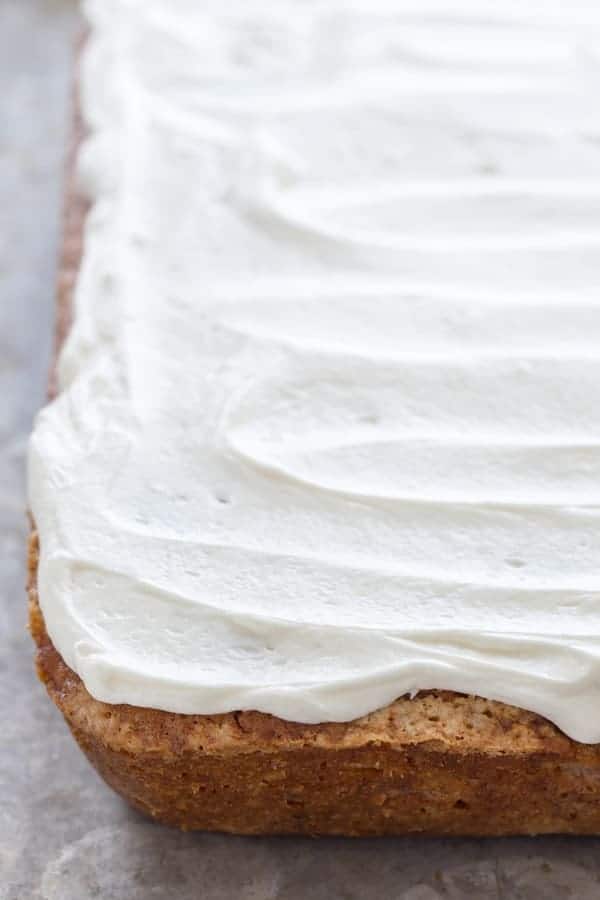 The cream cheese icing is to die for and adds the perfect amount of sweetness to the cake. If you have some browning bananas and are looking to make a delicious treat, look no further; this moist banana cake is a winner!
Oh, and if you don't happen to have buttermilk on hand, don't fret! This buttermilk substitute works perfectly in this banana cake!
Also, I promise not use the word moist in another blog post for at least a couple of months.
I'd highly recommend this moist banana cake for an afternoon snack, or even at brunch. I know, I know, there's frosting – but if you can't have frosting for breakfast every now and then, what's the point to life?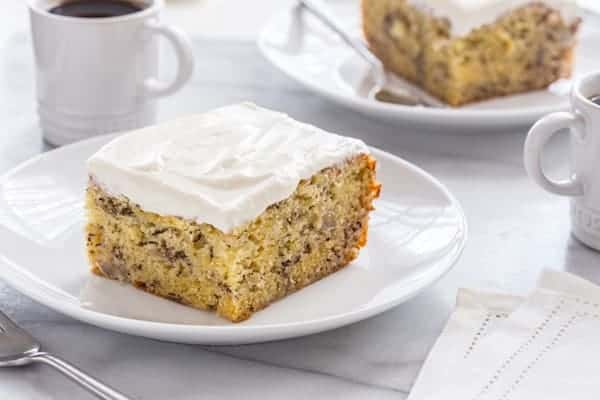 For more delicious banana recipes, be sure to check these out and put those ripe bananas to good use!
Moist Banana Cake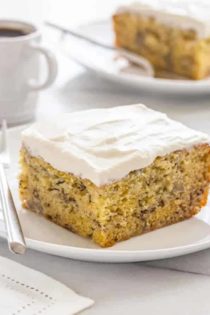 Ingredients:
For the Cake
1 1/2 cups mashed ripe bananas
2 teaspoons lemon juice
3 cups all-purpose flour
1 1/2 teaspoons baking soda
1/4 teaspoon salt
3/4 cup butter, softened
2 cups sugar
3 large eggs
2 teaspoons vanilla
1 1/2 cups buttermilk
For the Frosting
1/2 cup unsalted butter, softened
8 ounces cream cheese, softened
1 teaspoon vanilla
3 1/2 cups powdered sugar
Directions:
Preheat oven to 275°. Grease and flour a 9 x 13 pan.
In a small bowl, mix mashed bananas with the lemon juice; set aside.
In a medium bowl, mix flour, baking soda and salt; set aside.
In a large bowl with an electric mixer, cream 3/4 cup butter and 2 cups sugar until light and fluffy; about 3 minutes. Beat in eggs, one at a time, then stir in 2 teaspoons of vanilla.
Beat in the flour mixture alternately with the buttermilk until just combined. Stir in mashed bananas.
Pour batter into prepared pan and bake in preheated oven for 60-75 minutes, or until toothpick inserted in center comes out clean. This could take longer than 75 minutes depending on your oven.
Remove from oven and place directly into the freezer for 45 minutes. This will make the cake extremely moist.
For the frosting, cream the butter and cream cheese until smooth. Add in 1 teaspoon vanilla and mix until incorporated.
Add powdered sugar and beat on low speed until combined, then on high speed until frosting is smooth.
Spread on cooled cake and devour!
Notes:
If you prefer less frosting, feel free to cut the frosting ingredients in half.
This moist banana cake will keep in the refrigerator for up to 4 days.
Follow Jamie on Instagram. We love to see what you're baking from MBA! Be sure to tag @jamiemba and use the hashtag #mbarecipes!
This recipe and post originally appeared on My Baking Addiction in November of 2008. It has been updated with new text and photos.

This post may contain affiliate links. We are a participant in the Amazon Services LLC Associates Program, an affiliate advertising program designed to provide a means for us to earn fees by linking to Amazon.com and affiliated sites.