This super moist banana cake is topped with a tangy cream cheese frosting for a dessert or afternoon pick-me-up that's impossible to beat. You'll never believe the secret to this amazing cake: the freezer!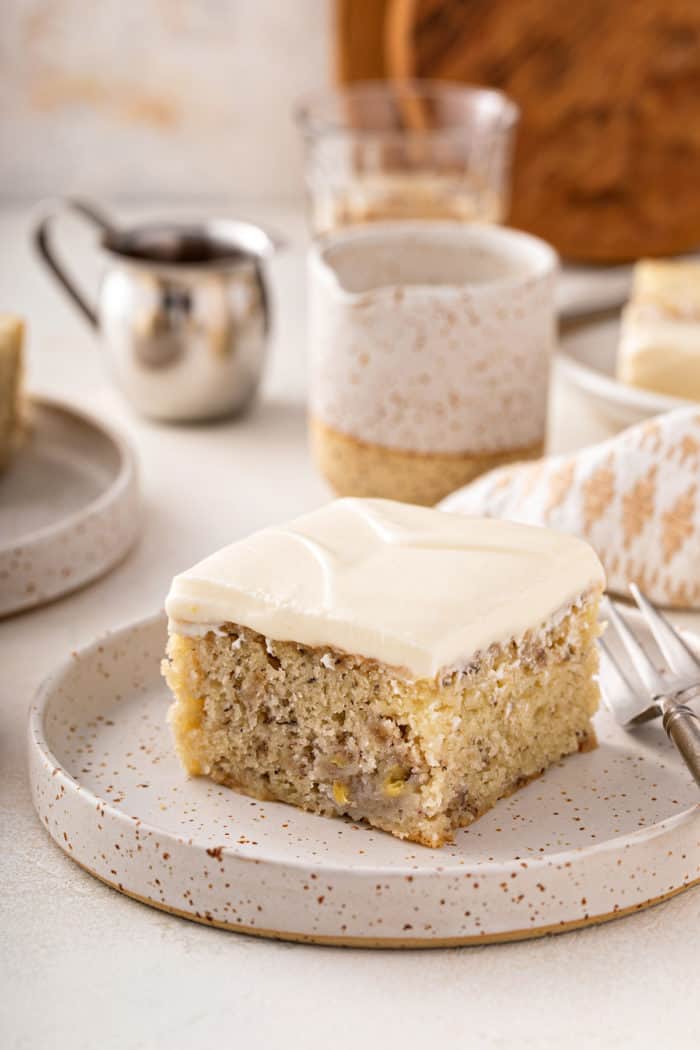 Let me start by saying I hate the word moist. Always have, always will. It's one of those words that makes my nose wrinkle.
However, I must use the word moist throughout this post because, well, there is really no other way for me to describe this banana cake.
I have mentioned before that we have a problem with buying bananas and never eating them in their yellow state.
Instead, I wait until they are a nice shade of rotten before contemplating their fate. Once they hit the stage just before "really probably ought to be thrown away," I start searching.
Most of the time, I'll whip up Dominique Ansel's banana bread or my favorite banana crumb muffins, but occasionally I'll reach deep into the archives and make the best banana cake I've ever had.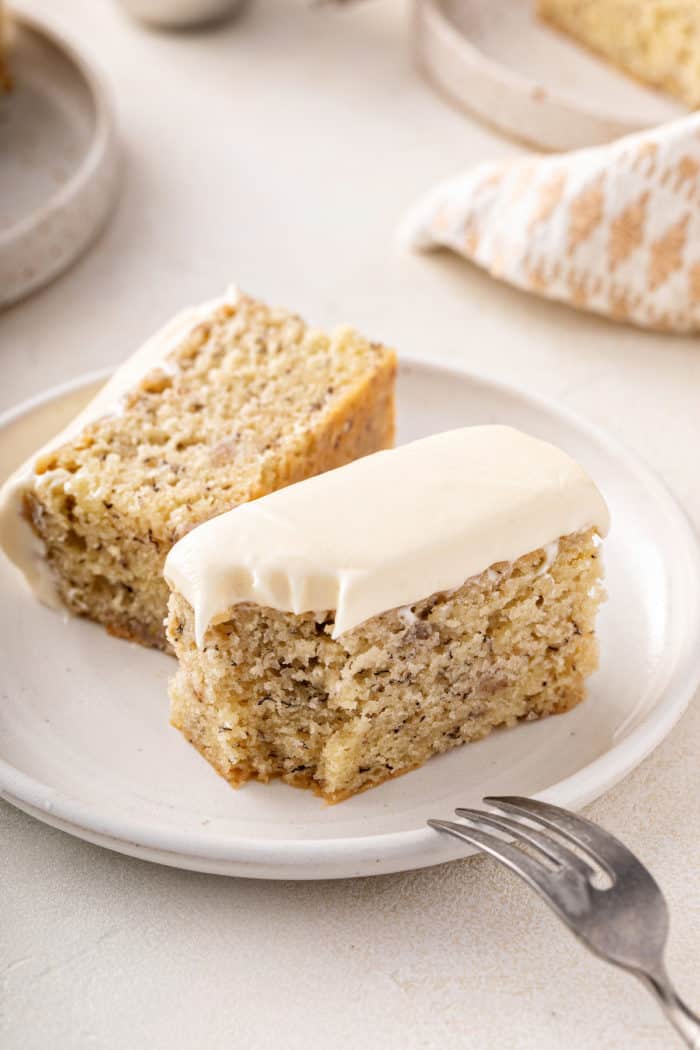 THE SECRET TO A SUPER MOIST BANANA CAKE
The first time I shared this recipe with you was in 2008.
I had only been blogging a few months at the time, but this banana cake has remained one of my favorite recipes for well over a decade now.
This recipe has an interesting preparation method. After you bake the cake at a low 275°F, you immediately chuck the cake into the freezer for 45 minutes.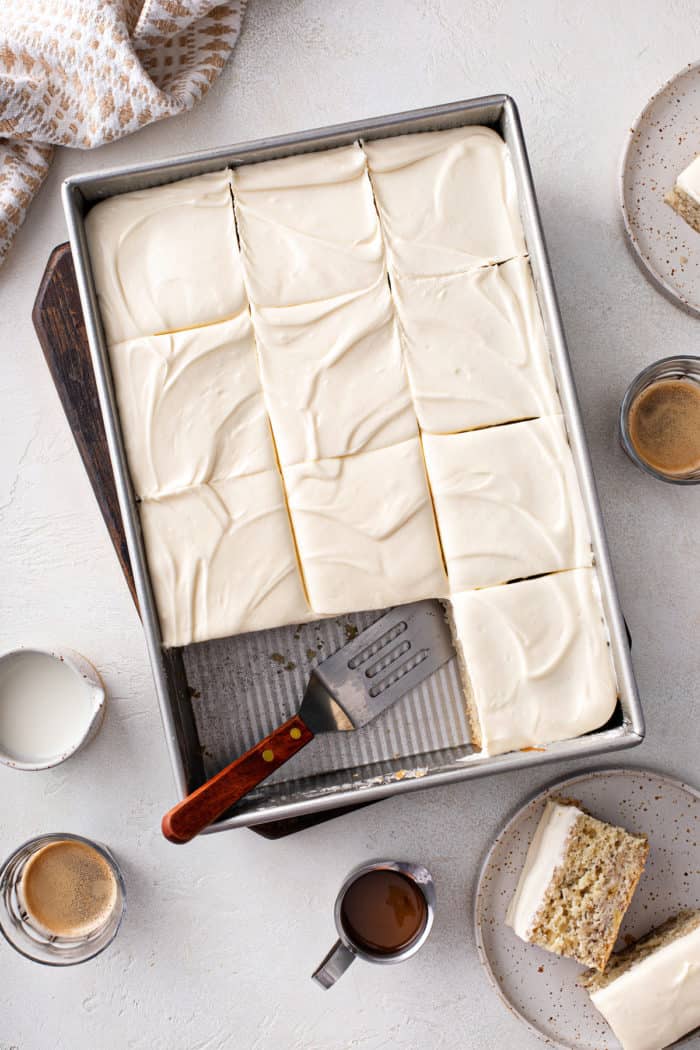 Sound weird? Well, apparently this is what makes this cake so…well, moist!
I've actually tested this cake recipe without using the freezer method to cool the cake, and there is definitely a noticeable difference in the texture of the cake. If you can spare the room in your freezer for 45 minutes, it's totally the way to go.
The cream cheese frosting on top is to die for and adds the perfect amount of sweetness to the cake.
If you have some browning bananas and are looking to make a delicious treat, look no further; this moist banana cake is a winner!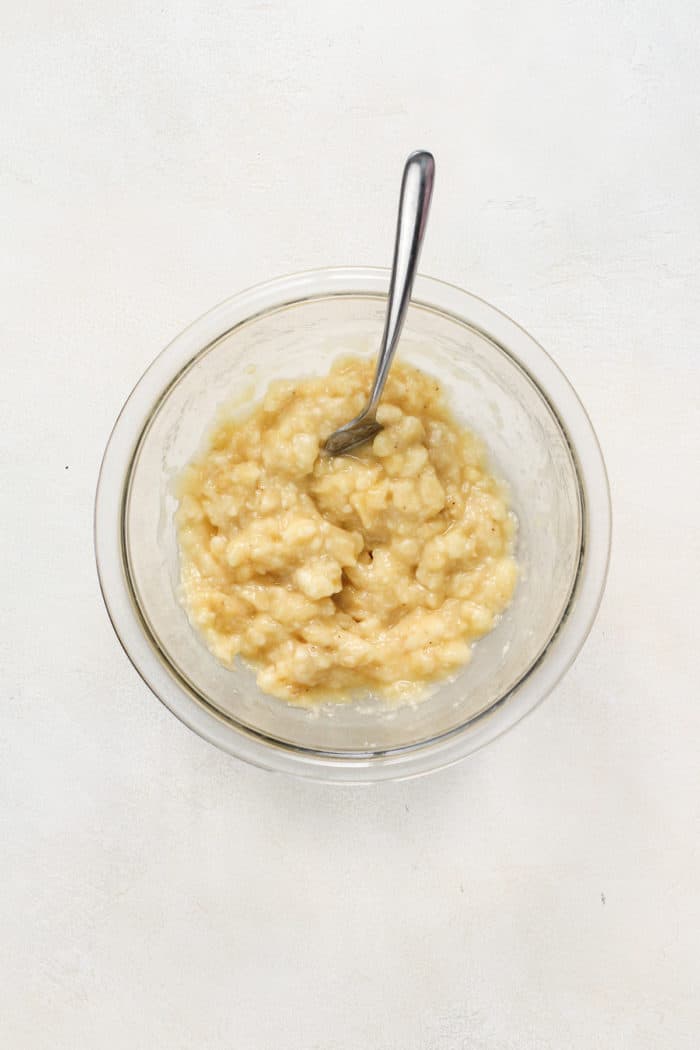 HOW TO MAKE THIS RECIPE
This is a pretty straightforward cake recipe – aside from the freezer part, that is! Let's walk through how to make it.
Ingredients you'll need
Most of the ingredients for this cake are pretty standard and things that you'll probably already have in your refrigerator and pantry. You'll need:
1 1/2 cups mashed ripe bananas (about 3-4 bananas)
2 teaspoons lemon juice
3 cups all-purpose flour
1 1/2 teaspoons baking soda
1/4 teaspoon salt
3/4 cup butter, softened
2 cups sugar
3 large eggs
2 teaspoons vanilla
1 1/2 cups buttermilk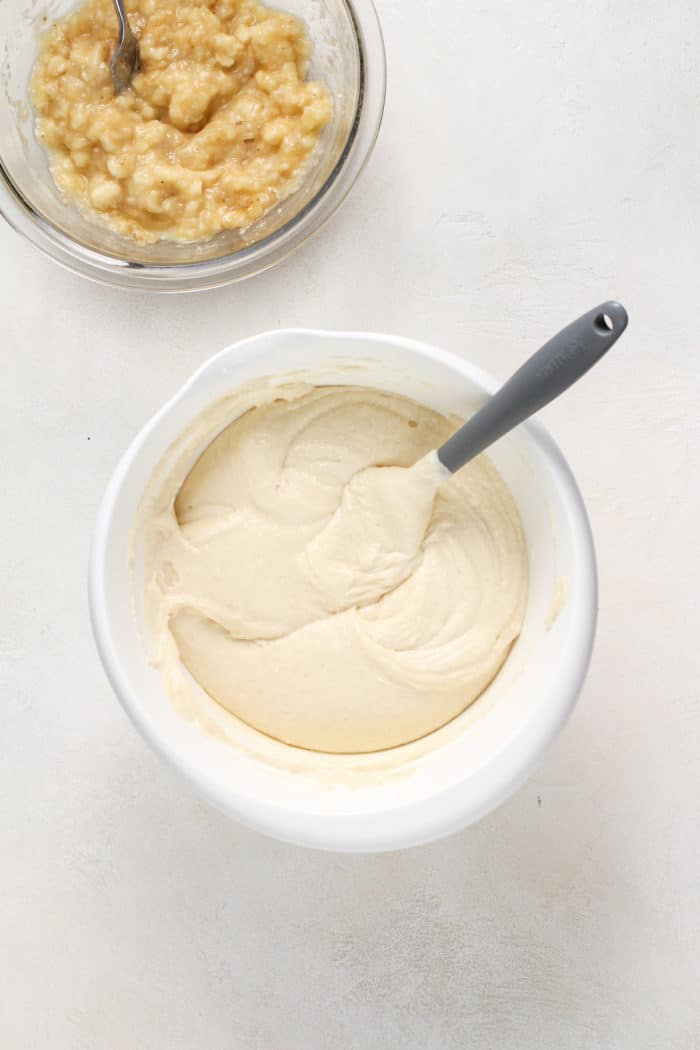 Just like with black magic cake or the best chocolate cake, buttermilk is a key ingredient in this recipe.
Even though the freezer cooling method is a big part of what makes this cake so moist and incredible, the buttermilk helps there, too! It also keeps the cake tender and gives a nice bit of tang.
If you're out of buttermilk, don't worry. I've used my buttermilk substitute many times in this recipe and it works great.
I also recommend that you review how to measure flour properly to set yourself up for success from the start!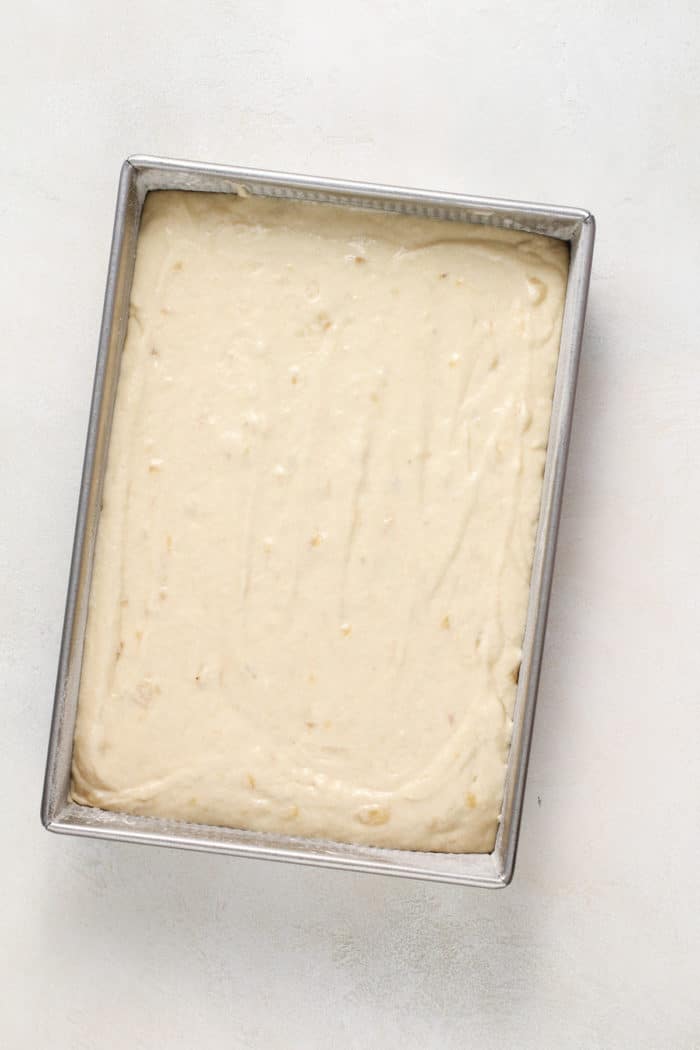 Making this cake
The first step to making this moist banana cake is to mash the bananas with the lemon juice. Set that aside for later.
Whisk together the dry ingredients: flour, baking soda, and salt. Set that aside as well.
Using an electric mixer, go ahead and cream the butter and sugar together until light and fluffy. This will take about 3 minutes. Add the eggs one at a time, then the vanillas.
Alternate adding the flour with the buttermilk. Add half of the flour, all of the buttermilk, then the rest of the flour. Finally, stir in the mashed bananas.
Add the batter to a greased and floured 13×9-inch cake pan and bake for about an hour. As soon as the cake comes out of the oven, place the pan in the freeze for 45 minutes.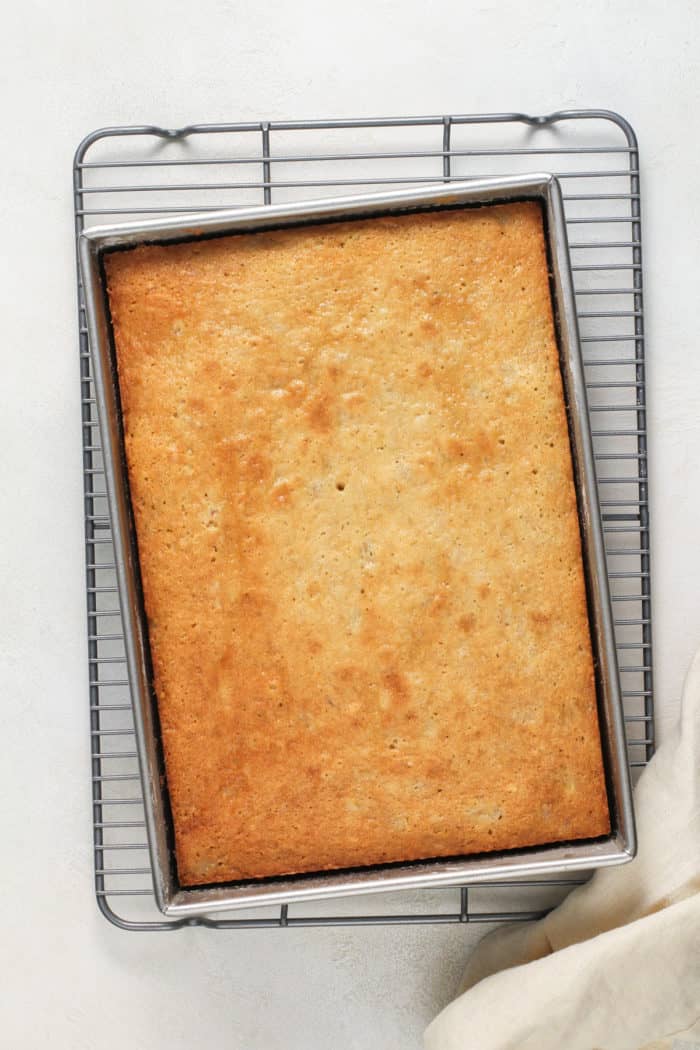 Frosting options
I like to top my banana cake with a cream cheese frosting, similar to my pineapple cake. I think that cream cheese frosting goes so well with fruit-based cakes!
If you prefer less frosting on your cake, you can halve the amount of frosting quite easily.
If you don't care for cream cheese frosting, you can use my buttercream frosting instead, or even just dust the cake generously with powdered sugar.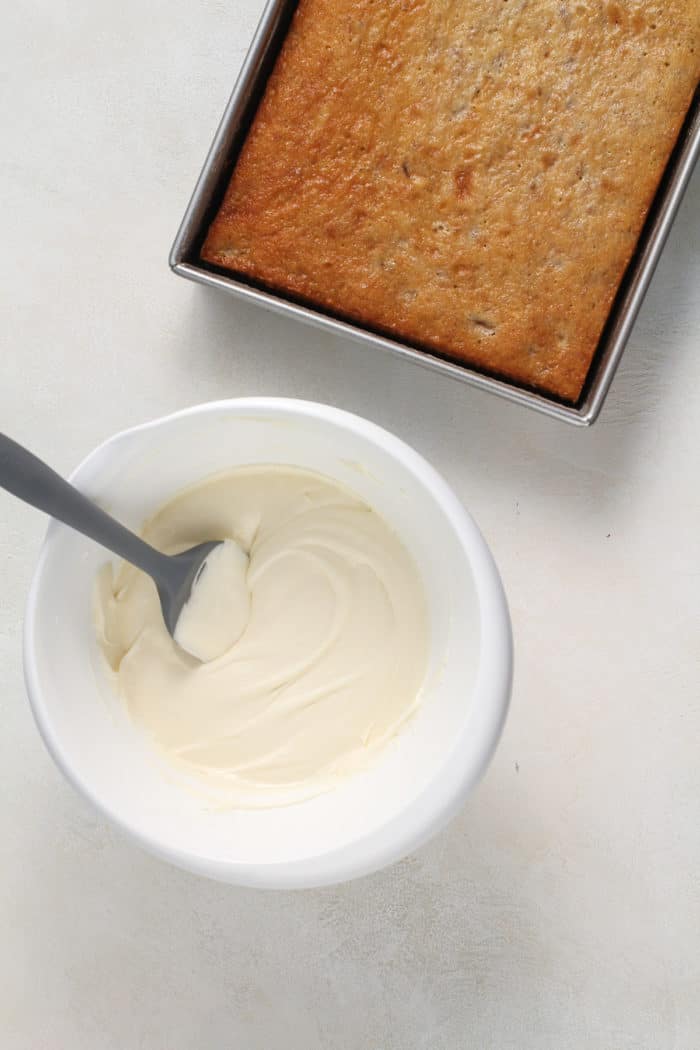 MORE BANANA CAKE RECIPES
If you, like me, are always looking for ways to use up bananas that have gone way past their prime, I've got some more great banana cake recipes for you to check out: