Looking for a cake version of your favorite pudding? Look no further than this Banana Pudding Poke Cake! This easy recipe combines yellow cake with bananas and vanilla pudding – you'll definitely want a second slice of this dessert!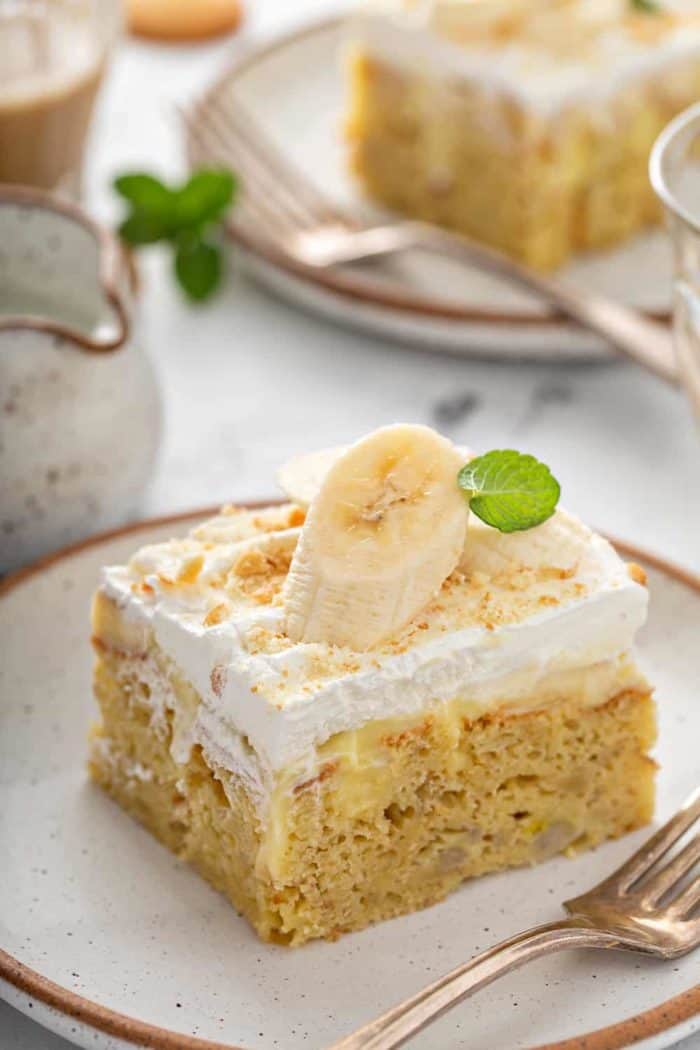 I don't know about you guys, but this time change is hitting me hard.
Instead of losing a simple hour on the clock, I feel like I lost no less than 3 days. Okay, that may be a little bit of an exaggeration, but this girl is tired. However, I do have to say that I am loving the extra daylight in the evening even if the weather here is super cold, rainy and windy. Welcome to spring in Ohio.
Even though the first day of spring is still a few days away, we're celebrating with this super simple banana poke cake.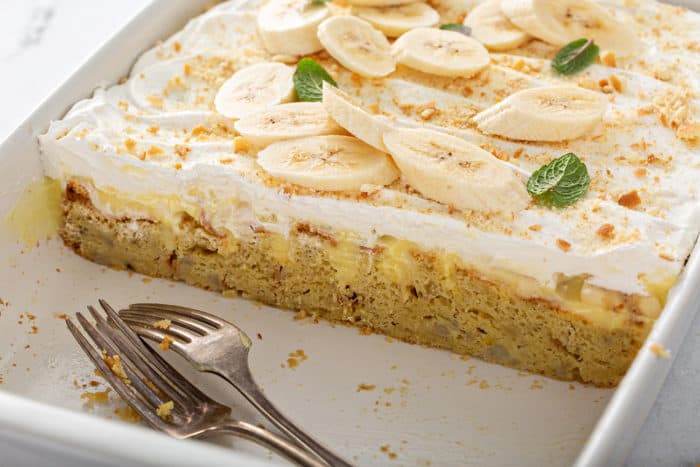 If you grew up eating poke cakes, you're probably already familiar with the concept. If you didn't, you might be wondering, "What the heck is a poke cake?"
A poke cake is exactly what it sounds like: After baking a cake, you poke holes in it and then pour on some kind of topping or filling that adds flavor and moisture.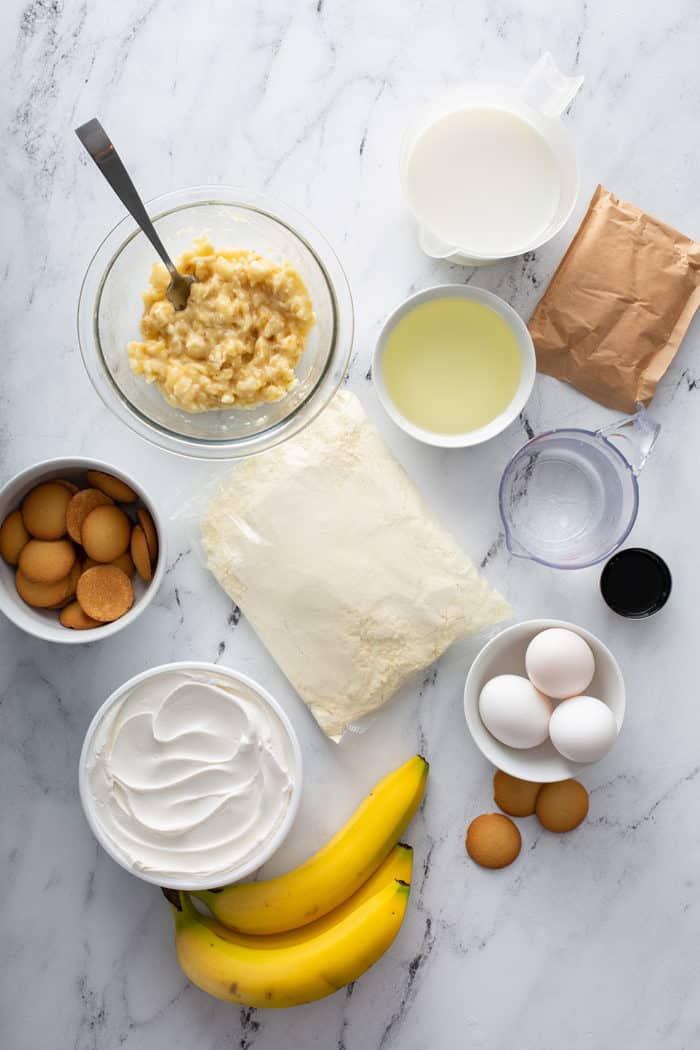 Sometimes it's a liquid, like Strawberry Jell-O Poke Cake. Sometimes it's more of a syrup or sauce, like Caramel Apple Poke Cake. Sometimes it's a pudding, like this Banana Pudding Poke Cake.
Usually the cake is finished off with Cool Whip or homemade whipped cream or even homemade buttercream frosting in some cases.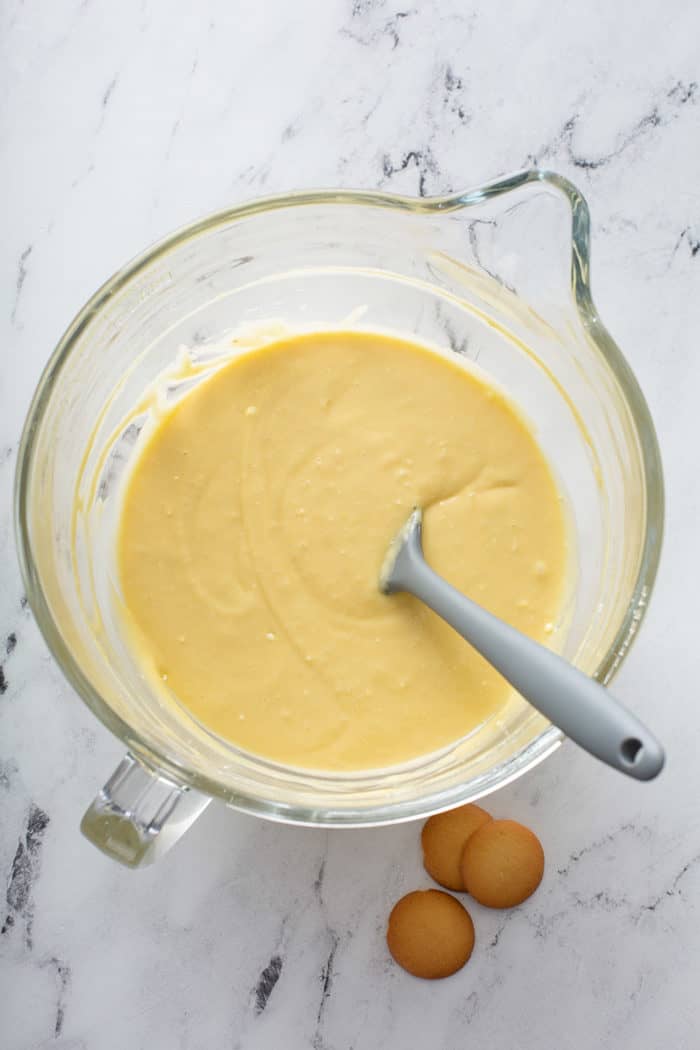 MAKING BANANA PUDDING POKE CAKE
I've seen lots of poke cake recipes that use a from-scratch cake base and all homemade toppings. And I'm sure they're absolutely delicious.
But one of my favorite things about poke cakes is that they are an easy way to doctor up a boxed cake mix and make it feel more special.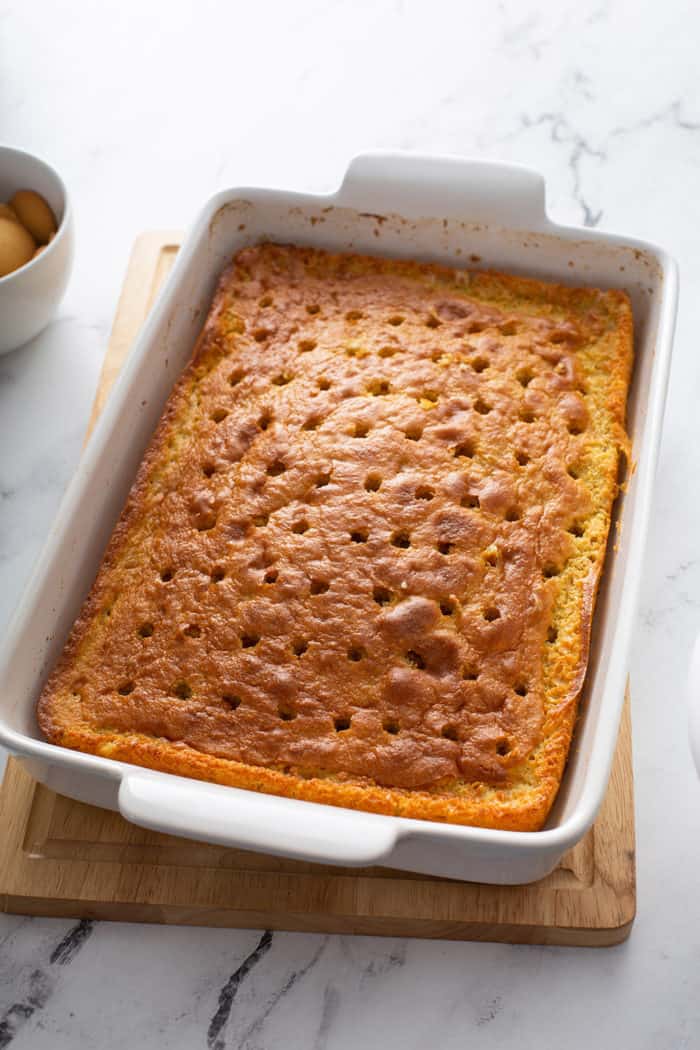 My Banana Pudding Poke Cake uses just a few simple ingredients to make a delicious dessert with all of the flavors of a classic banana pudding:
Yellow cake mix
Water
Vegetable oil
Eggs
Vanilla extract
Bananas
Instant vanilla pudding mix
Milk
Frozen whipped topping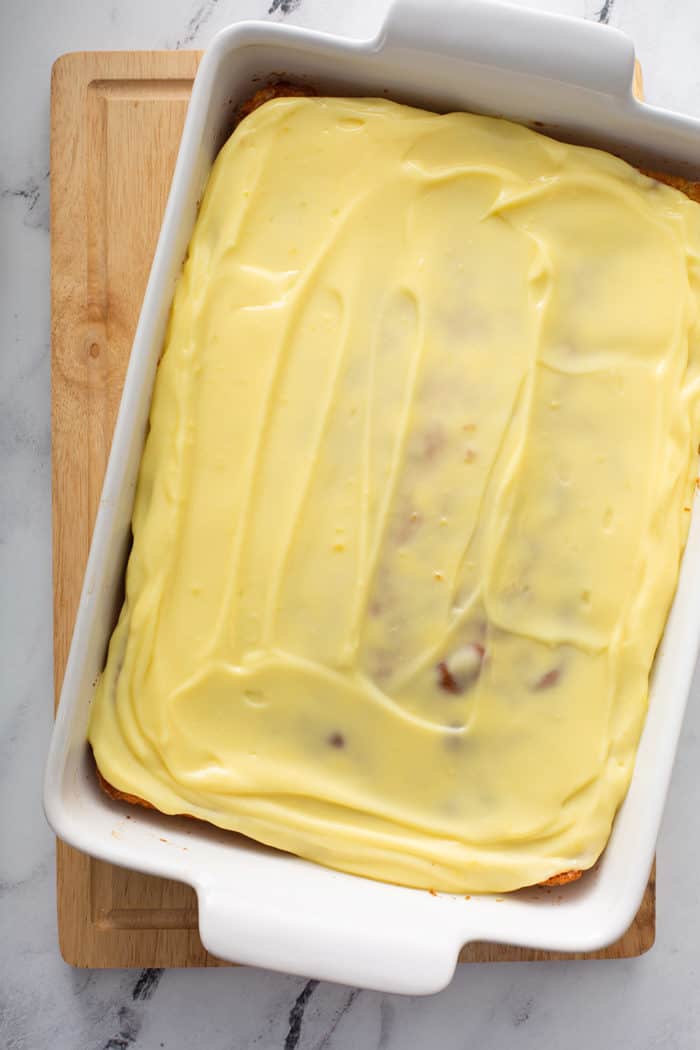 I started by taking a standard yellow cake mix and adding some vanilla and mashed bananas to the standard water, eggs, and oil. After all, why not add some extra banana flavor into the cake itself?
Once the cake comes out of the oven, I let it cool for 10-15 minutes before poking holes in it with the handle of a wooden spoon. Whisk together the vanilla pudding mix with the milk for 2 minutes, then immediately pour it over the cake.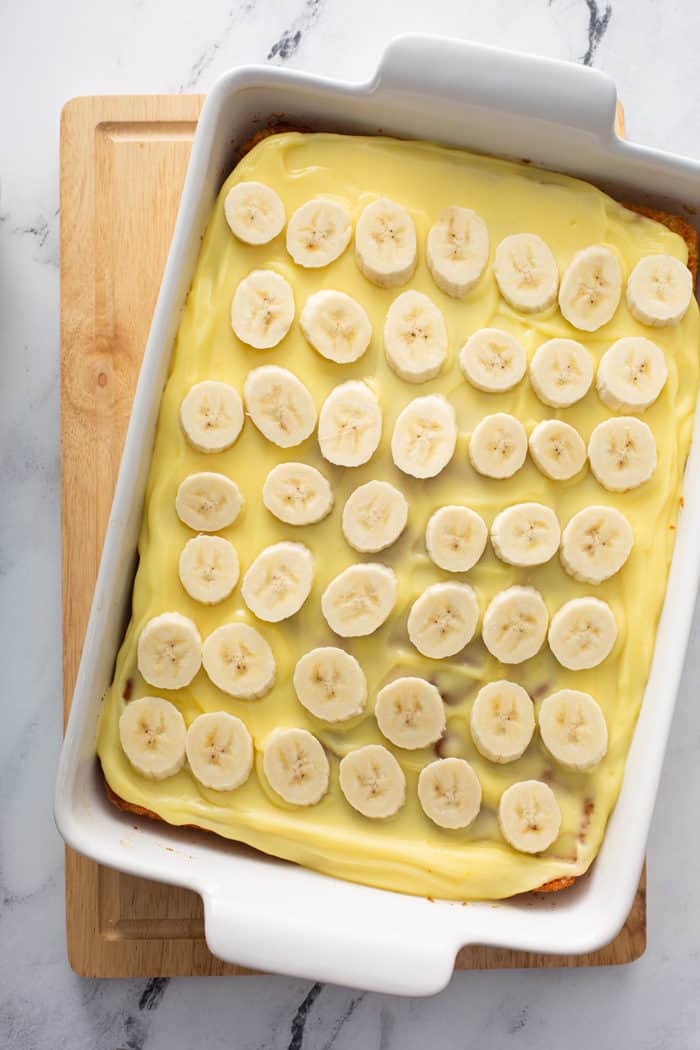 Top the cake with slices of banana and whipped topping, then chill the cake in the refrigerator for at least 2 hours. Overnight is better, though – the flavors are better the longer it chills!
If you'd like, garnish the top of the cake with some Nilla Wafer cookies just before serving. They add a little extra texture and really bring home that banana pudding feel.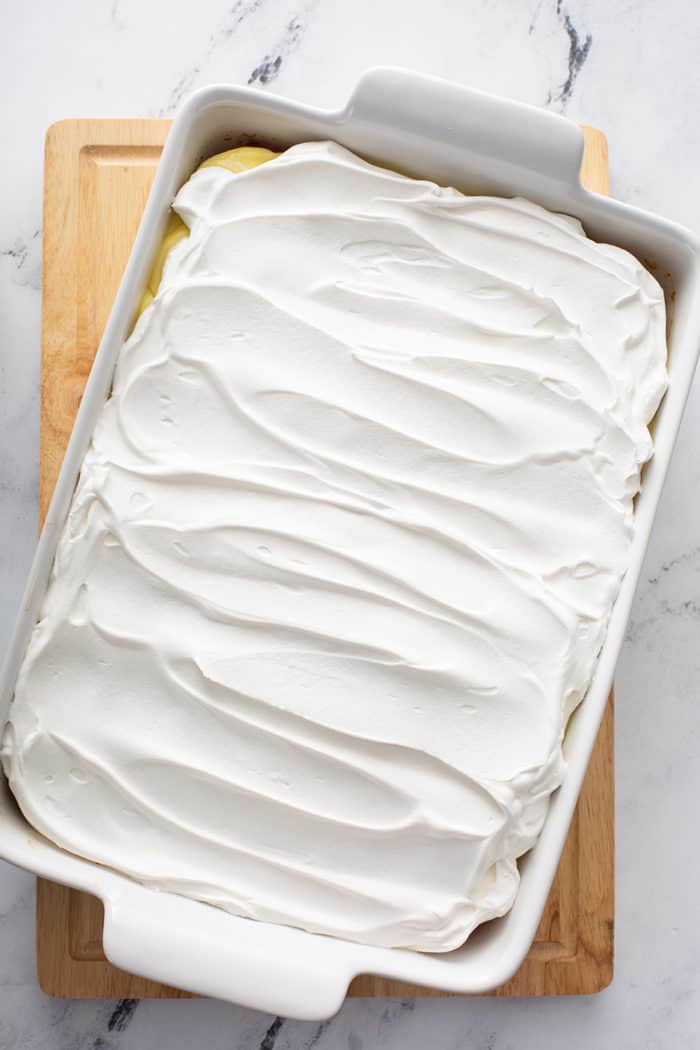 CAN THIS CAKE BE MADE AHEAD?
You might have guessed it already, but one thing I love about poke cakes, including my Banana Pudding Poke Cake, is that they can be made ahead of time.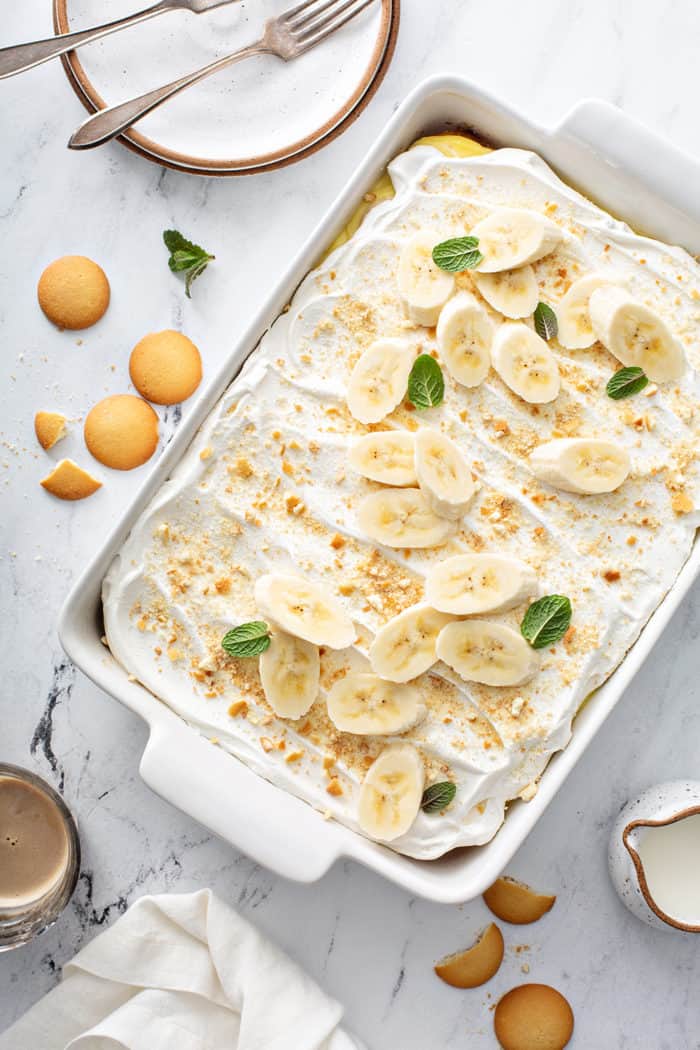 Even though this cake only needs to chill for 2 hours before serving, it tastes best when it rests in the refrigerator overnight. So you really are better off making it the night before you plan to serve it!
It will keep well in the fridge for 2-3 days, so leftovers are definitely encouraged. Just try not to add the Nilla Wafers to the top until just before serving if you want them nice and crunchy, as they'll get soft if they are on the cake for too long.