Apple Crumb Pie, or Dutch Apple Pie, combines flakey pie crust, perfectly spiced apple filling, and a sweet streusel topping for the ultimate fall dessert.
I'm not much of a fruit pie baker, or eater for that matter. If I'm picking out a pie from our local pie bakery, it's usually banana cream or coconut cream.
However, there is one type of fruit pie that ranks right up there with my beloved cream pies and that's an Apple Crumb Pie. Some bakeries around here also refer to them as Dutch Apple Pies, but I'm not sure if that's a regional thing or not.
As I said, I'm not much of fruit pie maker, so I turned to my friend Stephie for a little help with this recipe because pies are totally her thing. And since I love Apple Crumb Pie, I wanted it to be perfect before sharing it here with you!
Serve this Apple Crumb Pie for Sunday dinner, Thanksgiving or whip it up on Tuesday afternoon and serve it all week long – just don't forget the vanilla bean ice cream!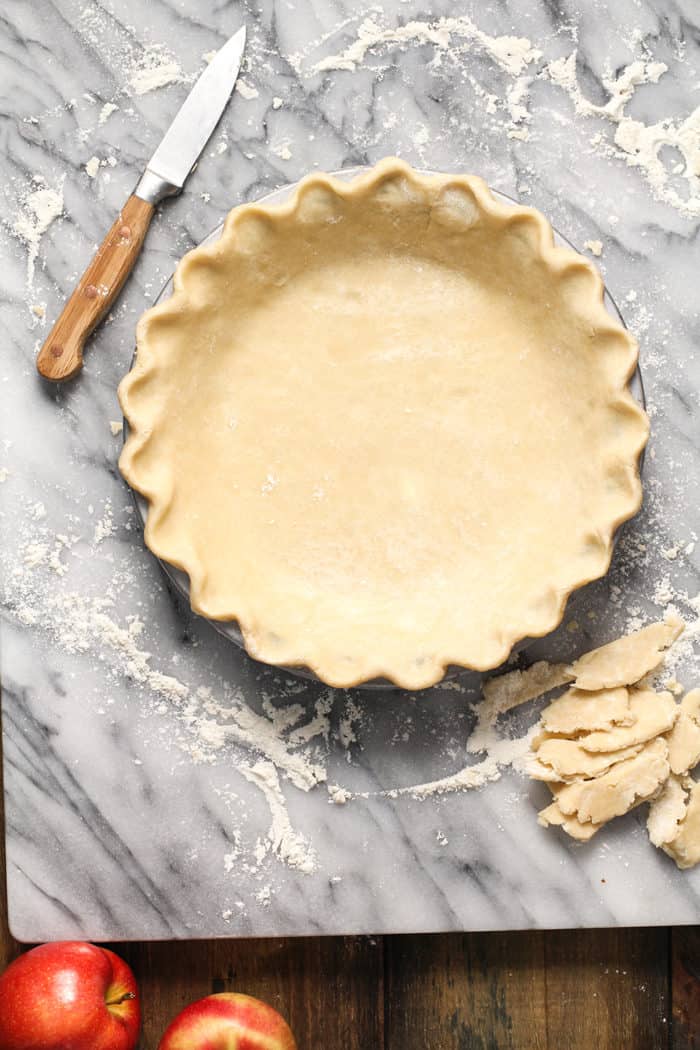 WHAT IS DUTCH APPLE PIE?
If you've ever had an apple pie with a crumb topping instead of a traditional pie crust topping, you've had Dutch apple pie!
That's right, Dutch apple pie and Apple Crumb Pie are pretty much the same. They just mean an apple pie that has been finished with a layer of sweet streusel topping instead of pie crust.
There seems to be some disagreement about where this style of pie originated, but no matter where it came from, I can promise you that the combo of flakey pie crust, tart apples, spices, and sweet crumb topping is out of this world.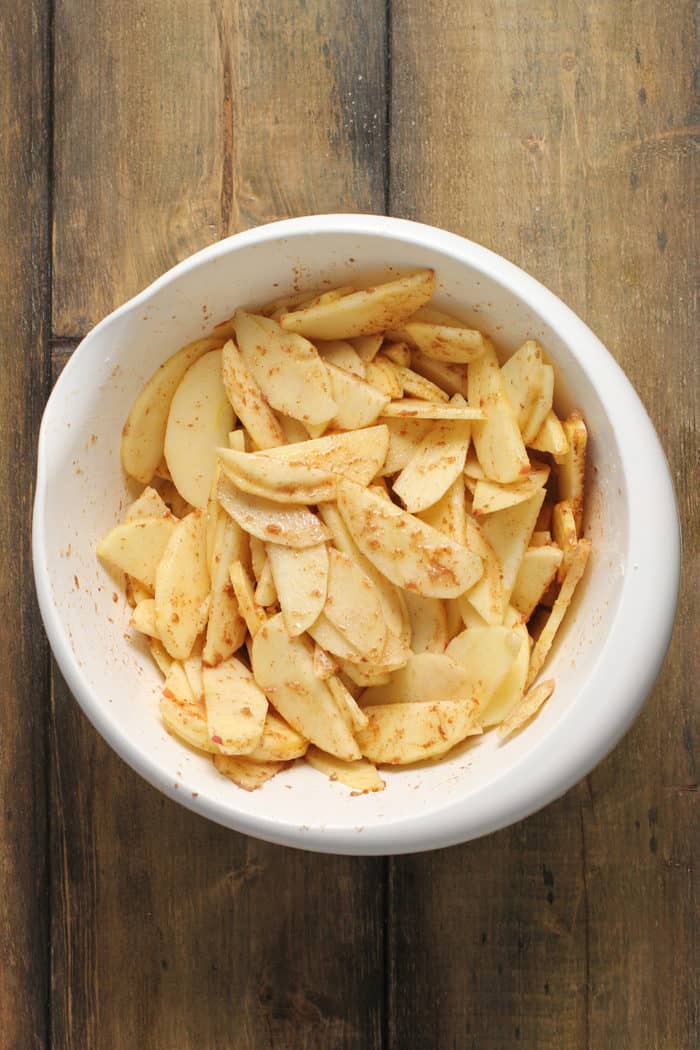 Even though there are a handful of people who love making homemade pie crust, crumb-topped apple pie is a great option for people like me who don't really enjoy working with pie crust.
You can even make a crumble with a bit of savoriness to it, such as Cheddar Crumble Apple Pie.
I personally like adding a few pecans to my Dutch apple pie topping, although you can leave them out if you like.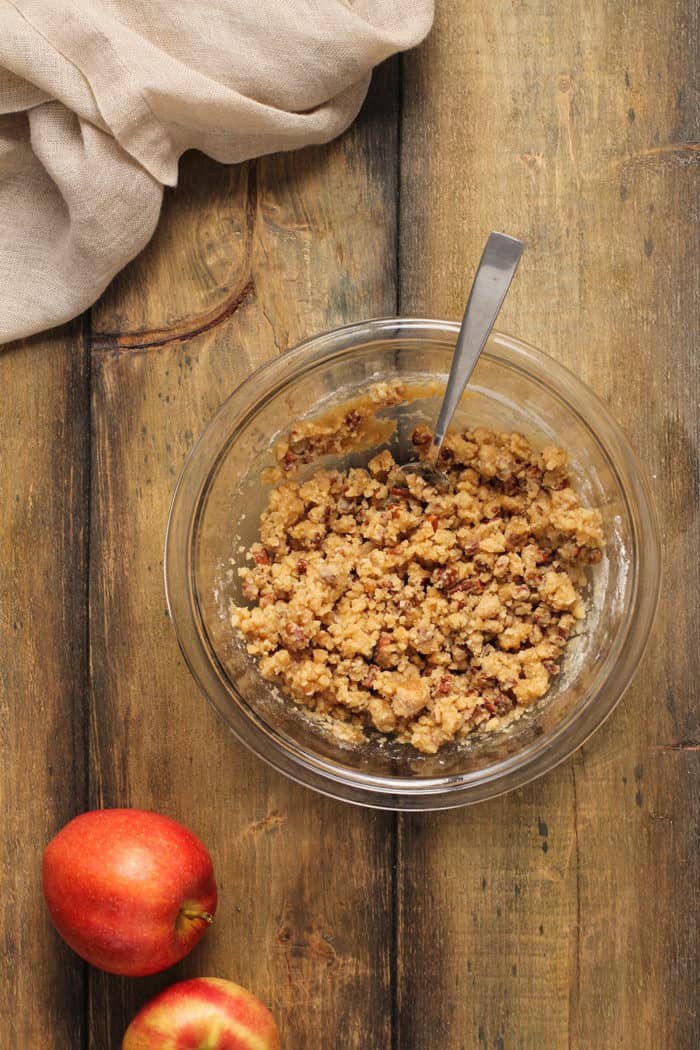 WHAT APPLES ARE BEST FOR PIE?
If you don't bake apple pies often, it might feel overwhelming to know what kinds of apples to pick out at the store.
I used honeycrisp apples to make this pie. To me, they are the perfect mix of crisp, tart, and sweet for a pie like this.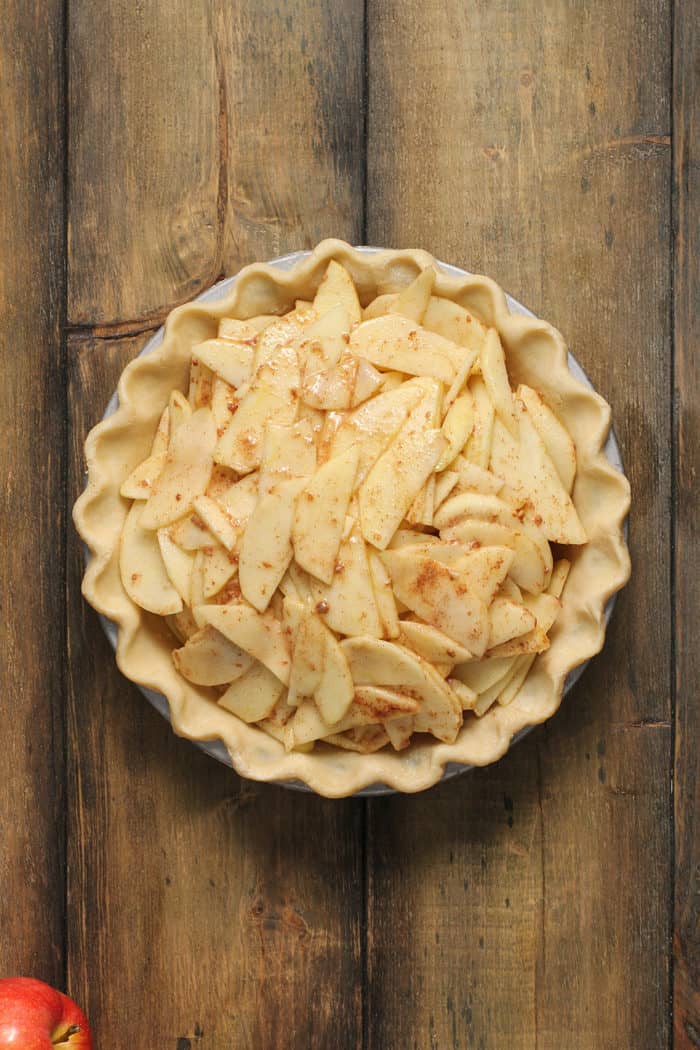 If you can't find honeycrisp apples, you could use a mix of apples, such as Jonathan, Jonagold, Golden Delicious, or Pink Lady.
If you use granny smith apples, I recommend mixing them with another variety such as the ones I just mentioned to help balance out their tart flavor. This Apple Crumb Pie recipe has less sugar in it than something like Old-Fashioned Apple Dumplings, so a slightly sweeter apple or mix of apples is the way to go.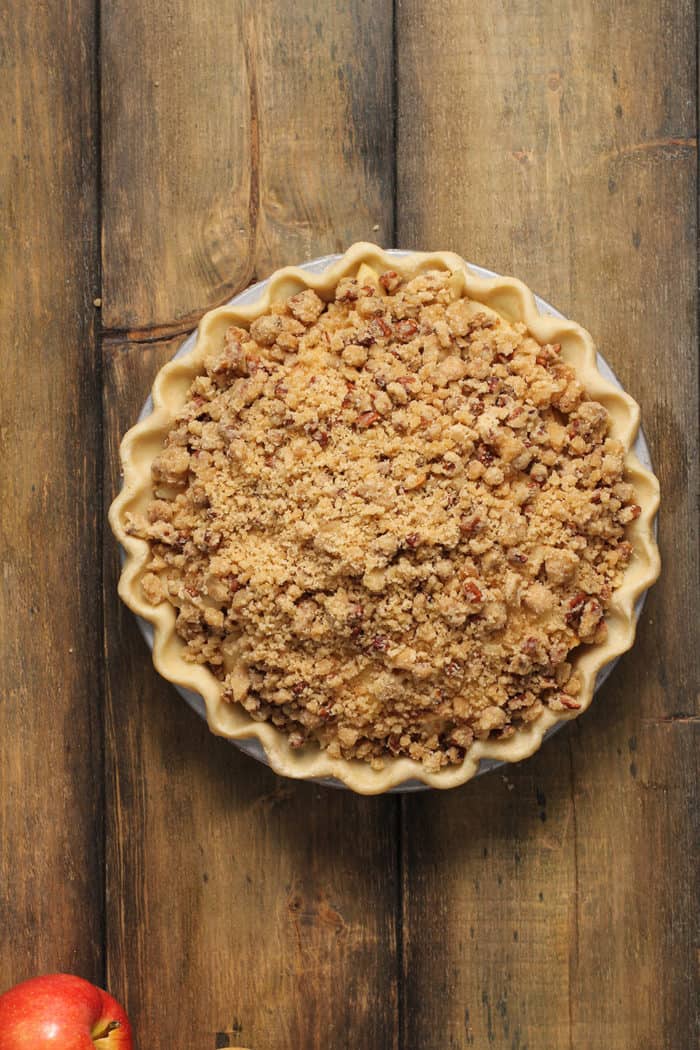 HOW TO MAKE APPLE CRUMB PIE
I'll be honest, I'm a lazy apple pie baker. I don't like having to cook the apple filling before the pie goes in the oven, so I don't!
This also keeps the filling from turning mushy. The apples soften just enough while the pie bakes, but still keep some of their texture. It's the perfect result for me.
Start by placing your pie crust in the bottom of a 9-inch pie plate and crimping the edges. I like to place the crust in the refrigerator while I prepare the filling and crumble so that it doesn't get too warm before baking.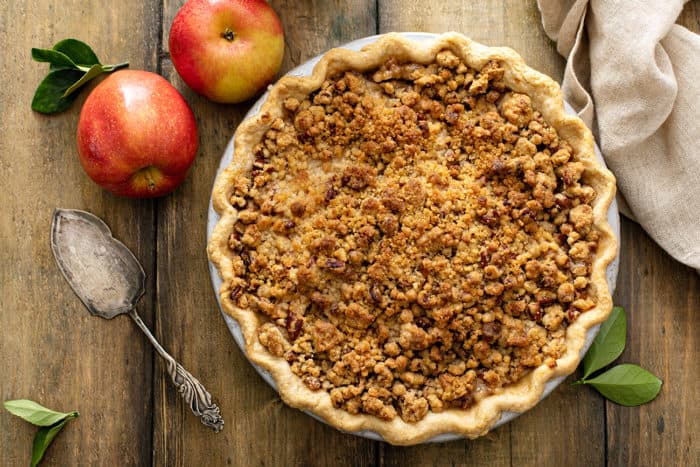 To make the filling, you will need:
6 cups peeled, cored, and thinly sliced apples
⅓ cup granulated sugar
3 tablespoons flour
1 tablespoon lemon juice
1 ½ teaspoons homemade apple pie spice
Toss the sliced apples in a large bowl with the rest of the filling ingredients and set the filling aside while you prepare the crumb topping.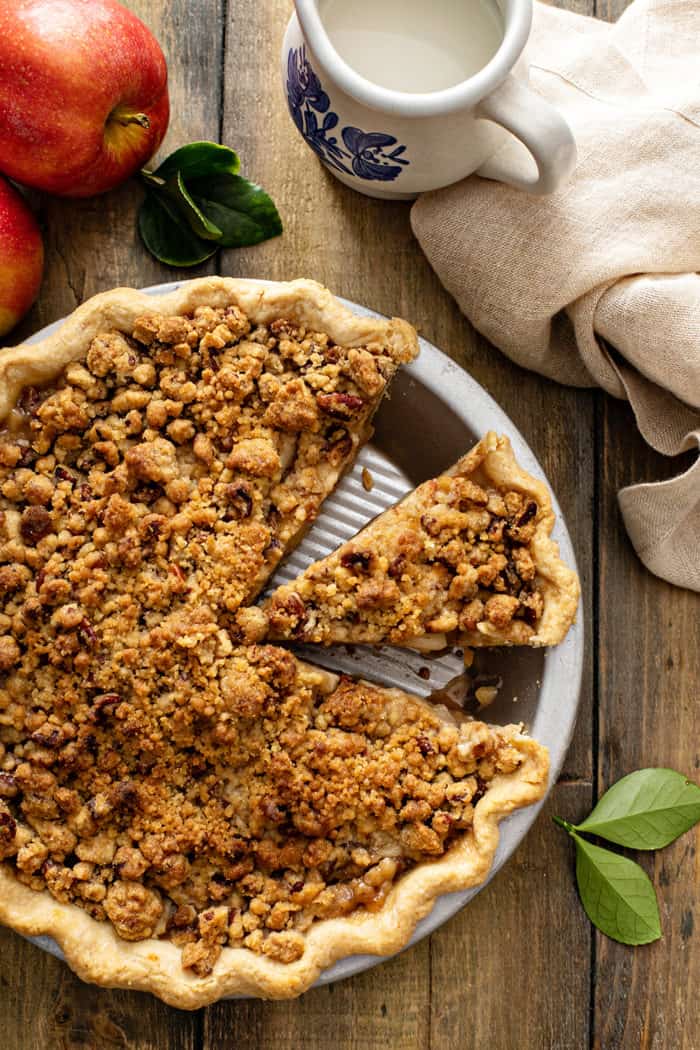 The crumb topping is made up of ingredients you probably already have on hand:
¾ cup flour
½ cup brown sugar
⅓ cup pecan chips
Pinch of salt
5 tablespoons unsalted butter, melted
Simply stir together the flour, brown sugar, pecan chips, and salt, then drizzle in the melted butter. As you stir the mixture together, it will create crumbs.
Assemble the pie by gently adding the filling to the prepared crust and sprinkling the crumb topping over the top. Place the pie on a rimmed baking sheet, just in case any of the juices bubble over in the oven, and bake the pie for about an hour.
You'll know the pie is done when the crust and crumble are golden brown, the juices are bubbling at the edges, and the apples are tender. If the crust or crumble start to brown too much before the apples are tender, cover the edges with foil or tent the top loosely with foil to keep the pie from getting too dark.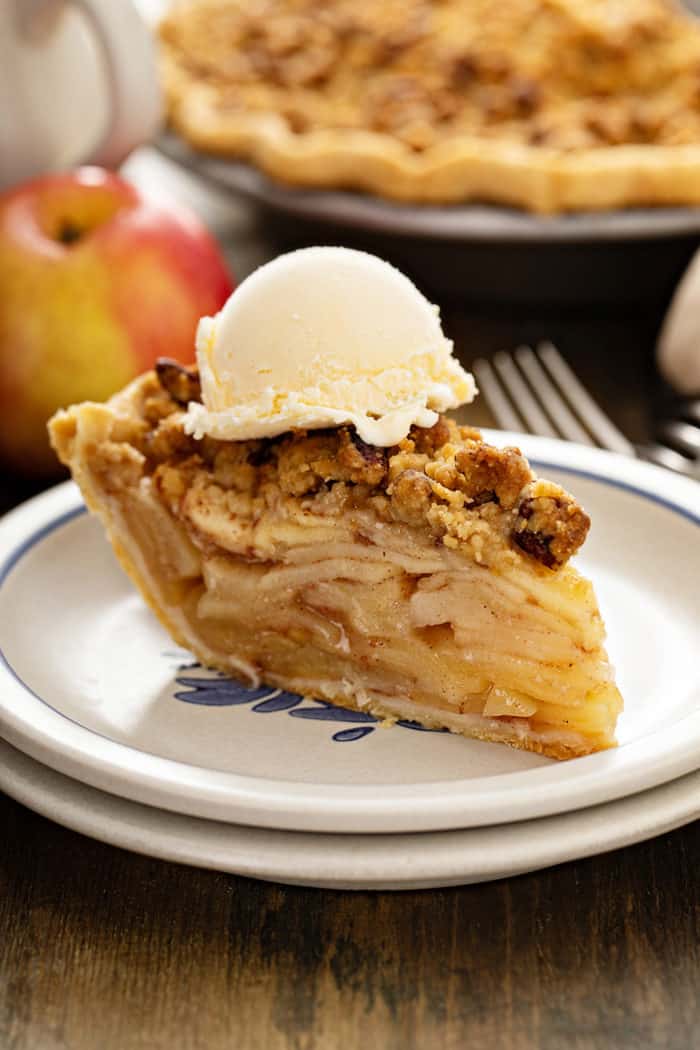 STORAGE TIPS
You can store your Apple Crumb Pie, covered, at room temperature for up to 2 days. I like to keep mine in a pie keeper once it has cooled completely.
You can stretch the pie's shelf life by another 2-3 days by storing it in the refrigerator.
Keep in mind that the crust and crumble will soften the older the pie gets, so I recommend making Apple Crumb Pie the night before or morning of when you plan to serve it.