This Slow Cooker Beef and Barley Stew is the ideal winter comfort food. This thick, hearty stew is full of beef, root vegetables, barley and Guinness beer for maximum flavor with minimum effort.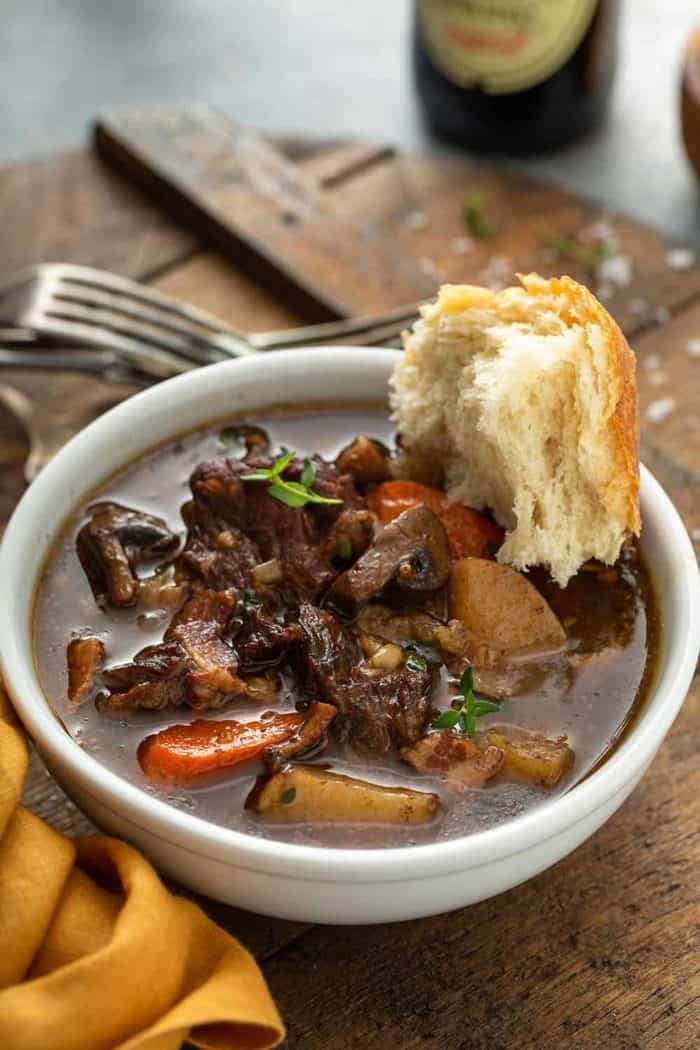 Here in the Midwest, we are in the thick of winter. It's not unusual to get an ice storm one day followed by a few inches of snow the next day.
What a joy. (Can you feel me rolling my eyes when I say that?)
But when the weather is cold and messy and unpredictable, I very predictably want to cozy up with a warm bowl of soup or stew.
My favorite right now? This super hearty Slow Cooker Beef and Barley Stew.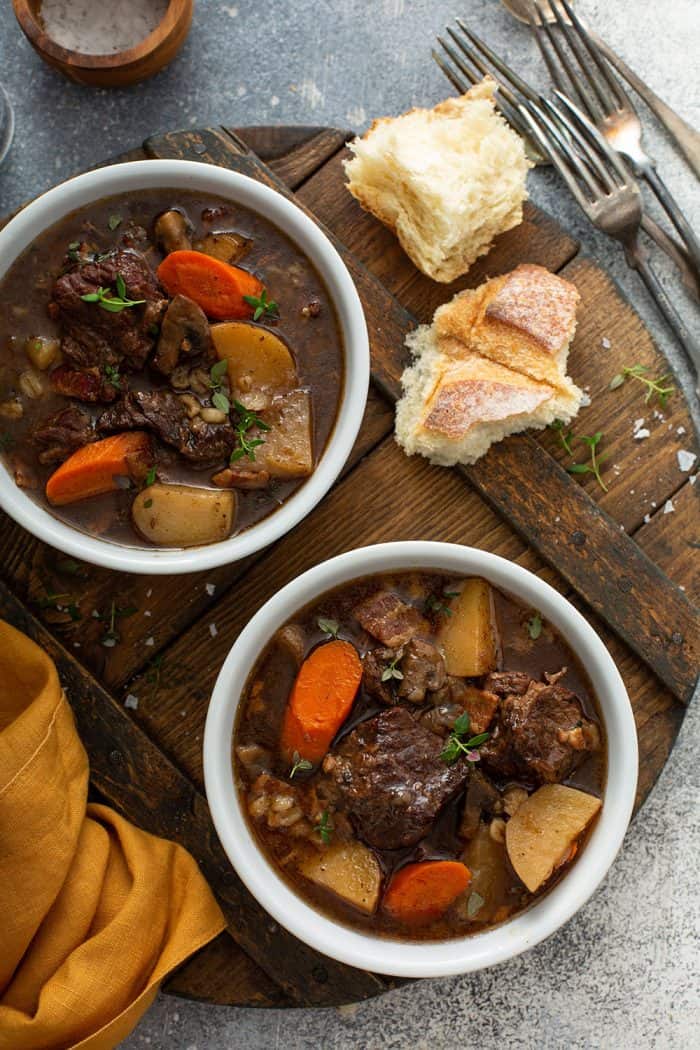 HEARTY BEEF AND BARLEY STEW
Are you more of a soup or stew person?
I love both, don't get me wrong. A bowl of Broccoli & Cheese Soup is one of my favorite things.
But one of the downsides to soup is that it isn't always super filling. I usually have to serve it alongside a salad (preferably topped with homemade blue cheese dressing) and beer bread or Bisquick biscuits in order to make it a full dinner.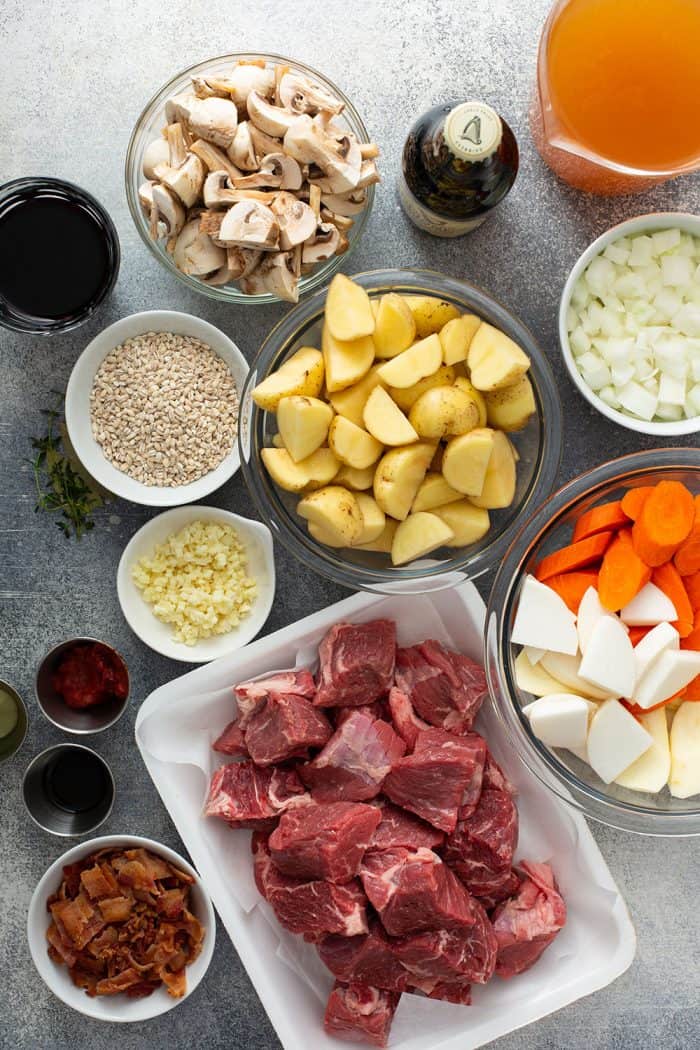 Stews, on the other hand, actually tend to keep me fuller longer.
Like this Slow Cooker Beef and Barley Stew. If I forget to buy or bake a loaf of bread to serve with it, I don't stress about it because it's so hearty.
I loaded this stew up with big chunks of beef stew meat, mushrooms, potatoes, my favorite root vegetables, and barley. Then I cooked everything in a combination of beef stock, red wine, and Guinness.
The result is a thick beef stew with tons of flavor. But since I make it in the slow cooker, it's actually really easy to prepare.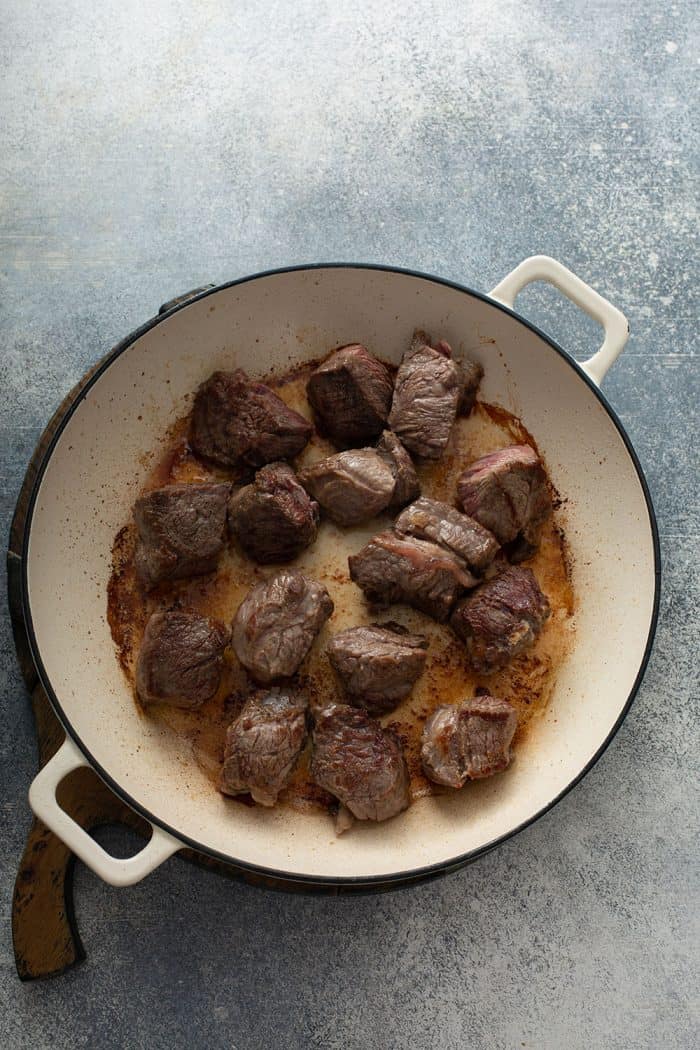 HOW TO MAKE THIS STEW IN THE SLOW COOKER
This recipe has a longer ingredient list, but it can be divided into two groups: meats and veggies, and liquids and seasonings.
On the meats and veggies team, you'll need:
2-3lb beef chuck roast or stew meat, cut into 1-inch cubes
1 large onion, chopped
6 cloves of garlic, minced or grated
4-6 slices thick-cut bacon, cooked and chopped
1 8oz package whole cremini or white mushrooms, stemmed and quartered (optional)
1.5 lb petite Yukon gold potatoes, quartered
4 cups assorted root vegetables, peeled and cut into ½-inch pieces (ex: Carrots, parsnips, turnips, celery, rutabaga)
2/3 cup pearled barley or farro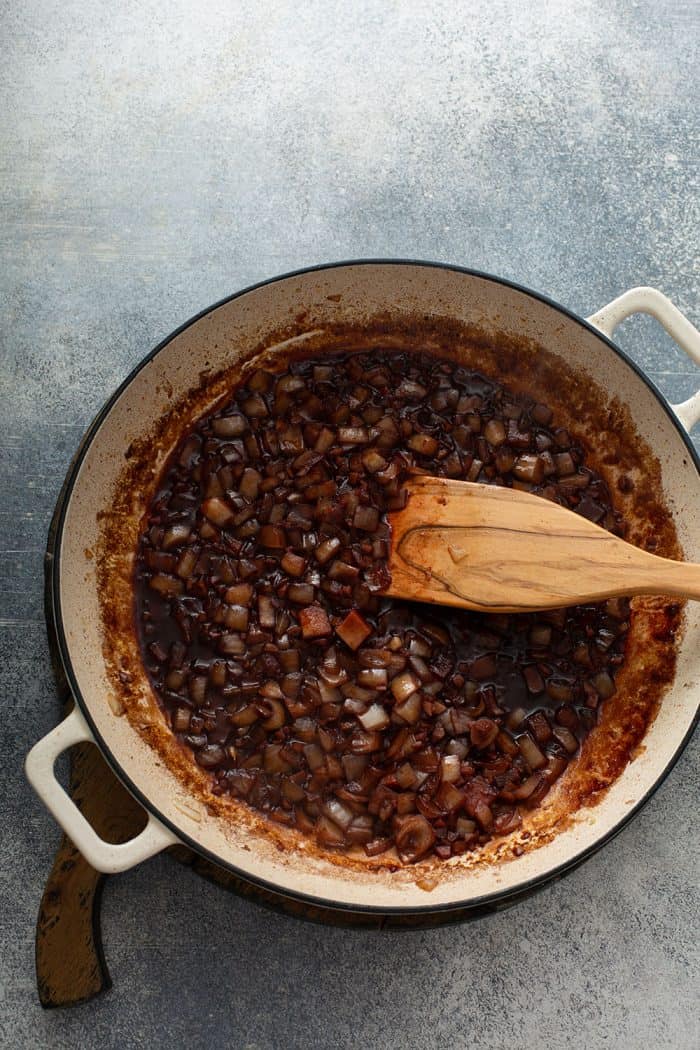 Our favorite root veggies to use in this recipe are carrots and parsnips, but you can use whatever you like or have on hand. I also usually make this stew with barley, but have also used farro and it is also delicious.
The liquids and seasonings you'll need are:
1 cup dry red wine
2 tablespoons tomato paste
4 cups reduced sodium beef stock
1 (12oz) can or bottle Guinness extra stout or dark stout beer
2 tablespoons Worcestershire sauce
2 bay leaves
2-3 sprigs of thyme or 2 teaspoons dried thyme
Salt and pepper to taste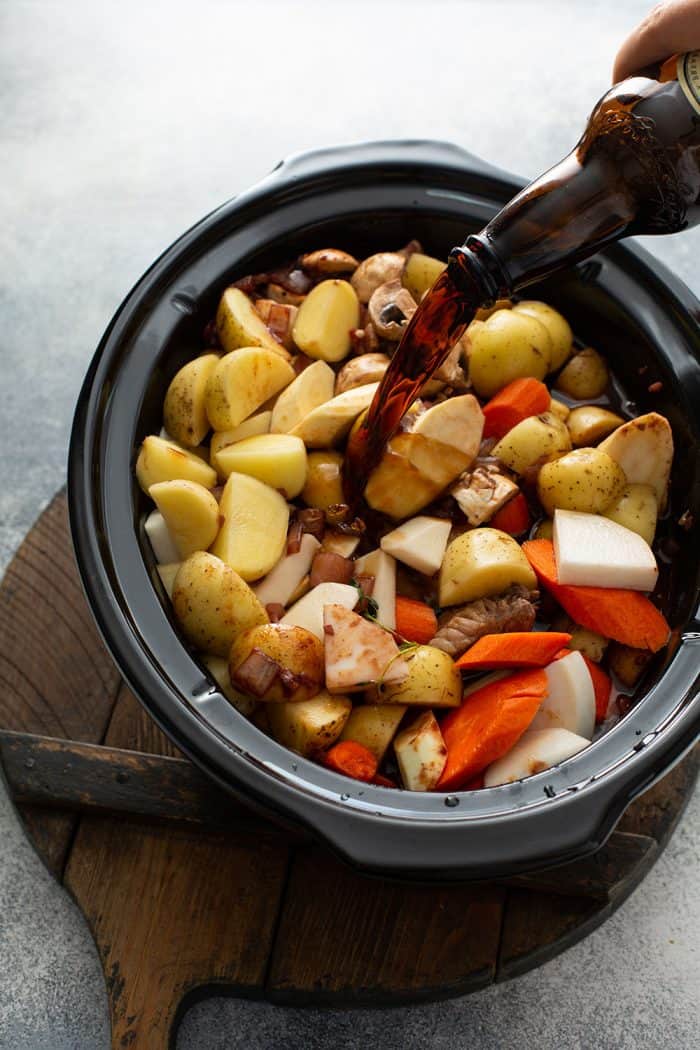 If you really aren't a fan of stout beer, you can use extra beef stock in its place. But I promise that you'll miss out on the flavor the beer adds – and it doesn't make the stew taste like beer at all!
To make this stew, start by seasoning the beef liberally with salt and pepper and searing it in a heavy-bottomed pan. Once all sides of the beef are browned, add the beef to your slow cooker and saute the onions and garlic in the still-hot pan.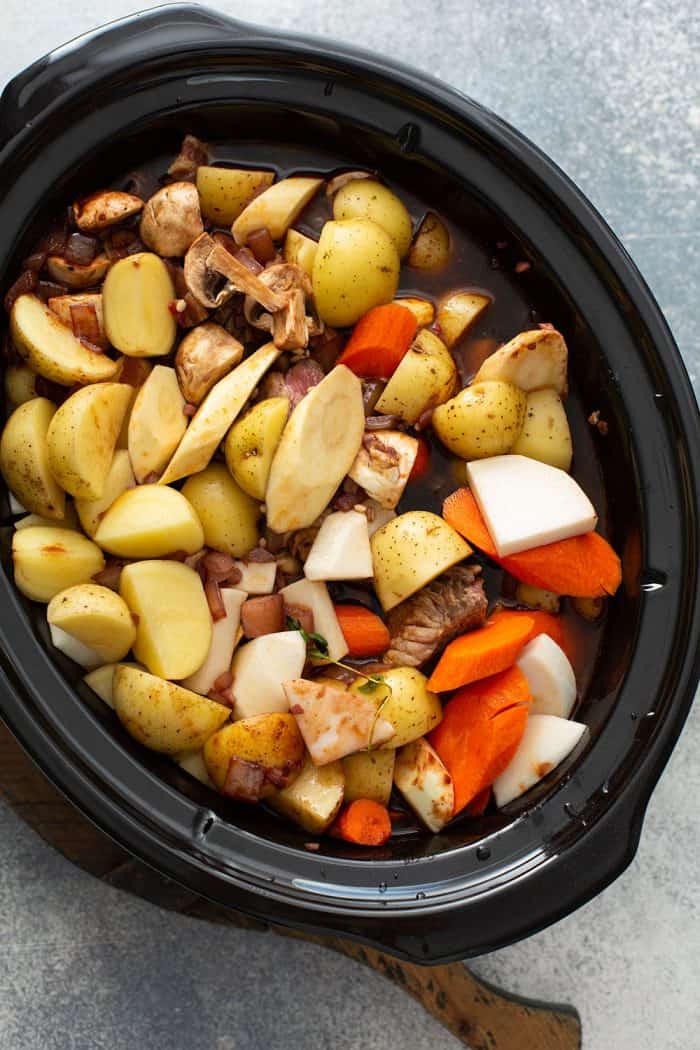 Deglaze the pan with the wine and tomato paste, then add the cooked onions, garlic, and all of the liquid to the slow cooker.
Add the rest of the ingredients to the slow cooker. Cook on low heat for 8 hours.
Before serving, give it a taste and season with additional salt and pepper as needed.
And that's it! You might think browning the beef and deglazing the pan is unnecessary, but it really does add so much extra flavor to the final stew.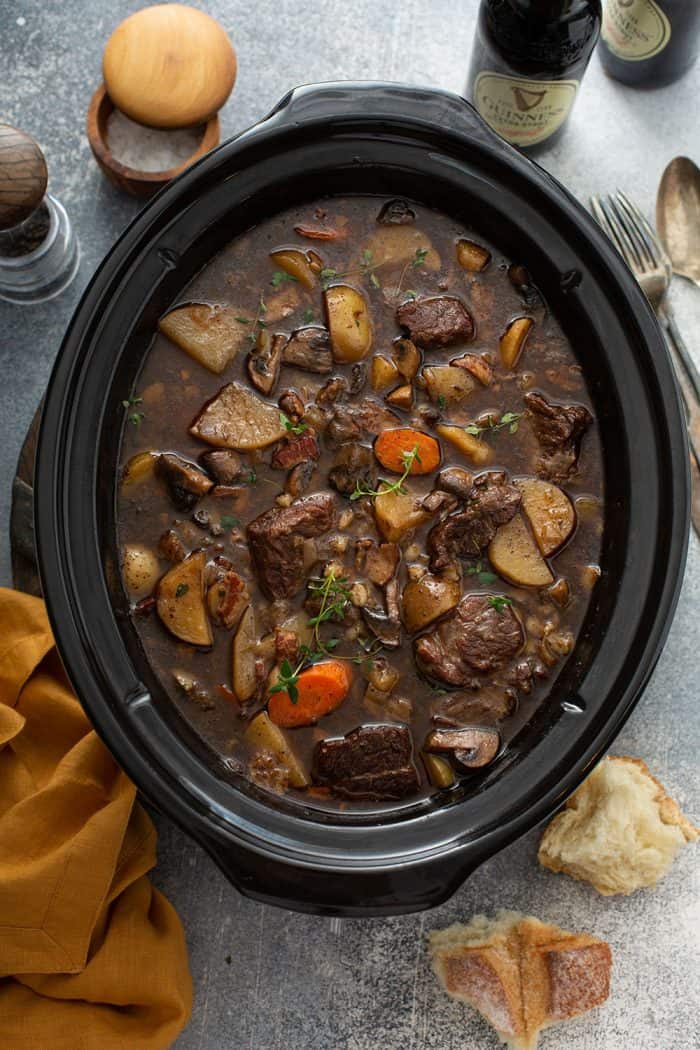 MORE HEARTY SOUPS AND STEWS FOR WINTER
The only real resolution I'm here for right now is filling my life with more comforting foods. If that means making more hearty soups and stews until the weather warms up, then that's what I'll do.
Check out these six soup and stew recipes. They're recipes you'll definitely want to add to your upcoming dinner menu!