Broccoli & Cheese Soup is a family favorite! This cheesy soup is easy enough to make on a weeknight and goes great with a loaf of crusty bread.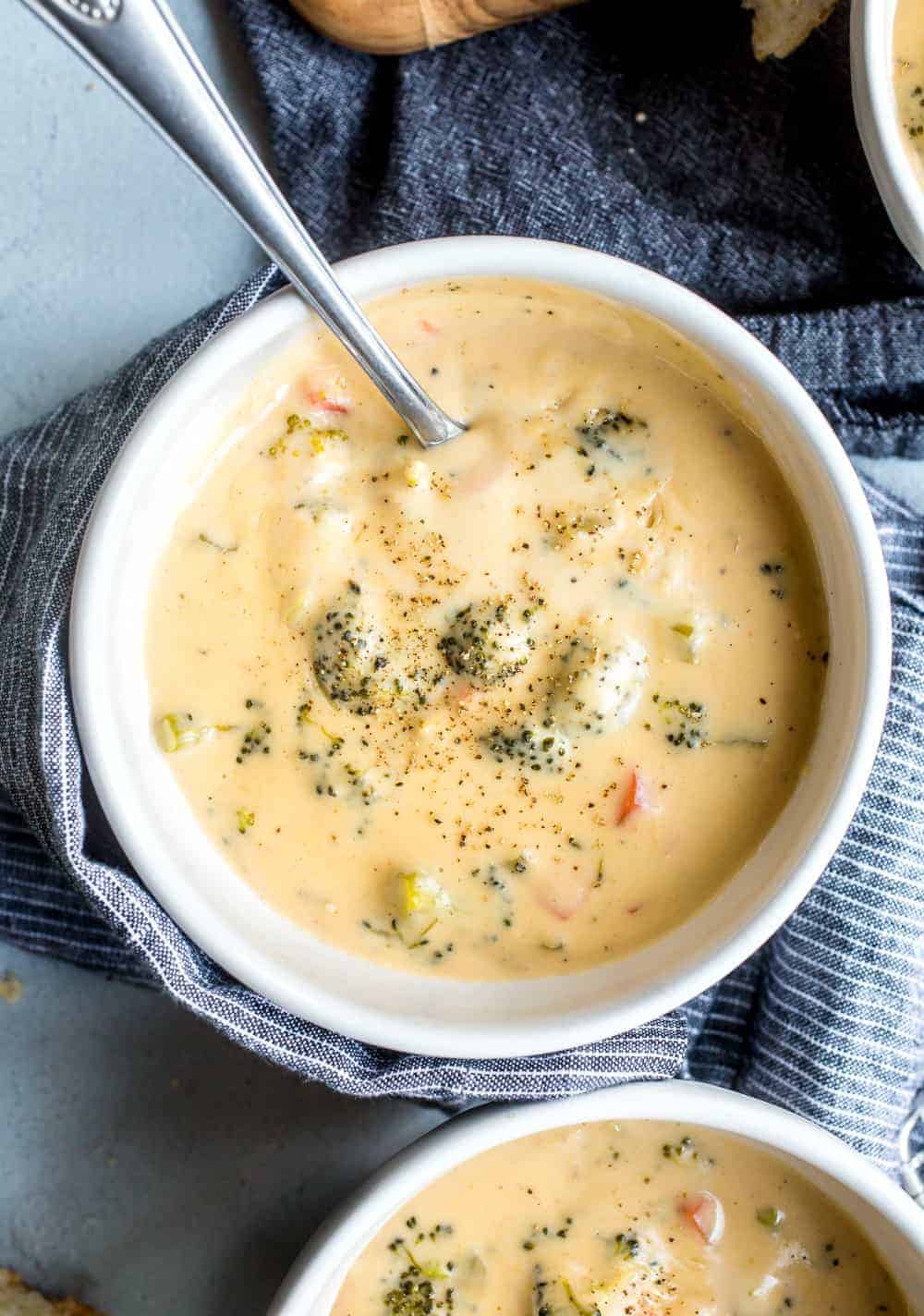 It's still plenty chilly here in Ohio right now, and that's making me want all the cozy food possible. Soups are my go-to favorite in weather like this because they can simmer away on the stove all day, keeping warm and developing flavor.
Creamy soups are top notch in weather like this. Especially when you're offering up something as hearty as Broccoli & Cheese Soup. It'll keep you warm all day and content besides.
Whip up a loaf of crusty bread, or grab one from Trader Joe's. I love the little demi-baguettes they have. Perfect for just one meal!
This soup is simple, creamy, and I promise it'll please a crowd. You can even make it for a big family get-together, though it's perfect on a regular weeknight too.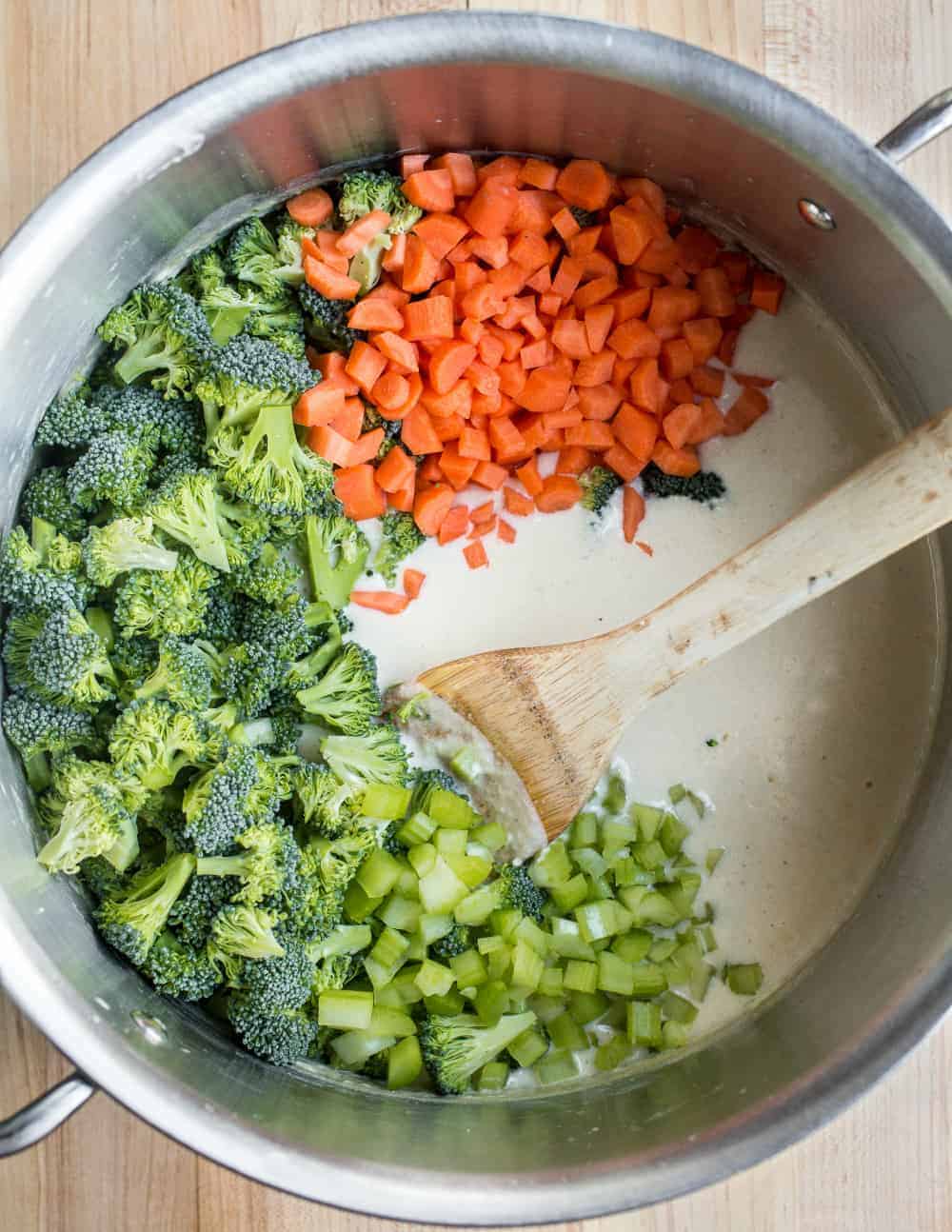 BROCCOLI AND CHEESE SOUP WITH VELVEETA
Look, I'm going to get this out of the way upfront: My Broccoli and Cheese Soup uses Velveeta.
I know that Velveeta is a controversial ingredient. I mean, I have no real problem using it every once in a while and even I will admit that it is definitely not cheese.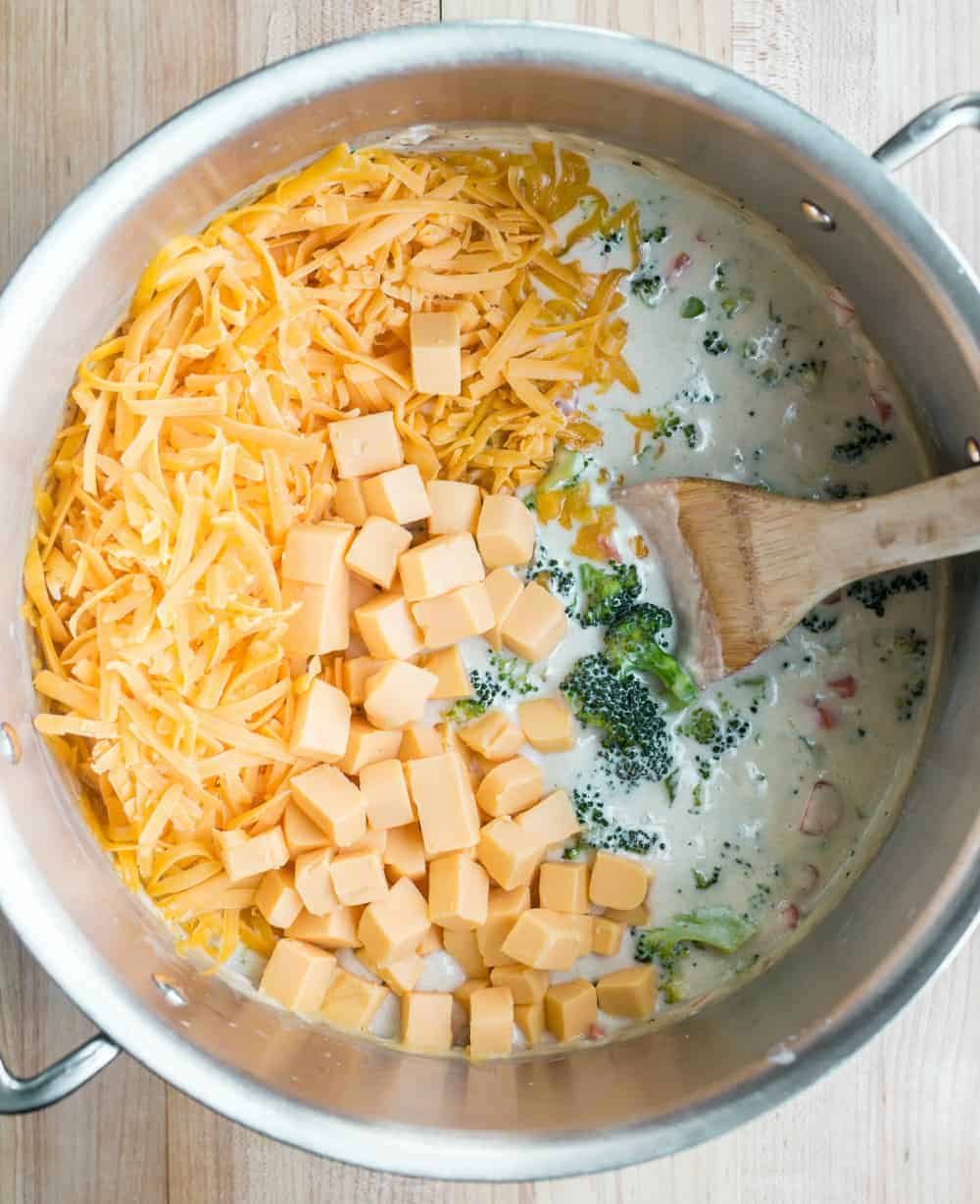 But it really is the secret ingredient in so many dishes, including Chicken Spaghetti and Rotel Dip.
And honestly, I have found that the creamiest, silkiest Broccoli and Cheese Soup has Velveeta in it.
Have you ever had Broccoli and Cheese Soup that was kind of grainy?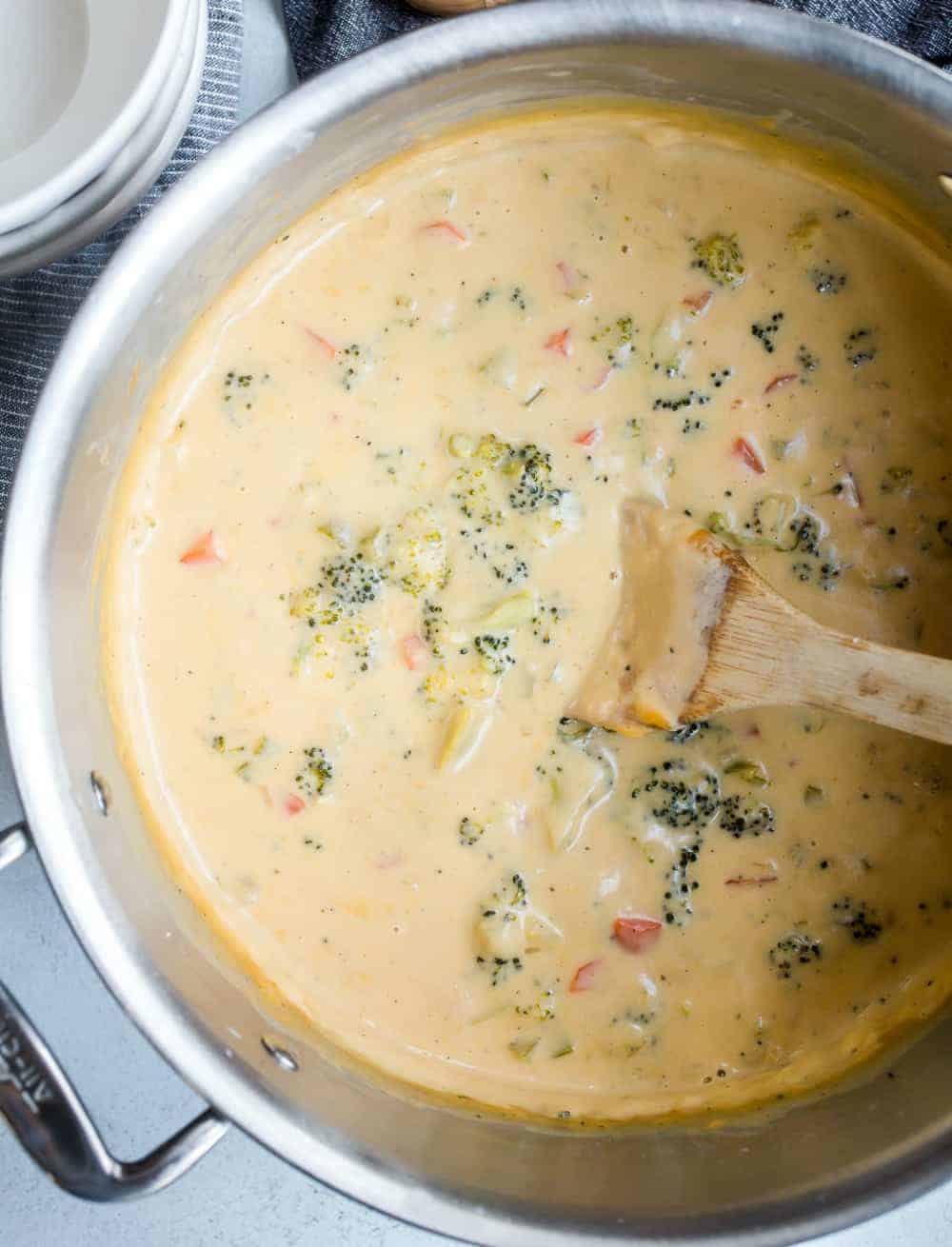 No thanks. I'll take a serving of this smooth-as-silk, cheesy soup instead.
And then I'll make a big pot of my hearty Sausage and Lentil Soup a few days later to balance it out. Life is all about balance, ya know.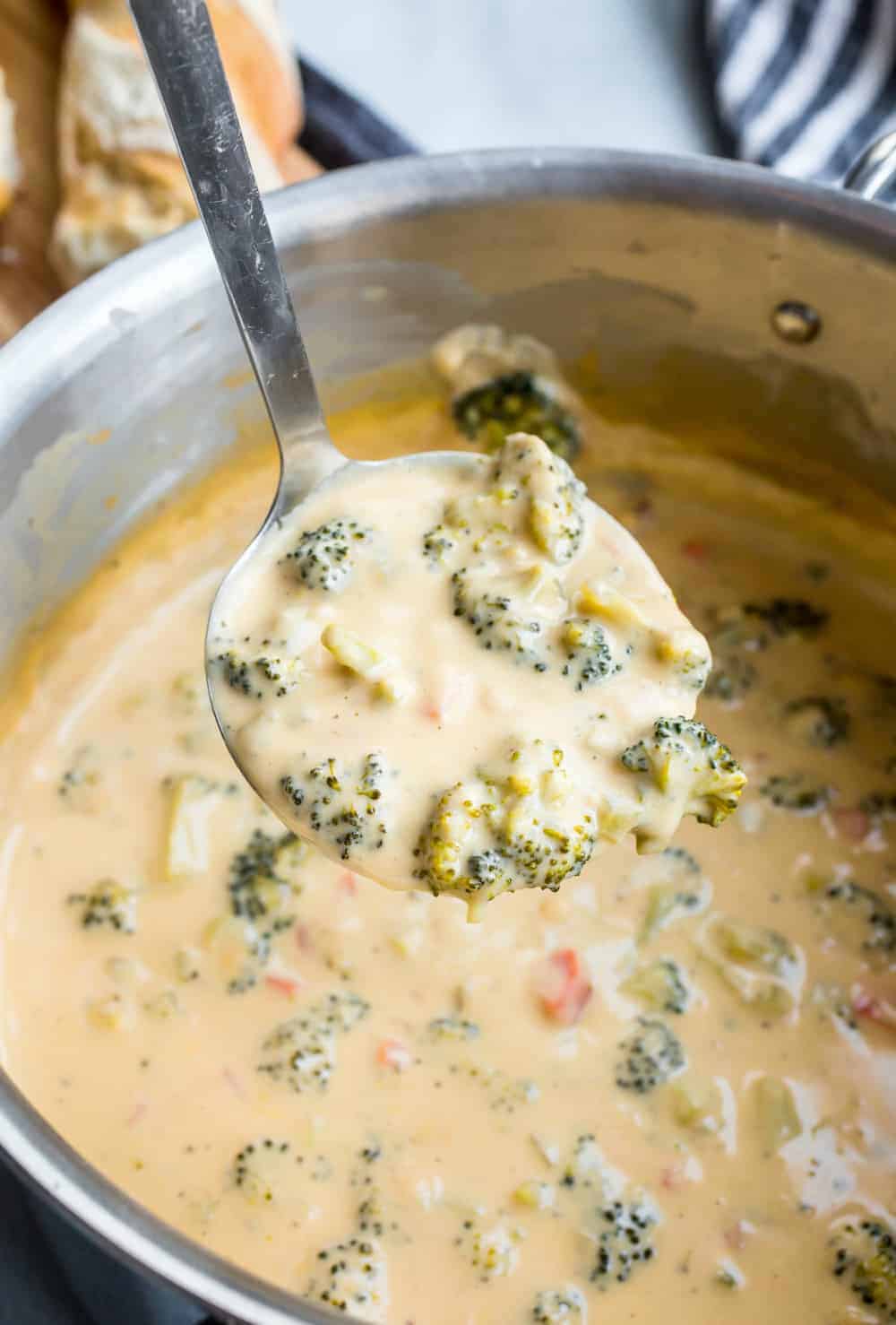 HOW TO MAKE BROCCOLI AND CHEESE SOUP
My Broccoli and Cheese Soup recipe requires a few steps, but none of them are hard.
Start by cooking some diced onion in butter, then whisking in flour to make a roux. This will thicken the soup later.
Slowly whisk in the half-and-half, then the chicken broth. It's important to add the half-and-half slowly, while whisking, so you don't get lumps.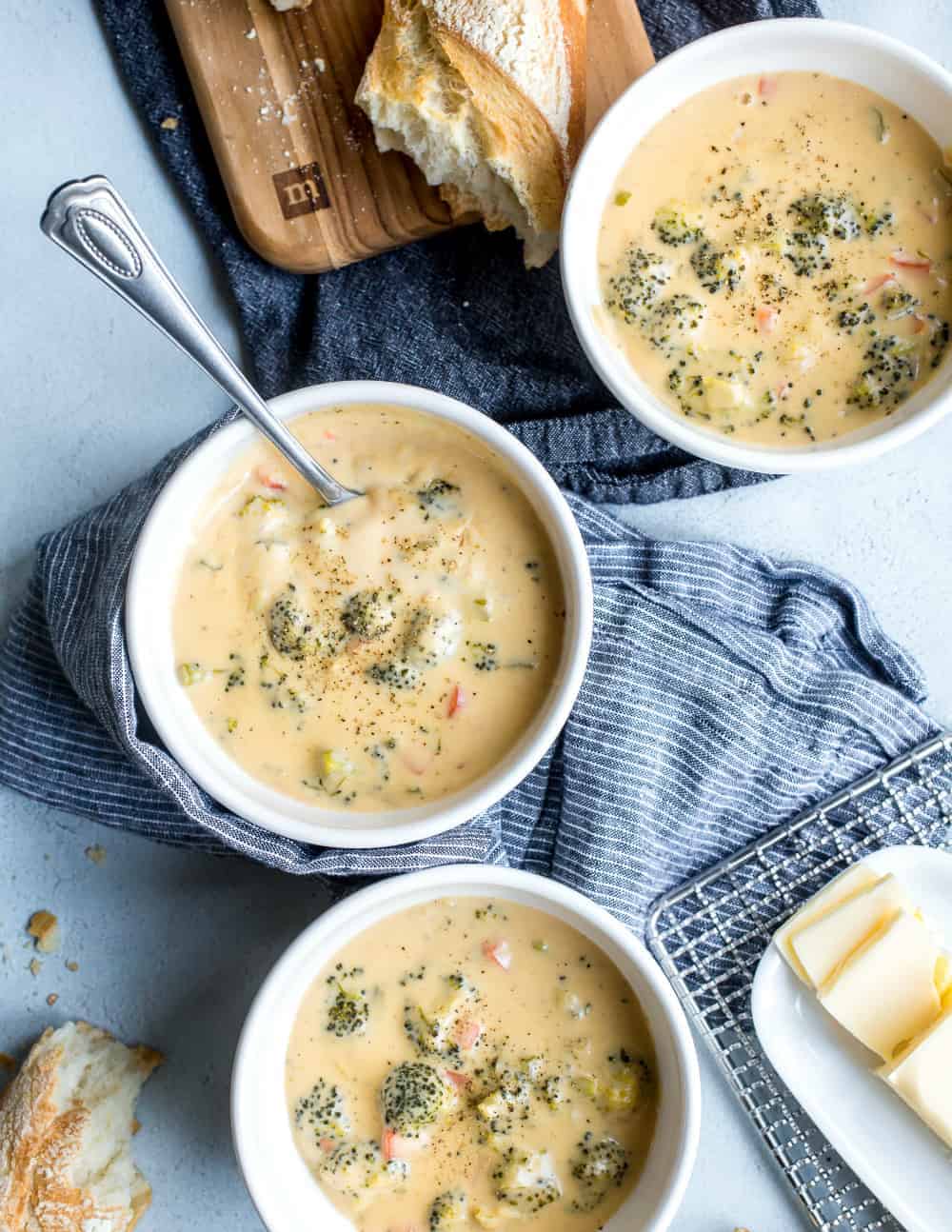 Let everything simmer until it is thickened, then add in the rest of the veggies and let the whole thing cook until they're tender, but still have a bite to them.
No mushy vegetables here, thank you.
Then it's time to add the cheeses and season to taste with salt and pepper.
Serve your soup with Beer Bread, Garlic and Herb Beer Bread Rolls, or even Bacon Cheddar Biscuits.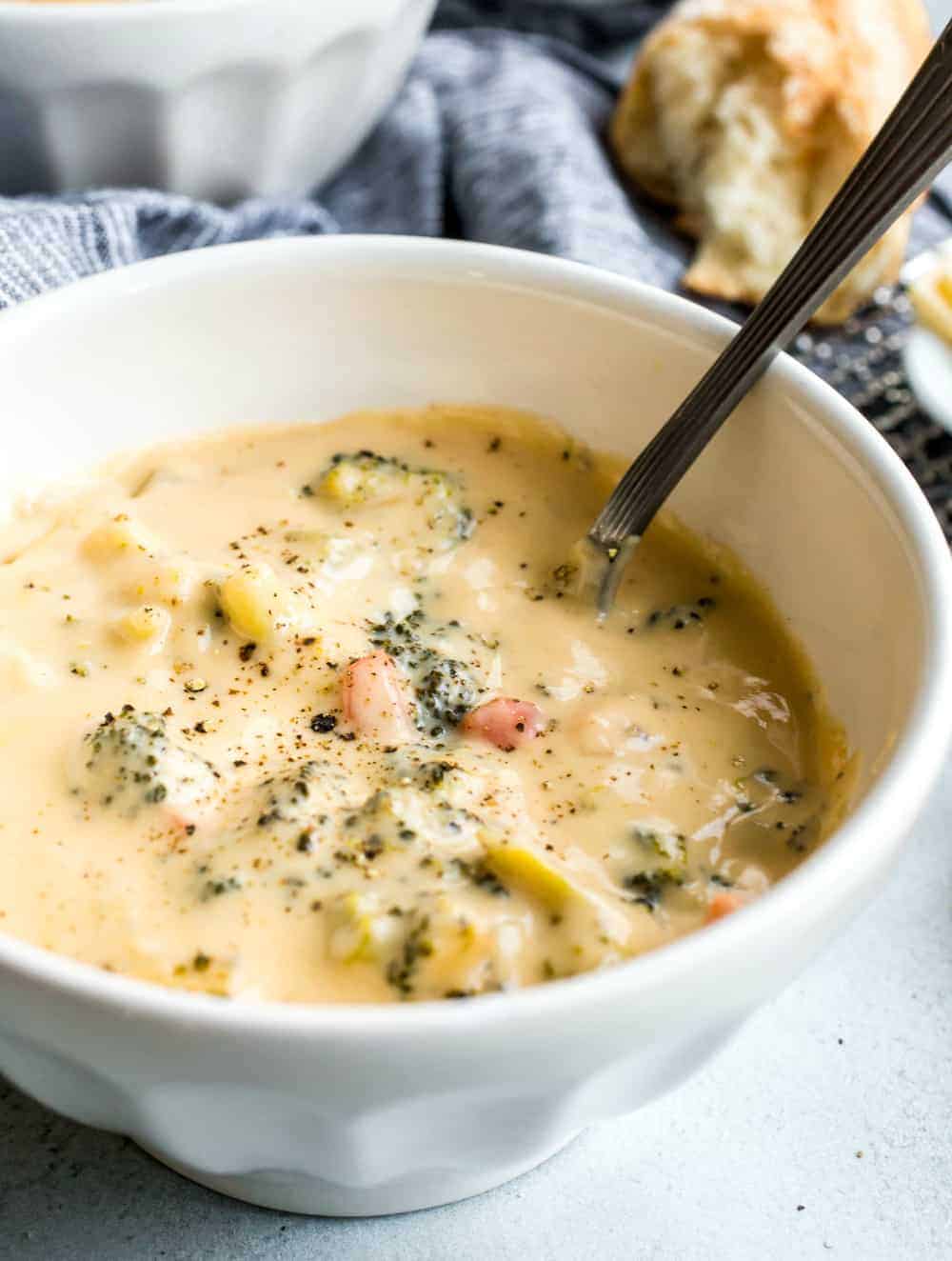 CAN BROCCOLI AND CHEESE SOUP BE FROZEN?
I know that everyone wants to be able to freeze soup leftovers for later, but not all soups freeze well.
This is one of them. Soups with a lot of dairy, such as this one, tend to separate and the texture becomes weird after freezing.
If you are looking for soup recipes to make ahead and store in the freezer, I'd recommend trying Tortilla Soup, Stuffed Pepper Soup, or Easy Chicken Chili.
I hope you enjoy this easy, creamy Broccoli and Cheese Soup as much as my family does. It's one way to make sure everyone enjoys eating their broccoli!