Easy Chicken Chili is so simple! Rotisserie chicken, tomatoes, corn, and beans are simmered with your favorite chili spices for a total win at dinner time.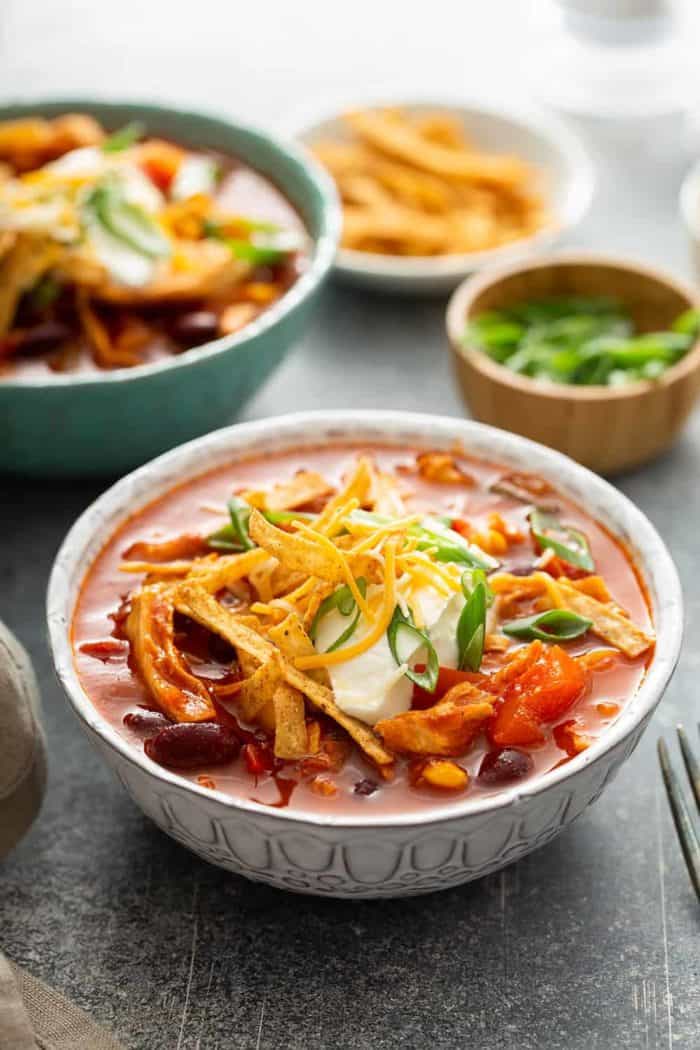 I don't know about you, but for some reason, I get in a little dinner funk every year around this time. It's either nothing strikes my fancy, or I just don't feel like cooking.
Even though Eric and Elle are pretty easy to please and would be totally happy with mac & cheese and chicken fries, I still try to get a home-cooked dinner on the table most nights. Even if I'm not feeling it at all.
That's why I love have a list of go-to recipes that I can make pretty quickly. Whether it's a batch of Hot Ham & Cheese Sliders with tater tots, Honey Soy Chicken & Rice, or this Easy Chicken Chili, simple recipes like these save me on busy weeknights.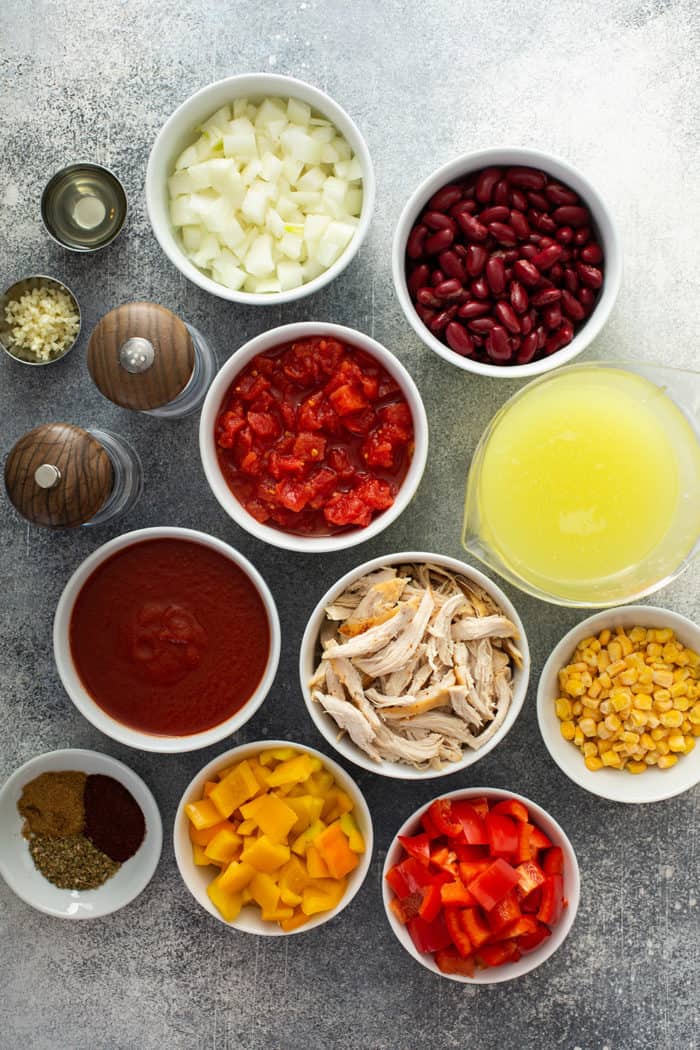 MY FAVORITE EASY CHICKEN CHILI RECIPE
I don't know about you, but there is just something so comforting about a pot of chili simmering away on the stove. Especially when that chili comes together in a matter of minutes using super simple ingredients.
It's perfect for a quick weeknight dinner or for when you have the whole family over. I love to keep a pot chili warm on the stove and set out an array of toppings so everyone can grab a bowl whenever they like.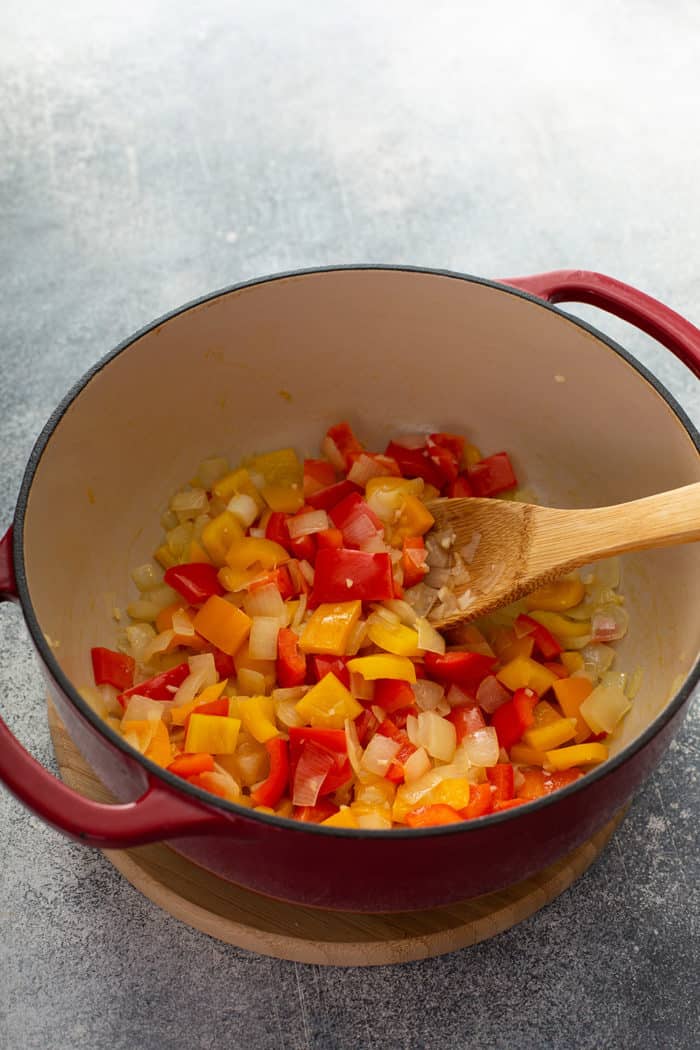 I love topping this Easy Chicken Chili in particular with tortilla strips, sour cream, green onions, and of course – cheese!
This chicken chili is packed with veggies, shredded rotisserie chicken, and tomatoes. It comes together in about 40 minutes, but will taste even better the longer you let it simmer.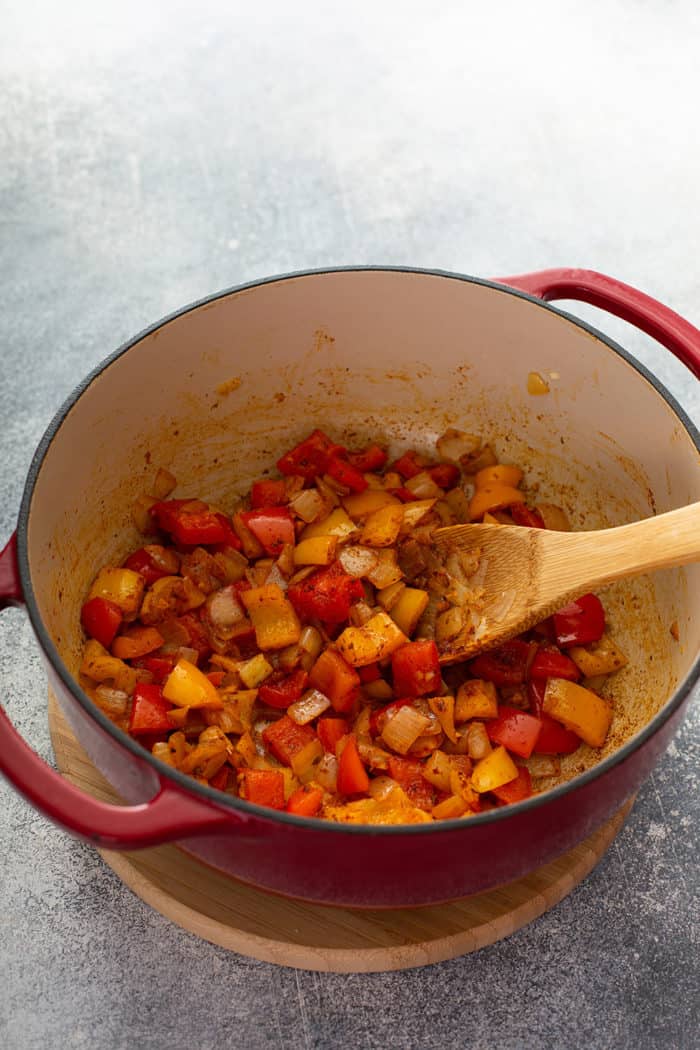 HOW TO MAKE THIS EASY CHILI
Here's what you'll need to make this Easy Chicken Chili:
Onion
Bell peppers
Garlic
Chili powder, cumin, and oregano or homemade chili seasoning
Chicken broth
Diced tomatoes
Tomato sauce
Kidney beans
Frozen corn
Shredded rotisserie chicken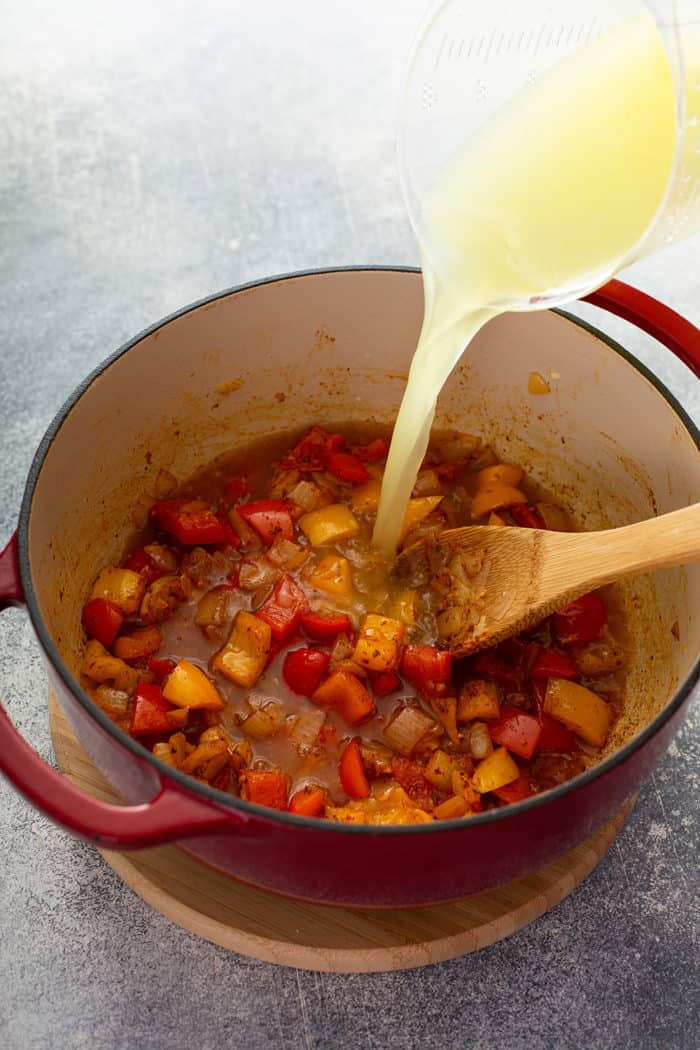 You can use individual measurements of chili powder, cumin, and oregano when making this recipe, or you can swap in 2 tablespoons of chili seasoning if that's what you have on hand!
I have also made this recipe with regular diced tomatoes, but you could use diced tomatoes with green chiles or fire roasted or "chili ready" tomatoes for extra flavor.
Should I also add that you can use black beans if you don't like kidney beans? And hominy instead of frozen corn?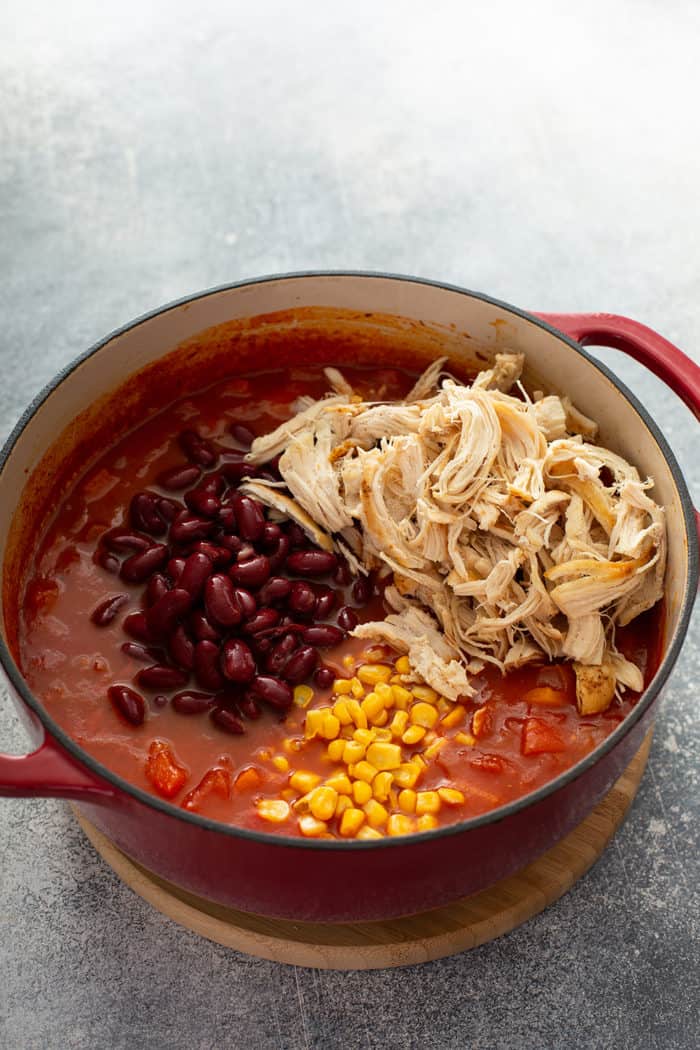 Are you getting the gist? Recipes like this one are great for using whatever you like or have on hand!
To make this chili, saute the onions and peppers with the garlic. Add in the spices and cook for a few more minutes before adding the chicken broth and tomatoes and simmer for 20 minutes.
Finally, add the chicken, beans, and corn and season to taste with salt and pepper. Simmer 15 more minutes before serving with your favorite toppings.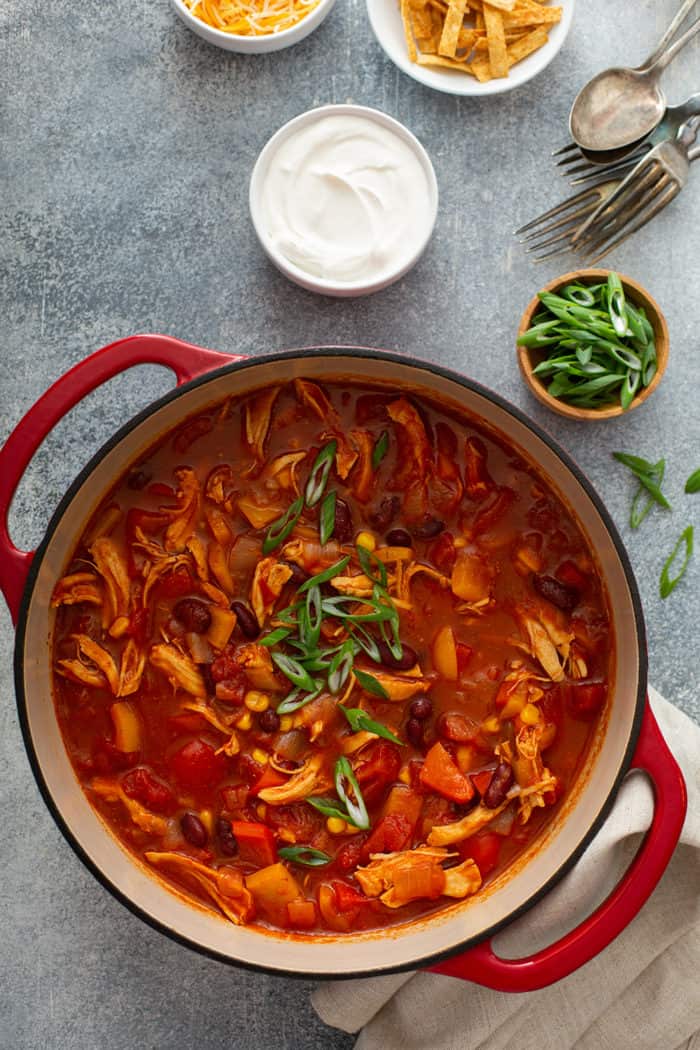 CAN CHICKEN CHILI BE FROZEN?
Whether it's this Easy Chicken Chili or a more traditional beef or turkey chili, chili recipes are some of the best for freezing.
Try making a double batch of this recipe and freezing half of it in individual freezer-safe containers for quick and easy meals throughout the week.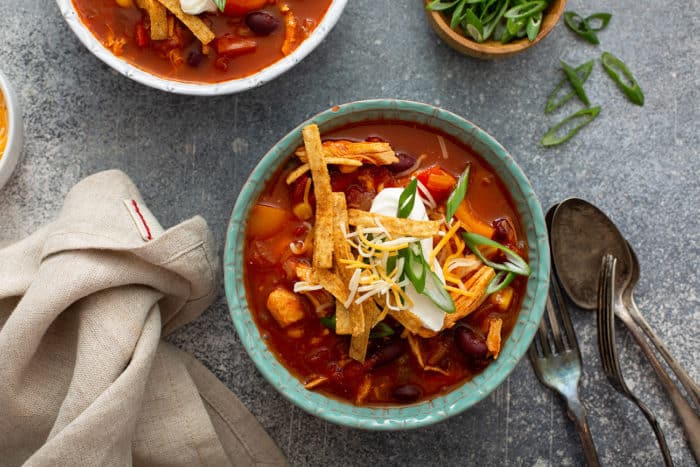 Or package up a batch of chili and take it to a friend in need of a meal along with a loaf of beer bread or Bisquick biscuits.
I think you're going to love cozying up with this alternative-to-beef chili, and please don't skip the cheese and sour cream, and extra tortilla strips! The add-ins are everything that makes chili awesome for dinner.