If you've never tried cooking with a dark stout beer, this Guinness Stew will surprise you. Braising stew meat in Guinness and beef stock leaves you with the best Irish beef stew you'll ever eat, even if you're not a fan of Guinness!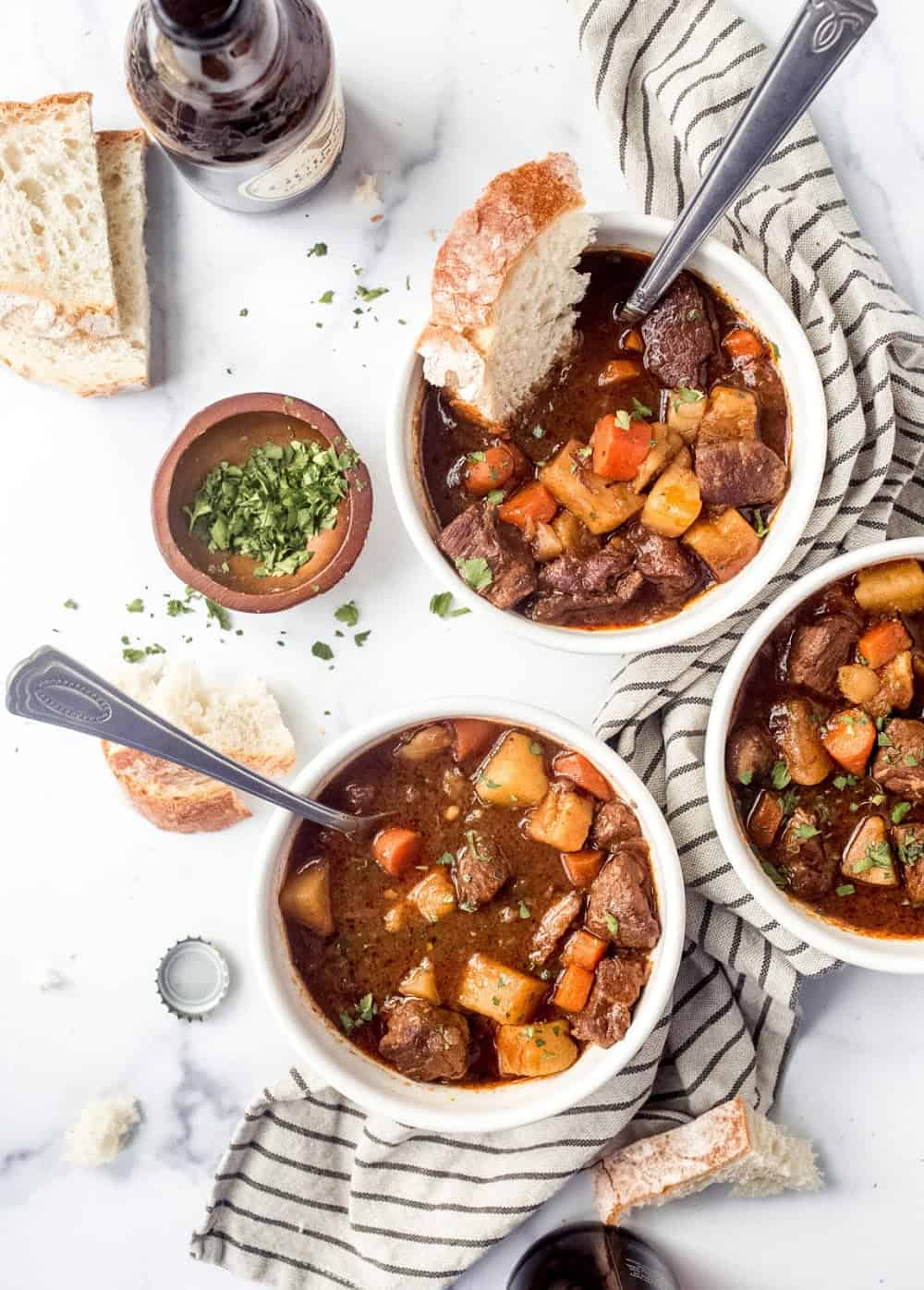 I have never understood the need to don myself in head to toe green gear and head into jam-packed bars to simply rub up against sweaty, intoxicated people and drink enough green beer that my tongue takes on a disgusting shade of chartreuse.
Although I am not an avid fan of this holiday or the spirits that accompany it, I do love all things Irish food.
Out of respect for those many devoted fans, most of whom aren't remotely Irish by the way, I thought I would join in the festivities by creating a fantastic meal to help them soak up all of that green beer.
I mean, I am officially 1/19 Irish, so I needed to do something, right? And, what better pair with St. Patrick's Day than a hearty Guinness Stew?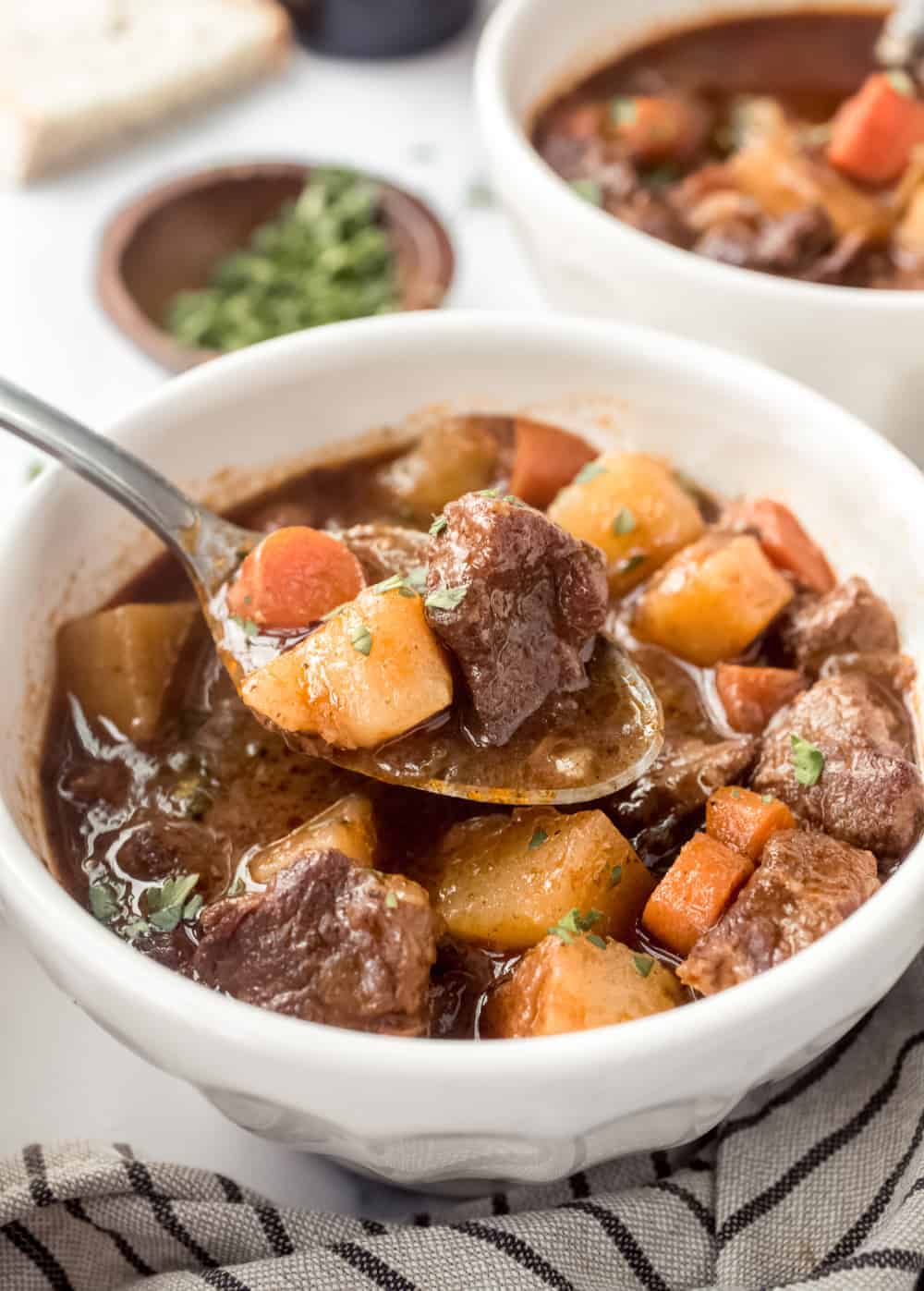 Guinness Beef Stew Ingredients
At the base of this stew recipe, the ingredients aren't unlike any other beef stew. You've got potatoes, carrots, onions, tomato paste, beef stock, and of course, beef.
Honestly, I can't stomach the thought of Guinness on its own. It reminds me of black tar and the scent of it makes me recoil a bit.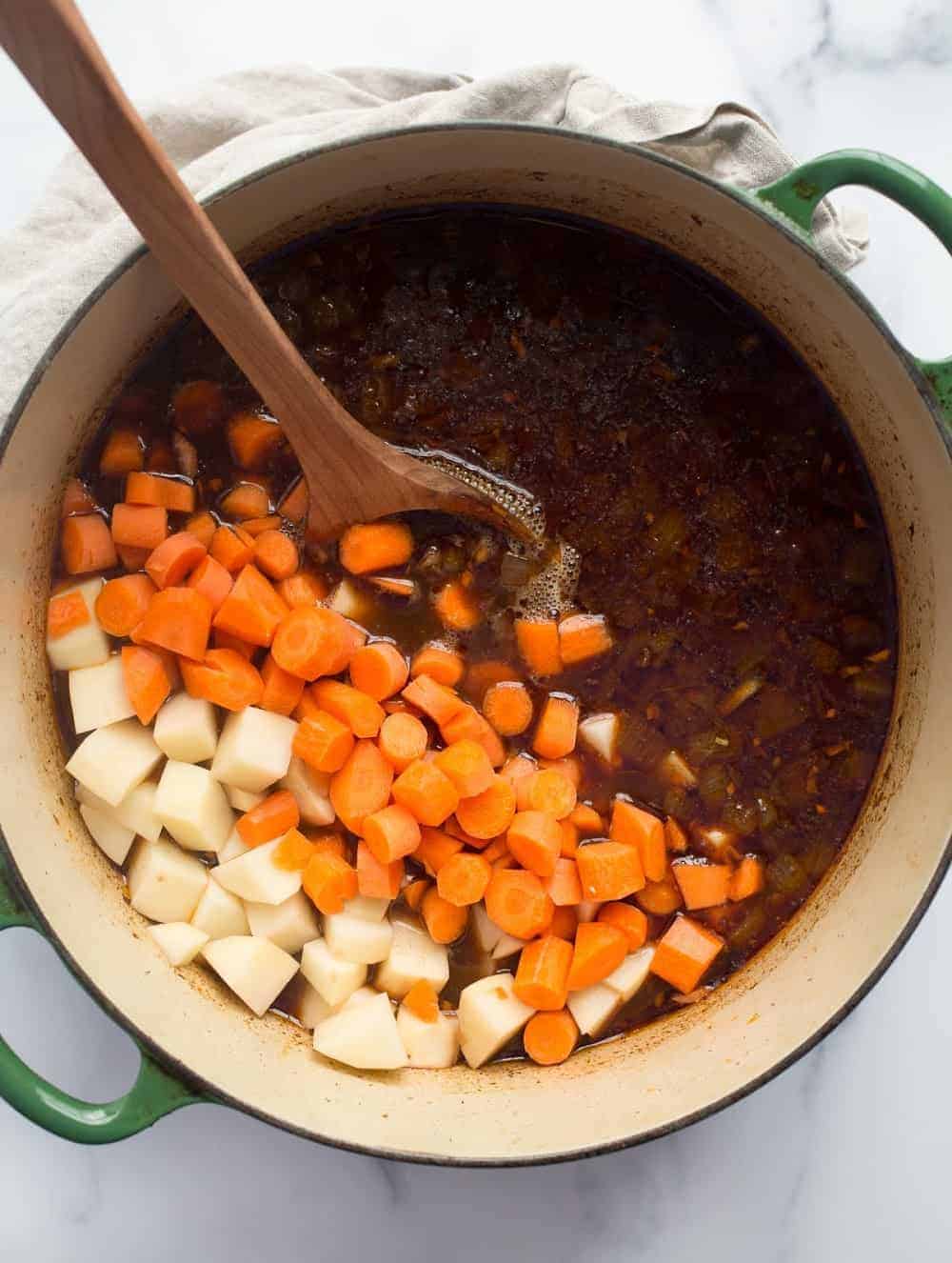 However, my mind changed when I used it as an ingredient in this hearty stew recipe. The stout seeps down into and tenderizes the meat while creating a richly flavored gravy.
Much of the alcohol in the Guinness will cook out while the stew braises. When combined with some red wine, you're left with a truly satisfying and flavorful one-pot meal.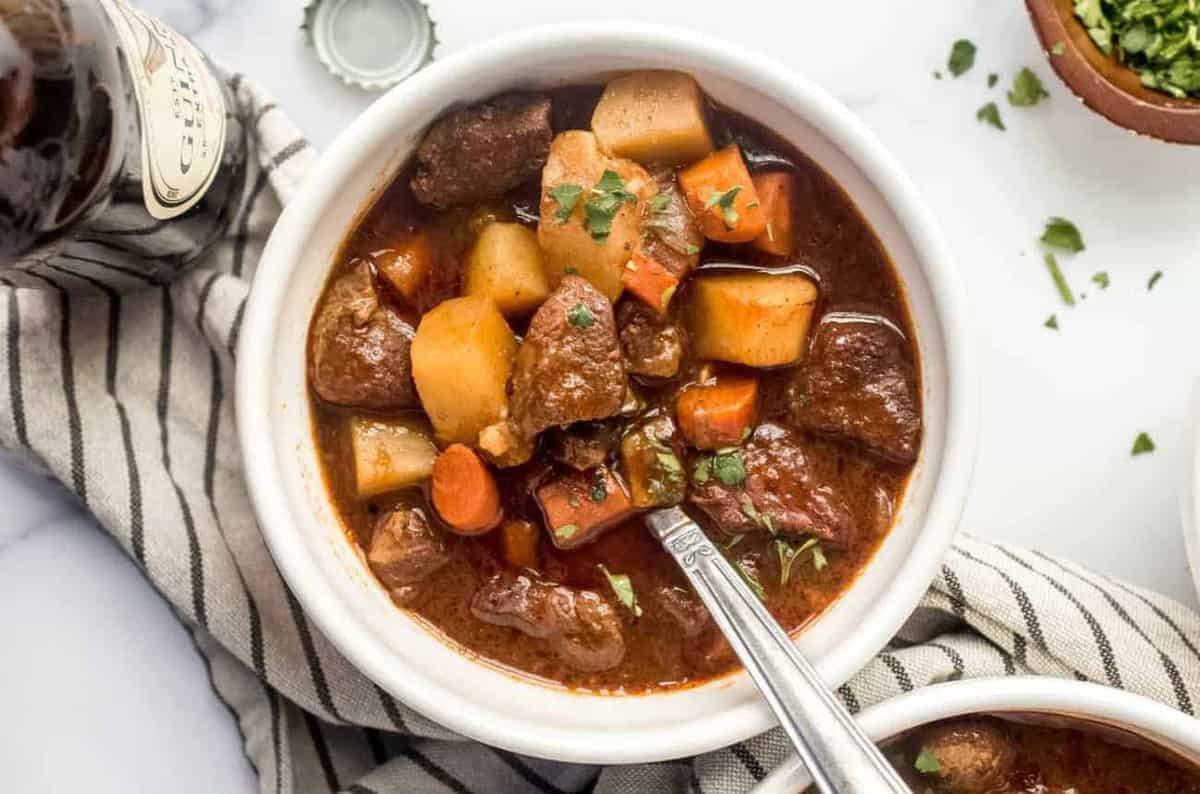 What Cut of Beef for Stew?
When I make this stew, I like to use cubes of meat cut from a boneless chuck roast. I always opt to buy a whole roast and cut it up myself, rather than buying pre-cut meat that's sold as "stew meat." There are a couple of reasons for this.
First, chuck roast is a fatty cut of beef that holds up well to a long braising time like this Guinness stew needs. The fat and connective tissue help to keep the meat tender so you'll never end up with tough stew meat using chuck.
The fat also adds a ton of flavor to the stew gravy!
When you buy what's labeled as "stew meat" in the grocery store, the meat tends to be a leaner cut of meat that will likely end up being tough after a long cook time.
Second, chuck roast tends to be less expensive than other beef roasts because of how fatty it is. Compared to a prime cut of beef, like a lean beef tenderloin roast, you're looking at a huge price difference.
Beef tenderloin can be 3 times (or more, depending on where you shop) the price of a chuck roast!
So while it may seem like more work to cut up a roast, it's totally worth the effort in the end when you take that first bite of fall-apart meat from your stew.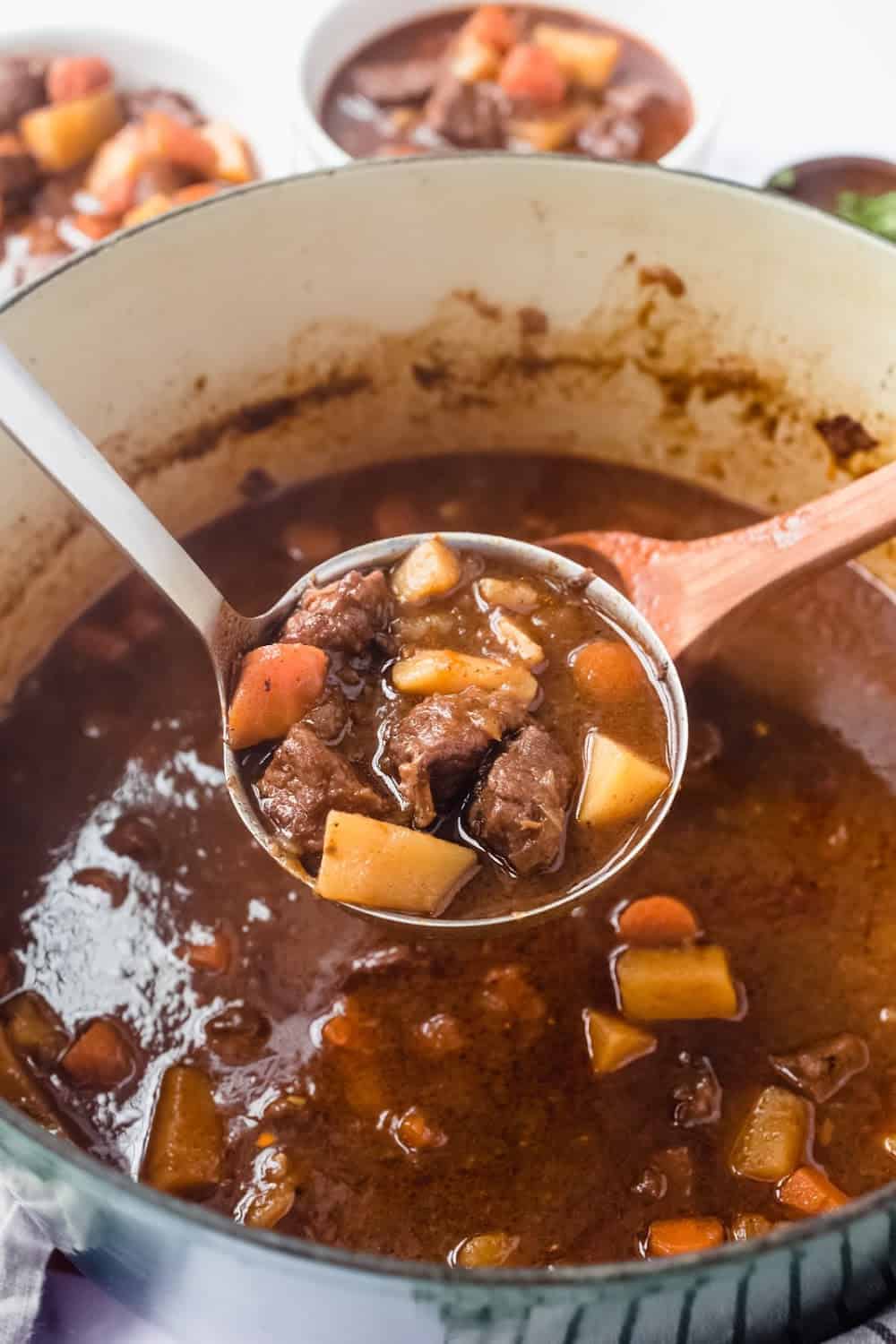 Dutch Oven Beef Stew
Once you've cut up your roast into cubes and dusted them in flour, you'll brown the meat in a Dutch oven. A large, round Dutch oven works great for making stew because there's plenty of room for the stew meat to get cozy in the gravy as it braises.
Dutch ovens also retain heat well so they're great pots for deep browning and braising tough cuts of meat for long periods of time.
If you don't have a Dutch oven, never fear! A large, round stock pot will work just as well for this and any other beef stew recipe.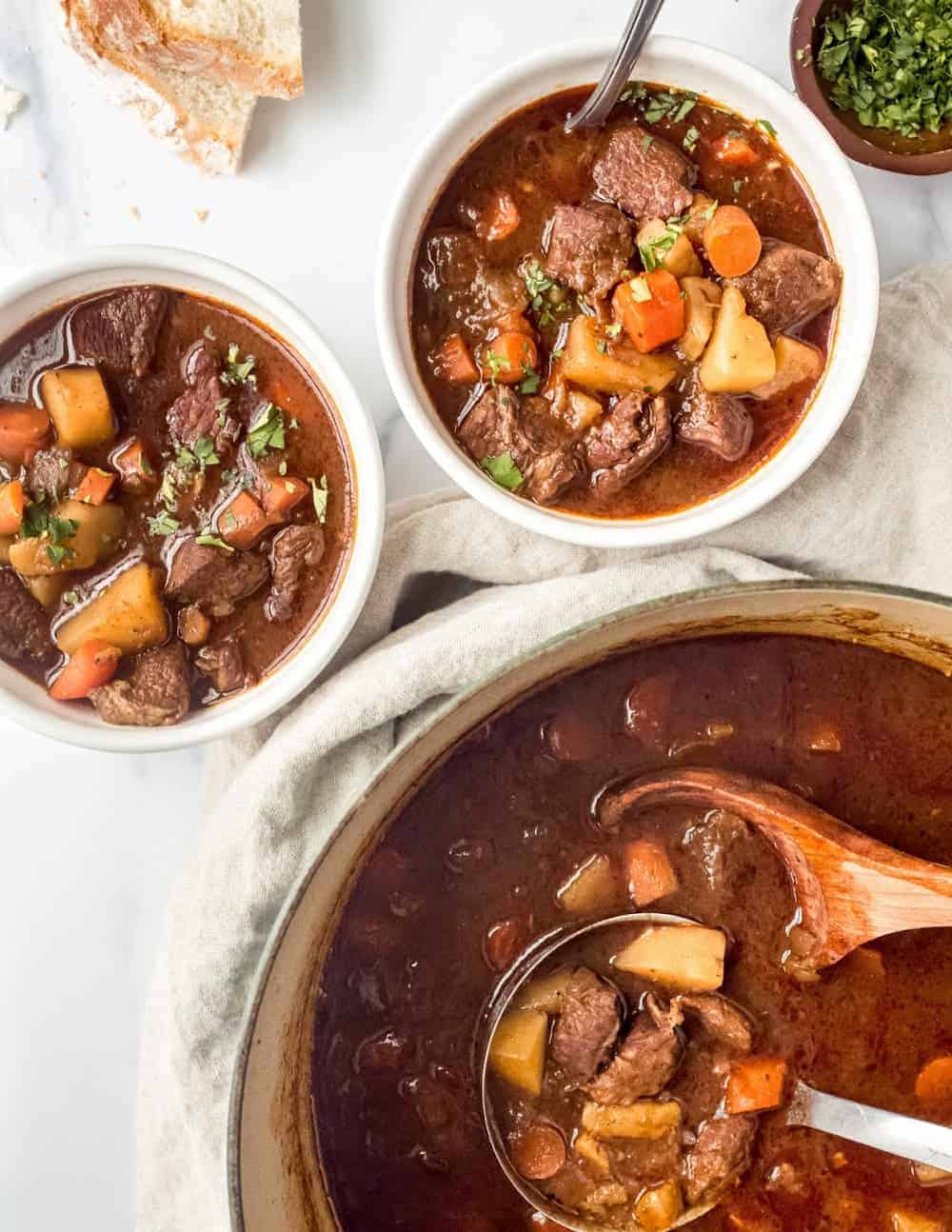 How to Make Guinness Beef Stew
After browning the meat, you're going to cook down the onions and then add garlic and tomato paste. The tomato paste will help to thicken the gravy a little and give it some color and depth of flavor.
Next, you'll deglaze the pot with the liquid ingredients: beef stock, red wine, a bottle of Guinness and some steak sauce. Make sure you scrape up all of the delicious brown bits from the bottom of the pan with a wooden spoon so all that extra flavor goes back into the stew.
Return the meat to the pot and simmer the stew for about an hour.
This is the point where you'll add the carrots and potatoes. It's a bit of a different method than most stew recipes, where the carrots and potatoes are added at the beginning of the recipe.
Adding them halfway through the cooking time ensures they won't overcook and become mushy. Trust me, nobody likes mushy vegetables!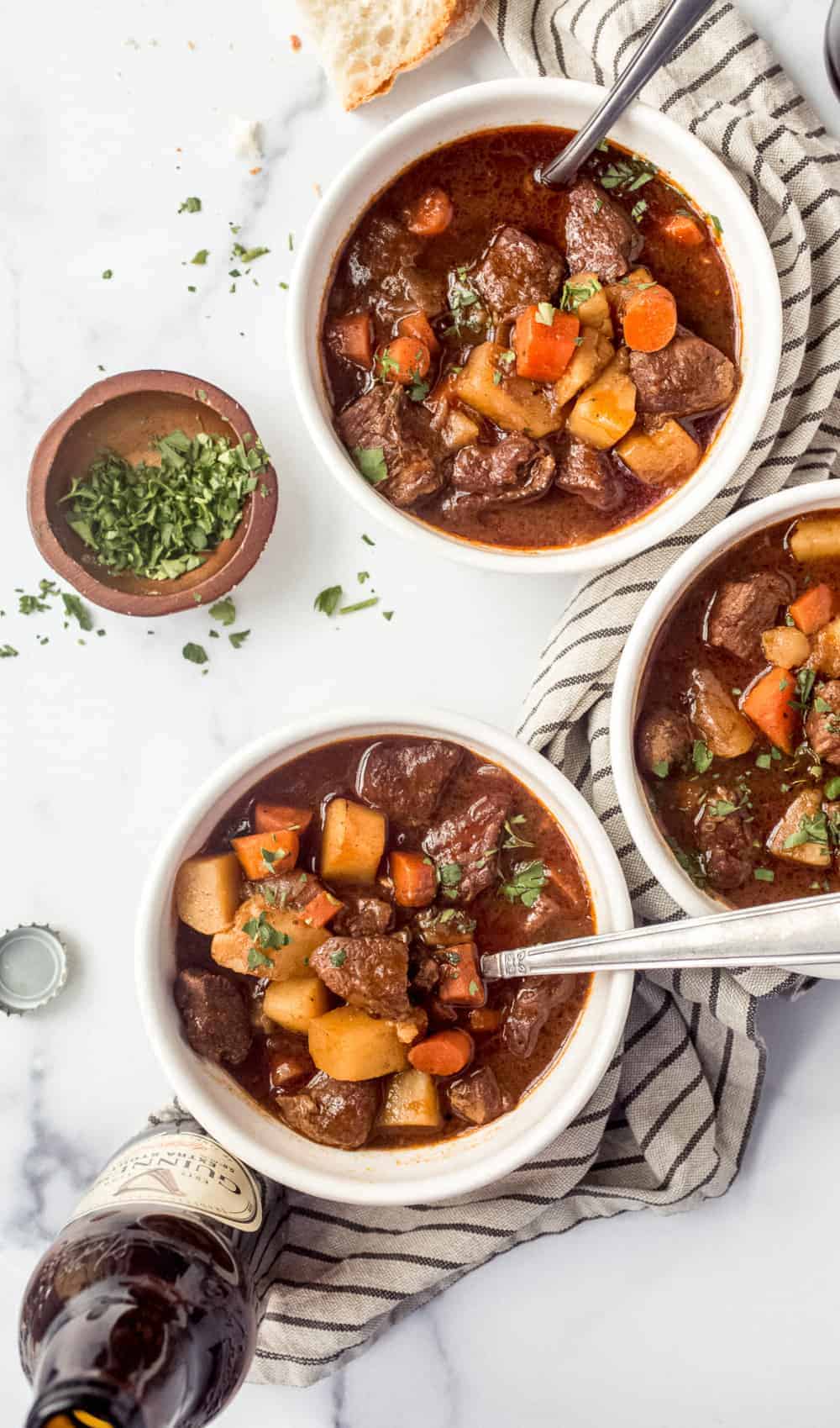 Is this Irish Stew?
While you might think this is a traditional Irish stew recipe because of the Guinness it contains, a quick bit of internet research will show you that traditional Irish stew is said to have been made with lamb or mutton, not beef or Guinness.
You can think of this recipe as a "modern-day" Irish stew recipe. When the Irish started to immigrate to the U.S. in the 1800s, they found that lamb was expensive and mutton wasn't commonly raised. Beef was cheap and plentiful so it quickly replaced the lamb and mutton as the meat of choice for stew.
The addition of Guinness to beef stew is an even more recent evolution of Irish stew and you'll be hard pressed to find an Irish stew recipe these days without it! And for good reason, too – it's a delicious addition to stew!
What to Serve with this Guinness Beef Stew
Crusty bread is always a great side for any kind of stew, including this one. Biscuits are also a welcome sight at the dinner table and bacon cheddar biscuits would be delicious with this stew. And even more festive if you use Irish cheddar in them!
If you're at the point now where you're planning a full menu of St. Patrick's Day recipes, you might want to make some fun Irish drinks and add a few desserts too:
With a chocolatey Oreo crust, creamy Baileys cheesecake filling, and rich Baileys ganache topping, my Baileys Irish cream cheesecake is an absolute dream of a St. Patrick's Day dessert!
Or maybe you don't think you'll have the time to make a cheesecake. Let's talk brownies, instead! These Irish cream brownies are loaded up with Baileys in the brownie itself and the ganache on top. And because this recipe has a gluten-free option, they're sure to make everyone at your party happy!
If you're not a huge fan of this holiday, but still feel compelled to participate in the hype, this Guinness stew recipe may just be your pot of gold at the end of a rainbow!