Guinness Stew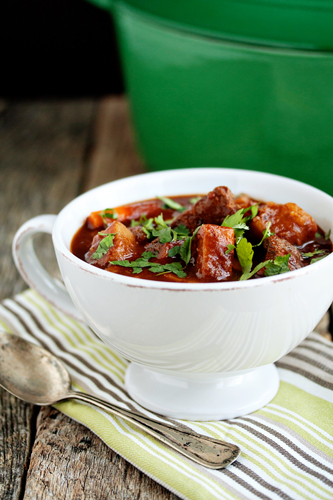 It's finally starting to get warmer in Ohio; the leaves and flowers are starting to sprout, and everyone seems to have succumbed to a bad case of spring fever. Every year, it seems as though the spring season is ushered in by St. Patrick's Day.
I have never quite understood the need to don myself in head to toe green gear and head into jam packed bars to simply rub up against sweaty, intoxicated people and drink enough green beer that my tongue takes on a dismal shade of chartreuse. Although I am not avid fan of this holiday or the spirits that accompany it, I do love all things Irish food.
For sheer respect of these many devoted fans, most of whom aren't a speck of Irish by the way, it was my thought that I would join in the festivities by creating a fantastic meal to help them soak up all of that green beer. I mean, it is said that I am officially of 1/19 Irish decent, so I needed to do something, right? And, what better pair with St. Patrick's Day than a hearty Guinness Stew?
Honestly, I can't stomach the thought of Guinness on it's own. It reminds me of black tar and the scent of it makes me recoil a bit. However, my mind changed when I used it as an ingredient in this hearty stew recipe containing potatoes, carrots, onions, and succulent beef. The addition of red wine and Guinness created a satisfying meal with vibrant and deep flavors. If you're not a huge fan of this holiday, but still feel compelled to participate in the hype, this Guinness Stew recipe may just be your pot of gold at the end of a rainbow!
Guinness Stew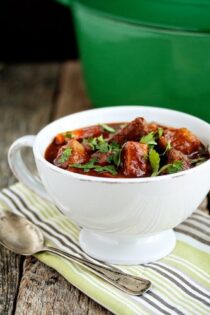 Ingredients:
2-3 tablespoons vegetable oil
1/4 cup all-purpose flour
2 pounds boneless chuck roast, trimmed and cut into 1-inch cubes
kosher salt, according to preference
freshly cracked pepper, according to preference
1 large Vidalia onion, coarsely chopped
2 cloves garlic, minced
2 tablespoons tomato paste
4 cups beef stock
1/2 cup red wine
2 tablespoons A1 Steak Sauce
1 (11.2-ounce) bottle Guinness Stout
4-5 carrots, peeled and coarsely chopped
2 large Idaho potatoes, peeled and coarsely chopped
finely chopped fresh flat-leaf parsley
Directions:
1. Heat oil in a Dutch oven over medium-high heat.
2. Place flour in a medium bowl. Sprinkle beef with salt and pepper. Dredge beef in flour. 3. Add half of the beef to the pan; cook 5 minutes, turning to brown on all sides. Remove beef from pan with a slotted spoon. Repeat procedure with remaining beef, adding more oil to the pan if necessary.
3. Add onion to pan; cook 5 minutes or until tender, stirring occasionally. Add in garlic, stir for 1 minute. Stir in tomato paste; cook 1 minute, stirring constantly. Stir in stock, wine, A1 and beer, scraping the bottom of the pan to loosen browned bits.
4. Return meat to the Dutch oven and bring to a boil. Cover, reduce heat, and simmer 1 hour, stirring occasionally. Uncover, add carrots and potatoes, bring to a boil. Cover, reduce heat to low, and simmer 45-60 minutes, or until meat and vegetables are fork tender. Season to taste.
All images and text ©
Follow Jamie on Instagram. We love to see what you're baking from MBA! Be sure to tag @jamiemba and use the hashtag #mbarecipes!
This post may contain affiliate links. We are a participant in the Amazon Services LLC Associates Program, an affiliate advertising program designed to provide a means for us to earn fees by linking to Amazon.com and affiliated sites.