Baileys Irish Cream Cheesecake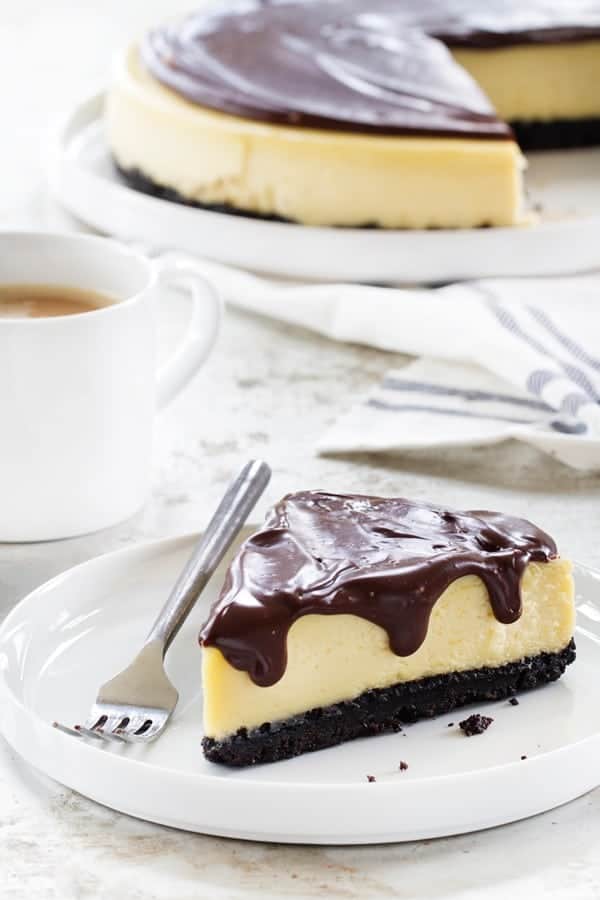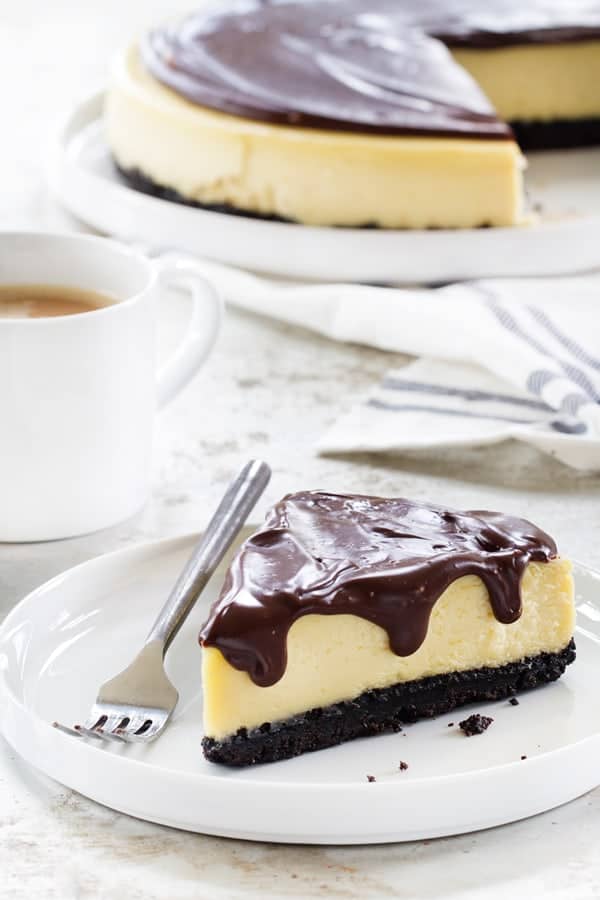 Baileys Irish Cream Cheesecake has a delicious, chocolate cookie crust topped with Baileys spiked cheesecake and ganache layers.
Back in my college days, I managed a small Mediterranean restaurant near campus. It was both a place for the local neighborhood to grab a quick bite to eat and for college kids to hang out and pretend to study while sipping cappuccinos. And since I worked a lot, and free food was a perk of the job, I pretty much lived on hummus and pita bread for over 4 years.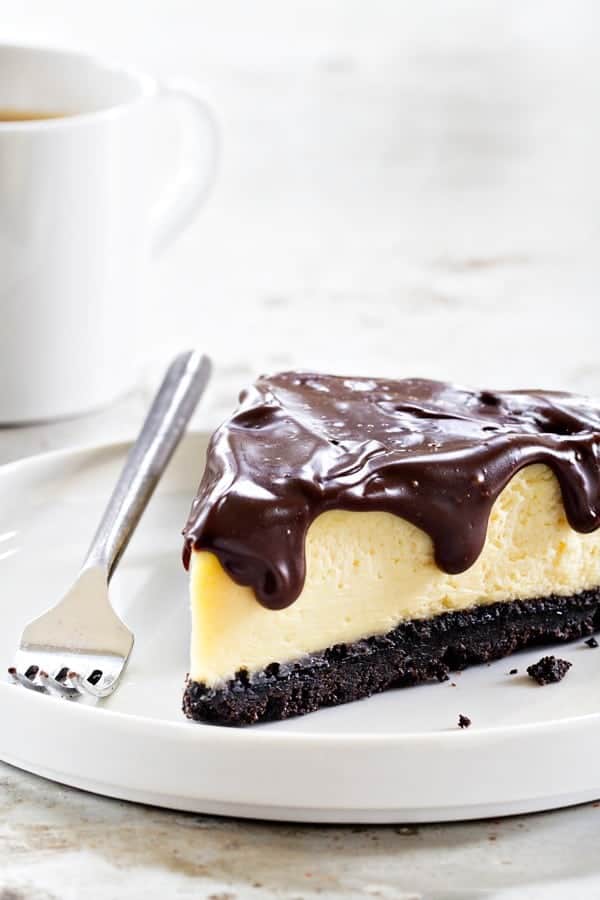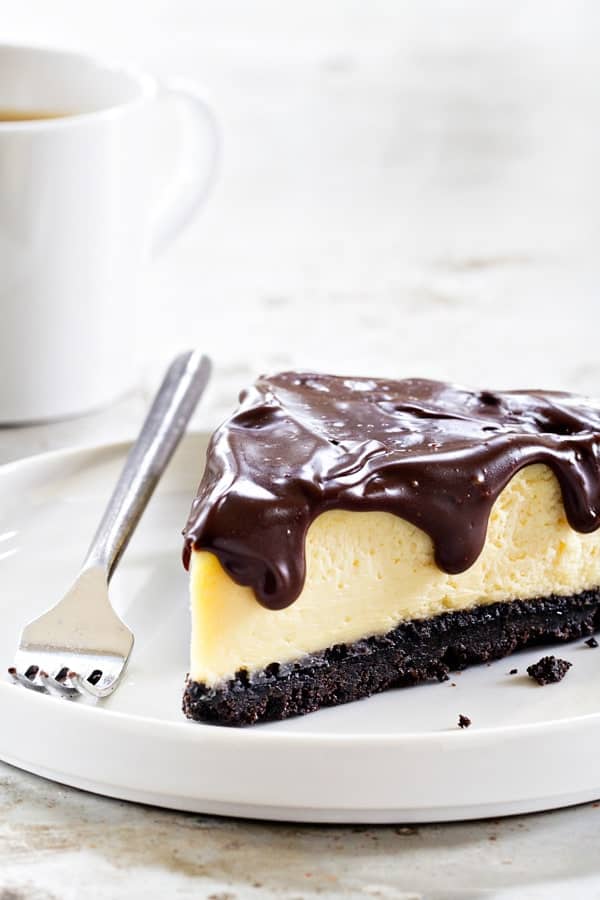 There was a super friendly, older couple that were weekly regulars. Every week, they'd split a tawook dinner with extra steamed veggies. The husband would finish his meal with a piece of cheesecake, and the wife would order Bailey's and coffee with just a smidgen of whipped cream and chocolate sauce. It's funny the things I remember from more than 15 years ago. The names of any of my undergrad professors? Not a chance. But a meal a couple ordered every week – yep, right down to the extra veggies.
Now, I've never been much of drinker, but I developed quite an affinity for Bailey's and coffee with just a smidgen of whipped cream and chocolate sauce. It's just one of those drinks that reminds me of being in my 20s, and makes me all warm and fuzzy for so many reasons.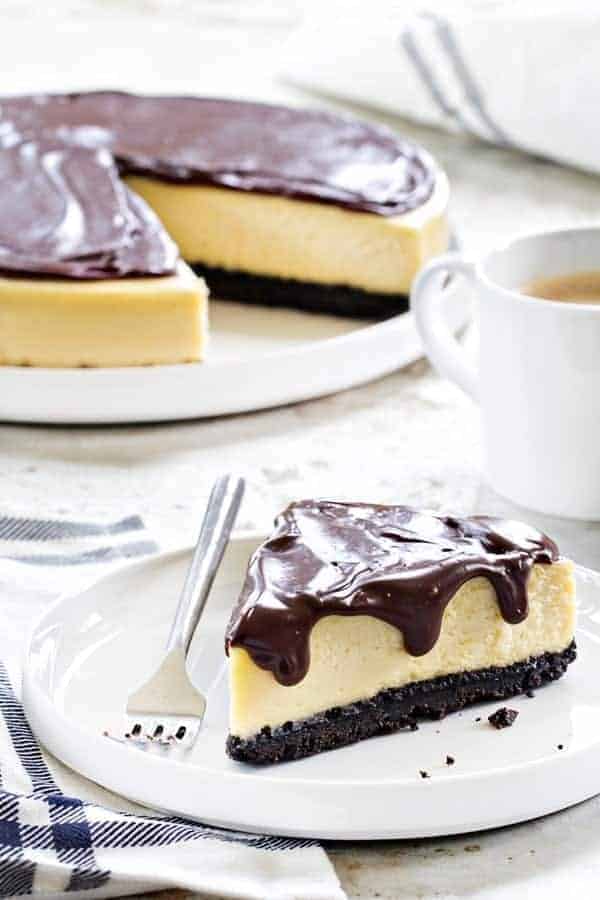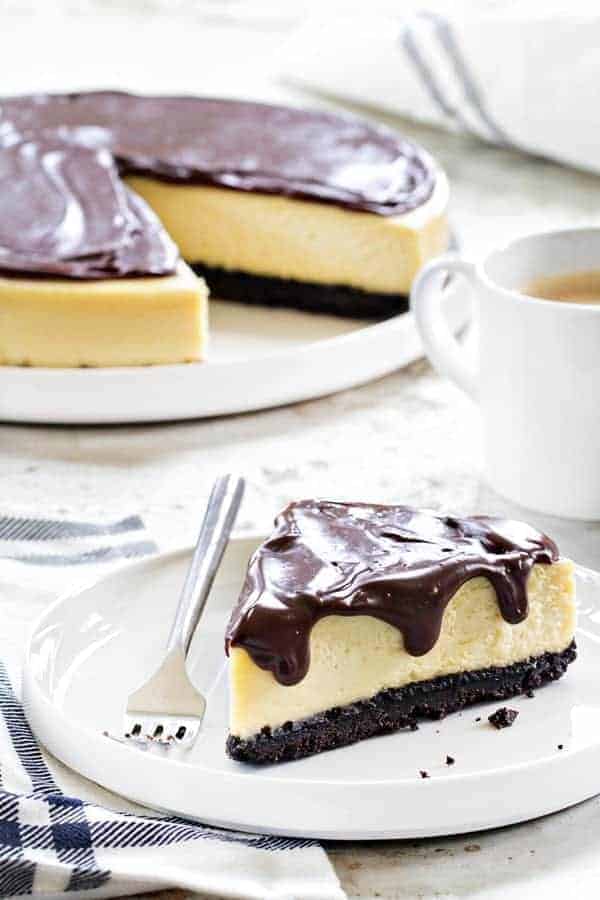 A few weeks ago, I picked up a bottle of Bailey's Irish Cream to make truffles… and perhaps whip up a Bailey's and coffee or two. And then on a whim one night, I decided to make a Bailey's Irish Cream Cheesecake. With an Oreo cookie crust, a creamy layer of Bailey's infused cheesecake and Bailey's spiked ganache, this cheesecake moved straight to the top of my list of favorites.
I'd like to think this would have been the perfect cheesecake to finally tempt the wife of that sweet couple into joining her husband in a slice of cheesecake. But then, I happen to think life is not worth living without cheesecake. Are you with me?
Let's all make this Baileys Irish Cream Cheesecake and toast sweet couples who are married for decades, with the sweetest of weekly traditions. What a way to live, right?
For more Baileys inspired treats, be sure to check these Irish Cream Brownies and this Homemade Chocolate Pudding with Baileys Irish Cream.
Baileys Irish Cream Cheesecake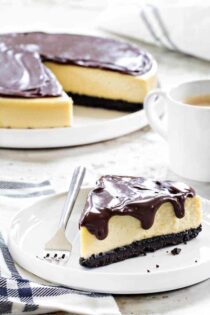 Ingredients:
For the Crust
24 whole Oreo cookies, crushed into crumbs
5 tablespoons unsalted butter, melted
For the Cheesecake
32 ounces cream cheese, room temperature
1 cup granulated sugar
4 large eggs; room temperature
1/3 cup Baileys Irish Cream
For the Ganache
6 ounces quality semi-sweet chocolate chips
1/2 cup heavy cream
3 tablespoons Baileys Irish Cream
Directions:
Preheat oven to 325°F. Tightly wrap a 9-inch springform pan in heavy duty foil. This step prevents leaks when using a water bath. I also take the extra step by placing the foil wrapped spring form pan inside an oven bag while baking, but this is optional.
Mix together the crust ingredients and press into the bottom of your pan.
Bake in preheated oven for 8 minutes and cool completely on a wire rack.
Begin to boil a pot or kettle of water for the water bath.
In the bowl of your stand mixer fitted with your paddle attachment, beat the cream cheese until smooth. Add sugar and mix until combined.  Add eggs, one at a time, fully incorporating each before adding the next. Make sure to scrape down the bowl in between each egg. Add Baileys Irish Cream and mix until smooth.
Pour batter into prepared crust. Place pan into a larger pan and pour boiling water into the larger pan until halfway up the side of the cheesecake pan.
Bake 55-60 minutes, the edges will appear to be set, but the center will still have some jiggle to it. At this point, turn off the oven, but leave the door cracked and allow the cheesecake to rest in the cooling oven for one hour.
After one hour has passed, carefully remove the cheesecake from the water bath and place on a cooling rack to cool completely. Once the cake is completely cooled, place it into the refrigerator for at least 8 hours.
Before serving, prepare the ganache.
For the Ganache
In a small saucepan over medium heat, warm the heavy cream until very hot, but not boiling.
Place chocolate chips in a heat safe bowl.
Pour the hot cream over the chocolate and allow it to sit for about 5 minutes.
Whisk the cream and chocolate until smooth and thoroughly combined.
Stir in Baileys Irish Cream until incorporated allow the ganache to sit for an additional 5 minutes.
Pour ganache over chilled cheesecake and spread into an even layer before cutting, or or spoon over each individual slice.
Notes:
The ganache will firm up when the cheesecake is refrigerated.
All images and text ©
Follow Jamie on Instagram. We love to see what you're baking from MBA! Be sure to tag @jamiemba and use the hashtag #mbarecipes!

This post may contain affiliate links. We are a participant in the Amazon Services LLC Associates Program, an affiliate advertising program designed to provide a means for us to earn fees by linking to Amazon.com and affiliated sites.