Baileys Cheesecake has a delicious chocolate cookie crust topped with Irish cream-spiked cheesecake filling and ganache layers.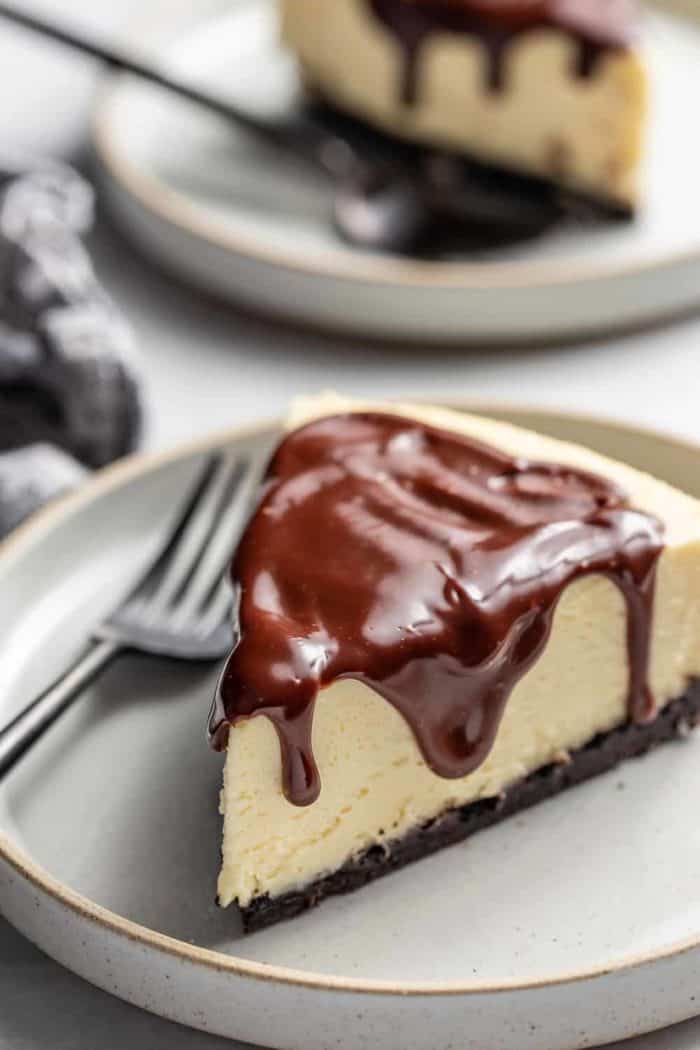 Back in my college days, I managed a small Mediterranean restaurant near campus. It was both a place for the local neighborhood to grab a quick bite to eat and for college kids to hang out and pretend to study while sipping cappuccinos.
And since I worked a lot, and free food was a perk of the job, I pretty much lived on hummus and pita bread for over 4 years.
There was a super friendly older couple that were weekly regulars. Every week, they'd split a tawook dinner with extra steamed veggies. The husband would finish his meal with a piece of cheesecake, and the wife would order Baileys and coffee with just a smidgen of whipped cream and chocolate sauce (similar to an Irish coffee cocktail).
It's funny the things I remember from more than 15 years ago. The names of any of my undergrad professors? Not a chance. But a meal a couple ordered every week? Yep, right down to the extra veggies.
Now, I've never been much of a drinker, but I developed quite an affinity for Baileys and coffee with just a smidgen of whipped cream and chocolate sauce. It's just one of those drinks that reminds me of being in my 20s, and makes me all warm and fuzzy for so many reasons.
A few weeks ago, I picked up a bottle of Baileys Irish Cream to make Simple Homemade Truffles…and perhaps whip up a Baileys and coffee or two. And then on a whim one night, I decided to try making a Baileys Cheesecake.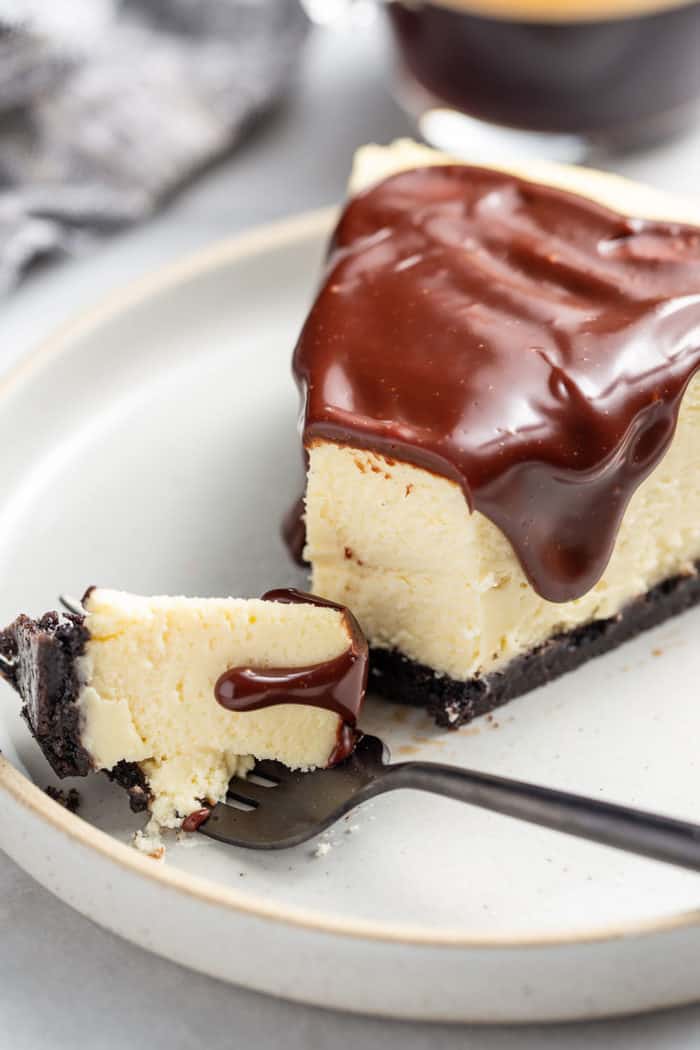 WHAT IS BAILEYS CHEESECAKE?
Baileys Cheesecake really isn't that different from my vanilla cheesecake recipe.
But instead of a graham cracker crust, I use an Oreo cookie crust for a nice chocolatey base. I also swapped out the cream in the filling for Baileys Irish Cream and topped the whole thing with a Baileys-spiked chocolate ganache.
The result is a creamy cheesecake with just the right amount of chocolate and Baileys flavor.
I'd like to think this would have been the perfect cheesecake to finally tempt the wife of that sweet couple into joining her husband in a slice of cheesecake. But then, I happen to think life is not worth living without cheesecake. Are you with me?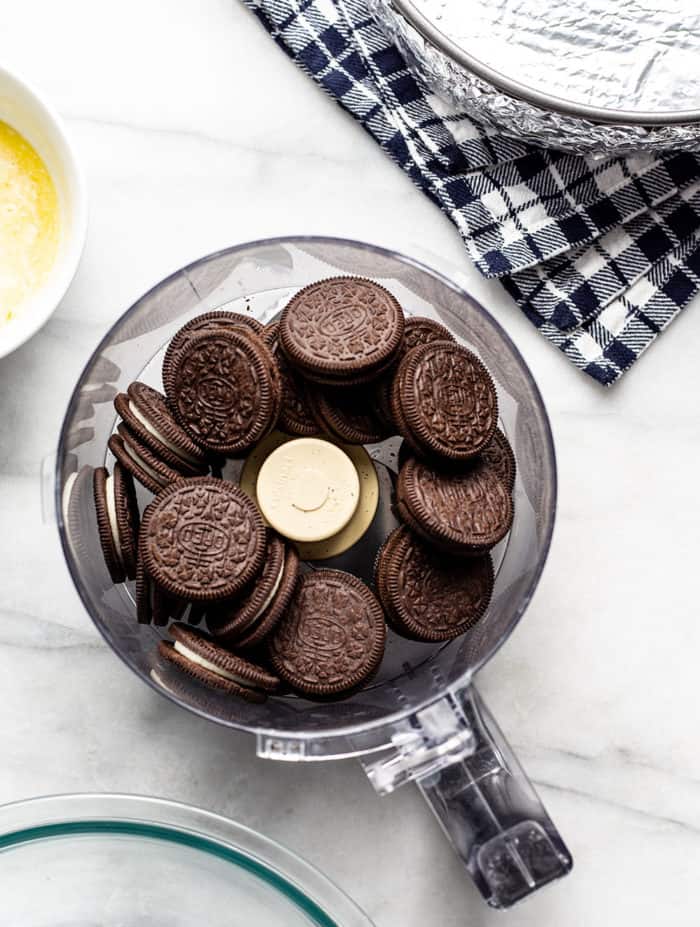 TIPS FOR MAKING THIS IRISH CREAM CHEESECAKE
There are three main parts to this Baileys Irish cream cheesecake:
Oreo cookie crust
Baileys-infused cheesecake filling
Baileys-spiked chocolate ganache topping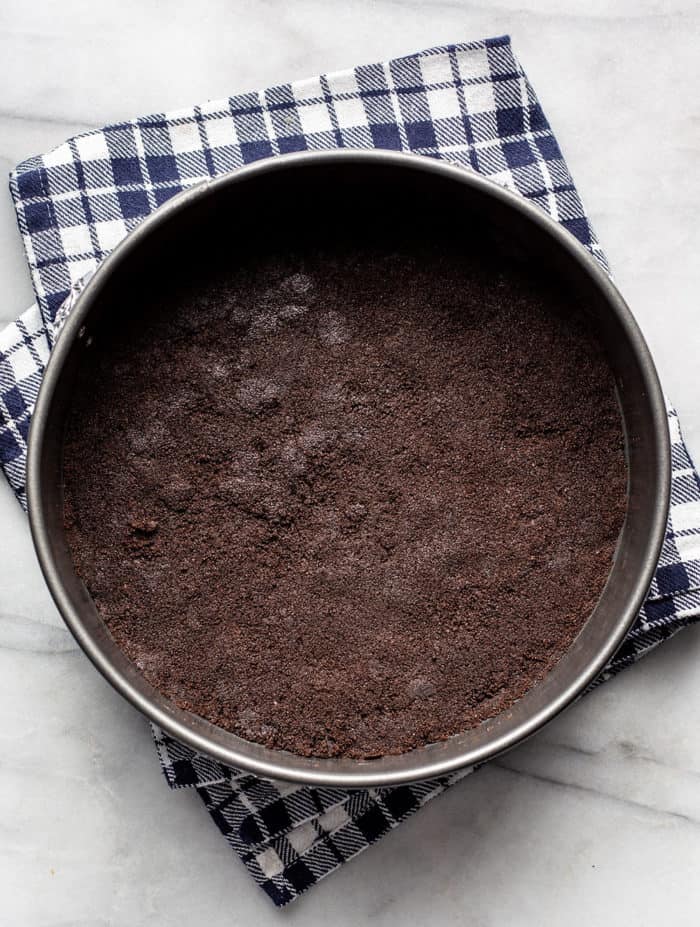 I have made many, many cheesecake recipes through the years, so I have a few tips I've learned along the way that can help you as you make this recipe:
Use room-temperature cream cheese and eggs. If you forget to set these ingredients out ahead of time, you're in luck. I have tutorials for how to soften cream cheese and how to bring butter and eggs to room temperature.
Bake the cheesecake in a water bath. Don't be intimidated by this step – it's easier than you think and will help make sure your cheesecake is absolutely perfect. Check out my post on how to bake cheesecake in a water bath.
Give yourself plenty of time. Even though getting the cheesecake in the oven doesn't take a ton of time, it needs about an hour to bake, a couple of hours to cool, and 8 hours to chill in the refrigerator. Don't be tempted to take shortcuts here.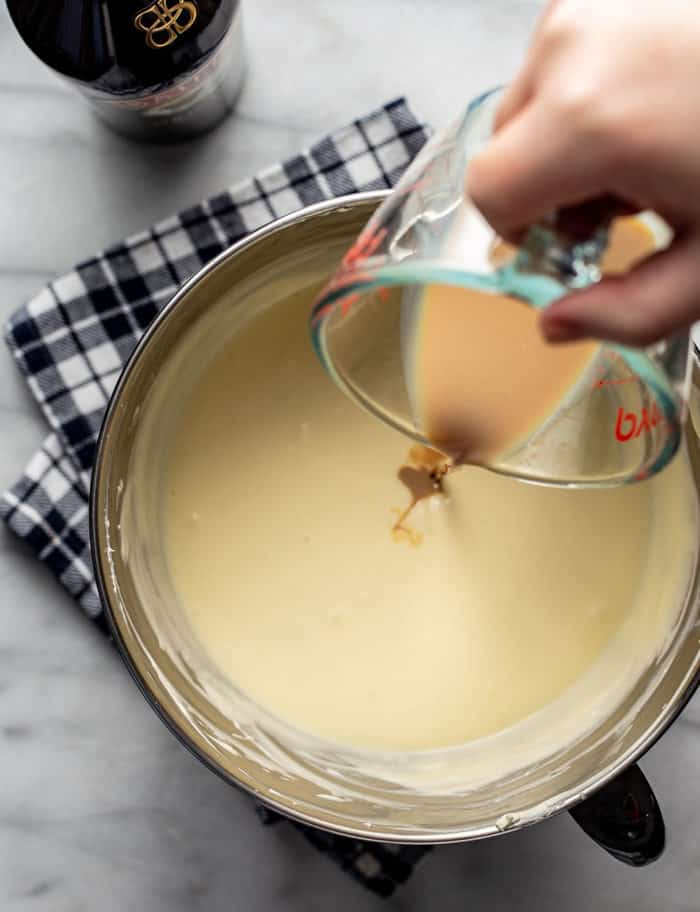 Could you use a store-bought crust instead of making your own? Yes.
Could you skip the chocolate ganache on top? Sure.
Would the final cheesecake be as good? Well, I know what my opinion is, but I'll let you decide that on your own.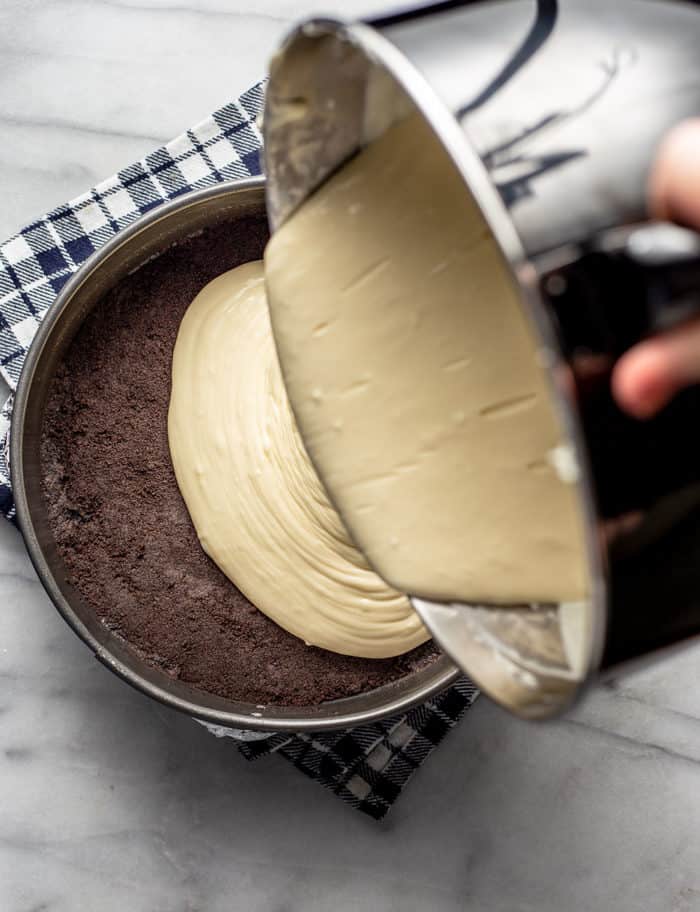 CAN BAILEYS CHEESECAKE BE FROZEN?
This Baileys Cheesecake is the perfect candidate for freezing! Since cheesecake is a bit time intensive to make, it is sometimes nice to make it ahead of time and freeze it.
I recommend freezing this cheesecake without the ganache on top and adding the ganache before serving.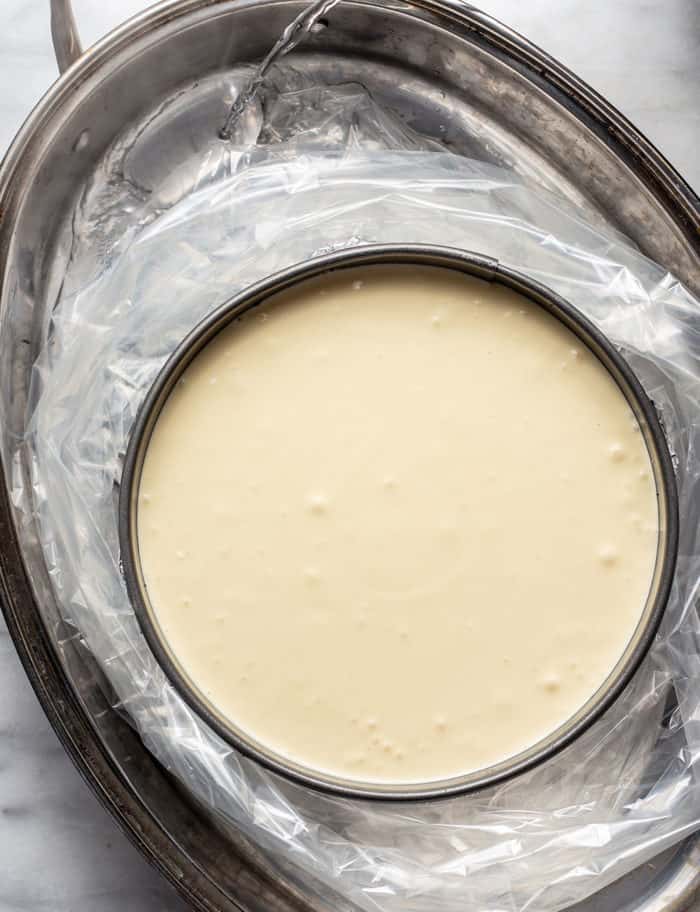 Once the cheesecake has chilled thoroughly in the refrigerator, place it on a cardboard round and wrap it in plastic wrap, then in foil. If you have a large zip-top freezer bag, you could even store it inside that for an extra layer of protection.
The idea is to have at least 2 layers of protection around the cheesecake to keep it from getting freezer burn.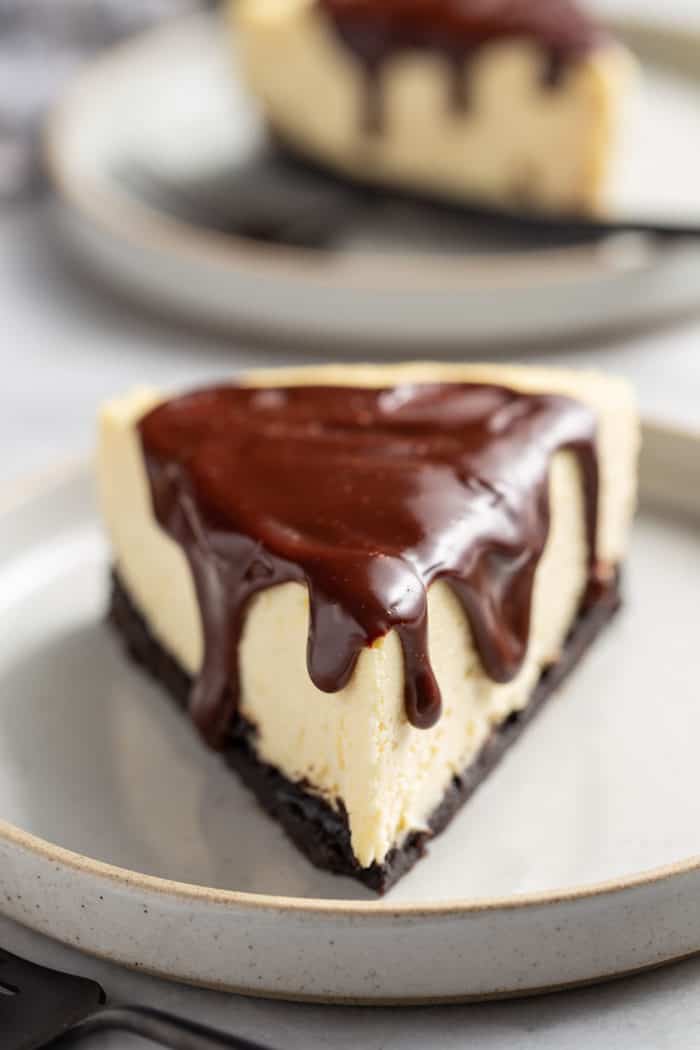 Let the Baileys Cheesecake thaw in the refrigerator overnight or at room temperature for a couple of hours before topping with the ganache and serving.
Let's all make this Baileys Irish Cream Cheesecake and toast sweet couples who are married for decades, with the sweetest of weekly traditions. What a way to live, right?