[pinit]
Spring is on its way and here in the midwest, St. Patrick's Day is the un-official start. No matter the weather, everyone gets dressed head to toe in their finest green gear, and everybody's Irish for the day. And what would a St. Paddy's day celebration be without a festive libation or some kind of green beverage? Here are two easy recipes to help kick up any cocktail or "mocktail" and help to make your St. Patrick's Day fantastic.
Homemade Irish Cream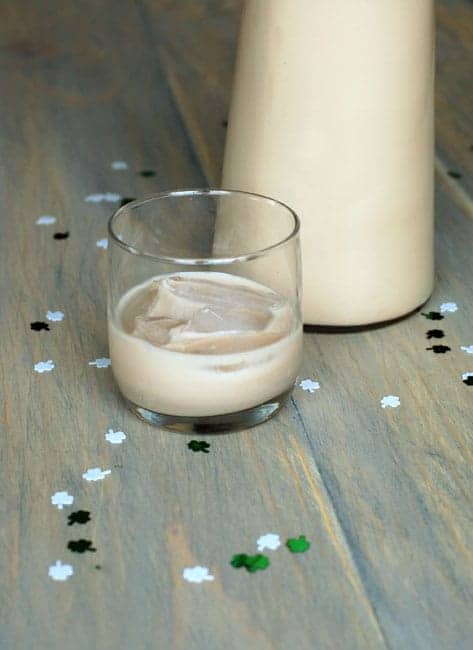 So, who knew that making your own Irish Cream was so easy? And, an added bonus of making it at home (other than it being less expensive) is that you can personalize it to your palate! Irish Cream is always a little too heavy for me so I used fat free half & half in place of the cream… still super rich but, not quite so thick. I found an easy recipe for homemade Irish Cream on ManusMenu. Feel free to alter the measurements and substitute extracts or syrups to create your own special blend!
What You Will Need:
1 2/3 cups Irish Whiskey…I upped this to 2 cups
1 can (14 oz) Sweetened Condensed Milk
1 cup Cream or Half & Half (your preference)
1 tsp Instant Coffee
1 tbsp Chocolate Syrup
1 tsp Vanilla Extract
1 tsp Coconut and/or Almond Extract (optional)
Blender or Immersion Blender
How to Assemble:
Measure all ingredients into a blender or pitcher (if using an immersion blender)
Blend for 30 seconds or until the instant coffee is dissolved
Taste and add more of this or that if desired…I added more whiskey here, it was a little too sweet for me
Pour into bottles and keep refrigerated for up to two months…not like it will last that long!
Fresh Mint Simple Syrup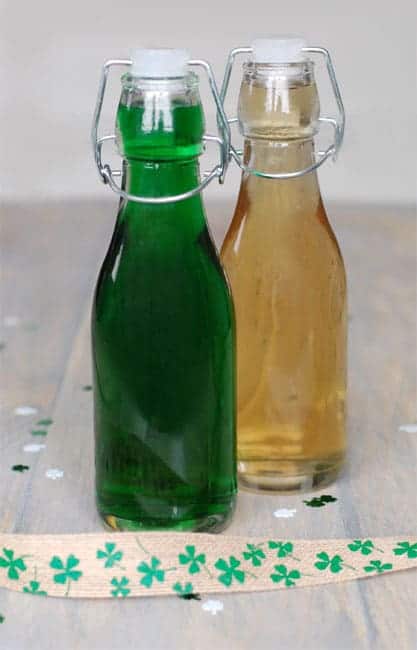 Another way to personalize your cocktails is by making infused simple syrups. The flavor of fresh mint pairs beautifully with Irish Cream and this syrup can be used through out the spring and summer. Think mint juleps, mojitos, cucumber mint martini's… yum! Add it to hot cocoa, milk or shakes for an alcohol-free "Mocktail" that can be a festive treat for kids or non-drinkers!
What You Will Need:
2 1/2 cups Fresh Mint Leaves
1 1/2 cups Granulated Sugar
1 1/2 cups Water
Large Saucepan
Sieve or Cheesecloth
How to Assemble:
Measure out equal parts sugar and water…I like my syrup a little less sweet so I usually do about 2/3 cup water and 1/3 cup sugar.
Pour into saucepan with the fresh mint leaves
Cook on low just until the sugar is completely dissolved
Take off heat and let cool, keeping the mint in the pan (I let this sit overnight in the refrigerator to try to get the maximum mint flavor)
Strain the syrup through the sieve or a few layers of cheesecloth to remove all pieces of mint
Add a few drops of green food coloring if you'd like
Pour into glass bottles or jars and keep refrigerated!
***I kept one bottle dye-free to use for fruity spring drinks and, tinted one green just for St. Patrick's Day.
Here are printable recipe cards for some cocktail and mocktail ideas!