Cherry Turnovers are so easy to make at home! Made with puff pastry and homemade pie filling and topped with a simple glaze, these turnovers are the perfect dessert or decadent breakfast treat.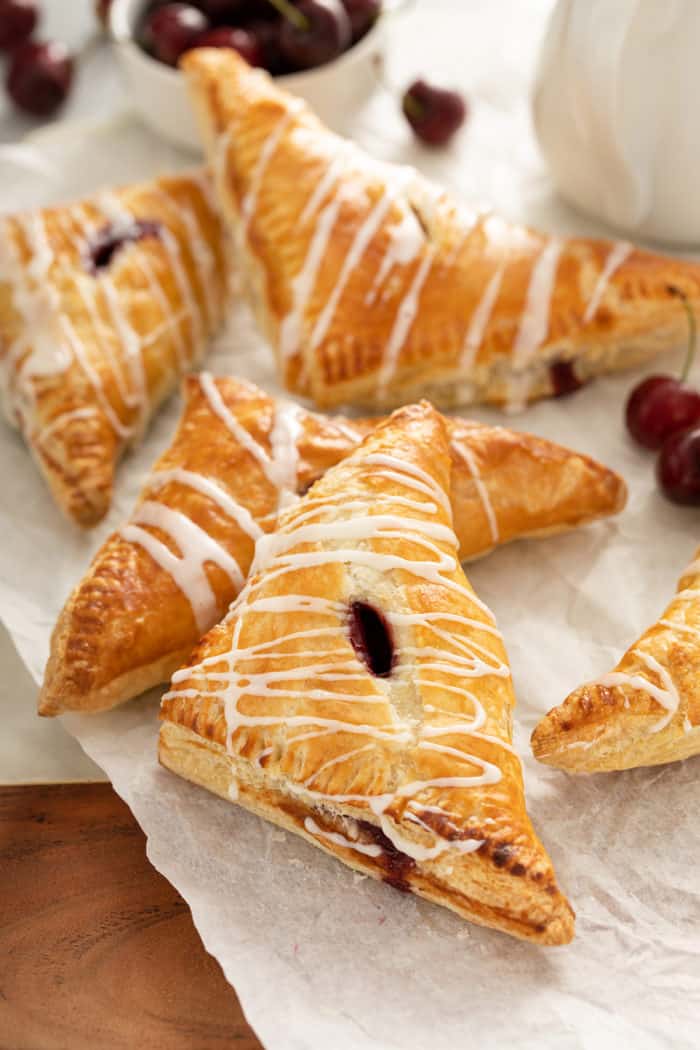 Not too long ago, my friend Stephie was reminiscing about how her family would often make those Pillsbury cherry turnovers for breakfast on Christmas or Thanksgiving morning.
I hadn't thought about those in years, but talking about them immediately made me crave them.
Pillsbury doesn't seem to make those turnovers anymore, but that's ok. It turns out that we can make turnovers just as easily at home and they taste even better!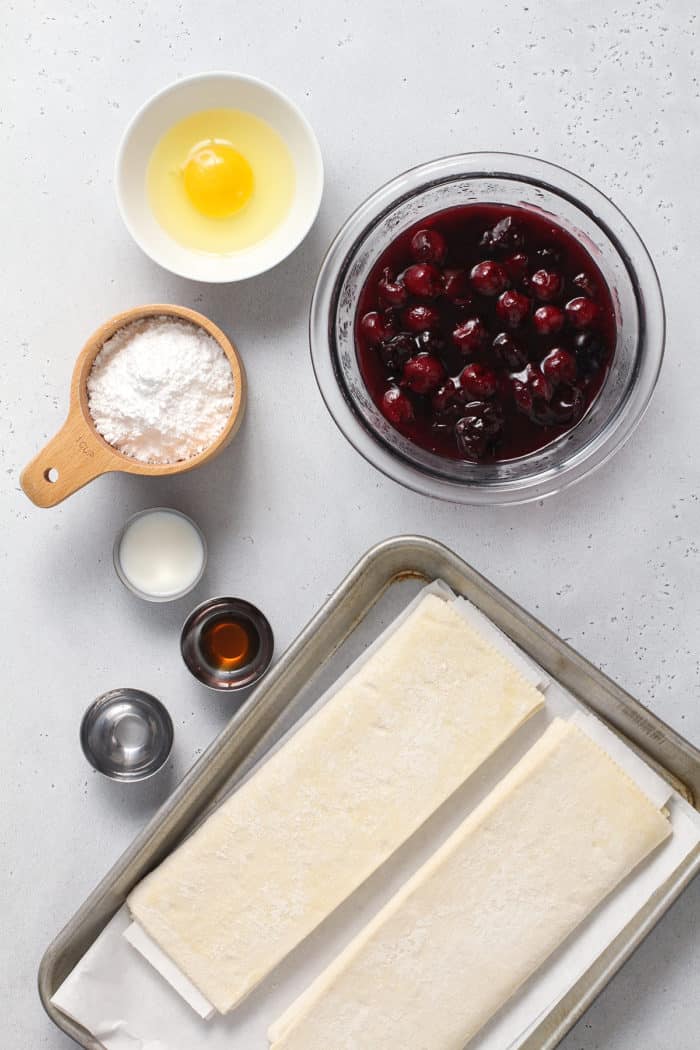 WHAT IS A CHERRY TURNOVER?
If you didn't grow up eating turnovers as a nostalgic special-occasion breakfast, let me fill you in on why turnovers are so great.
Turnovers are pretty much a mini pie that is acceptable to eat for dessert OR breakfast. After all, mini pecan pies and mini pumpkin pies are adorable but you can't exactly get away with eating them for breakfast.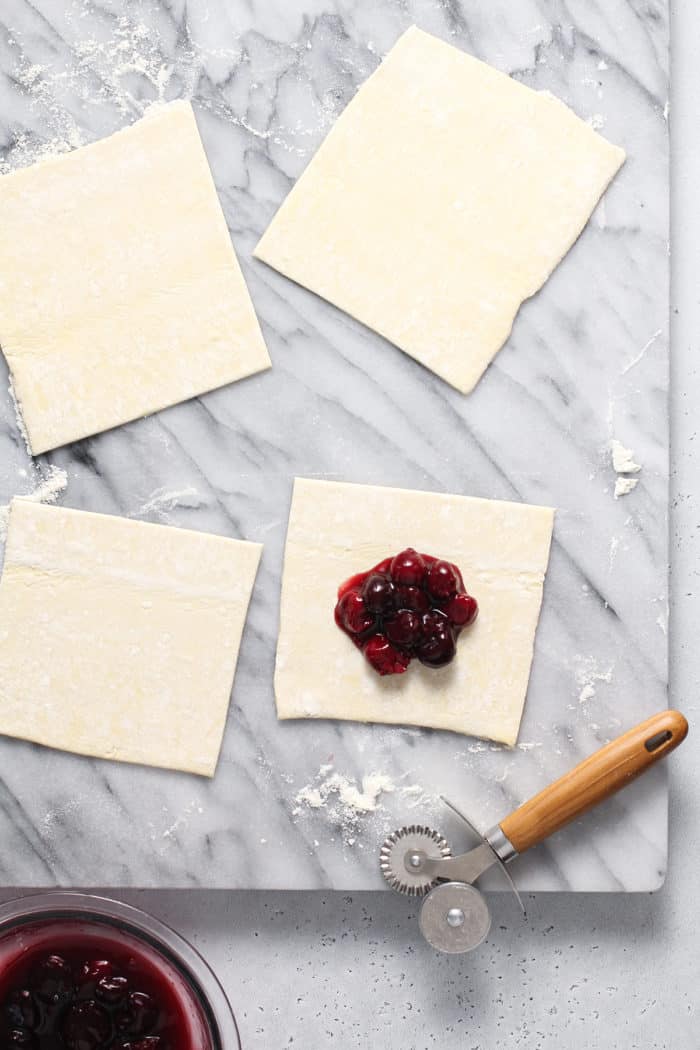 Ok, maybe that's simplifying things a bit too much, but it's also pretty high on the list of reasons why I think Cherry Turnovers are great.
Turnovers are just a flaky pastry, usually puff pastry, that is filled with a sweet or savory filling and then folded over and baked. These are a little bit like cherry hand pies, with the filling sealed inside the pastry.
Sweet turnovers are often topped with a simple icing, but they can be topped with coarse sugar, too.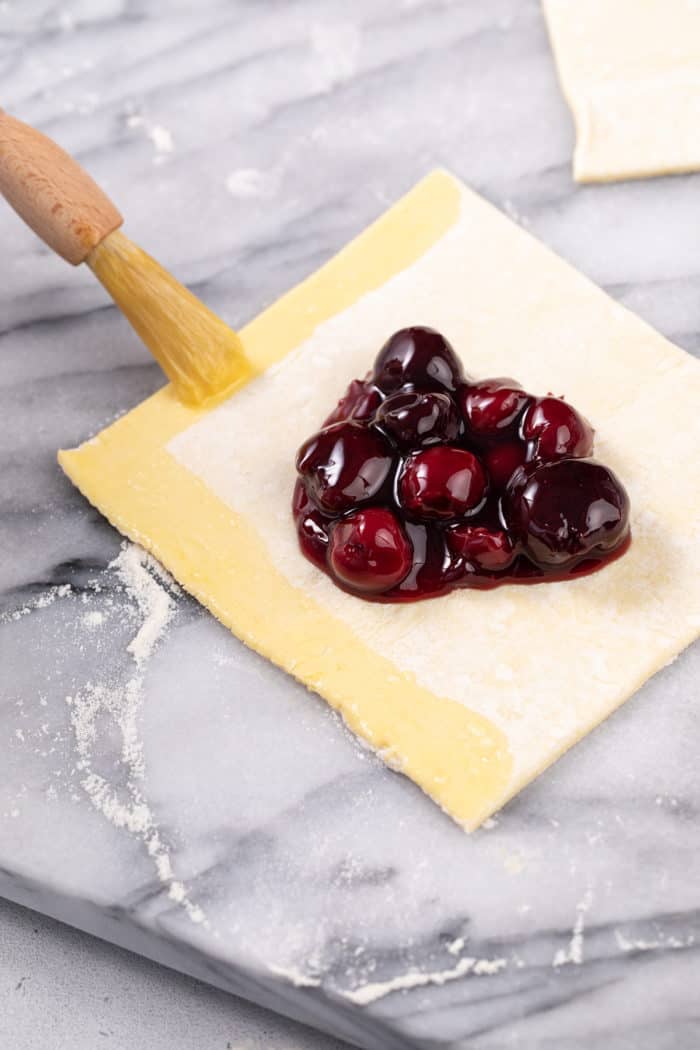 HOW TO MAKE CHERRY TURNOVERS
If you've never made Cherry Turnovers at home before, you might be surprised to learn how easy they are to make!
Ingredients You'll Need
There are really only two required ingredients for making these turnovers:
If you'd like to use an egg wash to help seal your turnovers – which I strongly recommend – you will need:
If you plan to add a simple icing on top of the turnovers, you'll also need:
⅔ cup powdered sugar
1 tablespoon milk
¼ teaspoon vanilla extract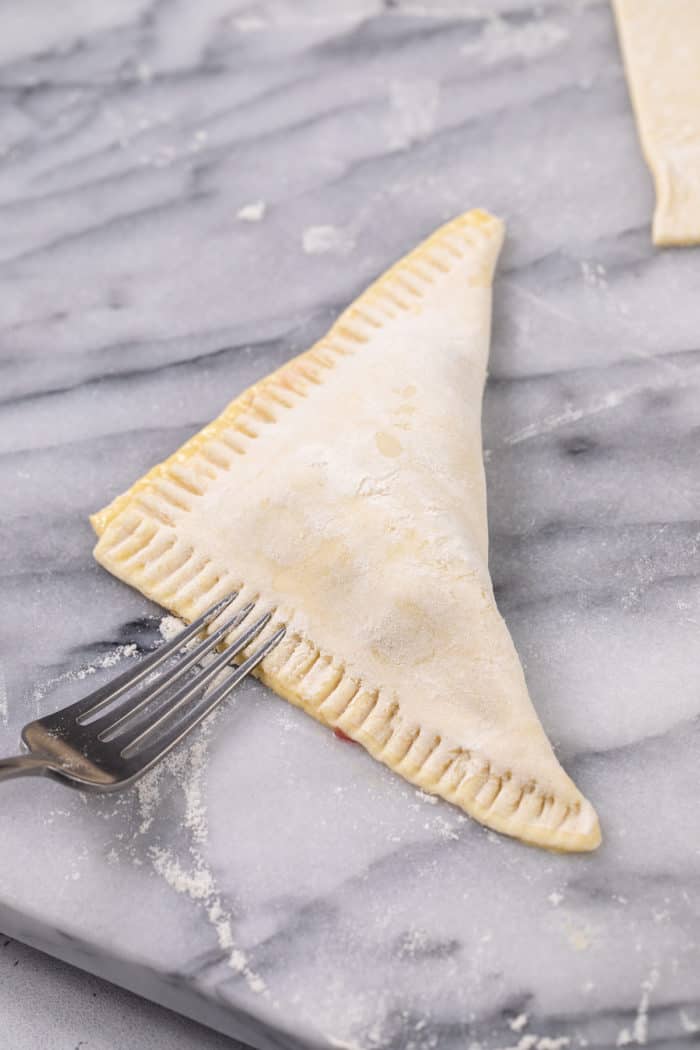 Tools You'll Need
This cherry turnover recipe has a short list of ingredients and doesn't need much equipment, either. You'll need to grab:
A baking sheet
Parchment paper
Rolling pin
Sharp knife
Pastry brush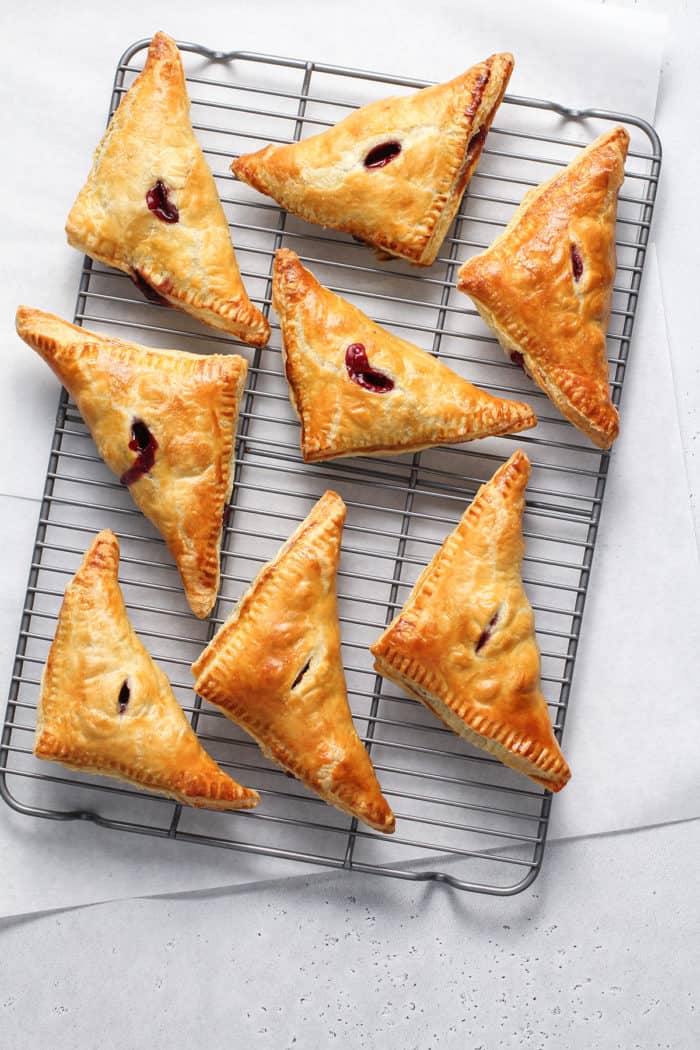 Making this Recipe
If you're baking your Cherry Turnovers right away, preheat the oven to 400°F.
The key to working with puff pastry is to keep it cold. Since we're using two sheets of puff pastry for this recipe, work with just one sheet at a time. Keep the other sheet in the refrigerator until you're ready for it.
Unfold the puff pastry onto a lightly floured surface and use your fingers or a rolling pin to gently pinch together the seams. If your puff pastry is not quite a square, use the rolling pin to gently shape the dough into a square.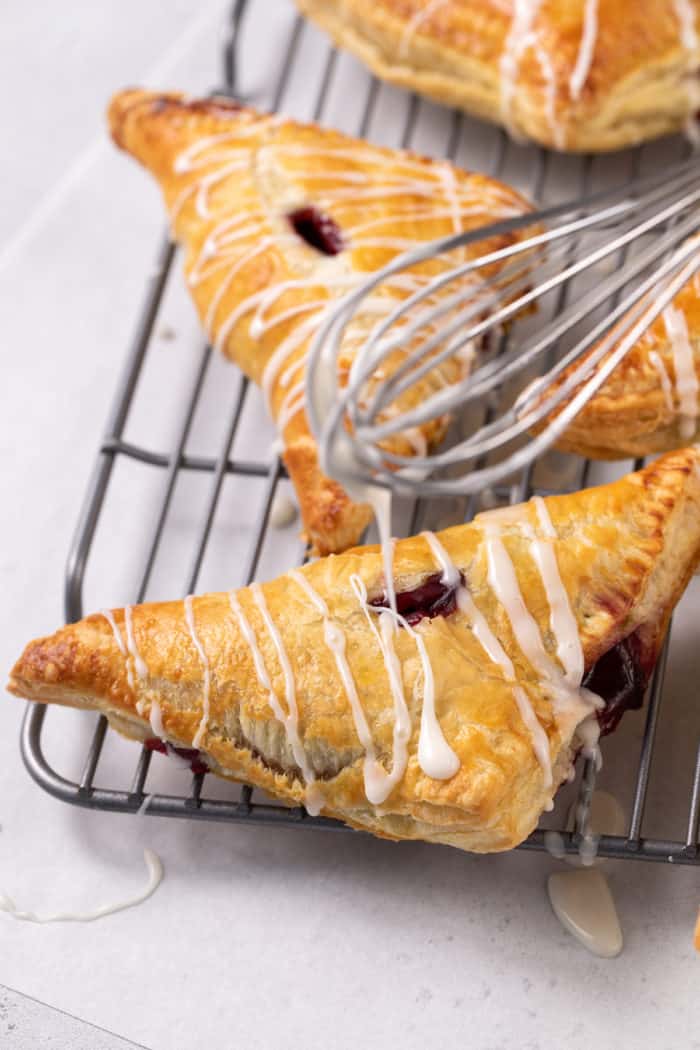 Use a sharp knife or even a pizza cutter to cut each sheet of puff pastry into 4 equal squares. Add 1-2 spoonfuls of the cherry pie filling to the center of each square. You may not use all of the filling – that's ok.
I recommend using an egg wash to help seal the edges of the turnovers so they don't pop open in the oven. Whisk together the egg and water and brush a small amount of this egg wash along 2 edges of the dough.
Fold the square over to make a triangle and gently press the edges together. Use a fork to crimp the edges – not only does it look pretty, it helps seal the edges together!
Move the completed turnovers to a parchment-lined baking sheet, then use a sharp knife to cut a small slit into the top of each one. If you'd like, gently brush the tops of each one with some more of the egg wash for a lovely golden-brown finish.
Bake the turnovers – they are done when they are puffed and golden on both the tops and the bottoms.
Let the turnovers cool for about 10 minutes before whisking together the icing ingredients and drizzling the glaze over the turnovers.
FREEZING INSTRUCTIONS
I love making a batch of Cherry Turnovers and freezing them for later. That way I can bake 1 or 2 turnovers whenever I am craving them.
To freeze these Cherry Turnovers, place the assembled turnovers on a baking sheet lined with parchment paper. Cut a small slit into the top of each turnover but do not brush them with the egg wash.
Place the baking sheet with the turnovers into the freezer and freeze until solid. Pop the frozen turnovers into a zip-top freezer bag and store in the freezer for up to 1 month.
Baking Frozen Turnovers
The greatest thing about freezing your homemade turnovers is that you don't have to thaw them before baking!
When you're ready to bake, place as many of the frozen turnovers as you'd like on a parchment-lined baking sheet. You can brush them with egg wash or leave that off.
Bake the turnovers at 400°F for 20 minutes. The filling is VERY hot right out of the oven, so make sure you let them cool for at least 10 minutes before digging in!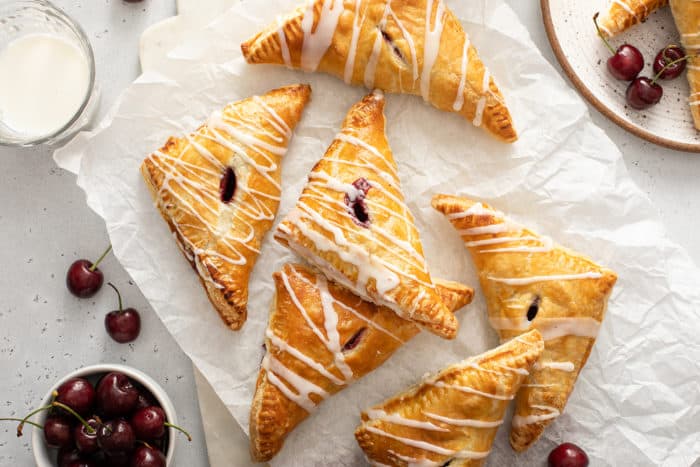 STORING YOUR TURNOVERS
If you have any leftover turnovers, store them in an airtight container at room temperature. They will stay good for up to 3 days, although the pastry may not be as flaky as on the day they were baked.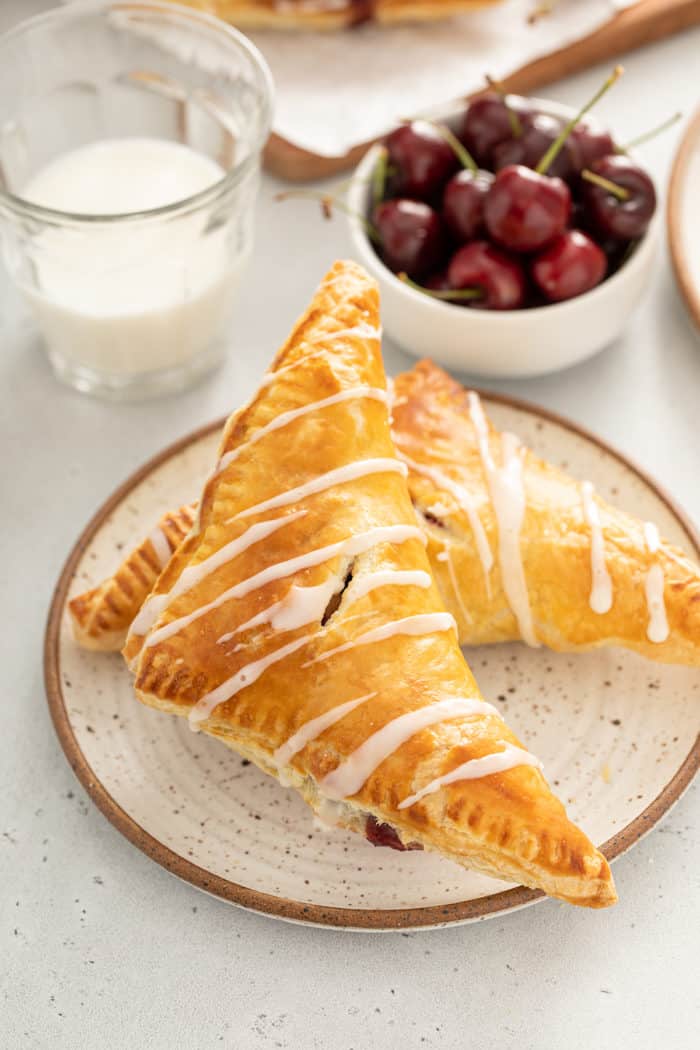 RECIPE VARIATIONS
You know how much I love a recipe that can be tweaked based on the ingredients in your pantry or your personal tastes!
Fillings
Don't have any homemade cherry pie filling on hand or don't feel like making any? No worries! You can use your favorite canned cherry pie filling in these turnovers.
Don't like cherries? Try Apple Turnovers instead! Or swap out the cherry pie filling for your favorite pie filling – peach pie filling would be delicious!
Toppings
I think that a simple glaze is the perfect way to finish off these Cherry Turnovers. After all, that's how the Pillsbury ones were!
But you can also sprinkle them with coarse sugar or turbinado sugar instead of the glaze, or leave them completely plain. Honestly, there's no wrong way to enjoy a cherry turnover!