By now you have certainly realized that I have a serious cherry addiction. From Frozen Cherry Mojitos to Homemade Cherry Pie Filling, I've tried to make the most of this delicious summer fruit.
While at the market last week, I noticed cherries were on sale and since I can't pass up fresh cherries, there was no way I was passing up fresh cherries at a discount price. At that moment I decided I was going to make a fresh cherry pie. And since Brian was working late, I figured I'd go ahead and indulge in cherry pie for dinner.
After I put the groceries away, I sat down at my desk and realized that the ridiculous, unorganized mess needed to be taken care of before I could proceed with anything else. Well, after about two minutes I got distracted by a pile of culinary magazines that I had placed in a strategic stack on my scanner. As I flipped through the July issue of Bon Appétit, I came across a recipe for Cherry Hand Pies – so I went with it and totally neglected my desk for the 28th time that week.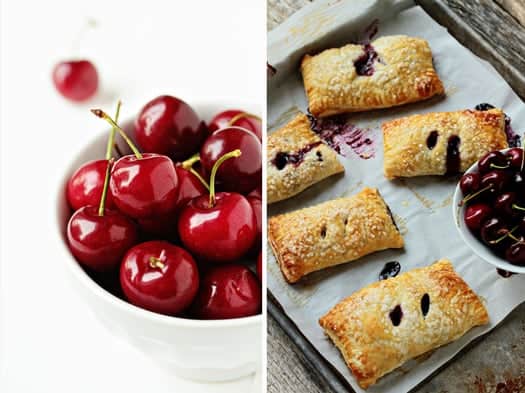 These Cherry Hand Pies are pretty simple because they use puff pastry as the crust. Its buttery, flaky goodness perfectly envelops the sweet cherry filling. I topped them with a generous sprinkling of coarse sugar for a little added sweetness and texture. These Cherry Hand Pies honestly make the perfect breakfast on the go and would certainly be a fantastic surprise to tuck into a packed lunch.
Cherry Hand Pies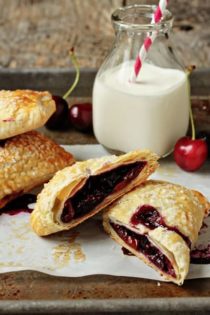 Ingredients:
1 1/2 tablespoons cornstarch
2 cups fresh cherries, stemmed and pitted
2/3 cup dried cherries
1/2 cup sugar
2 teaspoons fresh lemon juice
1 teaspoon vanilla extract
1/8 teaspoon kosher salt
1 package puff pastry*, thawed in refrigerator (I used Pepperidge Farm 17.3 ounce package)
Flour (for dusting)
1 large egg white
1 1/2 teaspoons coarse sugar
Directions:
1. Line a large rimmed baking sheet with parchment paper. In a small bowl, mix cornstarch and 1 1/2 tablespoons cold water. In a large saucepan, combine fresh cherries, dried cherries, sugar, lemon juice, vanilla and salt. Cook over medium heat, stirring occasionally, until cherry juices are released, about 5 minutes. Add cornstarch mixture; bring to a boil, stirring often. Remove from heat and let cool to room temperature, stirring occasionally.
2. On a lightly floured surface, roll out one pastry sheet at a time to create a rectangle. Using a sharp knife or pizza cutter, cut each sheet of dough into dough into 4 rectangles roughly 6x5" (you'll have a total of 8 rectangles with both sheets if using Pepperidge Farm brand). In a small bowl, whisk egg white and 1 tablespoon of water to create the egg wash.
3. Working with 1 rectangle at a time, place the pastry on a lightly floured work surface and brush edges with egg wash. Scoop about 3 tablespoons cherry mixture onto one side and fold the dough over the filling so that short ends meet, forming a 5x3" packet. Crimp edges with a fork to seal. Using a sharp knife, cut a couple of slits in top of each hand pie to vent. Place hand pies on prepared baking sheet; repeat with remaining dough and filling.
4. Brush the tops of the hand pies with egg wash and sprinkle with coarse sugar. Chill for 30 minutes.
5. Preheat oven to 375°. Bake pastries until tops and bottoms are golden brown, about 30-40 minutes. Let cool for 10 minutes on baking sheet. Transfer to wire racks; let cool completely.
Notes:
- Recipe adapted from Bon Appétit.
- You can substitute the fresh cherries with 12 ounces frozen pitted cherries, unthawed.
- *The Bon Appétit recipe called for a 14-ounce package all-butter puff pastry (preferably Dufour). I used Pepperidge Farm because it's what I had on hand.
- These Cherry Hand Pies can be made one day ahead and stored at room temperature.
- I wasn't really all that particular with my rectangle measurements, some pies were definitely bigger and a little more rustic than others.
adapted from Bon Appétit
All images and text ©
Follow Jamie on Instagram. We love to see what you're baking from MBA! Be sure to tag @jamiemba and use the hashtag #mbarecipes!