Hash Brown Breakfast Casserole is a savory make-ahead breakfast perfect for holiday mornings. Prep it the night before and bake it off in the morning for an easy way to feed a crowd.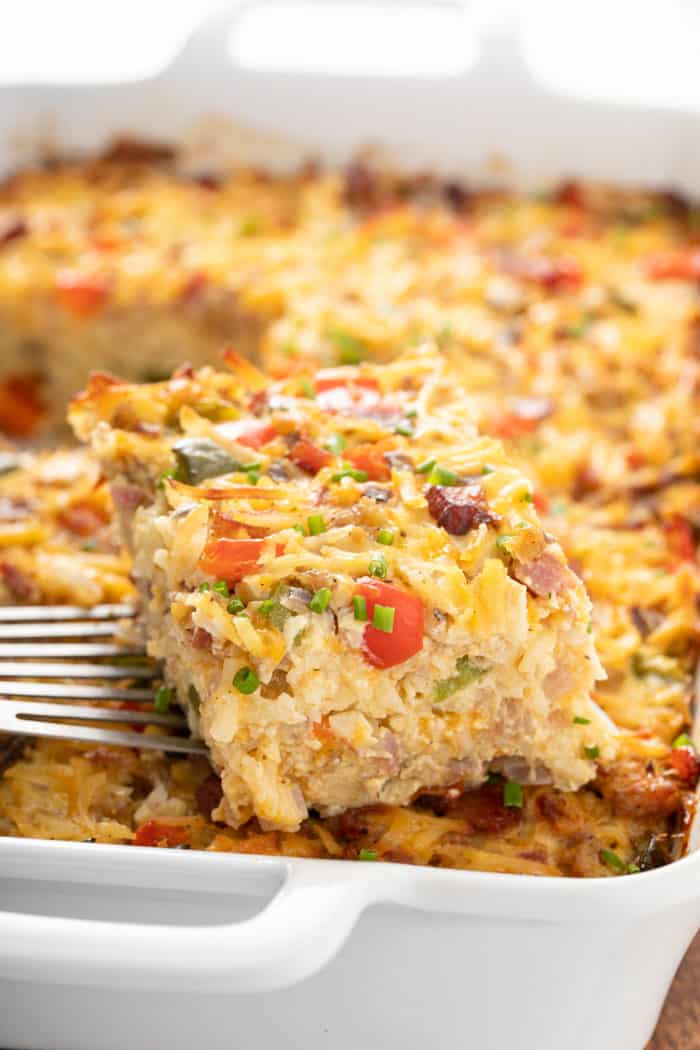 One of my very favorite things about Christmas morning is Christmas breakfast. After opening gifts, we stay in our matching pajamas and eat a simple yet filling breakfast full of all of our favorites. Pancakes and sausage for Elle, eggs and bacon for Eric and some type of make-ahead casserole for me.
No one really wants to be worrying about breakfast during the Christmas morning gift flurry, so recipes like overnight french toast casserole really save the day.
I love some pecan sticky buns, but what I really go for with a hectic day ahead are savory breakfasts.
Both my croissant breakfast casserole and make-ahead breakfast casserole are so filling and satisfying. I just had to make a version with hash browns!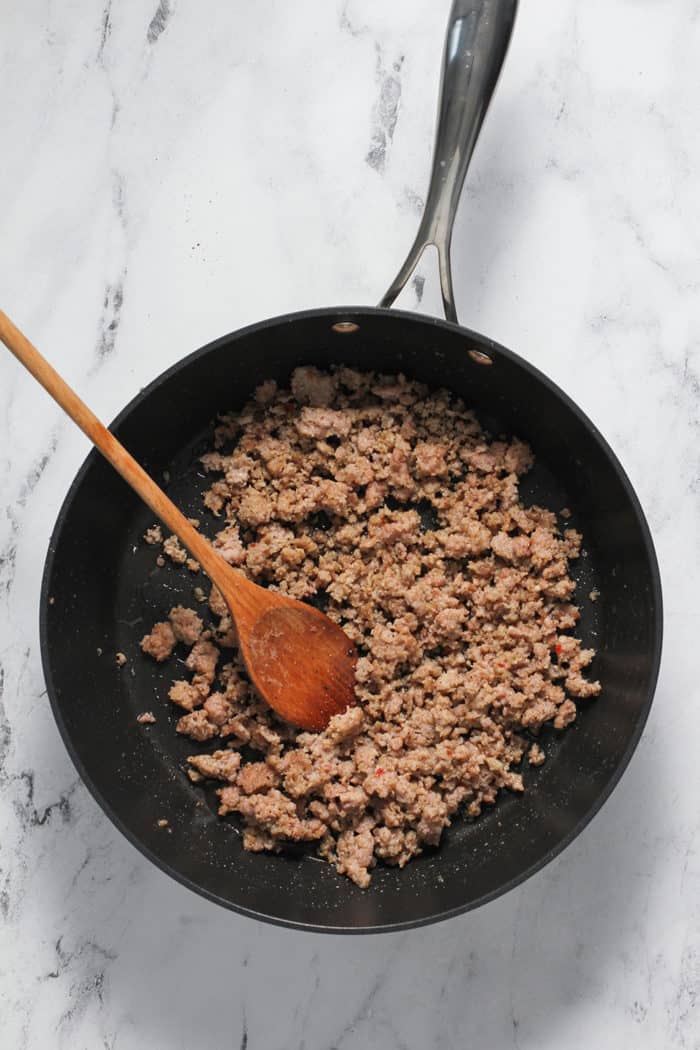 BREAKFAST CASSEROLE WITH HASH BROWNS
Whenever we have breakfast at a restaurant, I order hash browns. I know you're with me here — after all, you love my hash brown casserole for dinner too!
The great thing is that this easy breakfast casserole is truly a cinch to put together, thanks to the shortcut of frozen shredded hash browns.
Who has time to shred their own potatoes during the holiday season? Not me. Plus, you don't even need to thaw them before mixing this up.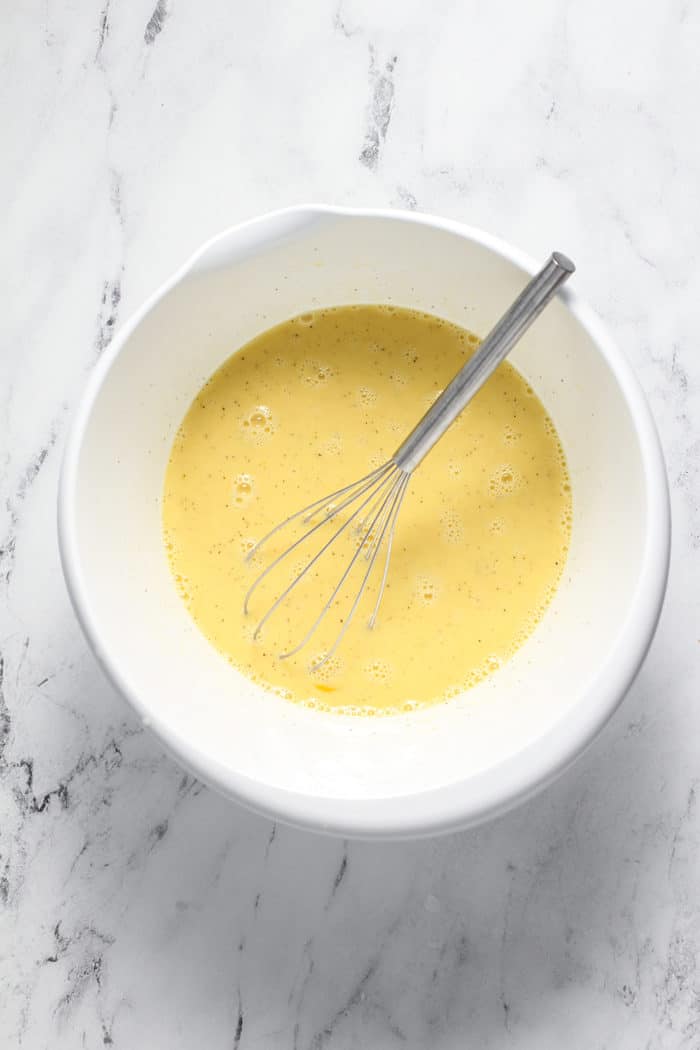 HASH BROWN BREAKFAST CASSEROLE INGREDIENTS
One great thing about breakfast casserole recipes is that they are really easy to customize to your liking. Aside from the base ingredients, you can mix and match for your favorite flavor combinations.
You'll need:
Breakfast sausage — I use pork, but chicken or turkey works well.
Eggs
Milk — Whole, or 2% if that's what you have on hand.
Smoked diced ham, or cooked, cooled, and chopped bacon
Frozen shredded hash browns — Make sure your hash browns are shredded, not cubed, or they won't mix as nicely into the casserole.
Bell peppers, in your favorite colors
Red onion
Garlic
Shredded cheddar cheese, or your favorite cheese or cheese blend
Spices: paprika, dried sage, salt, and pepper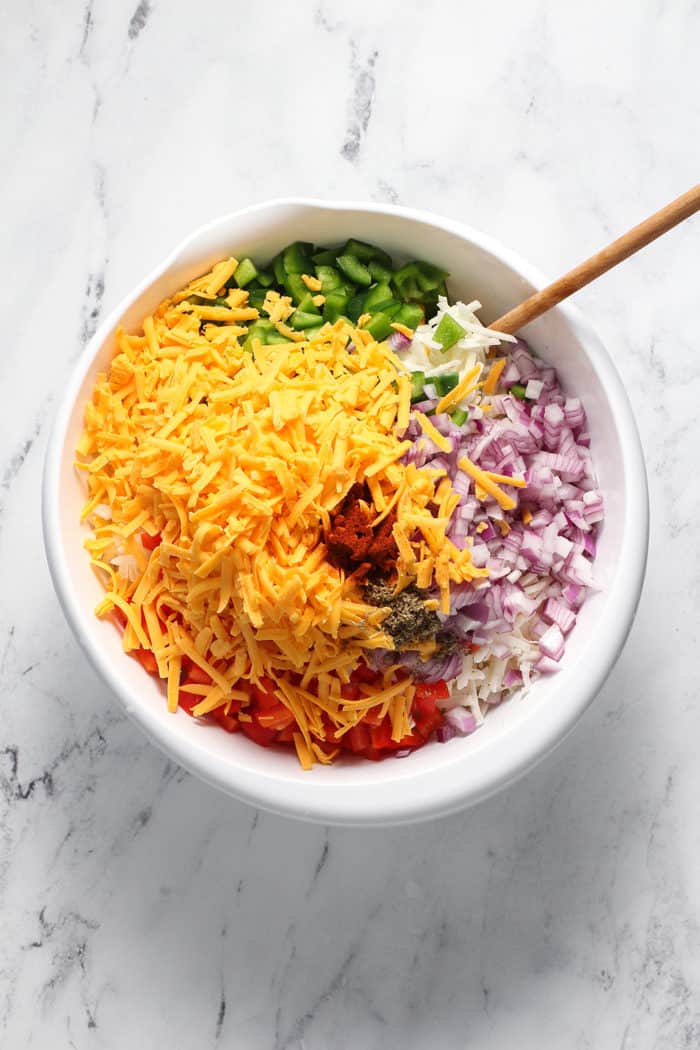 Dried sage is optional, but I like the flavor it adds. If your breakfast sausage already contains sage in the mixture (some do) you can skip it, if you prefer.
Want to add some heat? Toss in a can of chopped chile peppers or fresh diced jalapeño. Or simply serve with hot sauce on the side.
Because we're using potatoes instead of bread, this recipe is naturally gluten free. However, be sure to check the labels on your meats and hash browns just in case!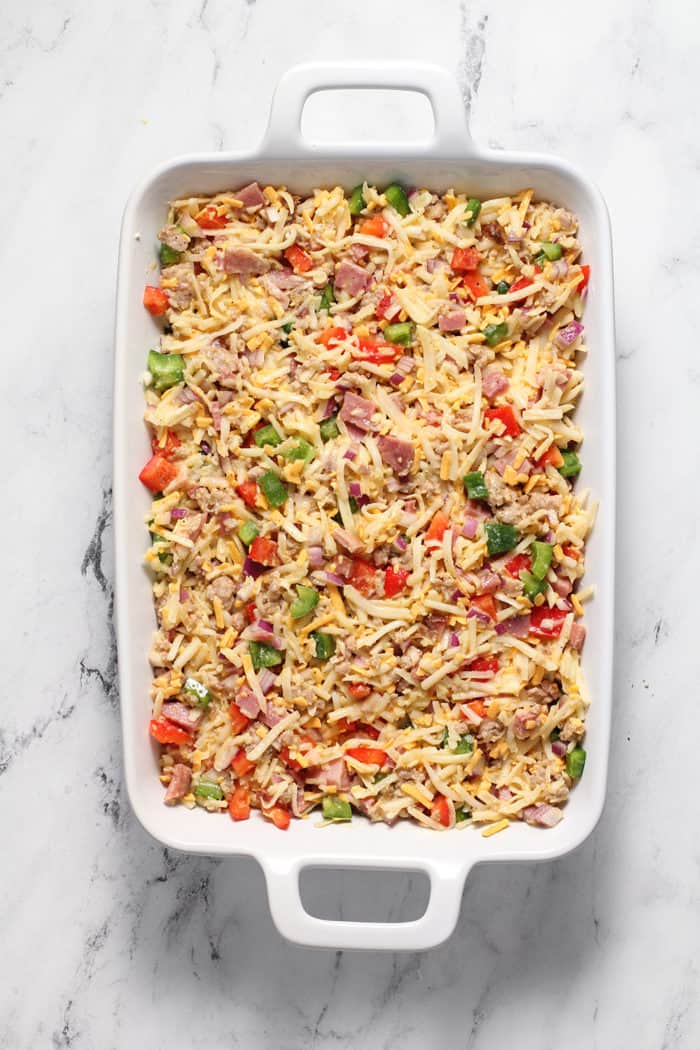 MAKING OVERNIGHT BREAKFAST CASSEROLE
Aside from making breakfast stress-free, this hash brown casserole rests overnight to get all of the flavors to mingle.
If you're making this for a later brunch, you could prep in the morning, but make sure it rests for at least two hours in the refrigerator before baking.
You can also do a lot of the work ahead of time before assembling. The sausage can be cooked, cooled, and stored in the refrigerator a day ahead. Chop some extra veggies while making dinner and you're halfway there!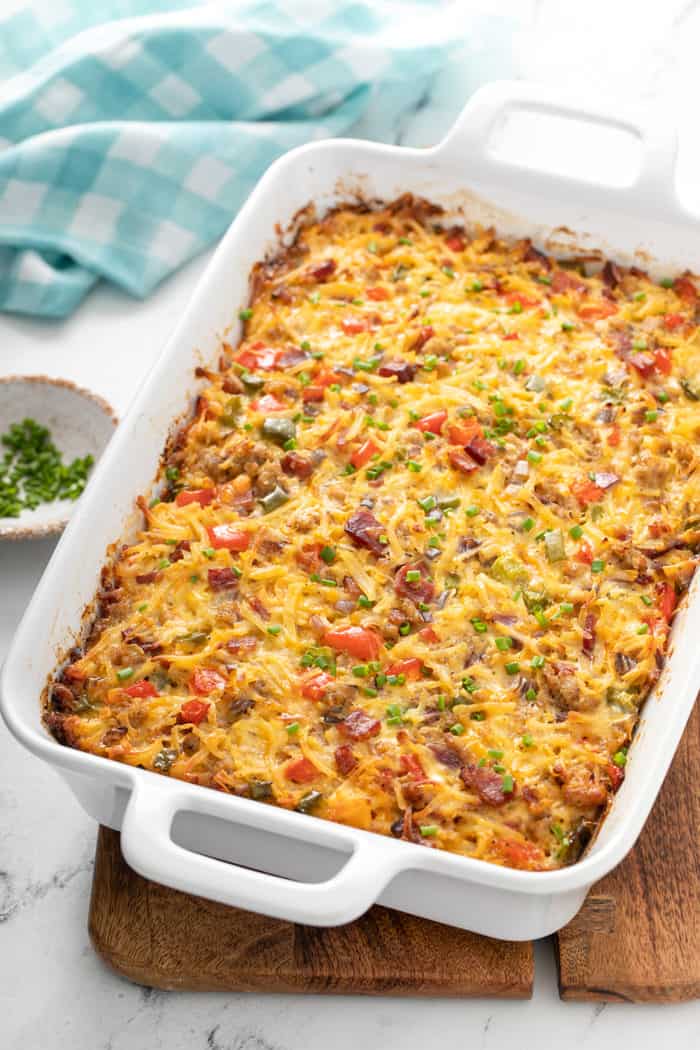 If you're making the recipe all at once, make sure to cool the sausage before adding to the eggs and milk to prevent the eggs from starting to cook.
You can drain the excess fat from the sausage by scooping it onto a paper-towel lined plate. Depending on the sausage you use, there might not be a lot of remaining fat, so don't worry if you don't drain it!
Make sure you grab a really big bowl to whisk together your eggs and milk. All of the ingredients will end up in the bowl, so you'll want to have one big enough to fit everything and allow for stirring.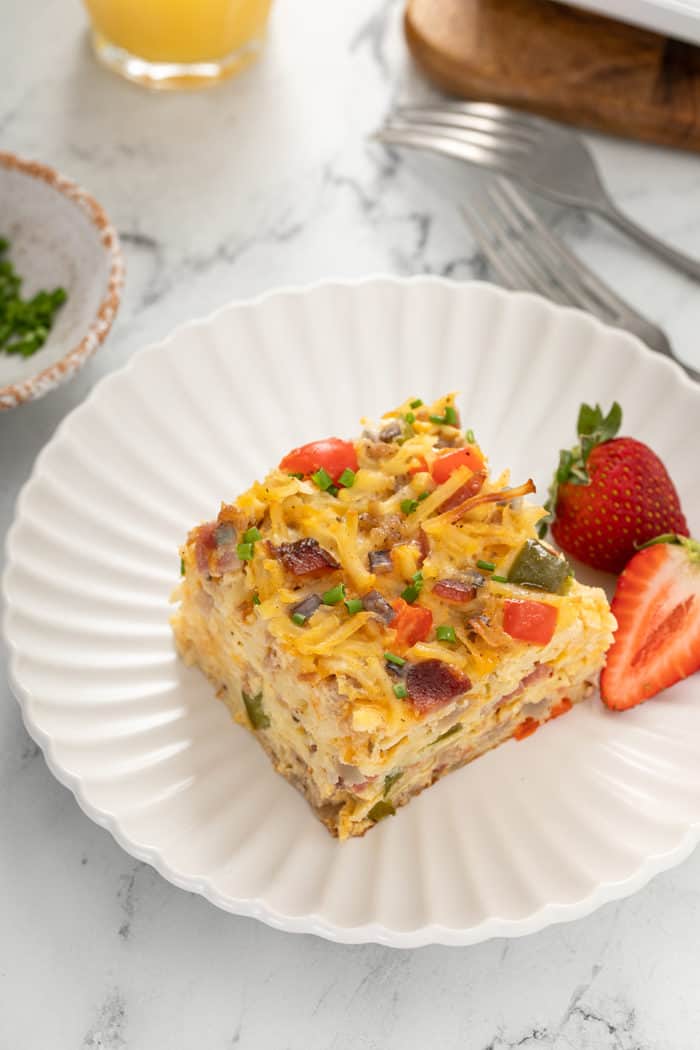 Mix all of your ingredients well, then scoop it into a large greased casserole. A 9×13-inch pan should be large enough.
I like to redistribute the ingredients a little bit once everything is in the casserole dish, just in case anything clumped together in the bowl, like the cheese.
Cover the dish tightly with a lid, plastic wrap, or foil, then pop it into the refrigerator for a minimum of two hours, but preferably overnight.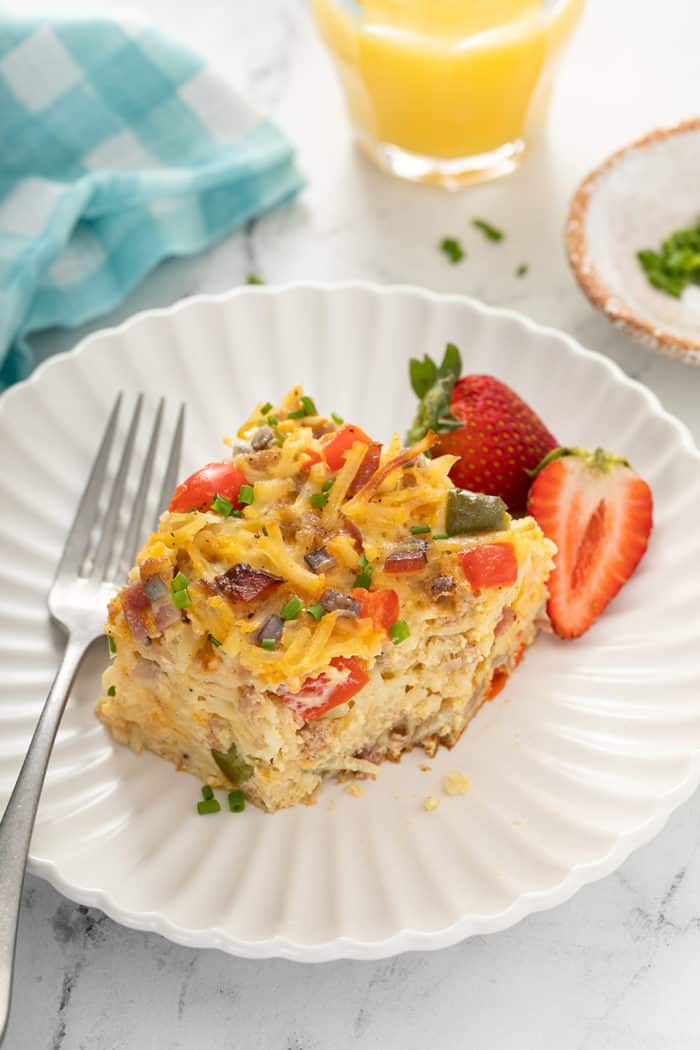 When you're ready to bake, be sure to remove the covering before putting it into the oven. Hash brown breakfast casserole bakes for about an hour, which is just long enough for the kids to have ripped through their presents and need a pause for fuel.
Serve the breakfast hashbrown casserole in slices while warm, or reheat as needed in the microwave for any late risers.
Give it a try — this just might be your new favorite breakfast casserole recipe!