Hash Brown Casserole
Hash Brown Casserole comes together in less than 10 minutes with just a few simple ingredients. It's the perfect side dish for potlucks, barbecues, and even brunch.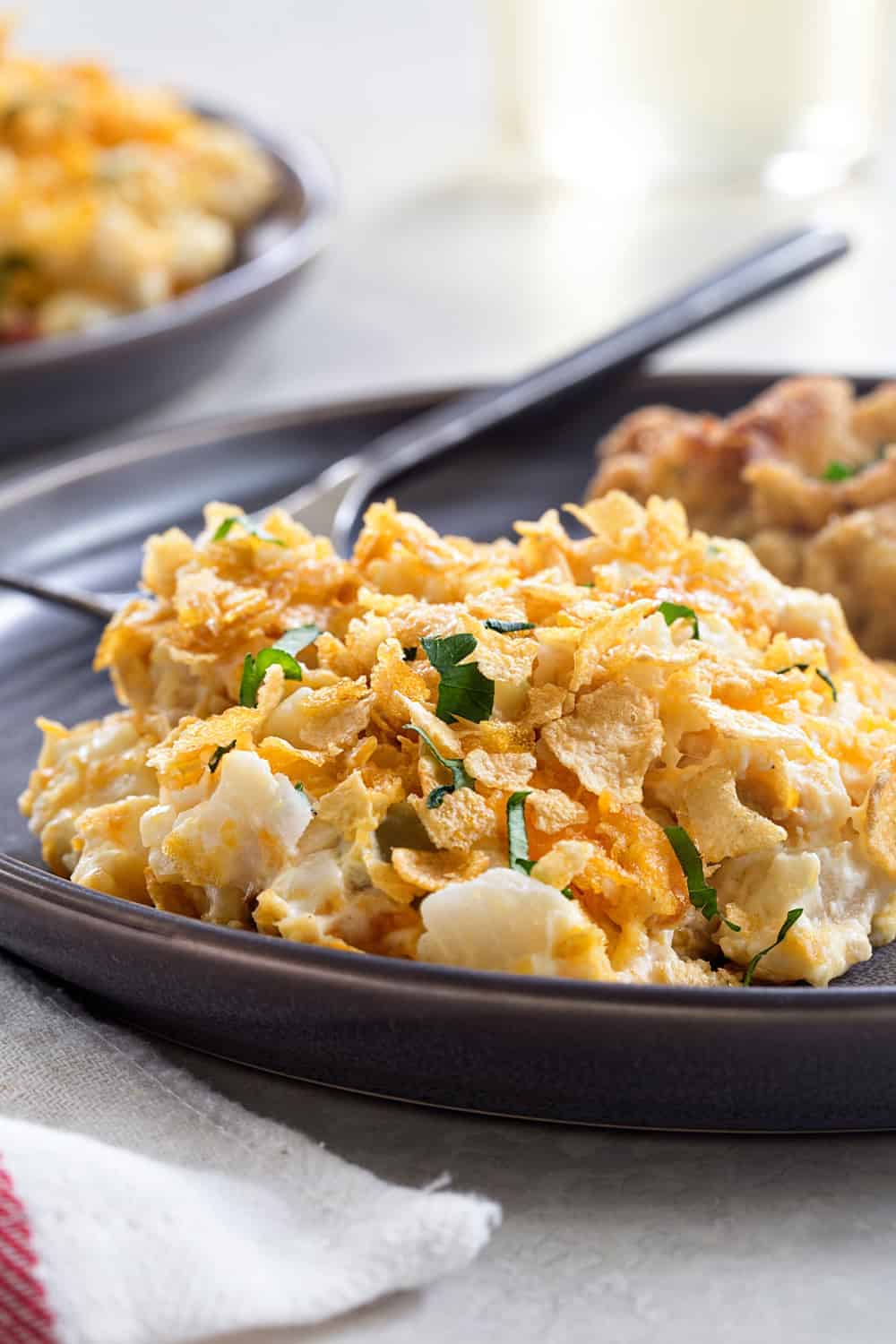 I was first introduced to this hash brown casserole by my stepmom no less than 15 years ago and I immediately feel in love with the recipe.
I mean. what's not to love about potatoes, cheese, sour cream and a delicious crispy, buttery topping? Basically, this casserole is a carb-lover's dream come true.
When I was jotting down my menu for Easter dinner, I realized that I have never posted the recipe here on My Baking Addiction, even though I pretty much make them for every single holiday party.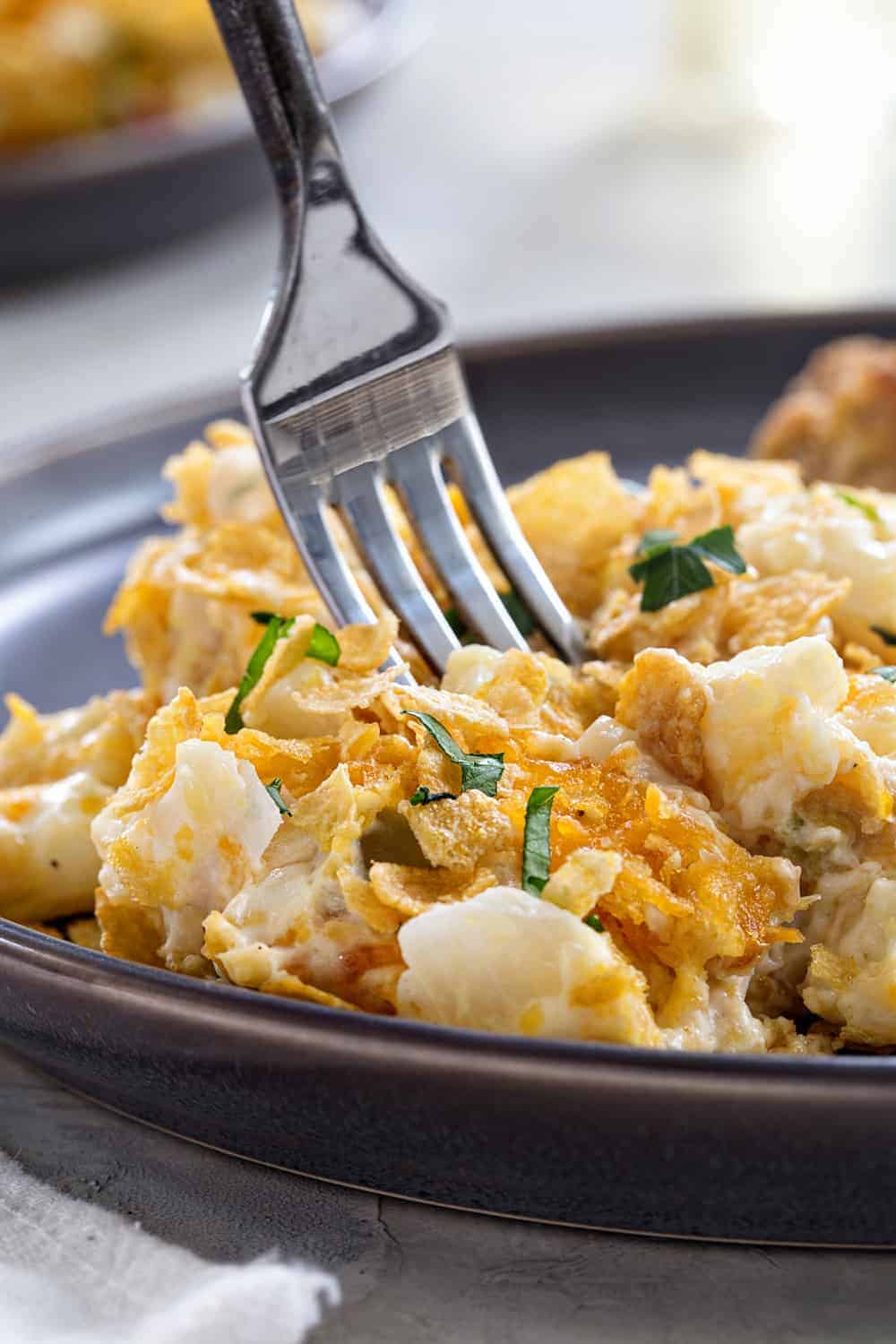 Not only are these potatoes super easy to make, people go crazy for them. Even forgoing the more traditional mashed potatoes or sweet potato casserole for them.
Let's be real though, I love carbs, so I just eat all three.
This hash brown casserole goes by so many different names such as cheesy potatoes, funeral potatoes, funeral hash brown casserole, corn flake potatoes, Amish funeral potatoes – well, you get the idea.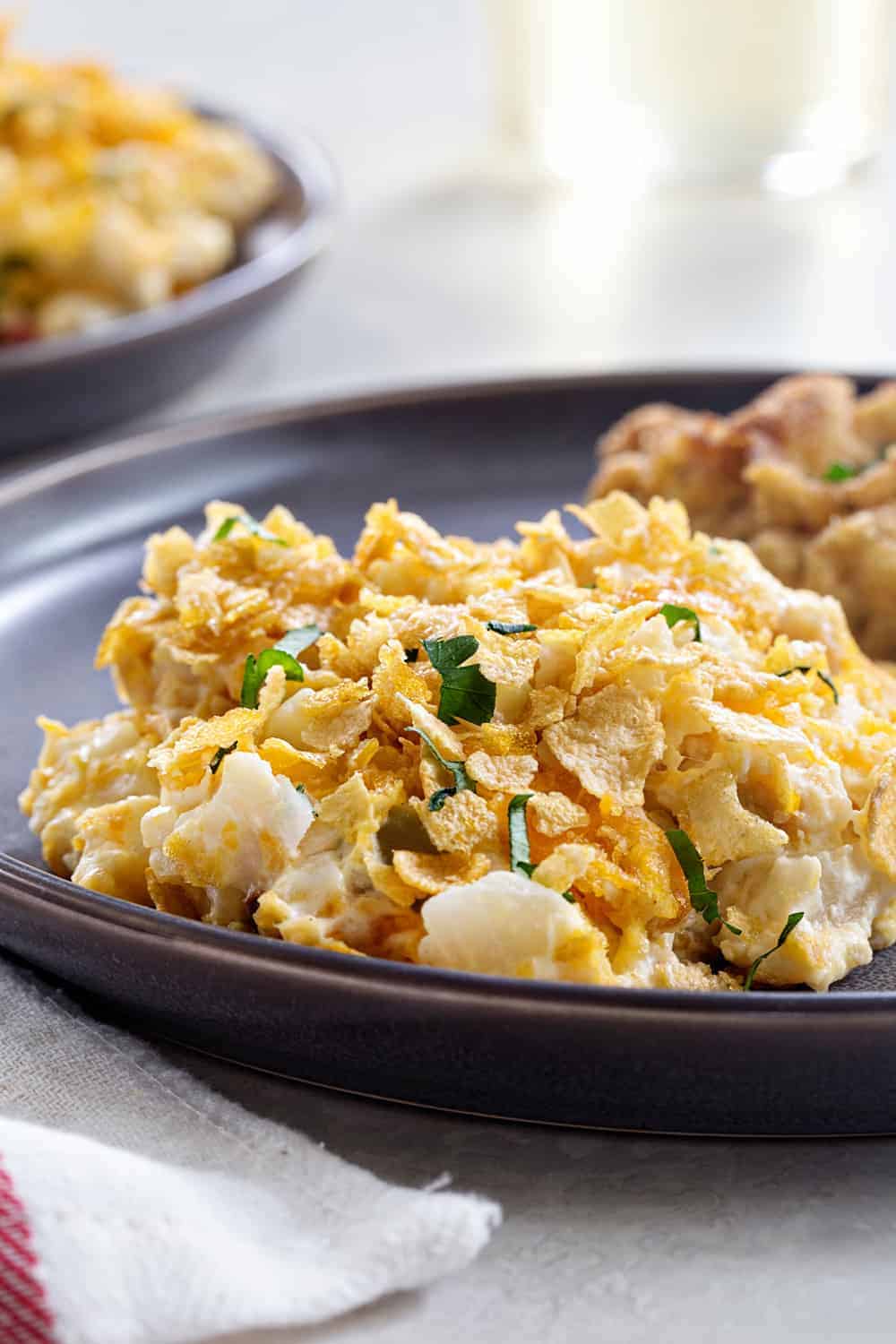 We've always called the recipe hash brown casserole, or cheesy potatoes. For whatever reason, any recipe with the word funeral in it just doesn't give me good vibes, and I don't want to throw it around at my parties.
That's pretty much the same reason I never buy gladiolas – my mom has always referred to them as funeral flowers.
One day she walked into my house and saw them on my mantle (girl, was just to balance the mantle decor with a little height) she made that comment, and that was the last time I ever purchased them.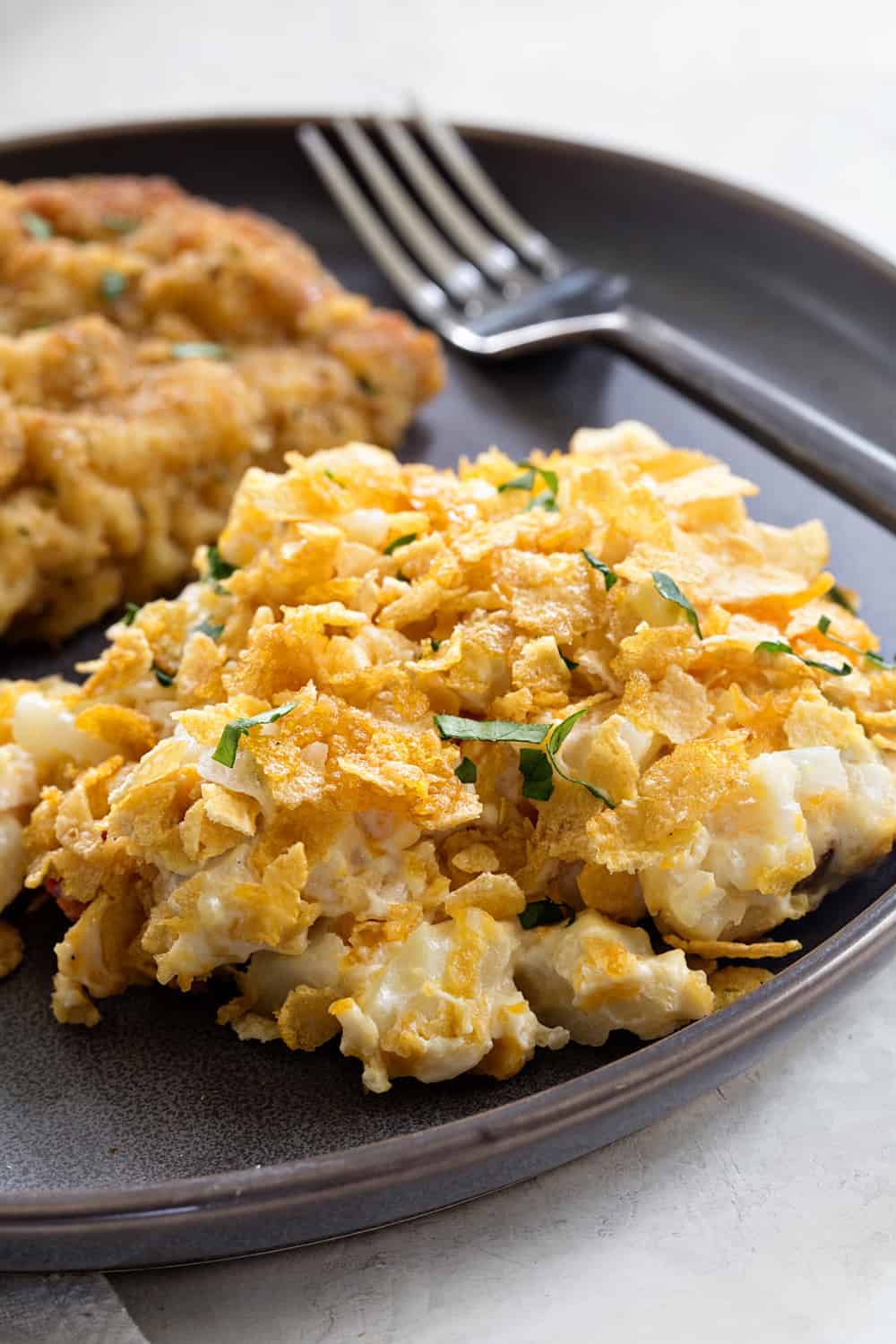 I'm honestly not sure why these are called funeral potatoes, but my guess is that they're often made for after-funeral luncheons or dinners?
Either way, I'm still calling them cheesy potatoes, or hash brown casserole.
One of the main reasons I love this casserole so much is because it comes together in less than 10 minutes. You basically dump everything into a bowl, give a good stir, spread it into a casserole dish, and sprinkle on some corn flakes.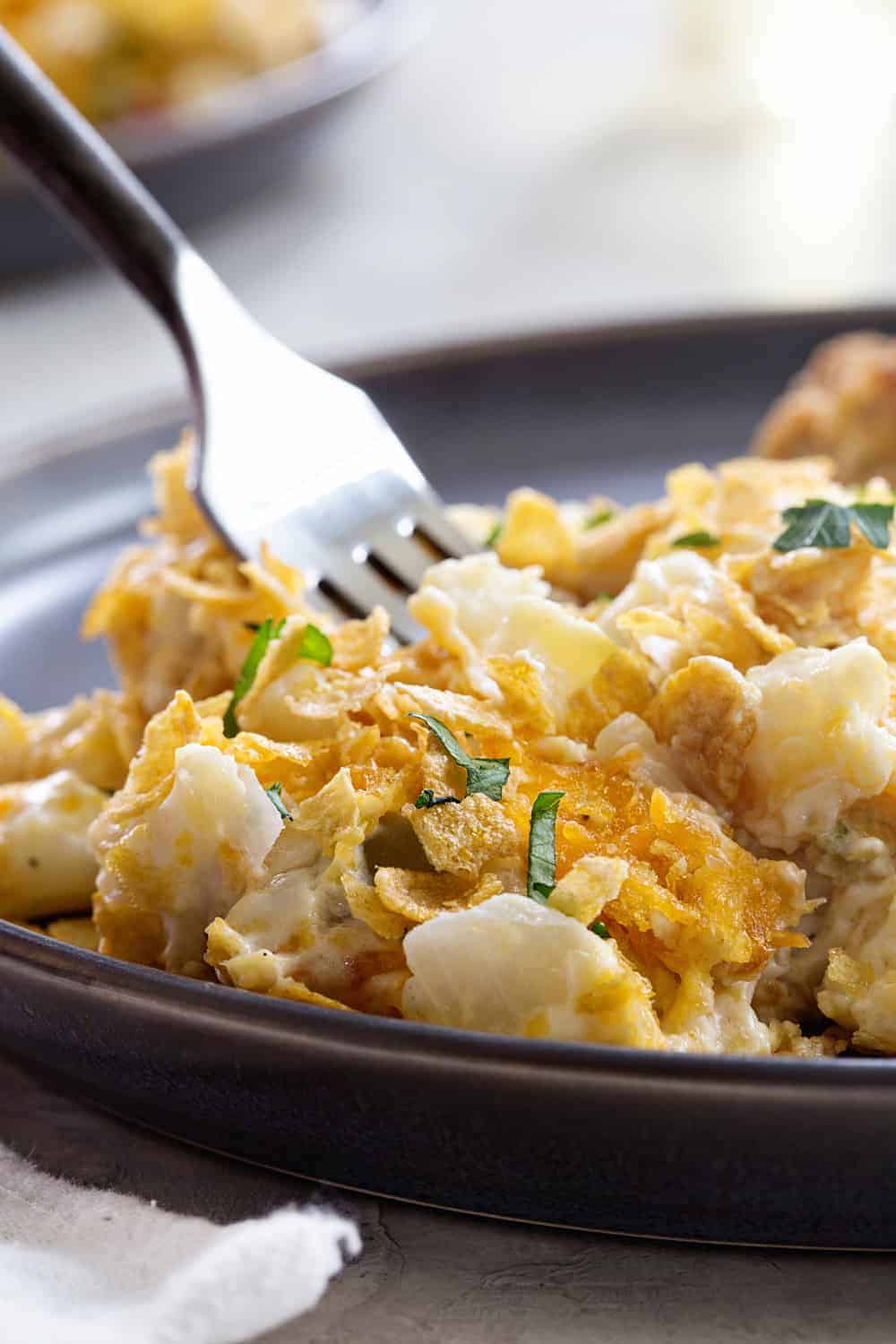 Speaking of corn flakes, not only is this hash brown casserole perfect as a side dish for dinner, I also love pairing them with my make ahead breakfast casserole for a super simple brunch or this Breakfast Bundt Cake.
Those dishes go perfectly with morning glory muffins, or mini cinnamon rolls for delicious breakfast spread. Just add bacon.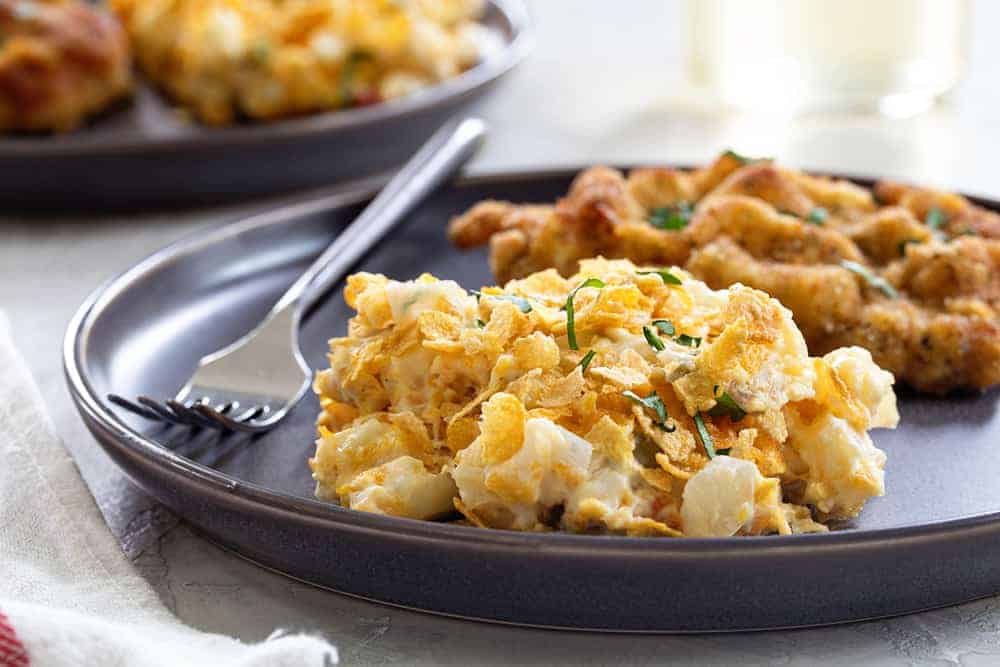 You can even mix this hash brown casserole together the night before, cover and refrigerate it, and bake it the next morning. Just be sure not to sprinkle the corn flakes on until just before you pop it into the oven, otherwise they'll get soggy.
Pretty much nothing can ruin these cheesy potatoes except a soggy topping. But then, soggy topping would run just about anything, right?
I'm all about casseroles right now, so let me know what your favorites are in the comment section below!
Hash Brown Casserole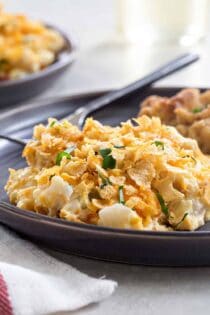 Ingredients:
1 10.5-ounce can condensed cream of chicken soup
1 1/2 cups sour cream
2 cups shredded cheddar cheese, divided use
1 32-ounce package frozen diced hash brown potatoes, OR potatoes o'brien, thawed
2 1/2 cups corn flakes, roughly crushed
4 tablespoons butter, melted
Directions:
Preheat oven to 350°F. Butter a 9 x 13-inch casserole dish.
In a large bowl, mix together the soup and sour cream until combined.
Stir in 1 1/2 cups of the shredded cheese and the potatoes into the sour cream mixture.
Spoon into the prepared pan and spread into an even layer. Sprinkle the remaining 1/2 cup of cheese of the top of the casserole.
In a medium bowl, stir together the corn flakes and melted butter.
Sprinkle the corn flakes on top of the casserole.
Bake in preheated oven for about 50 minutes, or until the casserole is heated through.
Notes:
If you don't have corn flakes, you can substitute about 20 crushed Ritz crackers for them.
All images and text ©
Follow Jamie on Instagram. We love to see what you're baking from MBA! Be sure to tag @jamiemba and use the hashtag #mbarecipes!
This post may contain affiliate links. We are a participant in the Amazon Services LLC Associates Program, an affiliate advertising program designed to provide a means for us to earn fees by linking to Amazon.com and affiliated sites.