Looking for a delicious overnight breakfast casserole recipe for your holiday celebrations? This savory Croissant Breakfast Casserole is full of ham, mushrooms, and gruyere cheese for a breakfast that will satisfy all of your guests.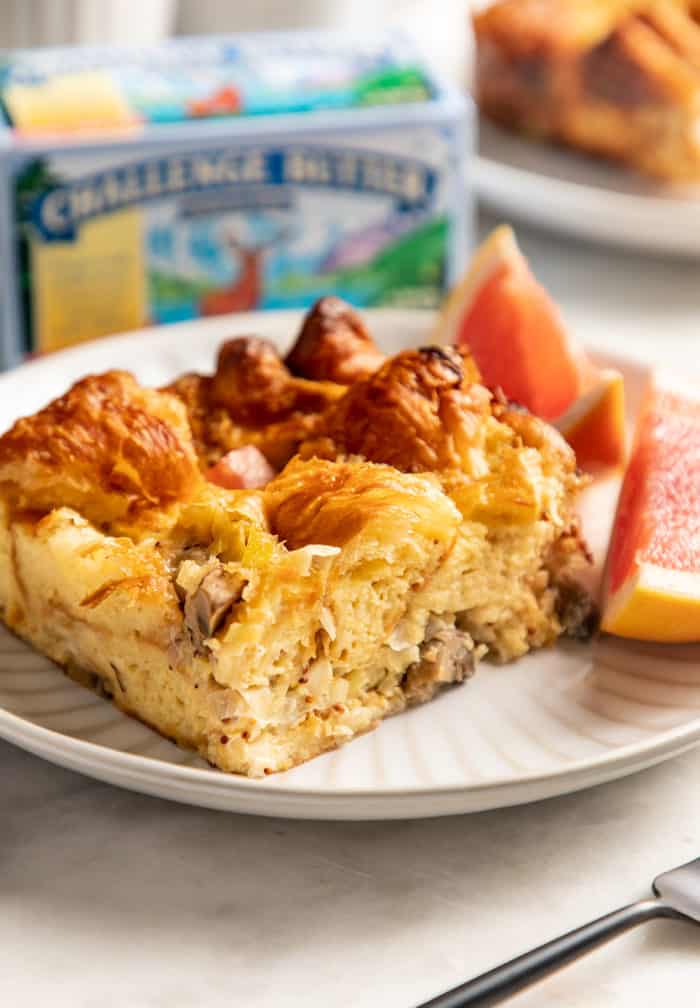 This post is sponsored by Challenge Butter. Thank you for continuing to support the brands that make My Baking Addiction possible.
Holiday mornings are something else, aren't they?
I find that whether we have family staying with us or it's just Eric, Elle and me, everyone wakes up starving and anxious to watch the parade (if it's Thanksgiving) or open presents or just hang out. And somehow they all come to me wondering what's for breakfast.
That's when I turn to recipes I can prep the night before and bake off in the morning. I want something so easy to cook that I don't even have to have had my coffee yet to be able to pop it in the oven.
This year, I'm all about this savory, buttery Croissant Breakfast Casserole.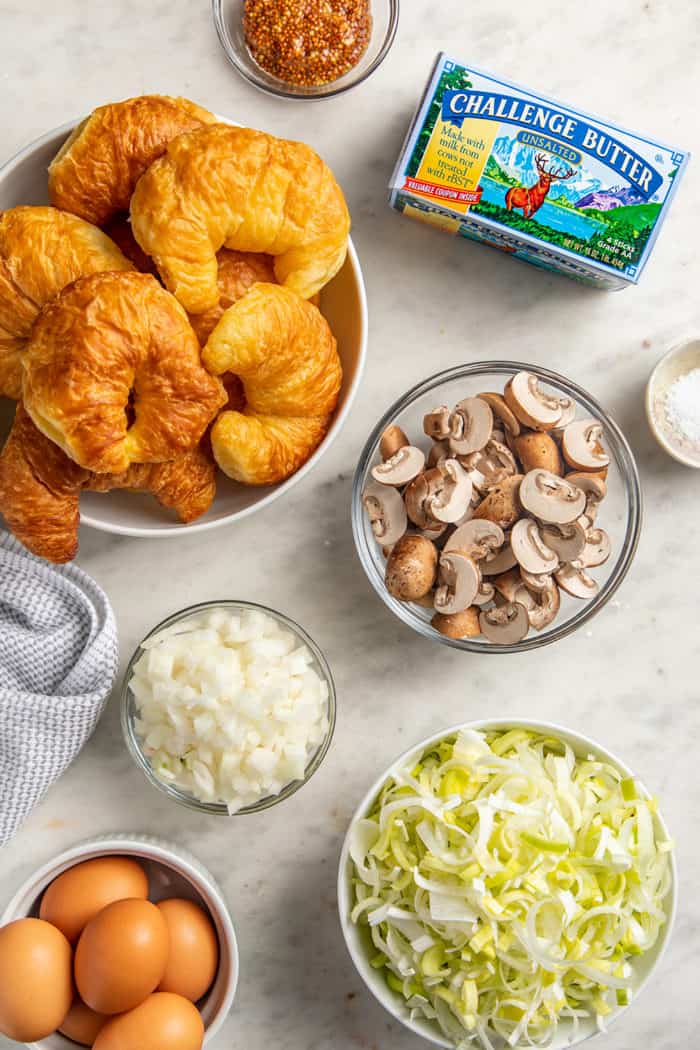 SAVORY CROISSANT BREAKFAST CASSEROLE
Recipes like Make-Ahead Breakfast Casserole, Overnight French Toast Casserole, and Easy Pecan Sticky Buns have all been big hits in the past for my family. They think they're delicious and I love them because they're so easy to make.
It's great when we can all win, right?
This Croissant Breakfast Casserole is another winner. I was inspired to try using croissants from the bakery section of my grocery store and turn them into a savory breakfast casserole.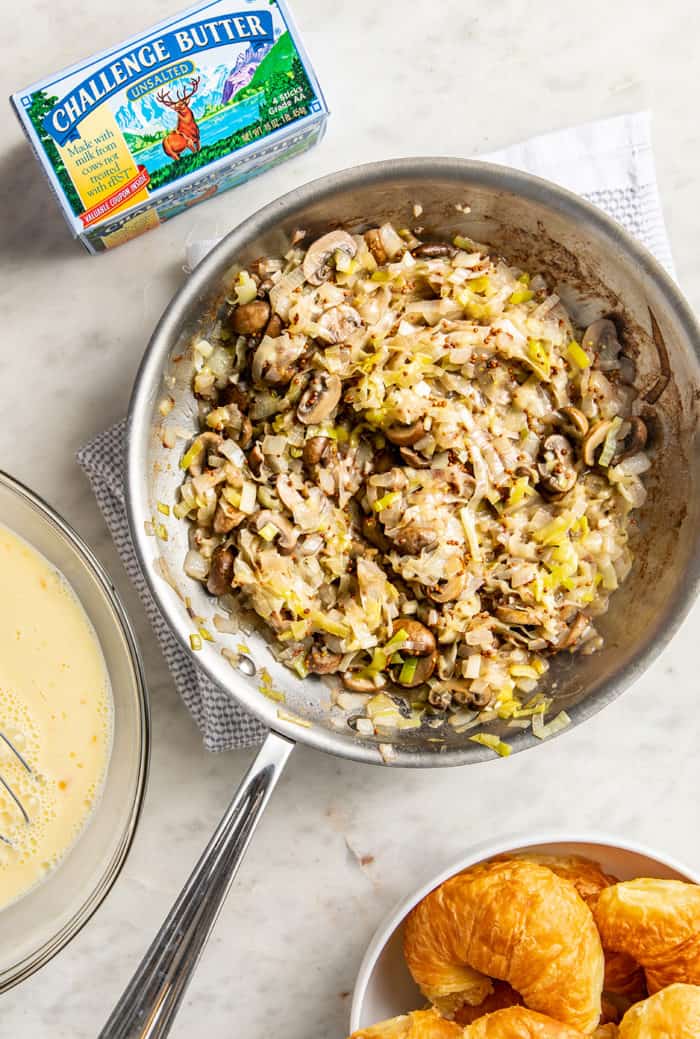 Something about the croissants must have gotten me into a French mindset, because I found myself gathering up ham, mushrooms, leeks, gruyere cheese, and – of course – Challenge Unsalted Butter for this casserole.
If you've ever had a croque monsieur, this tastes a little like the breakfast casserole version of that.
Does this sound fancy? Sure. Will your guests think you're fancy when you serve it to them? Probably. Is it hard to make? Not at all. Promise.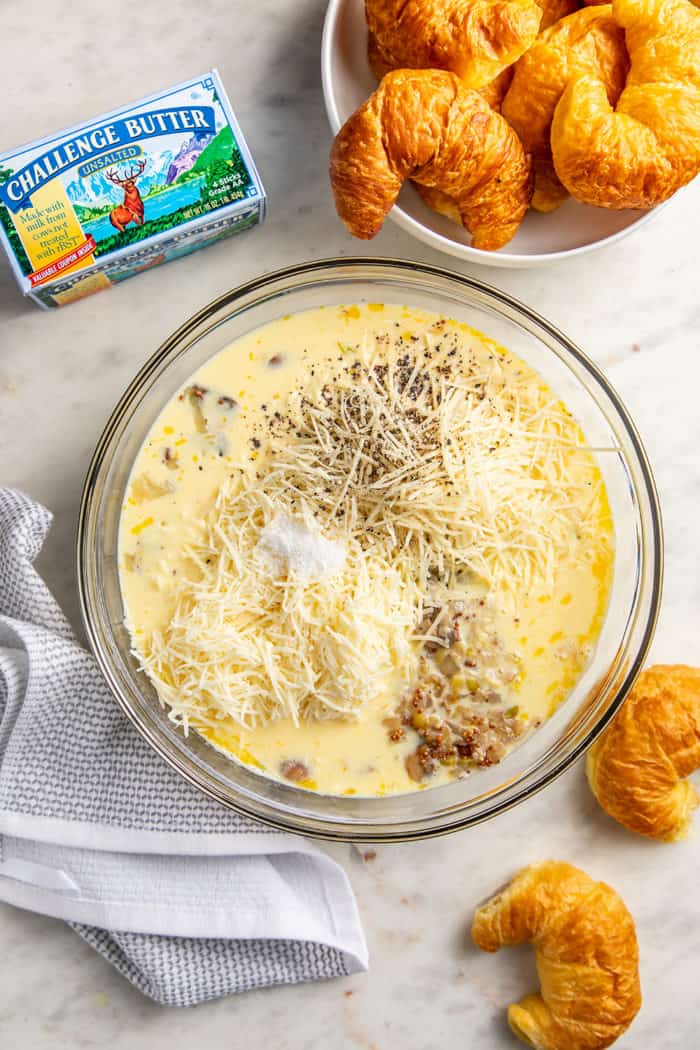 HOW TO MAKE THIS OVERNIGHT BREAKFAST CASSEROLE
This breakfast casserole is made in 4 basic steps:
Saute the filling
Mix the casserole together
Cover and chill overnight
Bake in the morning
To start the filling, melt 4 tablespoons of Challenge Unsalted Butter in a pan over medium heat.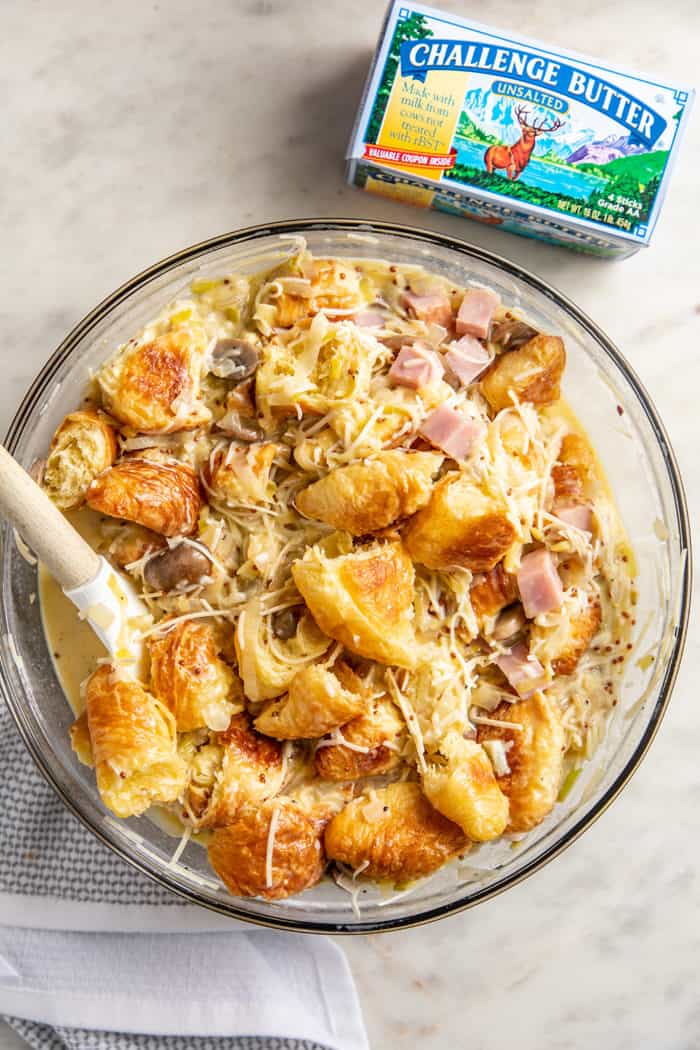 I like starting with Challenge Butter for this recipe because it is churned daily from the freshest milk and made without any artificial preservatives, fillers, or dyes. Its flavor and quality make it absolutely perfect for sauteing the mushrooms and leeks that will go into our casserole.
When the butter is melted, add the mushrooms, leeks, and onion with a pinch of salt. Let those cook for about 10 minutes; we want all of those vegetables to be soft and caramelized before adding garlic, whole grain mustard, and a splash of sherry vinegar to the pan.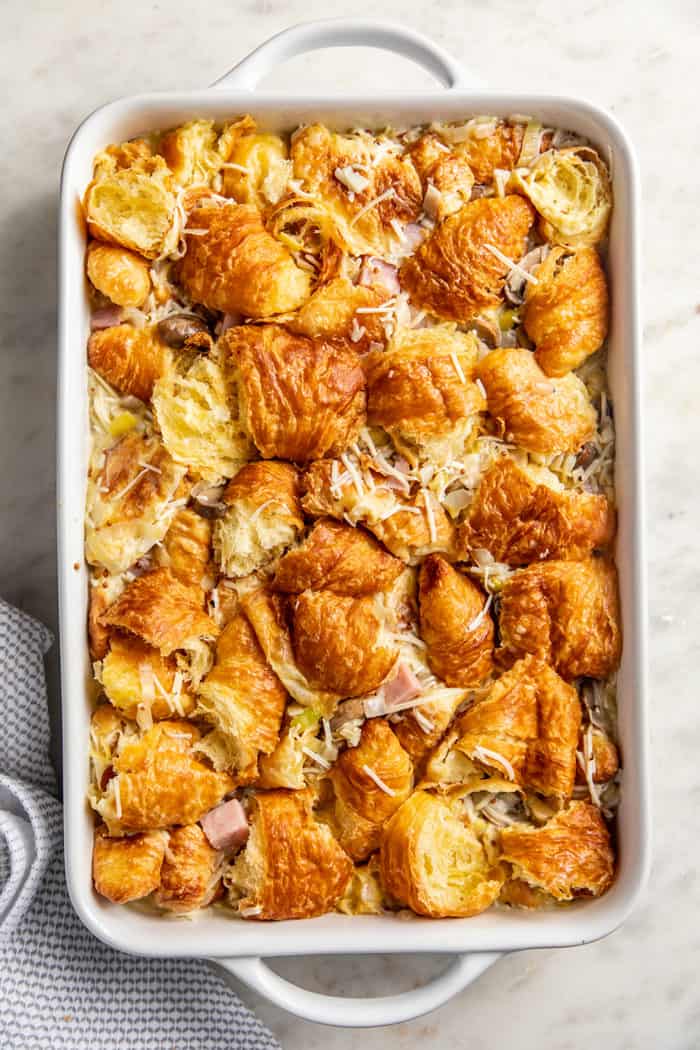 Let the filling cool while you whisk together 8 eggs and 2 cups of whole milk. Add in the cooled filling, diced ham, gruyere and parmesan cheese, and some more salt and pepper.
Now you'll gently fold in croissants that you have torn or cut into 1-inch pieces. Since the croissants are pretty delicate, make sure you use a gentle hand here so they don't totally fall apart.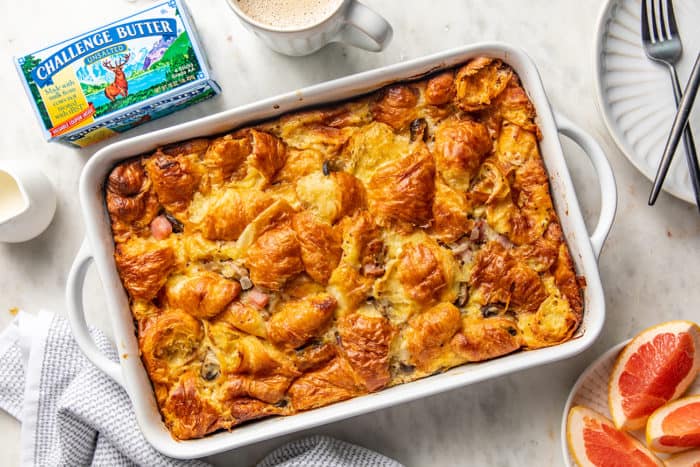 Generously butter a 9×13-inch baking dish with more Challenge Butter. Add the casserole mixture to the pan, then cover and refrigerate overnight.
In the morning, preheat the oven to 375ºF and bake the casserole for 1 hour. It's ready when the top is golden, the edges are crispy, and the center is set.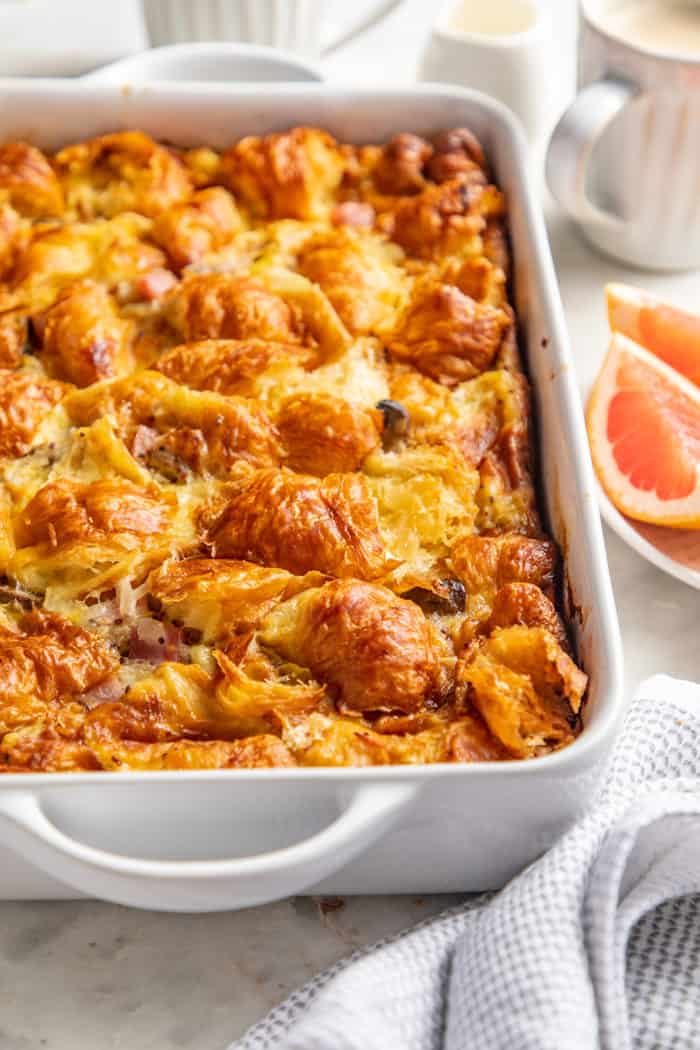 RECIPE VARIATIONS
I adore mushrooms, so this Croissant Breakfast Casserole is right up my alley. If you aren't a big fan of mushrooms, though, you can definitely change up the vegetables!
If you don't want to go with mushrooms, try making the casserole with broccoli instead. It goes great with the ham and cheese in the recipe. You could even try asparagus if you want!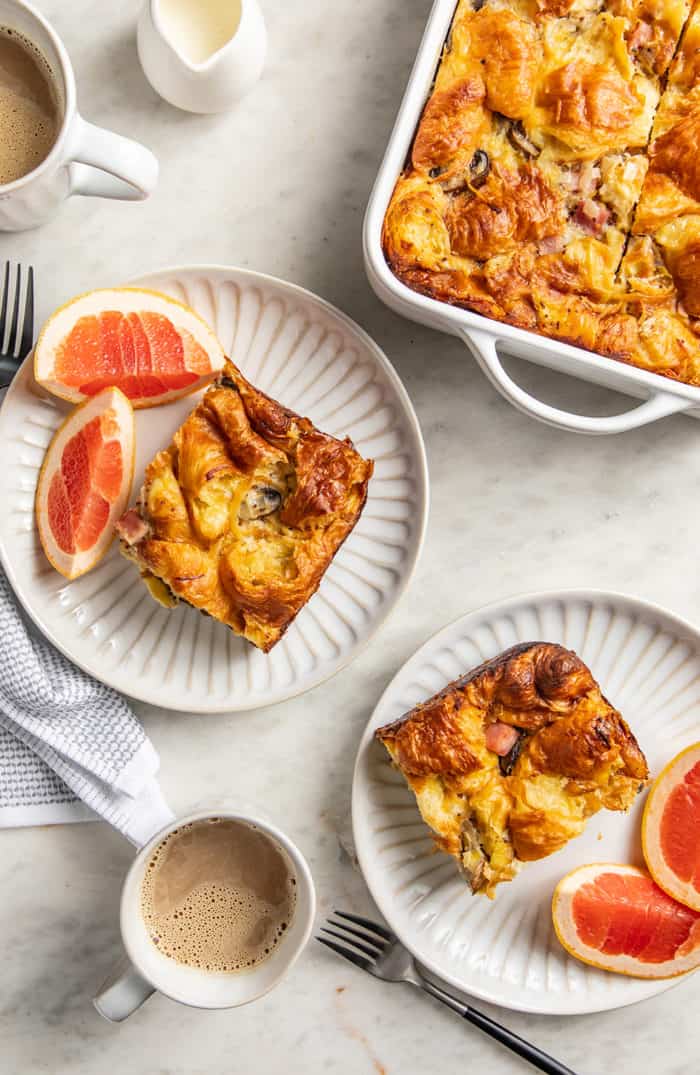 If you're having a hard time finding gruyere, a sharp white cheddar would be delicious in this recipe as well.
No matter what cheese or vegetables you choose, this Croissant Breakfast Casserole will be a great addition to your holiday menus.