Want French toast without the hassle? Make this easy Overnight French Toast Casserole with sweet, buttery streusel topping instead! Simply prep it the night before and bake the next morning for a breakfast that's full of the flavor you love with minimal effort.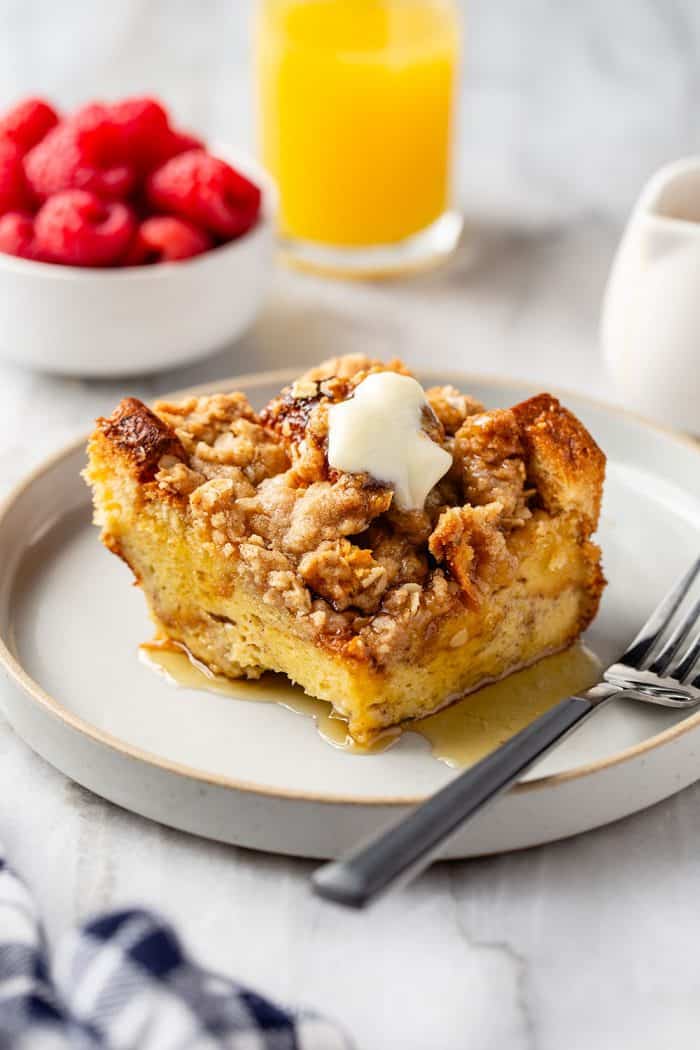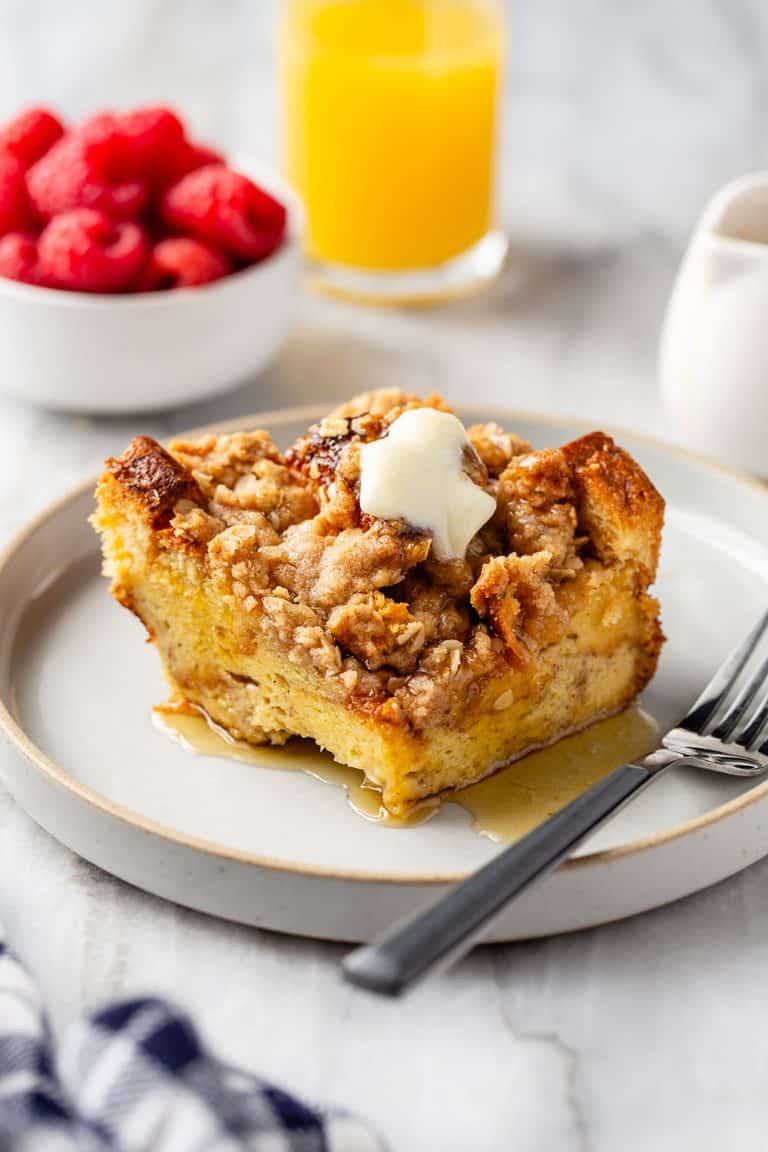 Why is breakfast such a hassle during the school year?
On the weekend, I love making everything from Banana Pancakes and Glazed Donut Muffins to Cinnamon Coffee Cake.
But once Monday morning rolls around, it suddenly becomes a struggle to do anything more than set a bowl of cereal in front of Elle while I reach for yet another cup of coffee.
With this school year looking so different from previous years, I need all the help I can get in the mornings. I'm really relying on recipes I can make on the weekend and Elle can eat for breakfast throughout the week.
Enter Overnight French Toast Casserole. It's just as easy to make for a nice weekend brunch as it is for leftover weekday breakfasts. That's the kind of versatility I'm looking for these days.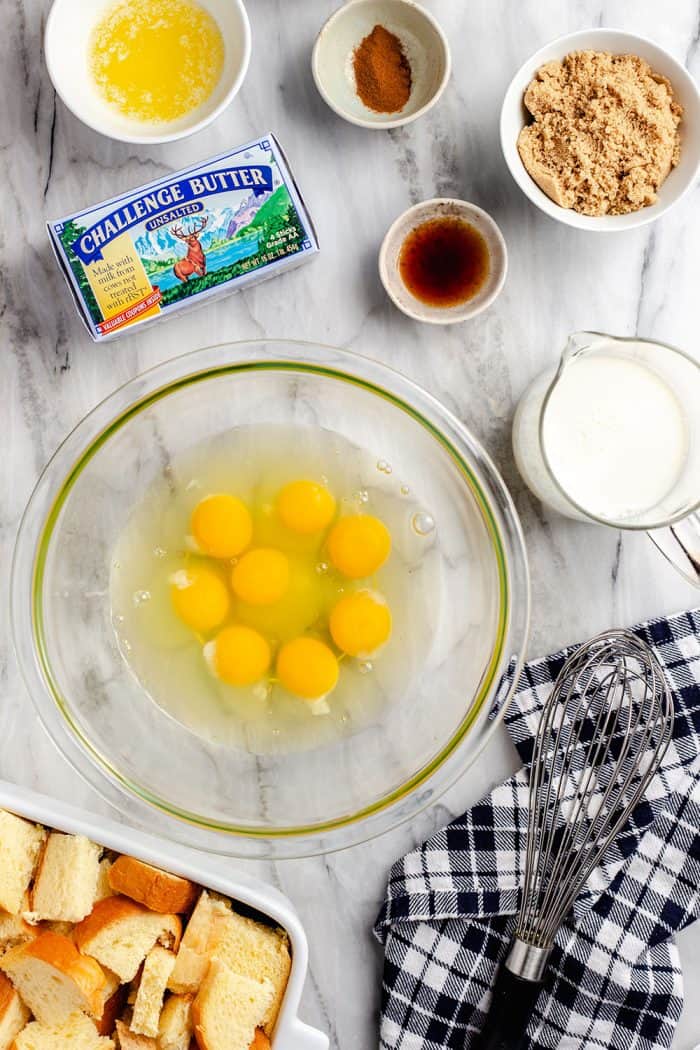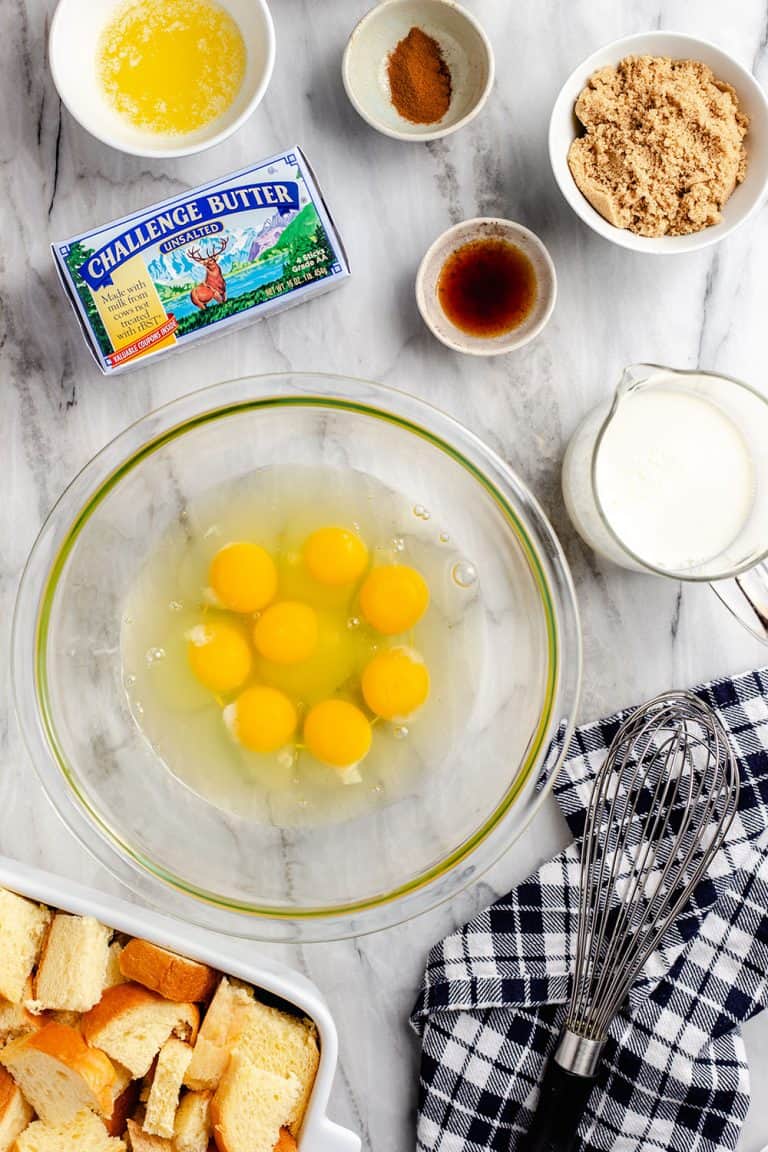 WHAT IS OVERNIGHT FRENCH TOAST?
Have you ever had overnight French toast?
It's French toast turned into a casserole, sort of like a breakfast version of bread pudding. You make it the night before, let it hang out in the fridge overnight, and bake it the next morning!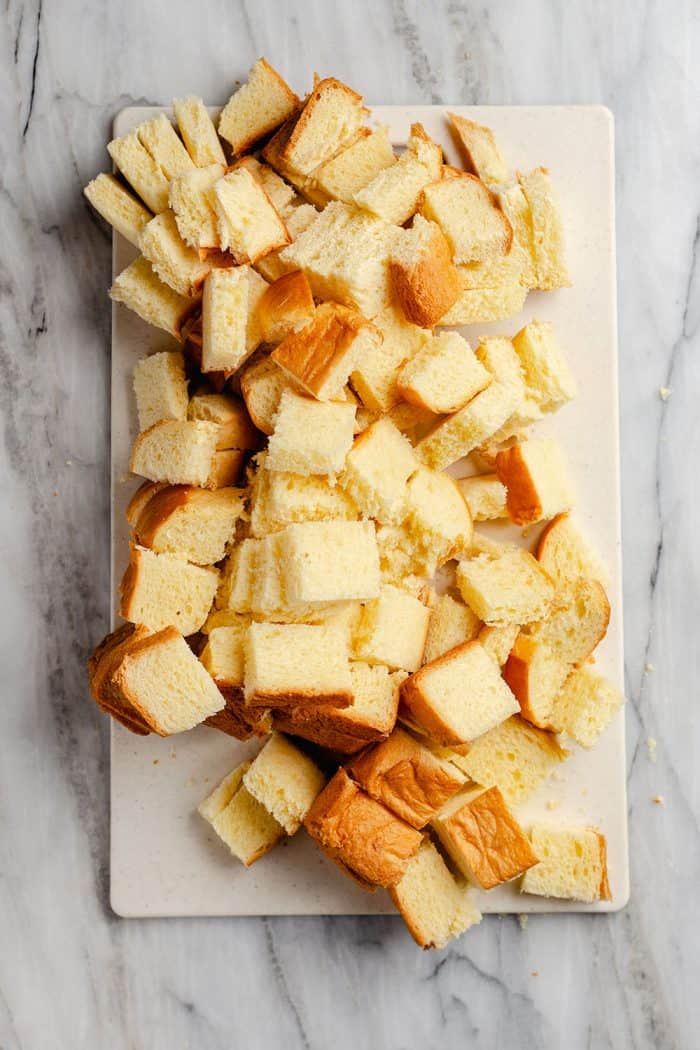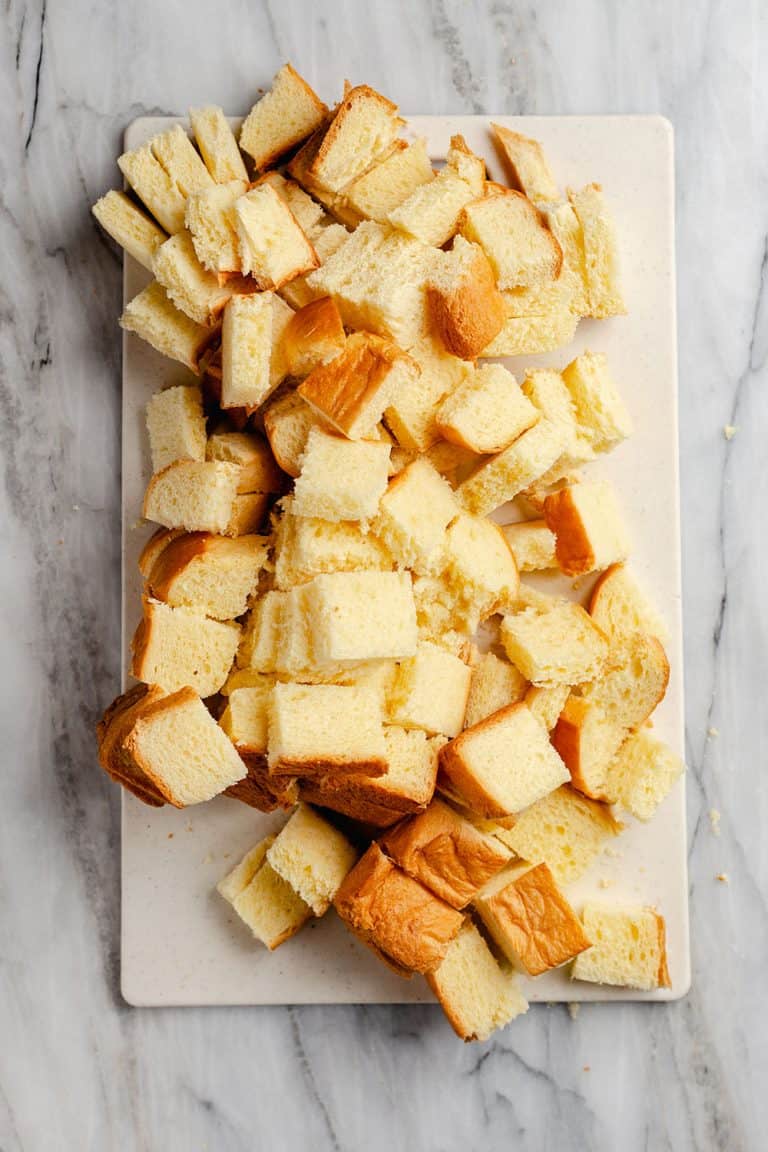 There's two big benefits to making this casserole the night before:
The bread has several hours to soak up the custard so there aren't any dry spots after the casserole is baked, and
In the morning, all you have to do is pop the Overnight French Toast Casserole in the oven.
So easy, right?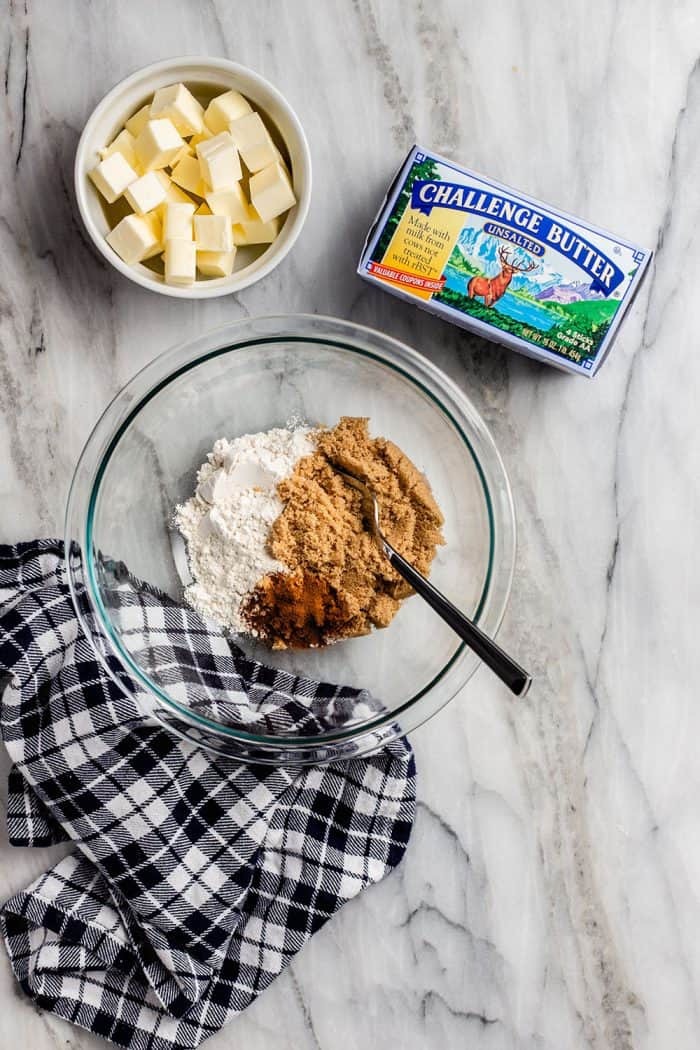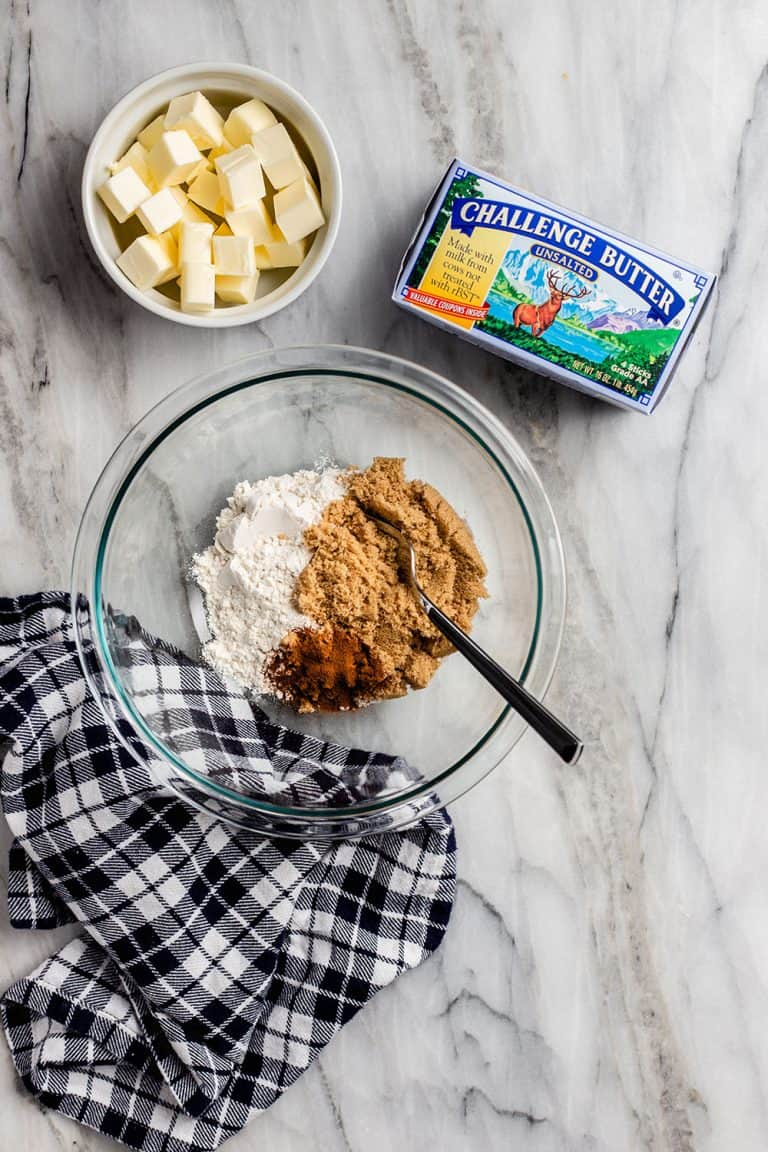 THE BEST BREAD FOR OVERNIGHT FRENCH TOAST
I know some people don't care what kind of bread they use for their French toast, but I have strong opinions about this.
Don't come for me, but I don't like French toast made with sourdough or French bread. For me, it's brioche or challah all the way.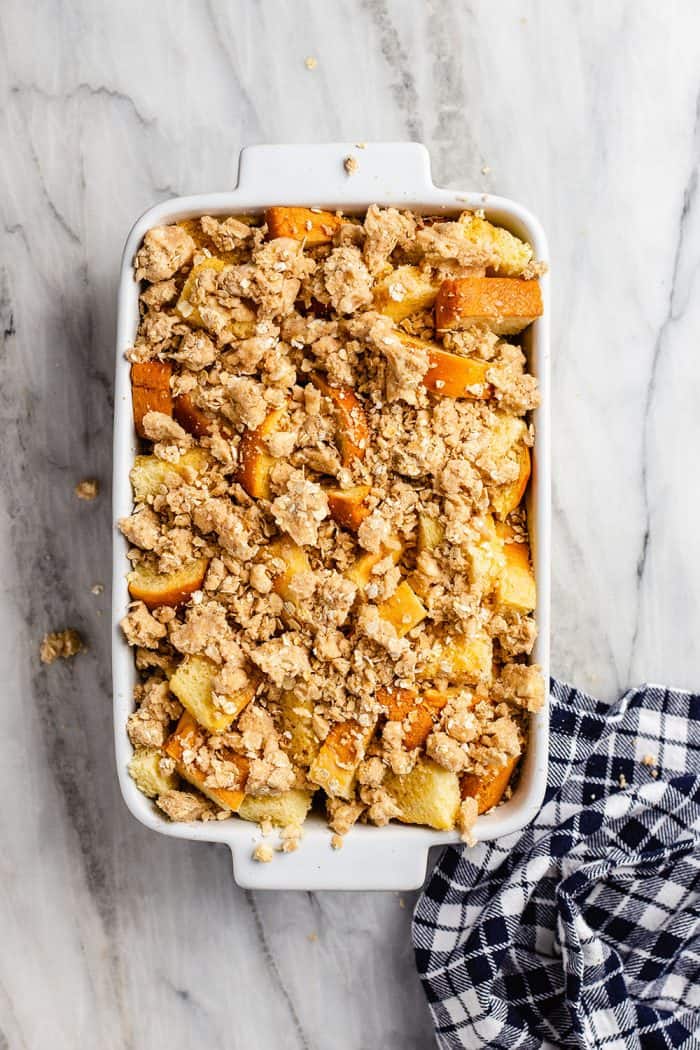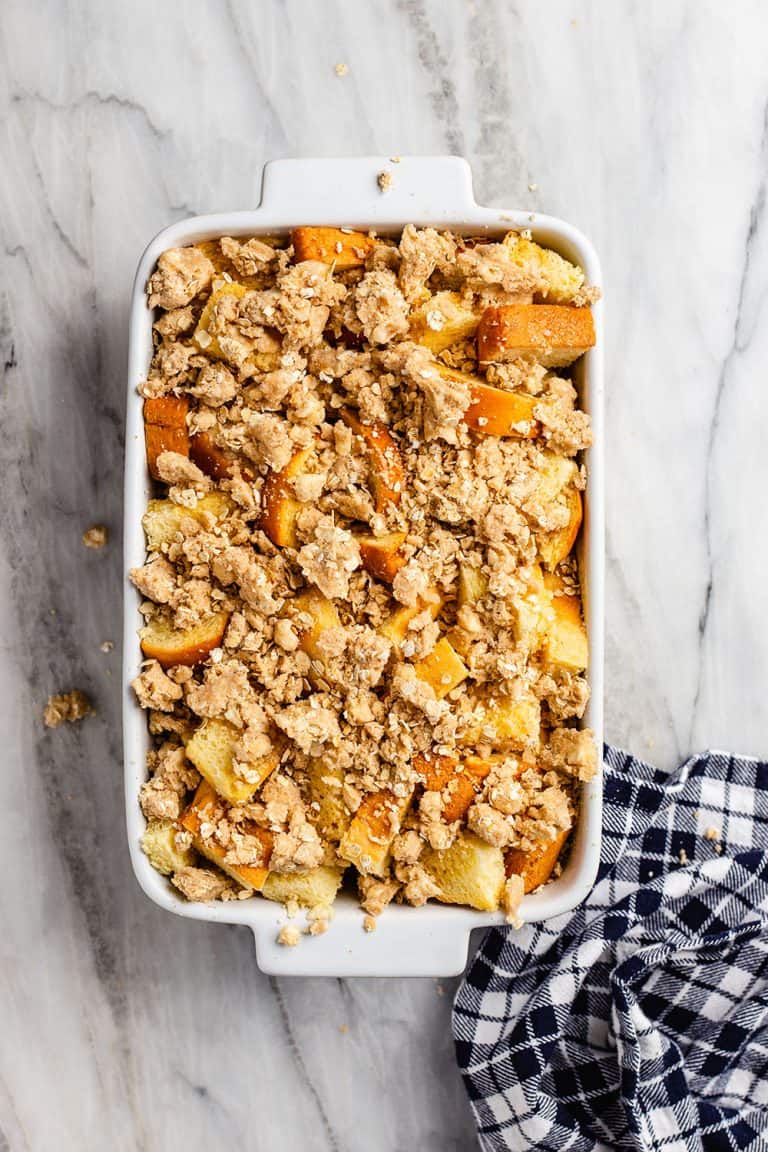 Brioche and challah are both richer breads and I think they pair best with the French toast custard. To me, sourdough or French bread are just a bit too dry.
I absolutely recommend making this recipe with either brioche or challah, whichever you prefer or can find. I promise these buttery, eggy breads won't disappoint in this casserole!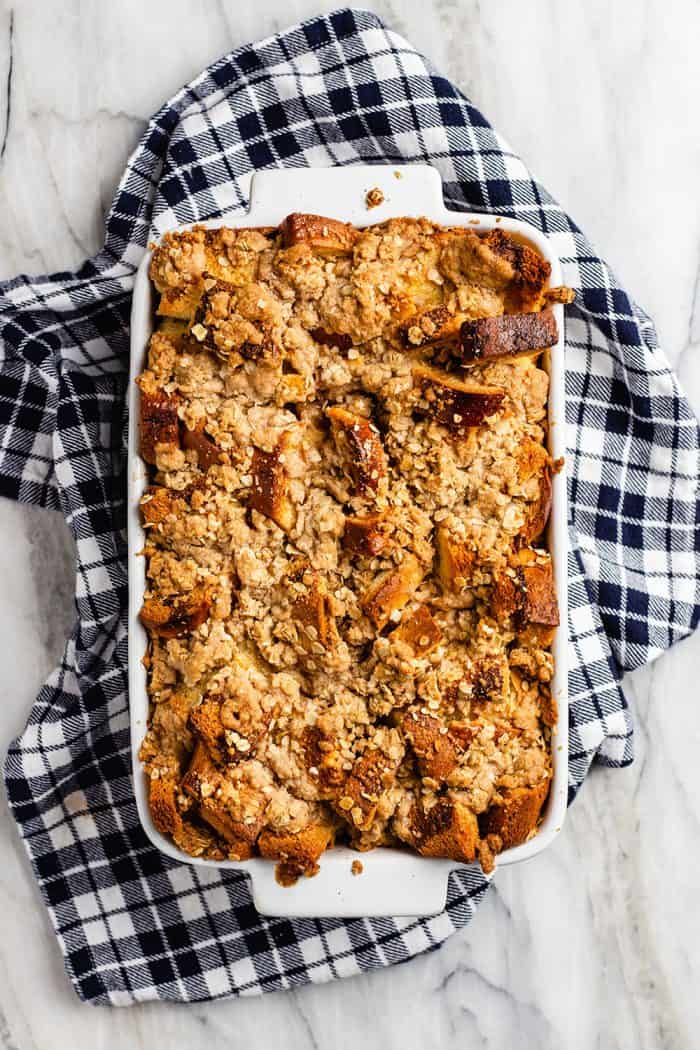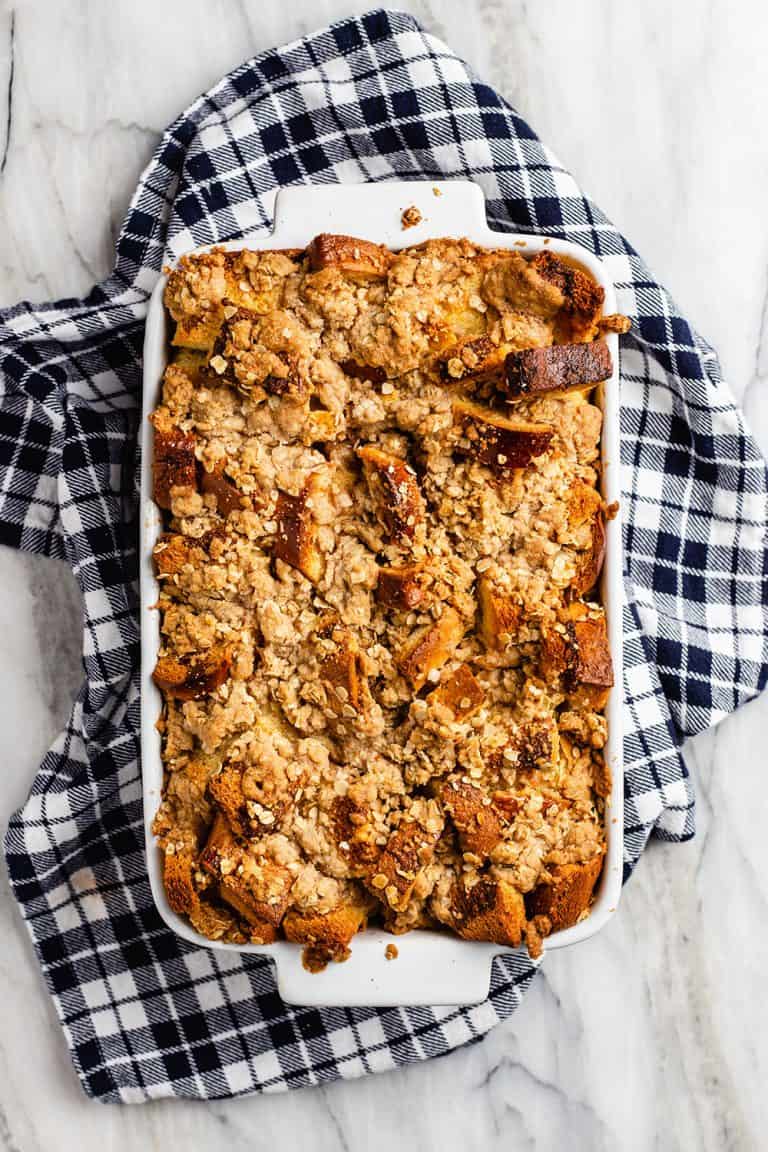 HOW TO MAKE OVERNIGHT FRENCH TOAST CASSEROLE?
There are two main parts to this recipe: the custard base and the delicious buttery, cinnamon streusel.
Start by cutting your chosen bread (you'll need about a 1-pound loaf) into cubes and place it into a greased 13×9-inch baking dish.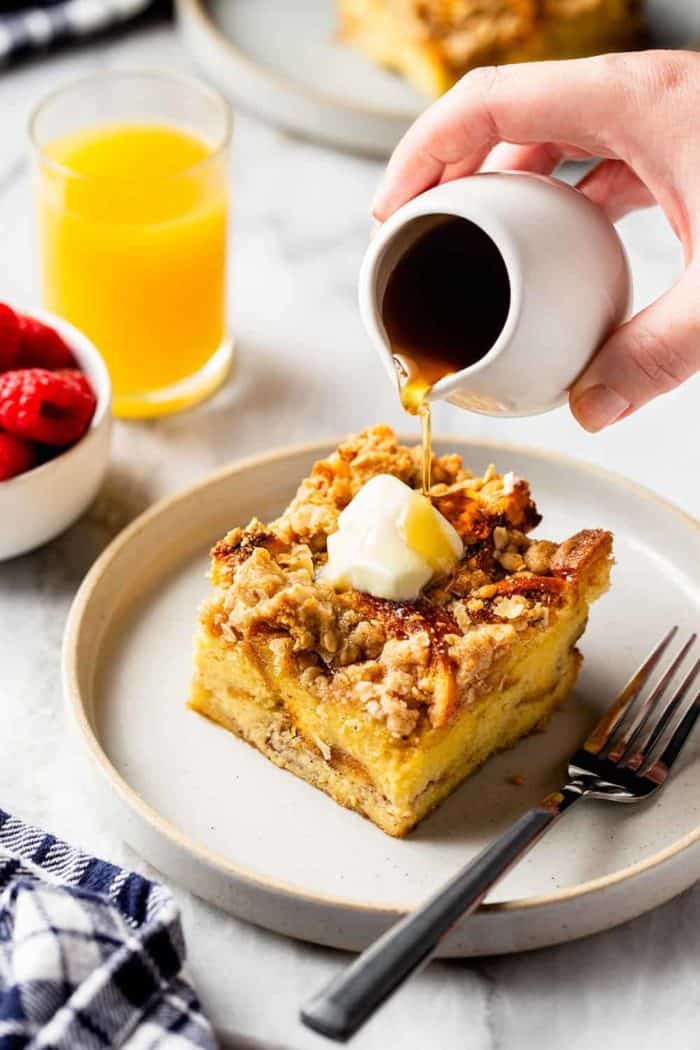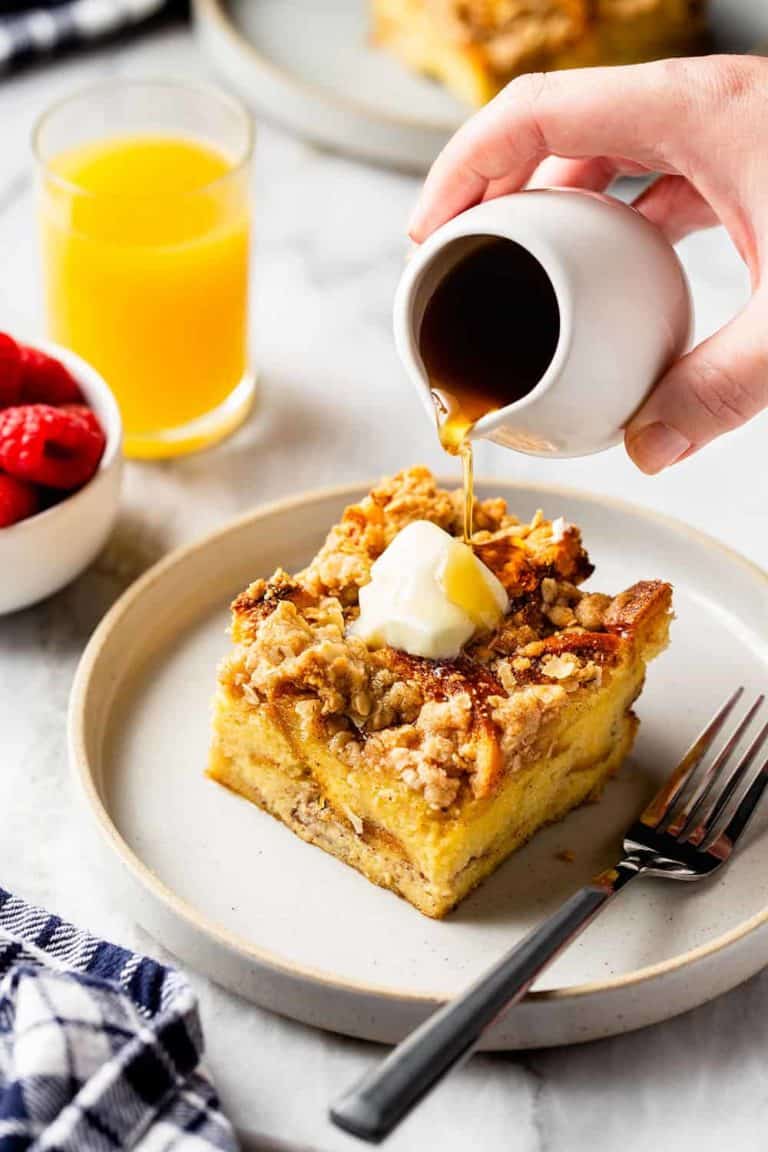 Then whisk together the ingredients for the custard: Eggs, whole milk, Challenge unsalted butter, sugar, vanilla, and a bit of cinnamon and salt.
Since we would normally fry traditional French toast in a buttered frying pan or on a buttered griddle, I like to add some of my favorite Challenge butter into the custard so it still gets that buttery flavor. I prefer using Challenge butter because I know it's churned fresh daily and never has any artificial additives or fillers, so I can trust its freshness and flavor.
Once the custard is whisked together, pour it evenly over the cubed bread. Cover the baking dish and pop it into the refrigerator.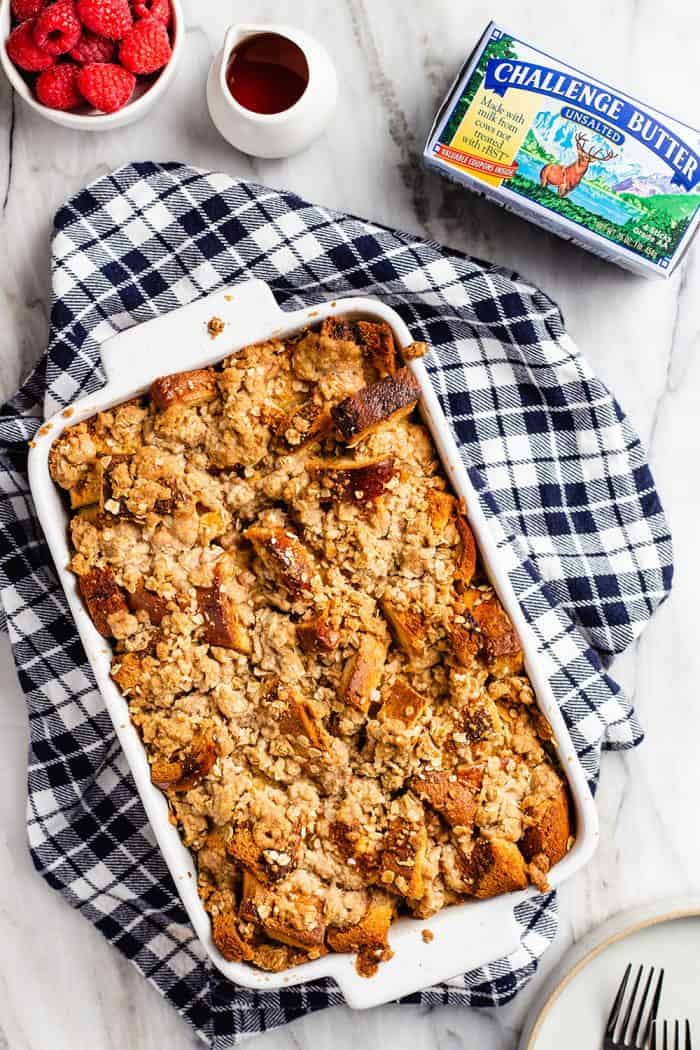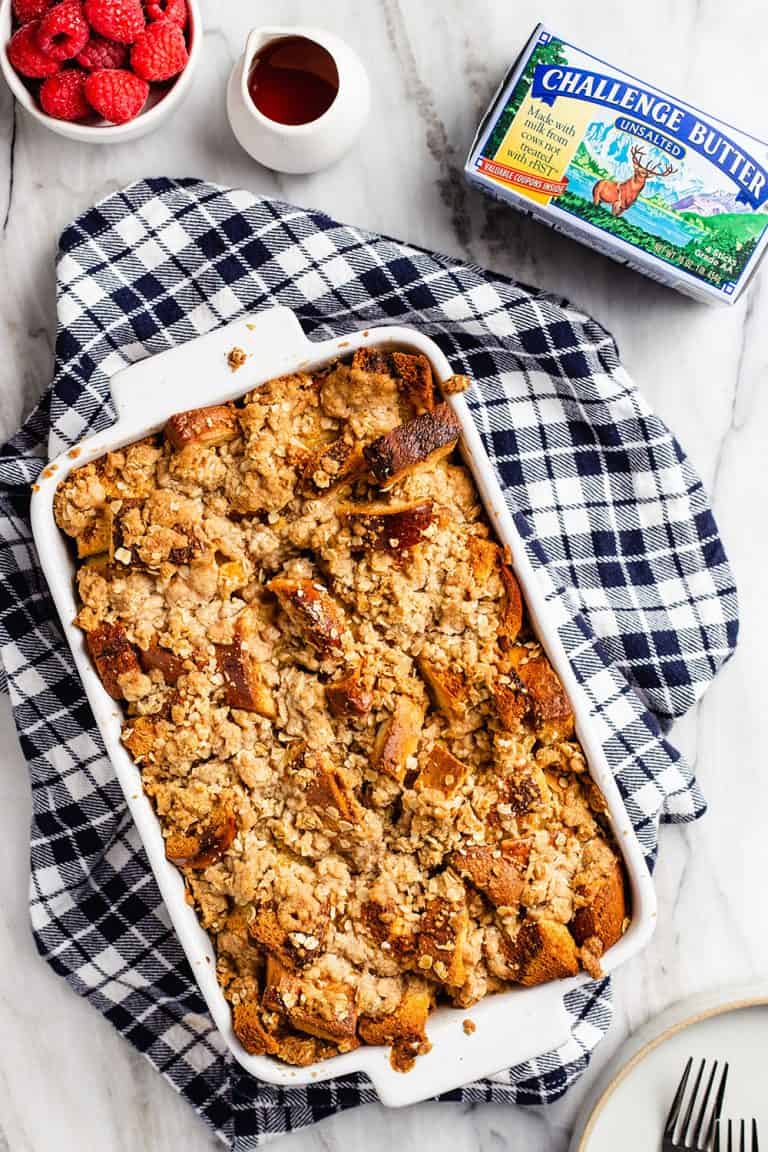 In a separate bowl, use a pastry blender to cut together the ingredients for the streusel: flour, brown sugar, oats, cinnamon, and some more Challenge butter.
Put the prepped streusel in a sealed container and stick it in the refrigerator as well.
The next morning, while your oven preheats, top the casserole with the prepared streusel and then bake! Serve with some maple syrup and extra Challenge butter if you'd like.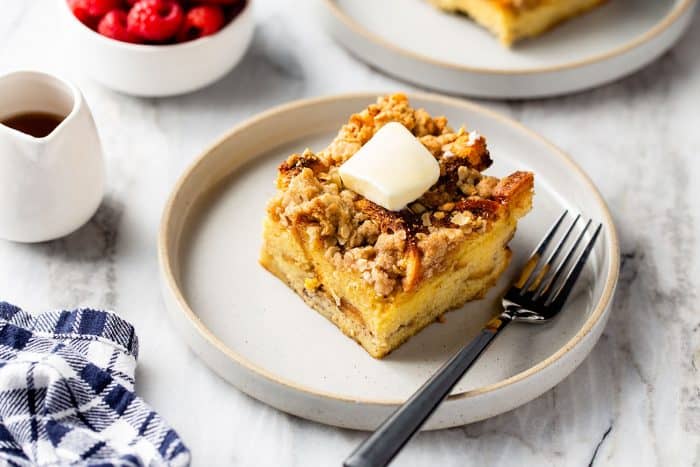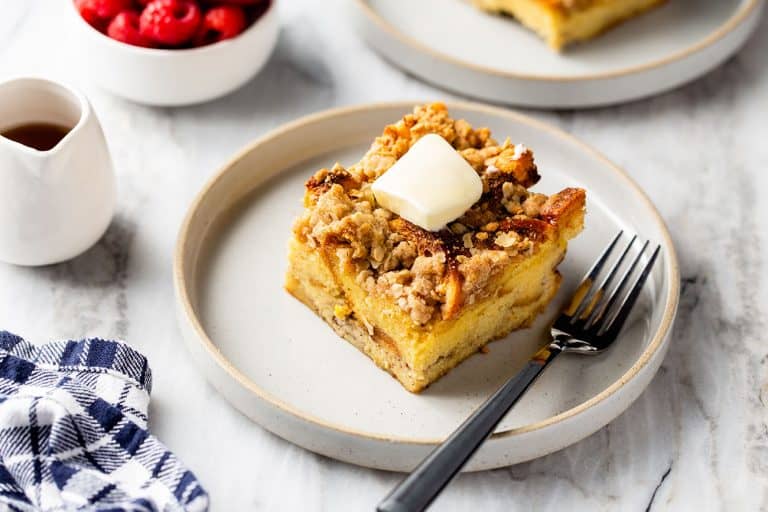 You could even serve it with some homemade whipped cream.
For weekday leftovers, I like to put individual servings into airtight containers and store them in the refrigerator. 30-60 seconds in the microwave and you'll have a delicious breakfast in no time at all.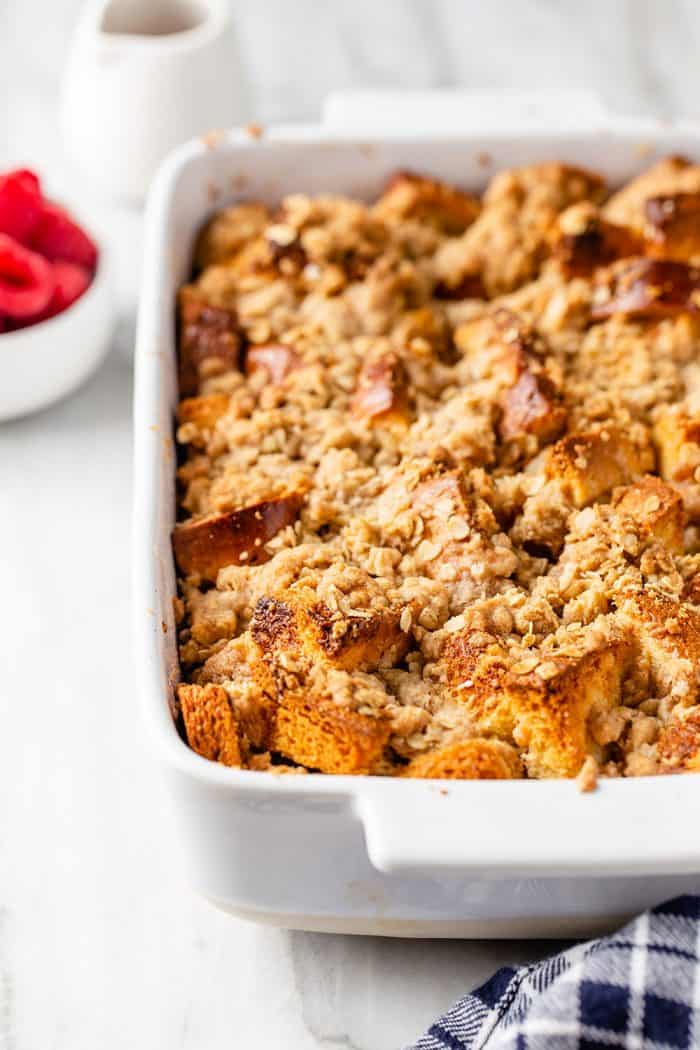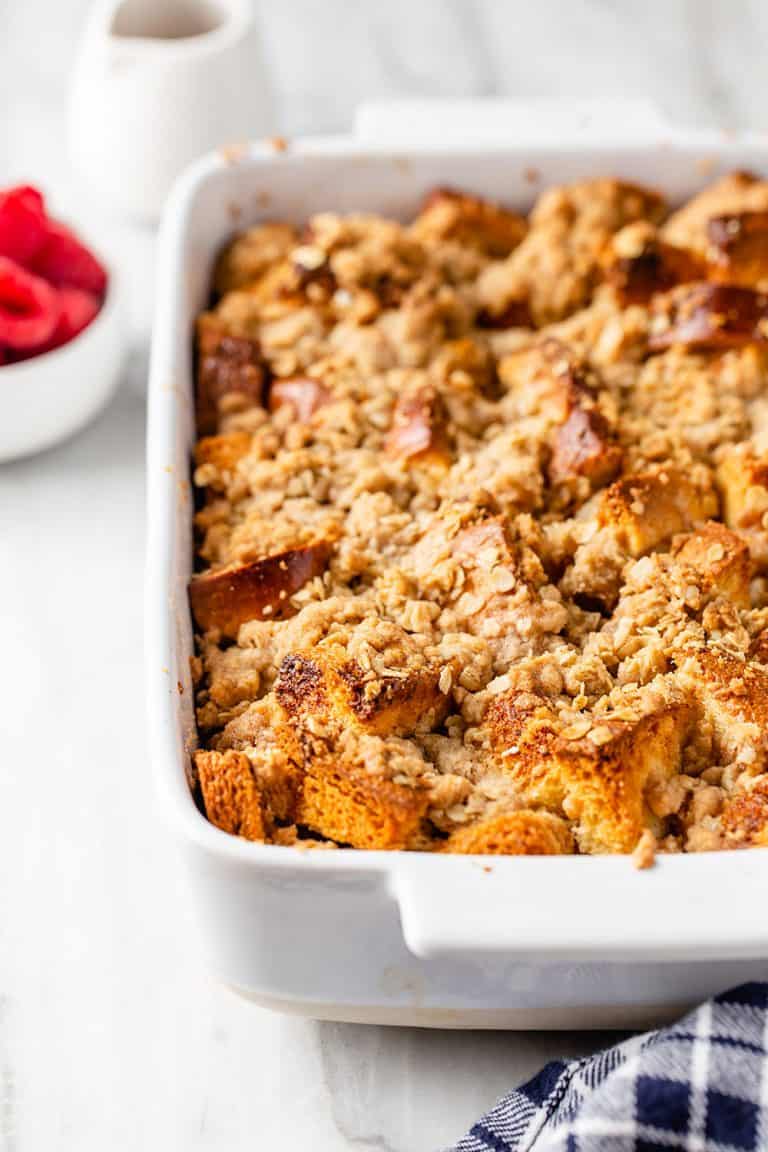 DOES FRENCH TOAST CASSEROLE HAVE TO SIT OVERNIGHT?
I know this is called Overnight French Toast Casserole, but you don't have to let it sit overnight.
As long as the casserole chills for at least 4 hours, you could bake it the same day if you'd like. Make it in the morning and bake it in the afternoon for brunch or in the evening for a breakfast dinner.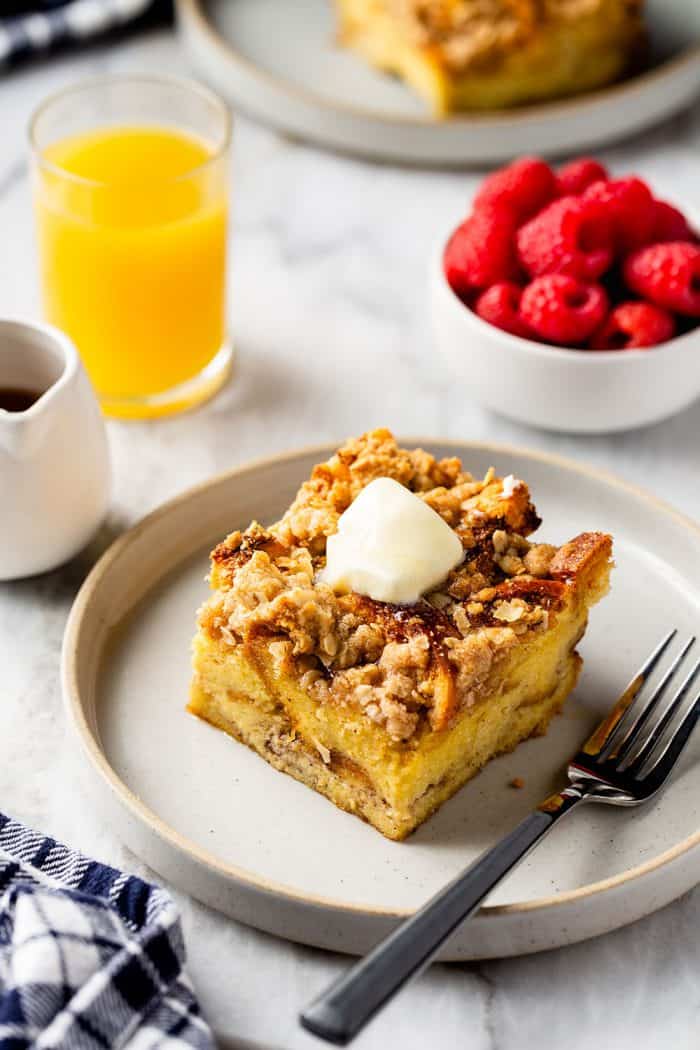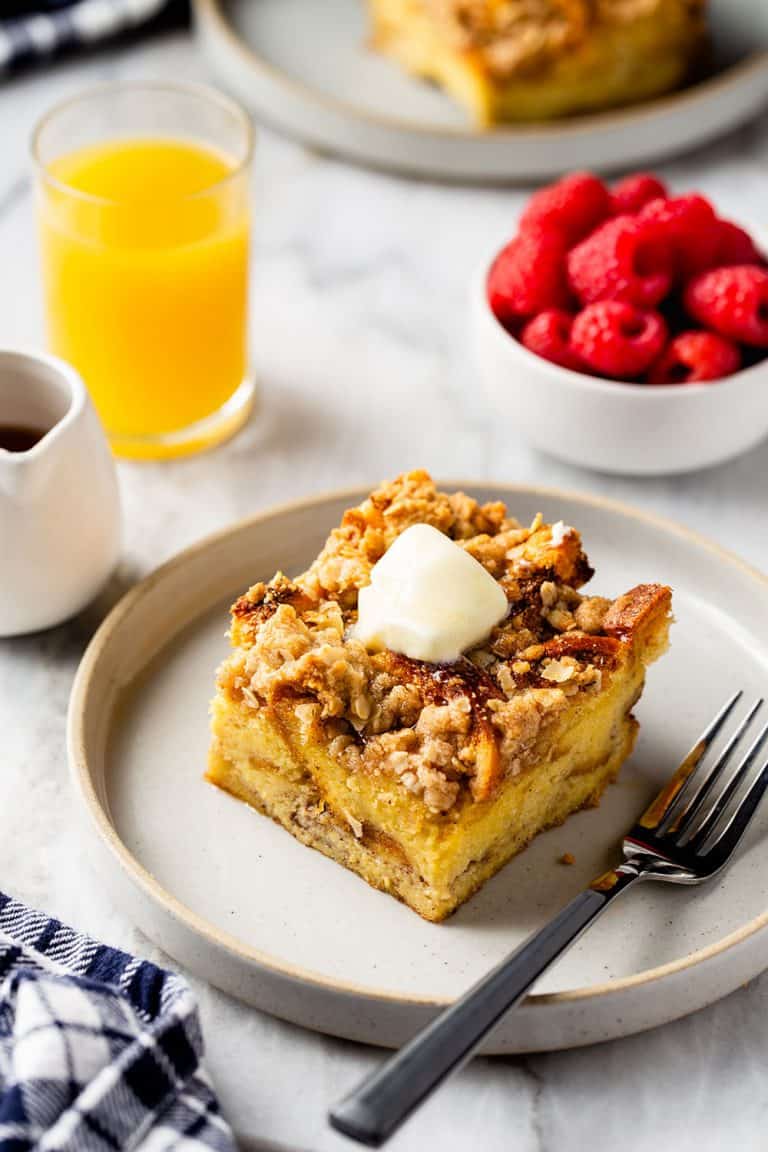 Or make it on a Sunday afternoon and bake it up that night for your weekday breakfasts that week.
Whether or not you go the overnight route, I know this is a breakfast recipe you'll make again and again!