Banana Pancakes are fluffy and perfectly sweet. Stack them up and top them off with sliced bananas, blueberries, and a drizzle of maple syrup for a comforting weekend breakfast.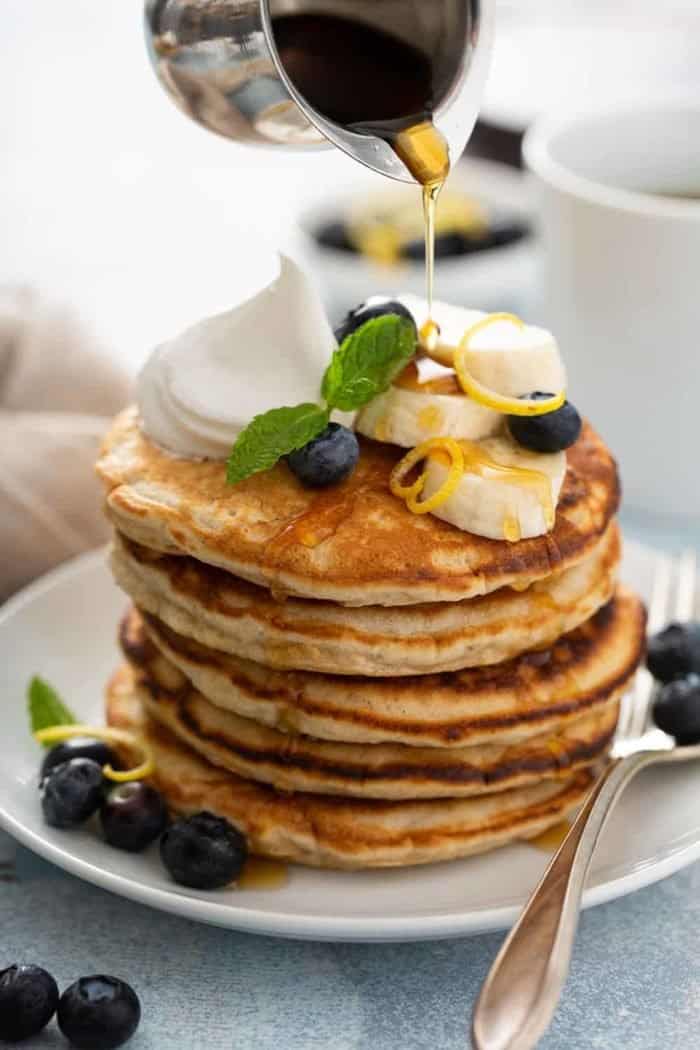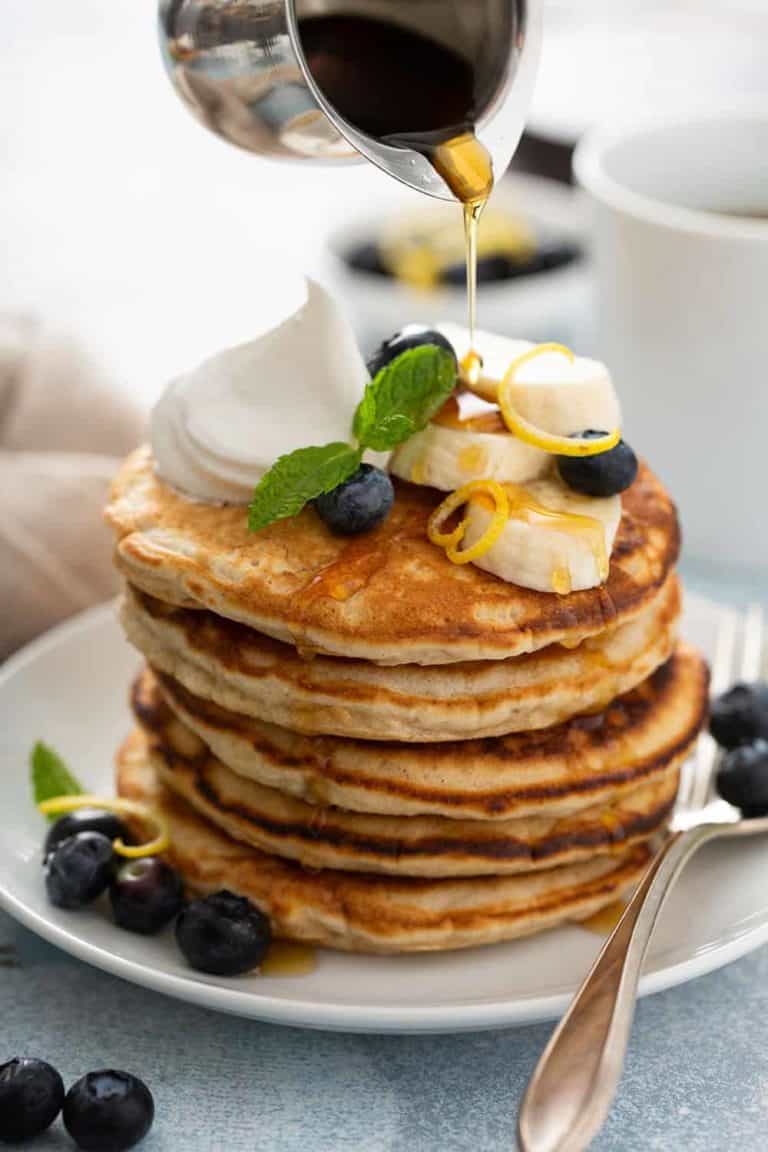 I don't know if it's from being home so much or what, but Elle has been a little extra with her breakfast choices lately.
Yogurt parfaits or cereal just aren't cutting it these days. Instead, she's asking for things like pancakes, waffles, bacon or chicken sausage, fresh fruit…the list goes on.
Luckily the kid doesn't really eat until 11:30, giving me time to have my coffee before she hits me up with her breakfast requests. Or I guess they're really brunch requests by that time.
Since pancakes have been popular with my mini brunch lover, it's given me an excuse to make stacks of these Banana Pancakes on repeat.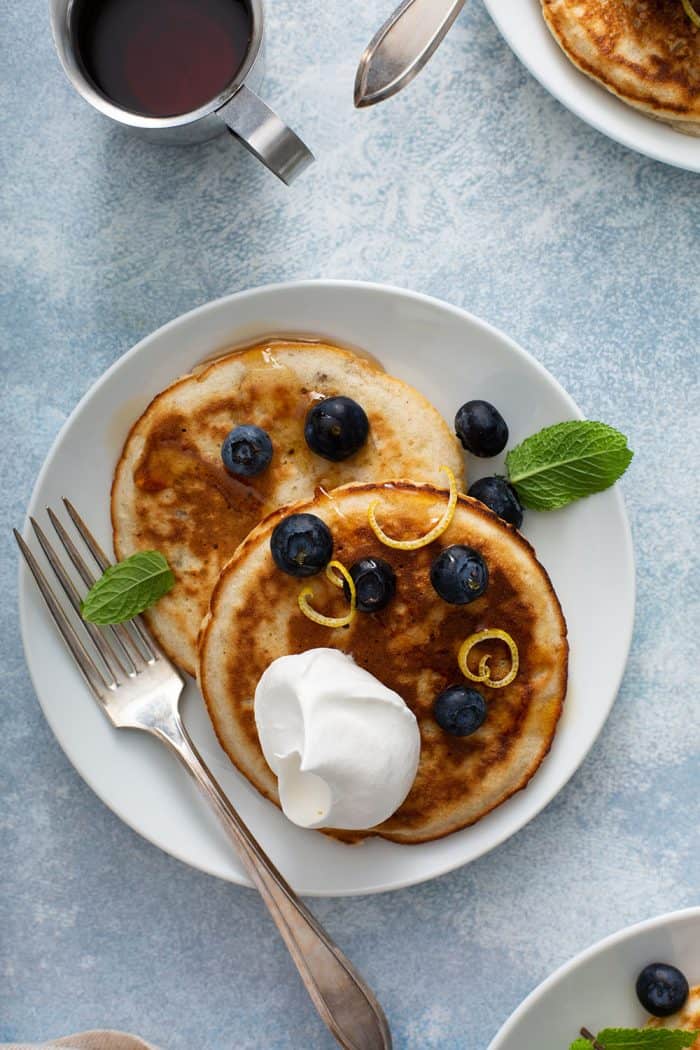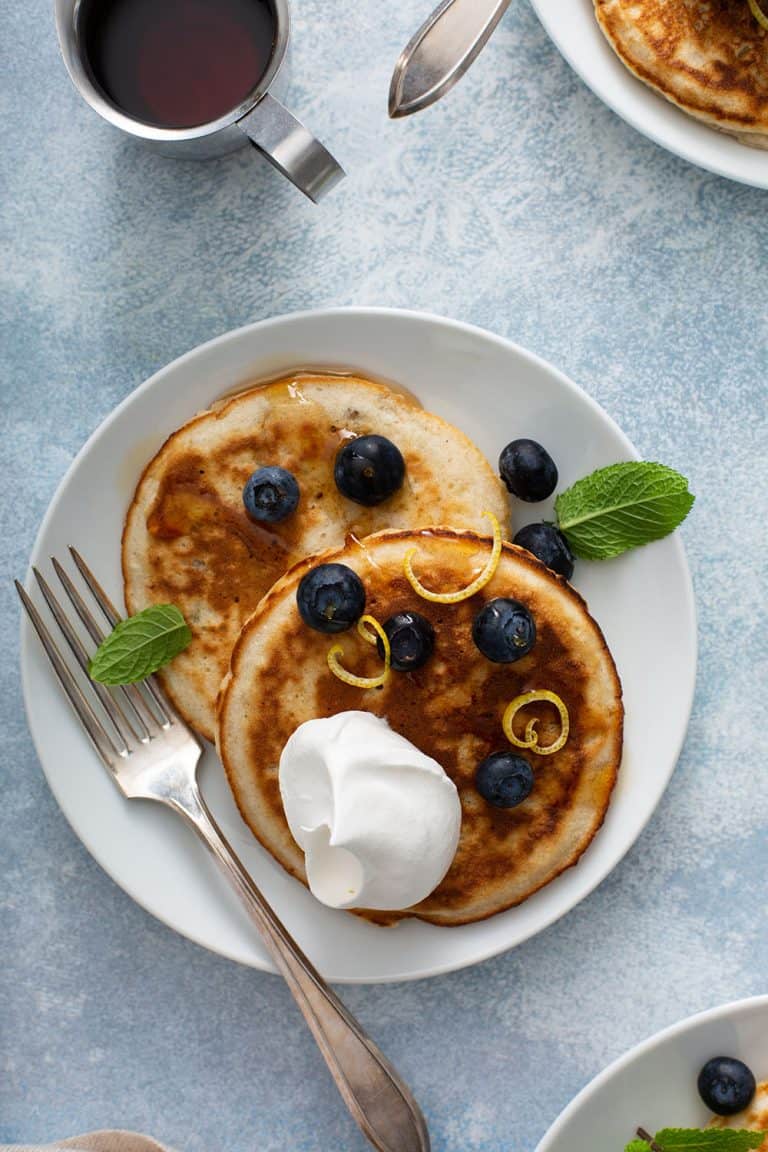 EASY HOMEMADE BANANA PANCAKES
I'm not really one to make homemade pancakes often.
There are plenty of places to get a pretty decent stack of pancakes where we live. But now that we aren't really venturing out to eat, it's up to me to whip up a batch of pancakes when we want a special breakfast.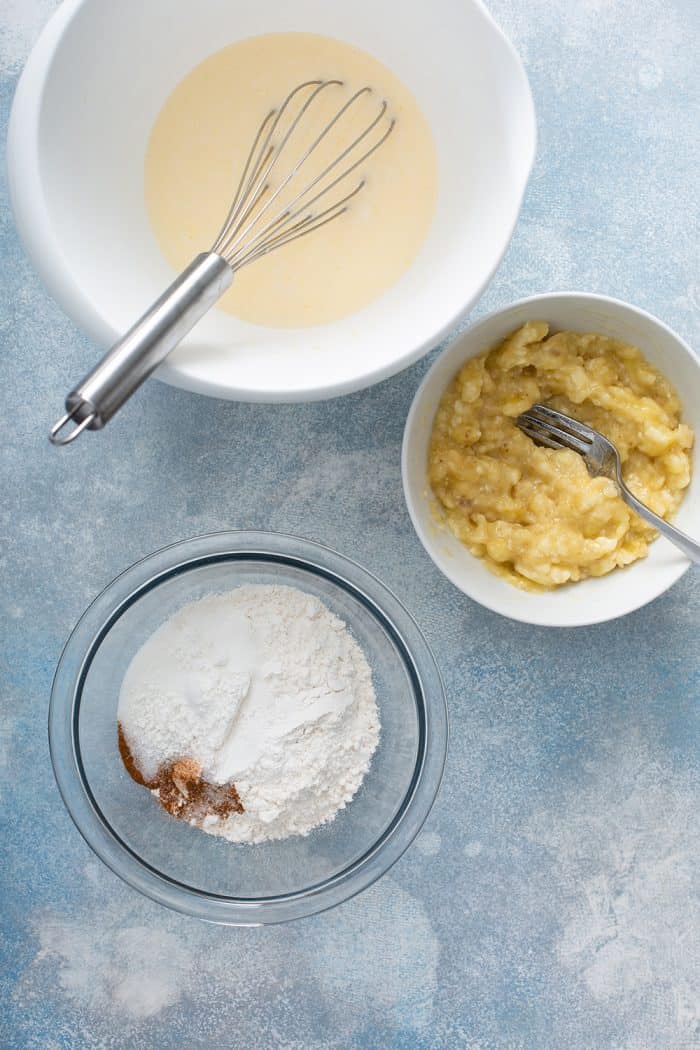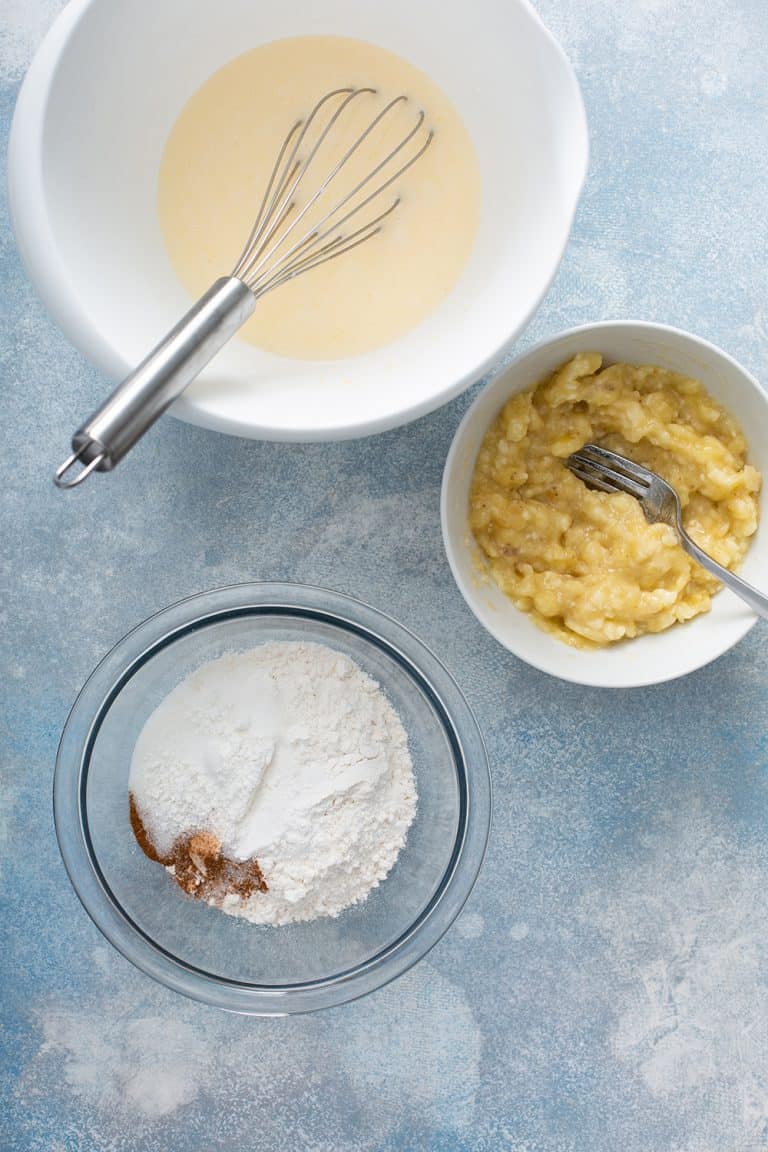 In the fall, I'm all about Pumpkin Pancakes. When I really want to overindulge, it's Peanut Butter Cup Pancakes. Bisquick Pancakes are an insanely easy option.
But there's something about a stack of classic Banana Pancakes that is just hard to beat.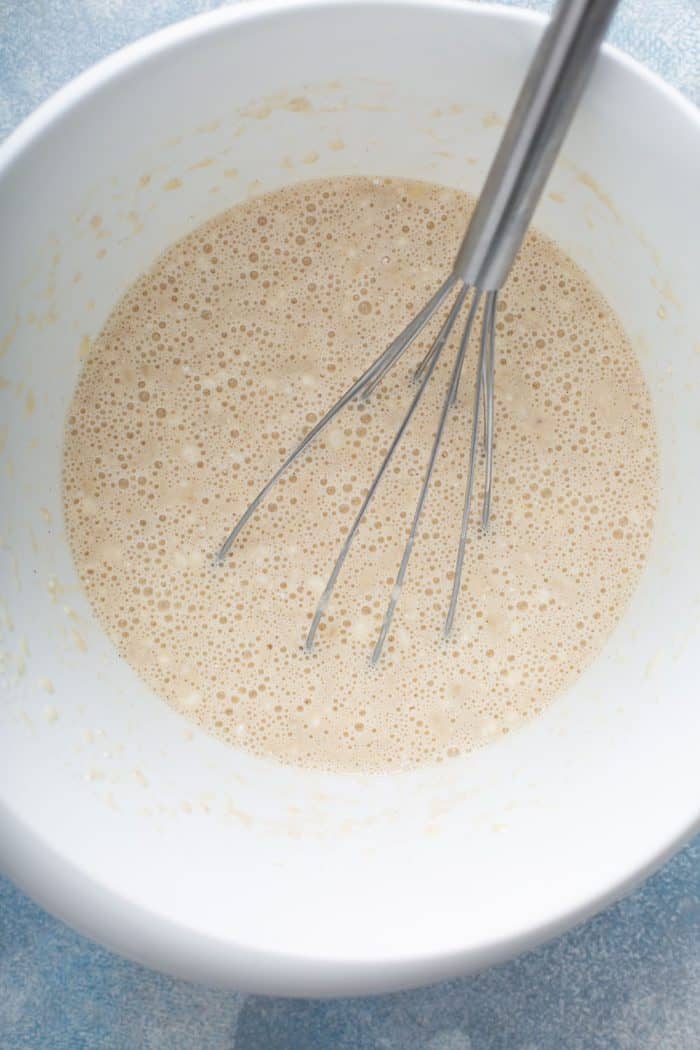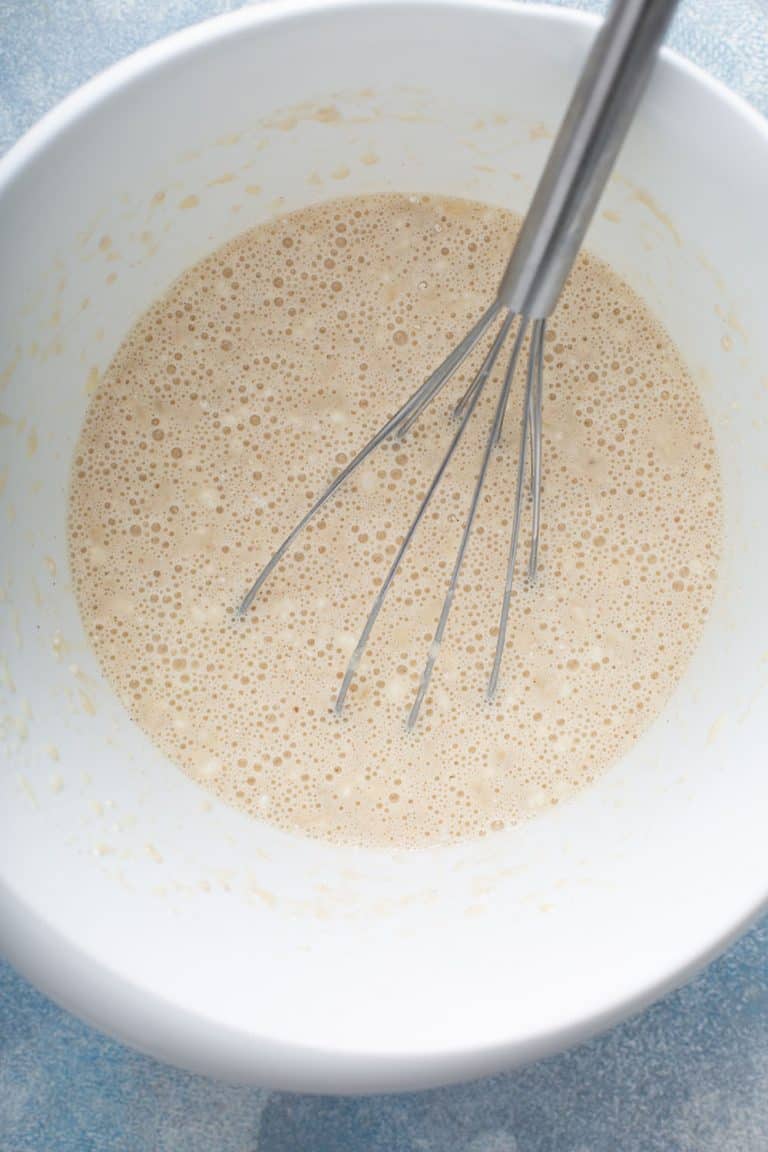 This recipe makes a stack of fluffy pancakes that are packed with mashed bananas, making them perfectly sweet and flavorful.
And even though I don't find myself making pancakes at home very often, they're really very easy to make.
Whisk together a handful of dry ingredients in one bowl, whisk together the wet ingredients in another, and then stir the two together.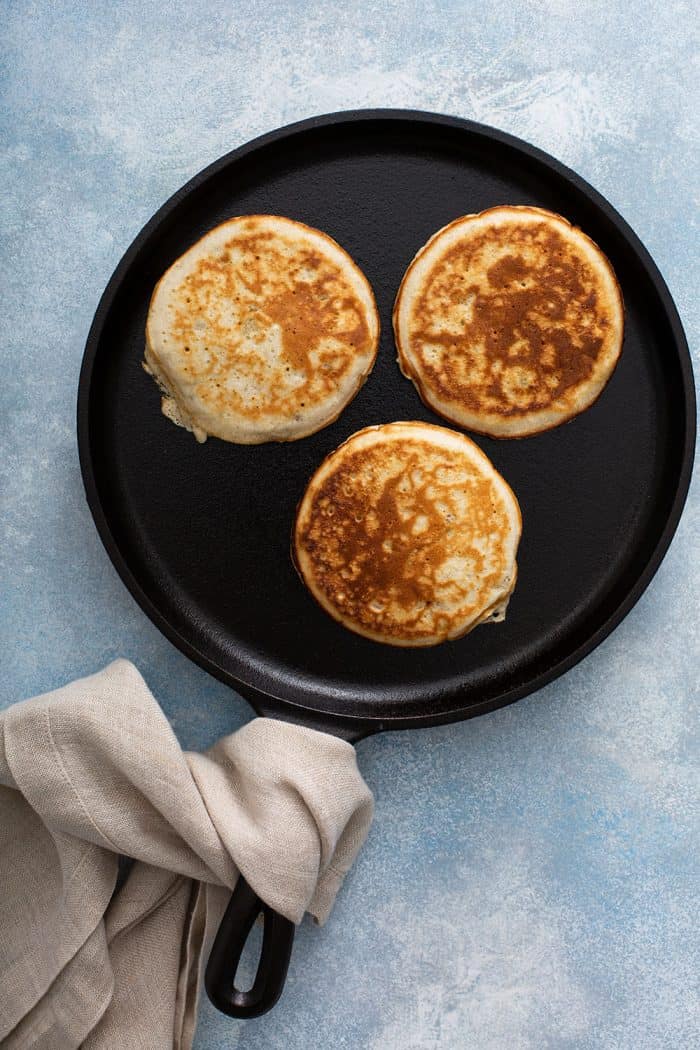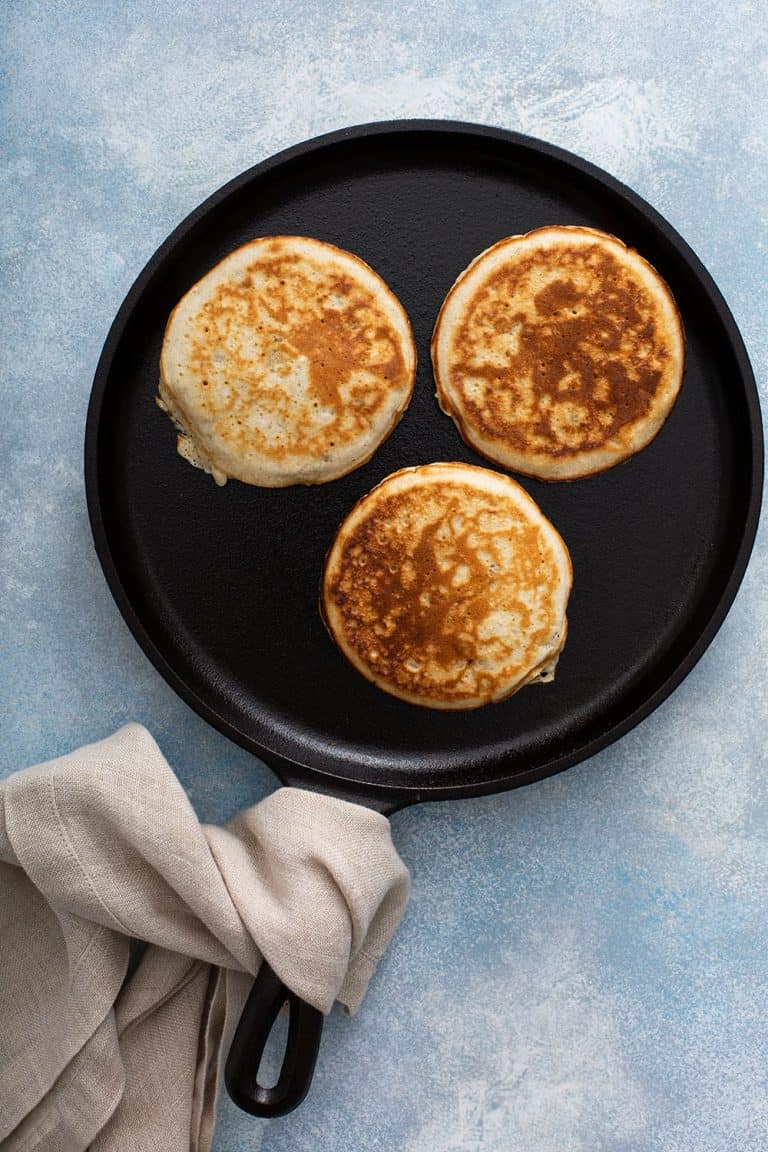 HOW DO YOU KNOW WHEN PANCAKES ARE COOKED THROUGH?
Cooking the pancakes is the step that takes the longest, but if you have a griddle, you can cook several at once.
When cooking the pancakes, watch for bubbles to form on the top. Once the bubbles start to pop and the edges of the pancake is set, it's time to flip.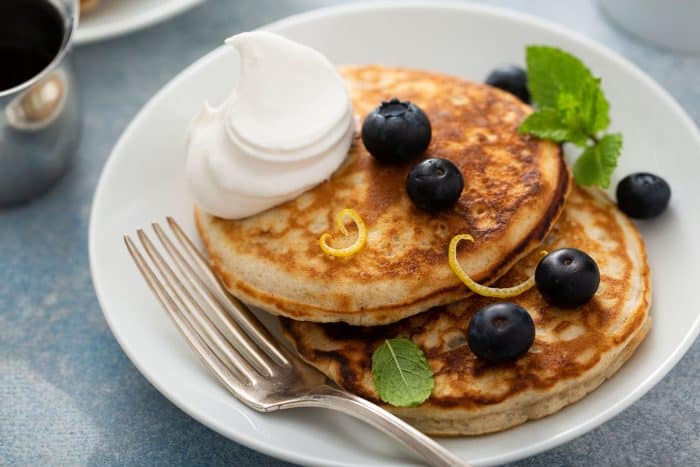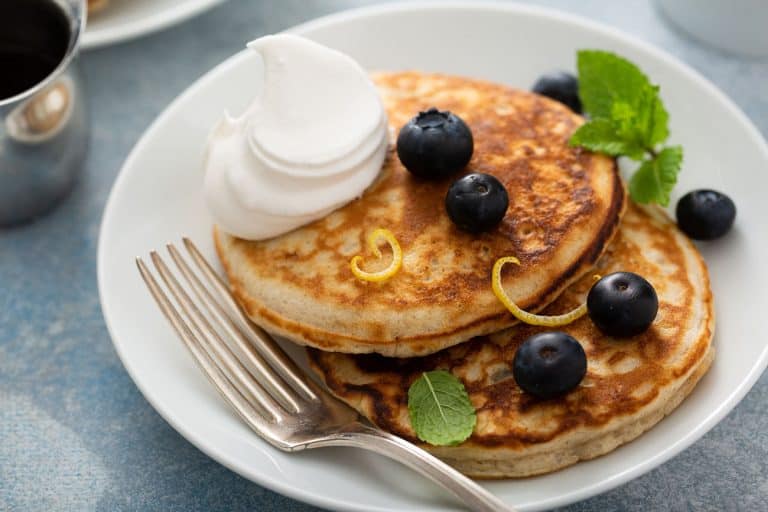 Gently flip the pancake and let it cook on the 2nd side until golden, usually only a minute or two.
I like to keep cooked pancakes warm on a baking sheet in an oven set on the "warm" setting or very lowest temperature. This keeps the pancakes warm while you cook the rest.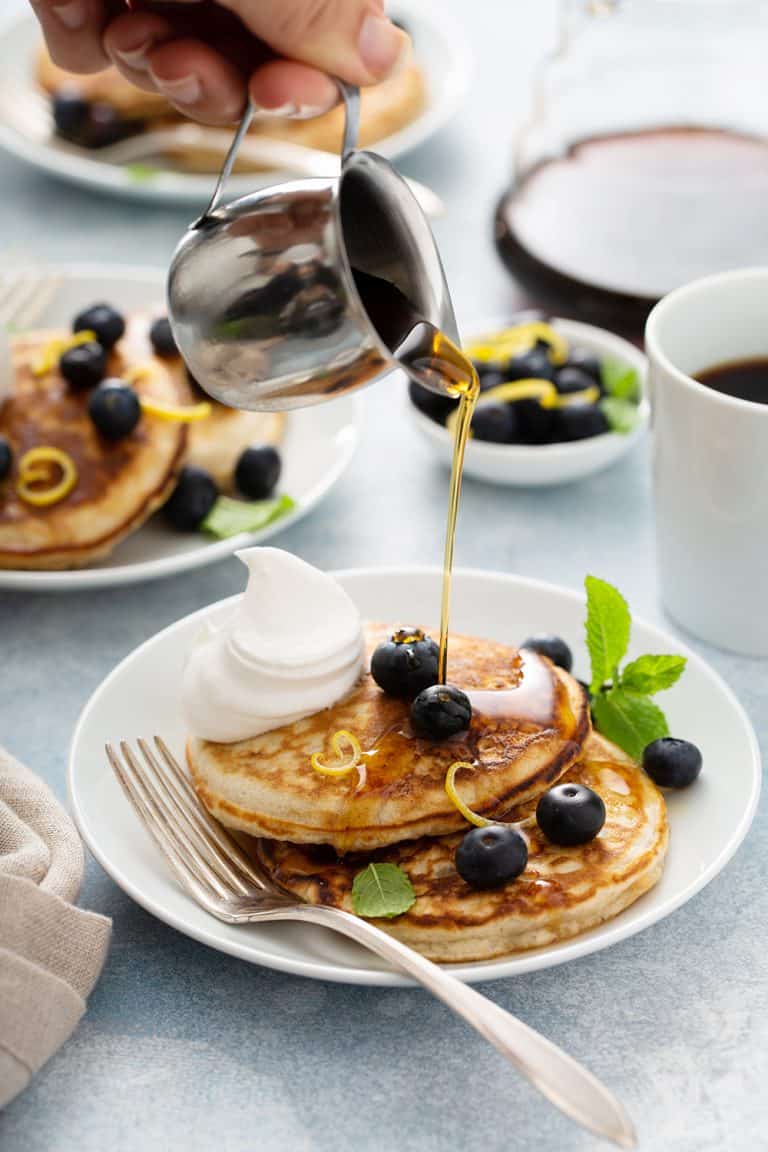 HOW TO TOP YOUR PANCAKES
My favorite way to serve Banana Pancakes is with sliced bananas, fresh blueberries, and a drizzle of maple syrup.
You could also top them with a sprinkling of powdered sugar or a dollop of homemade whipped cream.
If you want to get really crazy, you could always top them with a little bit of salted caramel sauce.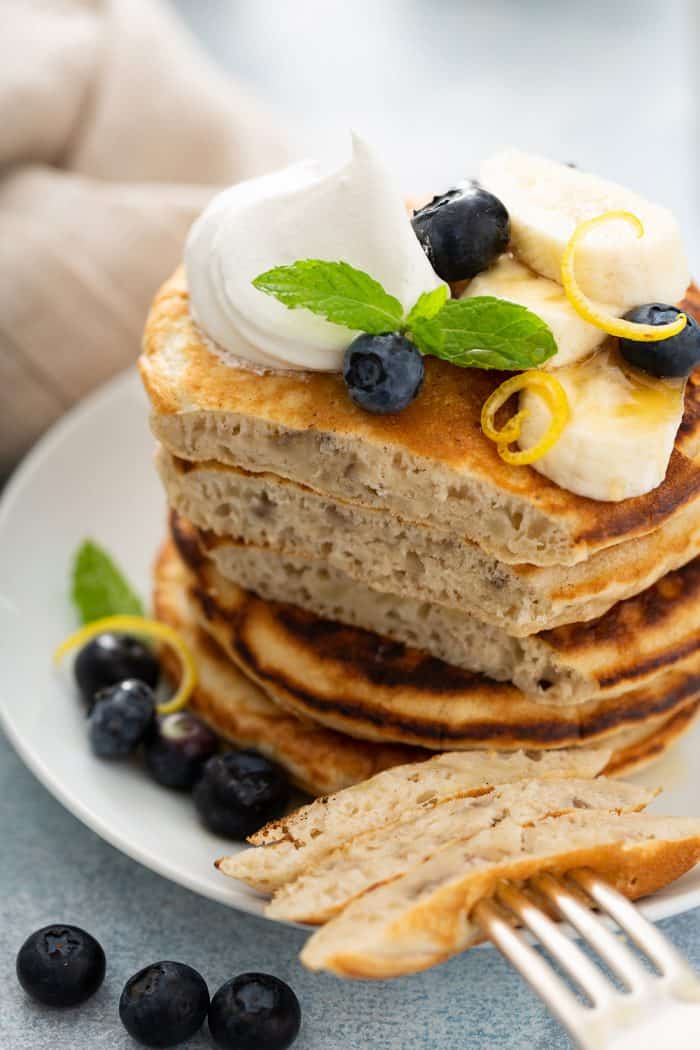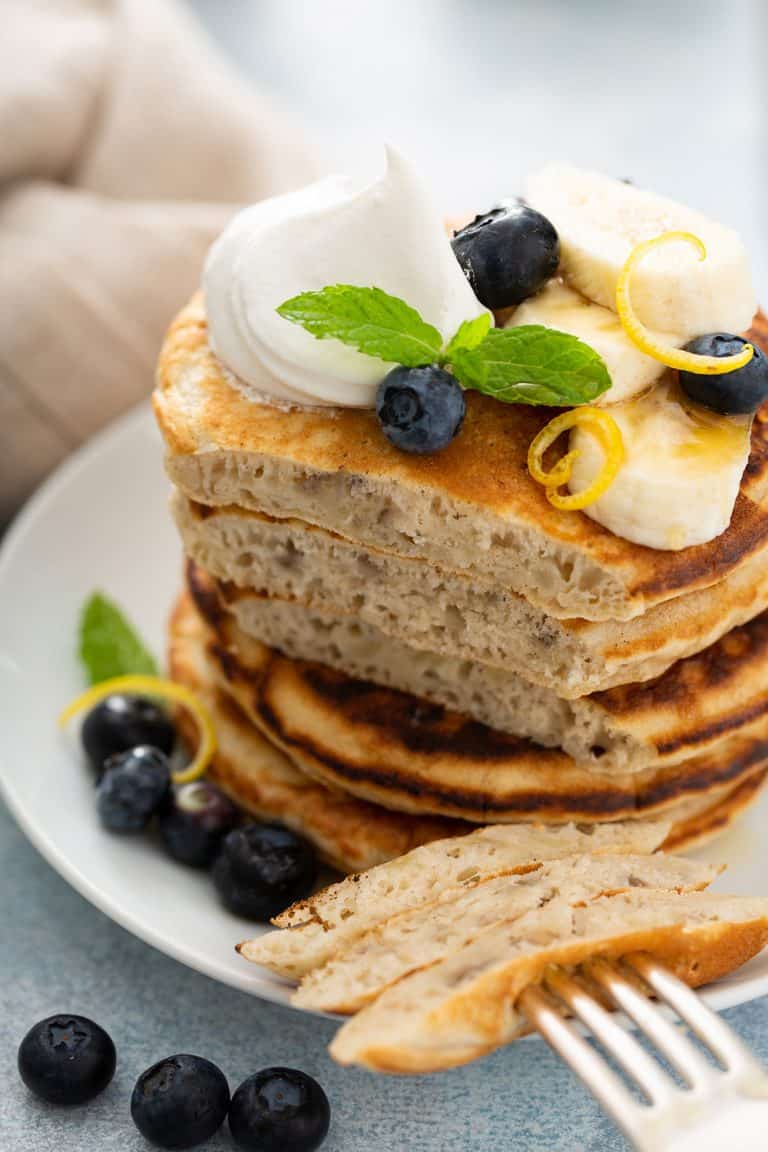 CAN BANANA PANCAKES BE FROZEN?
Sometimes I like to make a double batch of Banana Pancakes over the weekend. One batch to enjoy then, and the 2nd to freeze for weekday breakfasts.
Freezing pancakes is a great way to enjoy a special breakfast during the week without any effort on your part.
Just freeze the cooled pancakes in a single layer on sheet trays. After keeping them in the freezer for about an hour, toss them into a freezer-safe container or zip-top bag.
Label, date, and store the pancakes in the freezer until you're ready to enjoy them again.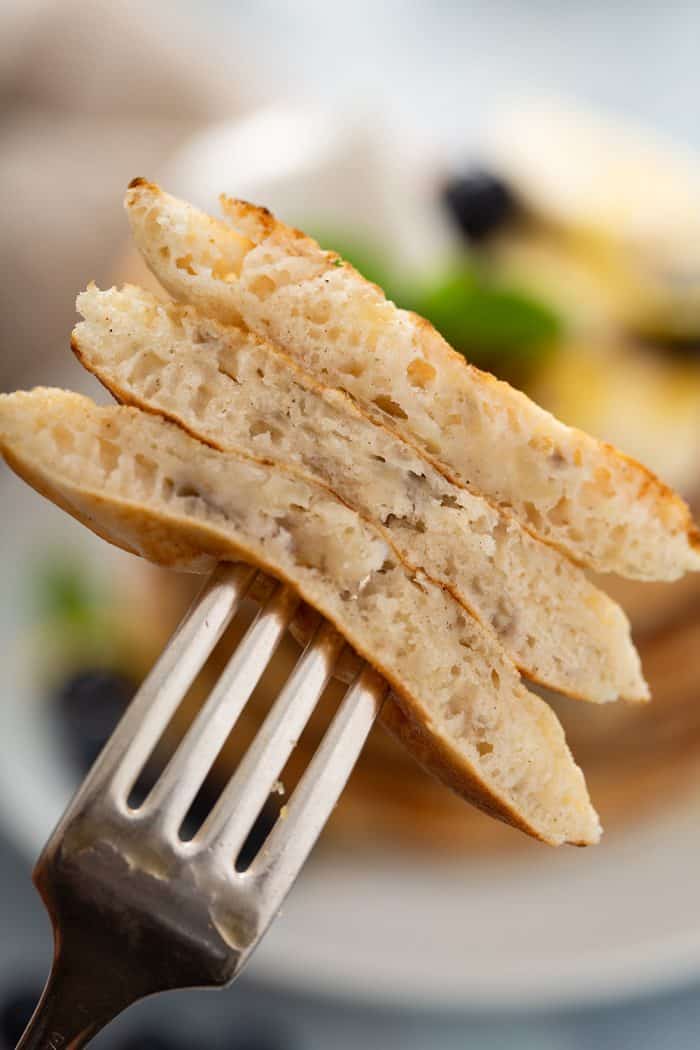 HOW TO REHEAT FROZEN PANCAKES
When you want to reheat the Banana Pancakes, there are a few ways to reheat them:
Toast them in a toaster or toaster oven
Microwave them in 15-20 second increments until warm
Place them on a sheet tray, cover with foil, and warm in a 350°F oven for about 10 minutes
Place them on a grilled or skillet over low heat and flip until warm
As you try different methods for reheating pancakes, you'll find that you have a favorite, since some make for toastier pancakes and others make for softer pancakes.
No matter how you reheat them, you'll love having Banana Pancakes available any day of the week!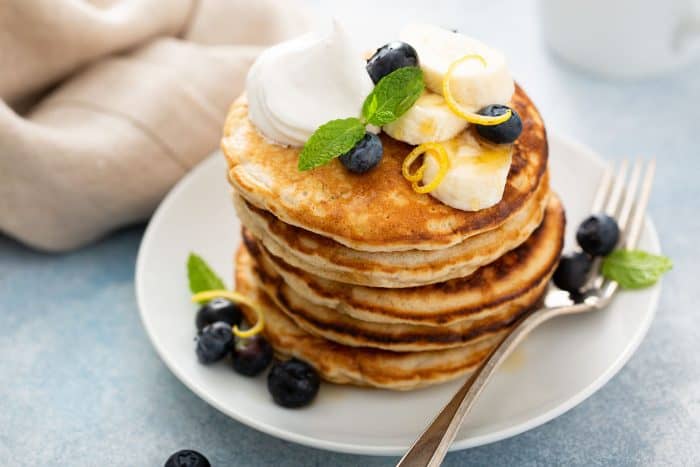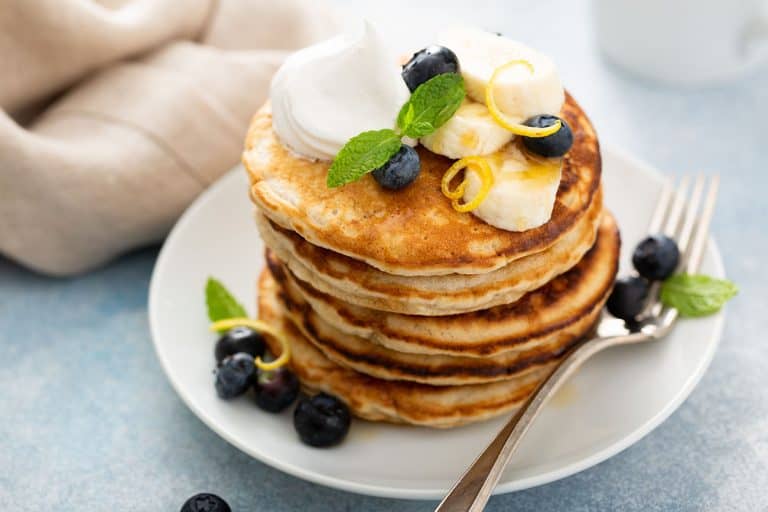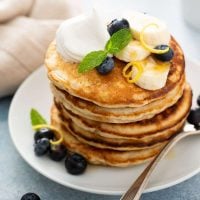 Banana Pancakes
Banana Pancakes are fluffy and perfectly sweet. Stack them up and top them off with sliced bananas, blueberries, and a drizzle of maple syrup for a comforting weekend breakfast.
Print
Pin
Ingredients
1

cup

all-purpose flour

1

tablespoon

granulated sugar

2

teaspoons

baking powder

¼

teaspoon

salt

1

egg

beaten

1

cup

milk

2

tablespoons

vegetable oil

2

ripe bananas

mashed

2

shakes of cinnamon

½

teaspoon

pure vanilla extract
Instructions
Combine flour, white sugar, baking powder, cinnamon and salt. In a separate bowl, mix together egg, milk, vegetable oil, vanilla and bananas.

Stir flour mixture into banana mixture; batter will be slightly lumpy.

Heat a lightly oiled griddle or frying pan over medium high heat. Pour or scoop the batter onto the griddle, using approximately 1/3 cup for each pancake. Cook until pancakes are golden brown on both sides; serve hot.
Notes
Adapted from allrecipes
Nutrition
Serving:
2
pancakes
|
Calories:
195
kcal
|
Carbohydrates:
29
g
|
Protein:
5
g
|
Fat:
7
g
|
Saturated Fat:
2
g
|
Polyunsaturated Fat:
3
g
|
Monounsaturated Fat:
2
g
|
Trans Fat:
0.03
g
|
Cholesterol:
32
mg
|
Sodium:
265
mg
|
Potassium:
235
mg
|
Fiber:
2
g
|
Sugar:
9
g
|
Vitamin A:
131
IU
|
Vitamin C:
3
mg
|
Calcium:
138
mg
|
Iron:
1
mg
The default measuring system on My Baking Addiction is US Customary. Unit conversions are provided as a courtesy; please be aware that there may be some discrepancies.
Card may contain affiliate links. As an Amazon Associate and member of other affiliate programs, I earn from qualifying purchases.