Glazed Doughnut Muffins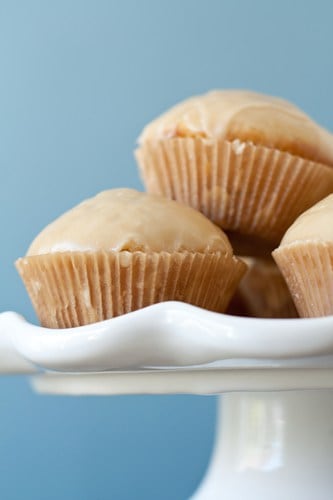 I am not really a doughnut fan; however, I do love me some muffins. I especially adore big muffins with gorgeous domed crowns.
When I came across this recipe on King Arthur Flour, I knew they would be a perfect grab and go breakfast. So, I whipped them together, but kicked them up a notch by drenching them in a sweet doughnut glaze. How can it get any better than that?
This recipe was super easy and yielded one of the best muffin tops I have ever baked. The texture is cakey with a slightly dense crumb and the sugary vanilla infused glaze makes this one pretty amazing muffin. I double dipped my muffins, because I am a sucker for that glazey goodness. I don't mind the rustic drippiness of glaze, but you could always remove the muffins for the liners if it bothers you. If you give these a try, definitely stop back to MBA and let me know how you liked them!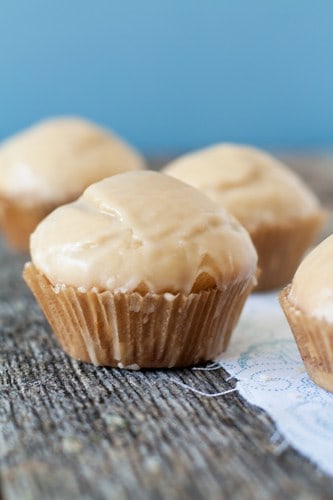 Glazed Doughnut Muffins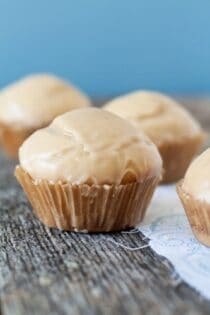 Ingredients:
1/4 cup butter
1/4 cup vegetable oil
1/2 cup granulated sugar
1/3 cup brown sugar
2 large eggs
1 1/2 teaspoons baking powder
1/4 teaspoon baking soda
3/4 to 1 ¼ teaspoons ground nutmeg, to taste (I used ¾)
1 teaspoon cinnamon
3/4 teaspoon salt
1 teaspoon vanilla extract
2 2/3 cups all-purpose flour
1 cup milk
For the Glaze
3 tablespoons butter; melted
1 cup confectioners' sugar; sifted
3/4 teaspoon vanilla
2 tablespoons hot water
Directions:
Preheat the oven to 425°F. Lightly grease a standard muffin tin. Or line with 12 paper muffin cups, and grease the cups with non-stick vegetable oil spray; this will ensure that they peel off the muffins nicely.
In a medium-sized mixing bowl, cream together the butter, vegetable oil, and sugars till smooth.
Add the eggs, beating to combine.
Stir in the baking powder, baking soda, nutmeg, cinnamon, salt, and vanilla.
Stir the flour into the butter mixture alternately with the milk, beginning and ending with the flour and making sure everything is thoroughly combined.
Spoon the batter evenly into the prepared pan, filling the cups nearly full.
Bake the muffins for 15 to 17 minutes, or until they're a pale golden brown and a cake tester inserted into the middle of one of the center muffins comes out clean.
In a medium bowl, prepare the glaze by mixing together the melted butter, confectioners' sugar, vanilla and water. Whisk until smooth.
When muffins have cooled slightly, dip the muffin crown into the glaze and allow the glaze to harden. At this point, you can leave them as is or go for the double dip. I glazed my muffins twice.
Serve warm, or cool on a rack and wrap airtight. Muffins will keep at room temperature for about a day.
Notes:
Recipe adapted from: King Arthur Flour
All images and text ©
Follow Jamie on Instagram. We love to see what you're baking from MBA! Be sure to tag @jamiemba and use the hashtag #mbarecipes!
This post may contain affiliate links. We are a participant in the Amazon Services LLC Associates Program, an affiliate advertising program designed to provide a means for us to earn fees by linking to Amazon.com and affiliated sites.