Morning glory muffins are sweet, moist, and ideal for busy mornings! Pair them with a mug of your favorite coffee for the perfect on-the-go breakfast.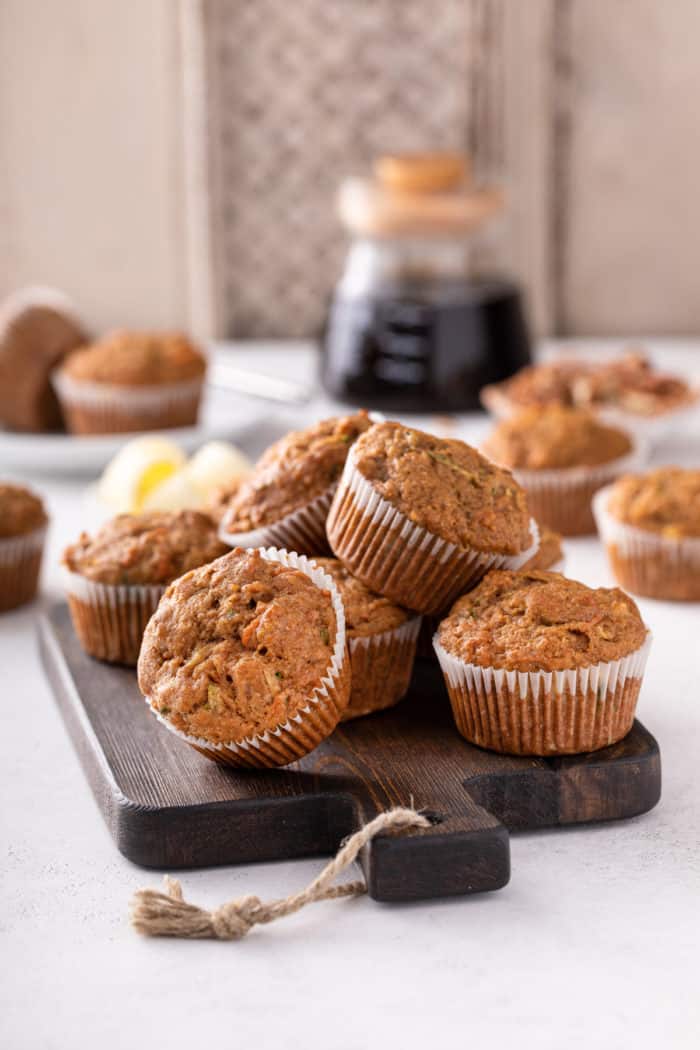 Are you a muffin kind of person? I totally am, but most of the time, I prefer muffin tops.
Yep, I'm the girl at Starbucks ordering one of their giant blueberry muffins and tossing the entire bottom of the muffin into the trash. It's wasteful, I know.
I've tried to pawn the muffin bottoms off on Elle by over-exaggerating their level of deliciousness, but the girl knows what's up; she's not having it.
Then there are the muffins at our local grocery store that are to die for good! Okay, that's a minor exaggeration, but you feel me, right?
Their pistachio muffins are LOADED with chopped pistachios and topped with a ridiculous amount of sparkling sugar. But guess what, once that crunchy sugar and perfectly golden top are gone, I'm out.
My husband does the same thing, only with chocolate glazed donuts. He slices them in half like a bagel so he can simply enjoy all that chocolate frosting goodness with a wee little bit of donut. I'm typically intercepting him on the way to the trash like, ummm, gimme that. Because carbs.
There are a few muffins that I'll enjoy in their entirety and one of them happens to be these morning glory muffins.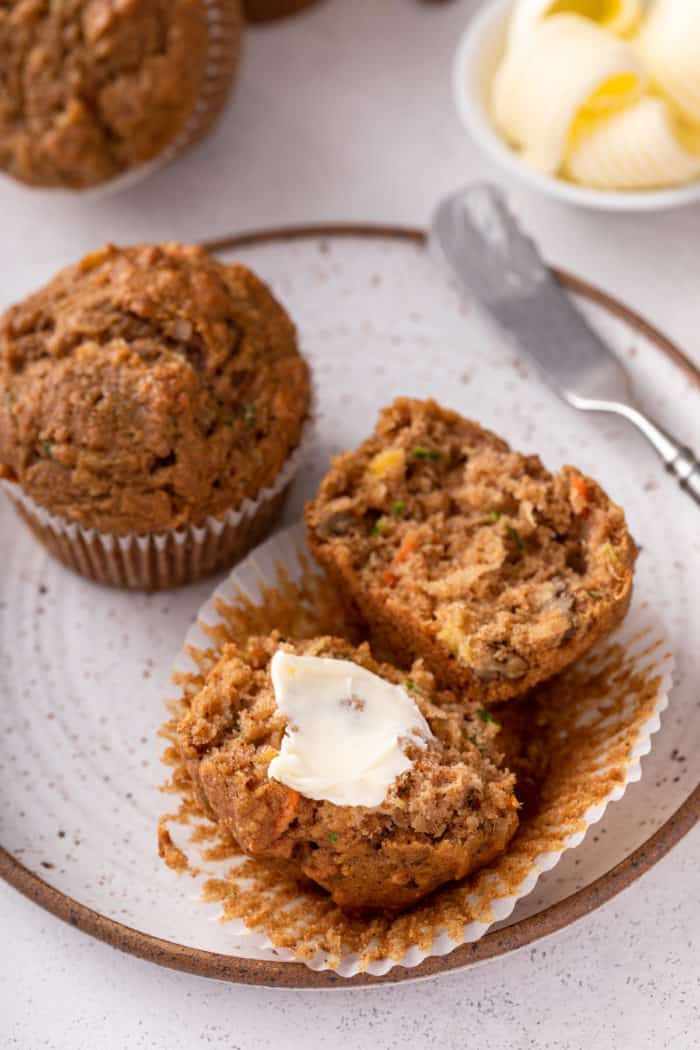 WHAT ARE MORNING GLORY MUFFINS?
If you've never had morning glory muffins, let me be the first to tell you that you're missing out.
Morning glory muffins are apparently named for the cafe in Nantucket where they were first created. The original recipe included carrots, apples, raisins, pecans, coconut, and cinnamon.
My recipe has a lot of those original ingredients with a few swaps. Mine are made in part with whole wheat flour for nuttiness and have tons of applesauce and grated apples, carrots, zucchini, pineapple, coconut, and pecans.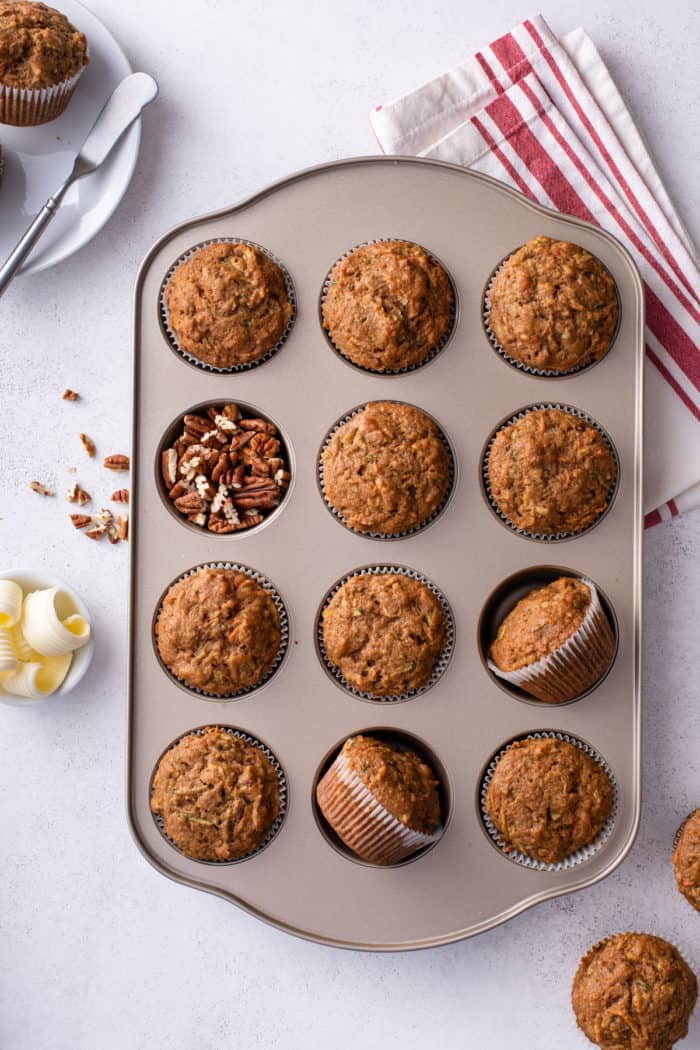 Yeah, we're talking about all kinds of flavor and texture in these delicious muffins!
Morning glory muffins are sure to be a hit with fans of apple cinnamon muffins, fans of carrot cake, fans of hummingbird cupcakes…heck, even fans of bran muffins will like these!
Whether you're whipping these morning glory muffins up to share with the family on a chilly morning or as a breakfast treat for your co-workers, I promise they'll enjoy every single bite from muffin top to muffin bottom!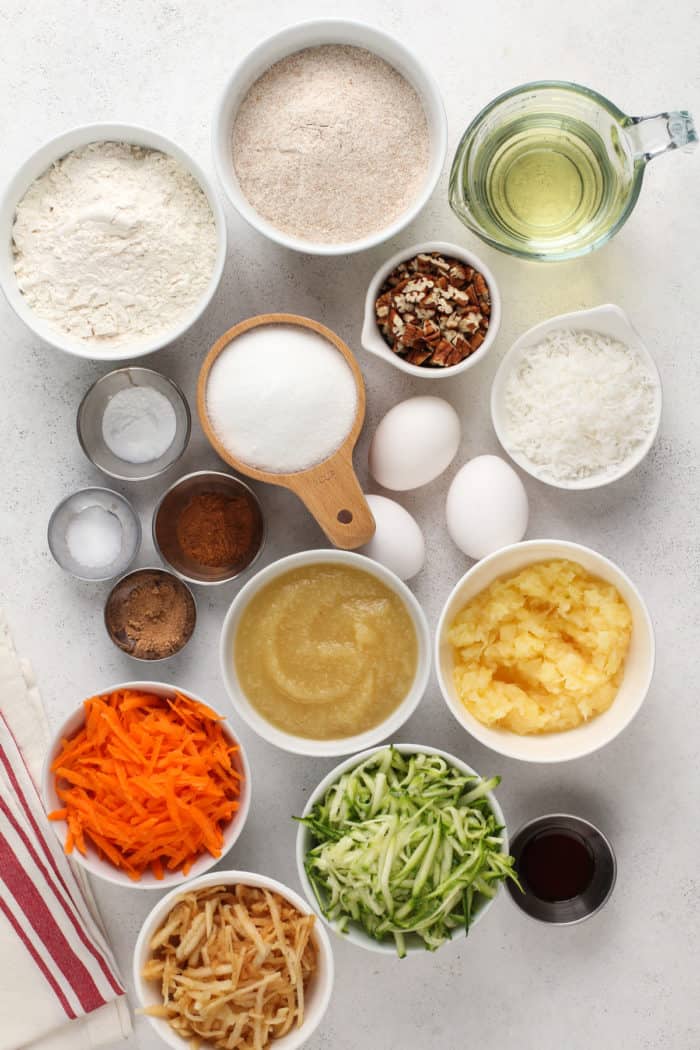 HOW TO MAKE MORNING GLORY MUFFINS
All of the fruits and vegetables in morning glory muffins make for a longer ingredient list than normal, but don't let that intimidate you. These muffins are as easy as pie (or, well, muffins) to make!
Key ingredients
This recipe has all of the typical muffin ingredients like eggs, granulated sugar, baking soda, vanilla, etc. But there are a handful of ingredients that help to set these muffins apart:
Whole wheat flour: I don't bake with whole wheat flour a lot, but it's a great addition to morning glory muffins. Using a mix of whole wheat and all-purpose flour gives these muffins a nuttiness that pairs well with the other ingredients.
Feel free to use a total of 2 ¾ cup all-purpose flour in place of the all-purpose/whole wheat mix if you don't have whole wheat flour on hand.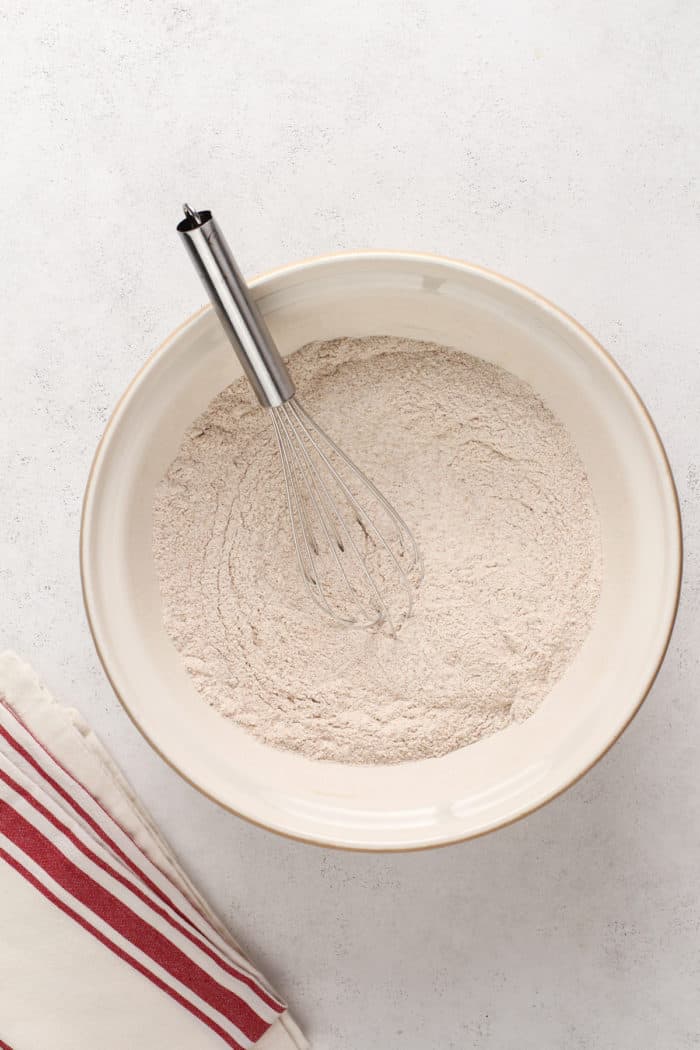 Applesauce: Applesauce is a great ingredient when baking, especially in muffins and quick bread recipes, such as applesauce bread. It adds flavor and moisture, keeping these muffins from needing a lot of oil or fat.
I like to use unsweetened applesauce, but feel free to use sweetened applesauce if you prefer sweeter muffins.
Grated carrots and zucchini: Nothing like sneaking veggies into your kids via muffins, right? Parents of vegetable-hating kids will know what I mean. This recipe has a full cup of grated carrots and a cup of grated zucchini, adding flavor and nutrients to the muffins.
Grated apple: Yes, there's already applesauce in these morning glory muffins, but some grated apple adds a different texture.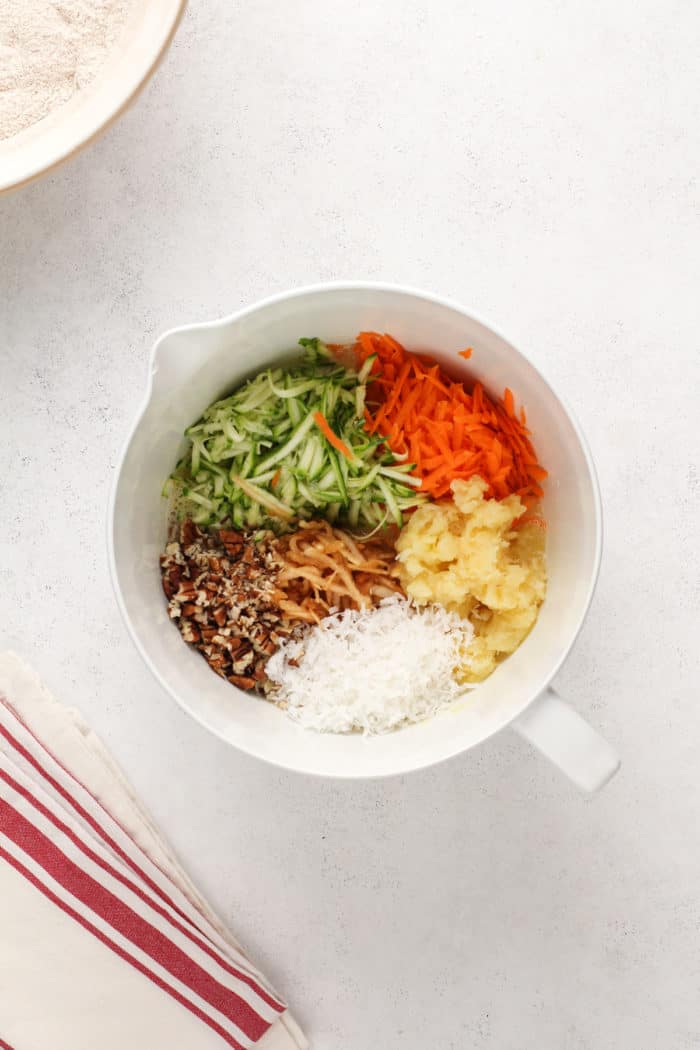 Crushed pineapple: If you've made J. Alexander's carrot cake, then you know how well carrots and pineapple go together! Crushed pineapple adds a nice acidity to the muffins and even more moisture.
Flaked coconut: The original morning glory muffins included coconut and I definitely couldn't skip it – I love coconut! Like the applesauce, you can use sweetened or unsweetened coconut, depending on how sweet you'd like the final muffins to be.
Pecans: Chopped pecans add to the nuttiness of the recipe and also give the muffins some great texture. Feel free to follow my directions on how to toast nuts if you'd like to toast the pecans before adding them to the batter.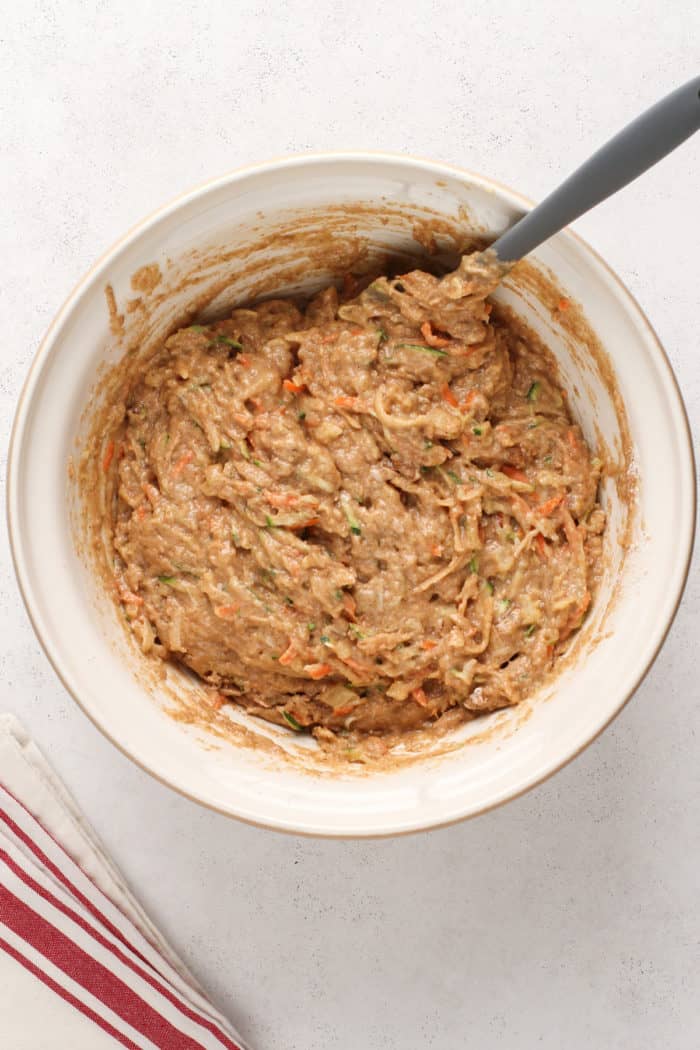 Making this recipe
Once your ingredients are prepped and ready, making these morning glory muffins is pretty similar to most muffin and quick bread recipes.
This recipe makes 18 muffins, so prep 18 muffin cups by either greasing them or lining them with paper liners.
In a large bowl, whisk together the dry ingredients until combined: both of the flours, the sugar, cinnamon, nutmeg, baking soda, and salt.
In a separate bowl, combine the eggs, applesauce, oil, and vanilla. Add in the carrots, zucchini, grated apple, pineapple, coconut, and pecans.
Add all of the wet ingredients to the dry ingredients and mix until just combined. Divide the batter between the prepped muffin cups and bake for 20-24 minutes.
Let the muffins cool for about 5 minutes in the pan before moving them to a cooling rack.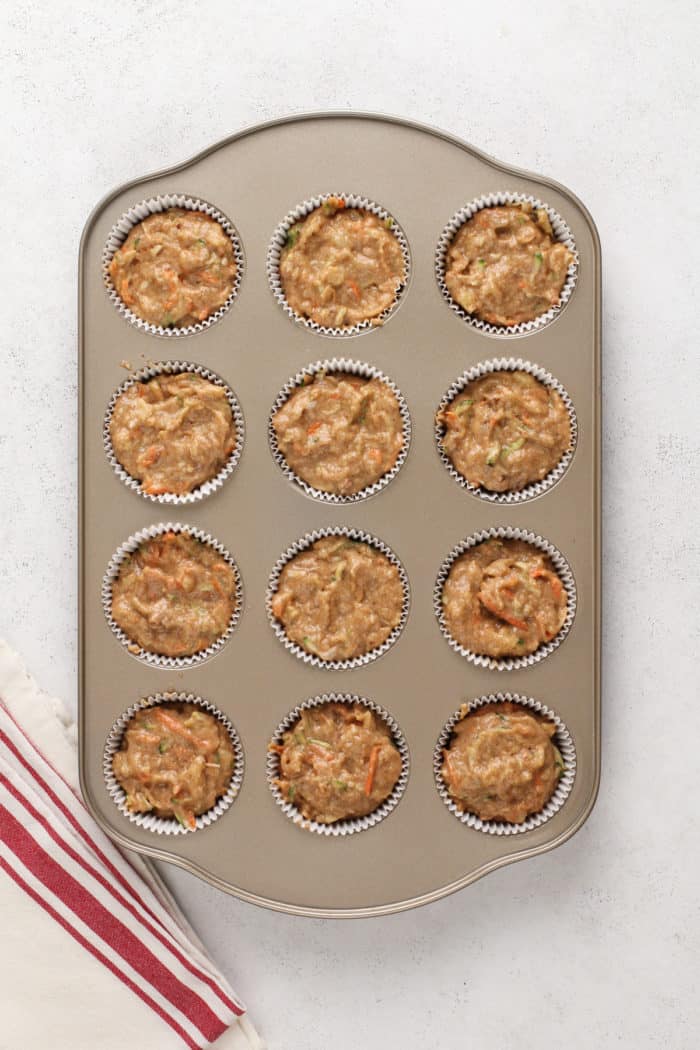 STORAGE
These muffins are best the day they're made, but you can keep them in an airtight container at room temperature for up to 2 days.
If you want longer-term storage, I recommend freezing them. Place them in a zip-top freezer bag and freeze for up to a month.
When you're ready to enjoy a muffin for your breakfast or an afternoon snack, microwave for 30-60 seconds to thaw.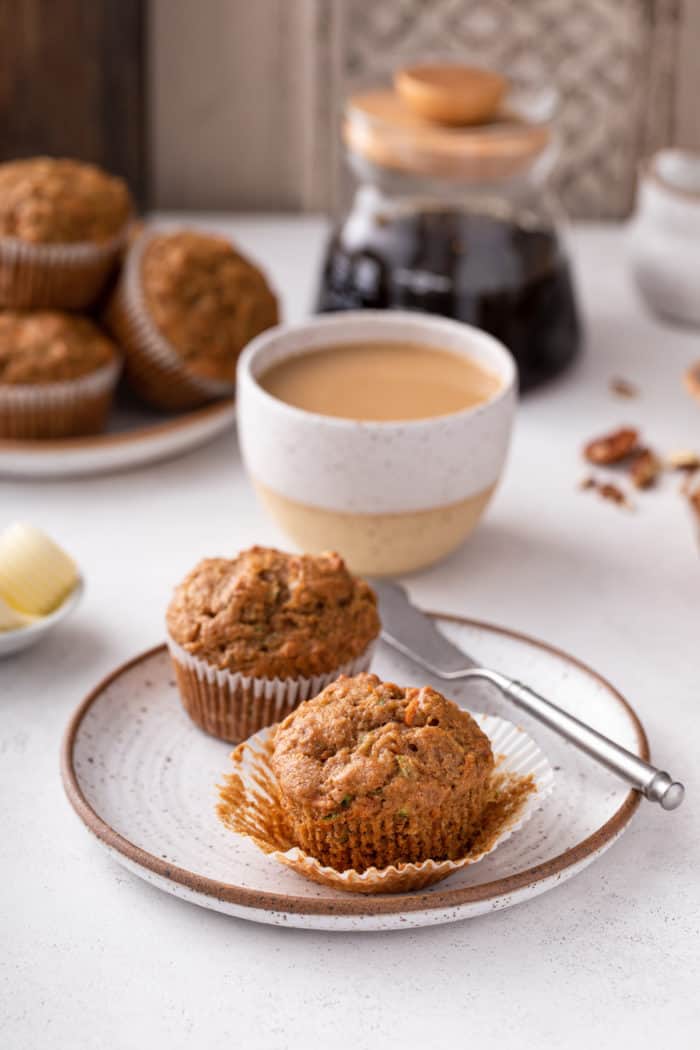 MORE FABULOUS MUFFIN RECIPES
If these morning glory muffins made you want to have muffins at the ready all of the time? Check out these other great muffin recipes: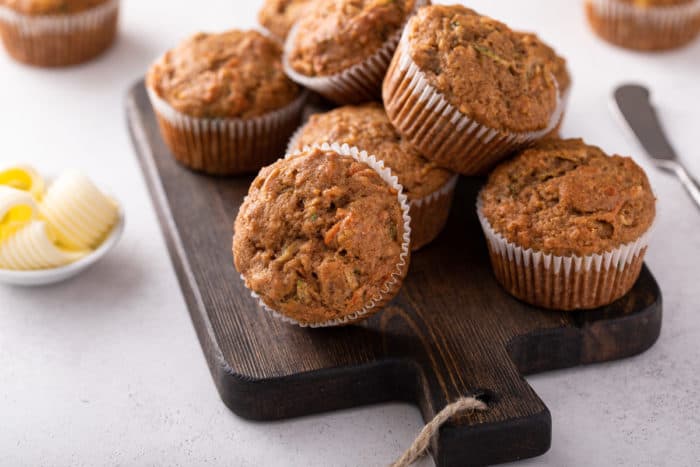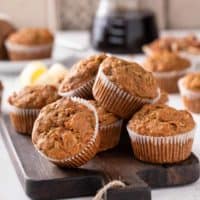 Morning Glory Muffins
Packed with carrots, zucchini, apples, pineapple, coconut, and pecans, these morning glory muffins are a hearty way to start your day!
Print
Pin
Ingredients
1 ½

cups

all-purpose flour

1 ¼

cups

whole wheat flour

1

cup

granulated sugar

2

teaspoons

ground cinnamon

½

teaspoon

nutmeg

2

teaspoons

baking soda

½

teaspoon

kosher salt

3

large eggs

¾

cup

applesauce

see notes

½

cup

vegetable oil

1

teaspoon

pure vanilla extract

1

cup

grated carrots

1

cup

grated zucchini

½

cup

peeled and grated apple

from about 1 medium apple

1

8-ounce can

crushed pineapple

drained

½

cup

flaked coconut

see notes

⅓

cup

coarsely chopped pecans
Instructions
Preheat oven to 350° F. Grease or line 18 muffin cups with paper liners.

In a large bowl, combine flours, sugar, cinnamon, nutmeg, baking soda and kosher salt. Whisk the dry ingredients until thoroughly combined.

In another bowl, combine the eggs, applesauce, vegetable oil and vanilla. Stir in carrots, zucchini, apple, pineapple, coconut and pecans.

Add wet ingredients to dry ingredients and mix until thoroughly combined, but do not overmix.

Divide batter evenly between the prepared muffin cups. Bake in preheated oven for 20-24 minutes, or until a toothpick comes out clean.

Allow muffins to cool in the pan for about 5 minutes before removing to a wire rack.
Notes
For sweeter muffins, use sweetened applesauce and/or sweetened coconut. For less-sweet muffins, use unsweetened applesauce and/or unsweetened coconut.
If you do not have whole wheat flour, feel free to substitute an equal amount of all-purpose flour.
These muffins are best served the same day; however, they will keep in an airtight container for up to 2 days, or freeze them for up to a month for longer-term storage.
Nutrition
Serving:
1
muffin
|
Calories:
214
kcal
|
Carbohydrates:
29
g
|
Protein:
4
g
|
Fat:
10
g
|
Saturated Fat:
3
g
|
Polyunsaturated Fat:
4
g
|
Monounsaturated Fat:
3
g
|
Trans Fat:
0.04
g
|
Cholesterol:
27
mg
|
Sodium:
204
mg
|
Potassium:
126
mg
|
Fiber:
2
g
|
Sugar:
13
g
|
Vitamin A:
1249
IU
|
Vitamin C:
2
mg
|
Calcium:
17
mg
|
Iron:
1
mg
The default measuring system on My Baking Addiction is US Customary. Unit conversions are provided as a courtesy; please be aware that there may be some discrepancies.
Card may contain affiliate links. As an Amazon Associate and member of other affiliate programs, I earn from qualifying purchases.