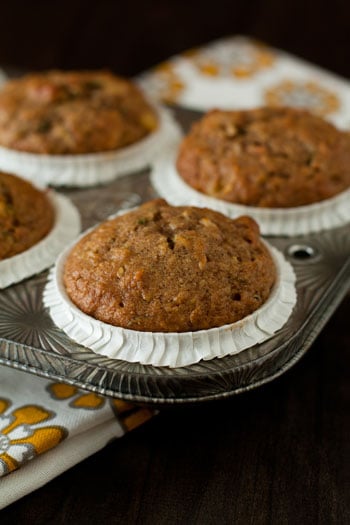 Last week I posted about our trip to West Side Market in Cleveland. As a result of my love for fresh produce, I ended up purchasing far more fruits and veggies than we needed.
I have a bit of a shopping problem, whether it's clothes or carrots, I buy on impulse with no clear plan in mind. I tried to get as creative as possible in the baking and cooking departments in order to use as much of it as I could before everything was past its prime.
The first recipe I am going to share is for these amazingly delicious Morning Glory Muffins. They are full of carrots, apples, zucchini, coconut, pineapple and pecans which ends up giving them a lot of character and texture. Not only is the flavor incredible, but they are also pretty easy to make. Sure you have to grate some veggies, but if you have a food processor, you can easily knock out this step in a matter of minutes. Plus, if your kiddies aren't too fond of veggies, these are the perfect way to sneak some in.
These muffins are homey and the autumnal scents and flavors are truly intoxicating. With early mornings just around the corner, these muffins will make the perfect on the go breakfast or a delicious snack to tuck into your lunch bag.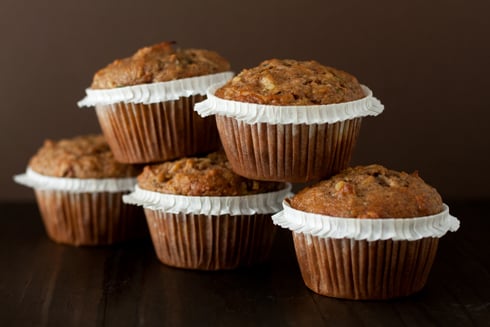 Looking for more muffin recipes? Check these out:
Glazed Doughnut Muffins from My Baking Addiction
Blackberry Lime Muffins from Two Peas and Their Pod
Doughnut Muffins from How to Simplify
Strawberry Crunch Muffins from Fuss Free Cooking

Morning Glory Muffins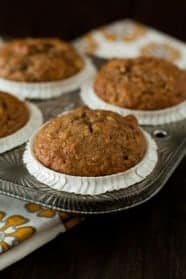 Ingredients:
1 1/2 cups all-purpose flour
1 1/4 cups whole wheat flour
1 cup sugar
2 teaspoons ground cinnamon
1/2 teaspoon nutmeg
2 teaspoons baking soda
1/2 teaspoon kosher salt
3 eggs
3/4 cup applesauce
1/2 cup vegetable oil
1 teaspoon vanilla extract
1 cup grated carrots
1 cup grated zucchini
1 medium tart apple, peeled and grated
1 (8 ounce) can crushed pineapple, drained
1/2 cup flaked sweetened coconut
1/3 pecans; coarsely chopped
Directions:
1. Preheat oven to 350 degrees. Grease or line a muffin tin with paper liners.
2. In a large bowl, combine flours, sugar, cinnamon, nutmeg, baking soda and kosher salt. Whisk the dry ingredients until thoroughly combined.
3. In another bowl, combine the eggs, applesauce, vegetable oil and vanilla. Stir in carrots, zucchini, apple, pineapple, coconut and pecans.
4. Combine wet and dry ingredients and mix until thoroughly combined, but do not overmix.
5. Fill greased or paper-lined muffin cups two-thirds full. Bake at 350 degrees F for 20-22 minutes or until a toothpick comes out clean. Allow muffins to cool in the pan for about 5 minutes before removing to a wire rack.
Notes:
- No whole wheat flour? No problem, simply sub in all-purpose
- I always use kosher salt when baking; however, feel free to substitute table salt.
- Feel free to substitute unsweetened applesauce and/or coconut in this recipe.
- These muffins are best served the same day; however, they will keep overnight in an airtight container.
75 Responses to "Morning Glory Muffins"