Morning Glory Muffins are sweet, moist and ideal for busy mornings! Pair them with a mug of your favorite coffee for the perfect fall breakfast.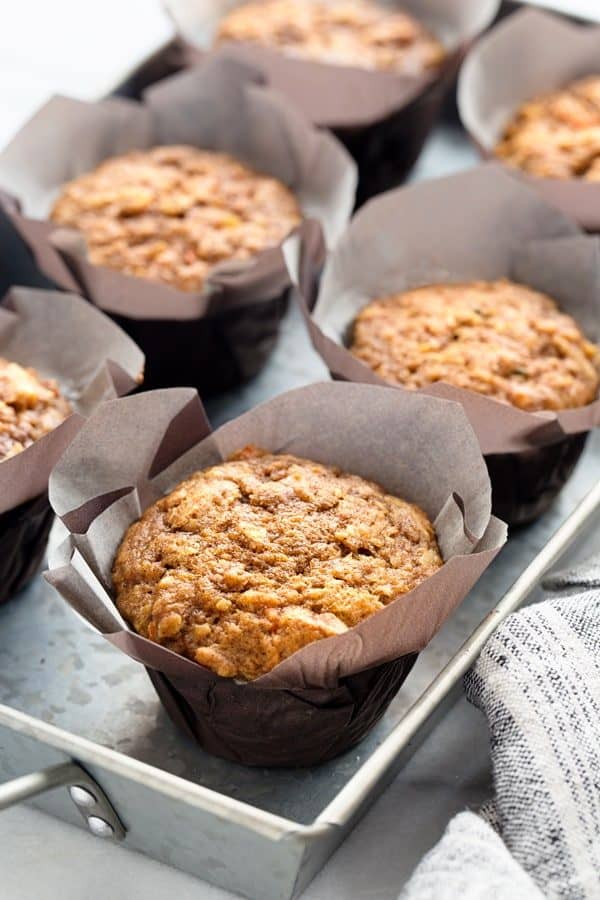 Are you a muffin kind of person? I totally am, but most of the time, I prefer muffin tops.
Yep, I'm the girl at Starbucks ordering one of their giant blueberry muffins and tossing the entire bottom of the muffin into the trash. It's wasteful, I know.
I've tried to pawn the muffin bottoms off on Elle by over-exaggerating their level of deliciousness, but girl knows what's up; she's not having it.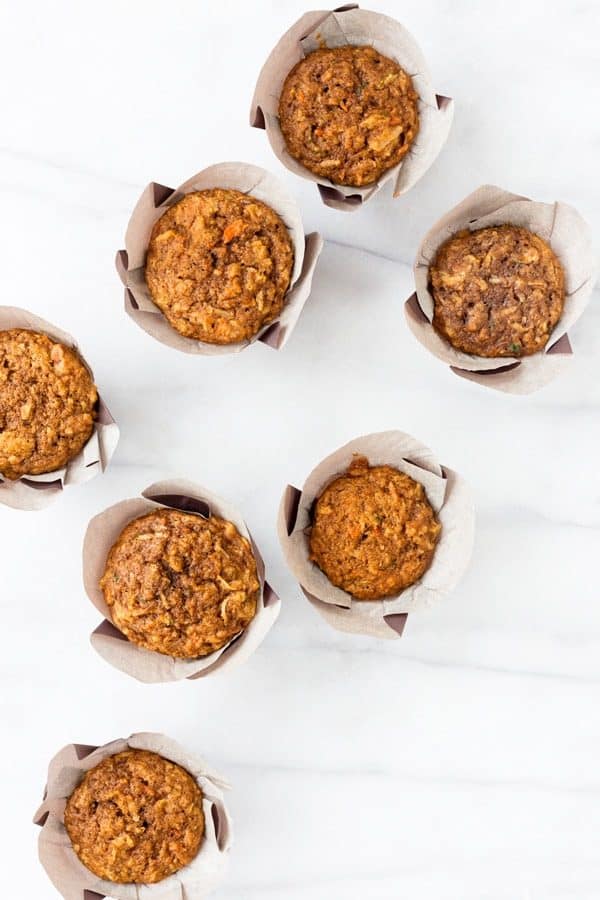 Then there are the muffins at our local grocery store that are to die for good! Okay, that's a minor exaggeration, but you feel me, right?
Their pistachio muffins are LOADED with chopped pistachios and topped with a ridiculous amount of sparkling sugar. But guess what, once that crunchy sugar and perfectly golden top is gone, I'm out.
My husband does the same thing, only with chocolate frosted donuts. He slices them in half like a bagel so he can simply enjoy all that chocolate frosting goodness with a wee little bit of donut. I'm typically intercepting him on the way to the trash like, ummm, gimme that. Because carbs.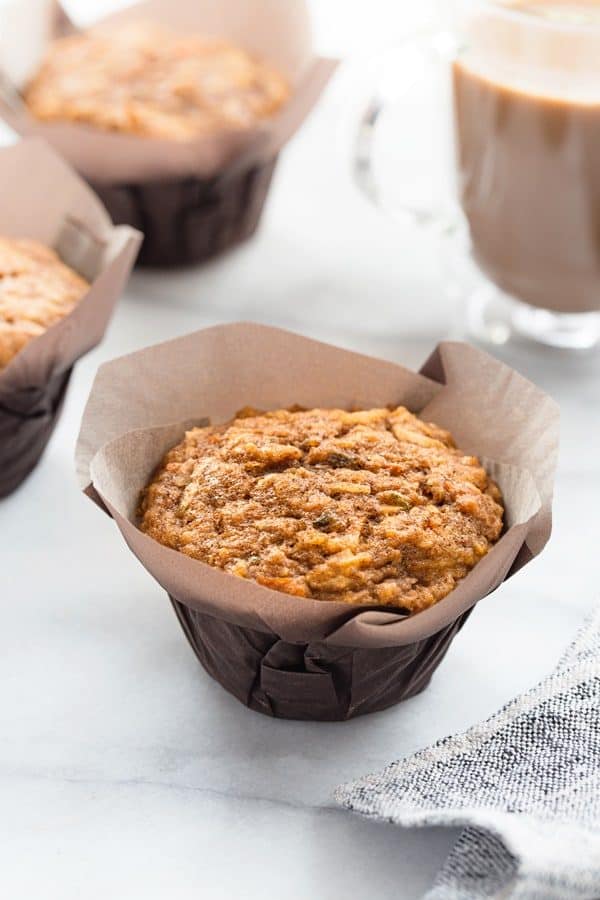 There are a few muffins that I'll enjoy in their entirety and one of them happens to be these Morning Glory Muffins.
These muffins have been on My Baking Addiction since 2010, yes, I've been blogging recipes for that long, and the post was in need of serious freshening up. So here we are, same recipe with updated photos and text!
If you've never had Morning Glory Muffins, let me be the first to tell you that you're missing out. They're loaded with warm spices which makes them perfect for fall and they're incredibly moist thanks to the applesauce. Then there's the carrots, zucchini, pineapple, coconut, and pecans which gives these delicious muffins all kinds of flavor and texture.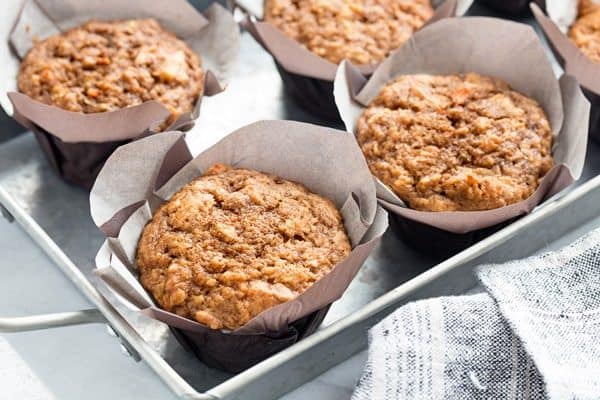 You guys, they are SO good! Even my cooked vegetable hating little babe had no idea there were veggies in these muffins.I mean, sneak it where you can, right?
Whether you're whipping these Morning Glory Muffins up to share with the family on a chilly fall morning, or as a breakfast treat for your co-workers, I promise they'll enjoy every single bite from muffin top to muffin bottom!
For more delicious muffin recipes, check out some of these recipes:
Morning Glory Muffins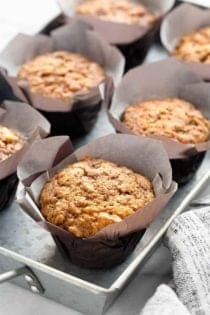 Ingredients:
1 1/2 cups all-purpose flour
1 1/4 cups whole wheat flour
1 cup sugar
2 teaspoons ground cinnamon
1/2 teaspoon nutmeg
2 teaspoons baking soda
1/2 teaspoon kosher salt
3 eggs
3/4 cup applesauce
1/2 cup vegetable oil
1 teaspoon vanilla extract
1 cup grated carrots
1 cup grated zucchini
1 medium tart apple, peeled and grated
1 8-ounce can crushed pineapple, drained
1/2 cup sweetened coconut flakes
1/3 pecans; coarsely chopped
Directions:
Preheat oven to 350° F. Grease or line a muffin tins with paper liners.
In a large bowl, combine flours, sugar, cinnamon, nutmeg, baking soda and kosher salt. Whisk the dry ingredients until thoroughly combined.
In another bowl, combine the eggs, applesauce, vegetable oil and vanilla. Stir in carrots, zucchini, apple, pineapple, coconut and pecans.
Combine wet and dry ingredients and mix until thoroughly combined, but do not overmix.
Fill greased or paper-lined muffin cups two-thirds full. Bake in preheated oven for 20-22 minutes, or until a toothpick comes out clean.
Allow muffins to cool in the pan for about 5 minutes before removing to a wire rack.
Notes:
No whole wheat flour? No problem, simply sub in all-purpose
Feel free to substitute unsweetened applesauce and/or coconut in this recipe.
These muffins are best served the same day; however, they will keep in an airtight container for up to 2 days.
All images and text ©
Follow Jamie on Instagram. We love to see what you're baking from MBA! Be sure to tag @jamiemba and use the hashtag #mbarecipes!