These lemon poppy seed muffins are bursting with bright lemon and crunchy poppy seeds. These perfectly moist, tender muffins make for a delicious morning treat or afternoon snack alongside a cup of coffee or tea.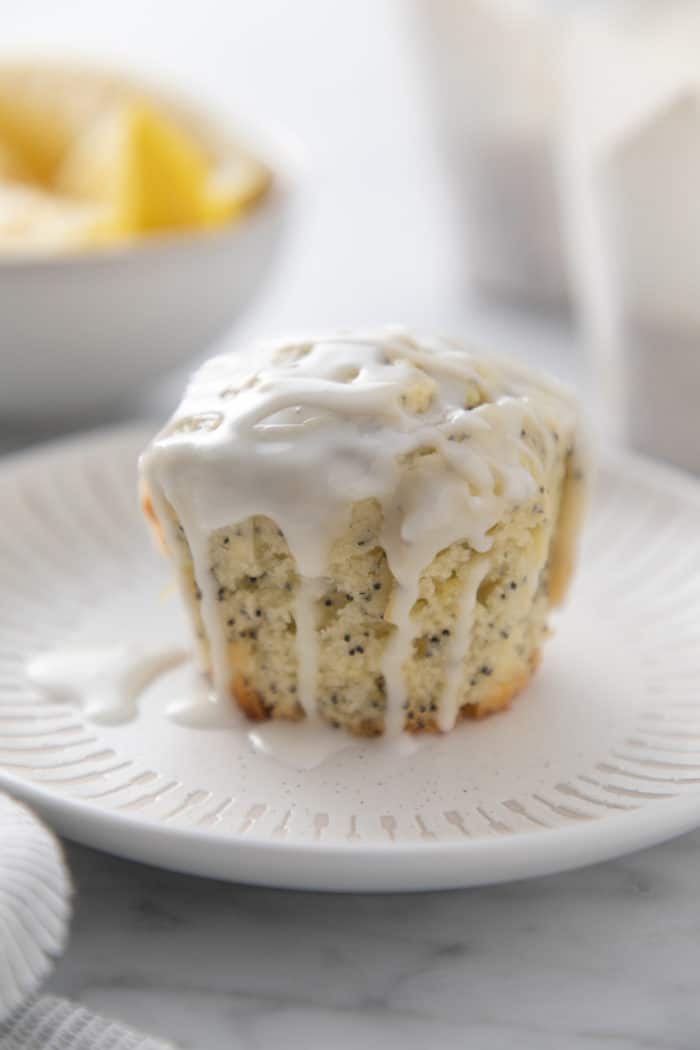 This post contains affiliate links.
My husband is one of those people that often prefers store-bought or boxed mix desserts over homemade.
Whether it be his beloved Pepperidge Farm Double Chocolate Nantucket Cookies over my favorite chocolate chip cookies, Ghirardelli Brownies (which I actually agree with) or Betty Crocker lemon poppy seed muffins, the guy has his faves and there is really no swaying him.
Our local grocery store was out of stock of the lemon poppy seed muffin mix for what seemed like forever, so I decided to test a few batches of homemade lemon poppy seed muffins to see if they could live up to the Betty hype.
Personally, I think I totally succeeded, but I secretly think my husband still prefers Betty.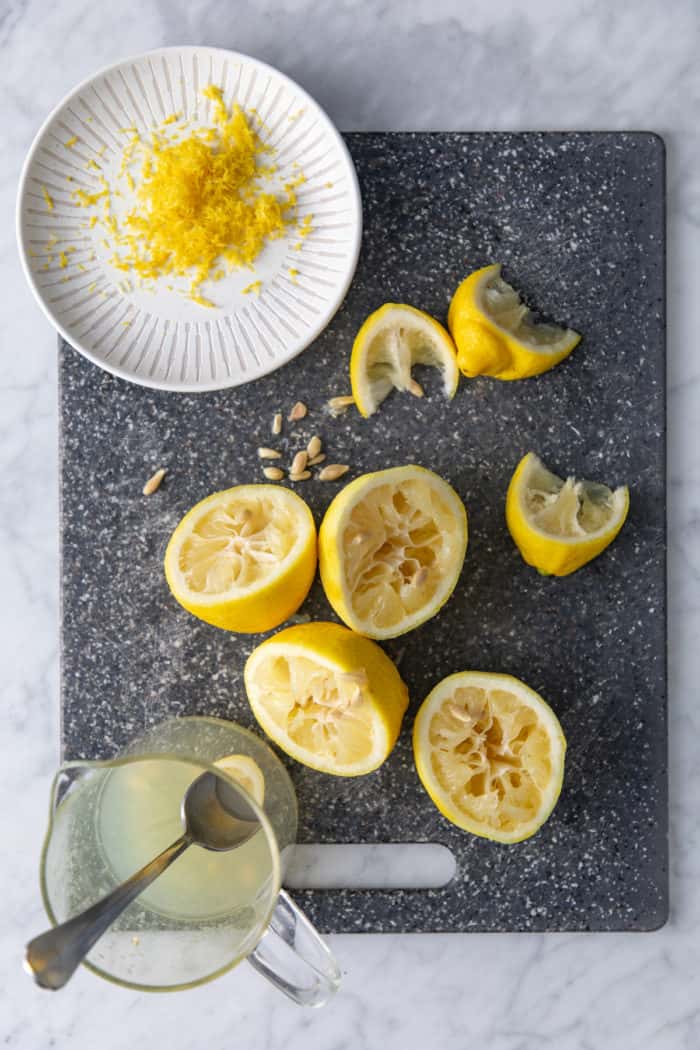 THE PERFECT LEMON POPPY SEED MUFFIN
You guys know how much I love lemon anything. From homemade lemon bars to lemon whipping cream cake, it's not unusual for me to pick lemon over chocolate.
I also love a good muffin. There's just something about a muffin with a warm cup of coffee that speaks to me and makes me feel like I'm in a fancy coffee shop even when I'm at home.
I love banana crumb muffins any time of year, and in the fall I'm a huge fan of apple cinnamon muffins and pumpkin muffins.
But given my love for lemon, you can imagine how much I love lemon poppy seed muffins.
I decided that I needed to nail down the perfect lemon poppy seed muffin recipe. I started with Dorie Greenspan's recipe from her book Baking: From My Home to Yours.
Even though the original recipe is good, I wanted the muffins to be a bit sweeter and to have a stronger pop of lemon. I made a few slight adjustments and voila! I pulled the perfect lemon poppy seed muffins from the oven.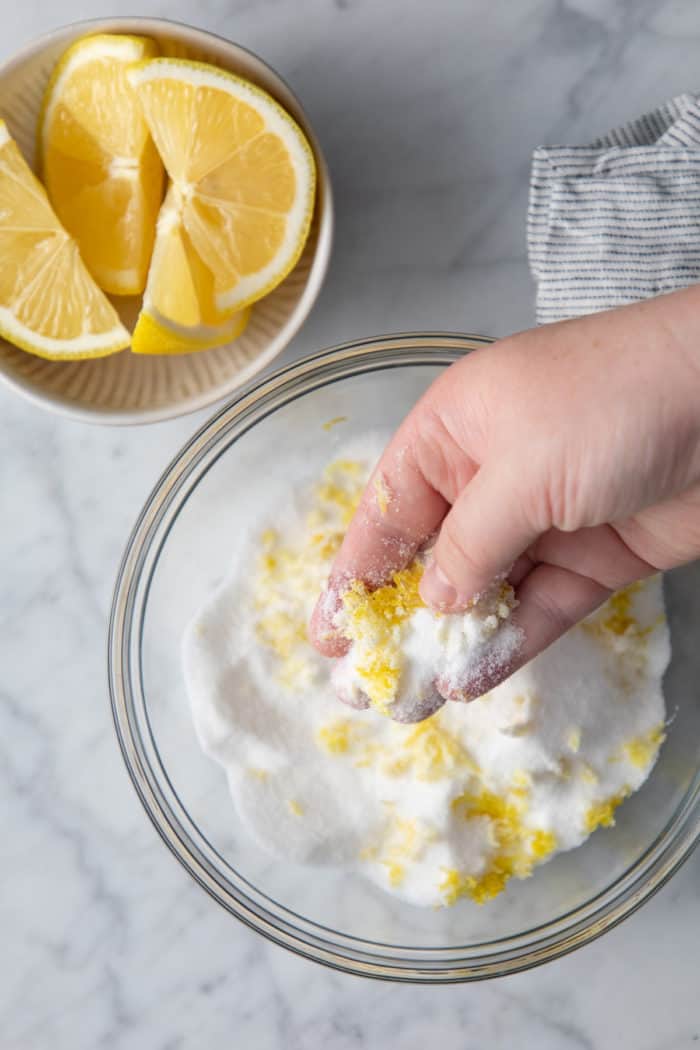 HOW TO MAKE LEMON POPPY SEED MUFFINS
These muffins are pretty easy to make. You don't need a mixer or any special equipment, so they're a great recipe for kids to help with!
What's the deal with poppy seeds?
Wondering what poppy seeds bring to these muffins?
In addition to adding a great crunchy texture that contrasts with the tender crumb of the muffin, poppy seeds add a subtle nutty flavor to anything they're in. They're great in everything from these lemon poppy seed muffins to salad dressings to poppy seed lemon cake.
Poppy seeds are also a great source of a variety of nutrients, although I wouldn't exactly use that as an excuse to call these muffins "healthy". But it is a great excuse to add more poppy seeds to your diet!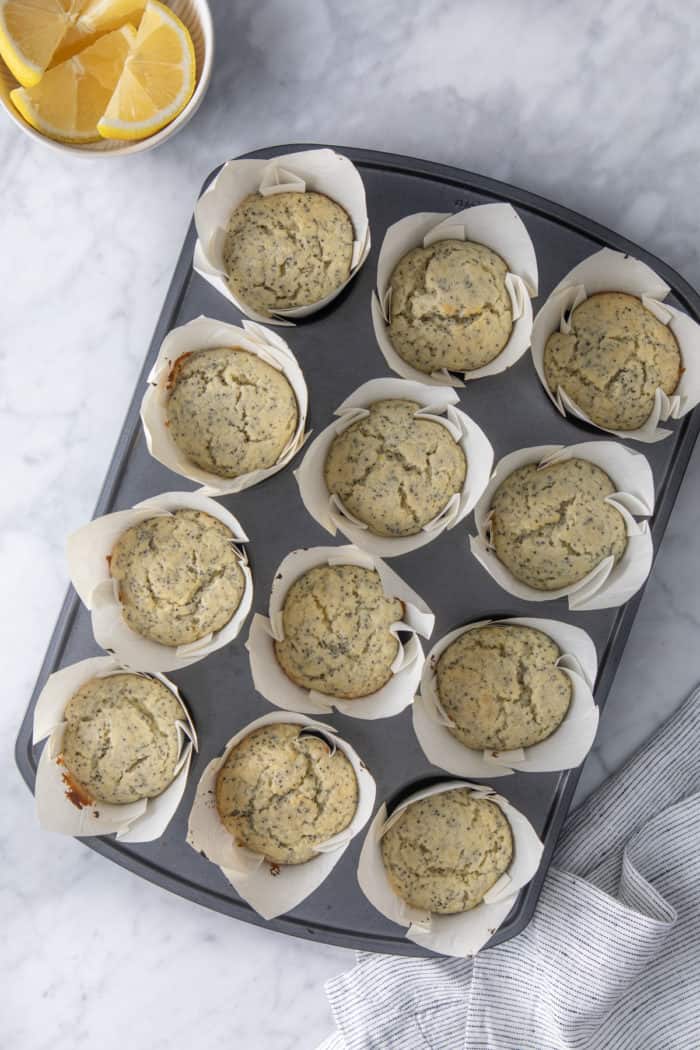 Other ingredients you'll need
In addition to the poppy seeds, some of the ingredients you'll need include:
Lemon juice and zest: To get lots of fresh lemon flavor in these muffins, we'll use both lemon zest and lemon juice in the muffins themselves and use lemon juice in the glaze. So much bright lemon!
Sour cream: This recipe uses sour cream as one of the main wet ingredients. If you remember from my post on how to make buttermilk, sour cream can stand in for buttermilk and has a lot of the same benefits when used in baking. It keeps your baked goods moist and tender and adds a lovely tangy flavor.
Make sure you also grab:
1 cup sugar
2 cups all purpose flour
2 teaspoons baking powder
1/4 teaspoon baking soda
1/4 teaspoon salt
2 large eggs
1 teaspoon pure vanilla extract
1 stick unsalted butter, melted and cooled
1 cup confectioners' sugar (aka powdered sugar), sifted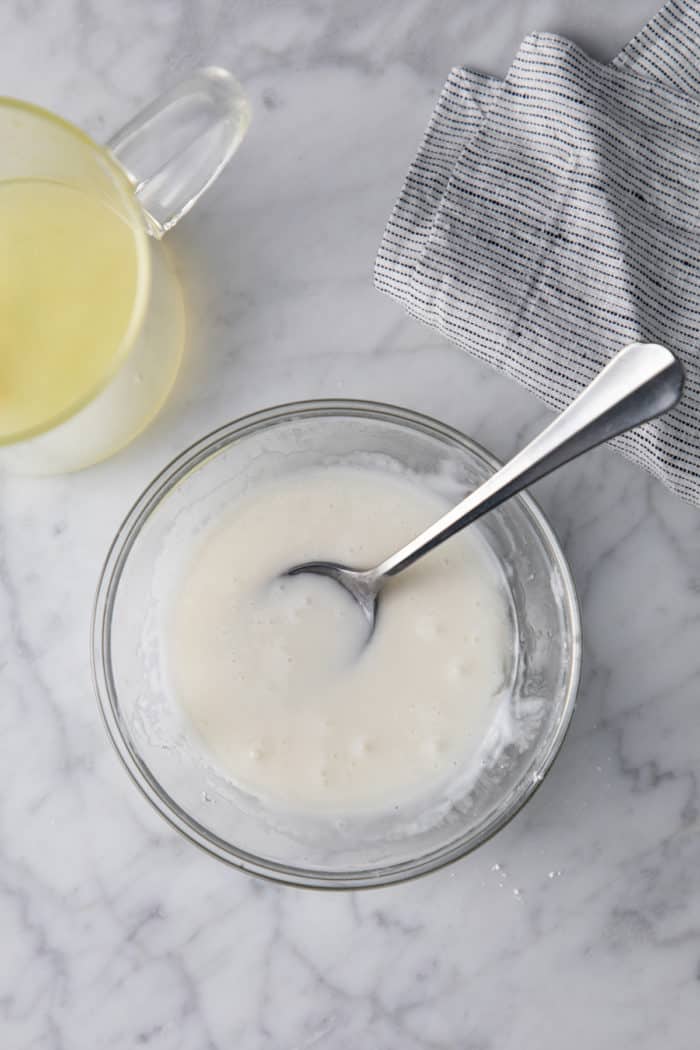 Making these muffins
These lemon poppy seed muffins may taste like they're from a fancy bakery, but they are really so easy to make!
We'll start by rubbing the lemon zest into the granulated sugar until the sugar is moist and fragrant. This is a trick I learned from Dorie Greenspan and have used in countless recipes, such as lemon ricotta cookies and lemon raspberry scones.
Whisk the remaining dry ingredients into the sugar mixture and set the bowl aside.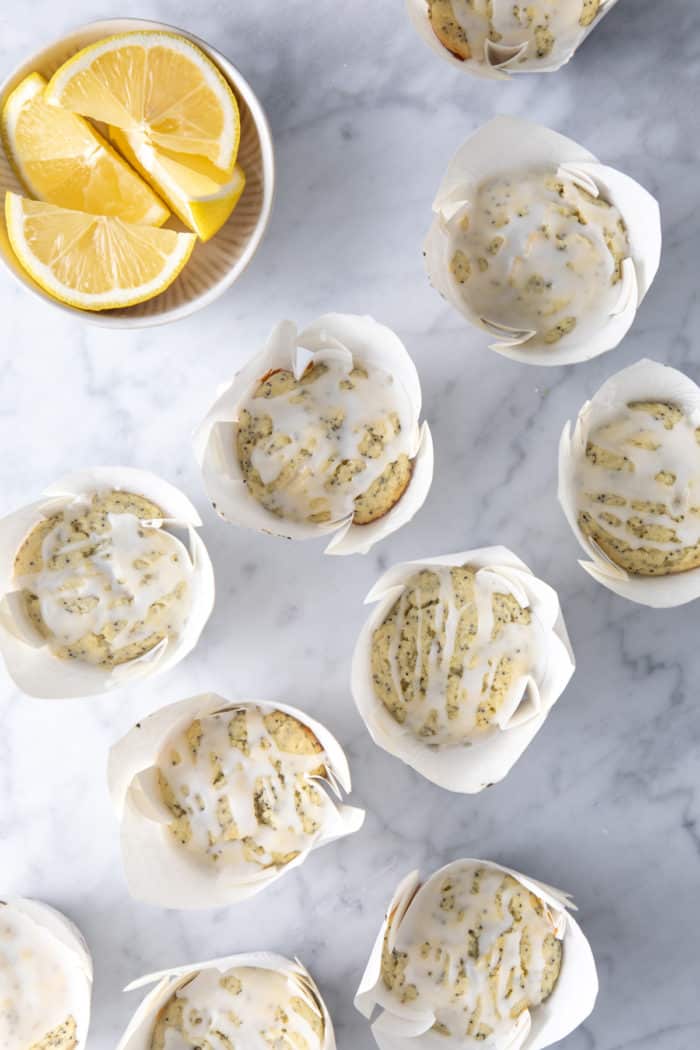 In a separate bowl or large measuring cup, whisk together the sour cream, eggs, vanilla, lemon juice, and melted butter. Add this to the dry ingredients and mix until just combined. You don't want to overmix!
Gently stir in the poppy seeds and divide the batter between 12 lined muffin cups.
Bake the muffins for 18-20 minutes. They're done when the tops are golden brown and a toothpick or cake tester inserted in the center of the muffins comes out clean.
Let the muffins cool in the pan for 5 minutes before removing them to a cooling rack. Let them cool completely before glazing them.
When you're ready to glaze the muffins, whisk together the powdered sugar and lemon juice. Drizzle this over the cooled muffins or dip the tops of the muffins in the glaze for an extra strong lemony kick.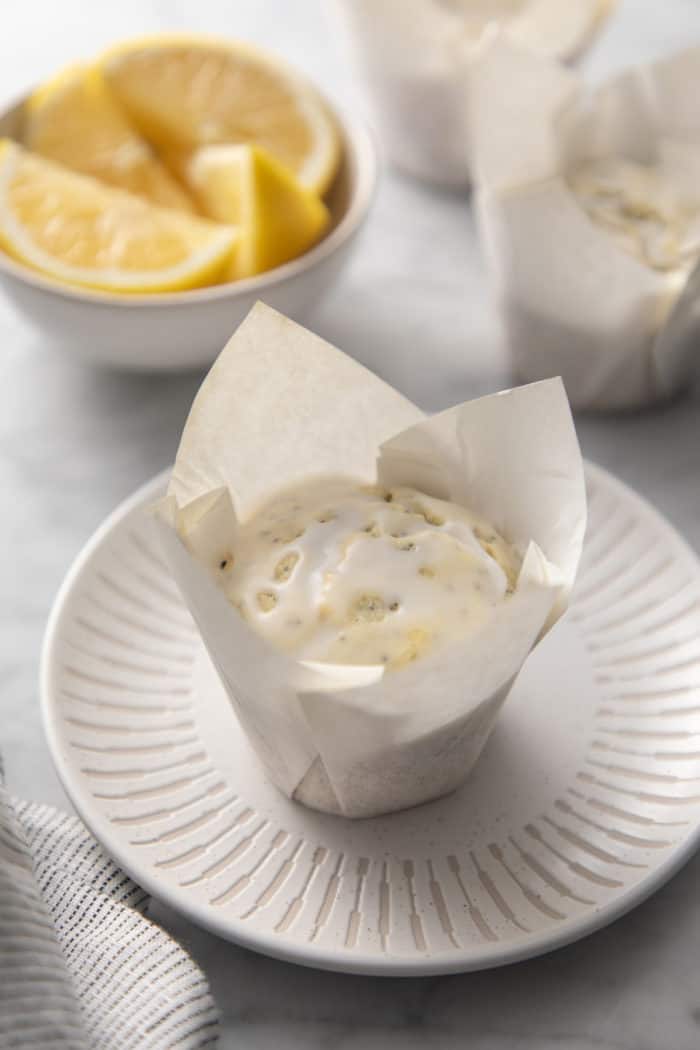 STORAGE AND FREEZING
Leftover lemon poppy seed muffins will keep in an airtight container for up to 3 days. Keep in mind that the glaze may seep into the muffin tops after the first day or two, making the tops of the muffins quite moist.
They'll still taste great, though!
Muffins also freeze beautifully, these are no exception.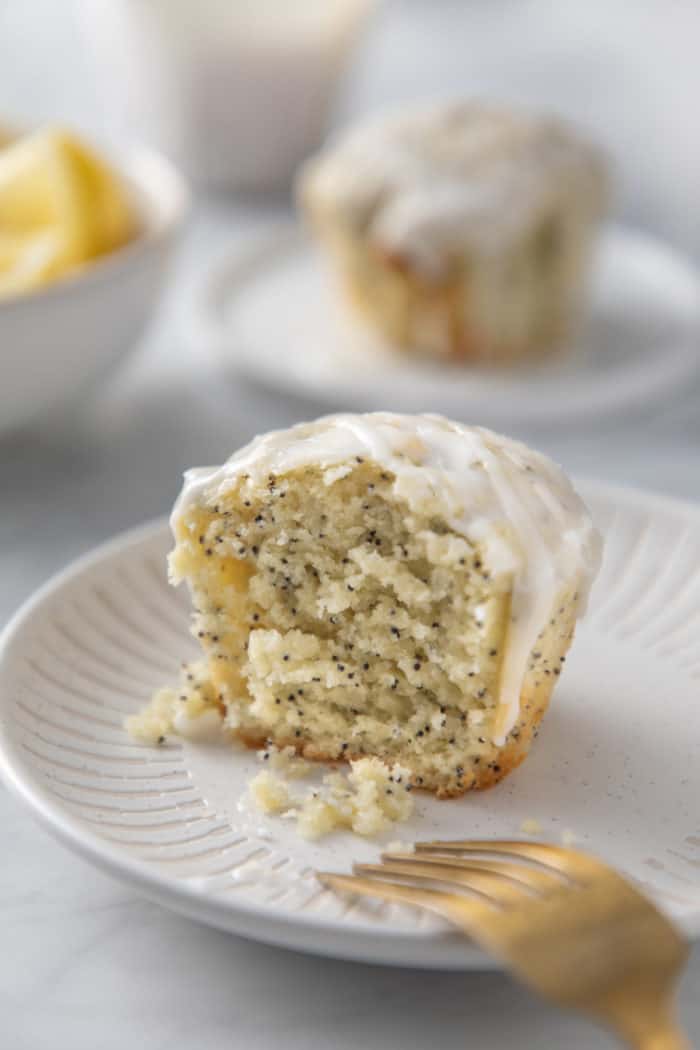 If you want to make these muffins ahead of time for serving at a brunch, skip the glaze and place them in a zip-top freezer bag and freeze for up to 1 month.
Let the muffins thaw at room temperature, then glaze them for serving.
If you are just freezing leftover muffins to enjoy later and don't care about how they look, you can freeze the glazed muffins in a zip-top freezer bag for up to 1 month. The glaze won't be quite the same after thawing, but they'll still taste amazing!