This lemony loaf cake is the best afternoon snack or dessert! Lemon Whipping Cream Cake is bursting with bright lemon flavor and is amazing on its own or with whipped cream and fresh berries.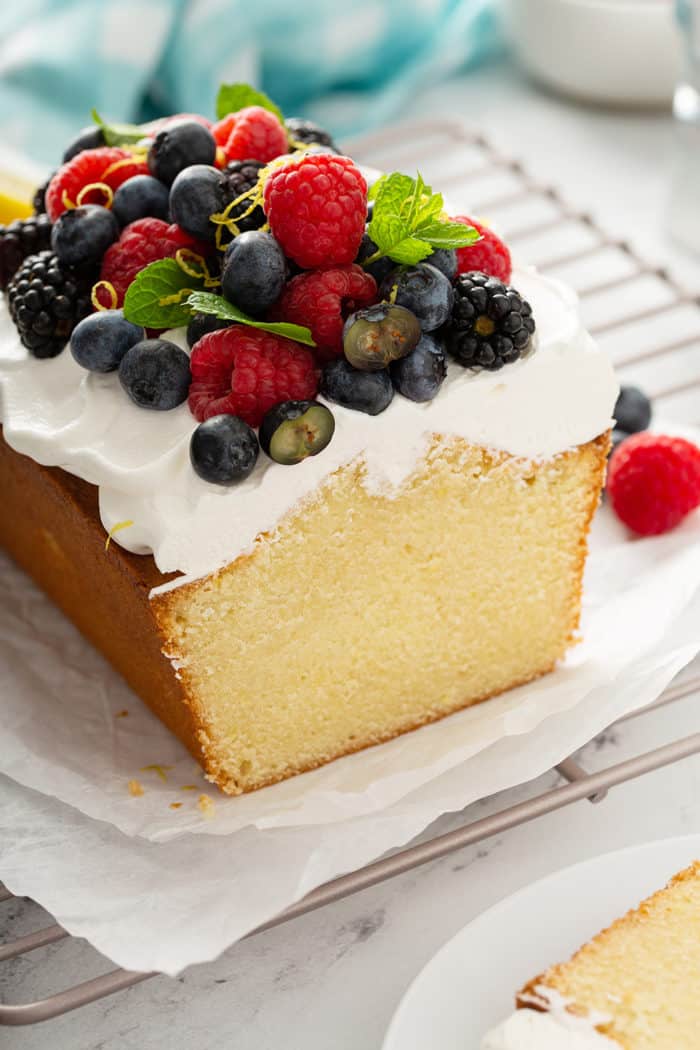 We're over here soaking up the final days of summer before our sweet girl heads back to school. Her backpack is all packed up, her supplies are labeled and her outfit is picked out and ready to go.
Now that we've completed are back to school checklist, we're spending our final school-free days hanging out by the pool, going on bike rides and whipping up summery desserts like this Lemon Whipping Cream Cake.

This cake is super easy which makes it a great recipe to have the kiddos help with – or even make completely on their own. Load it up with fresh whipped cream and summer berries for the perfect back to school treat!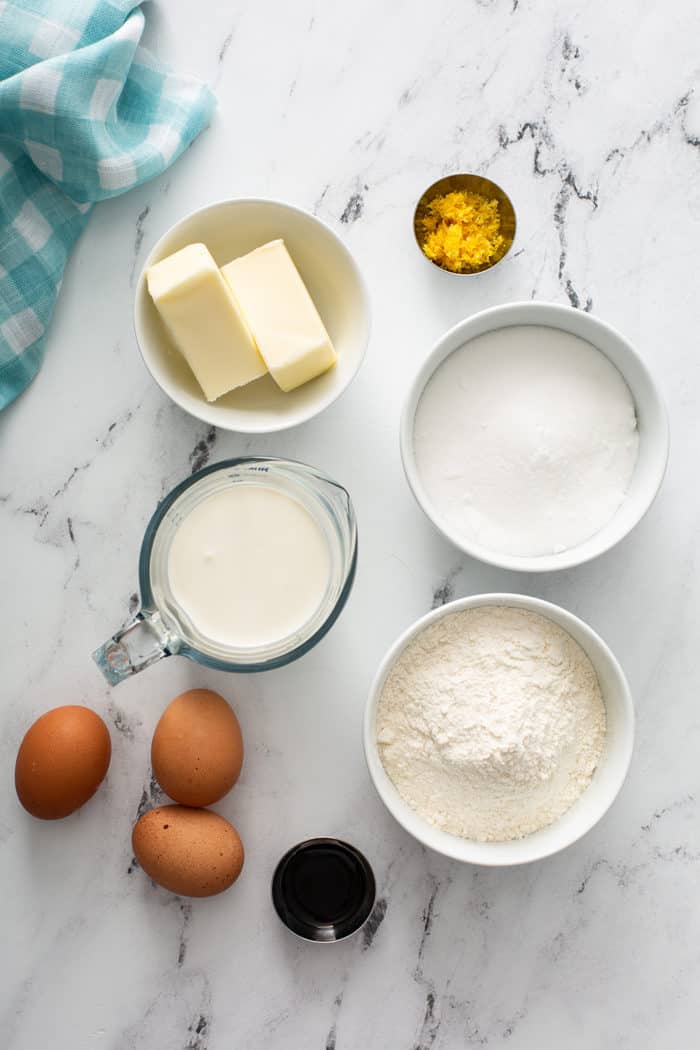 SCALED-DOWN WHIPPING CREAM CAKE
If you didn't pick it up from my Lime Coconut Cake, I'm obsessed with Whipping Cream Cake.
The only thing that's kind of a bummer about the recipe is just how much cake it makes. I mean, it makes an entire bundt cake, which is amazing when you're entertaining a lot of people but is a little less amazing when it's just for a few people.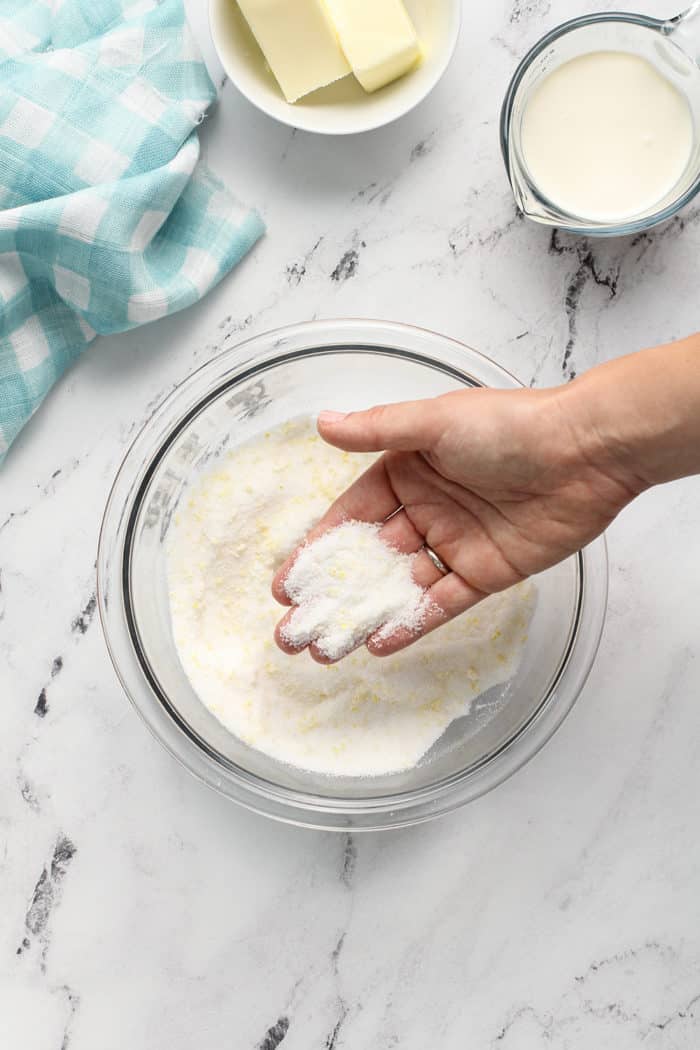 But after really looking at the recipe, I realized the proportions were perfect to divide in half. Not every baking recipe divides well, but I thought it was worth a shot.
So I cut the batter in half, popped it in a loaf pan, and waited for it to bake and cool.
But to make it even better, I decided to give the cake a pop of lemon with plenty of lemon zest.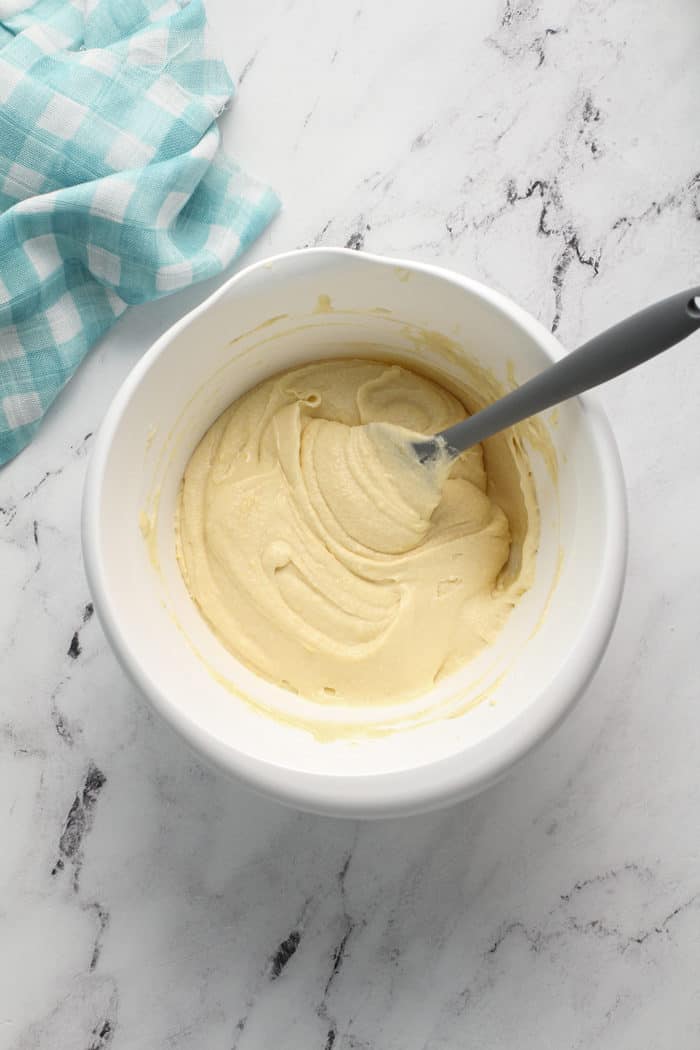 I was so excited when I pulled the cake from the oven, sliced off a piece, and saw that dividing the recipe worked perfectly.
Not to mention, lemon was the perfect addition to the original cake base.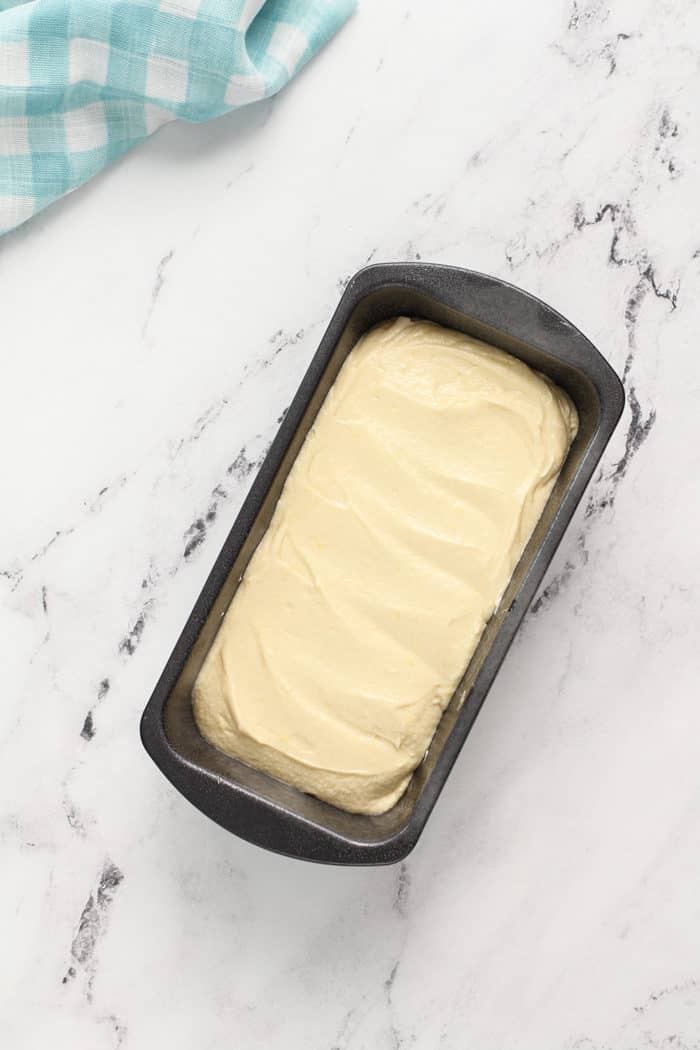 HOW TO MAKE LEMON WHIPPING CREAM CAKE
Here's what you'll need to make this cake:
1 1/4 cups granulated sugar
Zest of 2 large lemons
1/2 cup unsalted butter, room temperature
3 large eggs, room temperature
1 1/2 cups all-purpose flour
1/2 cup heavy whipping cream (do not whip)
1 teaspoon vanilla extract
I went back to my Raspberry Lemon Scones, Orange Scones, and Cranberry Orange Bundt Cake to start this cake: In a medium bowl, mix together the sugar and lemon zest with your fingertips until the sugar is moistened and fragrant.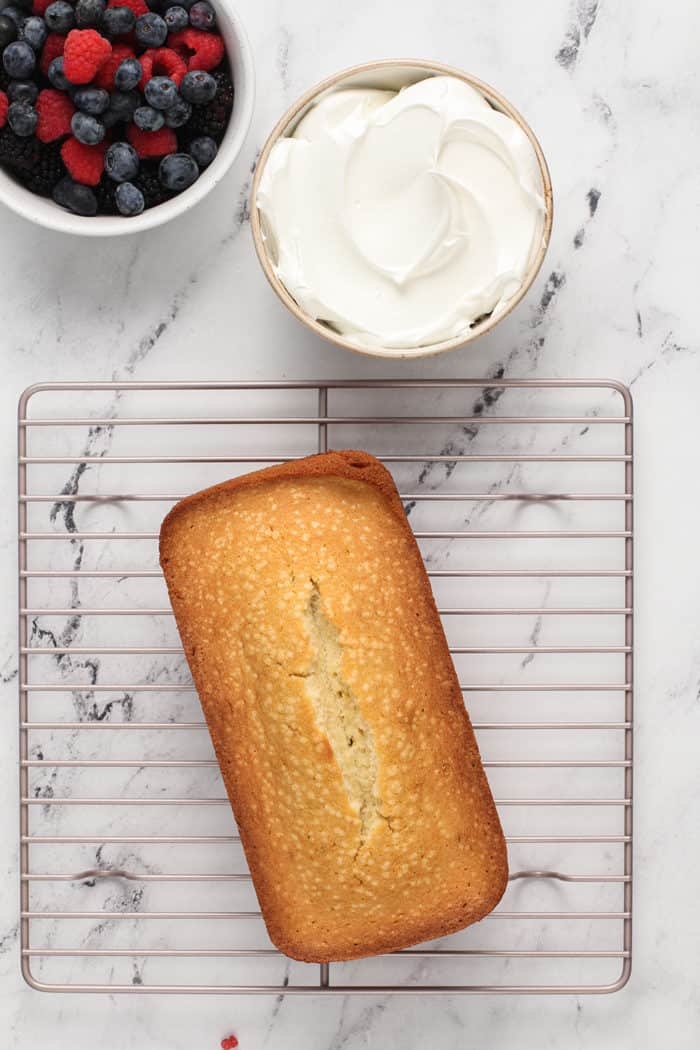 Why? This really releases all of the oils from the lemon zest and really infuses the lemon flavor throughout the cake batter.
Next, use a stand mixer or electric hand mixer to beat the butter and sugar until nice and fluffy, for about 5 minutes. Don't skimp on this step! It helps keep the cake from being too heavy.
Add one egg at a time, beating after each egg. Whisk together the flour and salt, then alternately add the flour and heavy whipping cream, starting and ending with the flour.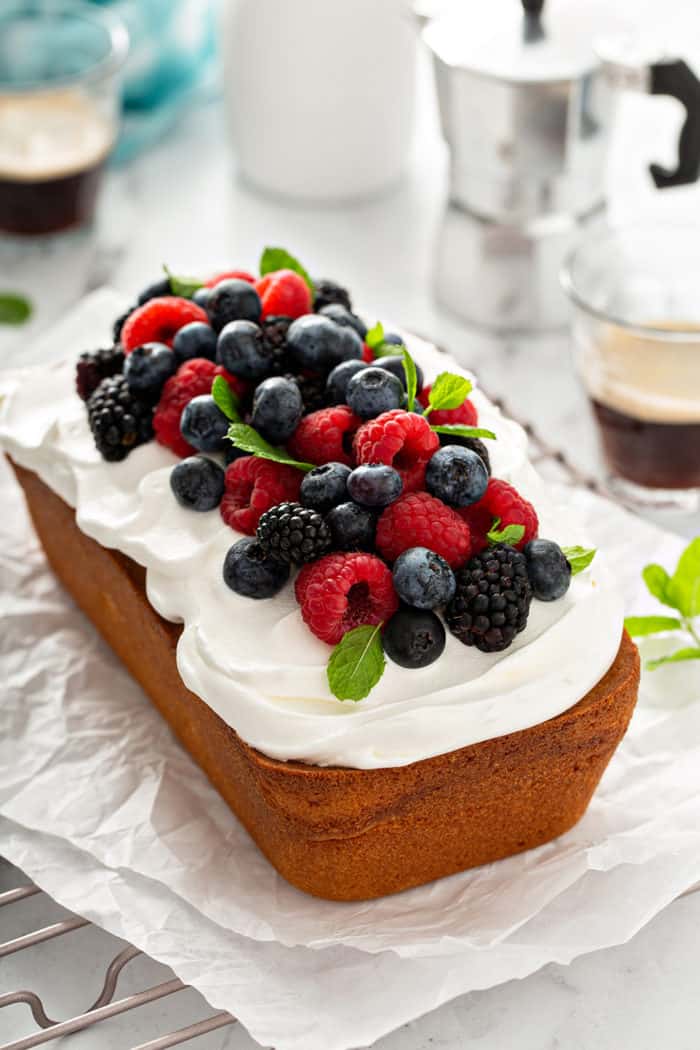 Add the vanilla and mix until incorporated, then add the batter to an 8×4-inch loaf pan lined with parchment paper, then place the cake in a COLD oven. Close the door and turn the oven to 325°F.
Remember, by starting this cake in a cold oven, it lets the inside and outside of the cake finish baking at the same time.
Bake for 1 hour and 15 minutes. Let the cake for 45 minutes before inverting onto a serving plate.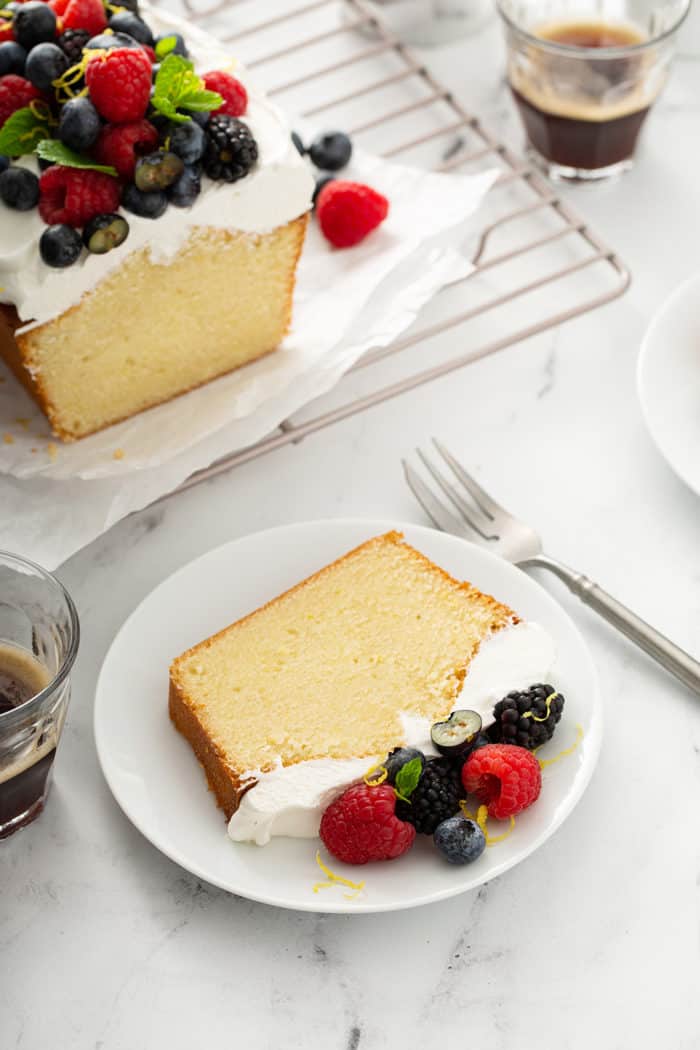 HOW TO SERVE THIS LEMONY CAKE
I think that homemade whipped cream and fresh berries are the best accompaniment to this Lemon Whipping Cream Cake.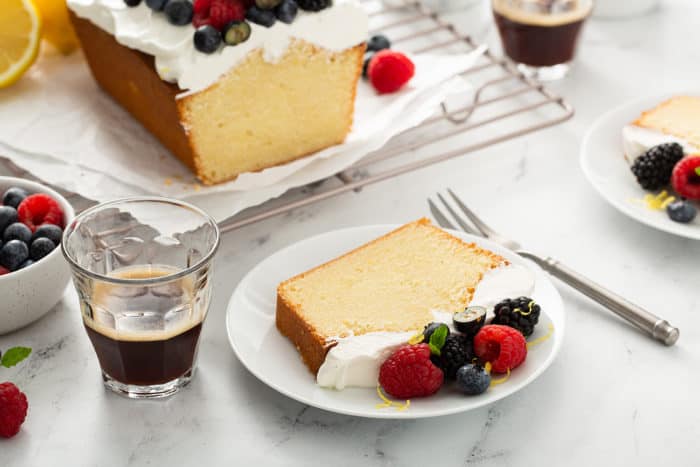 You could also serve it with some microwave lemon curd for an extra pop of lemon.
You could even swap in a slice of this cake in place of pound cake for a twist on grilled pound cake.
Honestly the only wrong way to serve this cake is to not serve it at all.