Butternut Squash Purée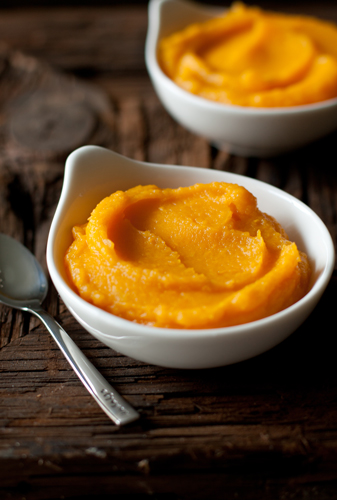 A butternut squash purée recipe? Despite the soaring temps here in Ohio I have fall baking on my mind. I know this post may not seem like the typical desserts that I post on My Baking Addiction, but trust me when I tell you that this butternut squash purée recipe will come in mighty handy in the upcoming months.
I adore butternut squash and find it to be a fabulous addition and/or substitution in all types of recipes. I have been busy in the kitchen and have a few amazing butternut squash dishes and desserts that will post during the fall months. Each of the recipes will utilize this butternut squash purée in one form or another.
I had originally planned on turning this recipe into a vlog, but when I went to record it, I realized my video camera battery was kaput. So here are a few step by step photos just in case you are curious about the process.
I will tell you that this stuff is highly addictive on its own, Brian and I kept sneaking spoonfuls out of the food processor as I was adjusting the seasoning. I imagine I will be whipping this up on many occasions in the near future any my guess is that you will too. Thanks for stopping by…stay tuned later in the week for the first butternut squash recipe.

Butternut Squash Purée
Ingredients
1 large butternut squash
6 tablespoons unsalted butter; diced
2 tablespoons brown sugar
½ tsp ground cinnamon
¼ tsp ground nutmeg
¼ teaspoon kosher salt
Directions
1. Preheat oven to 350°F.
2. Slice the butternut squash in half lengthwise; scoop out and toss the seeds. Place the halves flesh-side-up on a foil-lined baking sheet.
3. Sprinkle the diced butter and brown sugar evenly on both halves.
4. Roast for 45-60 minutes or until the butternut squash can easily be pierced with a knife.
5. A liquid mixture of butter and brown sugar will form in the wells of the squash, make sure you include this deliciousness with the puree.
6. Remove squash from the oven; allow to cool for about 10 minutes. Scoop out the flesh and liquid and place into your food processor or blender.
7. Add the cinnamon, nutmeg and salt; pulse until you reach a creamy consistency.
8. If you are serving this delicious puree as a simple side dish, adjust the seasoning to your taste and toss in a couple more tablespoons of unsalted butter. If you are using it for the recipes that will be posting on My Baking Addiction, leave the puree as written.
Notes
The size of butternut can vary greatly so it is important to adjust the level of seasonings according to your tastes. This recipe can yield anywhere from 1 to 2 cups of purée depending on the size of your squash.
This post may contain affiliate links. We are a participant in the Amazon Services LLC Associates Program, an affiliate advertising program designed to provide a means for us to earn fees by linking to Amazon.com and affiliated sites.