Cauliflower Gratin is the best cheesy side dish for your holiday table. It can even be made in advance to make prepping for your big meal even easier!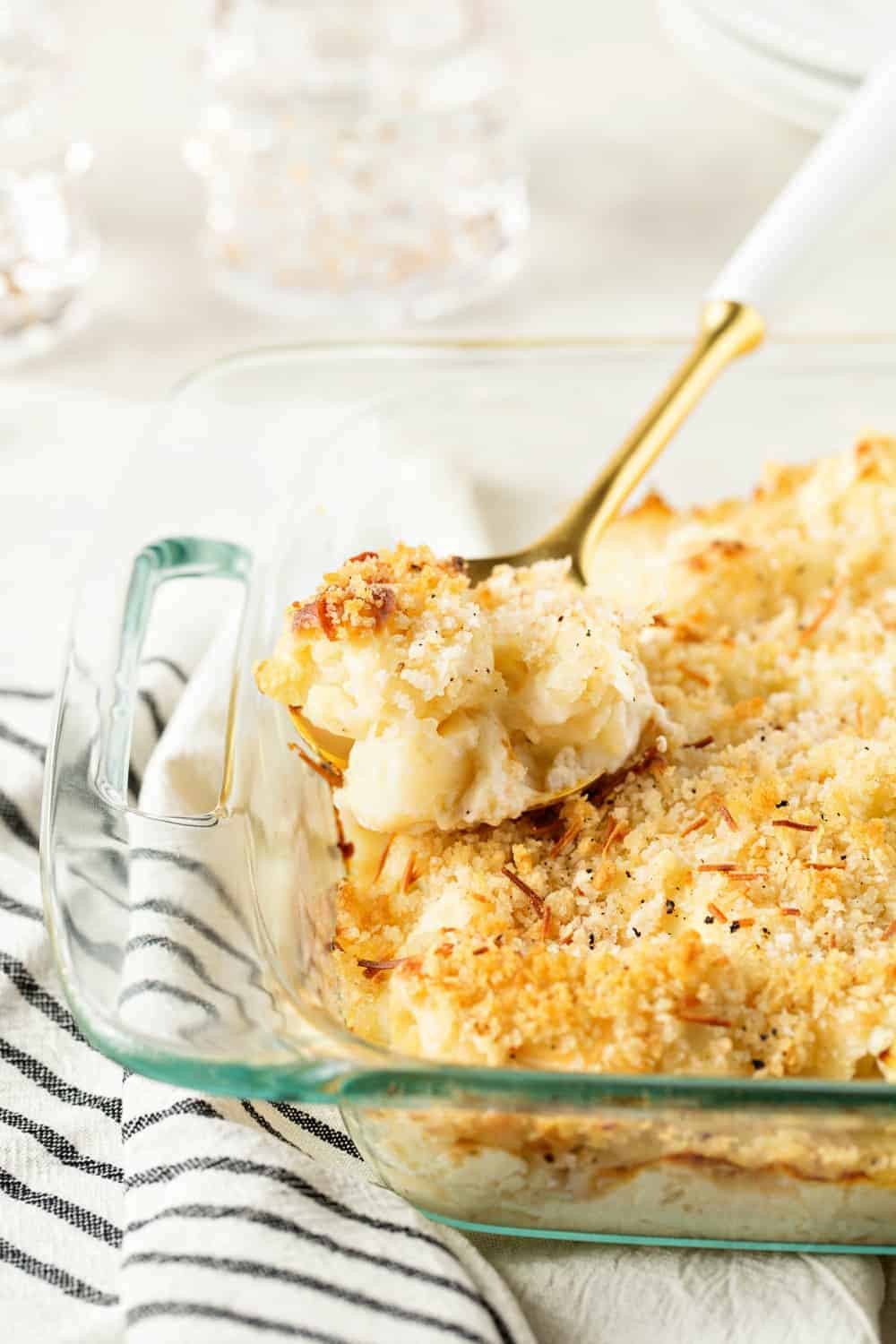 With holiday parties and family gatherings just around the corner, I thought I'd introduce you to one of my very favorite side dishes – Cauliflower Gratin.
I'm definitely a traditionalist when it comes to holiday dinners. And I'm totally that person that keeps a detailed list of everything I've made each year.
It's so important for me that Elle can look back and cherish the holidays and the food memories that go along with them just like I do.
When it comes to side dishes, we're definitely fans of mashed potatoes, sweet potato casserole, mac & cheese, stuffing and even green bean casserole, but this year I'm adding a new star to the show with this Cauliflower Gratin.
I made it earlier this year and fell so hard for it, that I immediately pulled up my holiday dinner spreadsheet and added it to the list.
The great thing about this Cauliflower Gratin is that everyone that loves cauliflower can eat it, even the folks watching their carb intake. They may have to brush the breadcrumbs to the side, hey, more for you, right?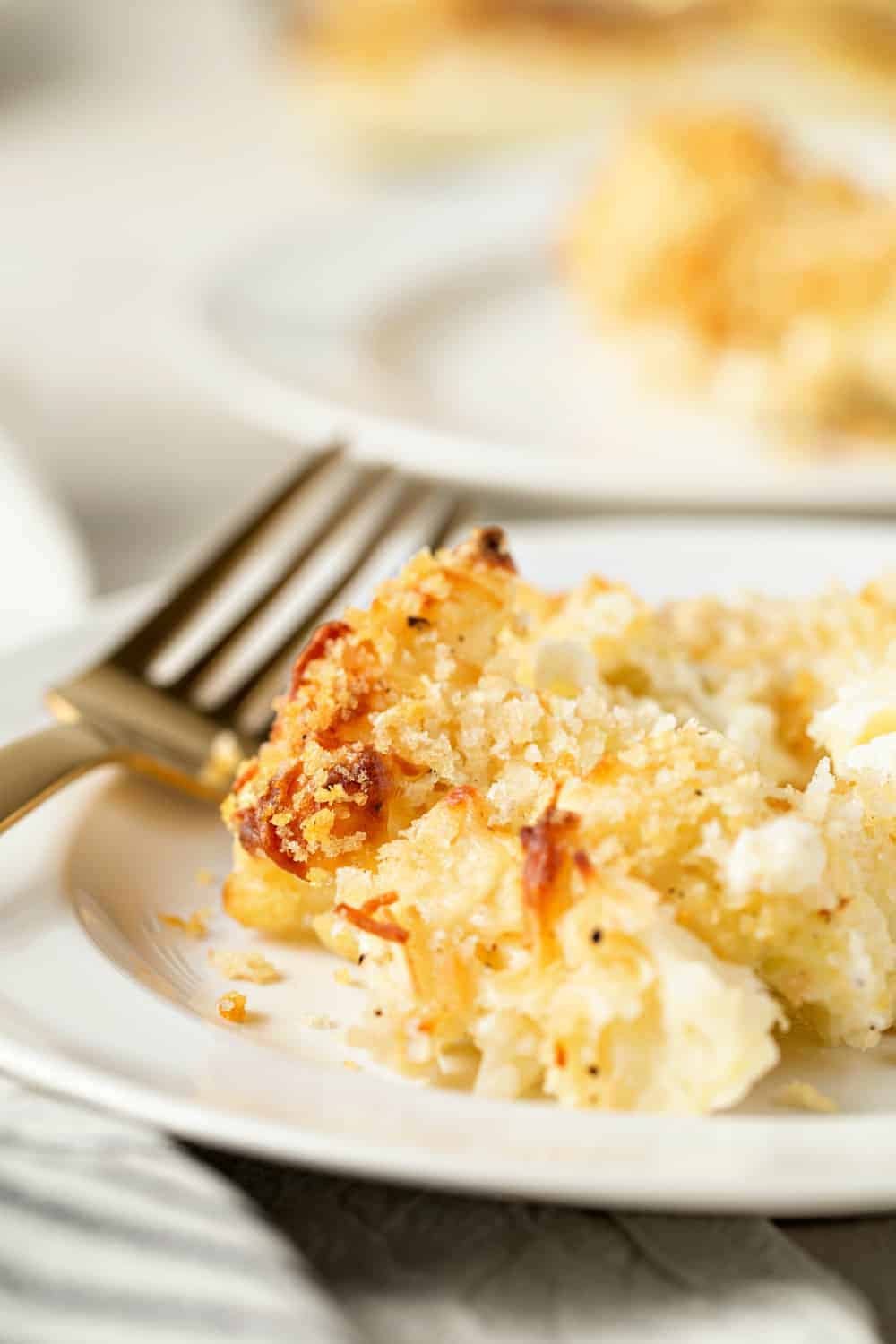 HOW TO MAKE CAULIFLOWER GRATIN
I love Cauliflower Gratin for entertaining and holidays for a few reasons. One of which is that it seems really fancy, but is actually pretty easy to make.
The only thing that makes Cauliflower Gratin even remotely tricky is that you need to cook the cauliflower before it goes in the oven, since it won't cook all the way through in the oven alone. But really, how hard is that?
If you've ever made a cream sauce for mac and cheese, you can make the sauce for this dish. It starts with a simple roux, then we add half and half and eventually plenty of cheese.
The cheese is where the real magic happens for any gratin, if you ask me. For this Cauliflower Gratin recipe, I decided to go with a nice, extra sharp white cheddar and a little parmesan.
You could definitely go the more traditional route and use gruyere, or swiss cheese, but we're more partial to cheddar around here.
And make sure you don't skip the buttery bread crumb topping. Cauliflower, cheese, and buttery breadcrumbs are totally heaven in a casserole if you ask me.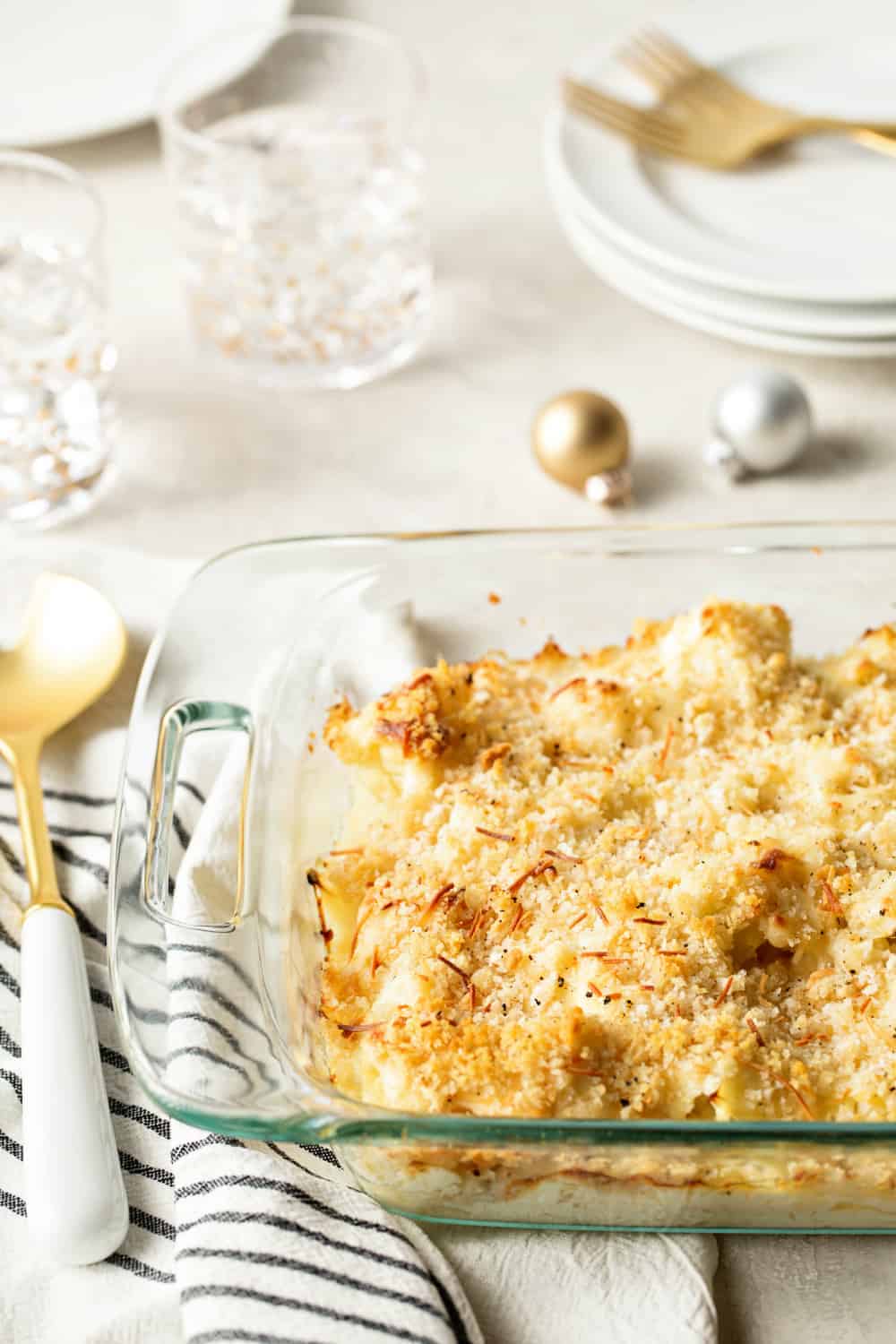 CAN YOU MAKE CAULIFLOWER GRATIN IN ADVANCE?
The other reason I really love making Cauliflower Gratin is that you can make it ahead of time. You all know that I love make-ahead dishes like my Make-Ahead Breakfast Casserole, Brown and Serve Rolls and Make-Ahead Banana Bread Coffee Cake.
If you need to make Cauliflower Gratin in advance, simply prepare everything as written up until adding the breadcrumbs to the top. Cover and refrigerate until you're ready to bake, then add the breadcrumbs as soon as you're ready to pop it in the oven.
Making any dish ahead, including this Cauliflower Gratin, is made even easier with my favorite Pyrex baking dishes.
Here's the thing, okay? I am not about washing a ton of dishes when I'm done cooking, especially a big holiday meal.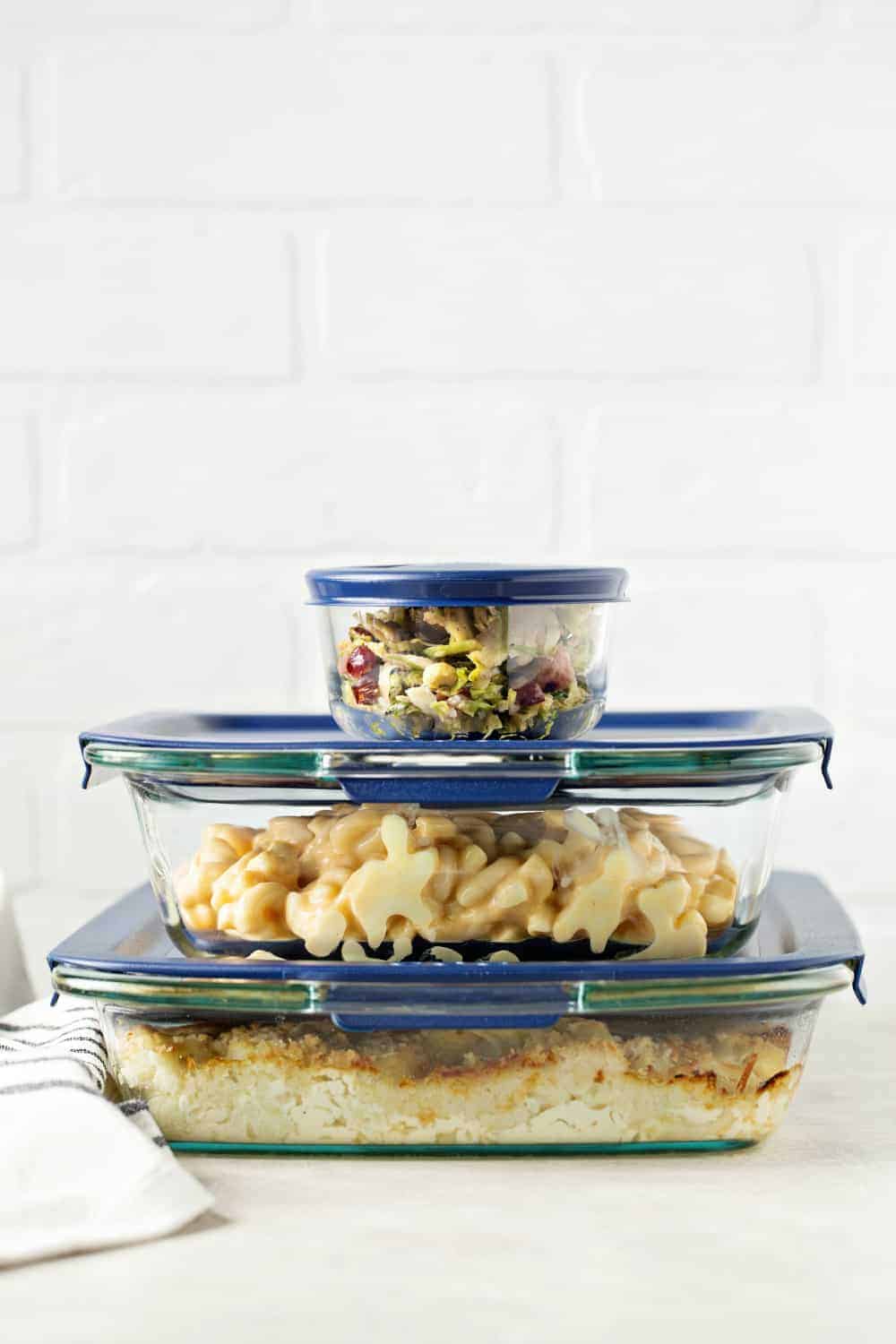 When I'm prepping for a holiday meal, I like to reach for one of my Pyrex Easy Grab sets. I can use one dish to prep, bake and store, making holiday cooking easier and more streamlined. Plus, the nonporous pure glass keeps the food fresher longer and won't absorb any stains or funky smells in the refrigerator.
Total win.
To make Cauliflower Gratin, I can prep the gratin in my baking dish, pop on the lid before refrigerating it, remove the lid and bake it off in a pre-heated oven when I'm ready, then pop the lid back on when the dish has cooled when I need to store the leftovers.
(Be sure to read the Pyrex Use & Care instructions included on the package before using!)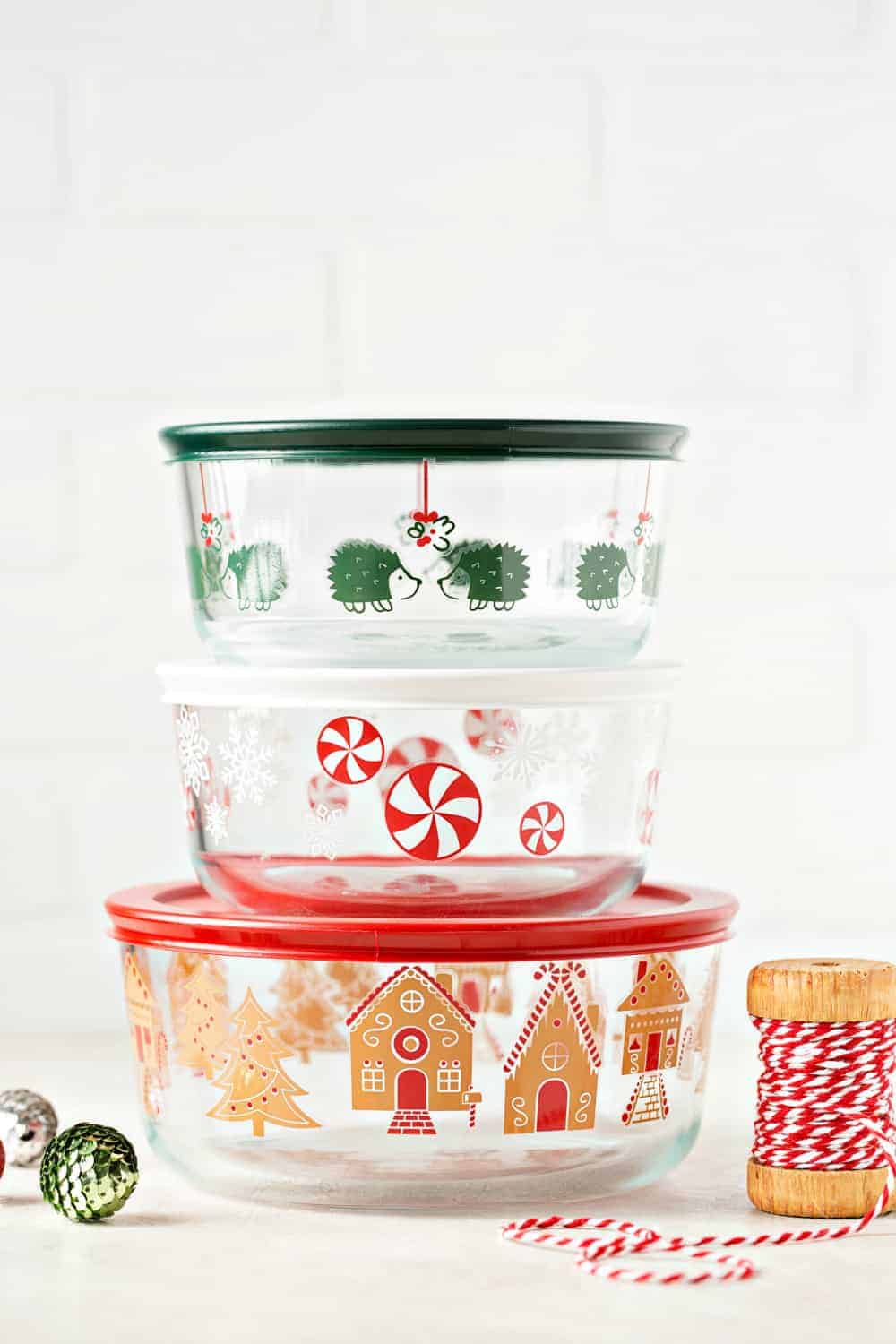 Taking a dish to share at a holiday party? No problem – you could even prep the dish in one of the adorable patterns from the Pyrex holiday line (I'm in love with the Gingerbread Village design and the adorable Peppermint design) and leave the dish as your hostess gift at the end of the party!
I'd say that these sets are a two-for-one, but there are so many uses for them that they're really more like ten-for-one.
Whether you're making Cauliflower Gratin ahead of a holiday meal or whipping it up the day of a big party, this is a deliciously cheesy side dish that all of your friends and family will love.
Find out more about Pyrex at PyrexWare.com or by following Pyrex on Facebook and Instagram.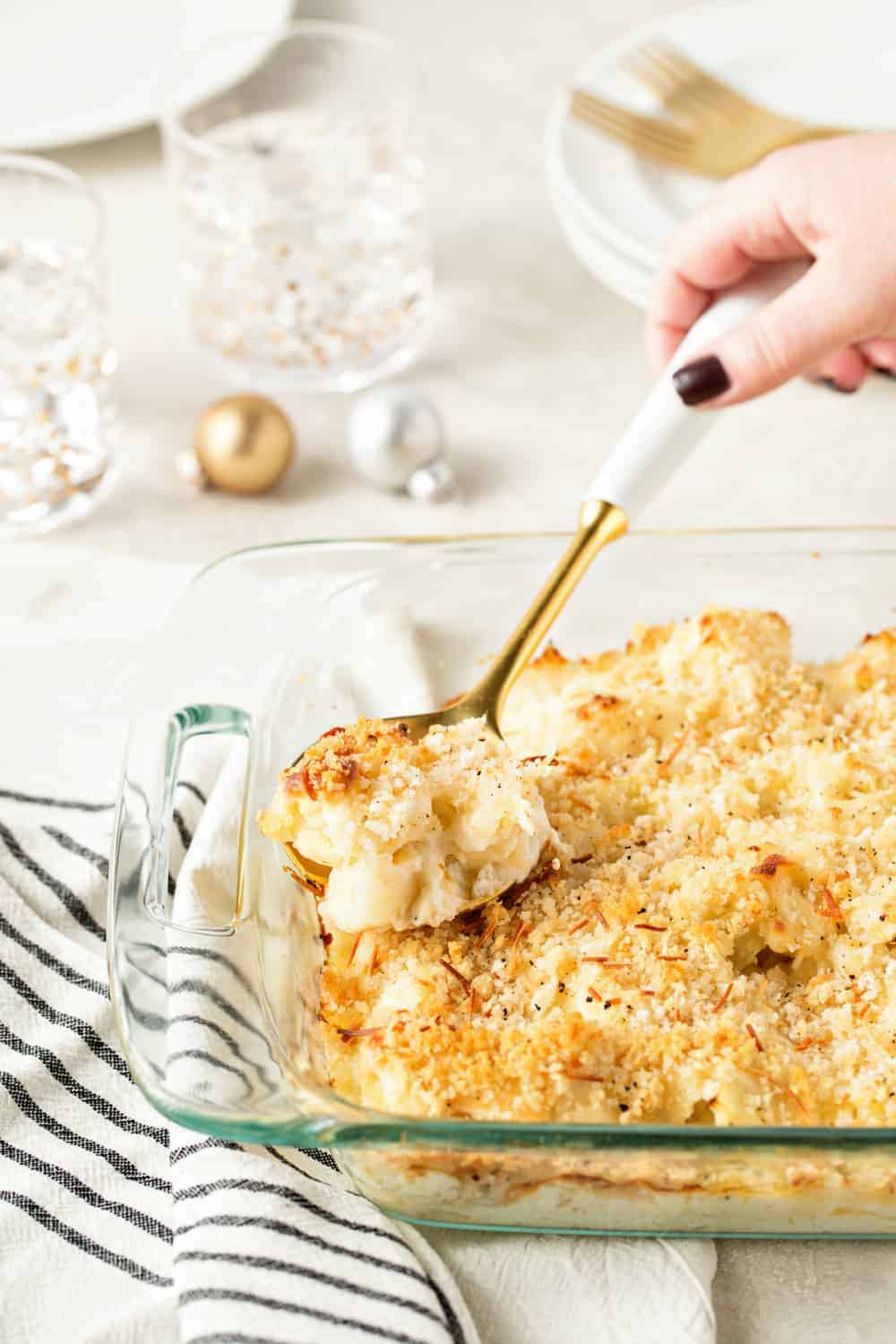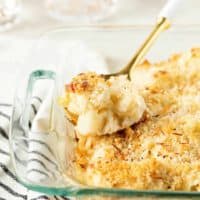 Cauliflower Gratin
Cauliflower Gratin is the best cheesy side dish for your holiday table. It can even be made in advance to make prepping for your big meal even easier!
Print
Pin
Servings: 12
Ingredients
2 - 2 ½ pounds cauliflower florets about a 3 1/2 pound head of cauliflower
5 tablespoons butter divided use
3 tablespoons all-purpose flour
2 ½ cups half and half warmed
½ teaspoon fine salt
Ground black pepper to taste
1 ¼ cups shredded extra sharp white cheddar cheese
¾ cups grated parmesan divided use
½ cup Panko bread crumbs
Instructions
Preheat oven to 375°F. Spray a 9 x 13-inch Pyrex baking dish with nonstick cooking spray.

Cook the cauliflower florets in a large pot of boiling water for 5 minutes. Drain.

In a medium saucepan over medium heat, melt 3 tablespoons of butter. Stir in the flour. Continuing stirring to create a paste and cook for two minutes.

Slowly pour in the half and half while whisking the entire time. Whisk in the salt and pepper. Bring mixture to a gentle boil and continue whisking for 1 minute, or until the mixture thickens up.

Remove saucepan from the heat and stir in the extra sharp cheddar and 1/2 cup grated parmesan. Stir until smooth and cheese is melted.

Remove about one cup of the cheese sauce and spoon it into the bottom of the prepared baking dish. Add cauliflower florets to the baking dish and pour the remaining cheese sauce over the cauliflower.

In a small bowl, stir together Panko bread crumbs, remaining 1/4 cup grated parmesan cheese and 2 tablespoons melted butter. Sprinkle this mixture over the top of the cauliflower.

Bake in preheated oven for 30-35 minutes, or until the topping is golden brown. Serve warm.



Nutrition
Calories: 223kcal | Carbohydrates: 11g | Protein: 9g | Fat: 17g | Saturated Fat: 10g | Polyunsaturated Fat: 1g | Monounsaturated Fat: 4g | Trans Fat: 0.2g | Cholesterol: 47mg | Sodium: 398mg | Potassium: 378mg | Fiber: 2g | Sugar: 4g | Vitamin A: 496IU | Vitamin C: 46mg | Calcium: 220mg | Iron: 1mg
The default measuring system on My Baking Addiction is US Customary. Unit conversions are provided as a courtesy; please be aware that there may be some discrepancies.
Card may contain affiliate links. As an Amazon Associate and member of other affiliate programs, I earn from qualifying purchases.